12 Festive Christmas Cocktail Recipes
These 12 Festive Christmas Cocktail Recipes offer something for everyone, from a bright pomegranate gin & tonic to a warming hot buttered rum. They're easy cocktails that are perfect for your upcoming holiday parties or for enjoying with a special meal.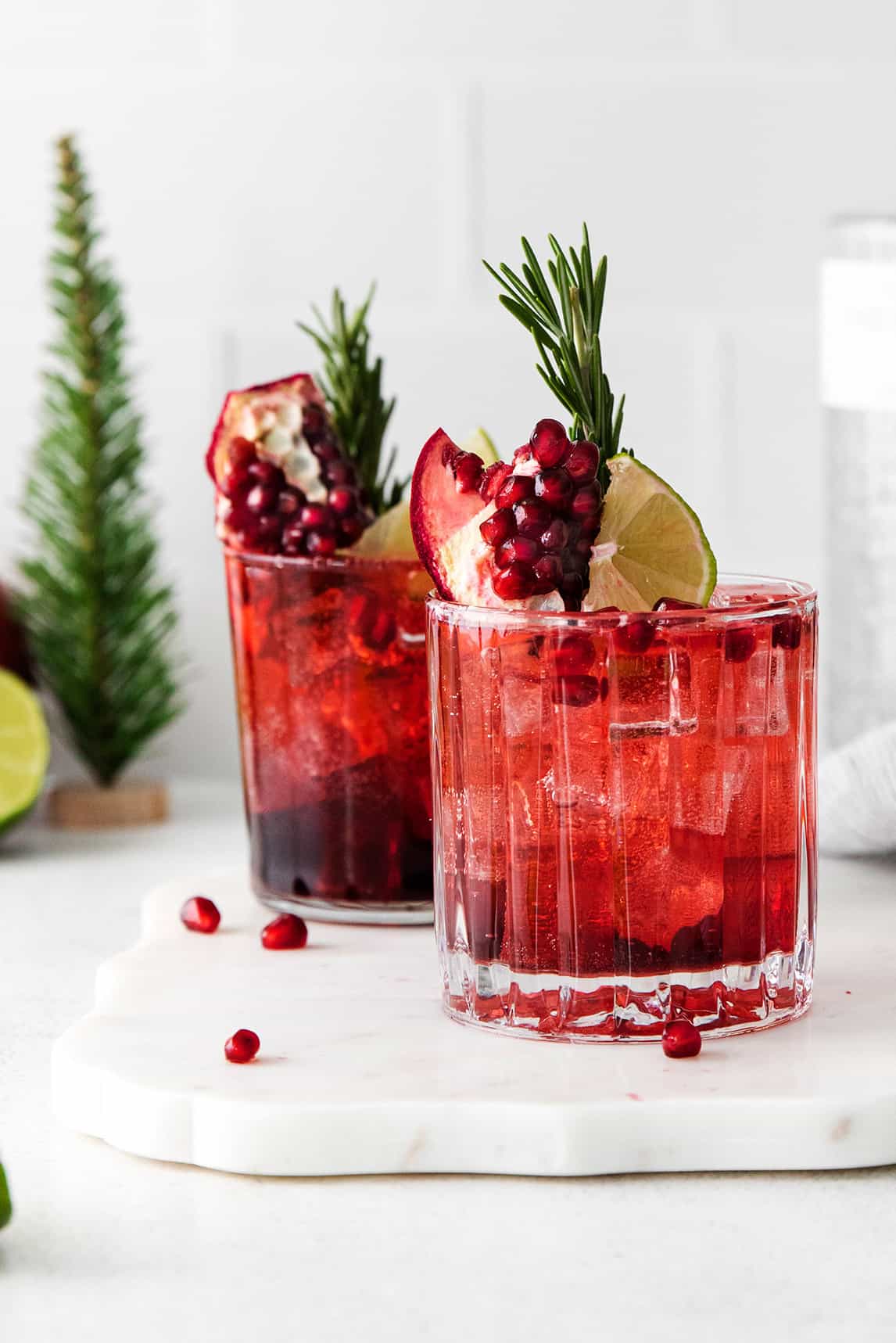 The Best Christmas Cocktail Recipes
One of my favorite parts of entertaining is crafting a special cocktail. It's a fun way to kick off our time together. And the holidays are the absolute perfect time for this added merriment. Here are 12 Festive Christmas Cocktail Recipes to get your cocktail shakers shaking!
We're hosting Christmas this year. So what will be The Christmas Cocktail, you ask? Well, I'm still trying to decide. There's so many great holiday cocktail recipes to choose from!
However, I do know we'll serve mimosas with fresh squeezed juices for Christmas brunch. And some kind of margarita with a carnitas meal later in the week.
Of course I have a few cocktails in mind for Christmas dinner. All of them are featured in this post. I'm leaning heavily on either a cranberry or pomegranate twist. And I'd like to use the bottle of local gin that friends just gave us for Christmas.
No matter what type of liquor you prefer or what your favorite flavors are, you're guaranteed to find something you like with this list of Christmas cocktails. From bright & fresh, to warm & cozy, there's something here for everyone.
And it doesn't matter if you're making 1 cocktail or 10. These recipes are easily adaptable to make for one or for a crowd!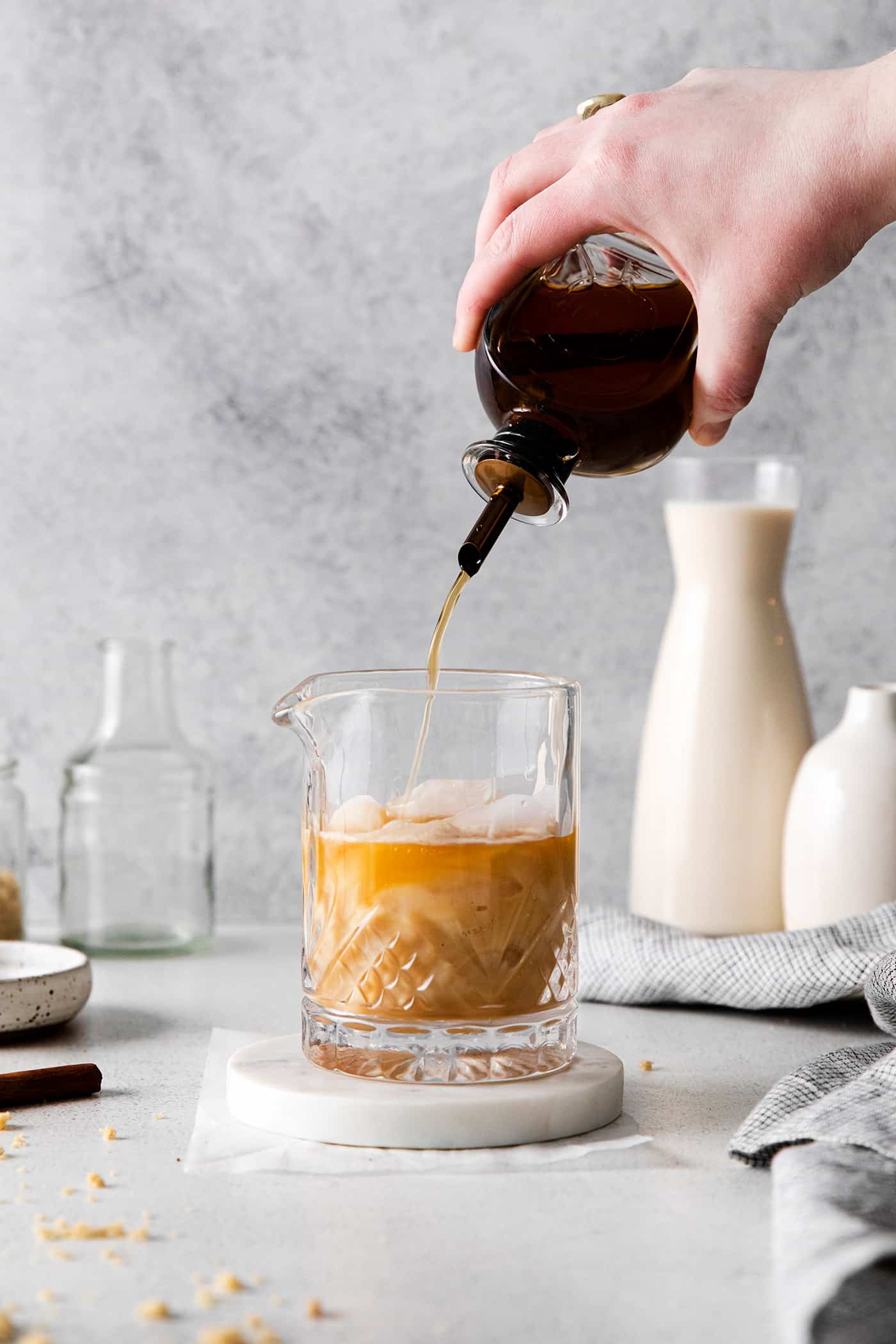 Tips for Making Cocktails for a Crowd
Need a Christmas cocktail for a crowd? It's easy to turn most of these holiday drinks into a big batch cocktail perfect for all of your holiday parties.
While most recipes have their own specific instructions for making them for a crowd (and in advance), here are a few general tips:
Don't add ice. If you're making a pitcher cocktail, do not add ice to the pitcher. Instead, pour the drink over ice when you serve it. When you add ice to a pitcher and then refrigerate it, the cocktail gets watered down.
Wait to add anything bubbly or fizzy. While most ingredients can be mixed ahead of time, wait to add anything bubbly or fizzy. Add ingredients like champagne or club soda just before serving. This will give you all the intended bubbles action!
Keep chilled. After you combine the ingredients, keep the pitcher chilled in the fridge until serving.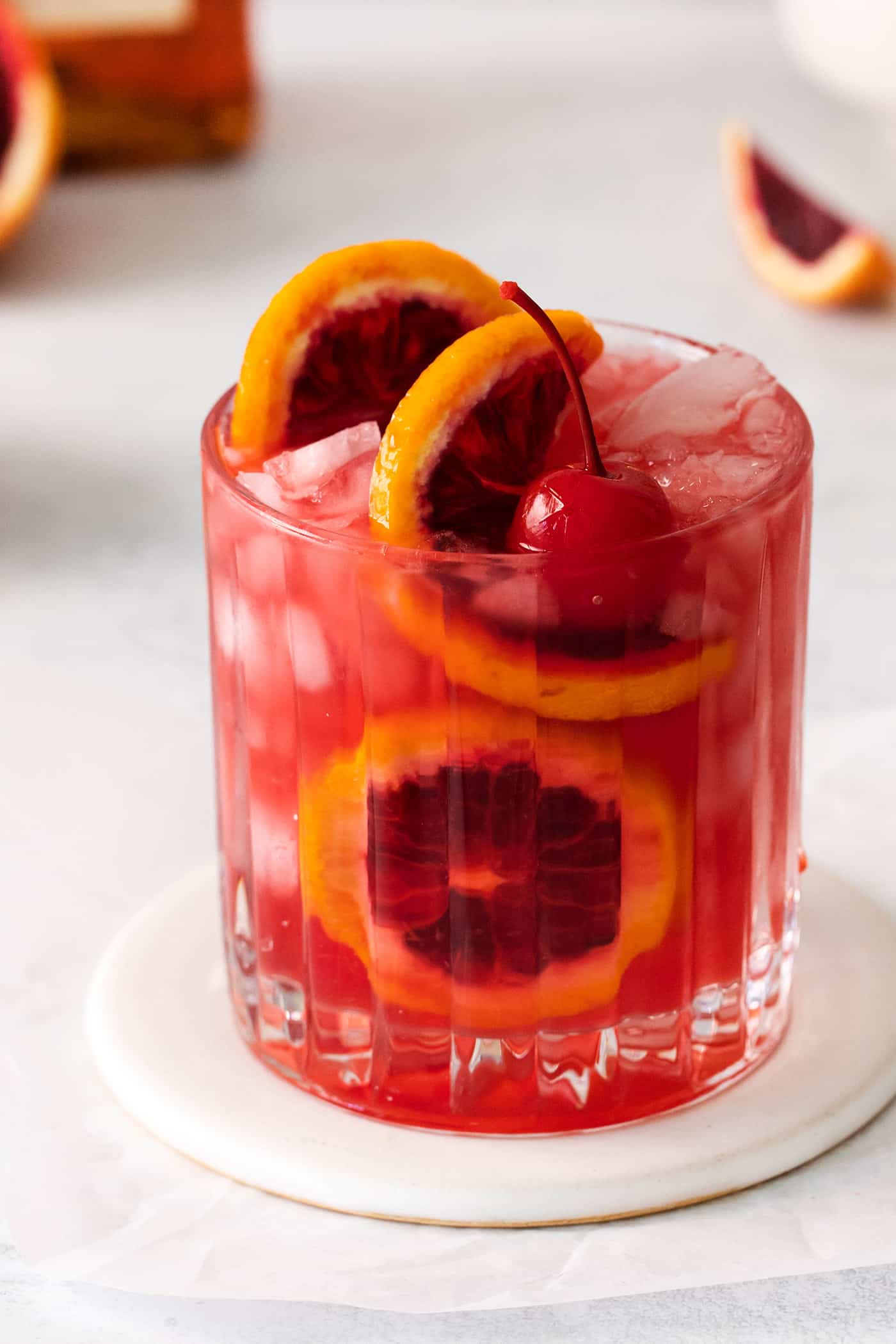 Garnish Ideas for Christmas Cocktail Recipes
To me, the garnishes are a big deal. They can turn a simple mixed drink into a guest-worthy, holly-jolly Christmas cocktail.
While each recipe has its own suggestions, here are a few ideas of garnishes to add to your holiday drinks.
Fresh or sugared cranberries
Maraschino cherries or gorgeous cocktail cherries
Fresh rosemary or thyme sprigs – I especially like to use rosemary this time of year as it mimics the look of a Christmas tree and smells awesome in a drink!
Sugar rim (see below)
Fresh citrus, like lemons, limes, and seasonal blood oranges and grapefruit
Cinnamon – either a sprinkle of ground cinnamon or whole cinnamon sticks
Nutmeg – I love to grate fresh nutmeg over a glass of homemade eggnog!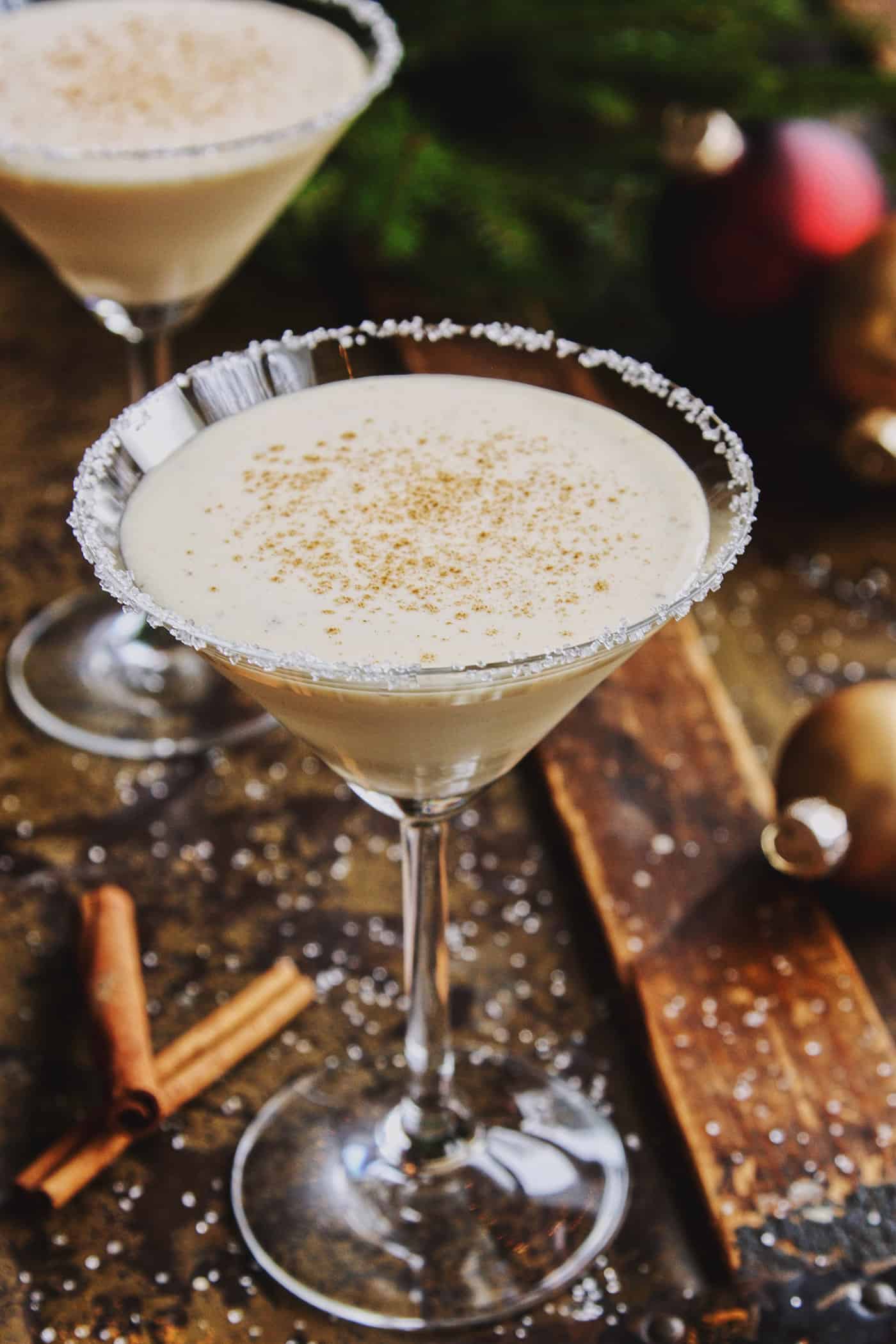 How to Sugar A Cocktail
Like a salt rim on your favorite margarita, adding a sugar rim is a fun way to enhance any Christmas cocktail. Here's how to do it:
Add liquid to rim: If serving a drink that includes fresh citrus (lemon, lime, orange, grapefruit, etc.), run the cut edge of a wedge of fruit around the glass rim to get it wet. For drinks that don't have citrus (such as the eggnog cocktail shown above), simply dip your finger in water and run your finger around the glass rim. This liquid is the "glue" that will make the sugar stick to the glass.
Dip the glass: Then dip the wet rim straight up and down into a shallow dish of coarse sugar. Do not twist it, as that can cause granules of sugar to fall off.
Like this post? Save it to Pinterest!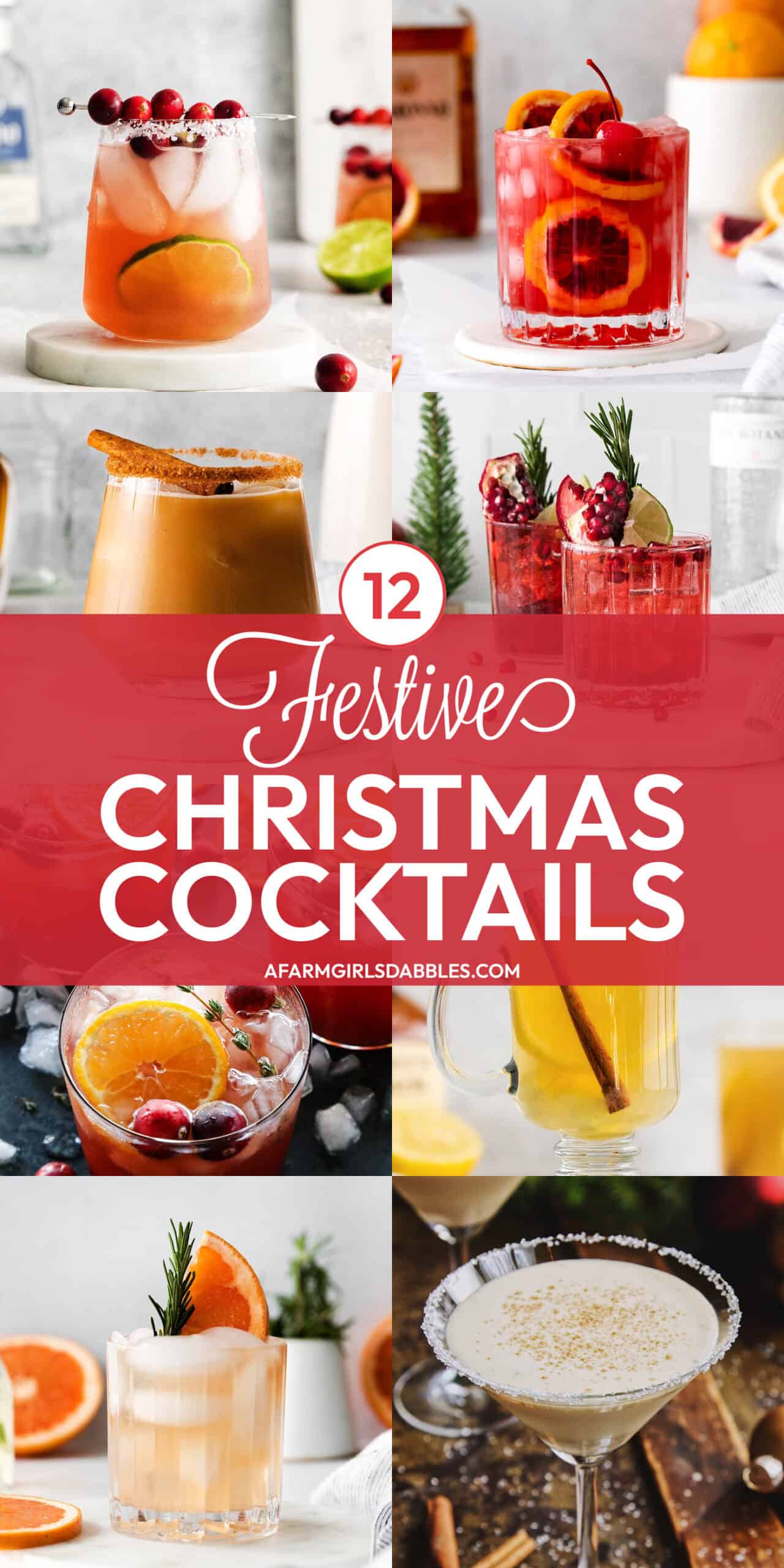 12 Festive Christmas Cocktail Recipes
These 12 Festive Christmas Cocktail Recipes offer something for everyone, from a bright pomegranate gin & tonic to a warming hot buttered rum. They're easy cocktails that are perfect for your upcoming holiday parties or for enjoying with a special meal.
This Cinnamon-Spiced Eggnog White Russian turns a classic cocktail into a creamy, warming Christmas cocktail that everyone will love, with cinnamon syrup, eggnog, coffee liqueur, and vodka.
Skip the carton at the store and make Homemade Eggnog this year, with just a few ingredients. Keep it kid-friendly or add your favorite liquor for an adults-only twist.
Turn your favorite gin and tonic into a holiday cocktail by swapping just a few ingredients to make this Cranberry Gin & Tonic. It's bright, tart, earthy, and fruity, with the perfect combination of classic flavors plus cranberry and a hint of thyme.
Turn your favorite eggnog into a fun and festive Christmas drink with a sugar rim and splash of brandy. This Eggnog Cocktail is warmly spiced, creamy, and frothy-cold. And it's ready in just minutes.
Take your coffee to the next level with this Hot Buttered Rum Coffee Recipe! Made with spiced butter (irresistible!), rum, and coffee, this is a cozy, warming drink that's perfect for those chilly winter days.
Another fun twist on a gin & tonic, this Pomegranate Gin & Tonic is refreshingly bright, with tart and sweet flavor. It's ready in just a few minutes with minimal ingredients.
Bright, tart, and delightfully refreshing, this Rosemary Greyhound Cocktail is a twist on the classic greyhound cocktail. It features a gorgeous rosemary simple syrup, fresh grapefruit juice, and vodka.
Essentially the vanilla version of hot chocolate, this Vanilla Almond Steamer is the perfect warming drink for chilly nights. Add a shot of your favorite liqueur (almond or cinnamon or Rumchata?!) to turn it into a simple holiday cocktail!
This Cranberry Margarita is tart and refreshing with cranberry and lime. It's perfect any time of the year, but makes an especially festive Christmas margarita during the holidays!
A holiday twist on classic sangria! This Apple Sangria has a splash of bourbon for an added warm kick. It's perfect for your next holiday party!
Tart, boozy, and oh-so-pretty, this Blood Orange Amaretto Sour is made with fresh blood orange juice and lemon juice, Amaretto, and bourbon. It's a simple, fun cocktail that's loaded with flavor!
This Hot Toddy is the perfect wintertime drink. It's warm and cozy, with fresh lemon, a bit of sweet honey, and a little kick of spicy ginger. Enjoy this soothing drink as-is, or add a splash of bourbon (or brandy or dark rum)!