Roasted Red Pepper and Garlic Hummus
I've liked hummus from the moment I swiped my first pita chip through it many years ago. But my affection for this flavorful mashed chickpea goodness intensified after our family traveled to Egypt, where the earliest form of hummus is believed to have originated in medieval times. Visiting my sister's family in Cairo was an experience of a lifetime, where we were introduced to more than we could have ever imagined, including the extraordinary tastes and scents of Middle Eastern foods…so simple, yet so intense and powerful.
I had never made my own hummus until recently. It's just so convenient to pick up a tub at the store. Right?! But I kept hearing people talk about how easy it was to make, and how much better it tasted. So I set myself up for my favorite flavored hummus…roasted red pepper. I roasted a whole head of garlic, making it soft and buttery and fragrant, and added it, along with roasted red peppers, to the typical hummus ingredients of chickpeas, tahini, olive oil, and lemon juice. Then I kicked it up a bit, like I remembered from our trip to Egypt, adding some chipotle pepper, paprika, and plenty of earthy warm cumin. And now I have my own easy and delicious go-to hummus recipe, steeped in tasty travel memories…Roasted Red Pepper and Garlic Hummus.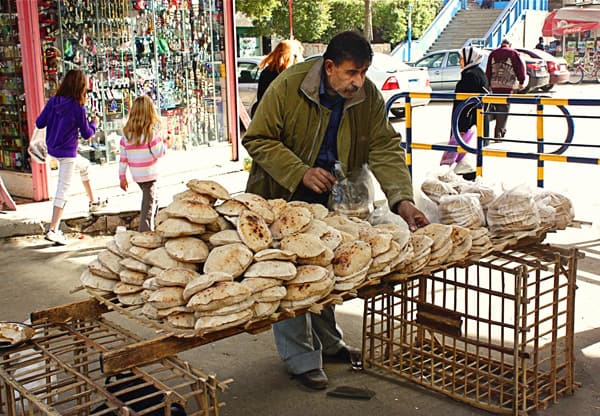 As I was preparing to make this hummus, our girls were going through our Shutterfly book from our trip to Egypt, reminiscing. When we came across this photo of a man selling pitas at the local souk (open-air marketplace in an Arab city), just a couple blocks from where my sister's family lived, I knew I had to make some to go with our hummus. I turned to my bookshelf and "Artisan Bread in Five Minutes a Day", by Zoe Francois and Jeff Hertzberg, to show me the way.
Do you know Zoe? She's the uber talented pastry chef behind Zoe Bakes, and another local Minnesota lovely. Her smile and beautiful energy can seriously light up the whole room.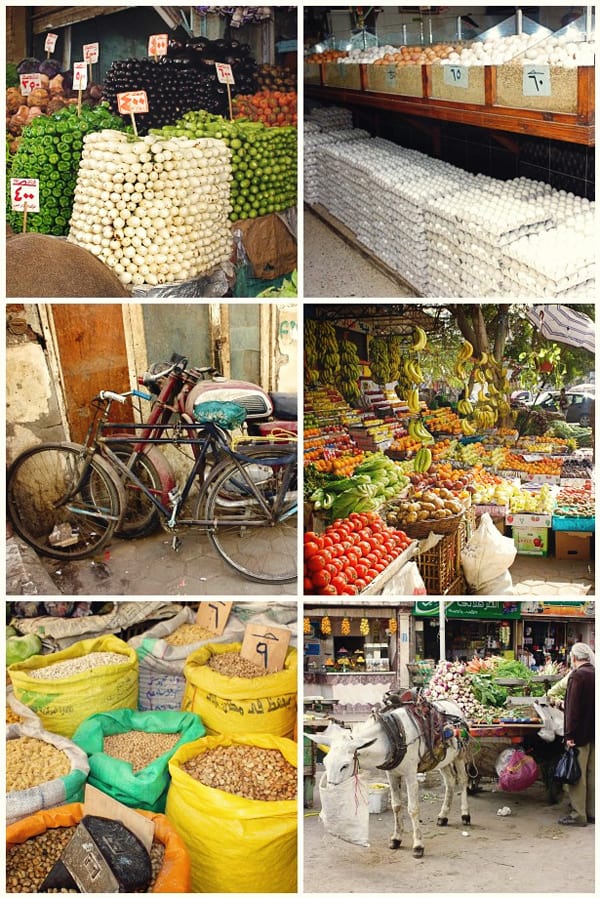 Here are a few more pictures from the souk my sister's family frequented. I just can't tell you how wonderful all the vegetables and fruits tasted. We still talk about those incredible cucumbers. They were just so "cucumbery", the latest word in my personal food dictionary!
If you're looking for a great dish to serve with this hummus and pita, be sure to check out my fattoush salad!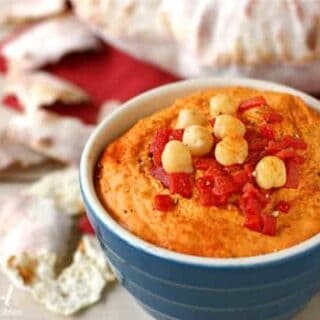 Roasted Red Pepper and Garlic Hummus
Yield: about 1-1/2 cups of hummus
Prep Time: 15 minutes
Cook Time: 45 minutes
Total Time: 1 hour
This creamy homemade hummus is so flavorful and delicious!
Ingredients
1 head garlic
2 T. olive oil
1/2 tsp. kosher salt
1 15-oz. can chickpeas (garbanzo beans), rinsed and drained
1/2 c. coarsely chopped bottled roasted red sweet peppers
1/3 c. tahini
3 T. freshly squeezed lemon juice
1/4 tsp. ground chipotle pepper
2 tsp. cumin
1/8 tsp. paprika, plus a little more for sprinkling over the finished dip
1/4 tsp. kosher salt
1/8 tsp. freshly ground black pepper, plus a little more for sprinkling over the finished dip
Instructions
Heat oven to 350° F. Cut off the top quarter of the garlic bulb to expose the pulp of all the individual cloves (do not peel the cloves!). Lay out a double layer of foil and place the bulb in the center. Drizzle the olive oil over the exposed cloves, sprinkle with kosher salt, and then bring the sides of the foil up around it loosely and gently twist the top shut. Place your foil wrapped bulb on a pan and roast in the oven for about 45 minutes.
Take it out of the oven and let it cool a bit before unwrapping. Then simply squeeze out the soft and buttery pulp and set aside.
Set aside a tablespoon of chickpeas and a tablespoon of chopped red peppers for garnishing at the end. Then in a food processor or blender, combine the remaining chickpeas, roasted garlic pulp, remaining red peppers, tahini, lemon juice, chipotle pepper, cumin, paprika, salt, and black pepper. Process until the hummus is smooth.
Spoon into a serving bowl and top with the reserved chickpeas and a sprinkling of paprika and freshly ground black pepper. Serve with pita wedges or crisps, assorted crackers, and/or a mixture of fresh cut vegetables.
Notes
From a farmgirl's dabbles, inspired by our family's trip to Egypt.
Nutrition Information:
Yield: 6
Serving Size: 1
Amount Per Serving:
Calories: 263
Total Fat: 17g
Saturated Fat: 3g
Trans Fat: 0g
Unsaturated Fat: 12g
Cholesterol: 5mg
Sodium: 589mg
Carbohydrates: 23g
Fiber: 6g
Sugar: 4g
Protein: 8g
Nutrition information is automatically calculated by Nutritionix. I am not a nutritionist and cannot guarantee accuracy. If your health depends on nutrition information, please calculate again with your own favorite calculator.