Three-Grain Salad with Sweet Red Onion Dressing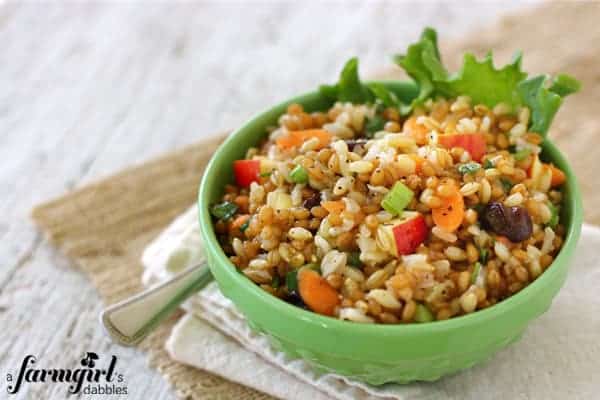 Healthy Grain Salad Recipe with Fruits and Veggies
I am quite aware that I'm known for my love of baking up (and eating!) sweet treats.
And the #1 question I get from people is, "How do you not weigh a ton?!"
I'm not going to lie and say that all the baking doesn't catch up with me once in awhile. Because it surely does. Every now and then, I am reminded that my body doesn't snap back like it once did. And that's when I have to remind myself of my motto: "everything in moderation". Instead of eating four cookies in one sitting, for example, I'll slow down and enjoy one fresh out of the oven. And possibly another one after supper.
I can also tell you that we (that includes my whole family) don't clean up every last crumb ourselves. Treats get taken in to work and given to friends and neighbors. Or, we make them when we know we're having company to share them with. Quite a bit of it gets frozen, too, which makes for a quick homemade bite when unexpected guests drop by. It gives me joy to share what I've made in the kitchen.
And I would be completely holding back if I didn't say my body needs to keep moving to keep the pounds off. Both my body and my mind benefit from a good walk/run in the fresh air, or a bike ride to the park. When my jeans are pinching my waistline and my brain isn't connecting the dots as quickly as it should, I know it's time to get a move on!
So this brings me to sharing this great recipe for Three-Grain Salad with Sweet Red Onion Dressing. Because, honestly, I don't eat sinful things like Caramel Custard Pots with Salted Caramel Sauce every day of the week (although that sure was a tasty experiment!). I aim to make healthy balanced meals for our family. Fresh fruits and veggies are a huge part of our everyday life, along with lean meat proteins and whole grains.
Over the past year, I have been stepping out of my neat little box of familiar grains, experimenting with – and falling in love with – ones I couldn't even pronounce a year ago. Right now my breakfast of choice is a warm bowl of nutty chewy steel-cut oats, sprinkled with cinnamon, a spoon of brown sugar, and a small handful of dried fruits and chopped nuts. It's delicious and so very satisfying. Just like this three-grain salad I've fallen for.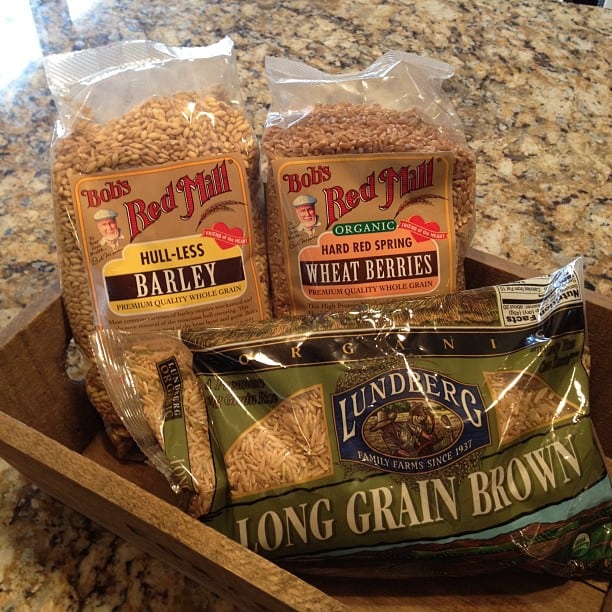 What's In This Rice and Barley Salad?
The recipe calls for pearl barley, wheat berries, and long-grain brown rice, and comes from a cookbook I nabbed last fall from my grandma's freebie pile. That is, a room full of extremely random stuff Grandma Renelt has purged. (I couldn't believe my eyes when they caught sight of her mom's little woven sewing box…the one I remember playing with, winding it's tinkly music box, at Great Grandma Voss' house when I was a kid…I'm so happy it's now mine!) She's preparing to downsize and move into a smaller, more manageable home this spring.
The salad is full of texture and flavor with its three grains and variety of fruits and vegetables. And the vinegar based dressing is especially good, with grated onion sweetened up by honey. I had no problem convincing Blake to try it, as he likes barley and any variety of rice. This salad received a very hearty thumbs-up all around. I hope you like it, too.
Please share with me…
What are your favorite grains?
(Because I plan to keep experimenting!!)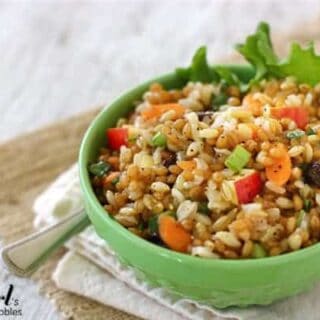 Three-Grain Salad with Sweet Red Onion Dressing
Yield: 6
Prep Time: 15 minutes
Cook Time: 1 hour
Total Time: 1 hour 15 minutes
This healthy salad is full of texture and flavor with its three grains and variety of fruits and vegetables.
Ingredients
For the Salad:
5.5 cups water
1 cup uncooked wheat berries
1/3 cup uncooked long-grain brown rice
1/2 cup uncooked hulled or pearl barley
1/2 cup dried cherries or cranberries
1/4 cup diced carrot
1/4 cup diced celery
1/4 cup chopped fresh parsley
1 medium unpeeled apple, chopped
4 medium green onions, chopped
For the Dressing:
1/3 cup honey
1/3 cup canola oil
1/3 cup cider vinegar
2 tablespoons grated red onion
2 teaspoons white wine Worcestershire sauce
2 cloves garlic, minced
kosher salt and freshly ground black pepper, to taste
Instructions
For the Salad:
In a large saucepan, heat water and wheat berries to boiling. Reduce heat to low, cover, and simmer for 10 minutes.
Stir in brown rice and barley, then cover and simmer about 50 minutes longer or until grains are tender. Drain if necessary.
For the Dressing:
In a small bowl, whisk all dressing ingredients.
In a large bowl, mix cooked grains and remaining salad ingredients. Pour about half of the dressing over the salad and toss to combine. Cover and refrigerate 1 to 2 hours or until chilled. Before serving, toss the salad again. If desired, drizzle more of the reserved dressing over the salad and toss again.
If you have leftovers, the grains will continue to soak up the dressing. Simply add more reserved dressing as needed before eating. I never did use all of the dressing for this salad.
The salad keeps very well refrigerated for several days.
Nutrition Information:
Yield: 6
Serving Size: 1
Amount Per Serving:
Calories: 367
Total Fat: 13g
Saturated Fat: 1g
Trans Fat: 0g
Unsaturated Fat: 12g
Cholesterol: 0mg
Sodium: 104mg
Carbohydrates: 61g
Fiber: 6g
Sugar: 29g
Protein: 5g
Nutrition information is automatically calculated by Nutritionix. I am not a nutritionist and cannot guarantee accuracy. If your health depends on nutrition information, please calculate again with your own favorite calculator.