Meghan's Reuben Dip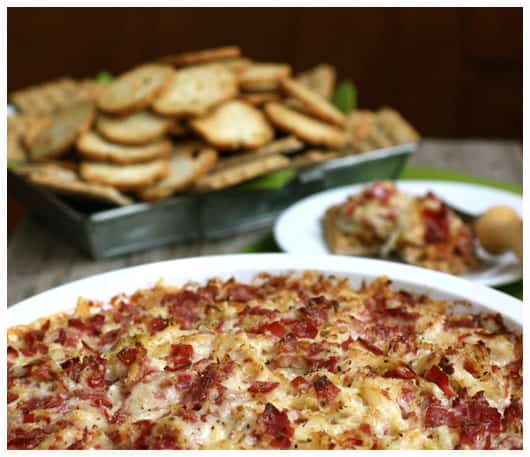 Growing up, sauerkraut made a somewhat regular appearance at our kitchen table. I come from a long line of Germans, and this sour cabbage is a well known fact of my heritage. And Mom kept our house stocked, making her own in a four-gallon crock in the basement.
Ahhh…nothin' like fresh kraut!
My dad also recalls helping to make this as a kid, after bringing in the cabbages from the fall garden. And when visiting his grandparents (my Great Grandpa & Grandma Braun), he was often asked to fetch some fresh sauerkraut from their very large Red Wing crock in the basement. The crock was covered with a circular board, sized to just fit the inside of the crock, and it had a small hole cut into it for an easy finger pull. A heavy stone rested on the board, pressing the fermenting cabbage down into the brine. Armed with a bowl and a large tined meat fork, Dad would scoop out some fresh sauerkraut for his grandma to warm up with their next meal. And that meal probably consisted of sausage or smoked meat, fresh from the farm's fall butchering.
I know that sauerkraut is pretty much a love/hate thing. Its distinctive strong flavor just doesn't sit well with alot of people. But I remember my own fondness growing with each Reuben sandwich I ate as a kid. Dad & Mom were big on their Reubens, and after a few snitchful bites of theirs, I started wanting my own. I think that's when I discovered I liked Thousand Island dressing, too!
So, many years later, after preparing far too few sauerkraut dishes of my own, my dear friend Meghan introduced me to this handsome Reuben Dip. It's like a deconstructed Reuben sandwich, all magnificently reborn into a baked ooey gooey dip!
I, along with my very German parents, think it's mighty fine. And my non-sauerkraut-loving very Norwegian husband has even been seen taking seconds. That right there is huge testimony to this dip's goodness!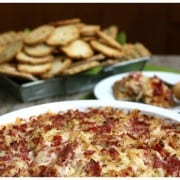 Reuben Dip
Ingredients:


1 lb. diced corned beef


8 oz. shredded swiss cheese


1 14-oz. can sauerkraut, drained very well (place in strainer & press out liquid)


3/4 c. mayonnaise


1/4 c. Thousand Island dressing


salt and pepper, to taste


Directions:
In a large bowl, mix all ingredients together. Spoon into a serving dish that can be placed in the oven (a 9″ pie plate works great!). Bake at 400° for about 20 minutes, until it is bubbling and nicely browned. Serve with your favorite sturdy crackers. I used rye crackers and bagel chips, but think pumpernickel crisps would be good, too.
This makes a good sized bowl of dip. If you want, split the dip in half between 2 pie plates, or dishes of similar size. When baking them separately, there's more surface area of cheese that gets browned, making for more of that gooey browned cheese texture. Yum!
adapted slightly from Meghan Cornell's recipe box, originally from her friend "Biz, The Appetizer Queen"
© a farmgirl's dabbles
I'm linking up with:
Robyn at Add a Pinch for Mingle Monday
Rachel at A Southern Fairytale for Mouthwatering Monday!