Slow Cooker Island Pulled Pork
This post may contain affiliate links to products we use and love.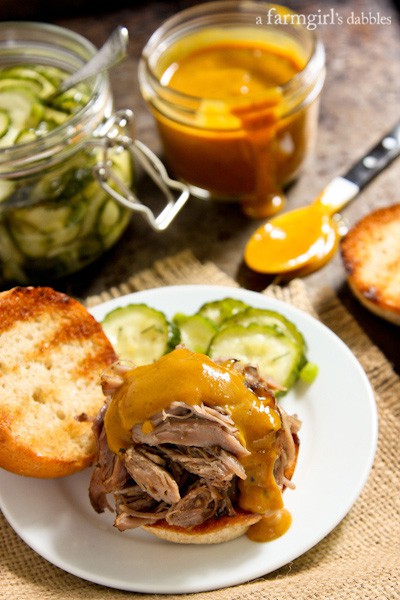 Slow cooked pork, fork-tender and saturated with flavor, is one of my favorite dishes of all time. Today I'm sharing this wonderful Slow Cooker Island Pulled Pork recipe from Jill Holland, Chef Instructor at Second Harvest Food Bank of Central Florida. This recipe is included in the just released slow cooker cookbook "Where Slow Food and Whole Food Meet", a labor of love that has been put together by my friends Christine and Jennifer, with brand new recipes contributed from an amazing group of food bloggers. Together, we are sharing our best slow cooker recipes and raising awareness for September's Hunger Action Month with Feeding America. Won't you please join us?
Over 30 food bloggers teamed up to put together a cookbook full of healthy and affordable slow cooker recipes. Here's a great little video that features some of the recipes and bloggers involved. By purchasing your very own copy of "Where Slow Food and Whole Food Meet: Healthy Slow Cooker Dinners from our Kitchens to Yours", you'll not only be set for some amazing meals, but you'll also be helping to fight hunger in America, with all book proceeds going to Second Harvest Food Bank.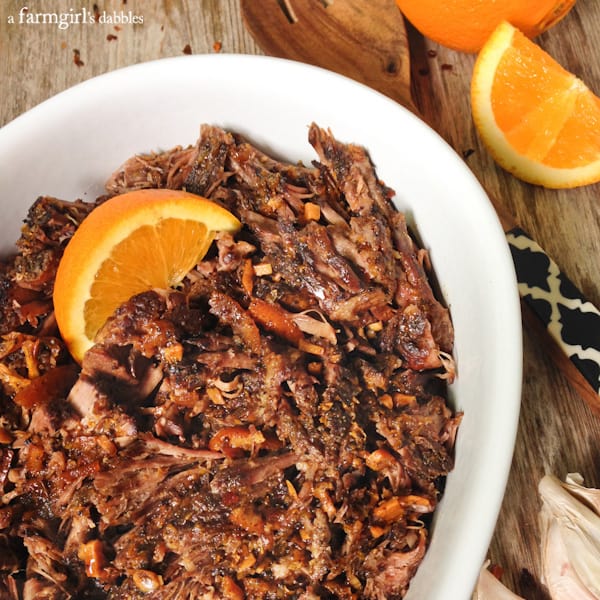 My Slow Cooker Balsamic Orange Roast Beef is included in this new cookbook. You seriously don't want to miss this recipe!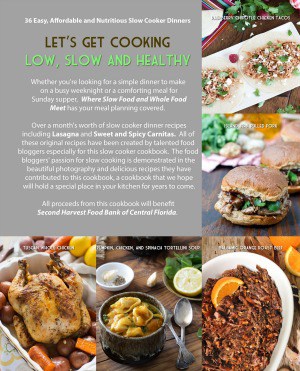 To help get the word out about hunger in America and this new cookbook, some generous sponsors jumped on board. Together, San Miguel Produce, Grimmway Farms, and Old Oak Farms by RPE Produce made contributions to help end hunger. They each contributed food to their local food banks, provided cookbooks for giveaways at each blogger's site, PLUS they gave $5 for every print copy of the book that was sold, up to $600.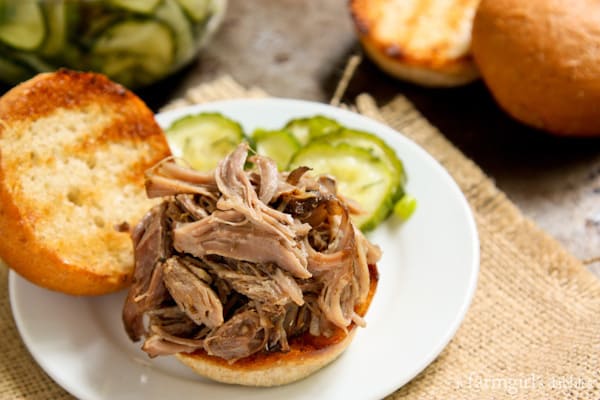 Slow cooker food means comfort food. Warm and delicious meals to satisfy our hunger.
This Slow Cooker Island Pulled Pork offers a lovely twist of island inspired flavors that my entire family approves of. I had never before made a rub that incorporated freshly grated ginger, and it's absolutely wonderful with the cloves and other spices involved.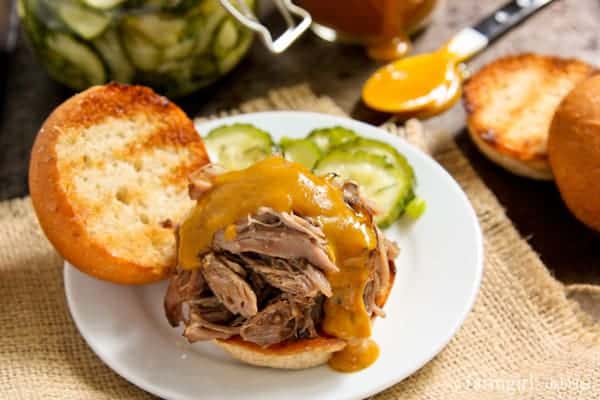 With just a bit of a kick, this pulled pork recipe is a definite keeper. I especially like to eat the tender, juicy pork on a buttered and grilled bun, with a slathering of sauce – I quickly mixed up some mustard, BBQ sauce, and honey for this meal. With a side of my mom's sweet refrigerator dill pickles, this meal is complete perfection.
You will find the recipe for this Slow Cooker Island Pulled Pork below. For all the other awesome slow cooker recipes, purchase a copy of the cookbook from Amazon. Thank you so much!
Here is a list of all the participating bloggers and their contributed recipes – please visit them!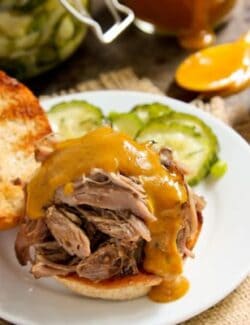 Slow Cooker Island Pulled Pork
Yield: 8 servings

Prep Time:20 minutes

Cook Time:8 hours
Ingredients:
1 T. onion powder
1 T. garlic powder
2 tsp. grated fresh ginger
1-1/2 tsp. ground cloves
1-1/2 tsp. ground allspice
1-1/2 tsp. thyme
1-1/2 tsp. dry mustard
1-1/2 tsp. coarse salt
1 tsp. sweet or hot paprika
1/2 tsp. cumin
1/2 tsp. sugar
1/4 tsp. black pepper
1/4 tsp. cayenne pepper
1  3-pound boneless pork butt
1 c. apple cider or apple juice
1 bay leaf
hamburger buns, sliced open
your favorite BBQ sauce
chopped fresh cilantro, optional
Directions:
In a small bowl combine onion powder, garlic powder, cloves, ginger, allspice, thyme, dry mustard, salt, paprika, cumin, sugar, black pepper, and cayenne. Use fingers to rub spices together to ensure that ginger is dispersed throughout. Rub spice mixture all over pork. Place pork in the slow cooker, fat side up. Pour apple cider over pork and add bay leaf. Cook on low for 8 hours. Remove pork from slow cooker. Use two forks to shred meat. Skim fat off liquid in slow cooker. Drizzle a few tablespoons of the remaining liquid over the meat and mix to combine.

Serve on a bun as-is (a buttered and grilled bun is awesome!) or slathered with your favorite BBQ sauce. Sprinkle with fresh cilantro if desired.
Thank you so much to Christine and Jennifer for organizing this awesome slow cooker cookbook. You have put a tremendous amount of heart and time and talent into this. Thank you also to Second Harvest Food Bank of Central Florida, Feeding America, Hamilton Beach, Old Oak Farms by RPE Produce, Grimmway Farms, and San Miguel Produce for all your time and generosity in helping to fight hunger in America.
We participate in the Amazon Services LLC Associates Program, an affiliate advertising program designed to provide a means for us to earn fees by linking to Amazon.com and affiliated sites. See our
disclosure policy
for more info.