Cheesy Zucchini Noodles Bake with Roasted Corn and Red Pepper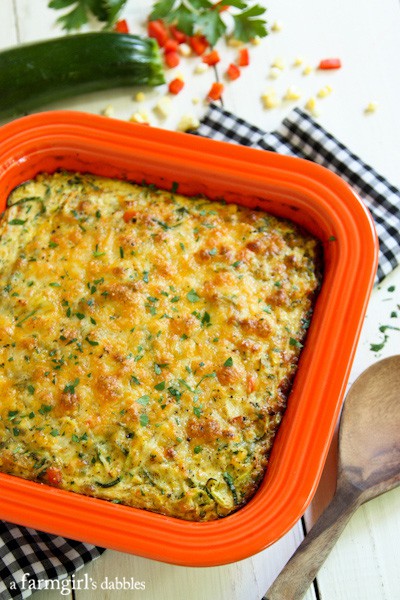 I caved in about a month ago. I let myself buy a spiral vegetable slicer, a kitchen gadget that I had repeatedly told myself I didn't need. First off, where was I going to store it in our small kitchen, already bursting at the seams? And then what if I didn't even like the thing? What if all the hype didn't quite measure up? Then what?!
But after visiting my friend Joanne in NYC this past summer and eating the wonderful raw zucchini salad she served one evening, plus having a convincing conversation with Liz about this crazy zucchini noodle maker contraption, I knew that I needed one. Yes, my spiralizer questioning zoomed quickly from a held-off want to a burning need in one lovely New York City visit. And you know what? I can say that I love my new kitchen gadget. It makes the most awesome textured raw zucchini "noodles" salads. And here, with this Cheesy Zucchini Noodles Bake with Roasted Corn and Red Pepper, I have ventured into placing those noodles in the oven, too. I think my friend Amanda, Queen of Zucchini, would be very proud of how far I've come since getting my hands on her newly released cookbook, Smitten with Squash. I've truly taken her love of squash to heart!
[rss-cut]
The spiralizer is quick to set up and so very easy to use. Our 7 year-old made the zucchini noodles for our first salad a few weeks ago. Did you see her on Instagram? (Just a warning…those blades are super sharp. Kids need supervision!)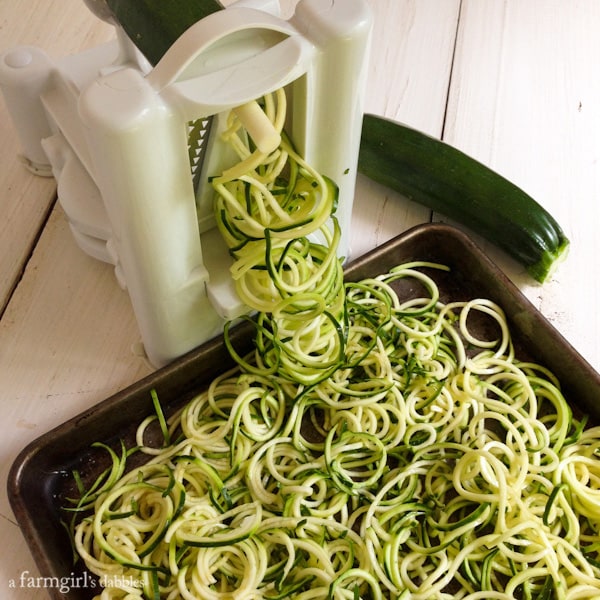 I like to cut the zucchini in half before placing it on the spiralizer, so the noodle strands aren't so long. It only takes a few minutes to run half a dozen zucchini through this machine.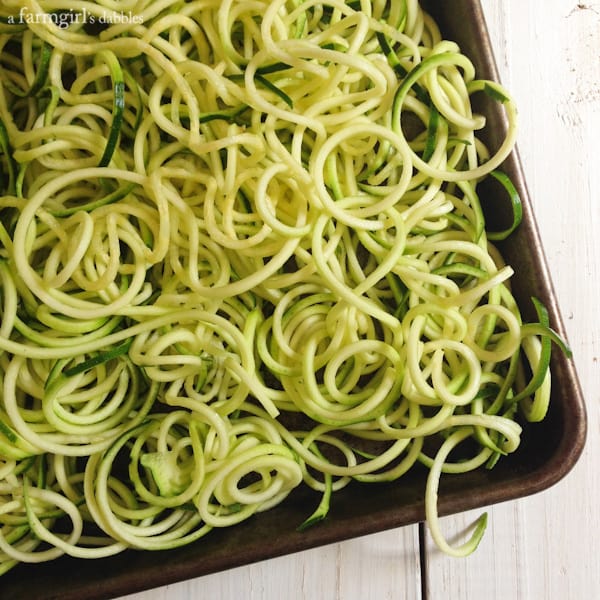 One thing I've learned since we've been eating more raw zucchini is that it is full of moisture. If you make a raw zucchini salad one day and plan to eat any leftovers the following day, it turns a bit watery. So I knew I needed to address that issue when creating this cheesy zucchini noodles bake. I didn't want a watery mess coming out of the oven. I found various ways of remedying this online, but in the end I used Amanda's method from her recipe Zucchini Cauliflower Summer Gratin, found in Smitten with Squash. Basically, she lightly salts the zucchini and places it in a colander. The salt draws out the water in the zucchini, and the excess liquid gets squeezed out by hand.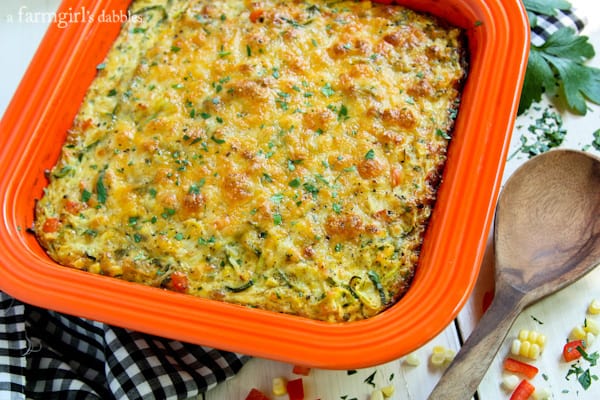 All the while this cheesy veggie dish was in the oven, I kept a close eye on the bit of liquid bubbling around the edges, hoping it would get absorbed into the rest of the dish. It all came together so wonderfully, I can't even explain it. The house smelled awesome enough to get everyone stopping by the kitchen to ask what was for supper. And you know how much we love our meat around here. Well, this was all I served at our family meal, with glasses of cold milk. And I received not one complaint. Only requests for more. Everyone loved this cheese-filled dish of end-of-summer vegetable yum. AND. The leftovers the following day weren't even watery. Woohoo!!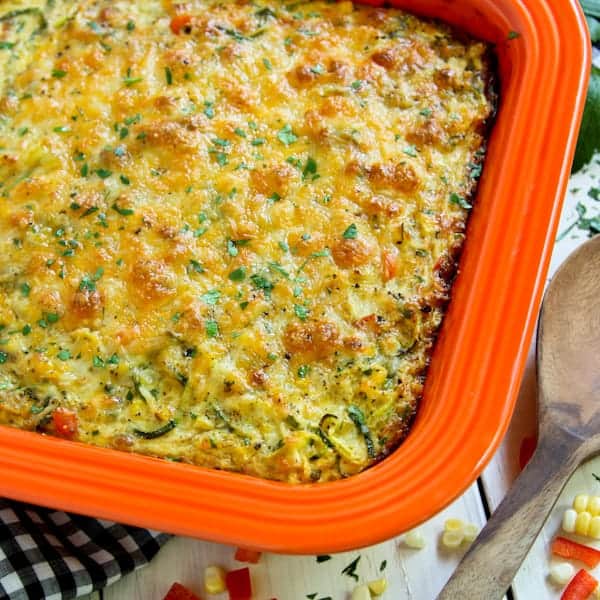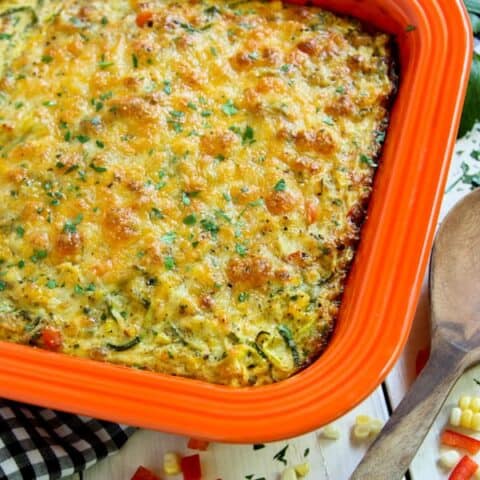 Cheesy Zucchini Noodles Bake with Roasted Corn and Red Pepper
Yield: 8 to 10 servings
Prep Time: 25 minutes
Cook Time: 35 minutes
Total Time: 1 hour
This Cheesy Zucchini Noodles Bake with Roasted Corn and Red Pepper is a healthy casserole recipe from my kitchen to yours. These zucchini noodles taste just as good as regular pasta - your family won't even notice the difference!
Ingredients
1.5 lbs. zucchini (about 4 large zucchini)
1.5 tsp. kosher salt
1 large red bell pepper, diced
1/2 of a large yellow onion, diced
3 large cloves garlic, minced
2 large ears of sweet corn, kernels cut from the cob
1/4 c. chopped fresh parsley
3 large eggs
1 T. half and half
2 T. melted butter
1/2 c. grated Parmesan cheese
12 oz. shredded Mexican cheese blend, divided
freshly ground black pepper
Instructions
Preheat oven to 375° F. Lightly spray a 9″ x 9″ pan and set aside.
Cut off the ends of the zucchini and then cut each one's length in half (this makes the noodles a bit more manageable, not so long). Using a vegetable spiralizer, make zucchini noodles, catching the noodles with a large pan. Spread the noodles out on the pan and then sprinkle evenly with the salt. Let sit while you prepare the rest of the zucchini bake.
In a large skillet over medium-high heat, dry roast the diced pepper and onion. Do not add oil or butter to the pan. Spread the pepper and onion evenly in the pan and let sit for a few minutes without stirring. You want to achieve some char. Then stir and let sit again, for about 7 minutes total, or until pepper and onion are softened and lightly charred. Transfer to a very large bowl. Then add the garlic and corn kernels to the same skillet. Dry roast these in the same manner, for about 5 minutes total. Remove to the very large bowl and add the chopped parsley.
Place a large colander inside another bowl or pan and add the zucchini to the colander. Press on the zucchini with a large wooden spoon or spatula (or your hands) to push moisture out of the zucchini. After you have pressed out as much as you can, take a few paper towels and press on the zucchini to remove even more of the moisture. The moisture doesn't have to be completely removed, but you do want to make a good effort to remove as much as you can. Add the zucchini noodles to the very large bowl. Fold to incorporate all the ingredients.
In a medium bowl, whisk the eggs, half and half, and butter. Stir in the Parmesan and 8 ounces of the shredded Mexican cheese. Pour over the vegetable mixture in the very large bowl and fold to combine thoroughly. Add zucchini mixture to your prepared pan, spreading it out evenly. Then add the remaining 4 ounces of cheese to the top, leaving an inch or two around the edges without cheese. Sprinkle with black pepper. Very lightly spray 1 side of a piece of foil with nonstick spray and loosely tent the pan. Bake for 20 minutes. Remove foil and bake for an additional 10 to 15 minutes. Then turn on the broiler and move the pan so that the cheese is about 6″ below the broiler. Broil until the bake is firmed up and the cheese is blistered. Remove from oven and let sit for 10 minutes before serving.
Nutrition Information:
Yield: 8
Serving Size: 1
Amount Per Serving:
Calories: 268
Total Fat: 19g
Saturated Fat: 11g
Trans Fat: 0g
Unsaturated Fat: 7g
Cholesterol: 123mg
Sodium: 736mg
Carbohydrates: 10g
Fiber: 2g
Sugar: 4g
Protein: 16g
Nutrition information is automatically calculated by Nutritionix. I am not a nutritionist and cannot guarantee accuracy. If your health depends on nutrition information, please calculate again with your own favorite calculator.