Sriracha Tuna Melt
This post may contain Amazon or other affiliate links. As an Amazon Associate I earn from qualifying purchases.
This Sriracha Tuna Melt recipe is the perfect answer to lunchtime boredom. It's a quick, easy sandwich, made warm and toasty by a few minutes in the oven!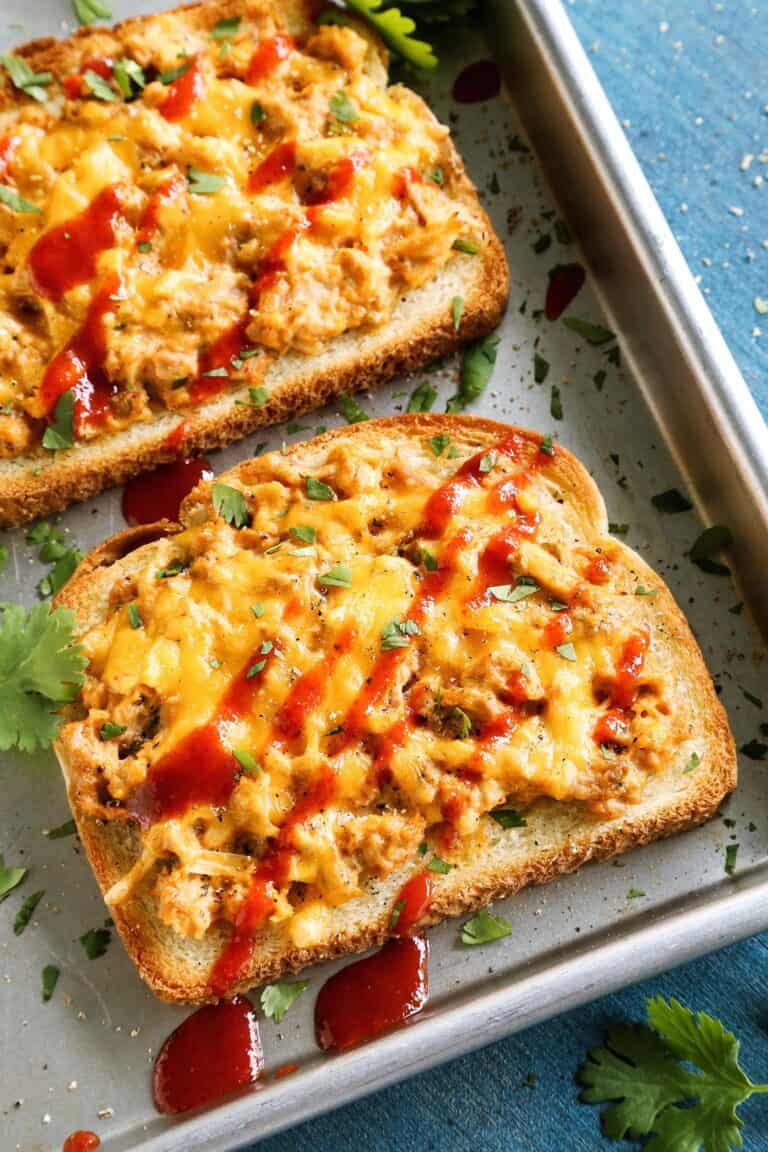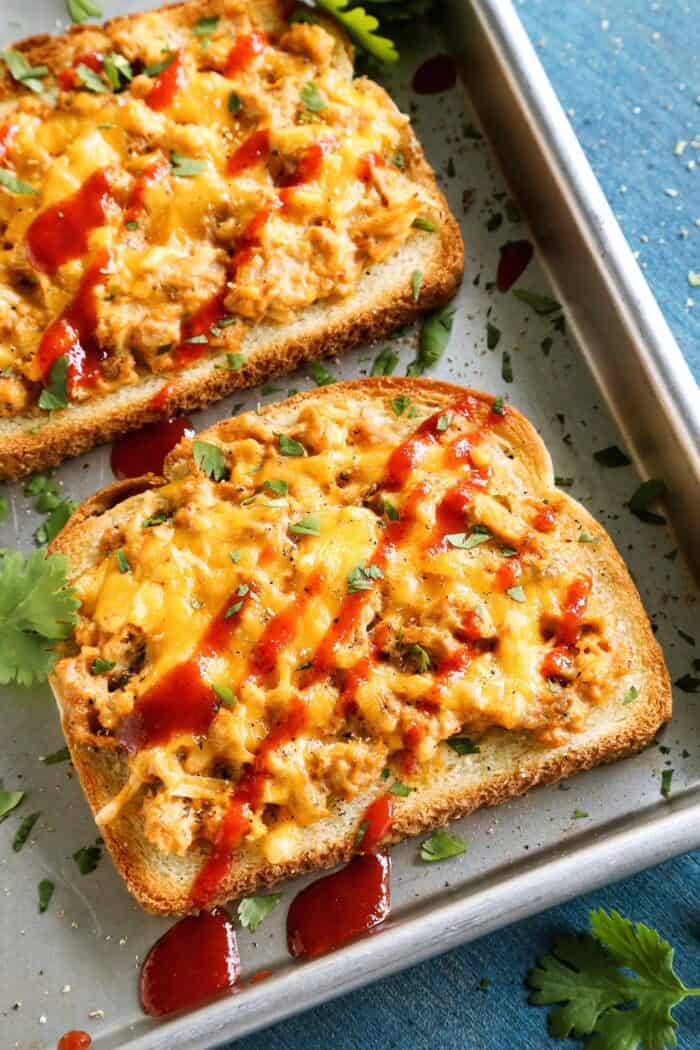 Easy Sriracha Tuna Melt
As I've been working from home for many years now, I've become quite the refrigerator forager when it comes to lunch. I can turn random leftover bites of this and that into some pretty tasty meals. I hate to waste and throw away food!
But sometimes there's just not much in the fridge to work with. Do you know what I mean?!
Today I'm sharing my quick and easy Sriracha Tuna Melt recipe with you.
This meal was conceived from my own lunchtime boredom years ago – and is now filling a need during this challenging time, offering ease and comfort. The open-faced sandwich is warm and toasty from the oven, and packed with fabulous flavor. I hope that you and your family are doing well, and that you love this tuna melt as much as I do!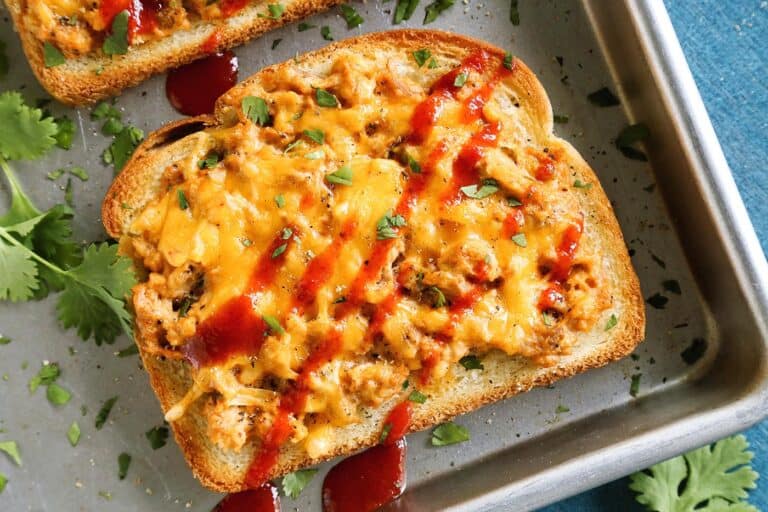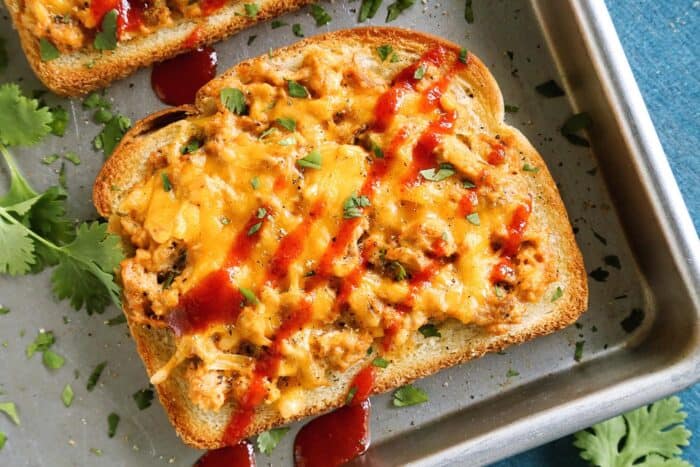 I updated this post in 2020. It was originally published in 2017 and sponsored by Chicken of the Sea®.
What is a Tuna Melt?
A melt sandwich is a kind of hot sandwich consisting of bread, cheese, and a filling such as meat or vegetables. The sandwich is then heated until the cheese is melted. It can be served open-faced (1 slice of bread with fillings on top) or closed-faced (2 slices of bread that sandwich the fillings in between them).
A tuna melt is a very common type of melt sandwich, made with a filling of tuna plus a creamy component such as mayonnaise.
Other popular filling choices include ham (my ham salad recipe would make a great melt sandwich!), roast beef, turkey, chicken, and one of my favorites >>> the patty melt. Oh, how I love that hamburger patty + cheese + caramelized onions! It's an American diner staple!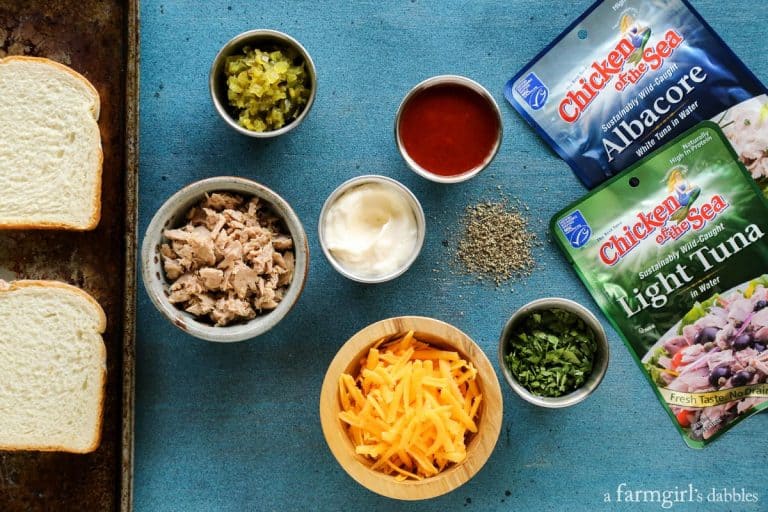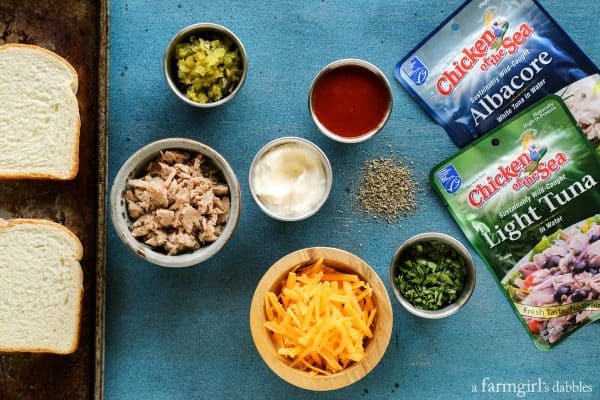 How to Make a Tuna Melt
This lunchtime favorite comes together easily, with just a few ingredients that we always have on hand in the pantry and fridge.
Sriracha tuna melt ingredients:
bread
butter
black pepper
sharp cheddar
fresh cilantro
How to make a tuna melt in the oven:
Place bread on baking sheet and spread butter around the edges of bread.
In a small bowl, stir together tuna, mayonnaise, Sriracha, pickle relish, and black pepper.
Spread tuna mixture evenly over the bread, leaving the buttered edges exposed.
Sprinkle cheddar over tuna mixture.
Place baking sheet under hot broiler. Broil slowly, and let buttered edges of bread get browned and crispy, while tuna gets hot and cheese gets melty.
Remove from oven and add a bit more Sriracha and black pepper, plus cilantro, if desired. Then enjoy while it's hot!
The tuna pouches from Chicken of the Sea are so handy for this recipe. Their 2.5-ounce size is just the right amount to make two open-faced cheesy Sriracha tuna melts. The Premium Light Tuna pouch boasts 14 grams of protein. Fuel for my day!
Tuna Melt Variations:
I highlight the convenient tuna pouches, but of course you could use cans of tuna. I've also made this with canned shrimp and canned chicken. If you have any shredded meats, I think they're pretty much all fair game!
For the bread, I say any bread that you already like would be good. I've made these melts with English muffins and would highly recommend!
If you don't like mayo, try some plain Greek yogurt.
A little bit of Dijon mustard would be welcome in the tuna mixture, as well as a squeeze of fresh lemon.
Don't have pickle relish? Simply chop up some of your favorite dill or sweet pickles. I also like to chop up my favorite pickled red onions and add them to tuna salad and egg salad – SO GOOD!
Add a couple slices of fresh tomato or roasted red pepper over the tuna mixture, then sprinkle with cheese and melt.
Swap the Sriracha out for any hot sauce of your liking. Barbecue sauce would also be good.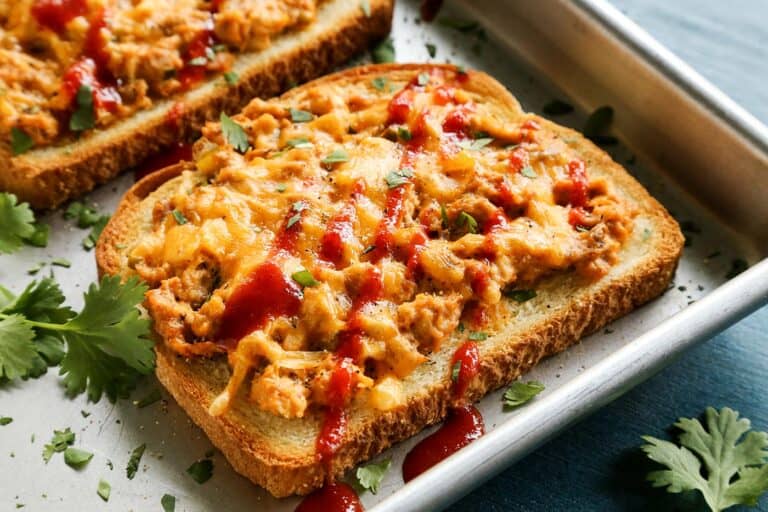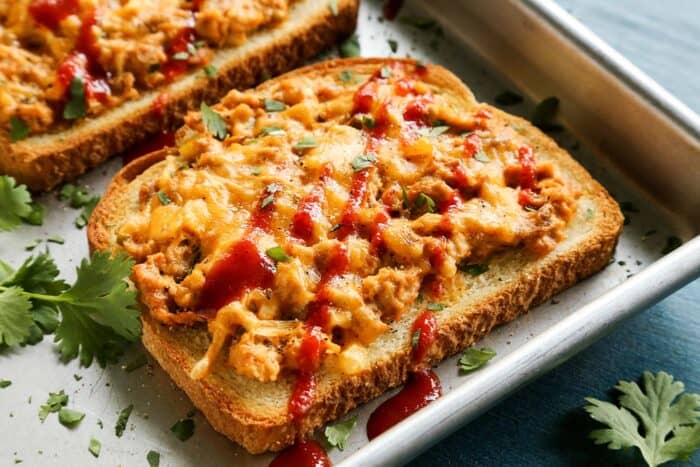 This simple recipe may seem too easy to be true. But that is the absolute beauty of it!
Buttery bread crisped under the broiler plus a tasty mixture of tuna, all covered in a blanket of melty cheddar.
You just have to give this a try!
Like this easy recipe? Save it to Pinterest!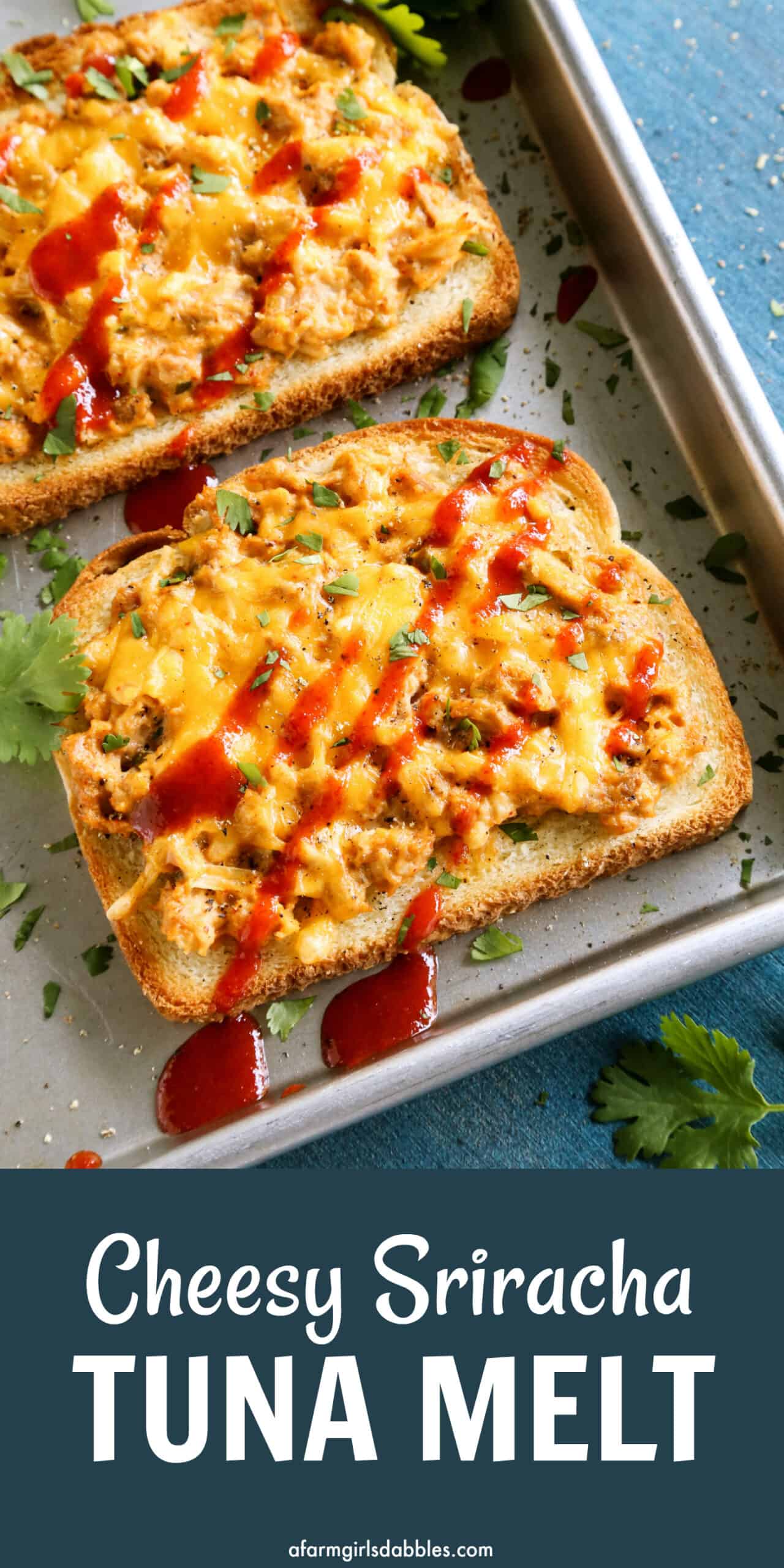 More Tuna Recipes for you!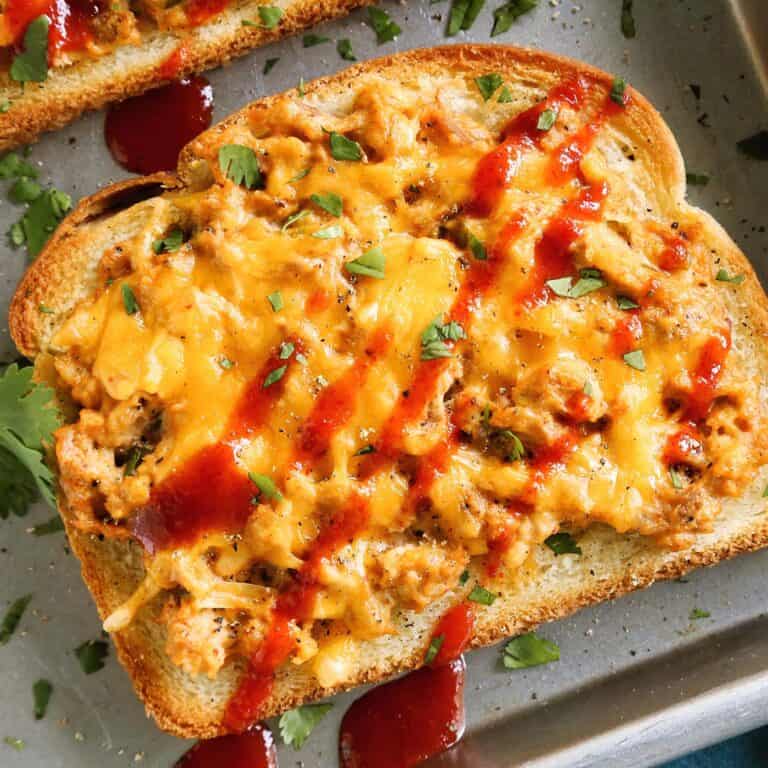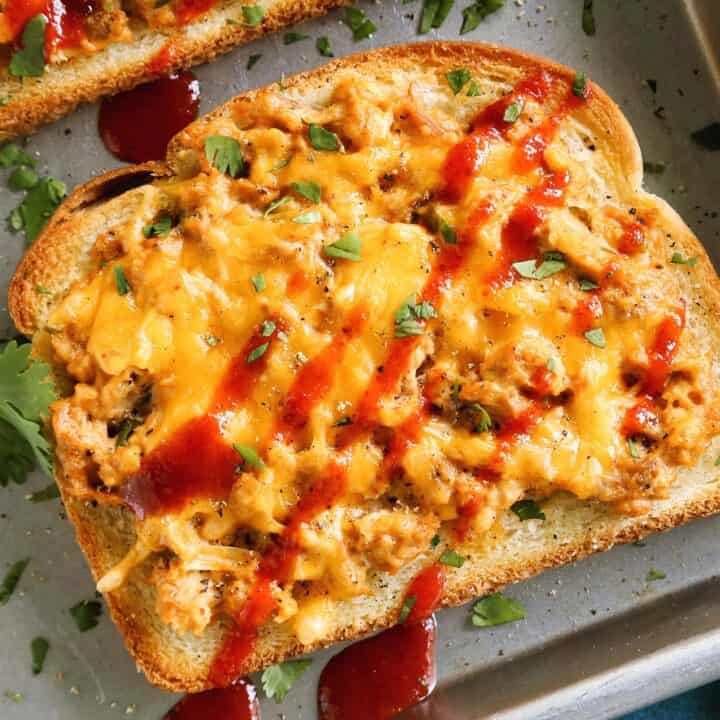 Sriracha Tuna Melt
Yield: 1 serving
Prep Time: 10 minutes
Cook Time: 5 minutes
Total Time: 15 minutes
This Sriracha Tuna Melt recipe is the perfect answer to lunchtime boredom. It's a quick, easy sandwich, made warm and toasty by a few minutes in the oven!
Ingredients
2 slices bread
1 T. softened butter
1 (2.5-oz.) pouch Chicken of the Sea® Premium Light Tuna or Premium White Albacore Tuna
1 T. Sriracha, plus more for drizzling over the finished toasts
2 T. mayonnaise
2 tsp. pickle relish
1/4 tsp. freshly ground black pepper, plus more for sprinkling over the finished toasts
1/2 c. shredded sharp cheddar
chopped fresh cilantro, optional garnish
Instructions
Place slices of bread on a baking sheet. With a knife, spread butter around the outer edges of the bread, leaving center of bread without butter.
In a small to medium-sized bowl, stir together tuna, Sriracha, mayonnaise, pickle relish, and black pepper. Divide tuna mixture between the two pieces of bread, spreading evenly over the un-buttered areas and leaving the buttered edges exposed.
Sprinkle tuna mixture with cheddar.
Turn oven broiler on high. Place baking sheet under broiler, on a rack set just a bit higher than the center of the oven. You want to broil slowly, to let the buttered edges of the bread get browned and crispy, while the tuna gets hot and the cheese melty. When done to your liking, remove baking sheet from oven.
Add a bit more Sriracha and freshly ground black pepper over the top, if desired. And sprinkle on a bit of cilantro, for a little fresh green. Enjoy hot.
Notes
from a farmgirl's dabbles
Recommended Products
As an Amazon Associate and member of other affiliate programs, I earn from qualifying purchases.
Nutrition Information:
Yield: 1
Serving Size: 1
Amount Per Serving:
Calories: 968
Total Fat: 60g
Saturated Fat: 31g
Trans Fat: 2g
Unsaturated Fat: 22g
Cholesterol: 175mg
Sodium: 1700mg
Carbohydrates: 57g
Fiber: 7g
Sugar: 12g
Protein: 53g
Nutrition information is automatically calculated by Nutritionix. I am not a nutritionist and cannot guarantee accuracy. If your health depends on nutrition information, please calculate again with your own favorite calculator.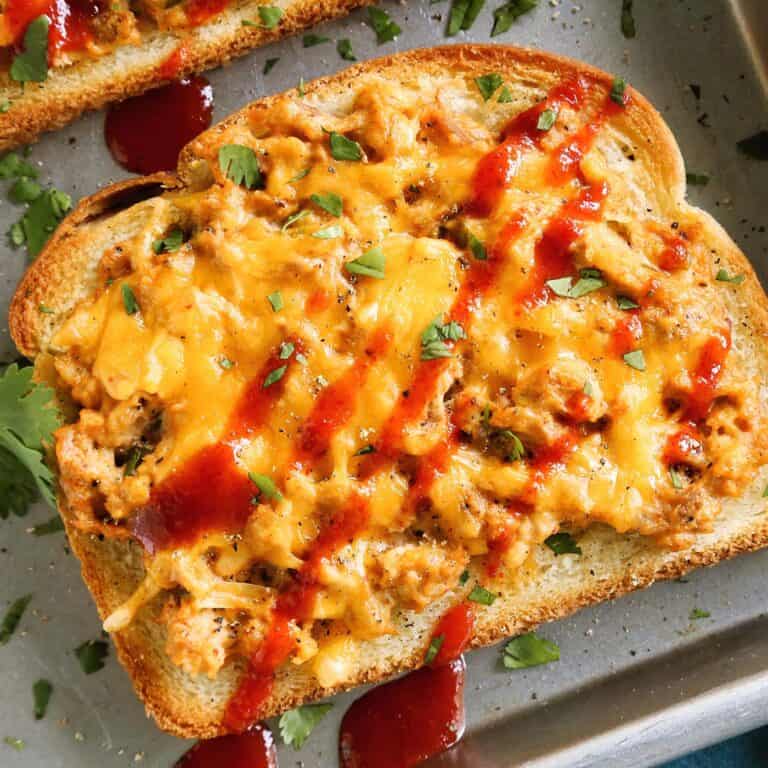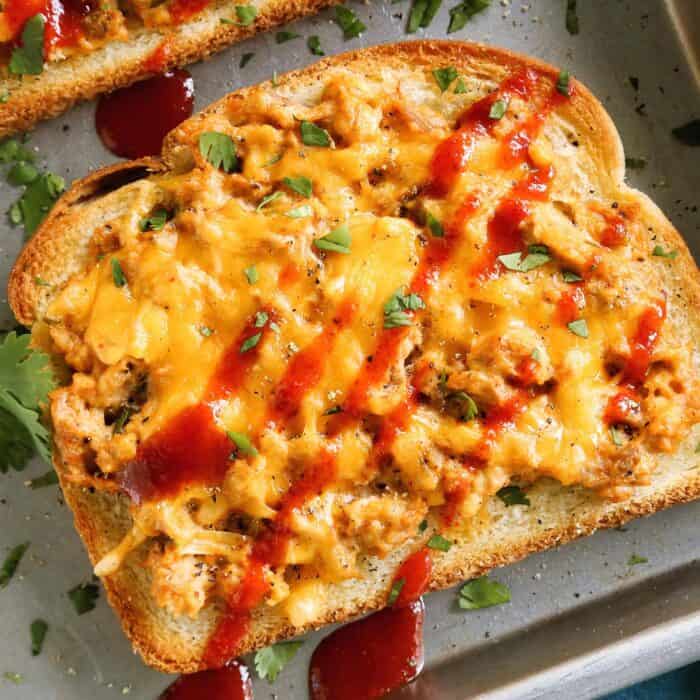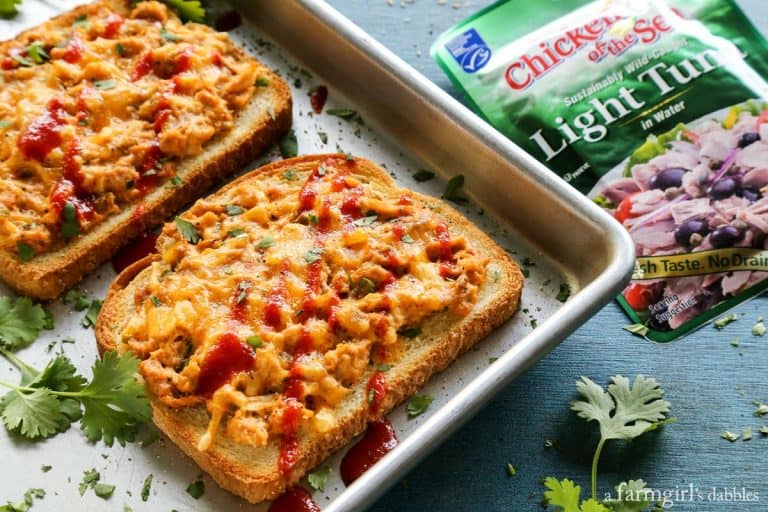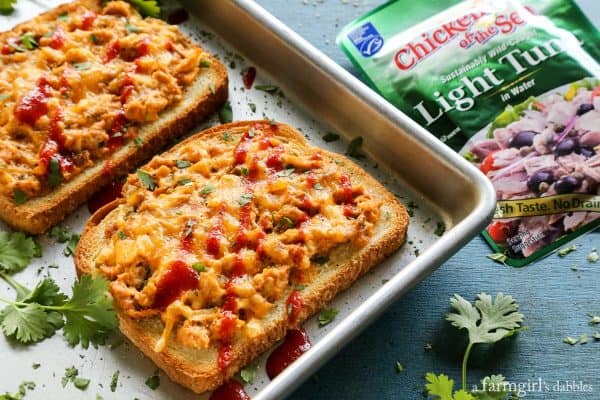 Chicken of the Sea is happy to announce that their tuna and salmon pouches are MSC (Marine Stewardship Council) certified. The little blue label in the top left corner of the pouch means that Chicken of the Sea meets the rigorous standards for sustainable fishing practices. They are one of the largest brands to commit to these strict standards, playing a leading role in helping to protect our global seafood supply for the future. Read more about that here.
Connect with Chicken of the Sea on their website and social media channels: Facebook, Twitter, Pinterest, and Instagram.
I updated portions of this post in 2020. Originally published in 2017, this post was sponsored by Chicken of the Sea. All opinions are 100% my own. Thank you for supporting the brands that help make this site possible.
We participate in the Amazon Services LLC Associates Program, an affiliate advertising program designed to provide a means for us to earn fees by linking to Amazon.com and affiliated sites. See our
disclosure policy
for more info.