Creamy Shrimp and Peppadew Crostini
This ultra flavorful Creamy Peppadew and Shrimp Crostini recipe is perfect for any time of year, and especially festive during the holidays.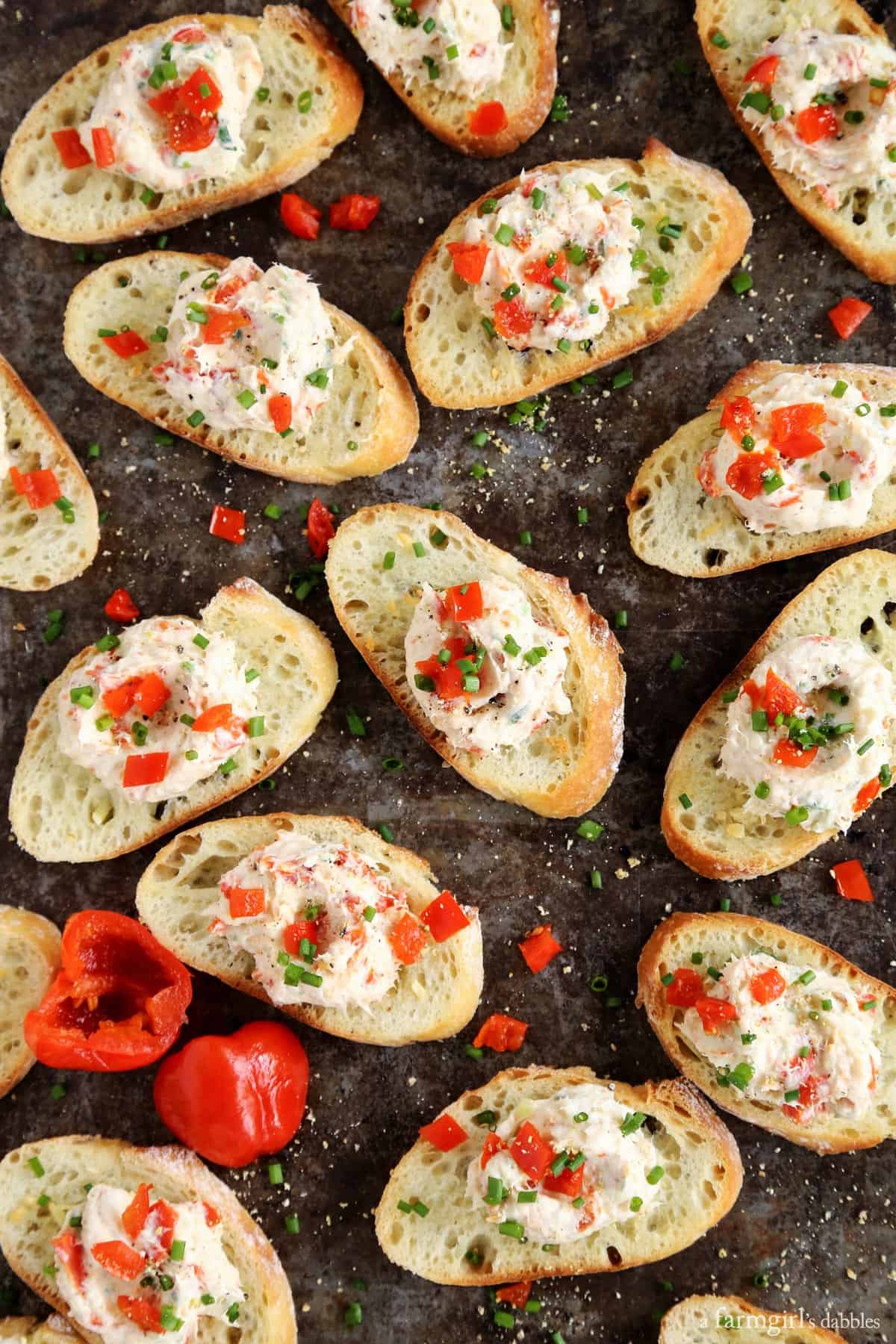 Easy Shrimp Crostini Recipe
One of my all-time favorite appetizers during the Christmas season is a shrimp dip that my mom is famous for. I've been enjoying dipping crackers into it for as long as I can remember; Christmas Eve would not be the same without it!
This recipe for Creamy Shrimp and Peppadew Crostini has taken my mom's shrimp dip to a whole new level. It's amped up in flavor and just a bit "fancy". I just know you're going to love it!
* This is a sponsored post, created in partnership with Chicken of the Sea®.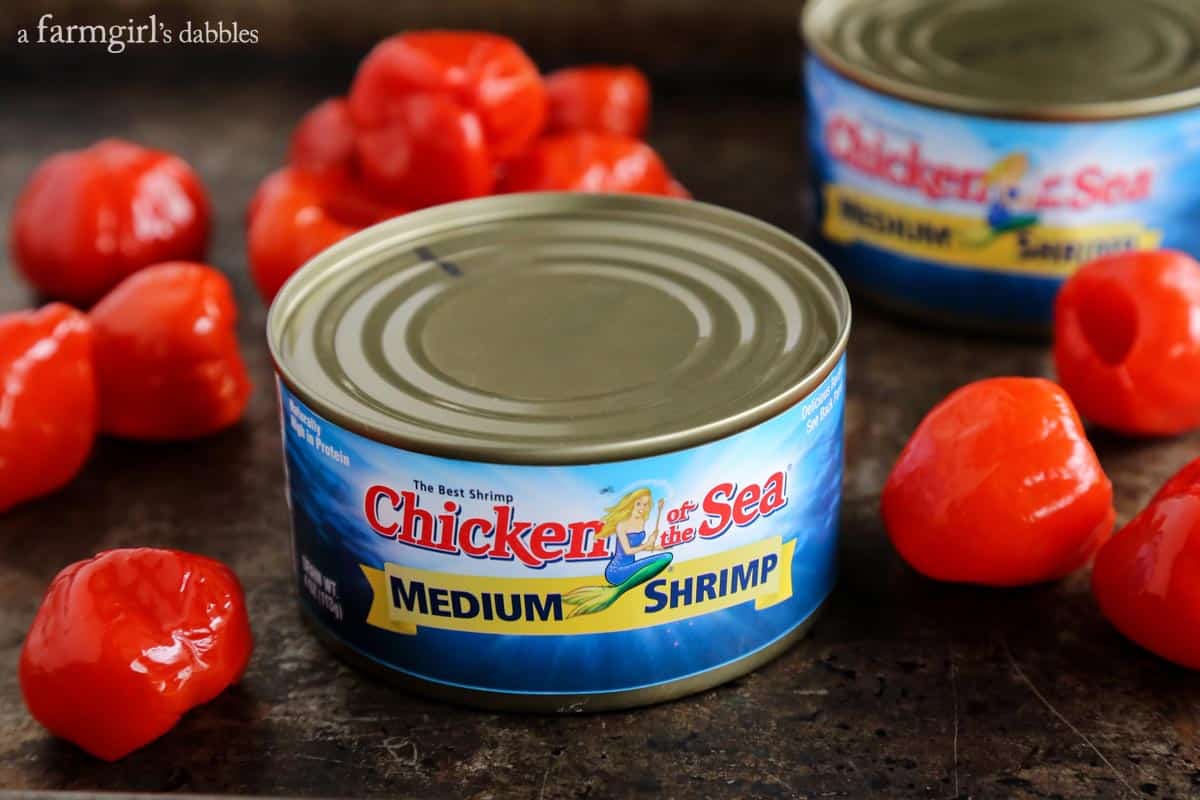 I always stock up on cans of shrimp from Chicken of the Sea right before the holidays and football season. Between Mom's shrimp dip, my aunt's layered creamy chili shrimp dip (it's so fun and pretty, you just have to take a look!), and now this creamy shrimp and Peppadew crostini recipe…I simply must always be prepared to create something delicious for a gathering of friends and family.
If you love these shrimp crostini, you should also check out my sriracha toasts with shrimp and grilled shrimp cocktail recipes!
What Are Peppadew Peppers?
Do you know about these Peppadew peppers that I included in this recipe? They are small piquanté peppers grown in South Africa. The seeds of this vibrant red pepper are removed and then the peppers are pickled and bottled. I was first introduced to Peppadews on a pizza, where I immediately fell head-over-heels for them. They are bright and tangy and sweet, with just a bit of fire in their bite. Look for them in your grocery store's bulk olive buffet or in jars in the deli and cheese area.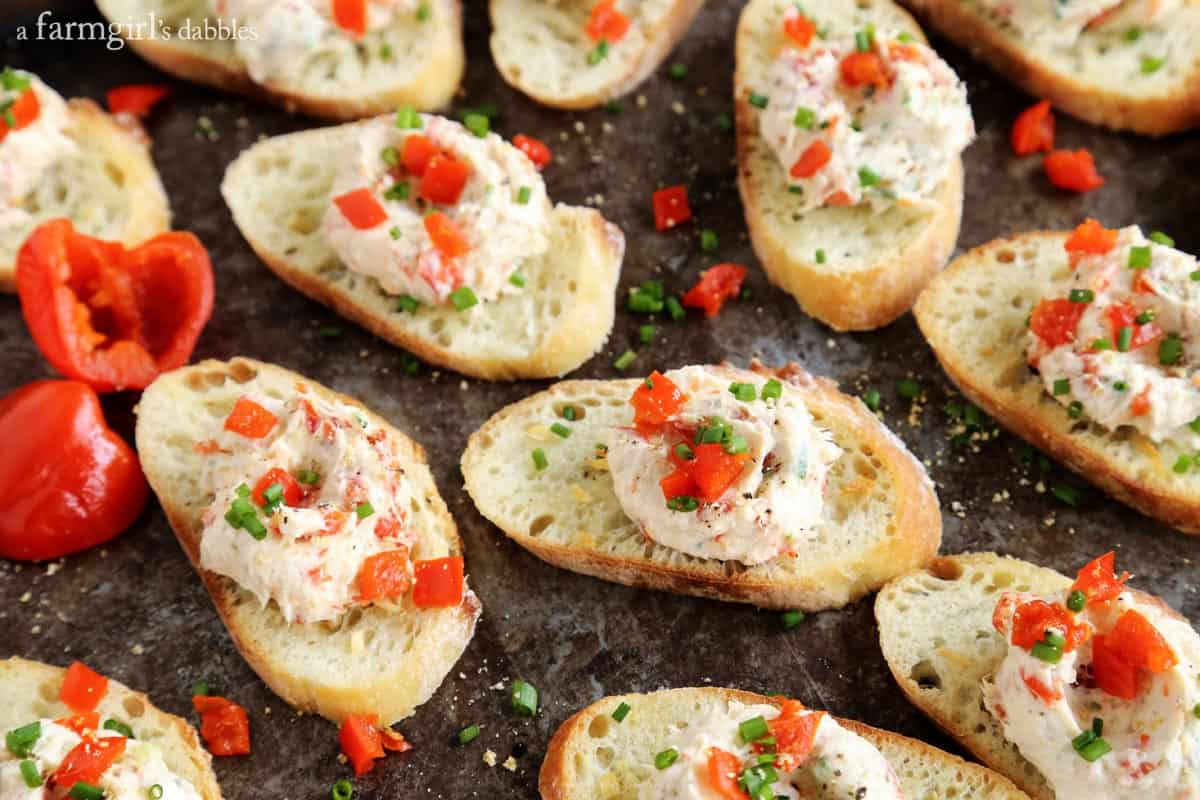 When I was creating this recipe, I wasn't really thinking about how the colors would be so Christmas-like, with obvious red and green. This appetizer was meant for the holidays!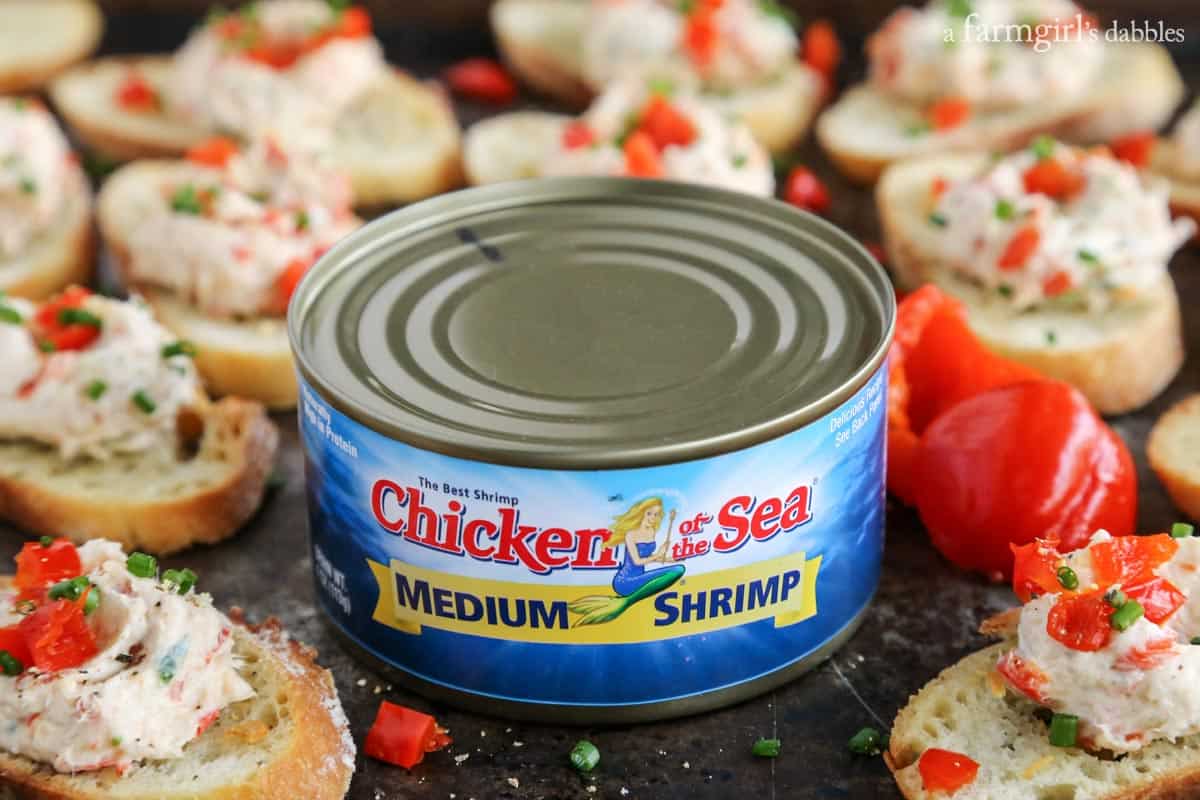 Chicken of the Sea offers shrimp in tiny, small, and medium sizes. While I chose to use the medium size shrimp in this recipe, any size will do. All of these sizes will give you that wonderful shrimp flavor that you're craving.
More Shrimp Recipes To Try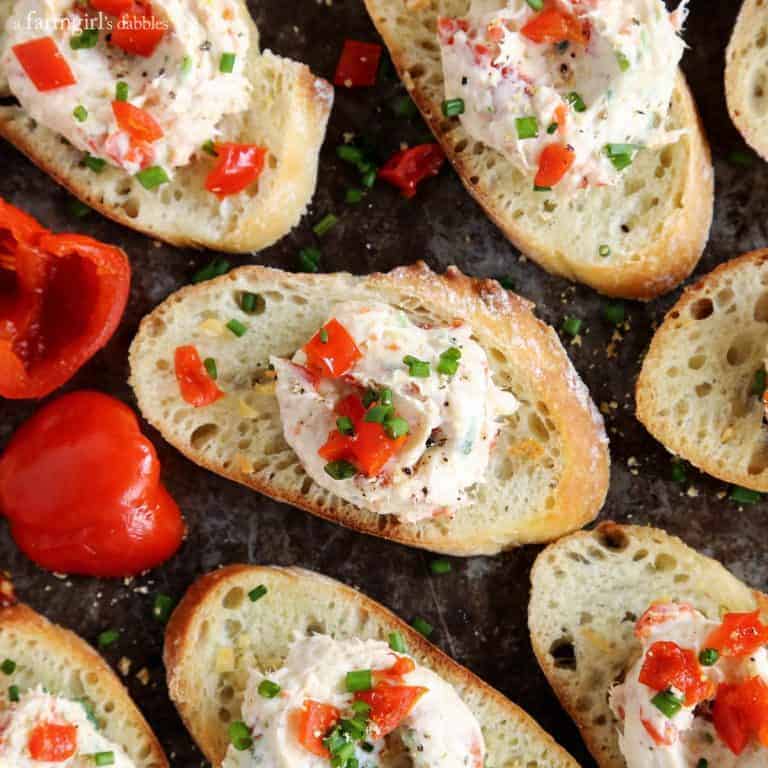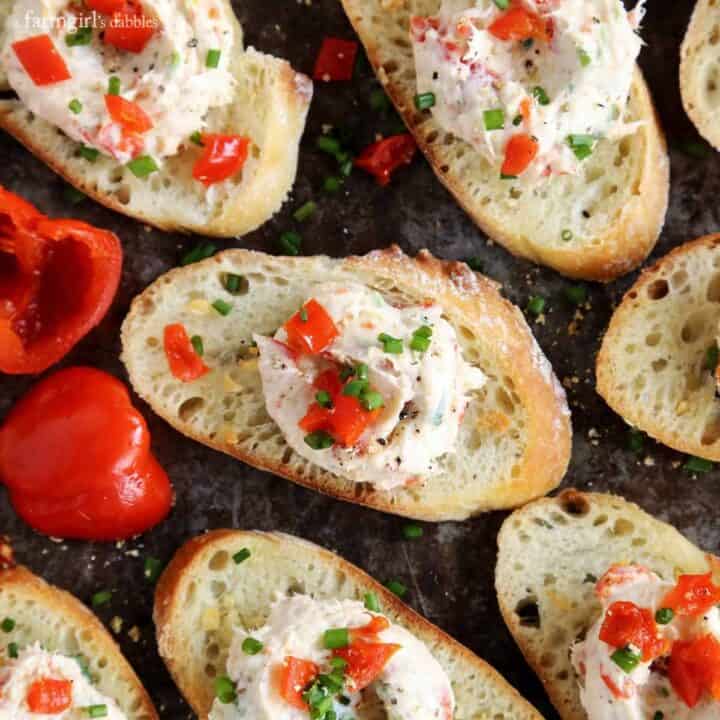 Creamy Shrimp and Peppadew Crostini
Yield: serves 12 to 14 as an appetizer
Prep Time: 15 minutes
Cook Time: 10 minutes
Total Time: 25 minutes
This ultra flavorful Creamy Shrimp and Peppadew Crostini recipe is perfect for any time of year, and especially festive during the holidays.
Ingredients
1 baguette
1/4 c. salted butter, softened
1 T. olive oil
3 medium cloves garlic, minced
8 oz. cream cheese, softened
1/4 c. mayonnaise
2 4-oz. cans Chicken of the Sea® Medium Shrimp, drained, rinsed, and roughly chopped
1/2 c. finely chopped Peppadew peppers, plus a bit more for garnishing the tops of the finished crostini
1/4 c. finely chopped green onion (white and green parts)
lemon zest from half of a large lemon
1/4 tsp. kosher salt
1/4 tsp. freshly ground black pepper, plus a bit more cracked over the tops of the finished crostini
finely sliced fresh chives, for garnishing the tops of the finished crostini
Instructions
Preheat oven to 375° F.
Slice baguette diagonally into 1/4" thick slices and set aside. In a small bowl, stir together butter, olive oil, and chopped garlic until combined. Spread onto one side of each slice of baguette. Place baguette slices onto one or two baking sheets, buttered sides up. Bake for 10 to 12 minutes, or until golden and toasted. Remove from oven and allow crostini to cool on baking sheets.
In a medium bowl, stir together cream cheese and mayonnaise until well blended. Stir in half of the chopped shrimp, and then the chopped peppers, green onion, lemon zest, salt, and pepper. Then lightly fold in the remaining half of the chopped shrimp so there are noticeable chunks of shrimp. Spoon a bit of the creamy shrimp and peppers mixture onto each piece of crostini. Top each appetizer with some additional chopped peppers and the sliced chives. Sprinkle lightly with additional freshly ground black pepper if desired.
An alternative to this recipe would be to serve the creamy shrimp and pepper mixture as a dip, with the crostini on the side. This would also work great with your favorite crackers and/or fresh veggies for dipping.
Notes
from a farmgirl's dabbles
Nutrition Information:
Yield: 14
Serving Size: 1
Amount Per Serving:
Calories: 233
Total Fat: 16g
Saturated Fat: 7g
Trans Fat: 0g
Unsaturated Fat: 8g
Cholesterol: 43mg
Sodium: 307mg
Carbohydrates: 15g
Fiber: 1g
Sugar: 2g
Protein: 8g
Nutrition information is automatically calculated by Nutritionix. I am not a nutritionist and cannot guarantee accuracy. If your health depends on nutrition information, please calculate again with your own favorite calculator.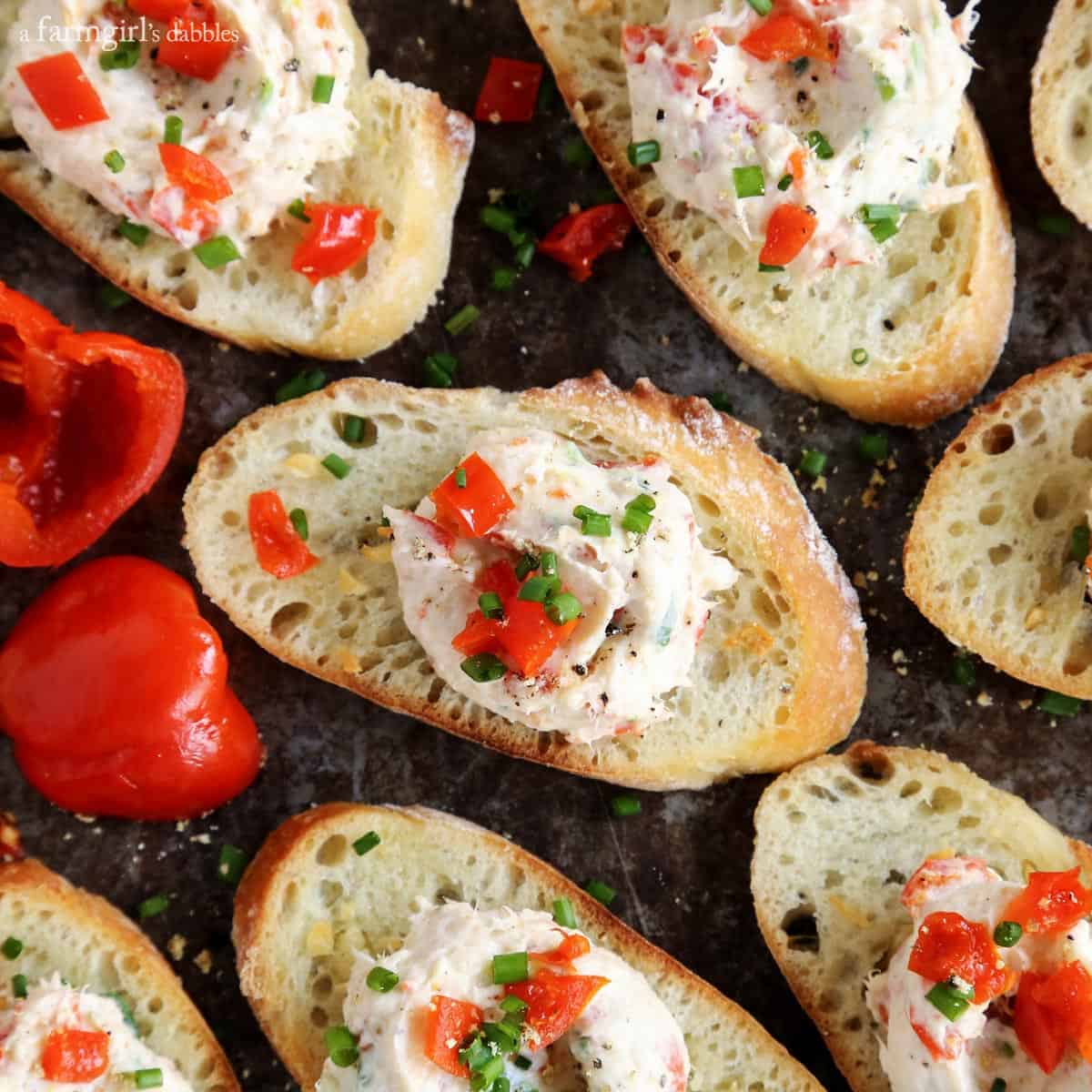 Chicken of the Sea has just recently rolled out new packaging (see below). Look for their shrimp in a store near you and connect with them on their website and social media channels: Facebook, Twitter, Pinterest, and Instagram.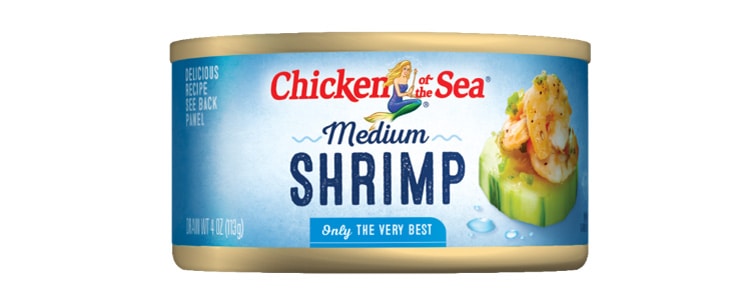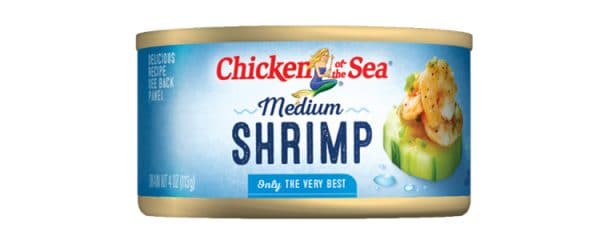 This post is sponsored by Chicken of the Sea. I am happy to be partnering with them this year, bringing you delicious recipes from the sea. All opinions are 100% my own. Thank you for supporting the brands that help make this site possible.