Hunan Beef
This easy Hunan Beef recipe is better than take-out! It features tender, lightly crispy strips of steak, plus bell peppers and onions in a savory sauce that's lightly spicy and tangy. This Chinese stir fry is a flavorful, hearty dinner for any night of the week!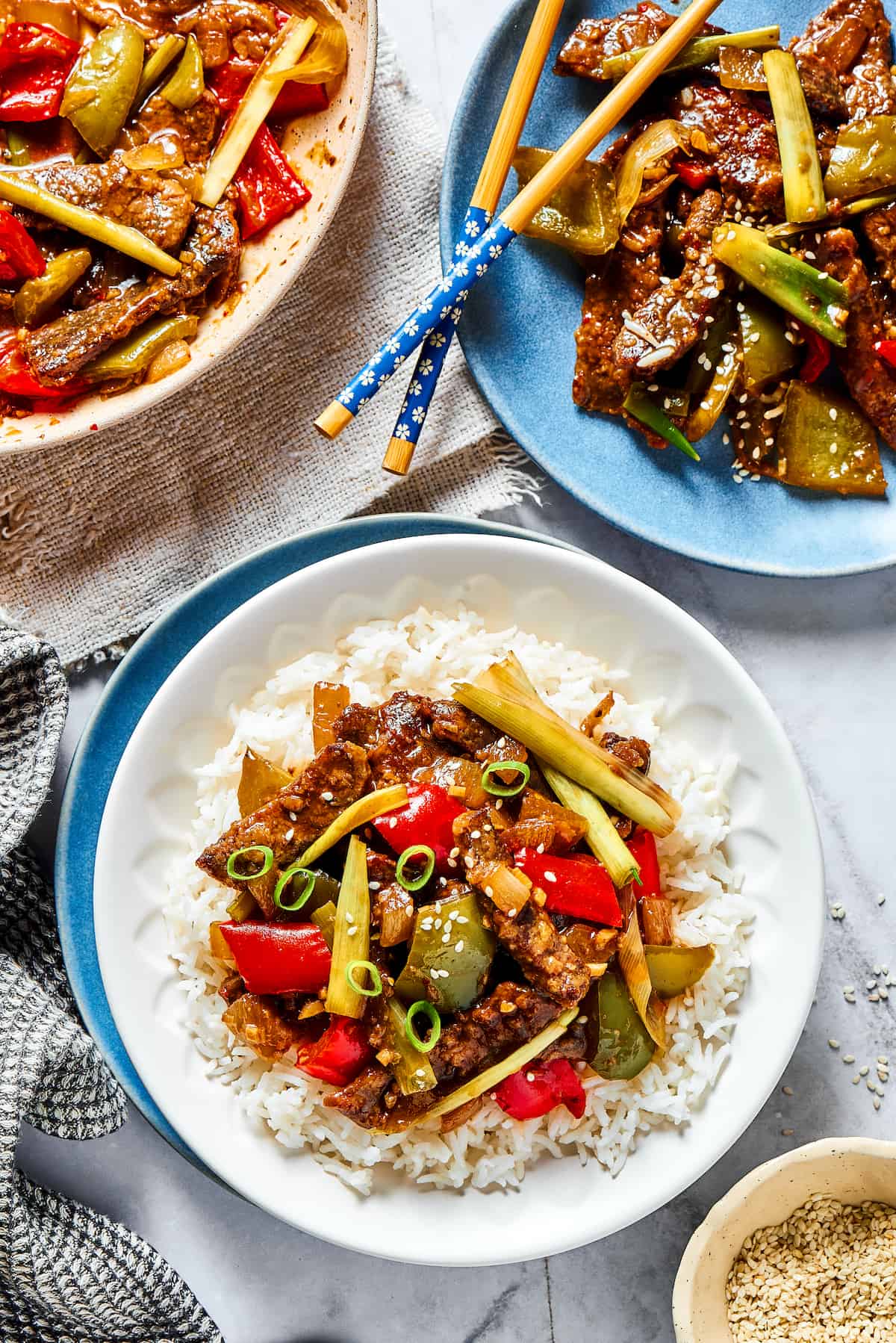 Better-Than-Takeout Hunan Beef Recipe
If you love the Hunan Beef dish at your local Chinese restaurant, you're in for a treat with this recipe!
The key to any good Hunan beef is the sauce. It needs to be robust, with the perfect balance of savory plus tangy and spicy. And this dish has it perfected.
I Include a delicious vinegar in this recipe. Plus rich, salty oyster sauce, a favorite ingredient for our family. We use it in crispy baked chicken wings with oyster sauce and yaki udon – so good!
For those who don't love spice – don't worry. You can easily customize this beef stir fry to control the heat. I focused more on flavor than heat, and let you decide if you want it mild or fiery hot.
From start to finish, Hunan beef takes less than an hour to make. Add some cooked rice and dinner is served!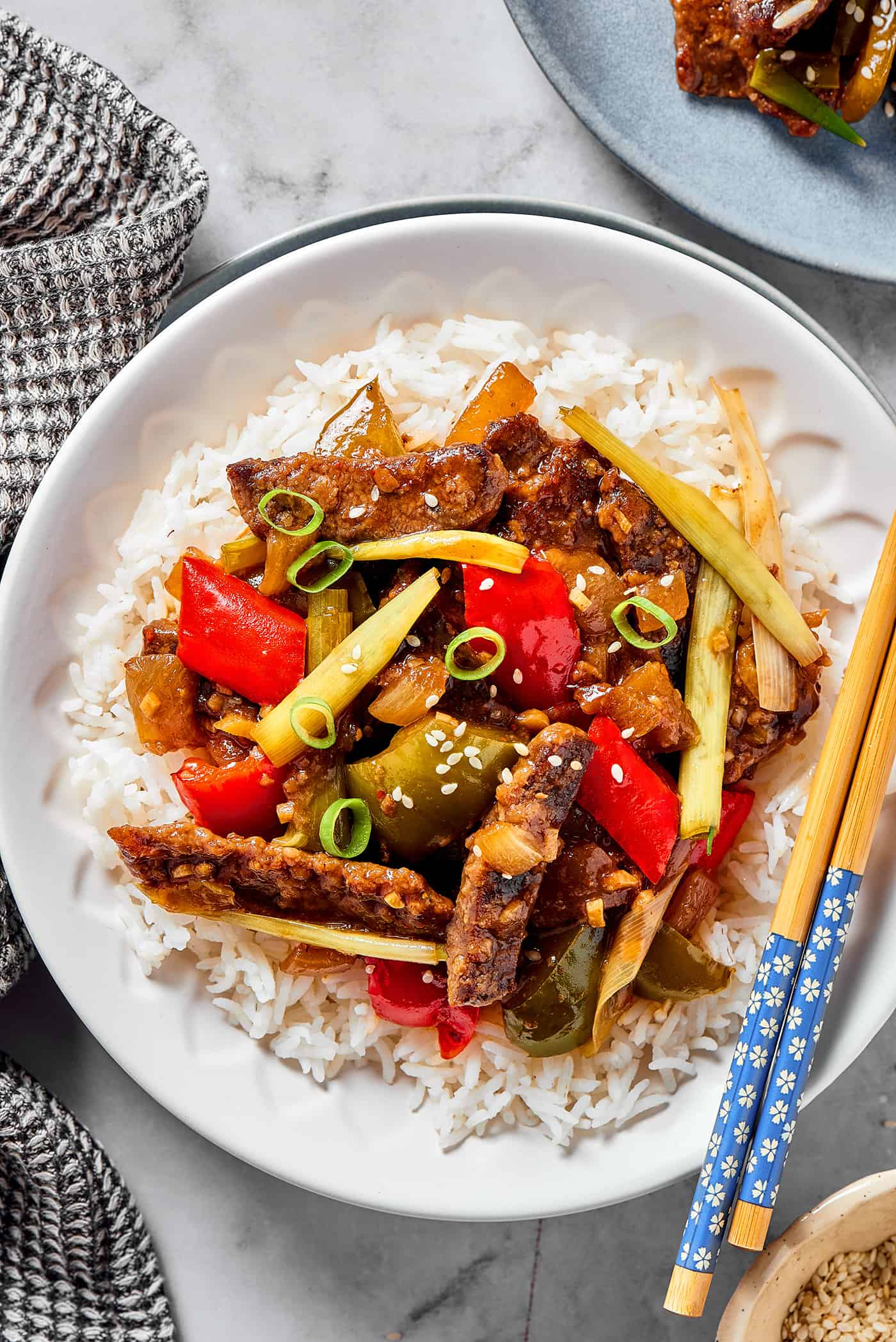 What is Hunan Beef?
Hunan beef is a popular Chinese takeout dish that originates from the Hunan region of China.
It features thin slices of tender, crispy beef cooked with fresh bell peppers and onions. Everything is coated in a savory sauce that's lightly tangy and spicy sauce. I love that it includes oyster sauce!
I rate this recipe I'm sharing today as "mildly hot" when it comes to spice level, as that's how my family prefers to eat it. But the Hunan region is known for very spicy dishes – so depending on where you try it, it can really pack some heat. (But most restaurants let you specify spice level!)
What's The Difference Between Szechuan Beef and Hunan Beef?
Szechuan Beef and Hunan Beef may look like two similar dishes, and while some of the ingredients are the same, they do have a different flavor profile.
Szechuan beef has a milder, sweeter flavor that includes a lot of garlic. It gives off a tingly sensation thanks to the Szechuan peppercorn. And Hunan Beef tends to be more savory, and spicier.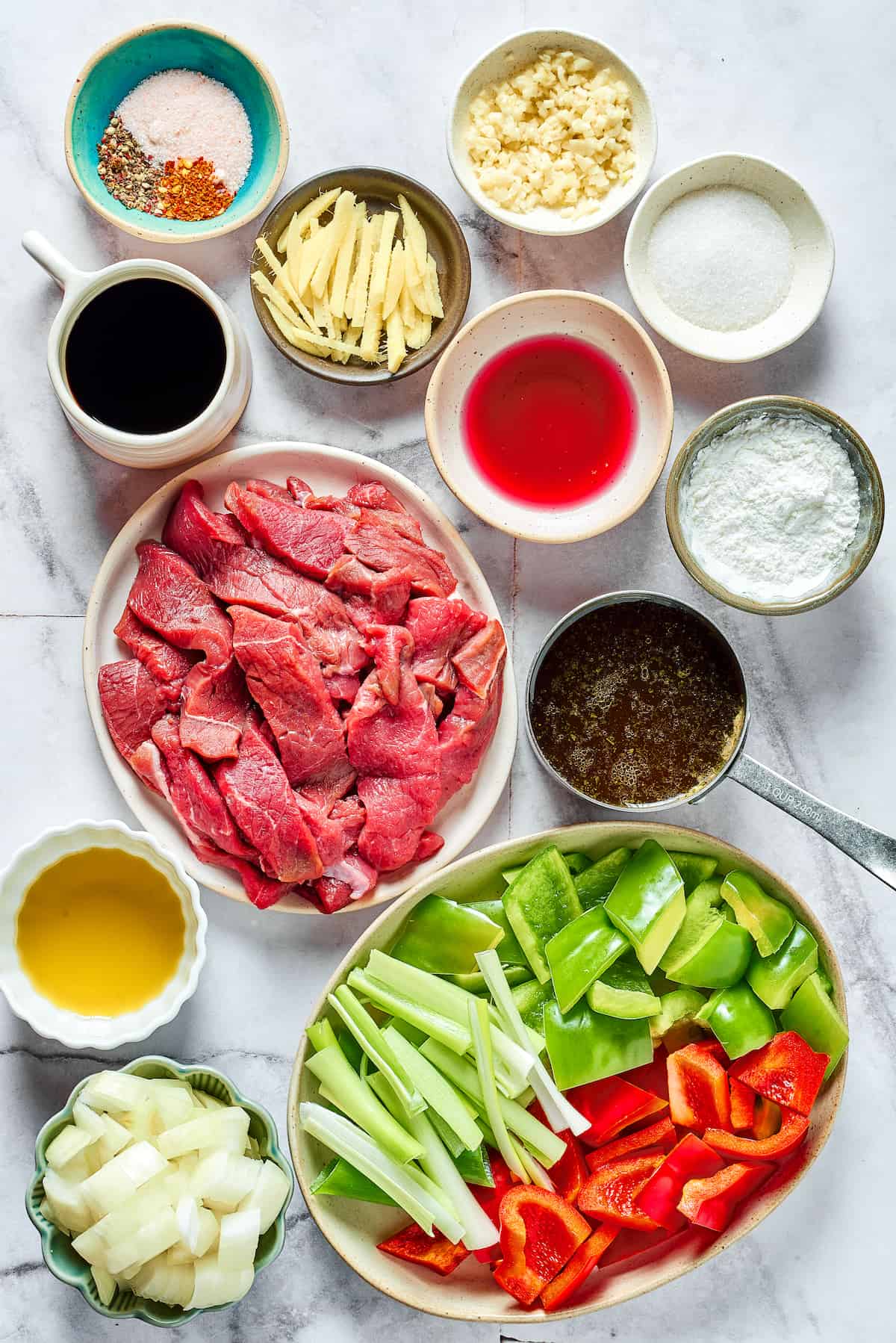 Recipe Ingredients
This Chinese takeout recipe consists mainly of beef, bell peppers, and onions. A simple tasty sauce brings it all together.
Olive oil – For sauteing the beef.
Beef steak – Flank steak works great with this recipe. You could also use round steak or top sirloin. Cut it into thin slices, against the grain, for the most texture and tender bites.
Cornstarch – Helps create a nice crispy outside on the steak strips.
Vegetables – Onion, red bell pepper, and green bell pepper add flavor, color, and texture to the beef stir fry.
Aromatics – Green onion, garlic, and ginger infuse this Chinese stir fry with another level of beautiful flavor.
Beef broth – The base of the sauce. I always use a low sodium variety.
Umeboshi vinegar – Also called ume plum vinegar, umeboshi vinegar (affiliate link) adds a unique flavor that's bright and tart. I buy it at Whole Foods – you can also find it on Amazon and Asian grocery stores. In a pinch, substitute with red wine vinegar or apple cider vinegar.
Oyster sauce – Oyster sauce (affiliate link) adds a salty umami flavor that's slightly sweet.
Sugar – Balances out the tangy, spicy, and sour flavors.
Chili flakes – Adds heat to the dish. Use as little or as much as you like!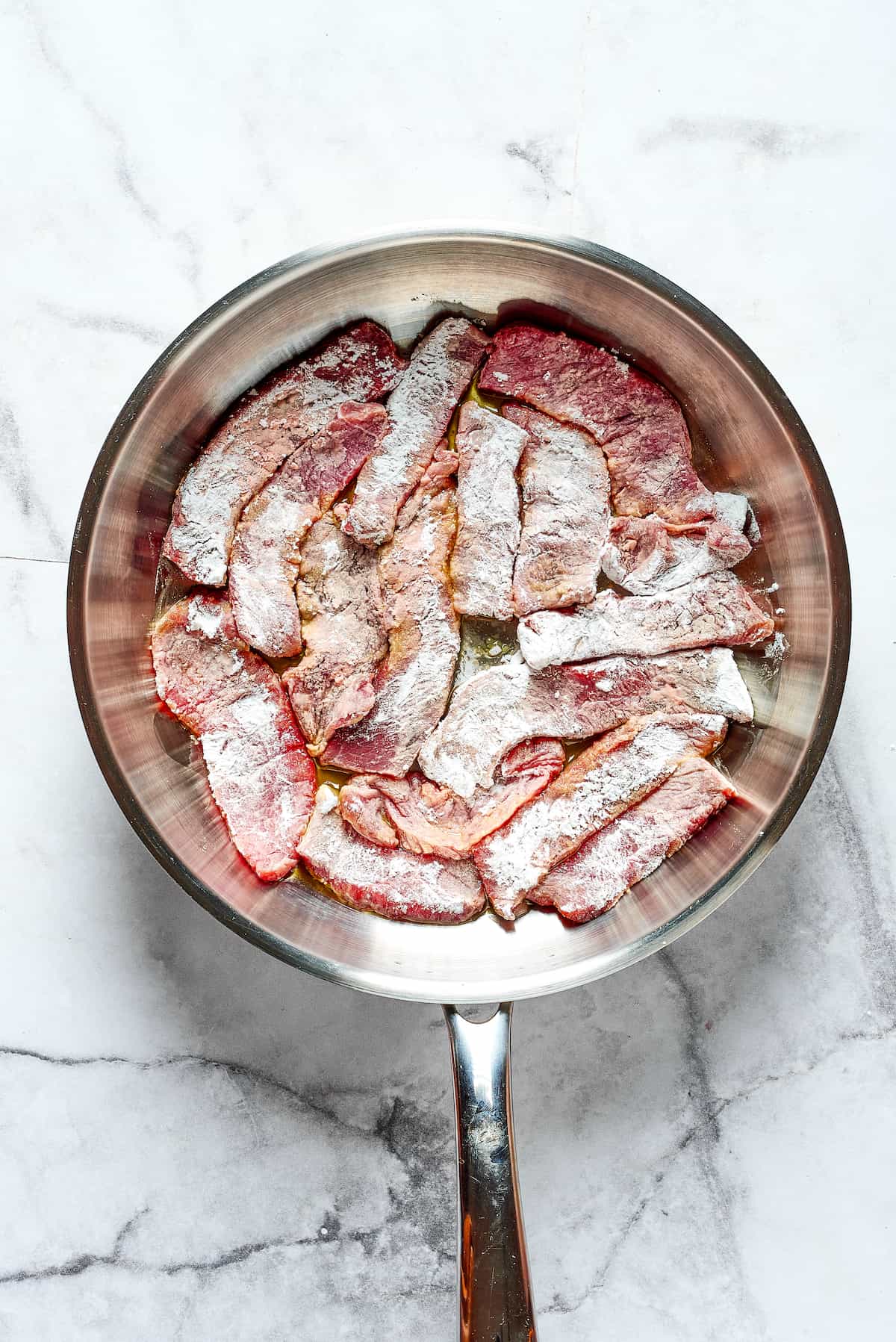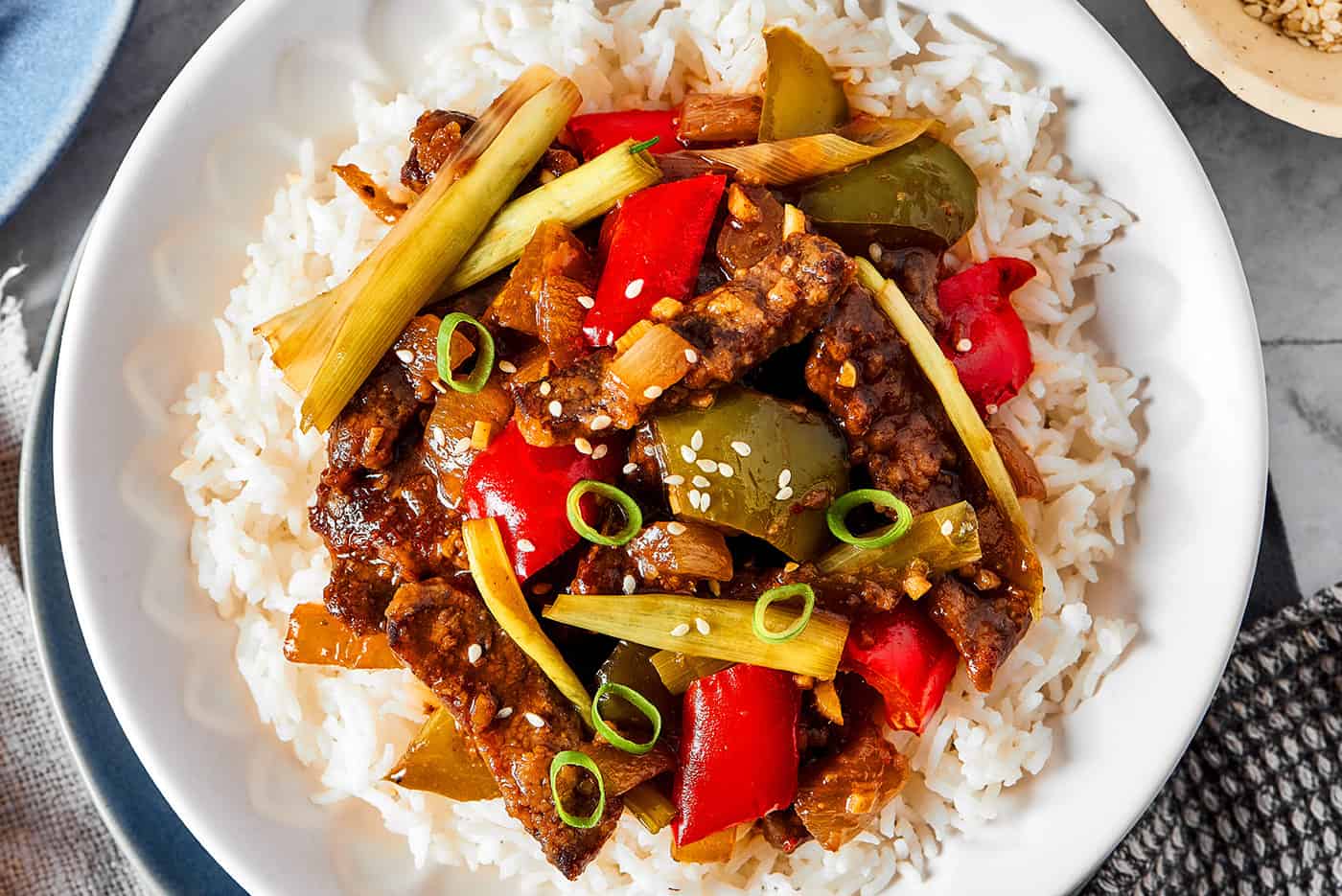 How to Make Hunan Beef
This Chinese Hunan beef recipe comes together easily. Dinner can be on the table in under an hour!
Prepare the sauce. Combine the sauce ingredients and set aside.
Sear the beef. Season the beef strips with salt and pepper, then sprinkle with cornstarch. Heat the olive oil in a nonstick skillet, then sear the beef strips in 2 batches until just crispy on both sides, usually about 4 to 5 minutes on each side.
Cook the aromatics. Remove the steak from the pan. Drain, except for 1 tablespoon of oil. Add the garlic, ginger, and onions, and cook until fragrant, about 1-2 minutes.
Cook the peppers. Add in the chopped peppers and cook for an additional 4 minutes, until slightly softened.
Combine the ingredients. Add the prepared sauce to the veggies, along with the chopped shallots, and return the steak to the pan. Bring to a boil for 3 minutes or so, cooking until the sauce is absorbed and thickened.
Enjoy. Serve immediately over rice.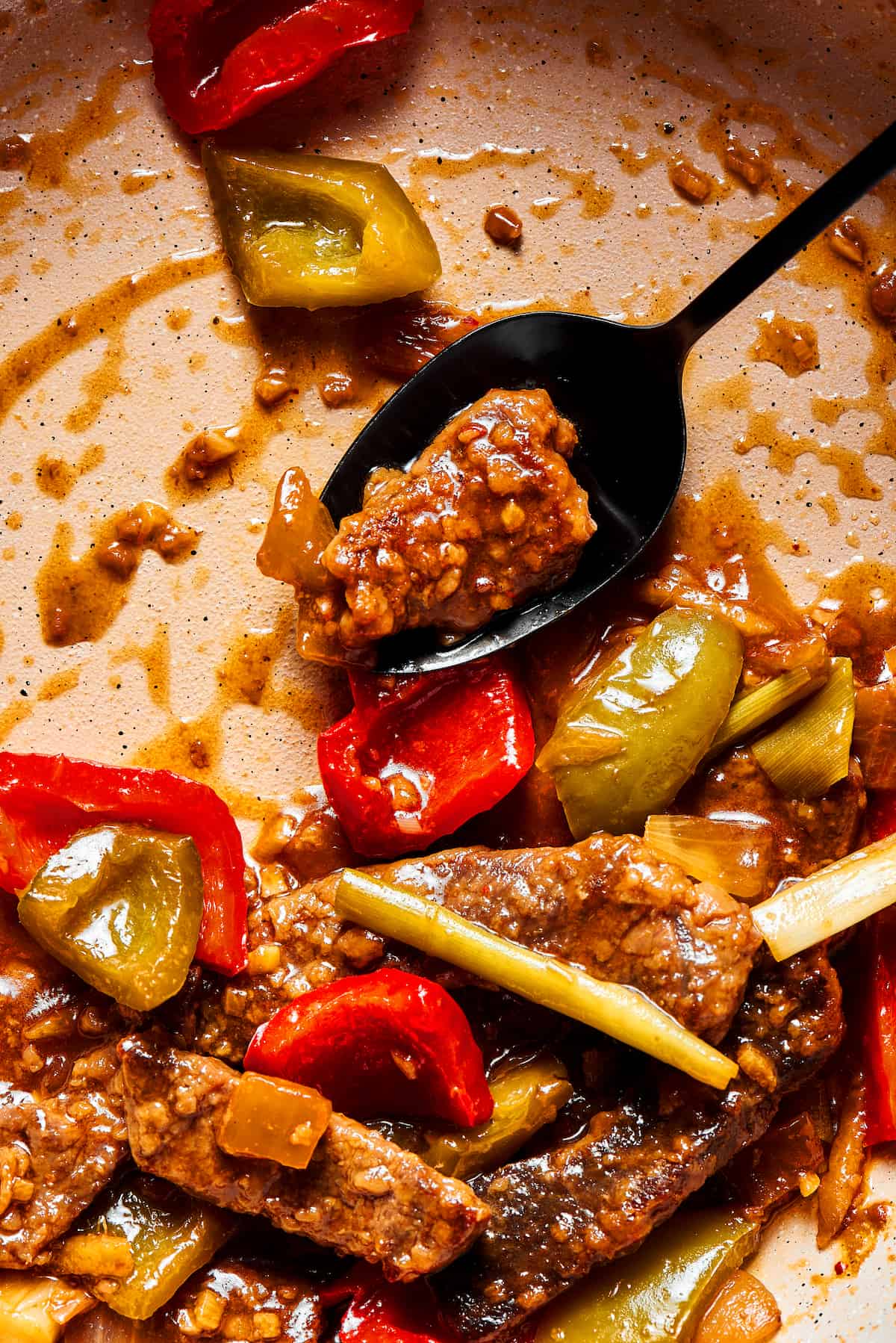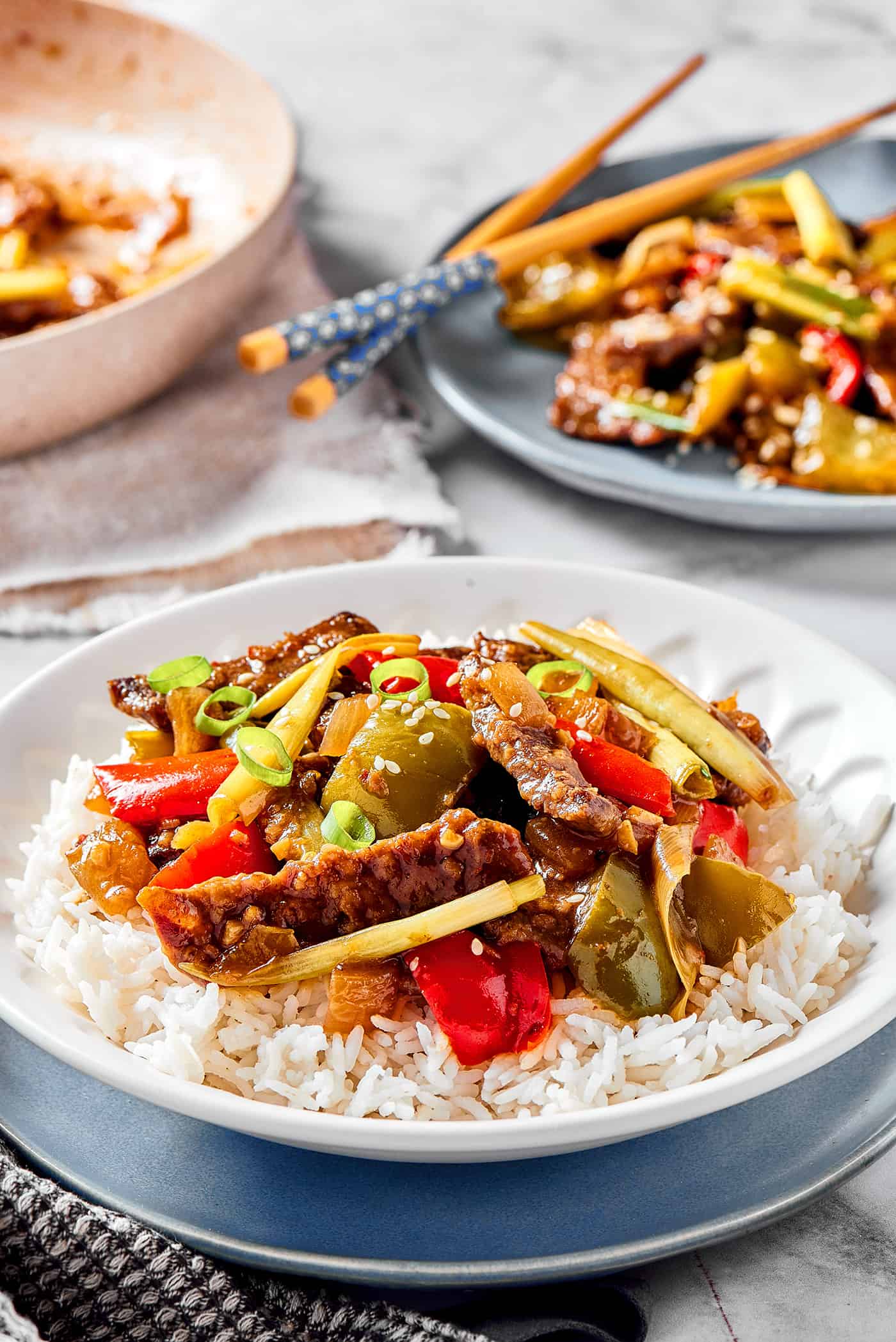 Tips & Variations
Here are a few tips for making the best Hunan beef, as well as a few easy variations.
Sear the beef in a single layer. It's best to cook the flank steak in batches, so each piece is touching the skillet. You want a nice sear that results in crispy steak. If you crowd the steak, it will have a more soggy texture.
Cut the veggies evenly. To ensure nothing gets over or undercooked, make sure all of the vegetables are cut into equal sized pieces.
Add more veggies. While peppers and onions are the traditional ingredients, you can definitely add in others. Baby corn, water chestnuts, snow peas, bok choy, and carrots are all great options.
Try it with another protein. It obviously won't be Hunan beef, but this Chinese stir fry would still be delicious made with chicken, pork, or even shrimp.
Add some nuts. For added crunch, stir in some cashews.
Vary the heat. You can reduce (or even eliminate) the red pepper flakes, or add more. If you really like heat, you could also stir in some chili paste.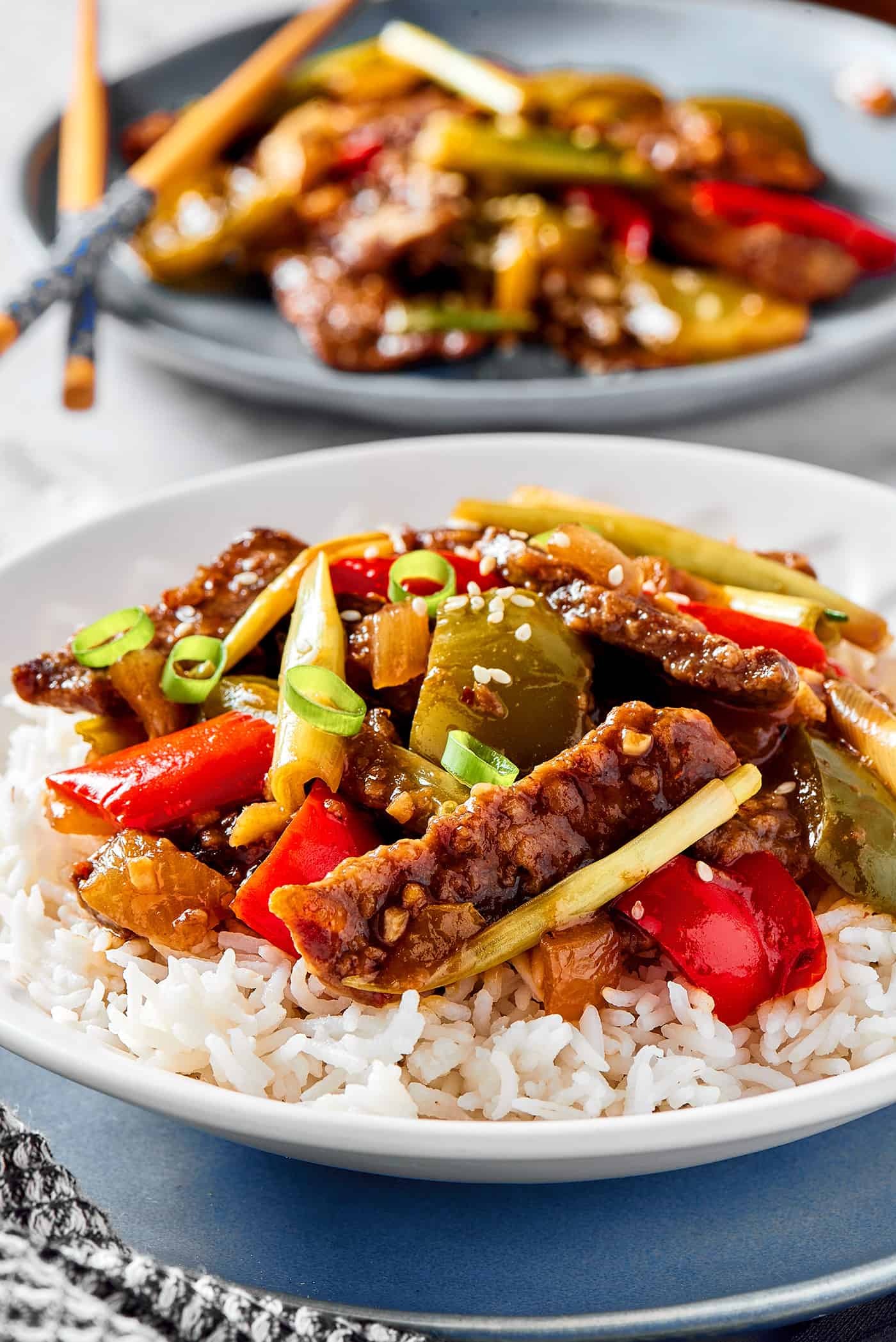 What to Serve with This Chinese Stir Fry
Hunan beef is typically served over white rice. But Fried rice is another good option.
For a lower carb option, cauliflower rice would be tasty too.
Or switch it up and serve it over chow mein noodles.
With the protein and veggies in the dish, Hunan beef is a pretty complete meal on its own, but sometimes we like to add a popular takeout side, like egg rolls, wontons, crab rangoon, or potstickers.
How to Store & Reheat Leftovers
Store any leftover Hunan beef in an airtight container in the fridge for up to 3 days.
Reheat on the stovetop or in the microwave. Be sure to reheat with any remaining sauce or juices to prevent it from drying out.
More Asian-Inspired Recipes:
Like this recipe? Save it to Pinterest!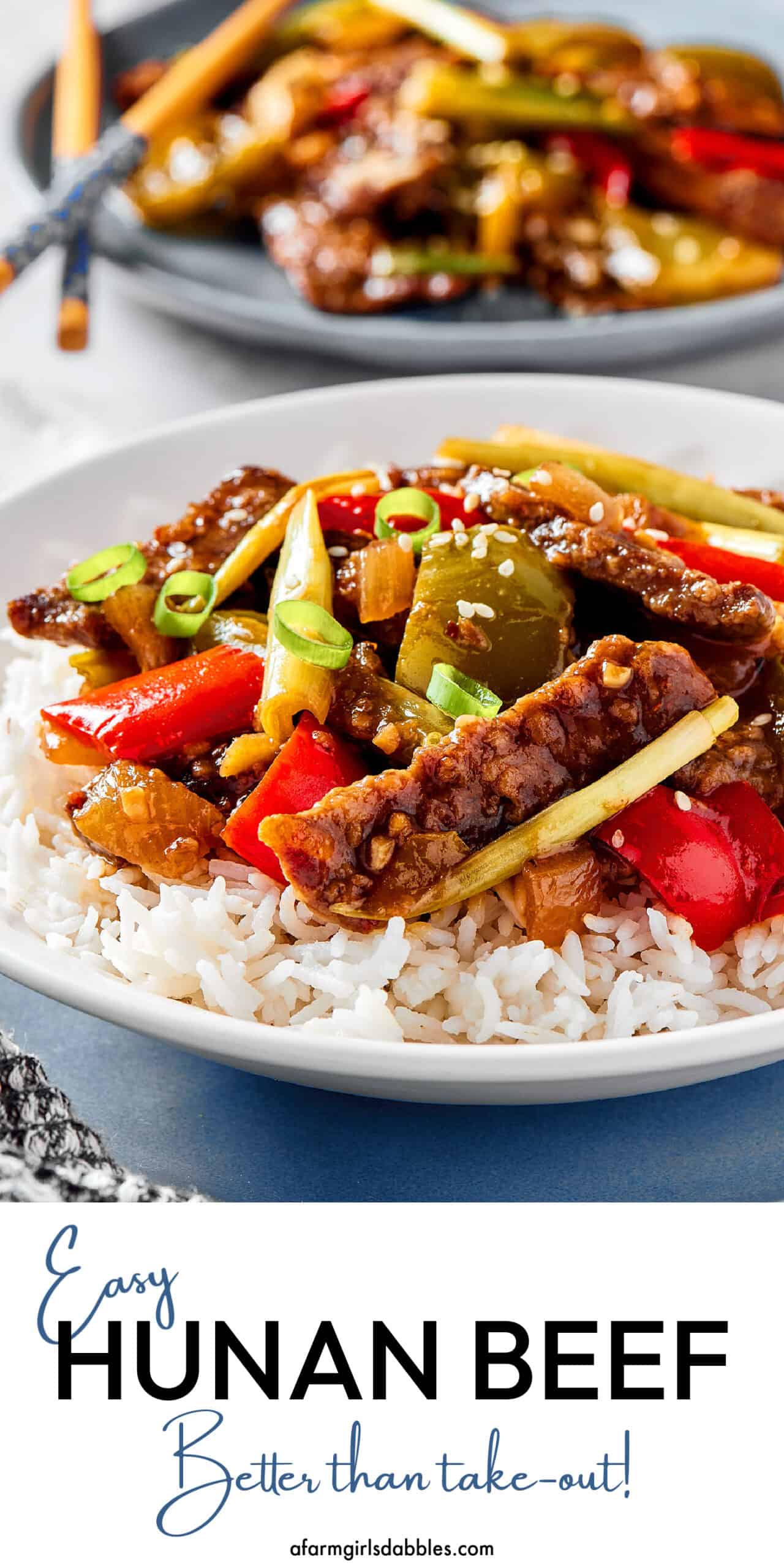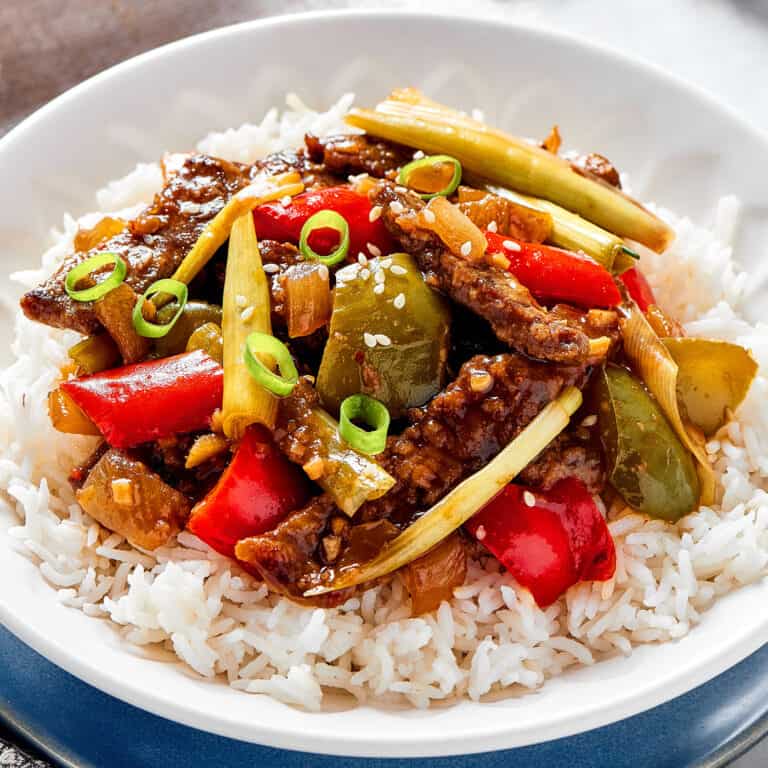 Hunan Beef
Yield: 4 servings
Prep Time: 25 minutes
Cook Time: 25 minutes
Total Time: 50 minutes
This easy Hunan Beef recipe is better than take-out! It features tender, lightly crispy strips of steak, plus bell peppers and onions in a savory sauce that's lightly spicy and tangy. This Chinese stir fry is a flavorful, hearty dinner for any night of the week!
Ingredients
Sauce:
1 cup low sodium beef broth
3 tablespoons umeboshi vinegar - or substitute red wine vinegar or apple cider vinegar
2 tablespoons oyster sauce
1 teaspoon sugar
½ teaspoon chili flakes - use more or less, depending on your heat preference
Beef:
2 tablespoons olive oil
1 pound beef steak, cut into ¼" stripes against the grain - I recommend flank steak. Or round steak or top sirloin.
1 teaspoon Morton kosher salt
½ teaspoon ground black pepper
2 tablespoons cornstarch
1 medium yellow onion, chopped into 1" chunks
1 medium red bell pepper, chopped into 1" chunks
1 medium green bell pepper, chopped into 1" chunks
3 green onions, cut into 2" lengths, with any thick pieces sliced in half lengthwise
3 large cloves garlic, minced
2 tablespoons minced fresh ginger
Instructions
For the sauce: Combine all the ingredients in a small bowl and set aside. ½ ¼
For the beef: Salt and pepper the strips of beef. Then sprinkle with cornstarch and
rub it into meat using your fingers.
Heat a large (12") nonstick skillet over medium to medium-high heat. Add the olive oil. Once oil is shimmering, add the beef and sear until golden brown and just crispy on both sides, about 4-5 minutes on each side. If all the beef does not fit in the skillet in a single layer, sear the beef in batches, adding a bit more olive oil with second batch.
Remove the steak from the skillet and set aside. Drain the skillet, leaving 1
tablespoon of oil. Add chopped onions and cook until fragrant, 3-4 minutes. Stir in ginger and garlic, and cook for 1 more minute, stirring occasionally.
Add chopped green and red bell peppers, and cook for 4 minutes, until peppers soften slightly.
Pour prepared sauce over the veggies, add green onion, and return browned steak to skillet.
Increase heat to medium-high, bringing mixture to a boil. Stir occasionally, until sauce is
completely absorbed and thickened.
Serve hot on its own or with rice. Enjoy!
Recommended Products
As an Amazon Associate and member of other affiliate programs, I earn from qualifying purchases.
Nutrition Information:
Yield: 4
Serving Size: 1
Amount Per Serving:
Calories: 572
Total Fat: 35g
Saturated Fat: 12g
Trans Fat: 0g
Unsaturated Fat: 18g
Cholesterol: 165mg
Sodium: 535mg
Carbohydrates: 14g
Fiber: 2g
Sugar: 5g
Protein: 50g
Nutrition information is automatically calculated by Nutritionix. I am not a nutritionist and cannot guarantee accuracy. If your health depends on nutrition information, please calculate again with your own favorite calculator.