Crispy Baked Chicken Wings with Oyster Sauce
This post may contain Amazon or other affiliate links. As an Amazon Associate I earn from qualifying purchases.
These Crispy Baked Chicken Wings with Oyster Sauce have thin crackly skins with a savory and sweet sauce that's ultra addictive!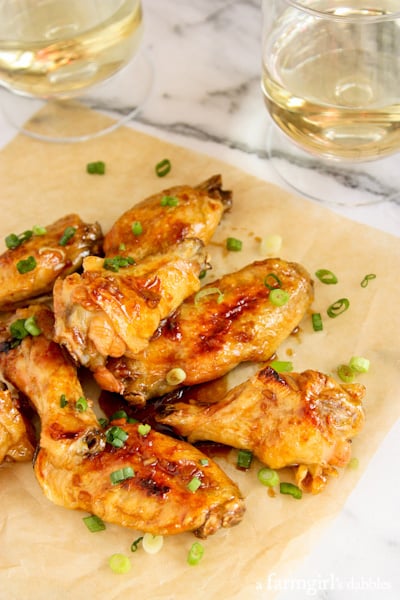 My sharing of this recipe for Crispy Baked Chicken Wings with Oyster Sauce represents significant closure in my journey to find the perfect crispy oven baked chicken wings. I've been working on this recipe, off and on, for three years. I am not even kidding.
If you've been looking for an awesome way to make crispy wings at home – no deep fryer included – look no further. Read on for the recipe and failproof technique!
[rss-cut]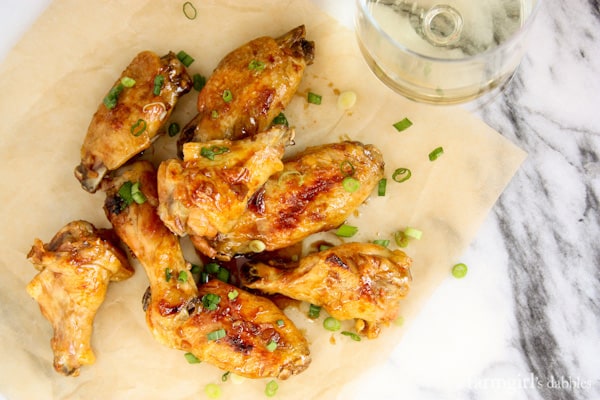 My crispy oven baked chicken wings journey set fire in our friends' back yard on a sultry summer evening almost three years ago. Blake and I sat around the table on Dana and Chris' shady deck with a number of other good friends that night, cold drinks in hand to combat the heat. Our kids slipped in and out of the hot tub, just a few feet away, thankful for some play time in their swimsuits, and to just be together. For young and old, it was an evening filled with catching up, lots of laughter, and plenty of delicious food. I can't remember exactly the subjects we covered in our conversations that night, but I do remember quite vividly the oyster wings that Dana served us. A past caterer, Dana is someone I can always talk food with.
First of all, the oyster sauce. Perfectly savory and sweet, with a wonderfully addictive oyster flavor. Total love.
And second, the crispy skin, a result of the time Dana spent flipping wings on the hot outdoor grill.
I knew that I just HAD to have this recipe for myself, and Dana was more than happy to oblige.
But…
I wanted to be able to make those oyster wings indoors, without a deep fryer, and still have crispy chicken skin. Thus started the quest that has haunted me the past few years, until I just recently tried a new technique from my friend Joanne.
The key to Joanne's crispy baked chicken wings is that she boils the wings first, in a big pot of salted water, to render the fat. I'll admit that I was a bit skeptical before trying this myself, but I also knew how much I trust Joanne in the kitchen. I just had to give it a try. After this many years and failed attempts at crispy oven baked wings, what did I possibly have to lose?!
Be sure to watch Joanne's video for a great tutorial, plus grab her recipe for a more traditional wings sauce!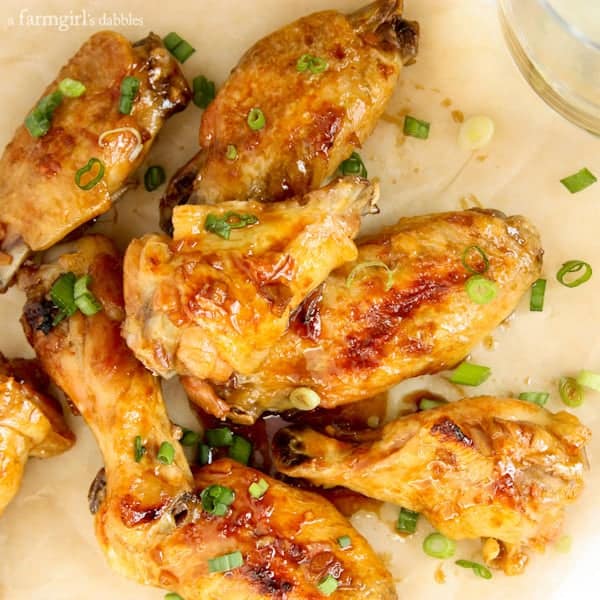 We've consumed quite a number of crispy baked chicken wings here the past couple of weeks as I was bringing together Joanne's baking technique and Dana's awesome oyster sauce, and I am over the moon to finally have this recipe under my belt. No more gummy, rubbery chicken wings skin for us. This was definitely worth the wait!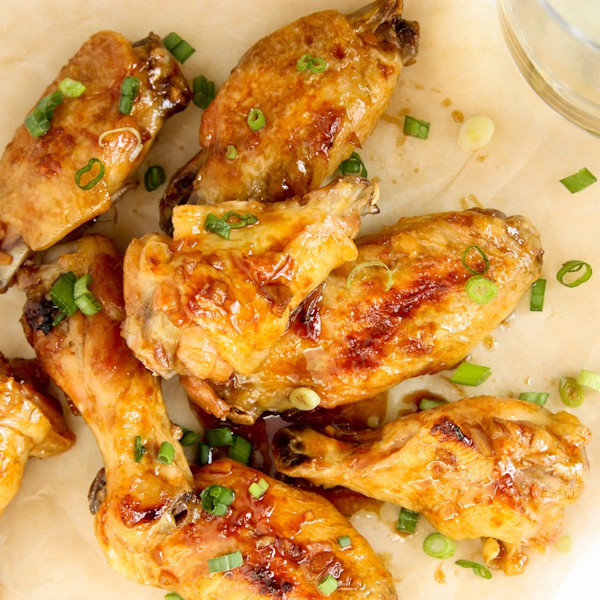 Crispy Baked Chicken Wings with Oyster Sauce
Yield: 16 to 20 wings
Prep Time: 25 minutes
Cook Time: 25 minutes
Total Time: 50 minutes
These Crispy Baked Chicken Wings with Oyster Sauce have thin crackly skins with a savory and sweet sauce that's ultra addictive!
Ingredients
1 T. vegetable oil
3 cloves garlic, minced
1 T. minced fresh ginger
1/3 c. oyster sauce
1 T. dry white wine or sherry (or substitute water)
3 T. soy sauce
3 T. honey
3 green onions, white and green parts sliced, for garnish
3.5 lbs. chicken wings (about 16 to 20 pieces)
2 T. kosher salt
Instructions
First, prepare the oyster sauce. Heat a medium saucepan over medium to medium-low heat. Add oil. When oil is warmed, stir in garlic and ginger. Sauté for 2 to 3 minutes, stirring regularly, until softened. Do not let the garlic and ginger brown. Stir in oyster sauce, wine, soy sauce, and honey. Simmer the sauce for about 10 minutes, stirring occasionally, until reduced and thickened a bit. Remove pan from heat.
Preheat oven to 450° F. Spray a large sheet pan with sides (use a non-coated pan for best results, not one with a nonstick surface – I like this pan) very, very lightly with cooking spray and set aside. Line another large pan with paper towels and set aside.
Over high heat, bring a large pot of water to boiling. Add the salt. Then add the chicken wings. Boil wings for 8 minutes. Remove wings to a colander to drain for a couple minutes before laying them on the paper towel lined pan. After they have cooled enough to handle, take another paper towel and individually dry each chicken wing piece. Wet wings are the enemy of crispy baked wings!
Place the chicken wings directly on the lightly sprayed sheet pan, skin side up. Bake the chicken wings for 25 minutes. Then place the pan of wings on a rack set approximately 5″ beneath the broiler and broil for 5 to 10 minutes, or until skin is golden and crackly crisp. Use a thin and sturdy metal turner to get under the wings to scoop them up. They may stick just a bit, but the metal turner works great to get the wings off the pan with their crispy skins still intact.
Place the hot wings in a medium-large bowl and drizzle the prepared oyster sauce over the top. Toss the hot wings in the sauce until all wings are coated. Sprinkle with fresh green onion slices and serve immediately, while they're hot and ultra crisp. Enjoy!
Nutrition Information:
Yield: 16
Serving Size: 1
Amount Per Serving:
Calories: 353
Total Fat: 25g
Saturated Fat: 9g
Trans Fat: 0g
Unsaturated Fat: 14g
Cholesterol: 81mg
Sodium: 1601mg
Carbohydrates: 14g
Fiber: 1g
Sugar: 4g
Protein: 17g
Nutrition information is automatically calculated by Nutritionix. I am not a nutritionist and cannot guarantee accuracy. If your health depends on nutrition information, please calculate again with your own favorite calculator.
Disclaimer: There are affiliate links in this post.
We participate in the Amazon Services LLC Associates Program, an affiliate advertising program designed to provide a means for us to earn fees by linking to Amazon.com and affiliated sites. See our
disclosure policy
for more info.