Armadillo Eggs
If you love jalapeno poppers, you are going to LOVE these Armadillo Eggs. A Texas BBQ staple, these cheese-stuffed jalapenos are wrapped in both sausage and bacon, then glazed with your favorite BBQ sauce. Perfect for game day or a fun appetizer anytime!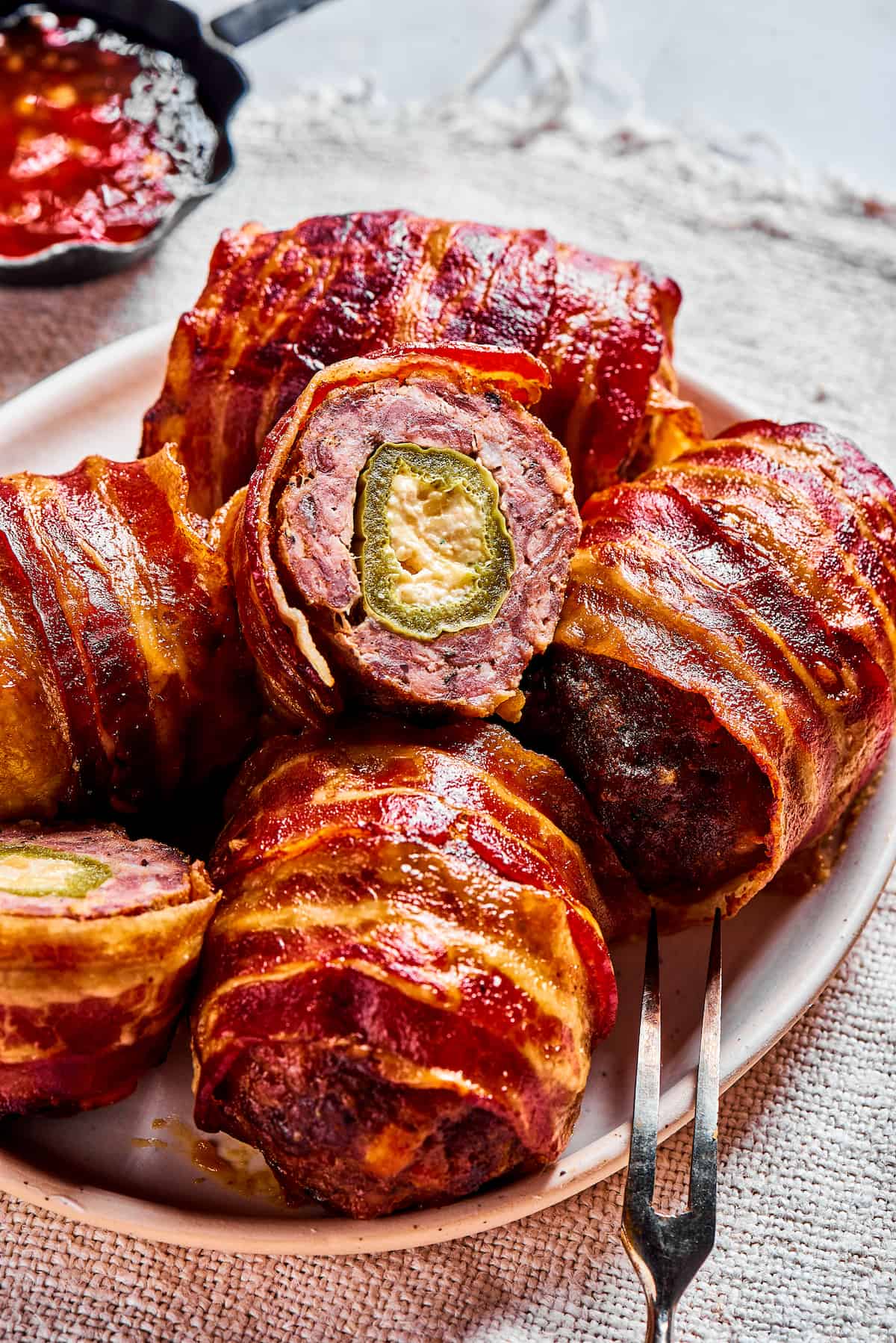 Cheese-Stuffed, Sausage-Wrapped Jalapeno Poppers
These Armadillo Eggs are a fun new favorite around here. Their flavor is as big as the state they originated in >>> Texas!
While I love classic jalapeno poppers and Italian stuffed jalapenos, this recipe takes stuffing jalapenos to a whole new level.
While many armadillo egg recipes require a grill or smoker, this version uses the oven. These are still enormously flavorful, plus even quicker and easier to make. They're awesome game day appetizers, perfect for when we'd rather just stay inside near the game!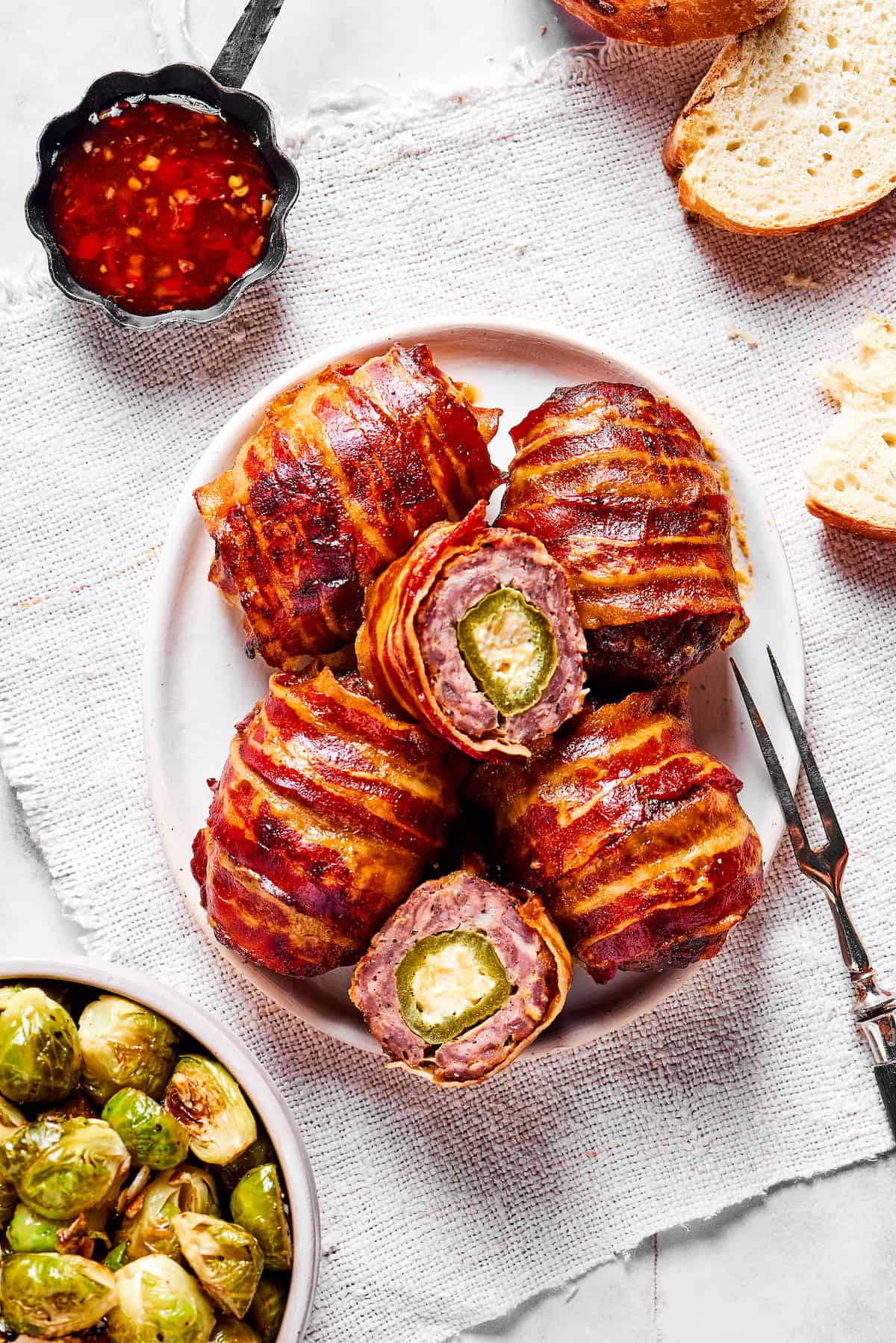 What Are Armadillo Eggs?
Armadillo eggs are a Texas BBQ staple. They are made with cheese-stuffed jalapenos wrapped in ground pork sausage, which is then wrapped in bacon. Just before they finish cooking, they're glazed with BBQ sauce. Think of them as a bacon-wrapped jalapeno popper – but better!
Why Are They Called Armadillo Eggs?
The name of this jalapeno appetizer comes from its appearance once it's fully cooked. The bacon wrapped around the outside gives an appearance similar to an armadillo's exterior shell. Plus, they're also shaped like large eggs and are similar to a Scotch egg.
Recipe Ingredients
These bacon-wrapped armadillo eggs are made with just 5 main ingredients, plus a few spices. Scroll down to the recipe box for the measurements.
Pork sausage – You can use any pork sausage you prefer, bulk or encased links. Some recipes call for breakfast sausage but regular mild pork sausage or even spicy sausage works perfectly too.
Bacon – Use regular bacon, not thick-cut as it won't crisp up properly.
Jalapenos – Remove the seeds and membranes so there's room to stuff the insides with the creamy cheese mixture.
Cream cheese – To give body and creaminess to the filling.
Cheddar cheese – Mild or sharp cheddar both work here. You can even use a cheese blend if desired.
Spices – Garlic powder, smoked paprika, and salt & pepper season this easy appetizer.
BBQ sauce – You can use any BBQ sauce you want. Whatever is your usual go-to!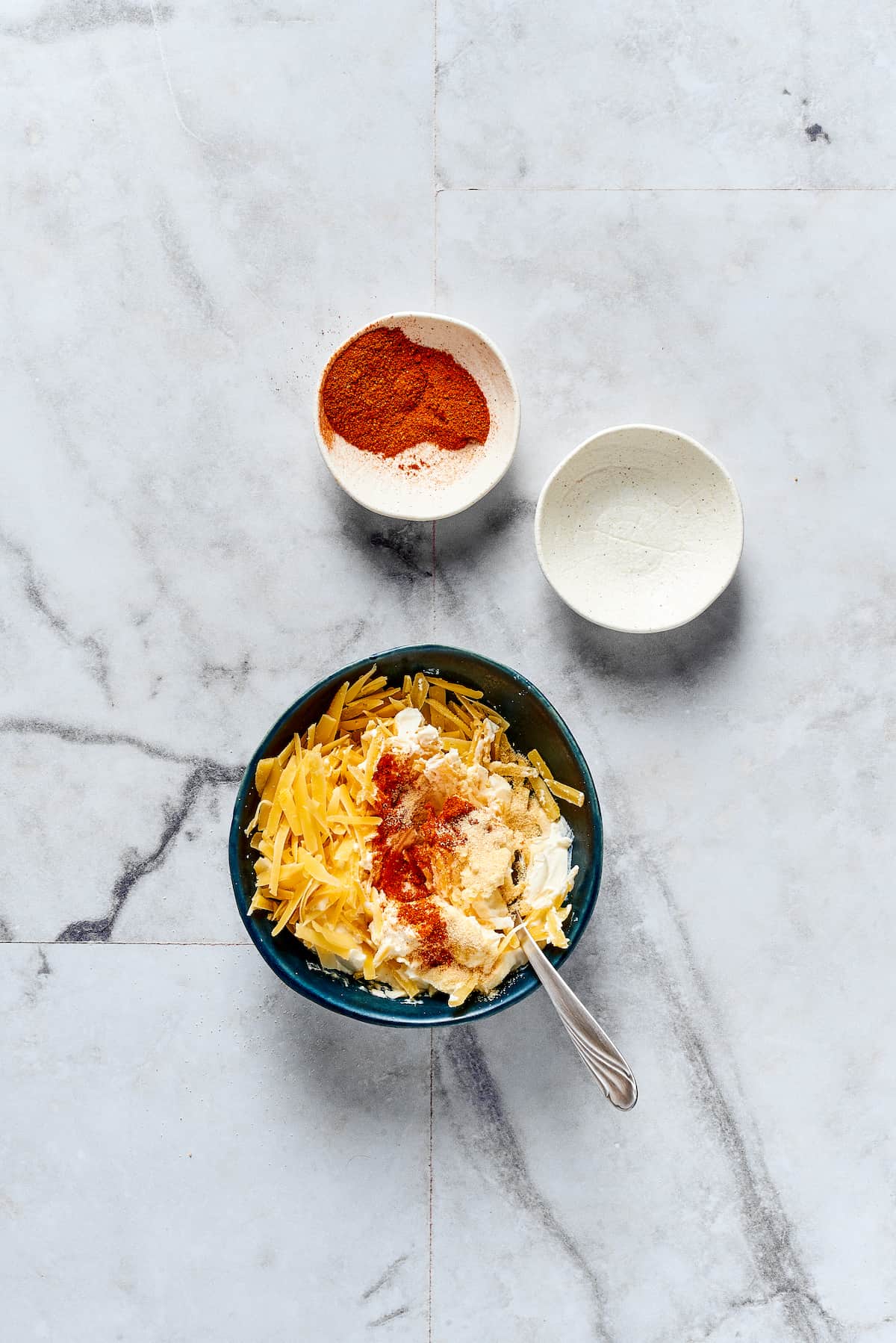 How to Make Armadillo Eggs
Here's how to make this easy game day appetizer.
Make the cheese filling. Combine the cream cheese, shredded cheddar, garlic powder, and smoked paprika.
Stuff the jalapenos. Cut off the stemmed end of the jalapeno and then remove the inside membranes and seeds. If you want this appetizer to be spicy, you can leave some of the seeds to increase the heat. Stuff the cheese filling into the hollow centers of the jalapenos.
Wrap the jalapenos in sausage. Knead the sausage with your hands, adding spices if desired. Divide into 5 equal portions. Flatten each one into a disc. Wrap each one around a jalapeno, making sure to cover it completely. Sprinkle paprika on top.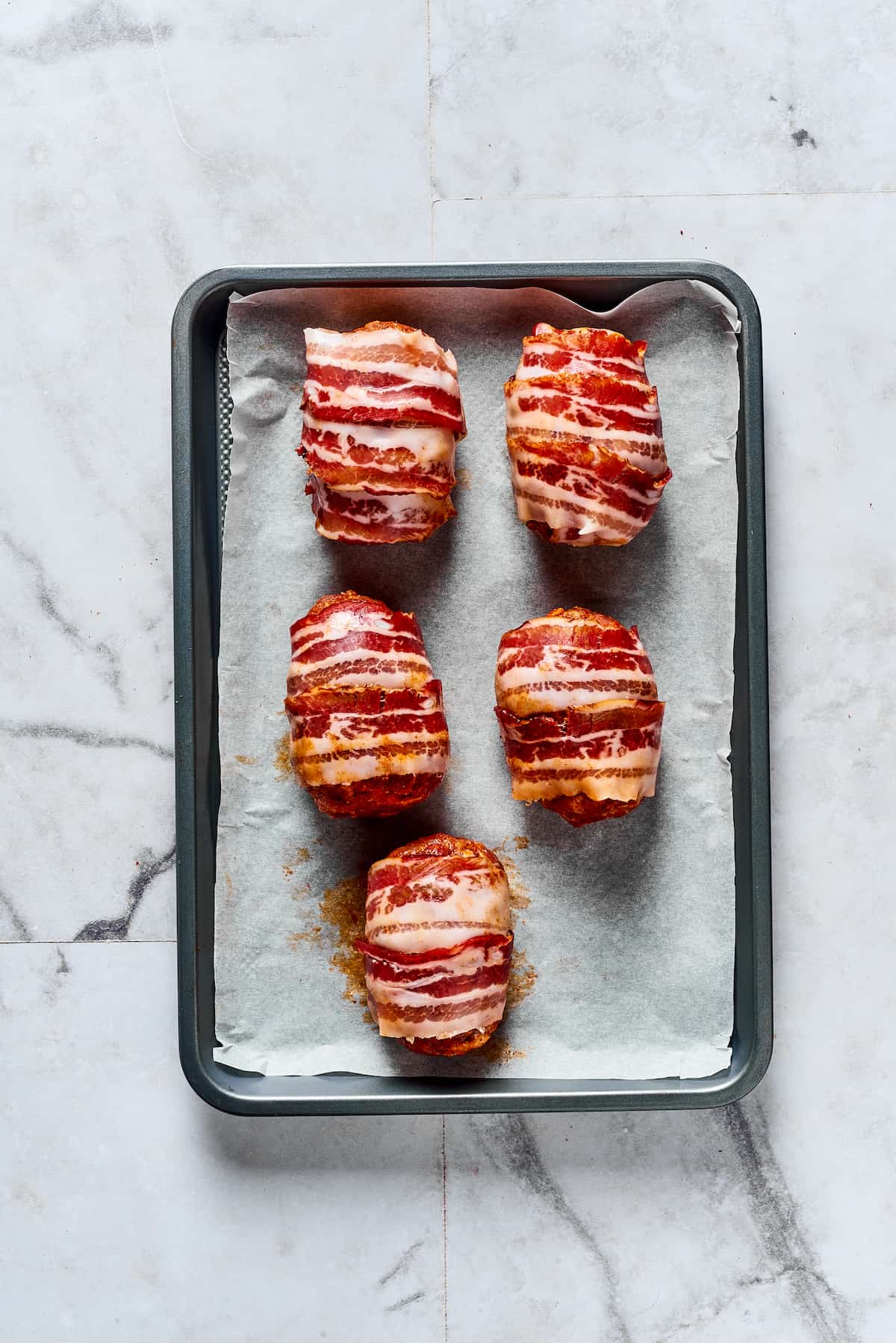 Add the bacon. Wrap two slices of bacon around the sausage on each armadillo egg. Secure with a toothpick.
Bake. Bake for 25 to 30 minutes. Then coat generously with your favorite BBQ sauce and bake for an additional 5 minutes.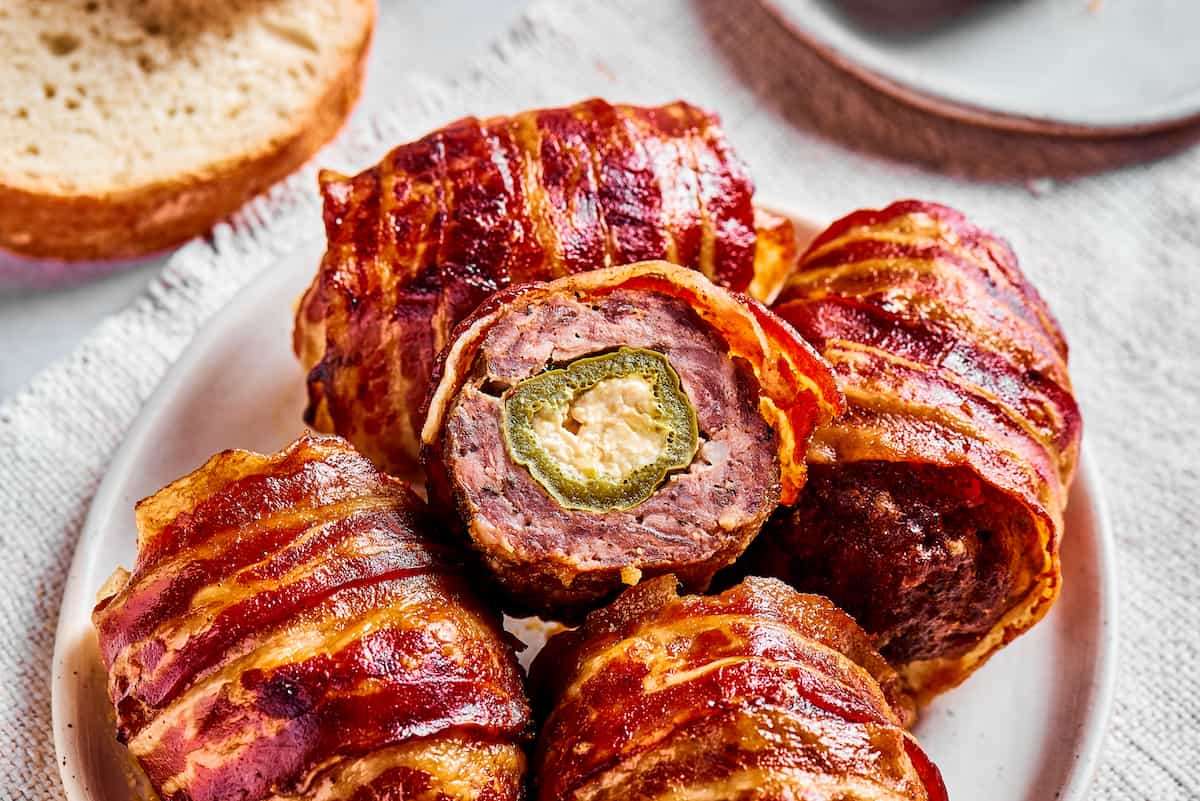 Enjoy. Cool for 10 minutes, then slice and enjoy!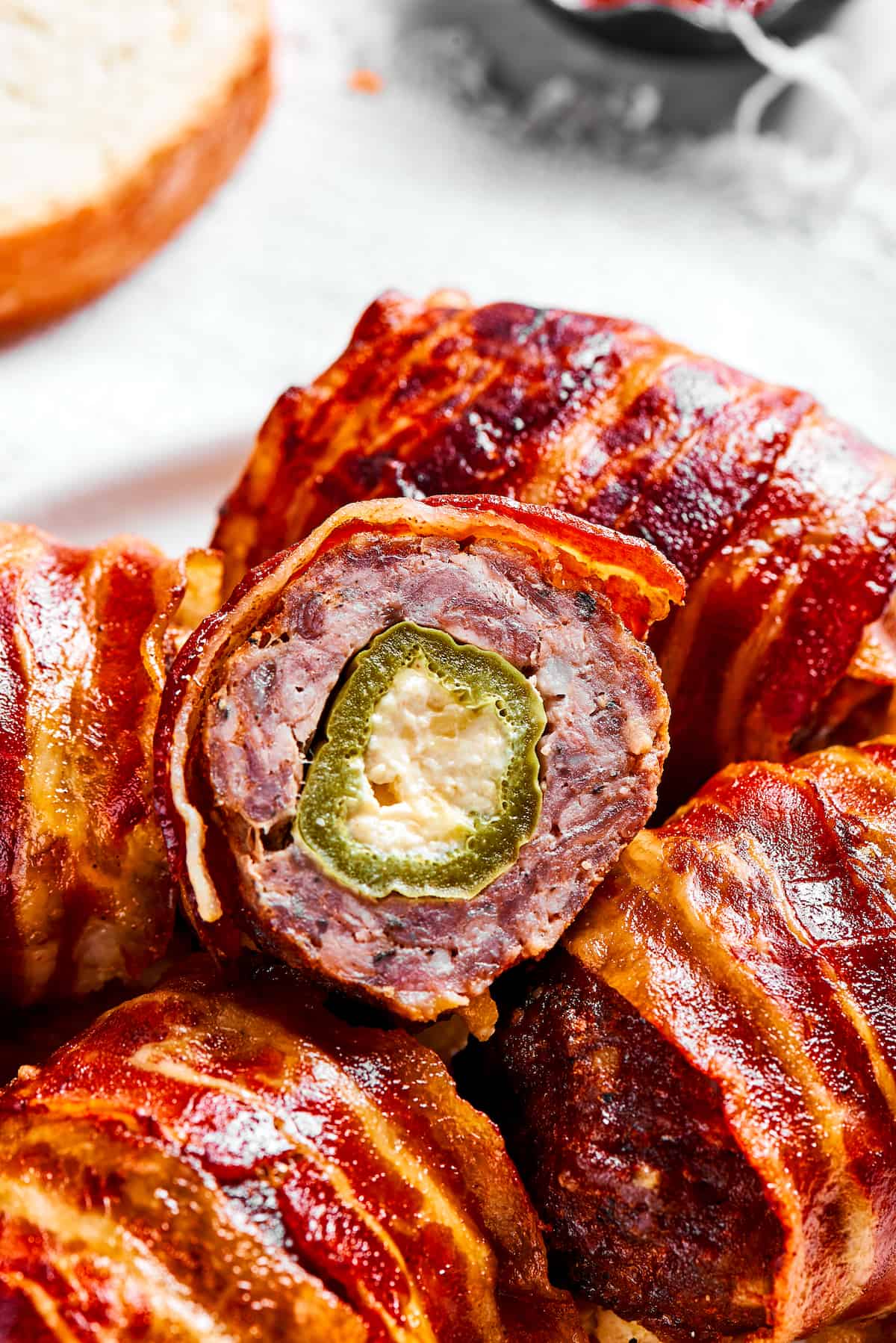 Can You Make Armadillo Eggs In The Air Fryer?
The air fryer is also a great way to make these armadillo eggs, though depending on how big your air fryer is, you will likely have to cook them in batches.
Assemble the bacon-wrapped armadillo eggs as usual, then place them in the air fryer.
Cook for 15 minutes, then flip and cook for an additional 10 minutes.
Double-check with a meat thermometer that the sausage has reached an internal temperature of 165° F.
Brush with BBQ sauce when the internal temperature is nearly to 165° F.
If needed, cook for an additional minute or two to reach 165° F.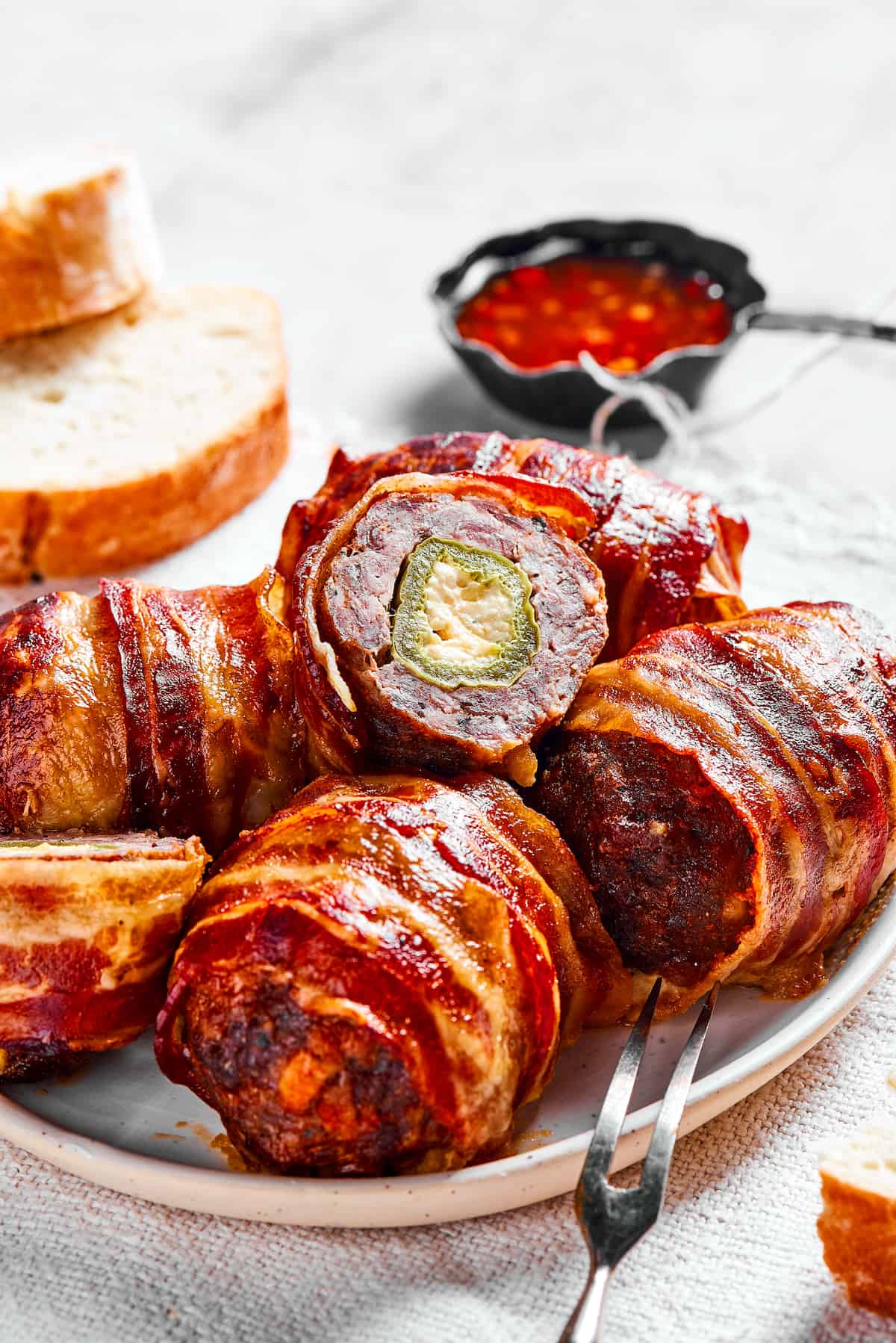 Serving Suggestions
I like to slice these sausage-wrapped jalapenos in half before serving. Each one is pretty big, so half makes the perfect size for an appetizer.
With all of their cheesy goodness, they don't need much else. But if desired, you can offer up a bit of extra BBQ sauce for dipping. A sweet chili sauce is also fun for dipping, offering a bit more sweet contrast.
Can These Be Made in Advance?
Armadillo eggs can be assembled a few hours in advance, or the night before. Just keep them tightly covered in the refrigerator.
Can I Freeze These?
You can also freeze the assembled armadillo eggs for up to a month. Wrap each one tightly in plastic, and then place in a freezer-safe container or baggie.
Then thaw overnight in the refrigerator and bake as normal.
Or bake them directly from frozen by covering the pan with foil for the first 15 minutes. Then remove the foil and continue per the recipe. You will need to add some additional baking time – just keep an instant read thermometer close to monitor the temperature. The sausage needs to cook to an internal temperature of 165° F.
How to Store & Leftovers
Leftover armadillo eggs can be stored in an airtight container in the fridge for up to 3 days.
Reheat on a baking sheet (cover with foil for easy clean-up) in the oven for about 15 minutes or pop them in the air fryer for 5 minutes. You can also microwave, although the bacon will be less crispy.
More Game Day Appetizers:
Like this recipe? Save it to Pinterest!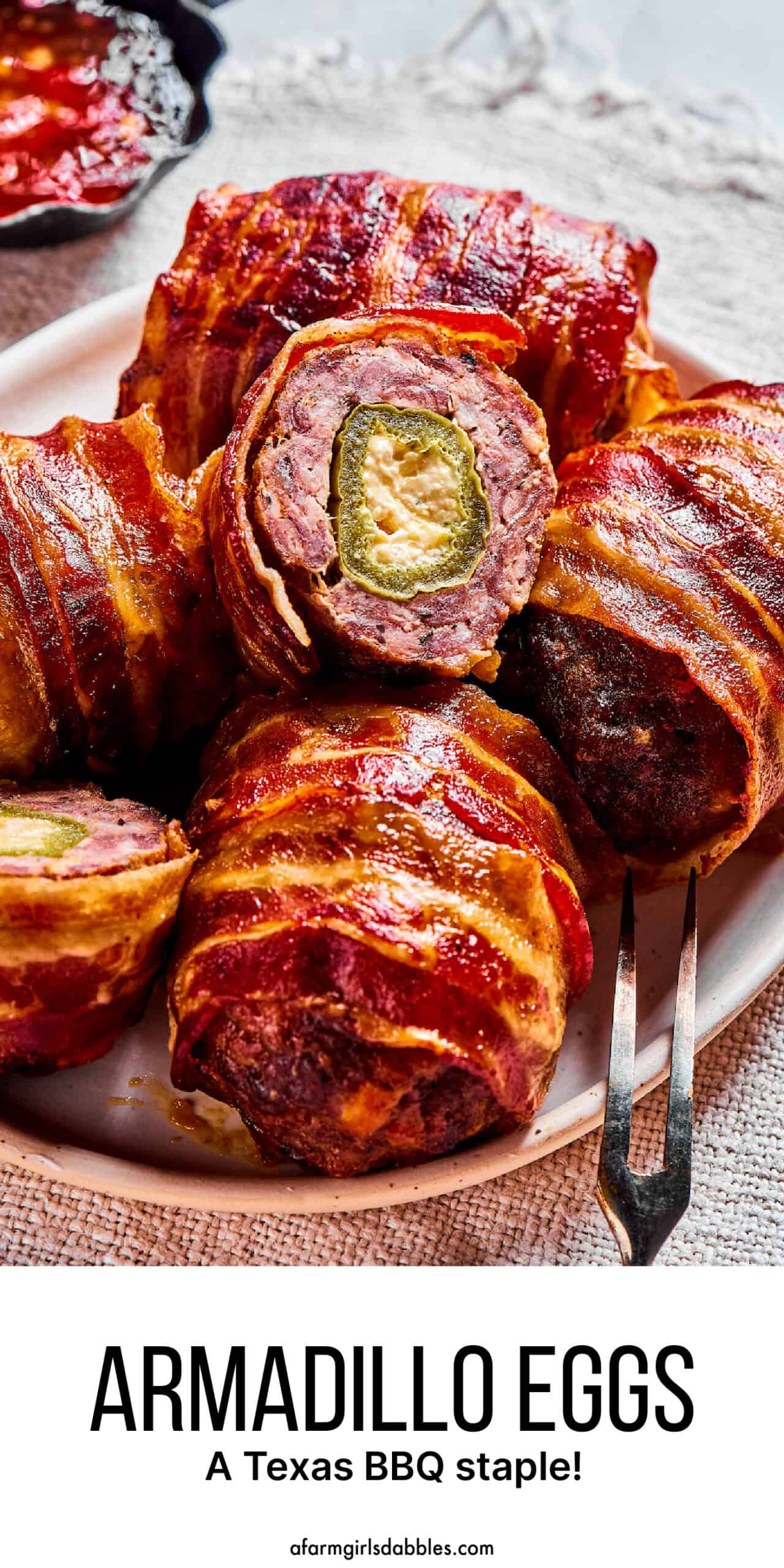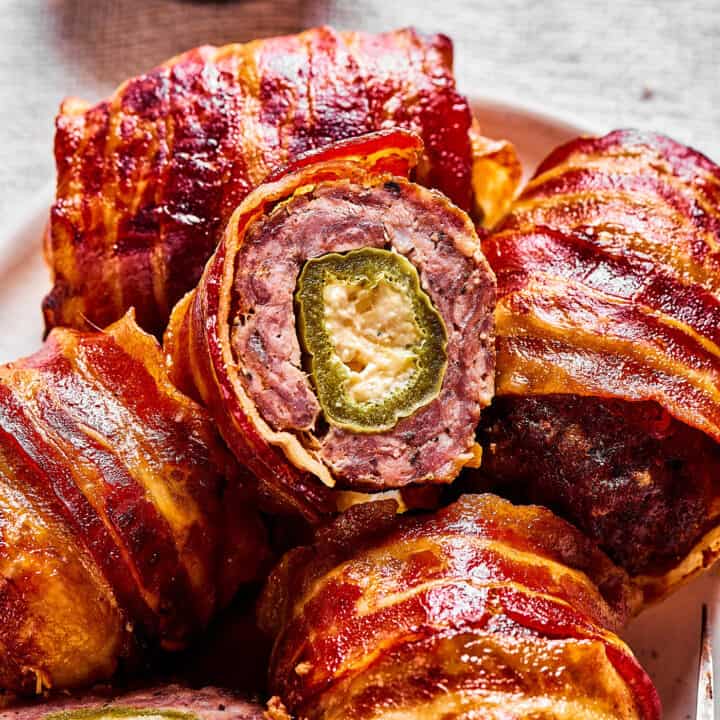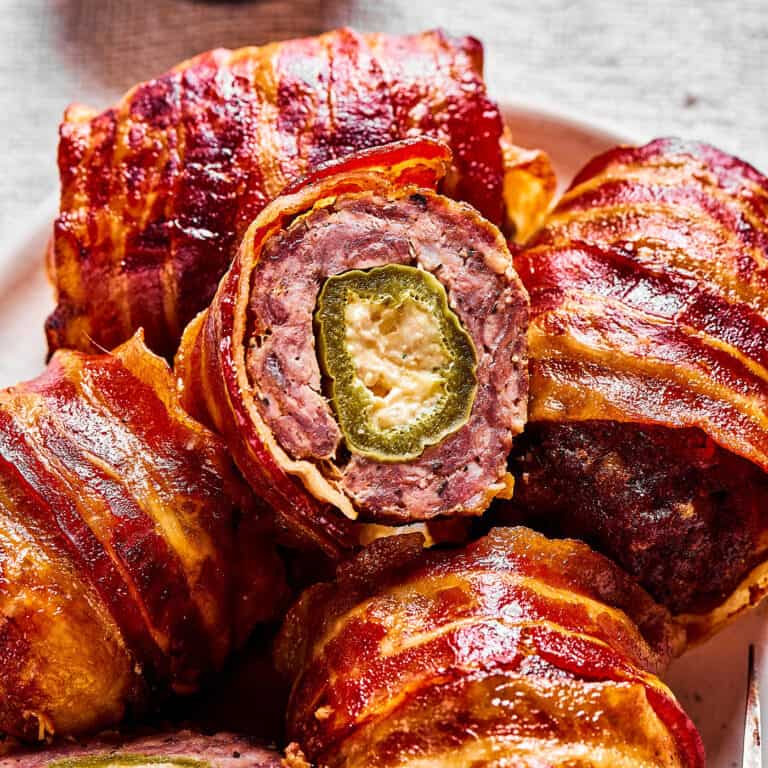 Armadillo Eggs
Yield: 6 servings
Prep Time: 20 minutes
Cook Time: 35 minutes
Total Time: 55 minutes
If you love jalapeno poppers, you are going to LOVE these Armadillo Eggs. A Texas BBQ staple, these cheese-stuffed jalapenos are wrapped in both sausage and bacon, then glazed with your favorite BBQ sauce. Perfect for game day or a fun appetizer anytime.
Ingredients
1½ pounds pork sausage
10 slices bacon (not thick-cut)
5 jalapeños, medium sized
½ cup cream cheese
1 cup shredded cheddar cheese
1 teaspoon garlic powder
3 tablespoons smoked paprika
Kosher salt & pepper, to taste
1 cup your favorite BBQ sauce, for glazing
Instructions
Preheat the oven to 400° F. Line baking pan with parchment paper and set
aside.
In a medium bowl combine cream cheese, cheddar cheese, garlic powder
and pinch of smoked paprika. Mix until well combined.
Remove the stems and core the peppers to remove the seeds and
membranes. Fill the cored jalapeños with cream cheese mixture.
If using encased sausage, remove the meat from the casings. Place sausage into a bowl and knead it with your hands. Add spices if necessary or as desired. Divide the meat into 5 equal portions.
Take 1/5 of the sausage meat and make a flat disc shape. Wrap the disc
around the stuffed jalapeño, covering the entire pepper.
Sprinkle paprika powder on each armadillo egg and pat around the whole
egg.
Wrap two slices of bacon around the outside of the armadillo egg, and
secure with a toothpick if needed.
Arrange the assembled armadillo eggs on the prepared baking sheet and bake for 25-30 minutes. With an instant read thermometer, check that the sausage is near to 165° F.
Remove from oven and coat generously with BBQ sauce and return to
the oven to bake for another 5 minutes, or until sausage reaches internal temperature of 165° F.
Let cool for 10 minutes and then slice.
Nutrition Information:
Yield: 6
Serving Size: 1
Amount Per Serving:
Calories: 698
Total Fat: 51g
Saturated Fat: 20g
Trans Fat: 0g
Unsaturated Fat: 27g
Cholesterol: 155mg
Sodium: 1965mg
Carbohydrates: 26g
Fiber: 2g
Sugar: 19g
Protein: 34g
Nutrition information is automatically calculated by Nutritionix. I am not a nutritionist and cannot guarantee accuracy. If your health depends on nutrition information, please calculate again with your own favorite calculator.