2022 Kitchen Gift Guide: My Top 55 Favorite Kitchen Gifts
Know people who love to cook and bake? Here's my 2022 Kitchen Gift Guide – it's loaded with my favorites, from super practical items to those that are simply fun to give. With a wide range of price points, there's so many great options!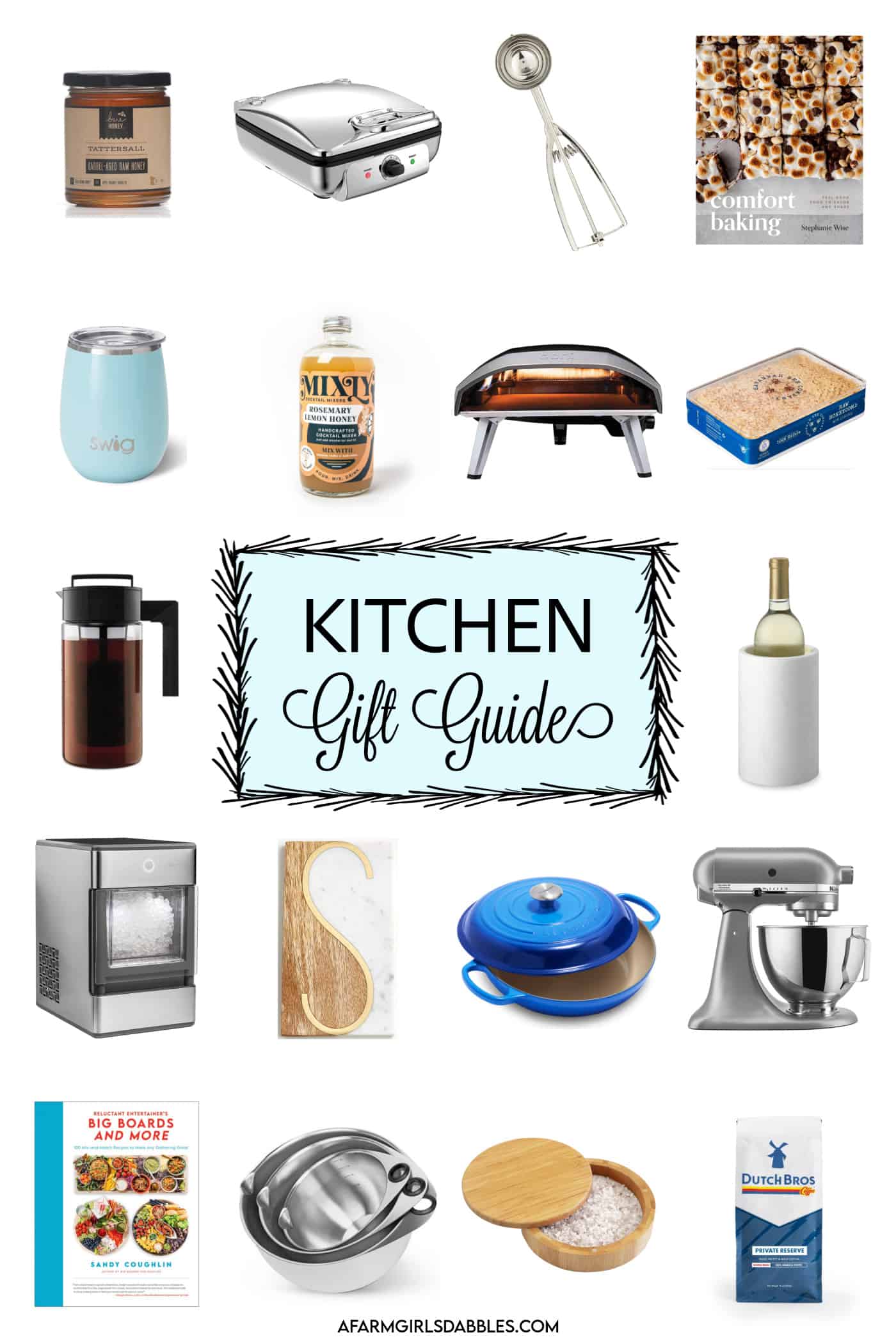 My 2022 Favorite Kitchen Gifts
My 2022 Kitchen Gift Guide is filled to the brim with all my favorite kitchen-y things. Some items are longtime favorites, while others are newer awesome finds.
There are plenty of super practical things that I consider essential, that anyone who loves to be in the kitchen would be happy to receive. And then there are things that are simply fun.
I even include a couple items from my own Kitchen Wish List!
You'll also find a wide range of price points. Some make great stocking stuffers or hostess gifts, while others are more of an investment. There's something for EVERYONE!
I'm going to divide this up into a few different categories, ok?
Gifts Under $50
Gifts Over $50
New Cookbooks From Friends
My Own Wish List
Note: This is not a sponsored post. I've only included items that I own and love. Some of the links are affiliate links, where I earn a small percentage from qualifying purchases.
Kitchen Gifts Under $50
Milk Foamer/Frother – I use this every single day to froth warmed oat milk or half & half to top my morning coffee. Our daughters Hatti and Tessa have especially been enjoying a homemade pumpkin cream cold brew lately!
Popcorn Popper – Popcorn is ESSENTIAL in our home, thanks to my dad's longtime love of this salty, buttery snack. He makes it on the stovetop, it's the BEST! Here's our favorite popcorn, too!
Tortilla Press – We made homemade tortillas while staying with my sister in Florida this past year, so delicious and fun. And our daughter Hatti is a corn tortilla super fan, we just had to get a press of our own.
Beer Can Glasses – Seems to me that anyone who likes to make iced coffee should have these glasses. At least that's what TikTok says.
Half Sheet Pan With Rack – I like having a rimmed sheet pan with a perfectly fitting rack (actually I have two!). Great for making bacon in the oven and so many other things. Each piece can be used separately, too.
Spice & Coffee Bean Grinder – Easily grinds spices, herbs, and coffee beans.
Greek Freak – This is my favorite seasoning from Spiceology, a company started by a blogging friend of mine. We use it so much that I buy this larger quantity for ourselves. AWESOME on grilled chicken breasts and roasted veggies!
Extra-large pizza peel – It's hard to find truly large pizza peels, and this one is good for up to 16″ pies. We use it when making our favorite thin crust pizza with this pizza flour.
Bubble Tea Cups – With lids and straw holes, these 24-ounce cups have been great for homemade bubble tea, iced coffee, and everything else.
Luxardo Cherries – These make a great gift for those who like to make cocktails at home. The cherries are rich and amazing, perfect for an old fashioned, whiskey sour, or blood orange amaretto sour.
Cold Brew Coffee Maker – Tessa received this as a birthday gift a couple years ago, and we all love it. It's so easy to make a pitcher of cold brew with our favorite ground coffee.
Avocado Slicer – Tessa also received this for her birthday, a gift from her aunt who also adores avocados – it's so easy to use.
Microplane Zester – We bought one of these when we were first married – and I just replaced it a couple years ago, as it had gotten dull. It's an essential gadget for me, for finely grating everything from citrus to nutmeg to Parmesan.
Margarita Salt Box – For the margarita lovers in your life. (Pick me!)
OXO Extra-Large Plastic Cutting Board – I like lots of work space at the cutting board, plus the ability to throw the cutting board in the dishwasher. This one's double-sided, with a grooved drip-catcher, plus soft grippy edges so it doesn't slide around. I've had it for many years and it has not warped – my favorite cutting board!
OXO Corkscrew – This is a super simple corkscrew that's comfortable to hold and works super well. Guests always comment on how smooth and easy it is to use.
Kitchen Torch – Want to make crème brûlée at home? You're gonna need a torch, so fun!
Benriner Mandoline – Makes even slices, from thick to super thin. It makes the prettiest pickled red onions and cucumber salad!
Food Scale – This comes in handy more than you think!
Chicago Metallic Commercial II Traditional Uncoated Large Jelly Roll Pan – These are my favorite rimmed pans; we have them in various different sizes. They're strong, so they don't warp. We use them for baking bars and cookies, sheet pan meals, roasting veggies, etc. They also make a great tray when running out to the grill – a must when we make grilled vegetable salad!
Norpro stainless steel cookie scoops – I love my scoops, have several different sizes. They're great for transferring batter to muffin cups and portioning cookie batter and homemade truffles. Pampered Chef also has good scoops.
Swig insulated wine tumbler – This is labeled as a wine tumbler, but I use it mostly for coffee (without the sipping lid). I love that it keeps my coffee hot for a longer time, plus the soft rubber bottom. And it's cute and fun to hold!
Marta Bar Glasses – I love glassware. We have these glasses in 3 sizes. The short Tasting Glass is perfect when we don't want to use stemmed wine glasses – we use them a lot during the summer, out on the backyard patio. We also have the Double Old-Fashioned Glass and the tall Cooler. If I'm serving up homemade cocktails, they're usually in a Marta glass!
Mixly Cocktail Mixers – A super easy way to mix up delicious cocktails and mocktails. I especially like the Rosemary Lemon Honey, Pineapple Basil Lime, Grapefruit Jalapeno, and Cucumber Mint Lime. Mix with bubbly water for an afternoon pick-me-up or with alcohol for a cocktail. Right now, I'm loving the Rosemary Lemon Honey with a big splash of bourbon, it'll be our Friendsgiving cocktail this year! Made in Minnesota with a super short ingredients list (only fresh juices and a touch of honey), order directly from Mixly, or find their products at many local Minnesota stores and on Amazon.
Bare Honey Barrel-Aged Honey – A delicious honey collaboration between local Minnesota bees and one of my favorite Minnesota distilleries, Tattersall Distilling. I like to shake this into a bourbon margarita or a cocktail made with Mixly Rosemary Lemon Honey and bourbon!
Raw Honeycomb – This is such a fun treat on a charcuterie board. We always pick up fresh honeycomb at Whistling Well Farm each fall when we go apple picking.
Rice Cooker – My sister recommended this to me many years ago, the same one that her friend from Singapore had recommended to her. This takes all the struggle out of making rice at home!
Blue Bottle Coffee – We fell in love with this coffee in San Francisco many years ago, and like to gift it to other coffee lovers (and to ourselves!). We especially like the Three Africas blend.
Dutch Bros – While staying with a dear friend at her home in Las Vegas last year, she introduced us to their favorite coffee. This is a big thing in the western and southern US, wish we had some here in Minnesota! We order k-cups or bags of beans/ground. You can also find their products on Amazon.
Black Rifle Coffee – We've received this coffee as a gift on several occasions, Liberty is our favorite!
Kitchen Gifts Over $50
Monogrammed Cheese Board – We received this stunning board as a Christmas gift last year and we've since given it as a wedding gift with a set of matching gold cheese knives. Here's another monogrammed cheese board that I have my eyes on.
Citrus Press – This gadget makes me SO HAPPY. While staying with a girlfriend last year, she had a similar citrus press, and it juiced limes like I'd never seen before. I had to get one. Great for making everything from margaritas to lemon bars!
Pampered Chef Stainless Steel Mixing Bowl Set – With soft silicone bottoms (won't slip around on the counter) and padded thumbholes (easy to hold onto), pour spouts, and lids, these bowls nest for compact storage.
All-Clad Waffle Maker – Not the cheapest waffle maker, I know. But this Belgian waffle maker checked off all the boxes for me. I especially love that we can make 4 waffles at once.
Pizza Steel – We use this to make my "faux brick oven pizza" with the thin crust pizza dough recipe – it gives you a super thin crust that's crisp and chewy and delicious.
Kitchenaid Stand Mixer – Ours is MANY years old, from the Artisan series, in buttercup yellow. It's a key piece in our kitchen, a great gift for anyone who likes to bake.
Wüsthof Knife Block Set – We used wedding money to buy a 26-slot knife block and a few knives to get us started, and have added knives through the years. Now, 23 years later, the block is nearly full!
Wüsthof Tomato Knife – One of my favorite knives. Incredibly sharp, this knife makes it super easy to cut tomatoes and thin slices of citrus. And the sharp forked tip works great for moving thin tomato slices, etc.
Wüsthof 7″ Santoku – This is the knife I use 90% of the time. It's like my third hand!
Wüsthof 8″ Bread Knife – Everyone needs a good bread knife.
Le Creuset braiser 3.5 Qt – I use this more than I ever thought I would. Perfect for shallow frying, searing without crowding, stews, and hotdishes. And it's so pretty, I serve this right on the table, where it keeps the food good and hot.
Le Creuset Dutch Oven 6.75 Qt – We bought this oval Dutch oven in red the first year of our marriage. It's gotten so much use, I'd buy it all over again – my favorite soup pot!
Marble Wine Chiller – Blake gave me this one for Christmas last year, and I love it.
Nespresso Machine – We've had a Nespresso machine for many, many years. All of us use it, for both hot and iced coffee drinks.
Keurig K-Cup Coffee Maker – I like having the option of single-cup servings of different coffee varieties. It's especially nice when we have company staying with us, as everyone has different coffee preferences.
Vitamix Blender – We LOVE this blender, it's a real work horse. And it cleans up easily, too!
Vitamix Aer Disc Container – I don't usually watch food demos at Costco, but the Vitamix guy caught my attention recently. And I've never bought what the demonstrators are pitching…until this. He sold me with his short demos of different ways to use this. Now I'm making fresh lemonade (just like they do at the state fair!) and the quickest whipped cream ever! (If you have a Costco membership, it's considerably less money there.)
Cuisinart Multicooker 7 Qt – This is my main slow cooker. I love that I can brown/saute meat and veggies first, then turn it over to slow cook. And it's big. Which means I can make big batches of sloppy joes and chili, yum!
COSORI Air Fryer 3.7 Qt – When I was searching for an air fryer, this was recommended by people I know and had great online reviews. We really like it!
All-Clad Cookware Set – An investment, for sure. We used wedding money to buy an All-Clad set, and I'd do it all over again.
Scanpan 12.75″ Nonstick Fry Pan – We've had this pan for many, many years and use it nearly every day.
New Cookbooks From Friends
Comfort Baking – By local Minnesota blogger and sweet, sweet friend, Stephanie Wise from Girl Versus Dough blog. This book fits perfectly into our kitchen, it's full of recipes that mirror how our family cooks and bakes.
Big Boards & More – By longtime blogger friend, Sandy Coughlin from Reluctant Entertainer blog. Sandy has the gift of easy, delicious hospitality, which I've personally enjoyed at her home in Oregon on more than one occasion. She and her lovely daughter Abby have put together another craveworthy book.
My Own Wish List
Nugget Ice Machine – I love ice in my cold drinks, and lots of it. Nugget ice is the ice of my dreams!
Ooni Pizza Oven – We built a new backyard patio several years ago with the intention of installing a small outdoor kitchen space. And when that happens, it's going to include a pizza oven – this is the one I currently have my eyes on.
Like This Gift List? Save it to Pinterest!