Wild Blueberry Scones
This post may contain affiliate links to products we use and love.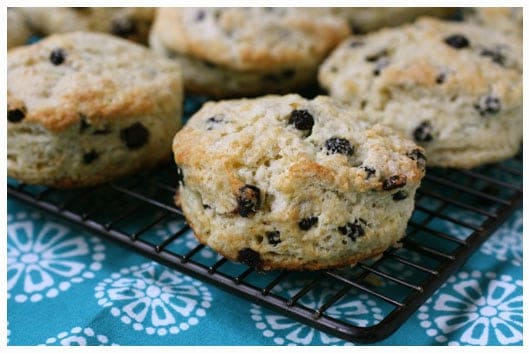 I had been working on a go-to scone recipe, off and on, for what seemed like years. Then, when Oliver opened up The Bikery a couple years ago next door to where I work, I let my obsession for the perfect recipe subside. His bakery makes fantastic scones (and decadent dark Belgian chocolate tortes and brownies, lovely croissants, and tasty soups) up front while Oliver works on bikes in the back shop. Quite the interesting combination of businesses under one roof, but I'll sure take it. His new shop next door made my scone cravings oh so deliciously convenient to please.
But, then again, if you know me at all, my scone recipe infatuation came back. Nagging at me stronger than ever. I wanted to be able to make my own scones that tasted like The Bikery's. So I could treat my family and overnight guests to scones fresh from my own oven. So I could stay in my pajamas on a Saturday morning and indulge in them whenever I so pleased.
Back to the drawing board…
And now, I'm happy to report that I have my go-to scone recipe. These wild blueberry scones are everything I have been searching for. I even tested them out on a couple girlfriends in the office, just to make sure I wasn't fooling myself as to how closely they resembled the scones next door. I really didn't expect the extreme scone love that I received that morning. One girlfriend even said these were (shhhhhh!) better than the scones next door.
Well, that's more than good enough for me!
If you like scones that are tender, moist, and flaky all at the same time, this is it. The dough is very slightly sweet, and when baked, has a lovely thin crisp exterior. And the recipe is easy and quick. My family has fallen for dried wild blueberries, and they are my current fruit of choice for this recipe. You could use whatever your little heart desires, though. I highly recommend the dried wild blueberries from Trader Joe's. Plump, chewy, and intensely flavored, they add undescribable yumminess to my newest favorite scones.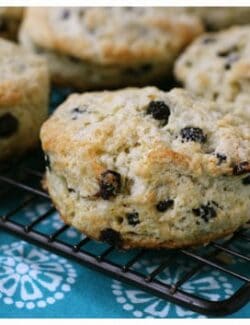 Wild Blueberry Scones
Yield: 12 scones

Cook Time:12 minutes
Ingredients:
2 c. all-purpose flour
2 tsp. baking powder
1/4 tsp. baking soda
1/2 tsp. salt
4 T. sugar, divided
1/2 c. (1 stick) cold, unsalted butter, cut into small pieces
3/4 c. dried wild blueberries (You could substitute dried currants, raisins, cherries or cranberries.)
1/2 c. buttermilk  (Use buttermilk only, do not substitute.)
1 large egg, lightly beaten
1 T. milk
Directions:
Preheat oven to 425°.  Line a baking sheet with parchment paper.  In a bowl, stir together flour, baking powder, baking soda, salt, and 3 tablespoons sugar.

With a pastry blender or two knives, cut in butter until mixture resembles coarse meal.  Stir in dried blueberries.  Make a well in the center; add buttermilk and egg, and stir just until combined (do not overmix).

Transfer dough to a lightly floured work surface; knead 5 or 6 times.  Pat into an 8″ disk.  With a floured 2-1/2″ biscuit cutter, cut out rounds.  Reroll and cut scraps once more.

Transfer to baking sheet, about 1-1/2″ apart.  Brush rounds with milk; sprinkle with 1 tablespoon of sugar.  Bake until scones are golden brown, 12 to 15 minutes.  Let cool on a wire rack.  Serve warm or at room temperature.

These are best eaten the same day.  The unbaked dough freezes really well, enabling you to store them in your freezer and bake them up fresh when desired.  Just cut the dough into rounds and place in freezer.  On the day you want to bake them, take them directly from freezer to baking sheet lined with parchment paper (do not thaw first), brush with milk and sprinkle with sugar.  You will need to bake the frozen dough a bit longer, adding about 4 or 5 minutes onto the regular baking time.

adapted from Everyday Food by Martha Stewart, originally from Letty Hampton of Oxford, MI

©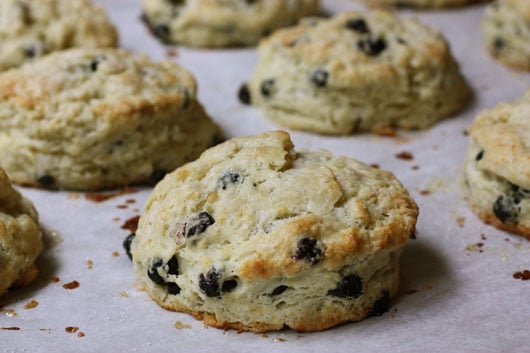 We participate in the Amazon Services LLC Associates Program, an affiliate advertising program designed to provide a means for us to earn fees by linking to Amazon.com and affiliated sites. See our
disclosure policy
for more info.