Sweet Corn Salad – Fresh from the Farmers' Market
This post may contain Amazon or other affiliate links. As an Amazon Associate I earn from qualifying purchases.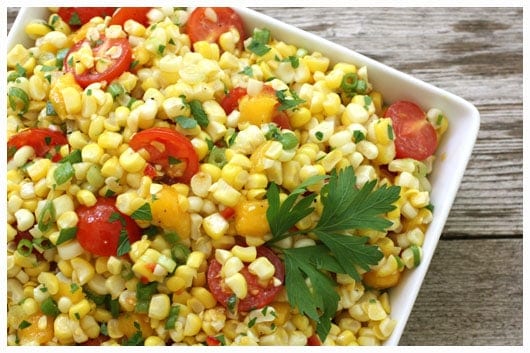 I just cannot get enough fresh summer sweet corn. And I'll take it any way you wanna give it to me. Boiled and then slathered in butter, in grilled creamed corn, cut from the cob (I love to eat all those kernels stuck together in a little slab!), or in a great summer salad.
This Sweet Corn Salad is so very delicious. I've tweaked the recipe quite a bit over the years, and believe that this is the final draft. Maybe. Possibly. Anyway, it's a great side for grilled chicken, steak, and fish. And as is, or with some tomato salsa mixed in, it makes for a great nacho chip dip.
Really, the only things I switch up here and there anymore are this. Sometimes I'm looking for a little more protein, so I will add black beans, which also makes for some very striking color contrast. And for the times when I'm craving a creamier salad, I add a chopped avocado. When gently folded into the other ingredients, the avocado makes this a whole different salad. I never grew up eating avocados, but am quickly making up for it as an adult. I now love them!
If you make this salad, please promise me one thing, though. Only use primo corn. If your sweet corn is just so-so, your salad will be just so-so. The salad will only be as good as its ingredients, and it relies on its star player to be fresh, sweet, and tender.
When I think of spectacular sweet corn, I can't help thinking about growing up on the farm. We went through enough sweet corn that we didn't plant it by hand. Dad put the seeds into the ground with the tractor and planter each spring. Many times Mom would serve whole meals consisting solely of sweet corn. Sweet corn served with a side of sweet corn. Pure sweet buttery bliss.
I planted a couple small rows of sweet corn in our garden this year. These rows won't produce nearly the quantity of ears as the farm did, but I wanted our girls to be able to see the whole process. From that tiny bit of green first poking through the soil, to being "knee-high by the fourth of July" (that's corn farmer lingo), to showing off its ears, silk, and tassels…it's all such a cool thing. Something so many people never even think about. And I wanted to give my girls the chance to think about it, as I once did. To have appreciation for the whole process, as I now do.
When I made this salad over the weekend, I used yummy corn we bought at the St. Paul Farmers' Market. I find great pleasure wandering through their aisles, taking in the sights of beautiful veggies, fruits, and flowers. And smelling the heavenly scent of earth still clinging to the produce. It's all so very relaxing for me.
Do you have sweet corn memories, straight from the farm?
Do you like shopping at your local Farmers' Market?
Please share with me!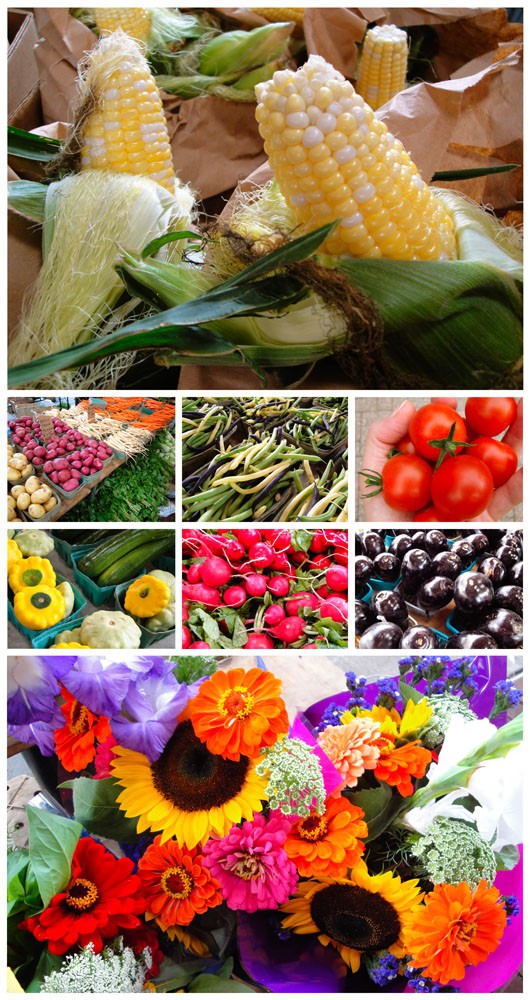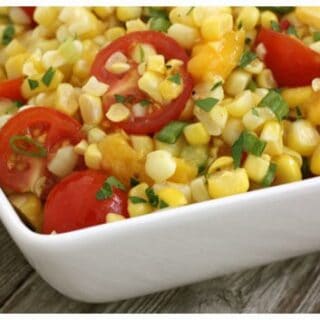 Sweet Corn Salad
Yield: 8 to 10 servings
Prep Time: 10 minutes
Total Time: 10 minutes
This colorful Sweet Corn Salad is a great summer side dish. It's filled with fresh corn, tangy tomatoes, and mango slices!
Ingredients
8 c. fresh corn kernels (cut from 8 to 12 ears of already boiled corn)
1 large mango, peeled and diced into 1/2″ pieces
1 pint grape or cherry tomatoes, halved
10 scallions, white and green parts, sliced
1/4 c. finely diced fresh red chile
1/4 c. chopped flat leaf parsley
1/4 c. olive oil
2 T. cider vinegar
2 T. sugar
1 tsp. ground cumin
1/2 tsp. kosher salt
1/2 tsp. black pepper
OPTIONAL INGREDIENTS:
1 avocado, medium dice + 1 T. fresh lime juice
1 can black beans, rinsed and drained
Instructions
In a large bowl, stir together the corn, mango, tomatoes, scallions, red chile, and parsley.
Whisk together the olive oil, cider vinegar, sugar, cumin, salt, and black pepper. Drizzle over all the vegetables and parsley. Stir until combined.
If adding avocado, stir lime juice gently with avocado, to minimize browning. Don't add the avocado until you are ready to serve the salad.
Nutrition Information:
Yield: 8
Serving Size: 1
Amount Per Serving:
Calories: 374
Total Fat: 13g
Saturated Fat: 2g
Trans Fat: 0g
Unsaturated Fat: 10g
Cholesterol: 0mg
Sodium: 364mg
Carbohydrates: 62g
Fiber: 11g
Sugar: 23g
Protein: 10g
Nutrition information is automatically calculated by Nutritionix. I am not a nutritionist and cannot guarantee accuracy. If your health depends on nutrition information, please calculate again with your own favorite calculator.
We participate in the Amazon Services LLC Associates Program, an affiliate advertising program designed to provide a means for us to earn fees by linking to Amazon.com and affiliated sites. See our
disclosure policy
for more info.