Grilled Mexican Chicken Salad with Cumin Lime Vinaigrette
This post may contain affiliate links to products we use and love.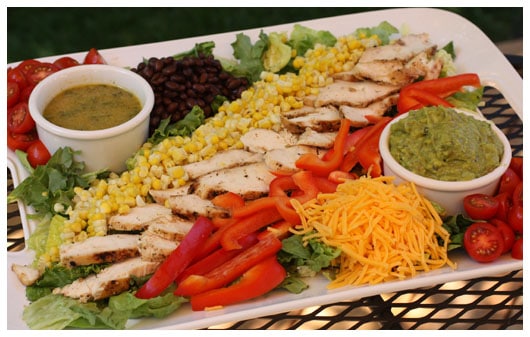 I love to eat summer salads. Lettuce salads, pasta salads, potato salads – you name it, I'm there. And this Grilled Mexican Chicken Salad is one of my favorites. I tend to bounce around between various dressings, depending on my mood, but recently fell in love with this tangy Cumin Lime Vinaigrette. It's light, flavorful, and perfect for summer.
Much of this salad's appeal for me, from an entertaining point of view, is that it can mostly be prepared the day before. Just add a couple chicken breasts to your grilling the evening prior to save you some time. Then prepare the veggies, rinse the black beans, and make the vinaigrette. Place all the ingredients in their own individual containers in the fridge, ready to go. The next day, an hour before your guests arrive, assemble the salad on a large platter. Then slip it back into the fridge to keep cool until the doorbell rings.
And don't forget the chips! This Mexican salad begs to be eaten with tortilla chips and guacamole. I'm a sucker for Tostitos "Hint of Lime" corn chips, and always serve them with this meal. For me, no other chip will do. They add a limey salty crunch and help you scoop up every last nibble of deliciousness from your plate.
This salad's versatility is another wonderful thing. Maybe you prefer green peppers over red, or like the heat of sliced jalapenos. Just substitute whatever you like, or whatever you might have on hand. And if you don't feel like whipping up your own vinaigrette, simply grab your favorite bottle from the store. I really like the smoky spiciness of Marie's Creamy Chipotle Ranch, found with the chilled dressings in the fresh produce department.
If you're looking for a fun way to share a chilled summer meal with friends, this composed Grilled Mexican Chicken Salad is it. The eye catching platter is a vibrant and festive presentation. And it's entertaining-friendly and so very versatile, awaiting your own personal twist.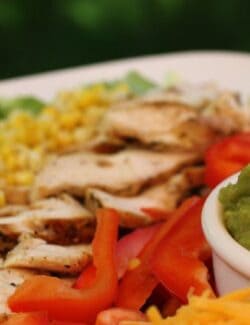 Grilled Mexican Chicken Salad with Cumin Lime Vinaigrette
Ingredients:
for the salad:
2 boneless skinless chicken breasts
1 T. extra virgin olive oil
1/2 tsp. ancho chili powder
1/2 tsp. ground cumin
1/2 tsp. kosher salt
1/2 tsp. ground black pepper
1 package (10 ounces) torn romaine lettuce
1 c. canned black beans, drained and rinsed
2 c. halved cherry tomatoes
1 red bell pepper, cut into 1/4″ slices
2 c. cooked sweet corn, cut from the cob
1 c. shredded cheddar cheese
for the vinaigrette:
1/4 c. extra virgin olive oil
3 T. cider vinegar
2 tsp. grated lime peel
1 T. fresh lime juice
1/2 tsp. honey
2 tsp. chopped cilantro leaves
1 tsp. ground cumin
1 tsp. Dijon mustard
1/2 tsp. garlic powder
1/8 tsp. ground cayenne pepper
1/2 tsp. kosher salt
1/4 tsp. ground black pepper
Directions:
Preheat grill to medium-high heat.  Make sure your grill grates are clean.

Coat chicken with the tablespoon of olive oil. In a small bowl, combine chili powder, cumin, salt, and pepper. Sprinkle chicken evenly with this mixture. Grill chicken until done, then remove to a plate to cool. Once cooled, slice into thin strips.

Spread the lettuce on a large serving platter. Arrange chicken, black beans, cherry tomatoes, red bell pepper, sweet corn, and cheese over the lettuce.

For the vinaigrette, combine all ingredients in a small bowl with a wire whisk until well blended. Makes about 1 cup.

Serve with tortilla chips and guacamole.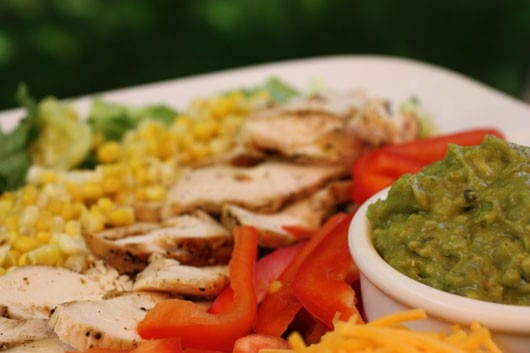 We participate in the Amazon Services LLC Associates Program, an affiliate advertising program designed to provide a means for us to earn fees by linking to Amazon.com and affiliated sites. See our
disclosure policy
for more info.