Southwest Salad with Grilled Chicken and Cumin Lime Vinaigrette
This hearty Grilled Chicken Southwest Salad is bursting with flavor, with fresh greens, corn, bell pepper, tomatoes, and black beans, plus a vibrant cumin lime vinaigrette!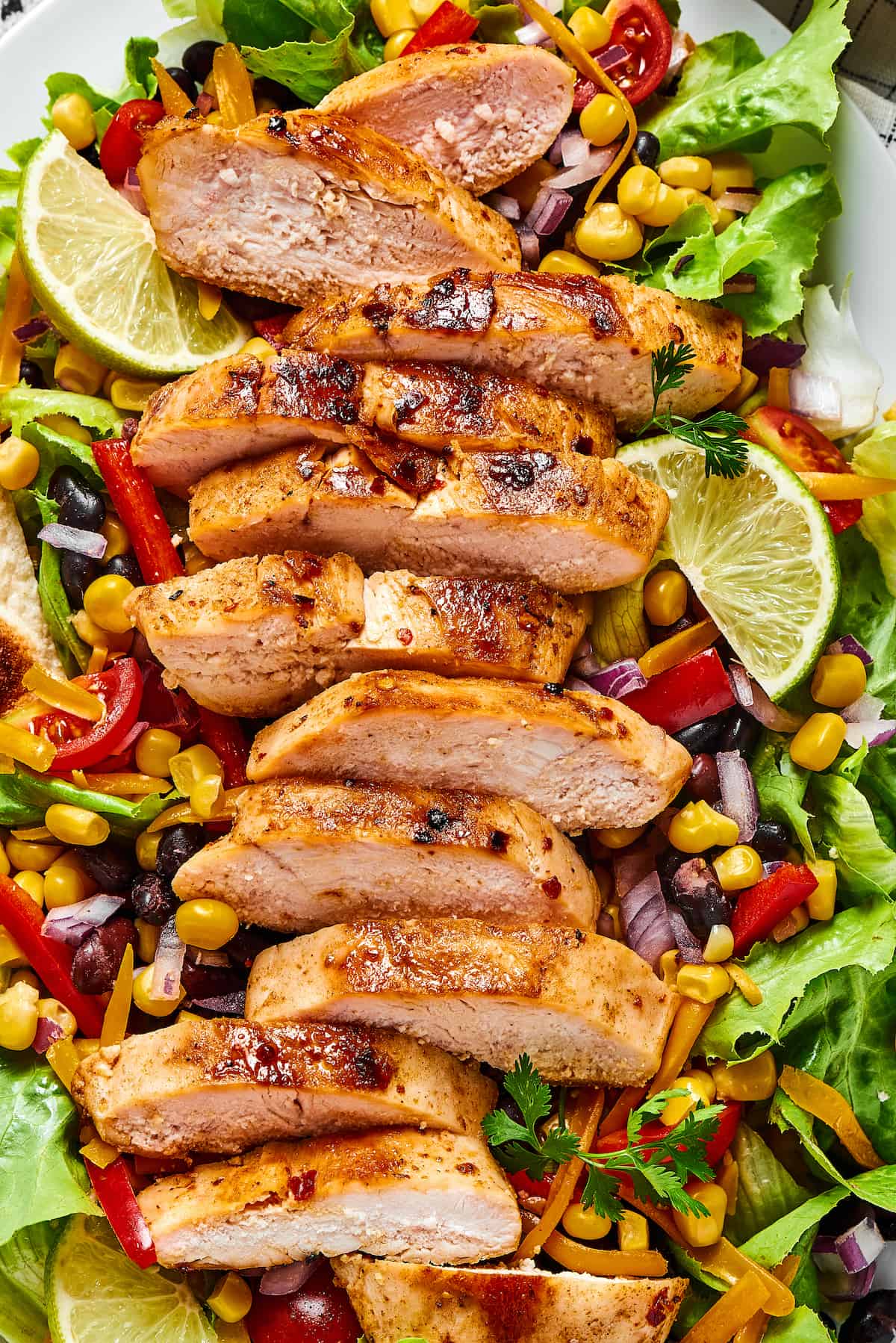 The Best Southwest Chicken Salad
Our family loves a fresh, hearty salad. One with all the delicious nibbles and a flavorful dressing – and this Grilled Chicken Southwest Salad with its irresistible cumin lime vinaigrette has been a longtime favorite!
Besides being so dang delicious, this salad's versatility is one of its greatest virtues. It's so easy to alter to your liking, whether you prefer green peppers over red, or like to add some heat with jalapenos, or want to swap the vinaigrette for a creamy homemade ranch dressing – just substitute whatever you like, or whatever's on hand.
We like to serve this salad with grilled soft tortillas or some salty, crunchy tortilla chips. Because a Southwest/Mexican chicken salad simply begs to be eaten with chips and guacamole. You just can't go wrong!
They add a limey salty crunch and help you scoop up every last nibble of deliciousness from your plate.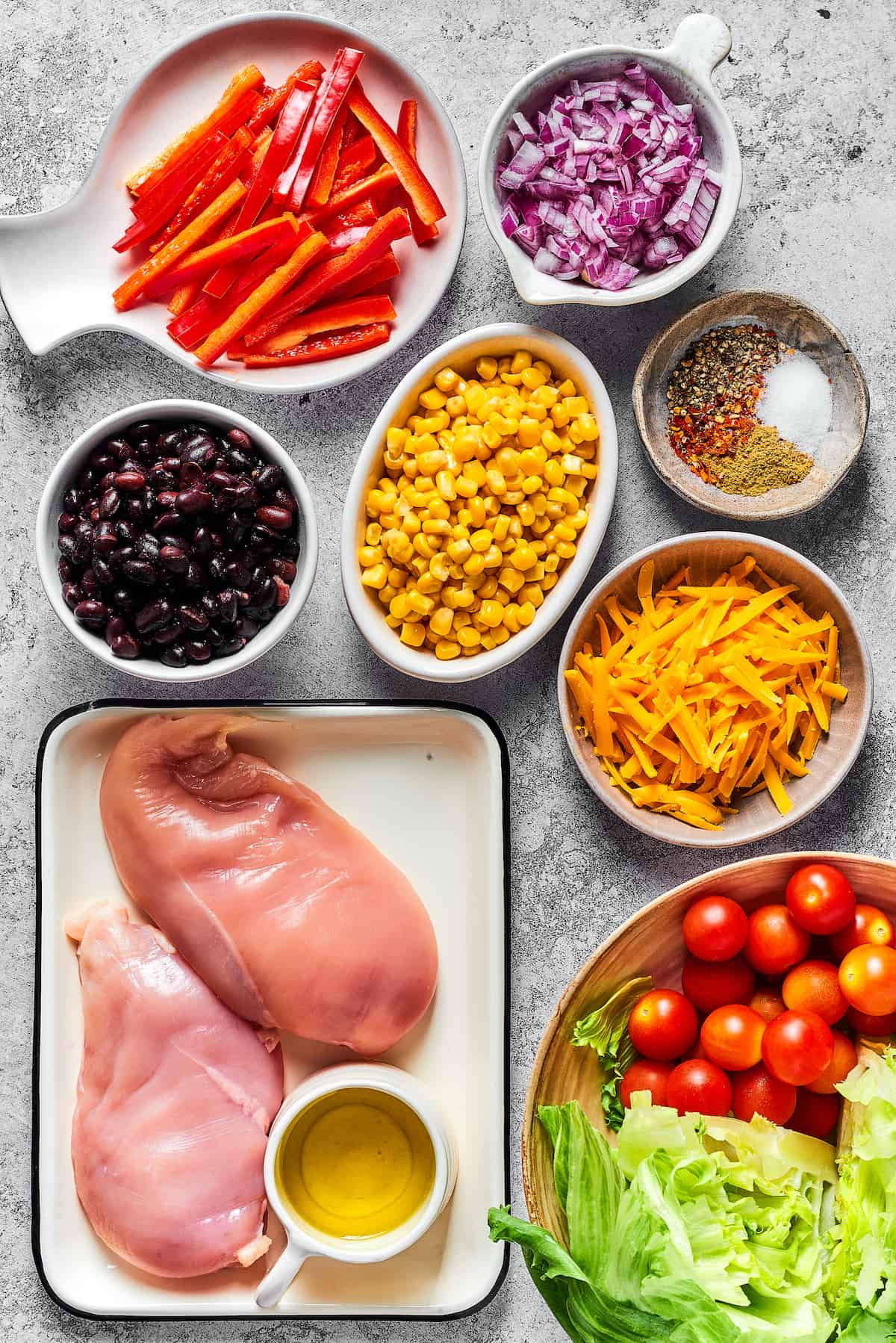 What You'll Need
I appreciate the simplicity of the individual ingredients in this grilled chicken salad, and the versatility to switch them up. Scroll down to the recipe card for measurements.
For the Salad
Chicken – The main protein in this recipe, which makes it a great main entree salad. Boneless, skinless chicken breasts are ideal, as they're easy to grill and easy to slice.
Olive oil – Helps the seasonings stick to the chicken, plus gives a nice char on the grill.
Spices – Ancho chili powder, ground cumin, salt, and pepper give the chicken a southwest flavor.
Vegetables – I use torn romaine lettuce as the base, and add cherry tomatoes, red bell pepper, onion, and lightly cooked or raw sweet corn.
Black beans – For extra protein, plus a variety of flavor and texture – with southwest flair, of course!
Cheese – What's a salad without cheese? At least that's what my family says! I use shredded cheddar, though a Mexican or Southwest blend would also work great.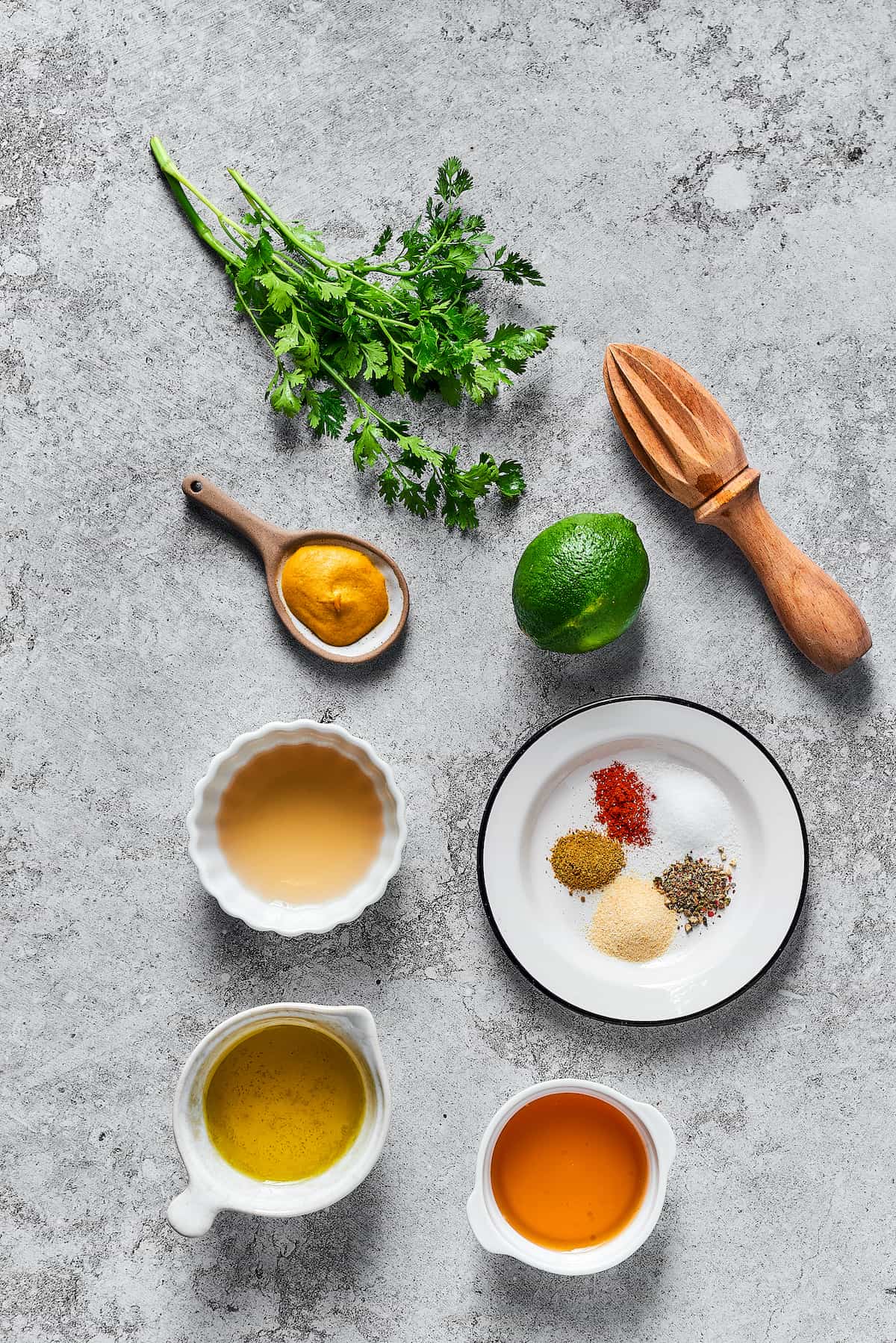 For the Vinaigrette
Olive oil – The base of the vinaigrette.
Cider vinegar – Adds delicious tang to the dressing.
Lime – Both lime zest and lime juice add bright citrus flavor, plus additional acidity.
Honey – Helps to balance out the tart and spicy flavors.
Cilantro – A popular herb in southwestern dishes.
Spices – Cumin, garlic powder, ground cayenne pepper, salt, and pepper add flavor and a bit of heat to the dish.
Dijon mustard – This gives the vinaigrette a bit of a delicious kick, plus some body.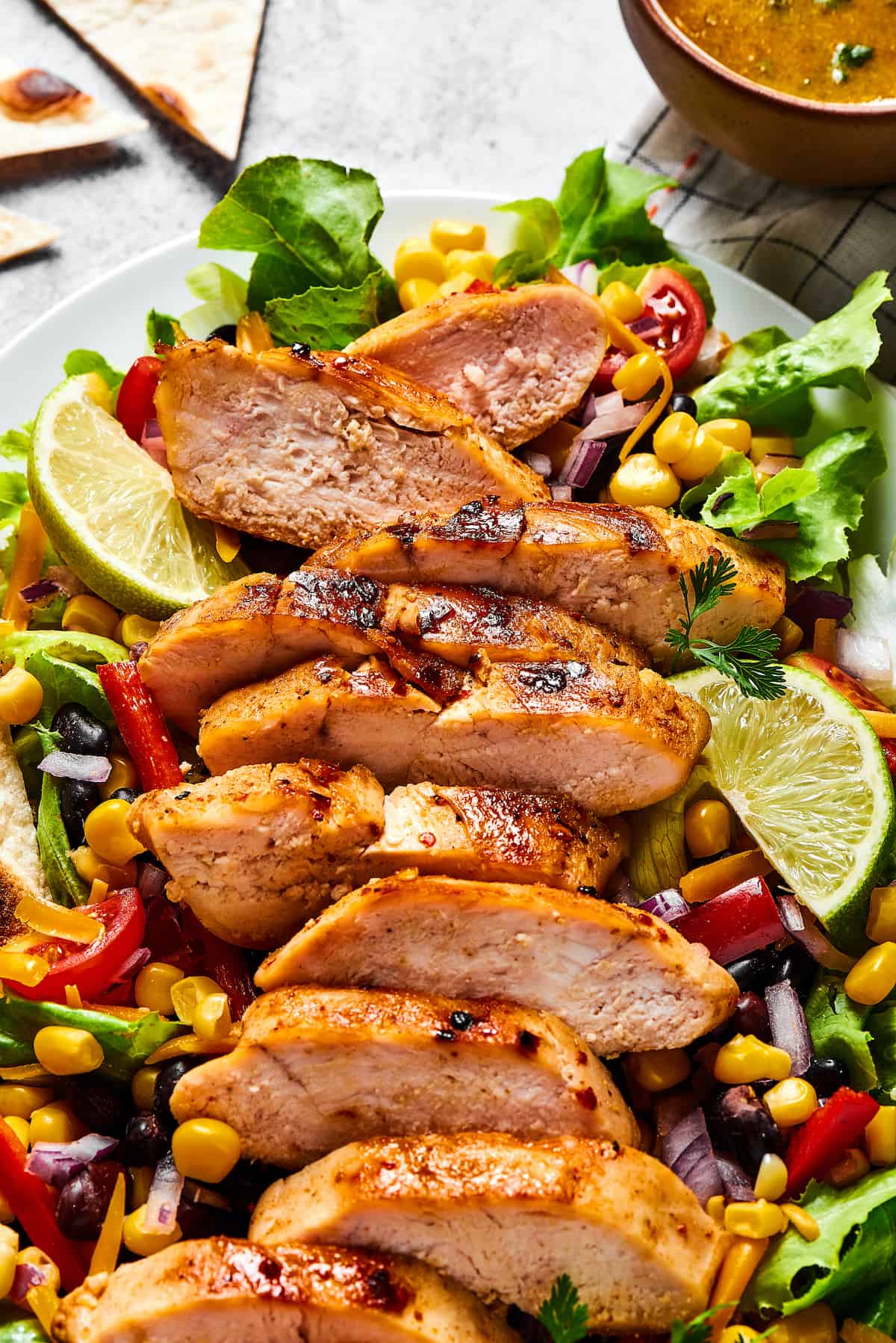 Recipe Variations
As I mentioned, one of my favorite things about this recipe is how flexible and adaptable it is. You can easily adjust to whatever you have on hand or are craving.
Switch up the vinaigrette. Try my homemade buttermilk ranch dressing or this easy, creamy taco dressing. Or simply grab your favorite bottle from the store. I'd recommend a vinaigrette or dressing with some Mexican or southwest-flavored flair.
Try a different protein. Not a fan of chicken? Try making a southwest steak salad instead. Or add margarita grilled shrimp or some grilled salmon. Yum!
Use different greens. Romaine lettuce is my go-to for the crunch and mild flavor, but feel free to use iceberg lettuce, a mixture of baby greens, spinach, or kale.
Change up the cheese. If you like a little more kick, use pepper jack cheese. Sometimes we sprinkle crumbled goat cheese or cotija over the top, so good!
Add your favorite veggies. Add sliced green onion or roasted poblano peppers. Or spice it up with some sliced jalapeno. If there's something you don't like, feel free to leave it out and add whatever you prefer instead.
Other ingredients. Love black olives? Or roasted pepitas or sunflower seeds? Add some! Pickled red onions would also be PERFECT!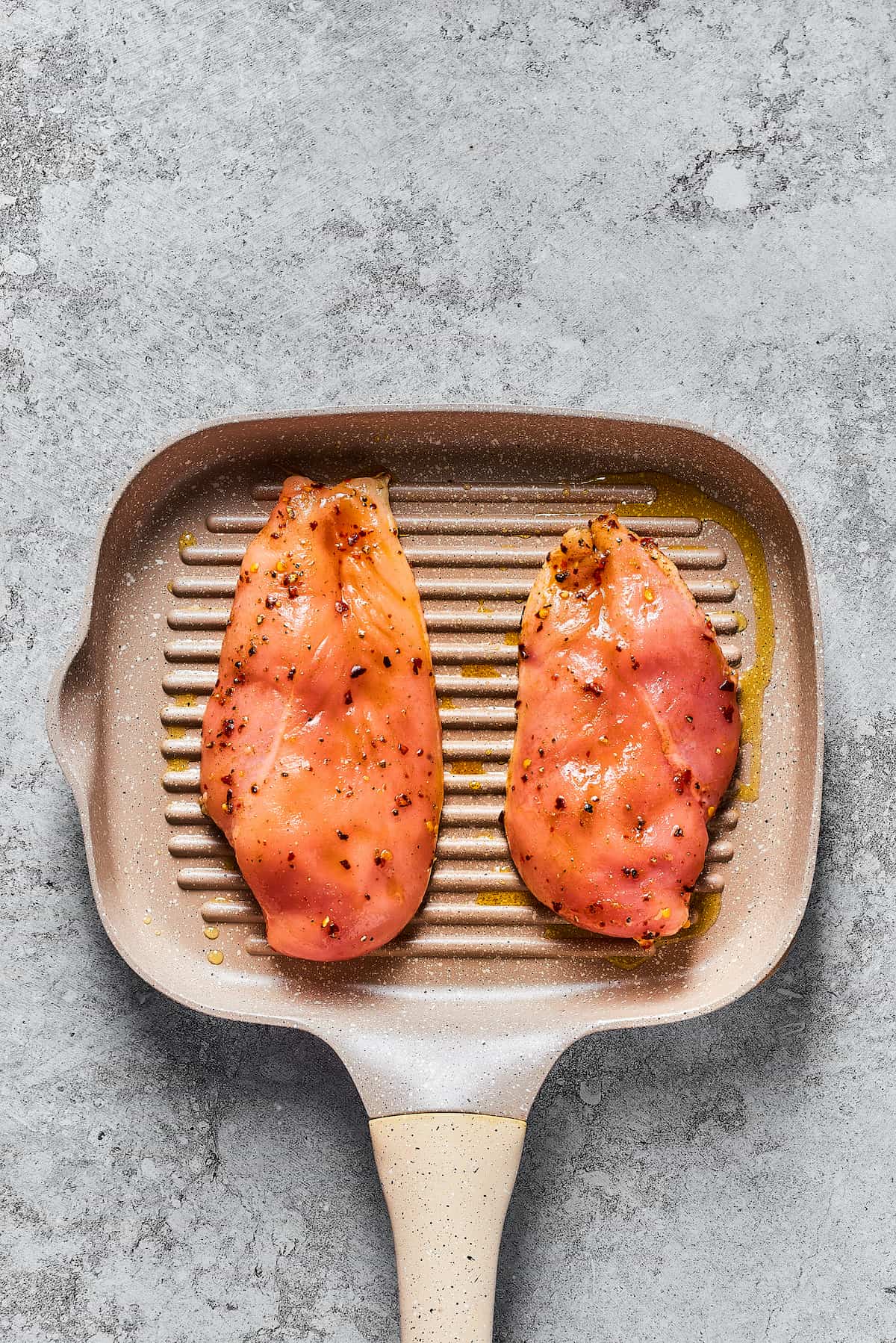 How to Make Southwest Salad
Grill the chicken, chop some fresh veggies, and mix up a vinaigrette – your gorgeous, flavorful salad awaits!
Grill the chicken. Coat the chicken with olive oil. Then combine the seasonings and sprinkle it over the chicken. Grill over medium-high heat until fully cooked. Allow to cool before cutting it into strips.
Make the vinaigrette. Whisk all of the vinaigrette ingredients until well combined.
Assemble the salad. On a large serving platter, spread out the ripped lettuce. Arrange the remaining ingredients over the top.
Serve. Add a salad tongs to the platter and let everyone serve themself. Offer the vinaigrette on the side, along with tortillas or tortilla chips, plus guacamole.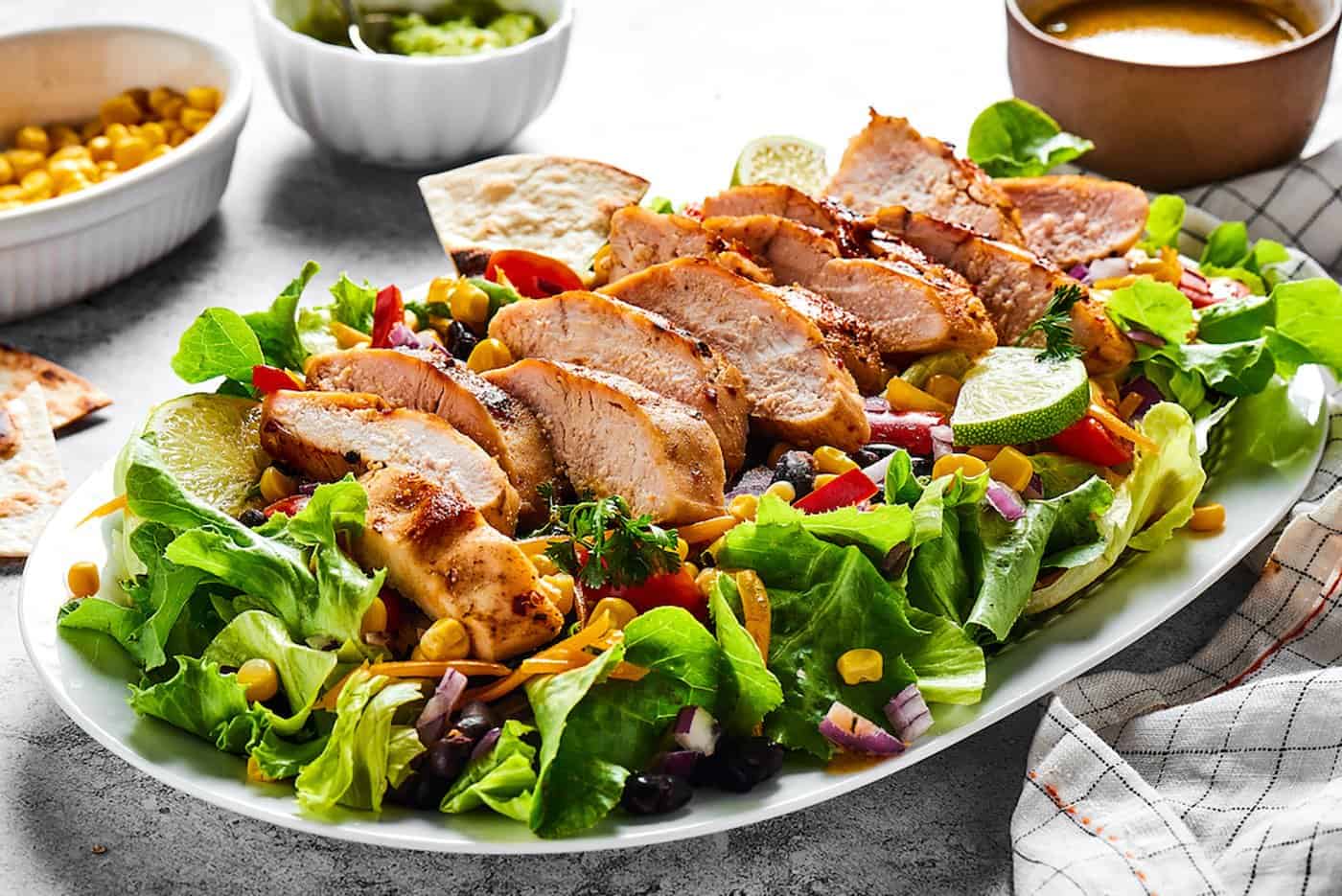 Can I Prepare This In Advance?
From an entertaining point of view, this salad is a great option for a main entree. It can mostly be prepared the day before, which is perfect for no-stress, no-kitchen-mess as your guests are arriving!
Here's what I do – Just add a couple of chicken breasts to your grilling the evening prior to save you some time. Then prepare the veggies, rinse the black beans, and make the vinaigrette. Place all the ingredients in their own individual containers in the fridge, ready to go.
The next day, an hour before your guests arrive, assemble the salad on a large platter. Then slip it back into the fridge to keep cool until the doorbell rings!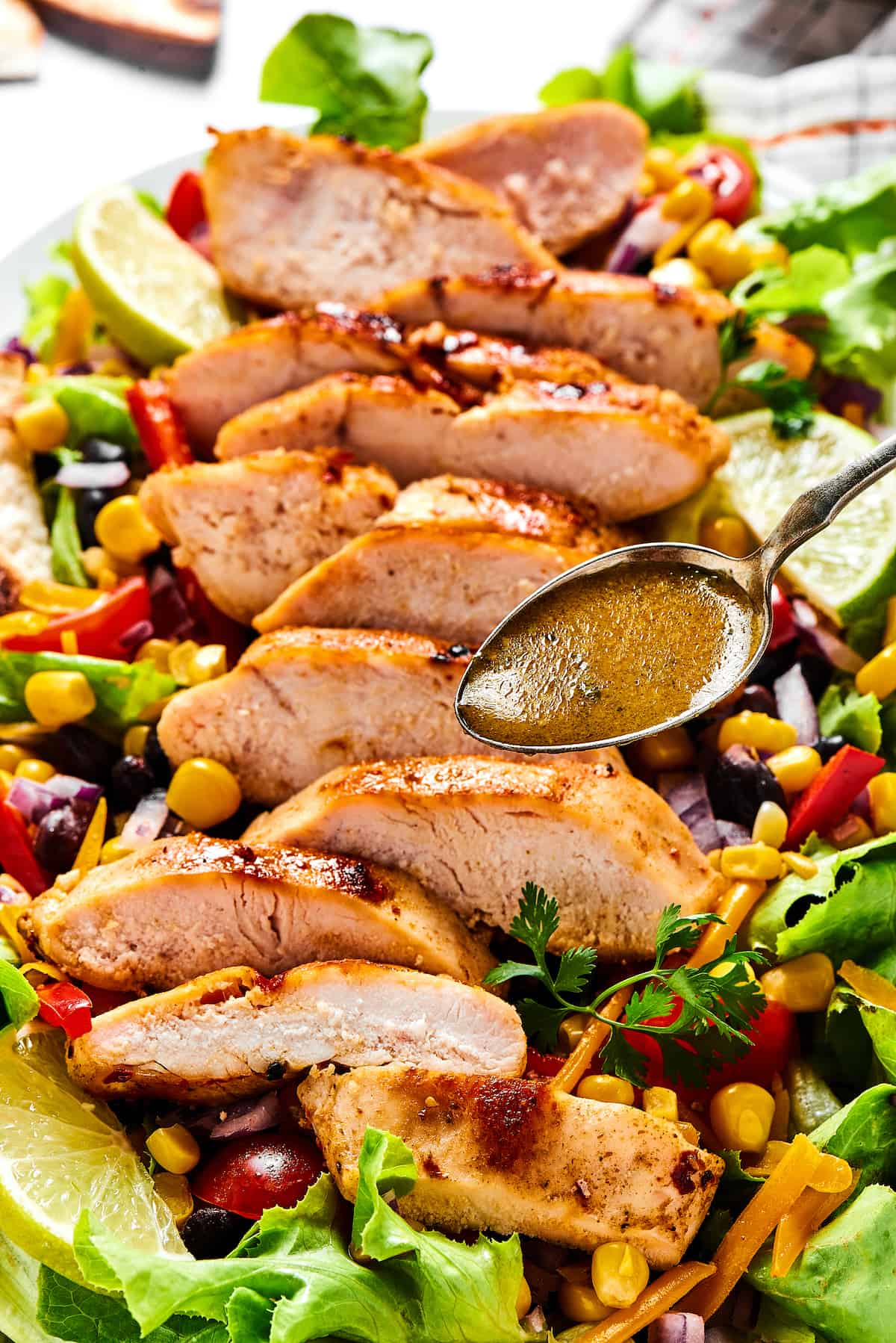 Serving Suggestions
I usually plate this salad on a large serving platter, so that everyone can serve themselves and add the vinaigrette as desired.
I like to add some tortilla chips on the side for salty crunch, or offer some charred soft tortillas for swiping up all the goodness.
Guacamole is always a good idea. Salsa or pico de gallo would be a welcome addition as well. Our family also likes to add dollops of sour cream, pickled red onions, and fresh lime wedges for squeezing over the top. Basically, just think about how you like to eat your favorite taco salad, and go from there.
As for drinks, a margarita is always a great idea when it comes to meals with Mexican and southwest flavors. Whether you choose a classic margarita, a "skinny margarita" aka ranch water, or a fun, flavorful riff (check out more margarita cocktails here), you simply can't go wrong!
How to Store Leftovers
Like most green salads, this Southwest chicken salad is best enjoyed as soon as it's put together. However, if you don't add the vinaigrette to the salad, you can cover it and refrigerate it for a day or two.
Another option would be to just assemble as much as you plan on enjoying immediately, then store the individual ingredients separately in the fridge for up to 3-4 days.
More Salad Recipes:
Like this recipe? Save it to Pinterest!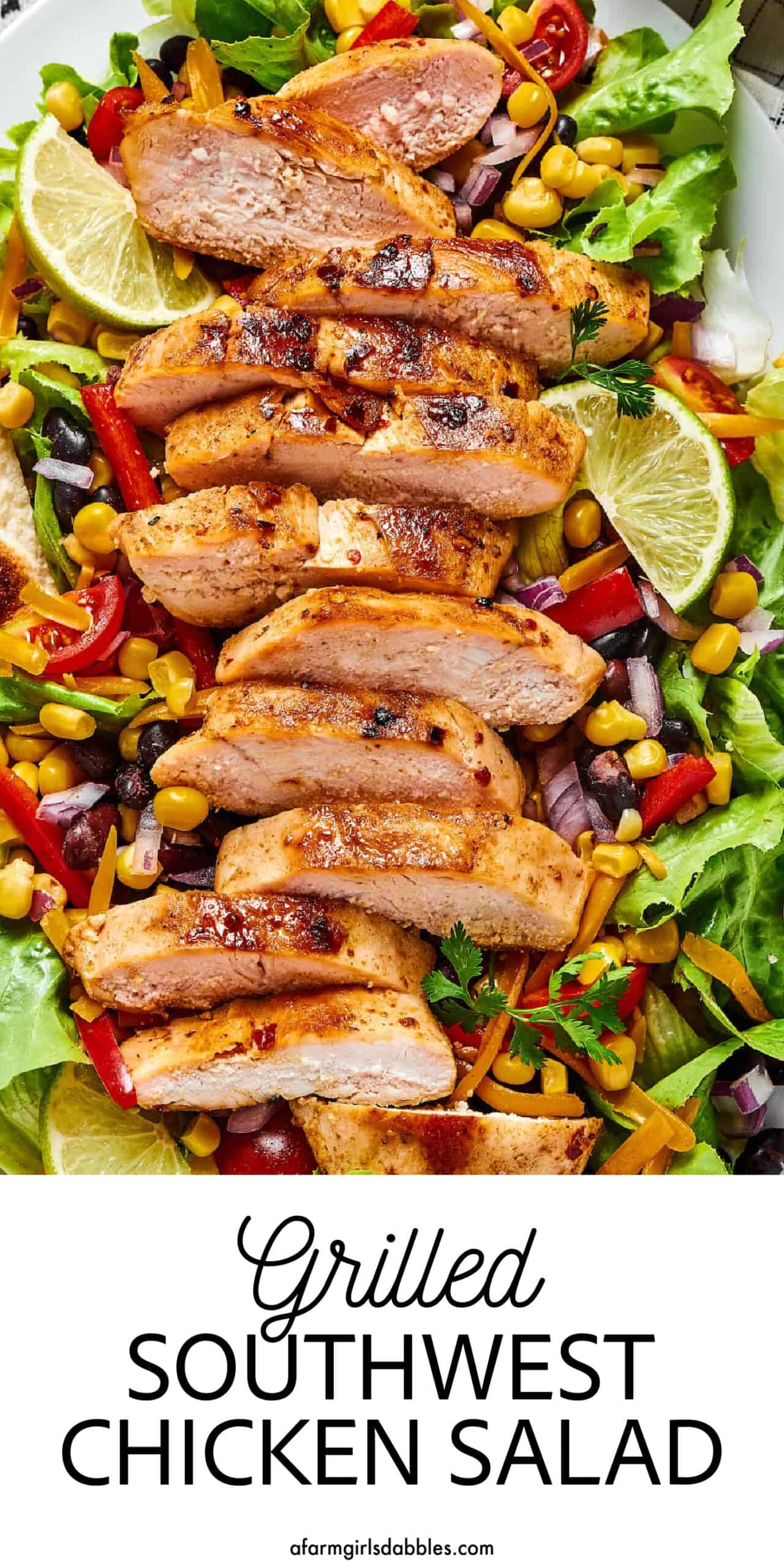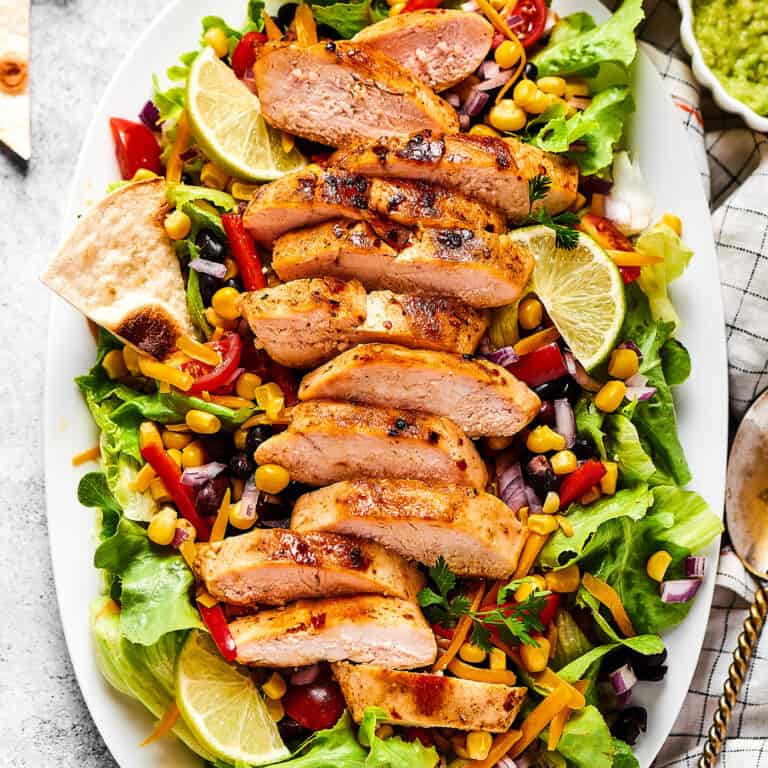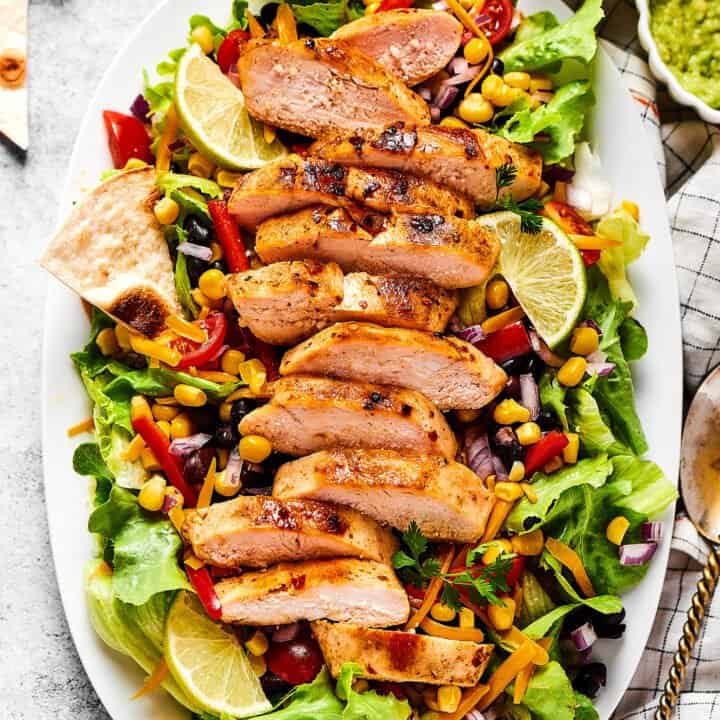 Grilled Chicken Southwest Salad with Cumin Lime Vinaigrette
Yield: 6 servings
Prep Time: 20 minutes
Cook Time: 18 minutes
Total Time: 38 minutes
This hearty Grilled Chicken Southwest Salad is bursting with flavor, with fresh greens, corn, bell pepper, tomatoes, and black beans, plus a vibrant cumin lime vinaigrette!
Ingredients
for the salad:
2 large boneless skinless chicken breasts
1 tablespoon extra virgin olive oil
½ teaspoon ancho chili powder
½ teaspoon ground cumin
½ teaspoon kosher salt
½ teaspoon ground black pepper
10 ounces romaine lettuce, torn into bite-size pieces
1 cup canned black beans, drained and rinsed
2 cups halved cherry tomatoes
1 large red bell pepper, cut into 1/4″ slices
2 cups lightly cooked or raw sweet corn kernels
1 cup shredded cheddar cheese
for the vinaigrette:
¼ c. extra virgin olive oil
3 tablespoons cider vinegar
2 teaspoons grated lime peel
1 tablespoon fresh lime juice
½ teaspoon honey
2 teaspoons chopped cilantro leaves
1 teaspoon ground cumin
1 teaspoon Dijon mustard
½ teaspoon garlic powder
⅛ teaspoon ground cayenne pepper
½ teaspoon kosher salt
¼ teaspoon ground black pepper
Instructions
For the salad: Preheat grill to medium-high heat. Make sure your grill grates are clean.
Coat chicken with a tablespoon of olive oil. In a small bowl, combine chili powder, cumin, salt, and pepper. Sprinkle chicken evenly with this mixture.
Grill chicken until done, then remove to a plate to cool. Once cooled, slice into strips.
Spread the lettuce on a large serving platter. Arrange black beans, cherry tomatoes, red bell pepper, sweet corn, cheese, and chicken over the lettuce.
For the vinaigrette: Combine all ingredients in a small bowl with a wire whisk until well blended. Makes about 1 cup.
To serve: Serve with guacamole, your favorite tortilla chips or grilled/toasted soft tortillas, pickled red onions, and fresh lime wedges for squeezing over the top.
Nutrition Information:
Yield: 6
Serving Size: 1
Amount Per Serving:
Calories: 358
Total Fat: 20g
Saturated Fat: 6g
Trans Fat: 0g
Unsaturated Fat: 13g
Cholesterol: 53mg
Sodium: 496mg
Carbohydrates: 24g
Fiber: 6g
Sugar: 6g
Protein: 22g
Nutrition information is automatically calculated by Nutritionix. I am not a nutritionist and cannot guarantee accuracy. If your health depends on nutrition information, please calculate again with your own favorite calculator.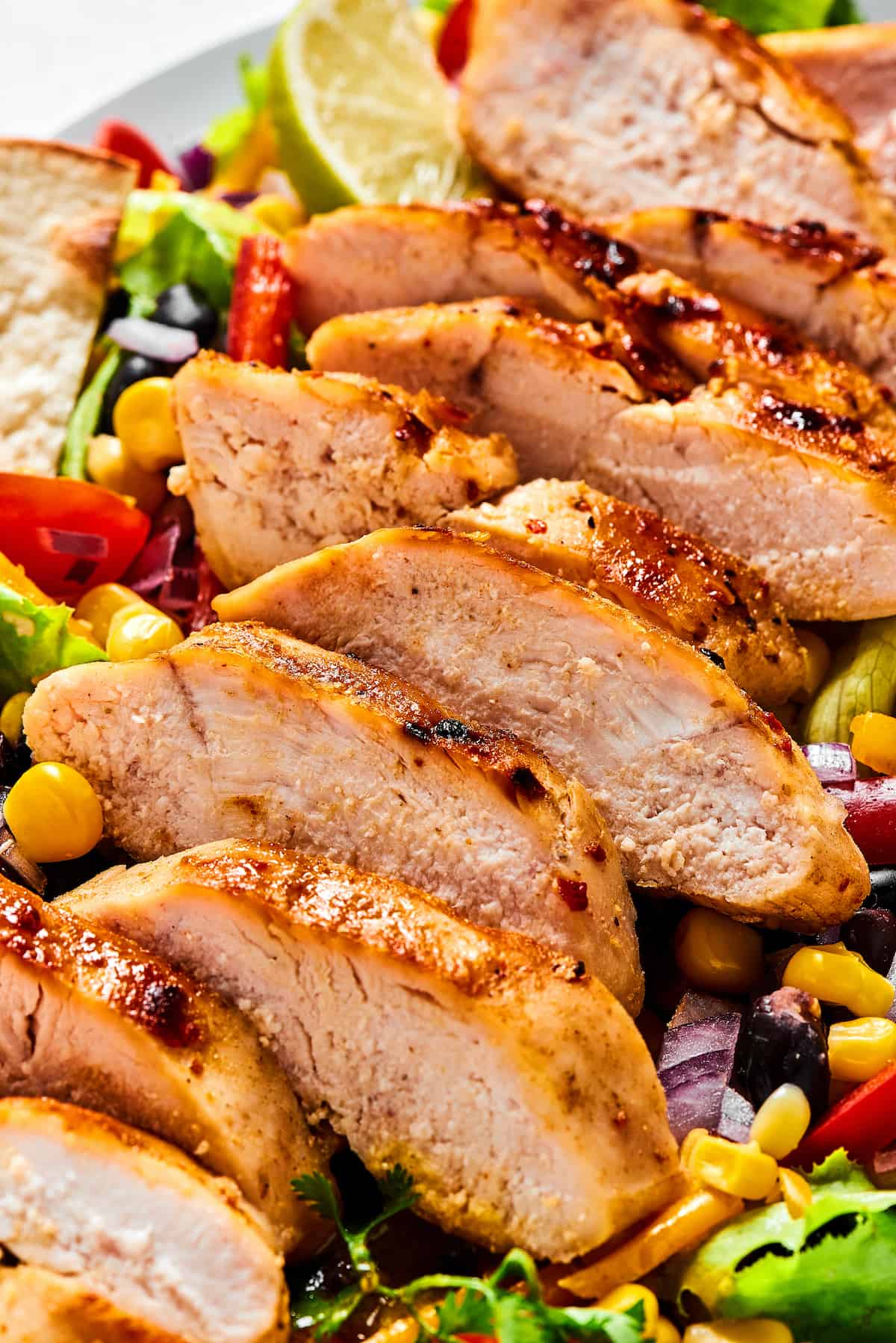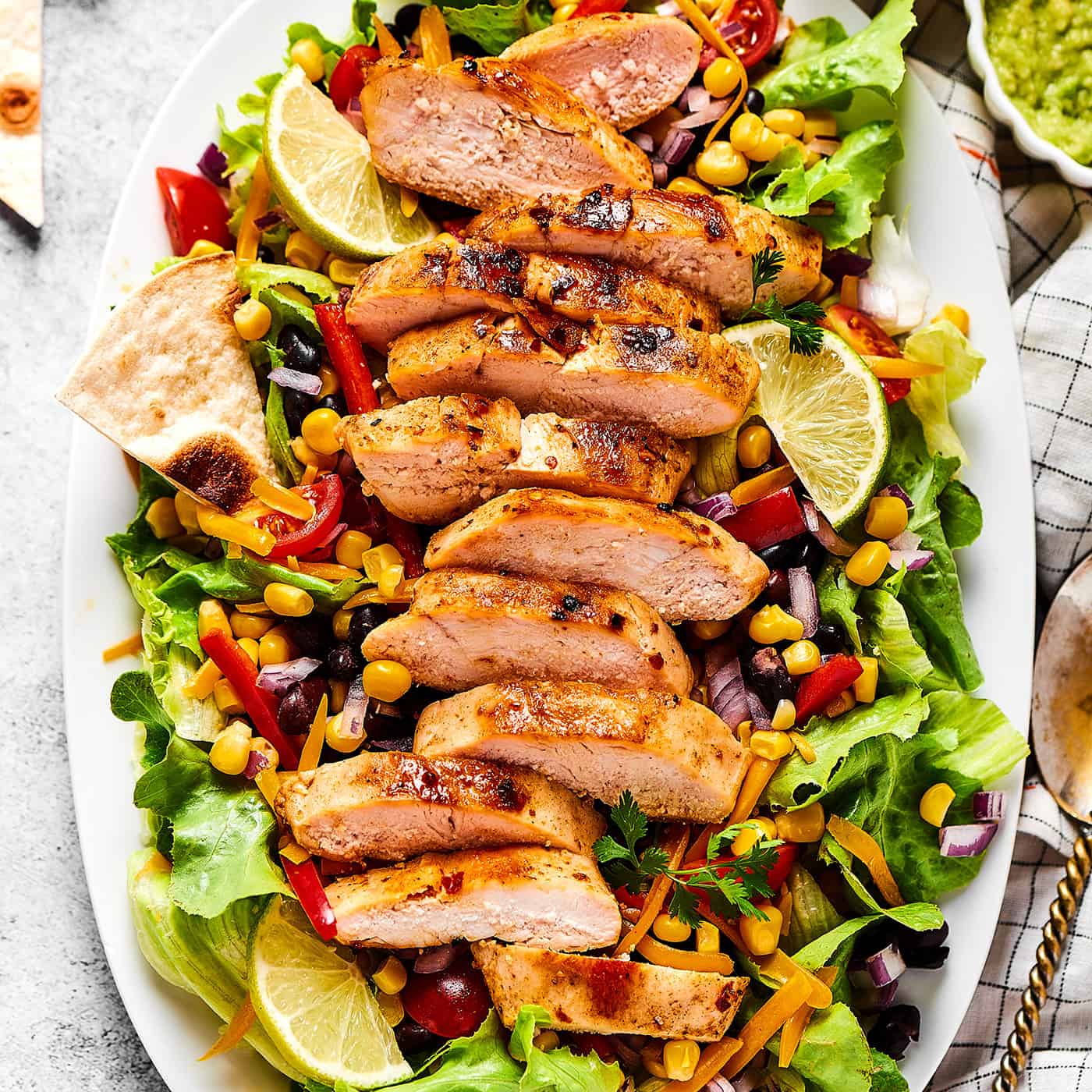 This post was originally published in 2010, and then updated in 2022.