Tres Leches Cake
This post may contain Amazon or other affiliate links. As an Amazon Associate I earn from qualifying purchases.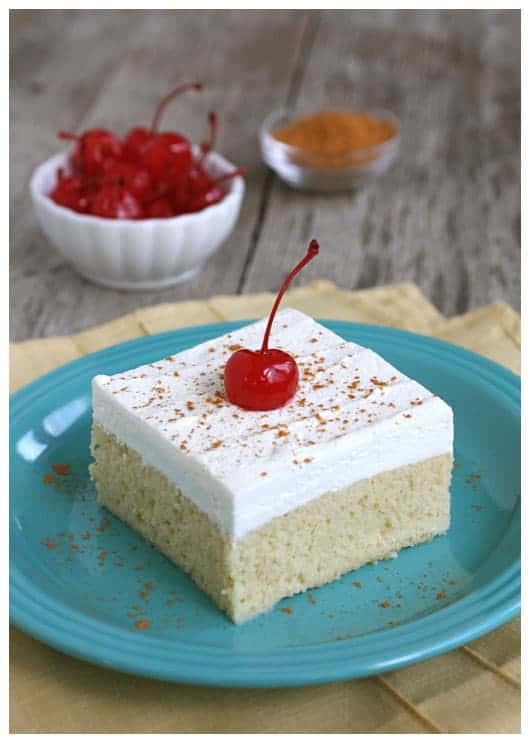 To my knowledge, there is not one iota of Mexican ancestry mingling in my veins. However, I do still enjoy celebrating Cinco de Mayo and all the wonderfulness of Mexican food culture. Last year on May 5th, we served mouth-watering carnitas, and our friends brought pomegranate margaritas and a Mexican chocolate cake that was deliciously flavored with a hint of cinnamon and chili pepper.
When I was thinking about what to make for dessert this year, I know it doesn't quite seem possible, but I found myself craving something other than chocolate. Must have something to do with all the brownies and turtle cake we've been eating lately!
Ever since I had my first bite of a Tres Leches Cake a couple years ago at 112 Eatery, it has been on my list of things to try in my own kitchen. It was fabulous! (If you haven't been to the 112 Eatery and are planning to visit, don't miss the pan-fried gnocchi with parmesan reggiano – oh, my!)
Tres Leches Cake is popular in many parts of Latin America and translates to Three Milks Cake. It's simply a sponge cake soaked in three milks – evaporated milk, sweetened condensed milk, and half-and-half or heavy cream. The cake is very light, with lots of air bubbles to soak up all the milks, and does not turn soggy. It truly acts like a sponge. The milks account for its beautiful sweet flavor, and the slightly sweetened whipped cream layer is a delicate topper. I sprinkled mine with a bit of cinnamon to add some color and texture, and to bring out some additional cinnamony flavor.
I did not expect my husband to like this cake much at all, but he surprised me with the opposite reaction. He liked it! And so did our oldest daughter, and the entire crew at work the next day, who got to eat what we couldn't put away ourselves at home. One co-worker said it was the best cake he's ever eaten, while another said this cake's name does not do it justice.
This cake was definitely a hit!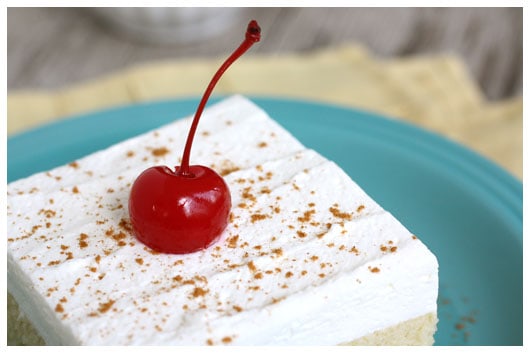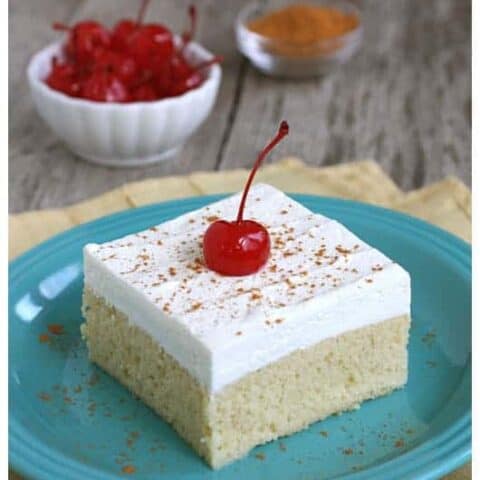 Tres Leches Cake
Yield: serves 15
Prep Time: 25 minutes
Cook Time: 20 minutes
Additional Time: 8 hours 30 minutes
Total Time: 9 hours 15 minutes
Tres Leches Cake is a Mexican sponge cake recipe, made using three kinds of milk: evaporated, condensed, and half-and-half. Whether you're planning a Cinco de Mayo gathering, or just looking for a cool new cake recipe to try, I've got just the dessert for you!
Ingredients
FOR THE CAKE:
1.75 cups cake flour, plus extra for preparing the pan
1 teaspoon baking powder
1 teaspoon cinnamon
1/2 teaspoon kosher salt
1/2 cup unsalted butter, softened to room temperature
1 cup plus 1.5 teaspoons sugar
5 large eggs
1.5 teaspoons pure vanilla extract
FOR THE GLAZE:
1 can (12 ounces) evaporated milk
1 can (14 ounces) sweetened condensed milk
1 cup half and half
FOR THE TOPPING:
2 cups heavy cream
1/4 cup powdered sugar
1 teaspoon pure vanilla extract
cinnamon, for sprinkling on top
maraschino cherries with stems, drained well
Instructions
For the cake: Preheat the oven to 350° F. Lightly grease and flour a 13″x9″ pan and set aside.
In a medium bowl, whisk together the cake flour, baking powder, cinnamon, and salt; set aside.
Place butter in the bowl of a stand mixer. Using the paddle attachment, beat on medium speed until fluffy, about 1 minute.
Decrease mixer speed to low, and with the mixer still running, very slowly add the sugar. Stop to scrape down the sides of the bowl, if necessary.
Add the eggs, one at a time, and mix to thoroughly combine. Add the vanilla and mix again.
Add the flour mixture to the batter in three batches and mix until just combined.
Transfer batter to the prepared pan and spread evenly. It will seem like a small amount of batter for a cake. Bake for 20 to 25 minutes, or until the cake is lightly golden and a toothpick comes out clean.
Turn cake out onto a rimmed platter and allow to cool for 30 minutes. Poke the top of the cake all over (a lot!!) with a fork. Then prepare the glaze.
For the glaze: Whisk together the evaporated milk, sweetened condensed milk, and half and half in a medium bowl. If you have a bowl with a pour spout, that works great! Once combined, pour the glaze over the cake. It will seem like a lot of glaze, but use it all. Take your time and let it keep soaking in as you pour. The cake will not completely soak up the glaze until it has sat overnight. So, pop it into the fridge and finish it the following day.
For the topping: Place the heavy cream, powdered sugar, and vanilla into the bowl of a stand mixer. Using the whisk attachment on low speed, whisk together until stiff peaks are formed. Increase mixer to medium speed and whisk until thick. Spread the topping onto the cake, sprinkle lightly with cinnamon, top with cherries, and allow it to chill in the fridge until ready to serve.
Notes
The cake is best when baked a day prior to serving, to let the cake soak up the glaze overnight in the fridge.
adapted from Alton Brown's recipe on Food Network
Nutrition Information:
Yield: 15
Serving Size: 1
Amount Per Serving:
Calories: 745
Total Fat: 25g
Saturated Fat: 15g
Trans Fat: 0g
Unsaturated Fat: 8g
Cholesterol: 134mg
Sodium: 217mg
Carbohydrates: 112g
Fiber: 2g
Sugar: 26g
Protein: 17g
Nutrition information is automatically calculated by Nutritionix. I am not a nutritionist and cannot guarantee accuracy. If your health depends on nutrition information, please calculate again with your own favorite calculator.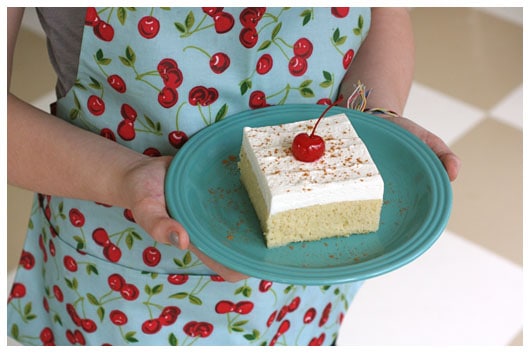 We participate in the Amazon Services LLC Associates Program, an affiliate advertising program designed to provide a means for us to earn fees by linking to Amazon.com and affiliated sites. See our
disclosure policy
for more info.