Barb's Chocolate Chip Cookies (Gimme S'more!)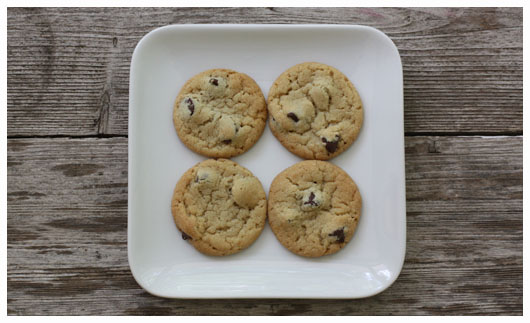 These are the cookies Mom's kitchen is famous for. "Barb's Chocolate Chip Cookies", or possibly "Klein Chocolate Chip Cookies", the term is interchangeable. They are the only chocolate chip cookies I will ever make. And to make them properly, in true Barb fashion, they must be just slightly underbaked, so they are mostly soft with a light crispiness at the edges. Besides being totally yummy, I believe that this soft cookie dough texture is what makes these so appealing to the kid in all of us.
I know there were very few days growing up that a container of these wasn't stashed away in the freezer. My dad is quite staunch that these are the only real cookies out there. And they were the steady request from some of my friends and cousins. They might even be considered life-saving, as I can distinctly remember my hungry cousin Samina moaning for another of Mom's cookies while we were stuck for hours on an icy Black Hills road many winters ago.
While packing for last weekend's camping trip to Hartford Beach State Park, on the South Dakota side of Big Stone Lake, I was reminded of a plan I had not yet implemented this summer. A plan that involved s'mores. Now I'm all for roasting marshmallows and combining them with chocolate. But I'm really not a huge fan of graham crackers. I like graham cracker crusts for pies and such, but just do not enjoy eating them in their whole cracker form.
When we vacationed in Custer State Park earlier this summer, we made s'mores using Fudge Stripe Cookies. And that got me thinkin'. What would it be like to sandwich a campfire-softened marshmallow between mini versions of Mom's chocolate chip cookies? So I whipped up a batch of minis and threw them in the camping cooler for the test.
Around the campfire, some ate their chocolate chip cookie s'mores with an added piece of chocolate bar, while others double-stacked their marshmallows for an extra gooey treat (that would be Dad). And still others just had fun eating cookies, sans marshmallow. Personally, this was just what I've been needing all these years. I enjoyed every bite of the ooey-gooey campfire classic in this fun chocolate chip cookie revamp.
The camping trip was a real hoot. It was great fun watching the next generation explore the park's lake, streams, and beautiful shaded trails as we once did as kids. We talked about how it used to be, surrounded by campers and tents of aunts, uncles, cousins, and neighbors. We were quite the pack back then, rolling in with enough eager people (Grandma Renelt included!) to fill two team rosters for a game of kickball. And camping at Hartford Beach was our Memorial Day weekend tradition.
This past weekend didn't include quite as many participants as in our childhood, but it still had much of the same feel, as we were joined by some very special aunts, uncles, and cousins. It was also the first time in two years that my immediate family was together in its entirety, an event that's challenging to orchestrate when we live on different continents.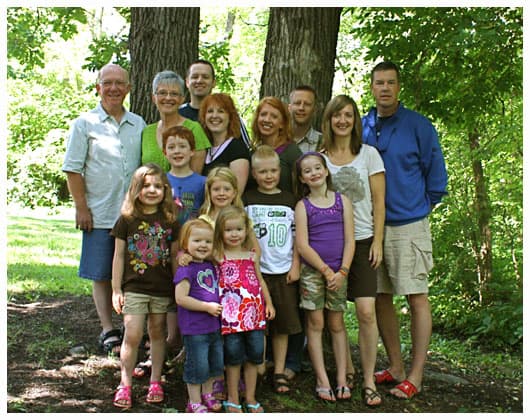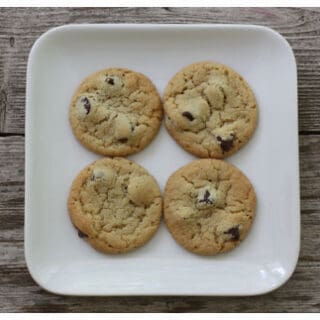 Barb's Chocolate Chip Cookies
Yield: about 5 dozen regular size cookies (many more if making minis!)
Prep Time: 10 minutes
Cook Time: 8 minutes
Total Time: 18 minutes
Barb's Chocolate Chip Cookies are soft, chewy, chocolatey goodness. The minute you pull these homemade chocolate chip cookies out of the oven, you'll see what I mean!
Ingredients
2 c. shortening
1-1/2 c. sugar
1-1/2 c. brown sugar
2 tsp. vanilla
1 tsp. water
4 large eggs
4-1/2 c. flour
2 tsp. baking soda
2 tsp. salt
12 oz. semi-sweet chocolate chips (I like Guittard.)
Instructions
Preheat oven to 375°.
Mix shortening and sugars together until well combined. Add vanilla, water, and eggs. Mix well again. Gently mix in the flour, baking soda, and salt, just until combined. Stir in chocolate chips by hand.
Drop by teaspoonfuls onto baking sheet (if making mini cookies for s'mores, make balls of dough about 1″ in diameter) and bake for 8 to 10 minutes, or until they just start to turn golden at the edges. Remove from oven and let pan sit for a minute or two, then move cookies to rack to cool.
Notes
Recipe from Mom's recipe box
Nutrition Information:
Yield: 60
Serving Size: 1
Amount Per Serving:
Calories: 157
Total Fat: 9g
Saturated Fat: 4g
Trans Fat: 0g
Unsaturated Fat: 5g
Cholesterol: 16mg
Sodium: 127mg
Carbohydrates: 19g
Fiber: 0g
Sugar: 16g
Protein: 1g
Nutrition information is automatically calculated by Nutritionix. I am not a nutritionist and cannot guarantee accuracy. If your health depends on nutrition information, please calculate again with your own favorite calculator.