Jalapeño Grilled Sweet Corn Muffins
This post may contain affiliate links to products we use and love.
These Jalapeño Grilled Sweet Corn Muffins are summer perfection, showcasing kernels of in-season corn, fresh and tender and sweet.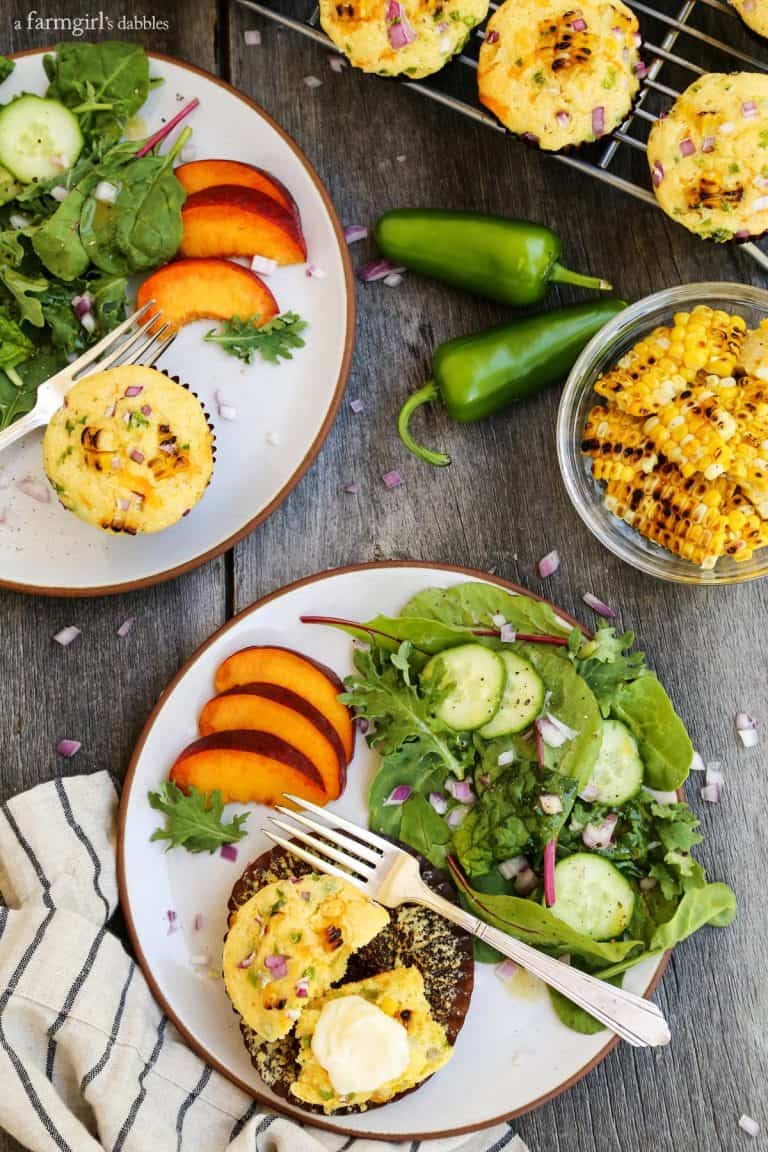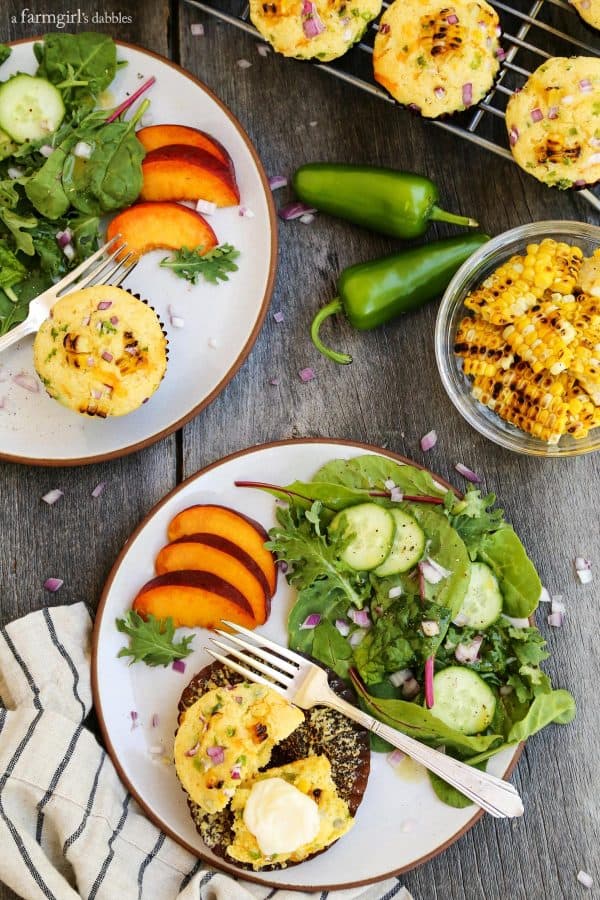 August is always bittersweet for me. While it's still warm and sunny and all things summer-wonderful, I can't help but feel the pull of school starting up again for our girls. My head has to remind my heart almost daily to simply enjoy the present moment, to cherish these days while our daughters are still living under our roof.
One thing that always brings our family together and helps us feel connected and alive to life is good food. Whether it's just our family of four at the table or we've invited a backyard full of friends and family to join us, nothing beats a fun and tasty menu of dishes to gather around.
These Jalapeño Grilled Sweet Corn Muffins are summer perfection, showcasing kernels of in-season corn, fresh and tender and sweet. Add this recipe to your menu soon and enjoy every last bite of this fabulous summer season.
* This post is sponsored by Land O'Lakes.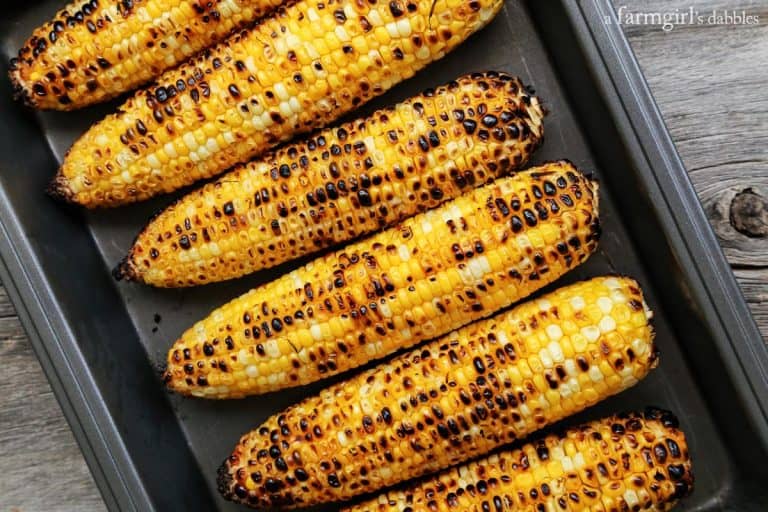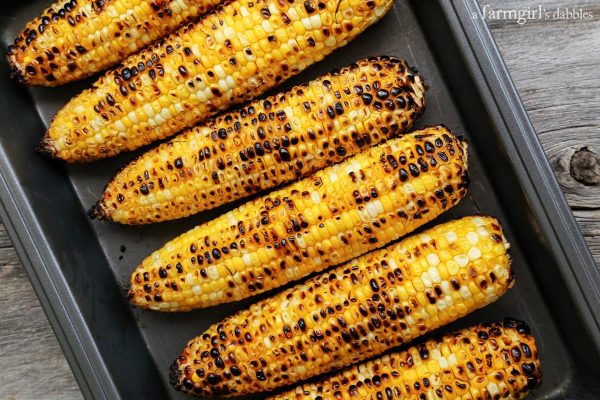 If you know me at all, you know that I don't need an excuse to throw a few ears of sweet corn on the grill. Every week, all summer long, you can find some on our table. Eaten straight off the cob with sweet, creamy butter and a sprinkling of salt, or cut off the cob for a fun addition to tacos and salads, sweet corn is one of my very favorite things about summer.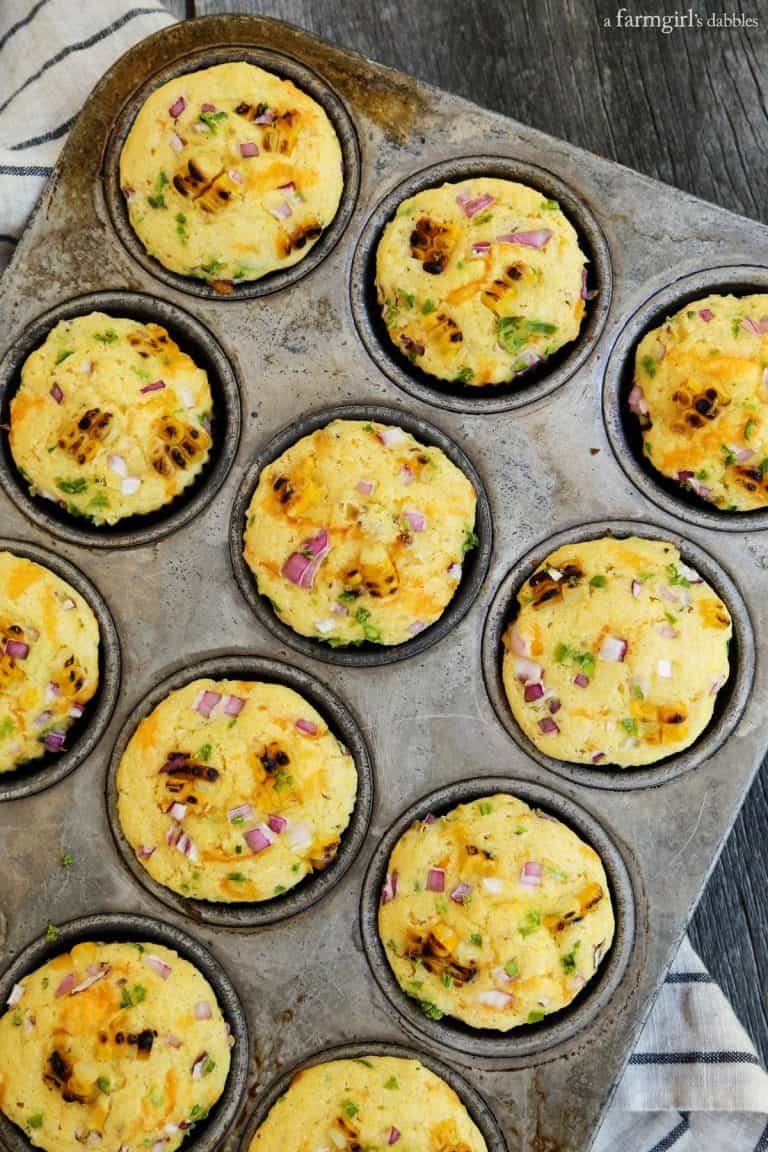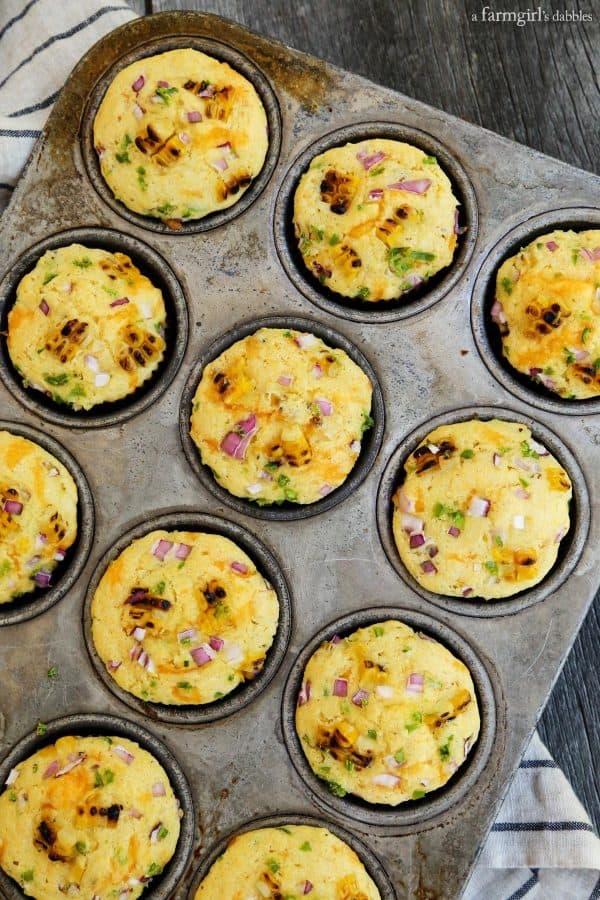 I found a new way to incorporate those sweet, crunchy kernels into a side dish that our whole family enjoys. With a bit of cornmeal and sour cream stirred into the batter, along with cheddar cheese, jalapeño, red onion, and sweet corn, these jalapeño grilled sweet corn muffins are big on flavor.
A bonus for me with this recipe was finding another way to incorporate jalapeños that didn't have our daughters pushing away their plates, afraid of the peppers' heat. With each batch I make, I first taste-test the heat of the jalapeños. If they're on the mild side, I add the full amount from the recipe. If the jalapeños are packing more heat, I simply pull back and don't use as much. And I chop the peppers real small, so there is never a huge piece of fire on the tongue. Our girls go back for a second muffin every single time.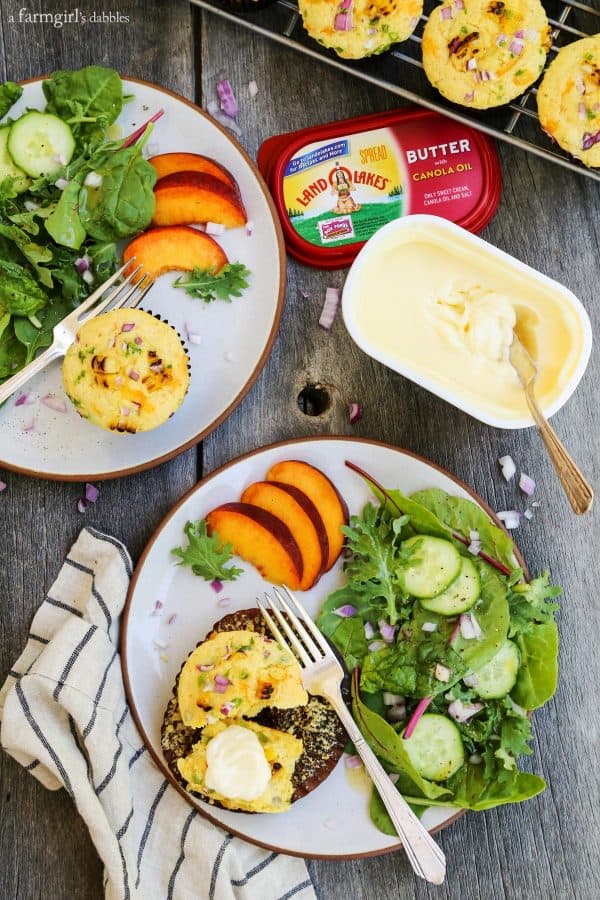 I'm loving Land O'Lakes, Inc.'s new tagline: Add a Little Good™. This phrase obviously speaks about incorporating goodness at the table, but also reminds us to have good on our minds and in our hearts, to be a positive influence in this world.
Land O Lakes® Butter is featured in two different ways in this recipe. There is a half stick of unsalted butter in the batter, lending beautiful sweet cream flavor throughout. And then Land O Lakes® Butter with Canola Oil is served alongside the warm-from-the-oven muffins, for spreading on as you please. Because I believe that every muffin in the world (no exceptions) deserves a little spread of butter.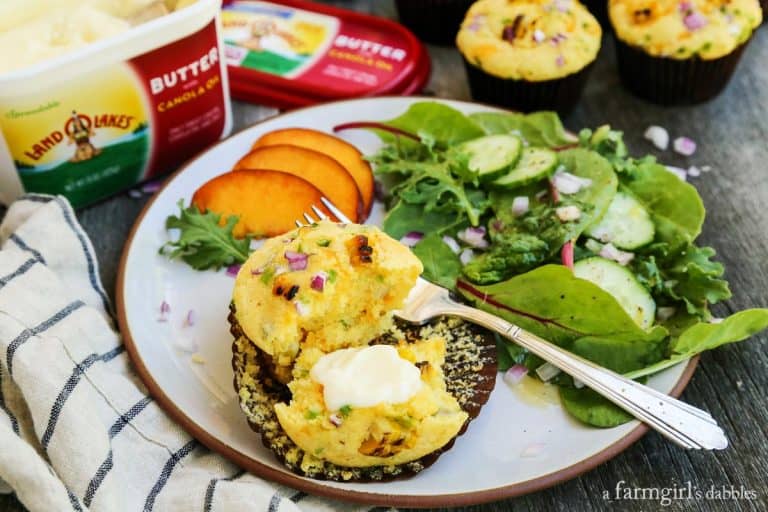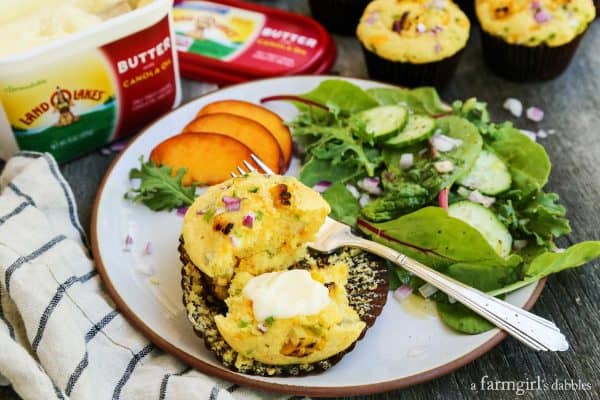 The Spreadable Butter with Canola Oil is just the perfect topper for these muffins. With only 3 real ingredients, it gives you the fresh butter taste you love with the spreadable convenience you want, straight out of the refrigerator.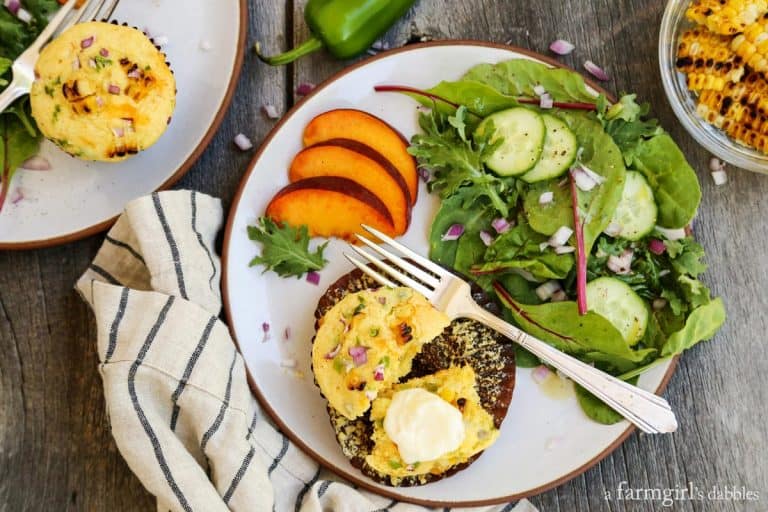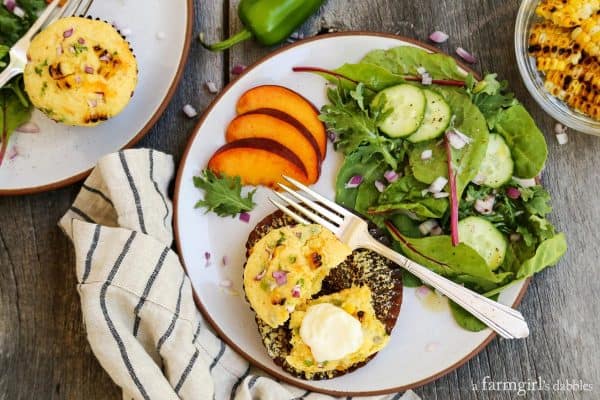 I like to serve these grilled sweet corn muffins with almost anything that comes off the grill, especially when there's barbecue sauce involved. The muffins are also quite wonderful served with a fresh green salad and fruit, for a light, colorful lunch. And can you just imagine what these sweet corn muffins would taste like with a bowl of my end-of-summer chicken chili? I simply cannot wait to try it!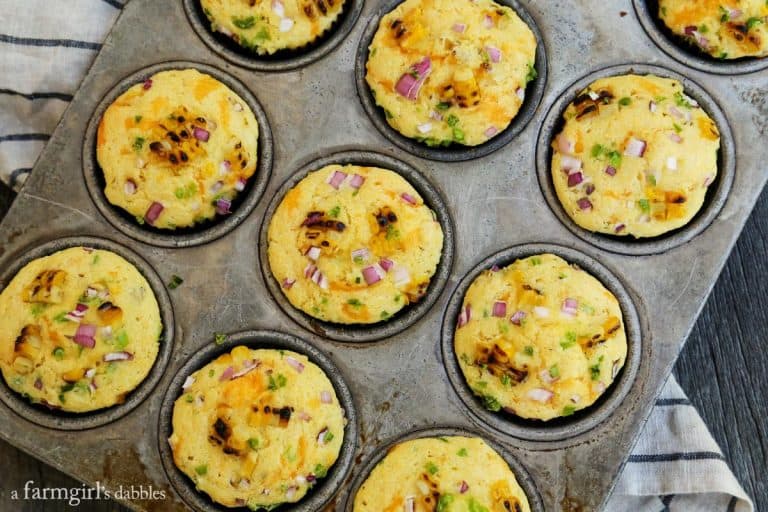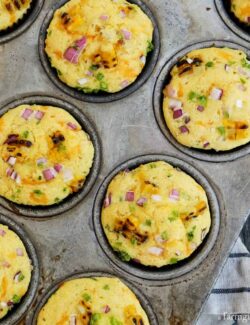 Jalapeño Grilled Sweet Corn Muffins
Yield: 12 muffins
Cook Time:16 minutes
Calories per serving: 172
Ingredients:
1-1/4 c. all-purpose flour
1/2 c. yellow cornmeal
2 tsp. baking powder
1/2 tsp. kosher salt
1/4 tsp. baking soda
1/4 c. Land O Lakes® Unsalted Butter, softened to room temperature
1/4 c. sugar
2 large eggs
1/2 c. light sour cream
1/2 c. milk
2 oz. shredded cheddar cheese
3/4 c. grilled sweet corn kernels, plus additional for sprinkling over the top
2 T. seeded and finely chopped jalapeño, plus additional for sprinkling over the top
1 T. finely chopped red onion, plus additional for sprinkling over the top
Land O Lakes® Butter with Canola Oil, for spreading on muffins
Directions:
Preheat oven to 425° F. Line a regular sized muffin pan with paper liners and set aside.
In a medium bowl, whisk together flour, cornmeal, baking powder, salt, and baking soda. Set aside.
Add butter and sugar to a large bowl and beat at medium speed with an electric mixer until creamy, scraping bowl a couple times. Add eggs, one at a time, beating well after each addition. Add sour cream and milk and beat on low speed until incorporated. Add bowl of dry ingredients and beat on low speed, just until incorporated. Add cheddar cheese, corn, jalapeño, and onion. Fold in with a rubber spatula, taking care to not over mix. With a scoop or large spoon, divide batter between the twelve muffin cups. Then sprinkle some additional corn, jalapeño, and red onion over the top of each muffin. Bake for 16 to 17 minutes, or until muffins are puffed up and golden. Remove from oven and let sit for two minutes. Then remove to a rack to cool. Serve slightly warm with Butter with Canola Oil.
from a farmgirl's dabbles
©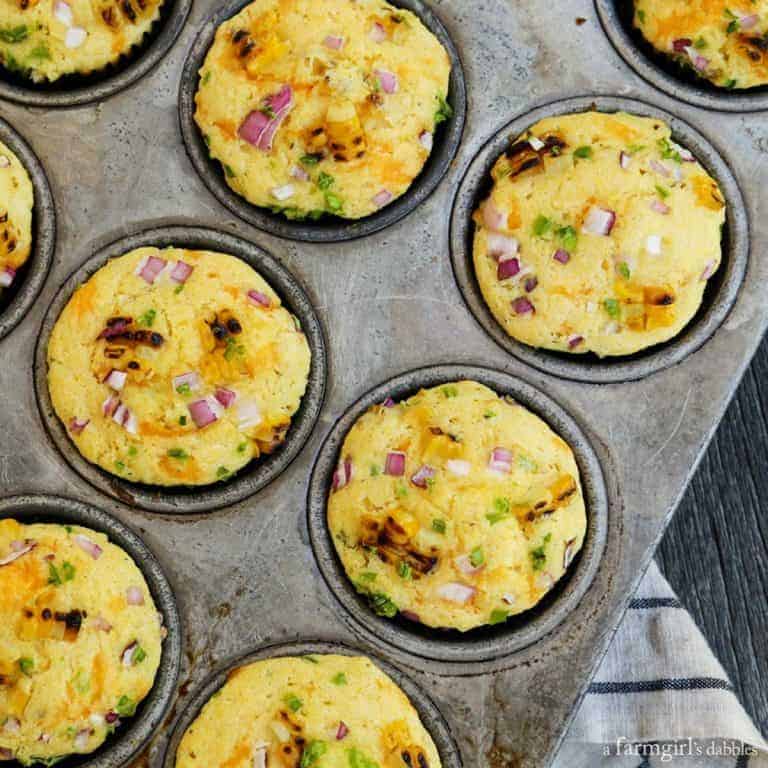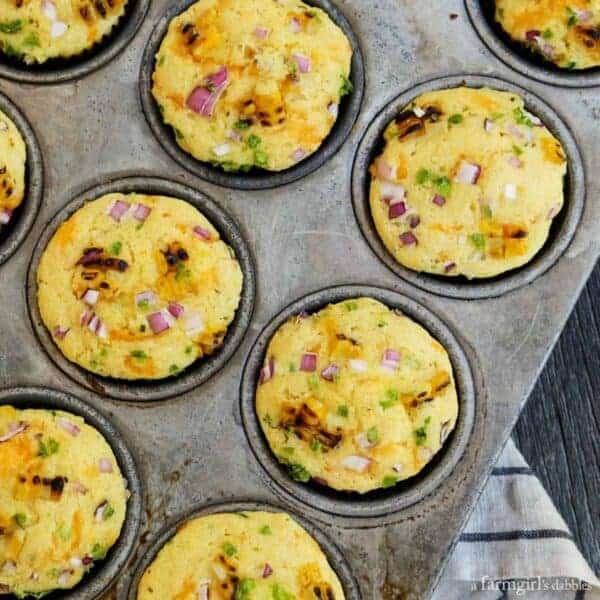 I am honored to partner with Land O'Lakes again this year to share new recipes from our kitchen using Land O Lakes® Butter. This post is sponsored by Land O'Lakes. ADD A LITTLE GOOD is a trademark of Land O'Lakes, Inc. All opinions are my own.
We participate in the Amazon Services LLC Associates Program, an affiliate advertising program designed to provide a means for us to earn fees by linking to Amazon.com and affiliated sites. See our
disclosure policy
for more info.