Blueberry Hand Pies with Orange Glaze
This post may contain Amazon or other affiliate links. As an Amazon Associate I earn from qualifying purchases.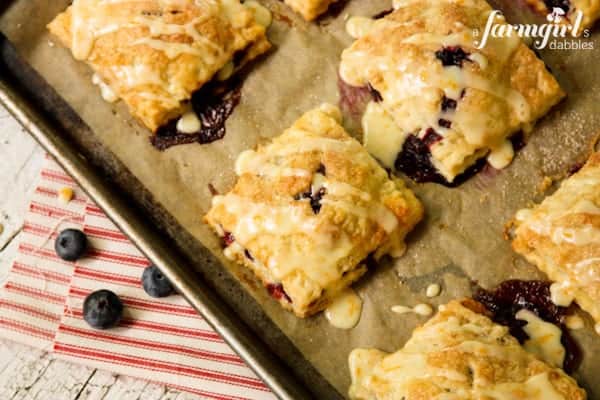 I've been wanting to make hand pies for a few years already, and am not quite sure why it's taken me this long to give it a go. Maybe it's my inadequacy with pastry dough? It's hard for me to fathom why I have such an issue, being the daughter of a fabulous pie maker. Of all the things that were passed down to me through Mom's genes, why couldn't the gift of pie making pulse through my veins, too?!
Blueberry picking, 2013. To see where we pick blueberries every year, read this post.
Well I finally bit the hand pie bullet, upon returning from our now-annual blueberry picking trip last week. I was hungry for fresh blueberry pie, but I wasn't in the mood for another sad attempt at getting a pie crust into a pie pan. I wish I could have I-Dream-of-Jeannie "blinked" my mom into our kitchen to quickly roll out a pie for us!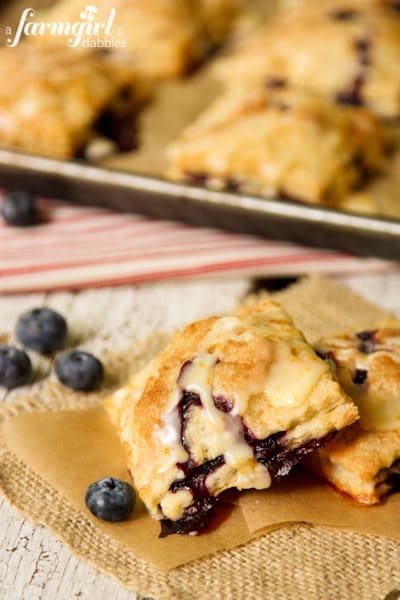 I knew the shape that I wanted my hand pies to be, as I was completely smitten, literally, by Deb's version. Perfection. She was inspired by Tara O'Brady's Instagram photo. And just for the record, I have no idea where Tara came up with this gorgeous little square version. I'm just glad everyone's sharing the cuteness!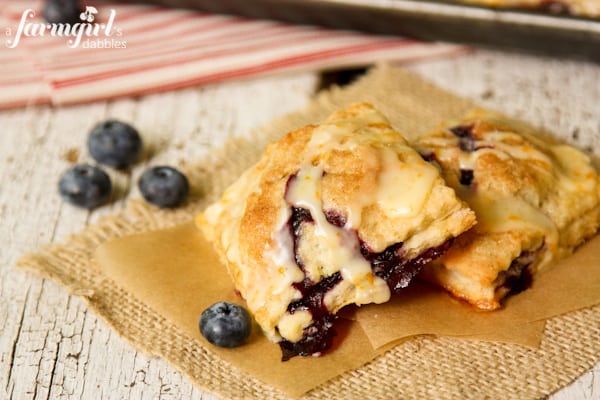 It took me a few tries to get my little pies to work out. I admit to making 3 batches of blueberry hand pies last Thursday. While the first 2 versions were definitely edible and did not get thrown in the garbage, I just wasn't comfortable sharing those recipes. The third try proved successful all around. There was much singing and dancing and celebrating. And I sent Mom a photo text to document the occasion.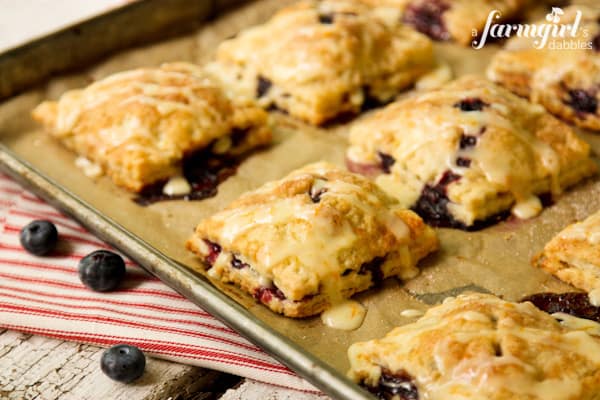 These Blueberry Hand Pies with Orange Glaze are simply dreamy. The pastry dough is flecked with orange zest, and crammed with delicious creamy butter, yielding flaky pockets of wonderfulness. There's freshly squeezed orange juice mixed in with the just-picked blueberries, and I love how the purplish-black baked fruit found its way outside the confines of its pastry shell. So pretty.
But the best part, according to our girls?
The orange juice and zest infused glaze that is drizzled over the tops of the little pies. It adds just the perfect touch of sweetness, a citrus crown atop blueberry glory.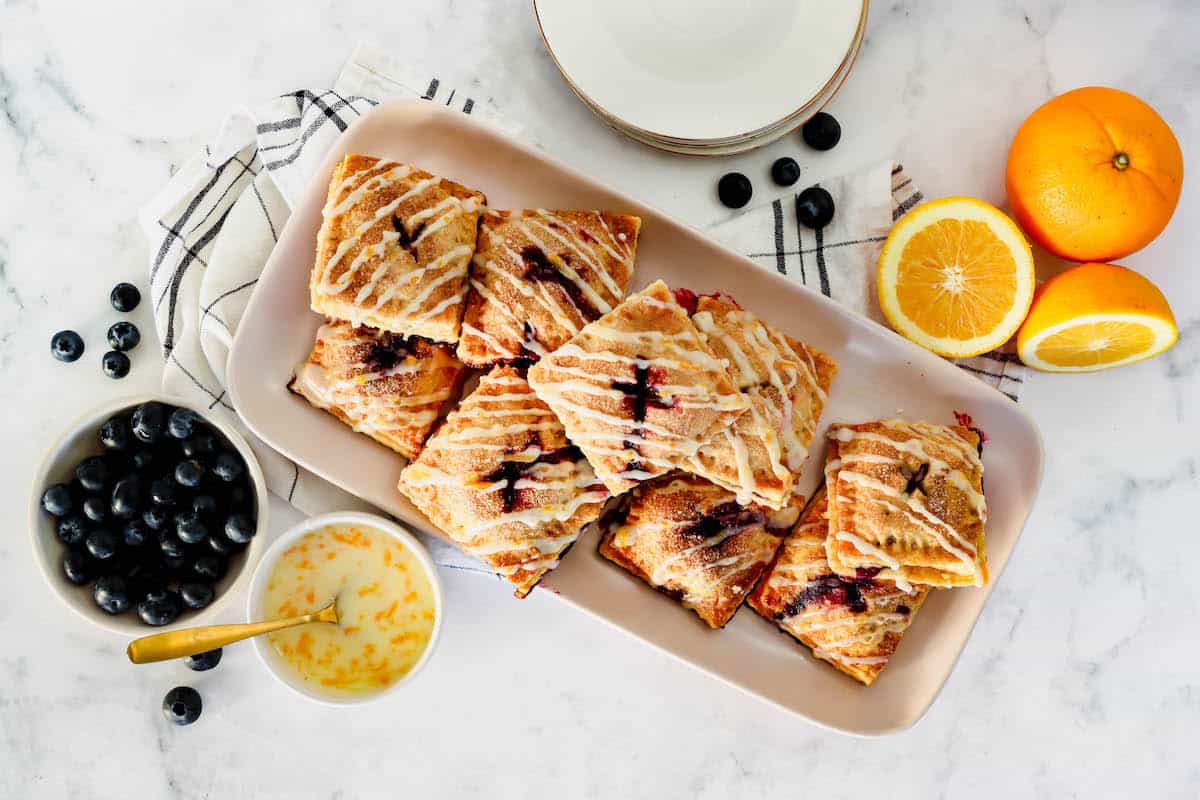 Blueberry Hand Pies with Orange Glaze
Yield: 12 hand pies
Prep Time: 30 minutes
Cook Time: 25 minutes
Total Time: 55 minutes
Enjoy the flavors of fresh blueberry pie on the go with these Blueberry Hand Pies with Orange Glaze. They are so much easier than baking a pie but the flaky crust and tart blueberry filling remain.
Ingredients
For the pastry:
2.5 c. all-purpose flour
1 T. sugar
1 tsp. kosher salt
orange zest from 1 large orange
1 c. cold unsalted butter, cut into 1/2" pieces
6 T. ice water
1 large egg white, beaten with 1 T. water
2 tsp. sugar
1/8 tsp. cinnamon
For the blueberry filling:
1 c. fresh blueberries
2 tsp. freshly squeezed orange juice
3 T. brown sugar
For the Orange Glaze
3/4 c. powdered sugar
orange zest from 1 large orange
1 T. freshly squeezed orange juice
Instructions
for the pastry:
In a large bowl, whisk together the flour, sugar, salt, and orange zest. Cut in the butter with a rigid pastry cutter or 2 forks until you get pea sized crumbs. Drizzle in the ice water and mix with a wooden spoon until dough comes together. Add an additional tablespoon of water, if too dry.
Gather dough into a ball, divide in half, and pat each half slightly into a disk. Wrap each half separately in plastic wrap and chill in refrigerator for 1 hour before rolling.
Prepare the egg wash. In a small bowl, beat together the egg white and 1 tablespoon of water with a fork. Set aside.
Prepare the cinnamon sugar sprinkle by combining the 2 teaspoons sugar and 1/8 teaspoon cinnamon in a small bowl. Set aside.
for the blueberry filling:
While dough is chilling, prepare the filling. In a small bowl, gently stir the blueberries and orange juice. Add the dry ingredients and gently fold until well combined. Set aside.
to assemble the hand pies:
Prepare a large baking sheet with parchment paper or a Silpat mat. Preheat oven to 375° F.
Remove dough from refrigerator. On a well floured surface, roll out one of the disks into a 9'' x 12'' rectangle. Using a fluted pastry wheel or a plain pizza cutter wheel, cut dough into twelve 3'' squares.
Transfer dough squares to prepared baking sheet. Gently brush tops of dough squares with the egg wash. Give the blueberry filling a stir to thoroughly combine, and then divide between the 12 dough squares, centering the filling in the middle of each dough square.
Roll out the remaining dough disk into another 9'' x 12'' rectangle and cut into twelve 3'' squares with a fluted pastry wheel. Top the blueberry filling with these dough squares, gently pressing the dough together at the edges. Use a fork to gently press the dough together all the way around each pie. With a sharp knife, cut an "X" into the top center of each pie. Brush the egg wash lightly over the entire top of each pie. Sprinkle with the cinnamon sugar mixture.
Bake for about 25 minutes, or until pastry is golden brown and the blueberry filling is bubbly. Let pies cool for 10 minutes on baking sheet before removing to wire rack to cool completely.
for the orange glaze:
Stir together all glaze ingredients and drizzle over cooled hand pies. Let glaze cool to set.
Hand pies are best eaten the day they are made. However, they prove mighty good the next day, or after being frozen, when warmed up on a baking stone in the oven. Just set the stone in the oven and preheat to 275° F. Set hand pies on the stone and warm for 5 to 8 minutes.
Nutrition Information:
Yield: 12
Serving Size: 1
Amount Per Serving:
Calories: 313
Total Fat: 16g
Saturated Fat: 10g
Trans Fat: 0g
Unsaturated Fat: 5g
Cholesterol: 56mg
Sodium: 215mg
Carbohydrates: 40g
Fiber: 2g
Sugar: 17g
Protein: 4g
Nutrition information is automatically calculated by Nutritionix. I am not a nutritionist and cannot guarantee accuracy. If your health depends on nutrition information, please calculate again with your own favorite calculator.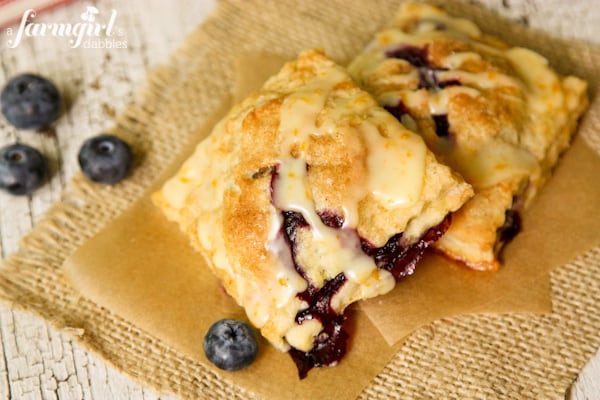 Like fresh blueberry recipes? Here are some more!
We participate in the Amazon Services LLC Associates Program, an affiliate advertising program designed to provide a means for us to earn fees by linking to Amazon.com and affiliated sites. See our
disclosure policy
for more info.