Strawberry Lemonade
This refreshing Homemade Strawberry Lemonade is made with fresh strawberries and lemons and topped with sparkling water for a light and bubbly summer drink. Kid-approved and easy to make!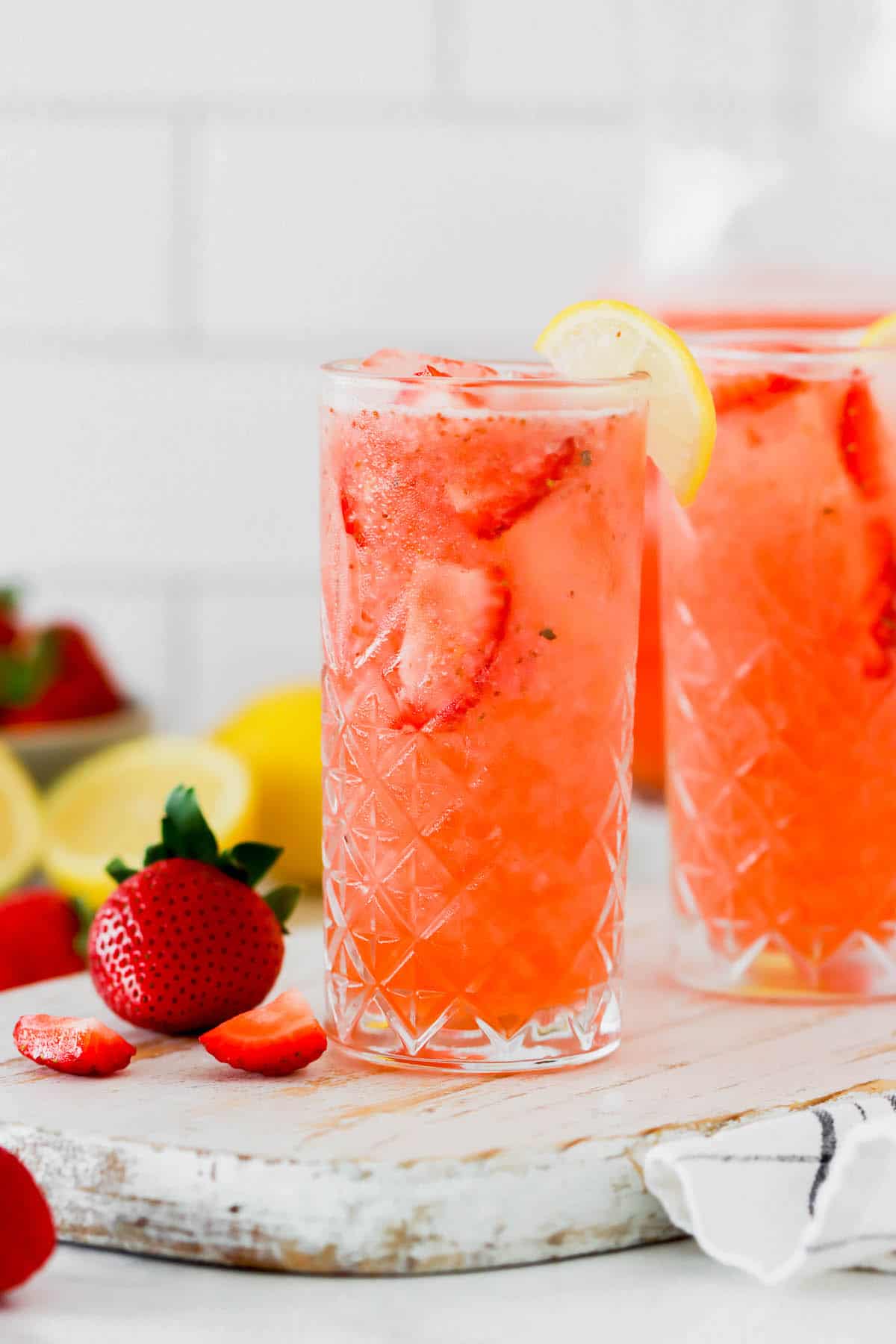 A Refreshing Summer Drink
This refreshing Homemade Strawberry Lemonade is a favorite summertime sipper at our house.
Actually, the flavor is so incredible that I find this drink hard to sip. I usually end up gulping down my first half glass. It's SO GOOD!! Then I quickly fill my glass back up and start over, all proper-like. #truth
Made with tart, freshly squeezed lemon juice and the sweetest summer strawberries, this lemonade is summertime bliss. Light and refreshing with sparkling water, you'll want a pitcher in the fridge all summer long!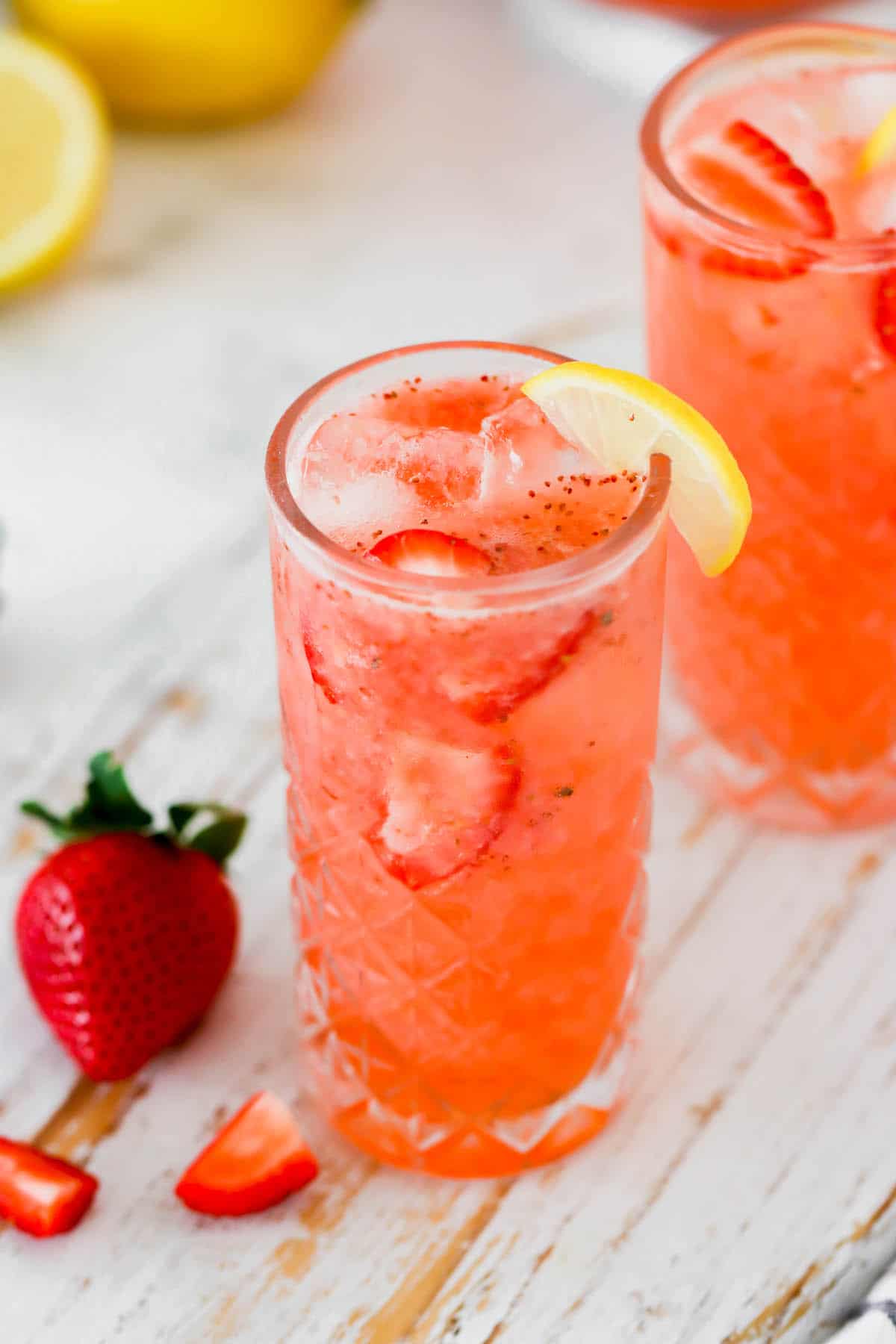 It's our annual tradition to pick strawberries at a local u-pick each summer. And when we have freshly picked berries, you can bet that we're making this homemade lemonade recipe. Those melt-in-your-mouth berries make a top-notch strawberry lemonade that is absolutely irresistible!
Other things we like to make with all those strawberries? We serve this Strawberry Salad nearly every week, all summer long. My aunt Patsy's Strawberry Cream Cheese Pie has been a favorite since my childhood. And everyone always asks for the recipe for this Mojito Fruit Salad with fresh strawberries, watermelon, and blueberries!
What You'll Need
This simple, refreshing summer beverage is made with just water plus 4 other ingredients! Here's what you'll need to make homemade strawberry lemonade:
Water
Sugar – The right amount of sugar makes this lemonade the perfect combination of sweet and tart.
Lemon – This recipe uses both fresh lemon juice and lemon zest, which gives an extra punch of bright lemon flavor.
Strawberries – You'll want to hull and halve the the fresh strawberries prior to pureeing them.
Sparkling water – You can also use club soda or any flavored carbonated soda, like lemon-lime or strawberry soda.
Optional garnishes – I like to add lemon wedges and whole strawberries for a final touch before serving. Fresh mint is also nice!
How to Make Homemade Strawberry Lemonade
Homemade lemonade is super simple to make – just know that you'll need to leave time for the drink to chill before serving.
Make the lemon and sugar water base. Boil water and sugar, and then reduce the heat to a simmer until the sugar dissolves. Add the lemon juice and zest. Stir and remove from heat. Once it's cool, strain into a clean pitcher.
Add the strawberries. Puree the strawberries and add them to the lemon juice. Stir to combine and then allow the drink to chill.
Serve. Before serving, add the sparkling water and stir well. Pour into glasses over ice and garnish as desired.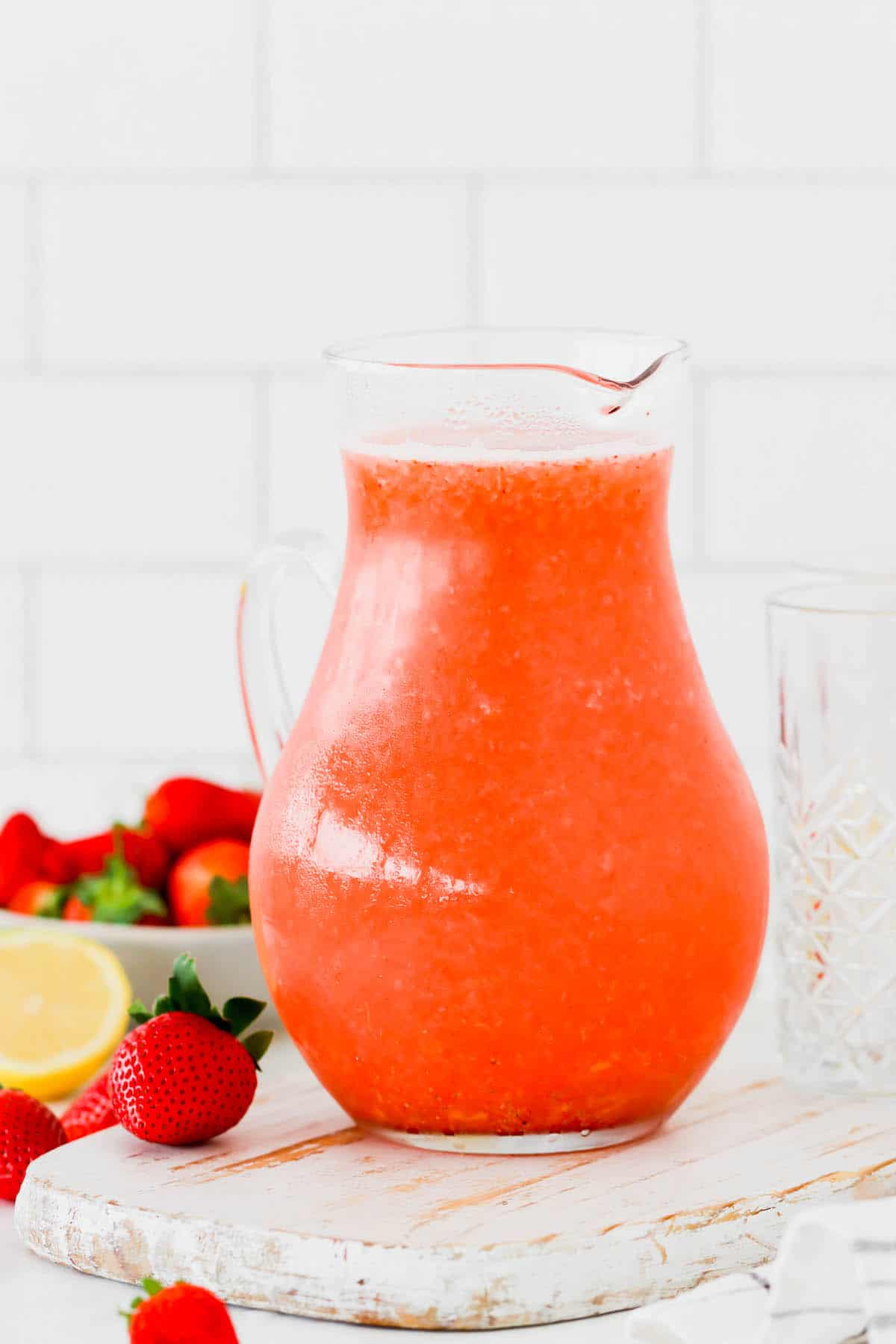 Variations & Tips for Success
We make this lemonade drink a lot during the summer, and have come up with some tips and different ways to change it up:
Use flavored soda. While sparkling water is what we use most, we also like to change it up with flavored bubbly sodas. It's fun to give a little twist to this lemonade by using lemon-lime or strawberry soda.
Control the sweetness. You can adjust how sweet this strawberry lemonade is by adjusting the amount of sugar used. If you like tart lemonade, use a little less. If you like it extra sweet, add some more. Keep in mind that flavored soda will also add more sweetness, so if you use that you might want to add a little less sugar.
Wait to add the sparkling water. The sparkling water (or soda) should be added just before serving. If you won't be drinking the entire pitcher quickly, you can add it directly to the individual glasses instead of in the pitcher. Otherwise, if left to sit too long, the carbonation will be lost.
Add mint. Our herb garden is always brimming with fresh mint during the summer, so I try to incorporate it whenever I can. It's wonderful in this strawberry lemonade – just use a spoon to bruise a few mint leaves in each glass!
Make it boozy. When I'm after a summery adults-only beverage, I'll often whip up a strawberry gin and tonic. But when I have this strawberry lemonade on hand, I can easily add some vodka to the glasses for a boozy lemonade. So this is a great beverage to serve to EVERYONE, with or without alcohol!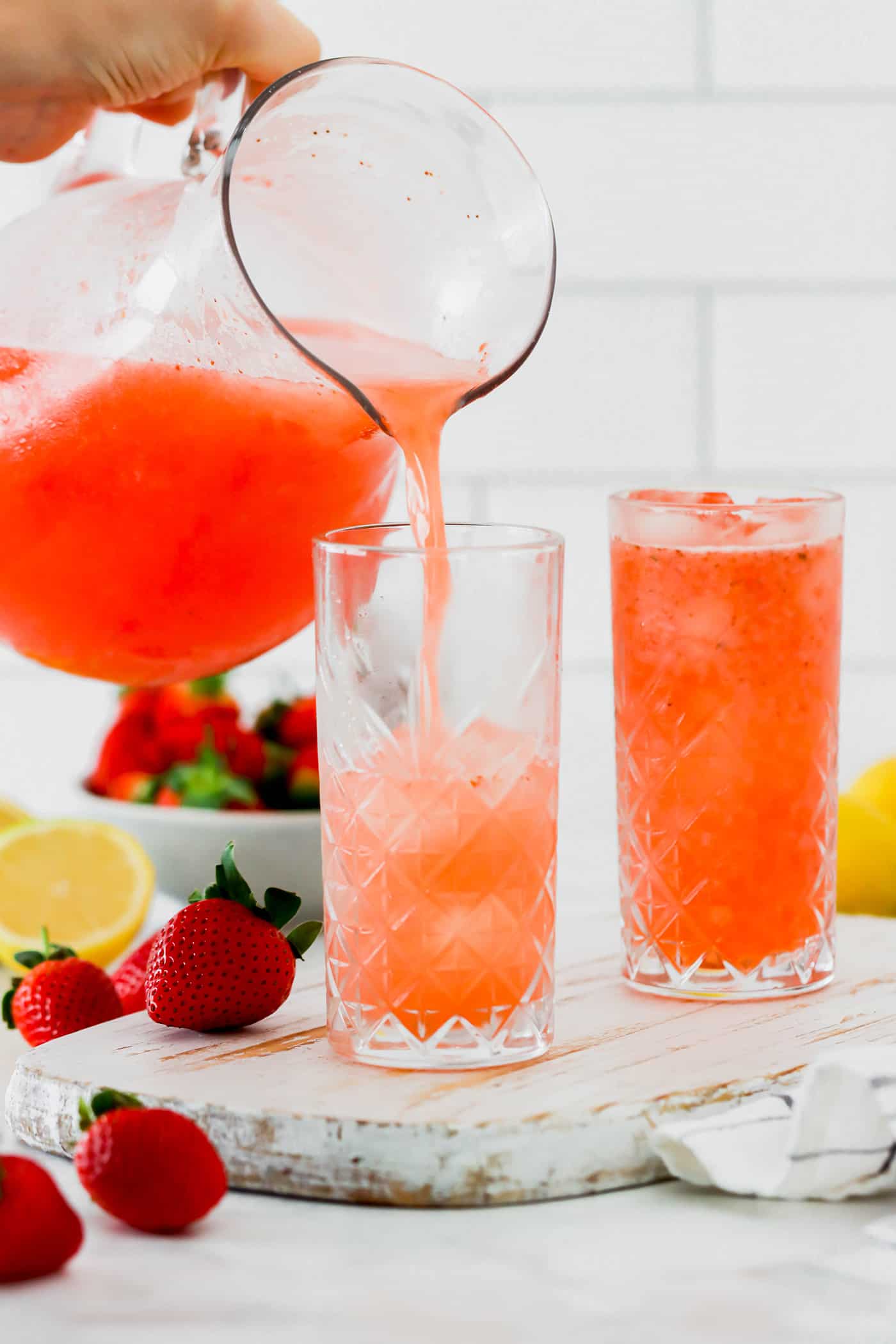 Serving Suggestions
Strawberry lemonade is best served chilled, over ice. It can be super casual or fanciful. For an extra pretty touch, serve this drink in wine or champagne glasses – how lovely for a bridal shower, wedding reception, or other special gathering!
I usually add a lemon wedge to the rim of the cup and some additional strawberries to the drink. Mint is also a nice touch that adds a bit of a refreshing flavor and more fresh color.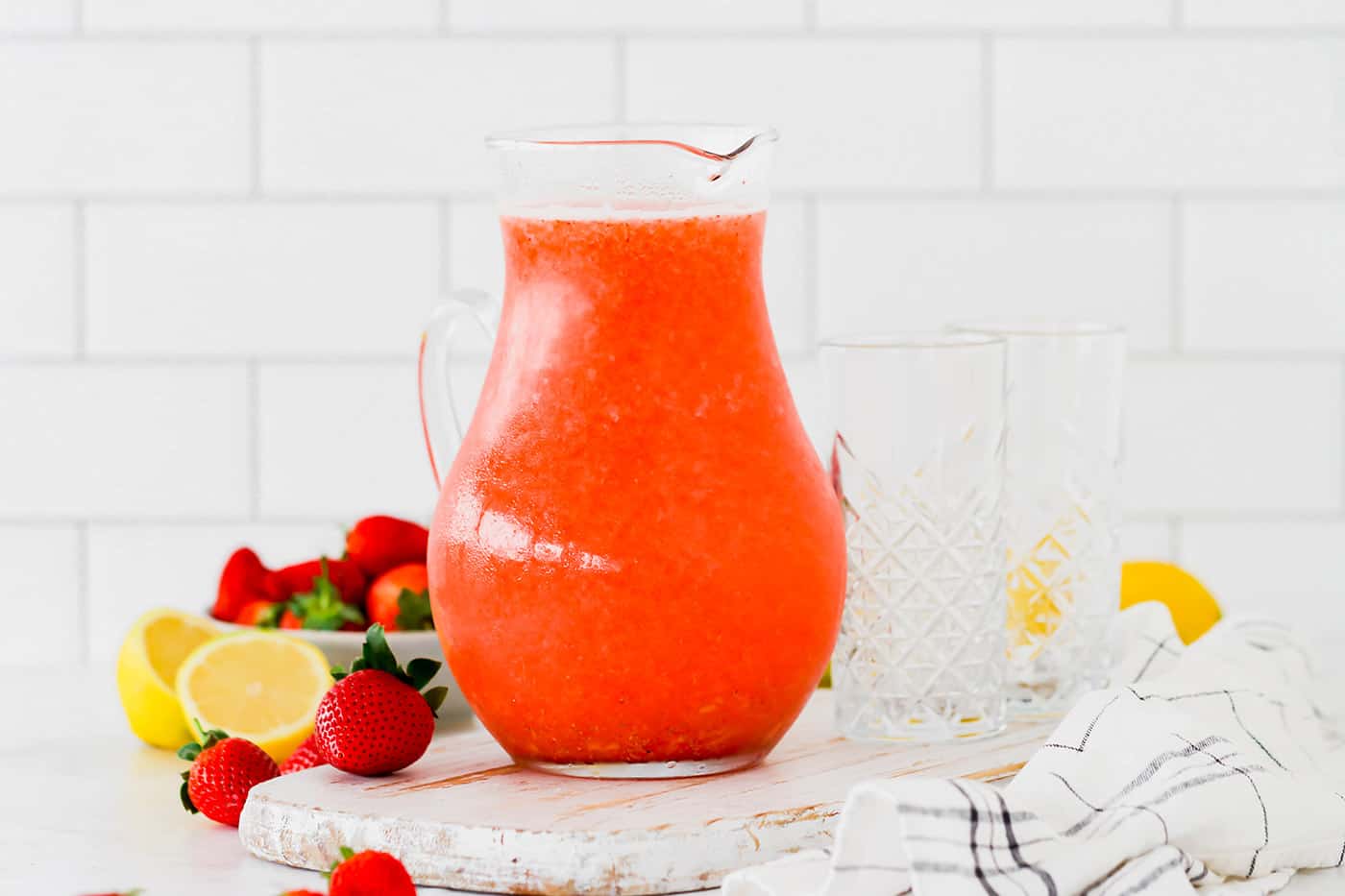 Can I Make This Ahead?
Yes, absolutely! Actually, you need to make this lemonade in advance, as it needs to chill completely before being served. You can make this in the morning for the afternoon, or even the day before.
The only thing to note is that you should not add the sparkling water or club soda until you're ready to serve this, or it will taste flat. YES to bubbles!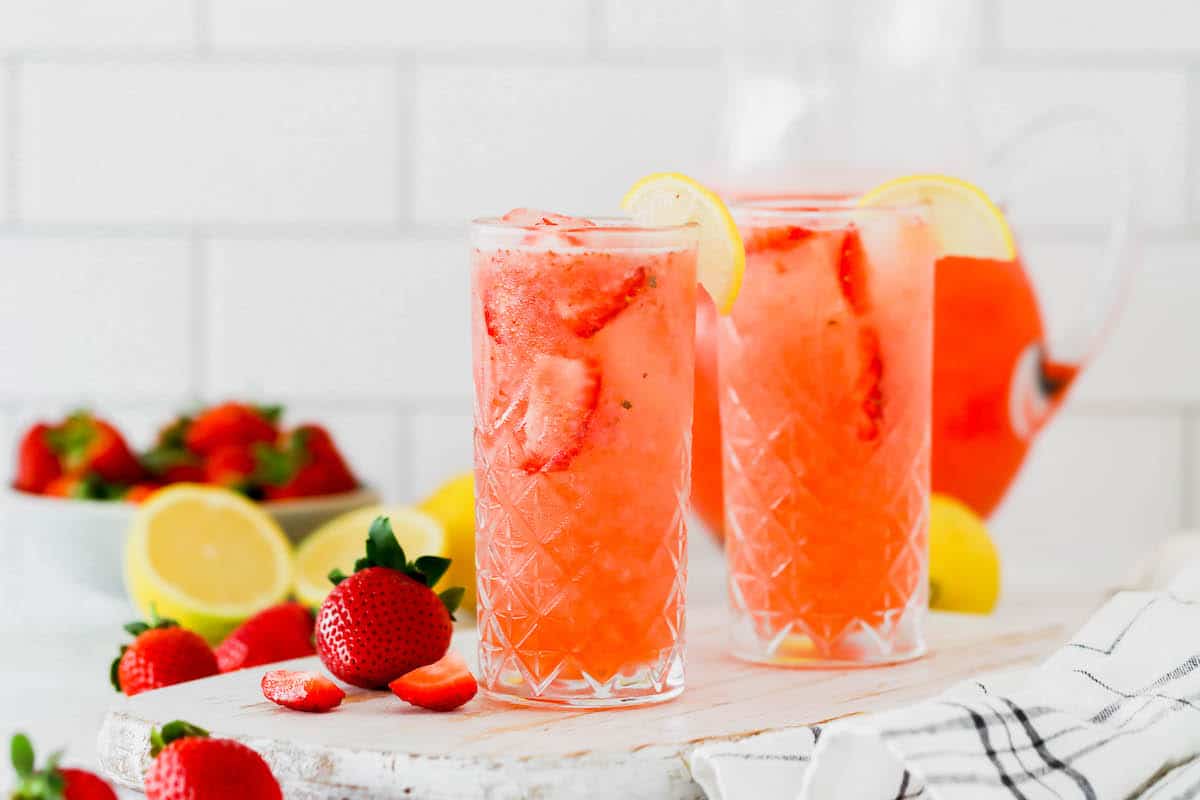 Like this recipe? Save it to Pinterest!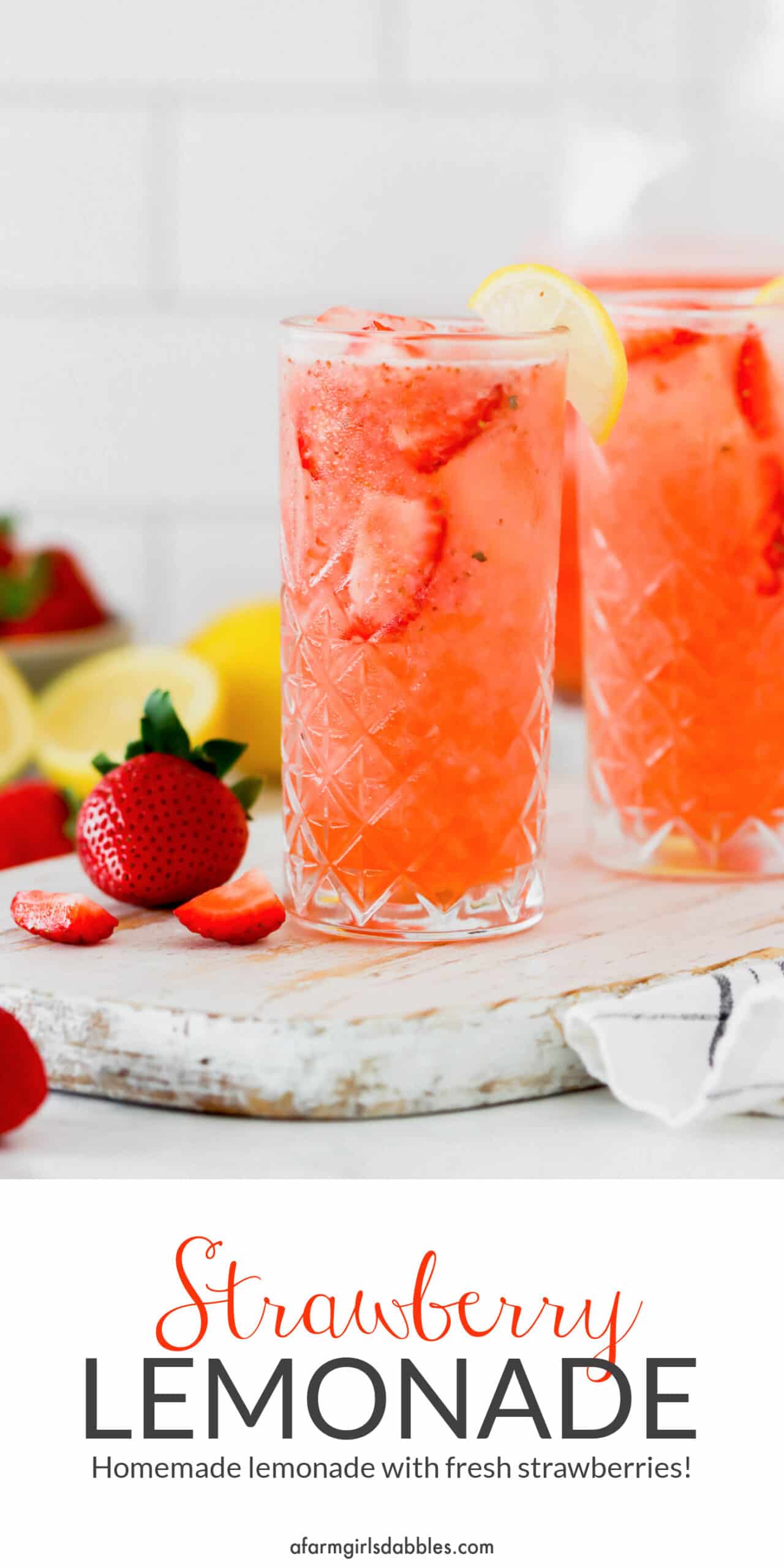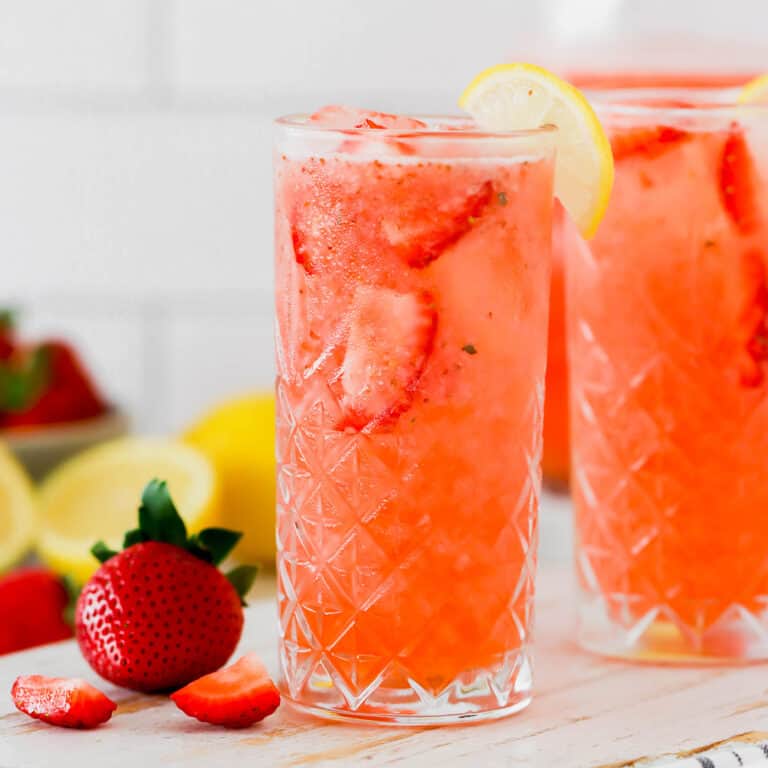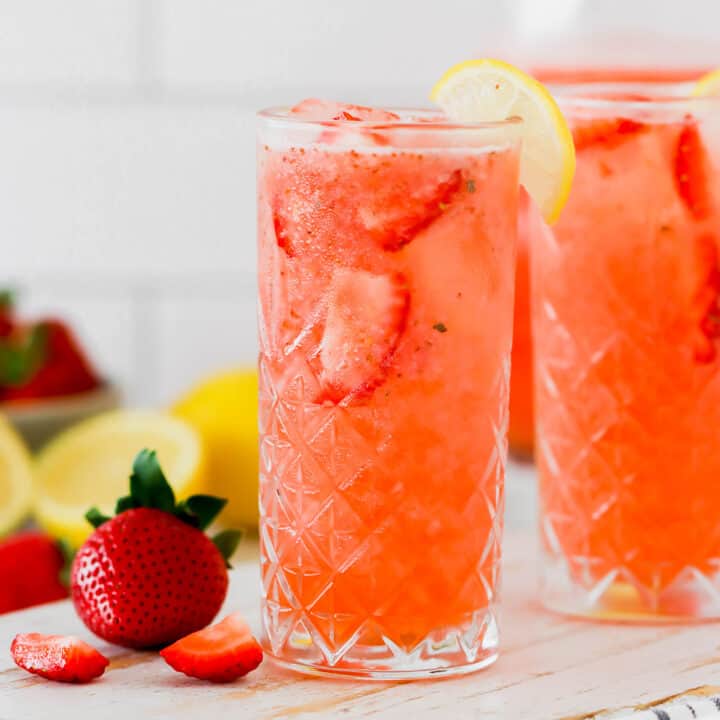 Strawberry Lemonade
Yield: 6 servings
Prep Time: 15 minutes
Total Time: 15 minutes
This refreshing Homemade Strawberry Lemonade is made with fresh strawberries and lemons and topped with sparkling water for a light and bubbly summer drink. Kid-approved and easy to make!
Ingredients
2 cups water
1 cup sugar
1 cup freshly squeezed lemon juice
1 tablespoon lemon zest
1 pint fresh strawberries, hulled and halved or quartered
2 cups cold sparkling water or club soda (or a flavored carbonated soda such as lemon-lime or strawberry)
ice
lemon wedges and whole strawberries, optional garnish
Instructions
In a medium saucepan, bring the water and sugar to a boil. Reduce heat and simmer, stirring occasionally, until the sugar dissolves. Add the lemon peel and lemon juice; stir and remove from the heat. Let cool completely, then strain into a clean pitcher.
In a blender, puree the strawberries and add to the pitcher with the lemon juice. Stir well to combine and refrigerate until well chilled.
Add the sparkling water and stir well. Pour into glasses filled with ice. Serve, garnished with your choice of lemon wedges and/or whole strawberries if desired.
Nutrition Information:
Yield: 6
Serving Size: 1
Amount Per Serving:
Calories: 126
Total Fat: 0g
Saturated Fat: 0g
Trans Fat: 0g
Unsaturated Fat: 0g
Cholesterol: 0mg
Sodium: 5mg
Carbohydrates: 33g
Fiber: 2g
Sugar: 29g
Protein: 1g
Nutrition information is automatically calculated by Nutritionix. I am not a nutritionist and cannot guarantee accuracy. If your health depends on nutrition information, please calculate again with your own favorite calculator.
More Strawberry Recipes: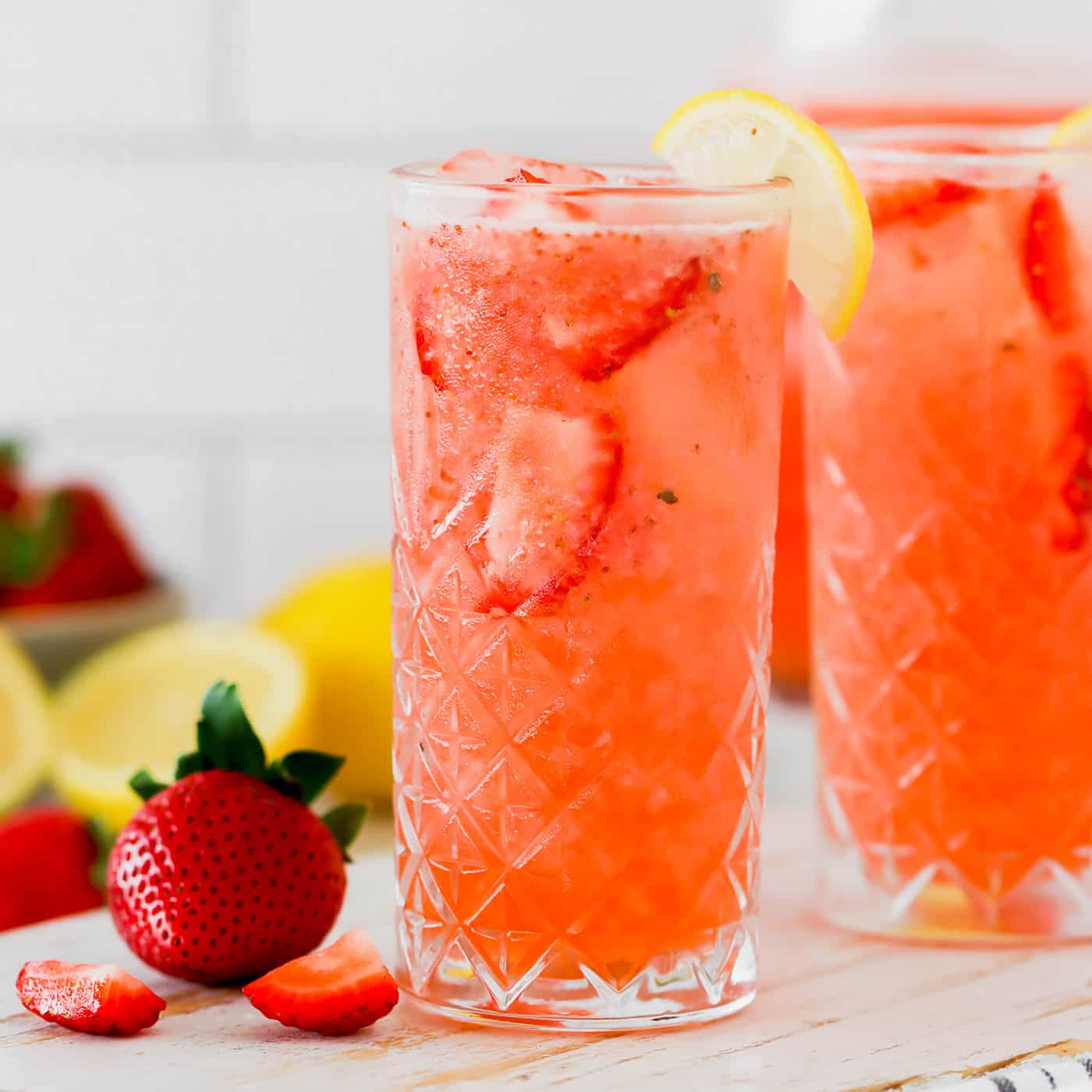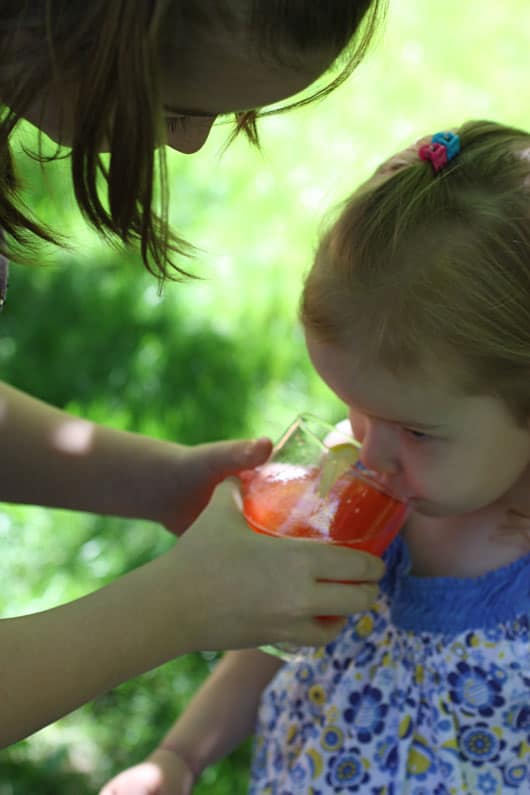 This post was originally published in 2010. Photographs and some of the text were updated in 2021.