Strawberry Lemonade
This post may contain Amazon or other affiliate links. As an Amazon Associate I earn from qualifying purchases.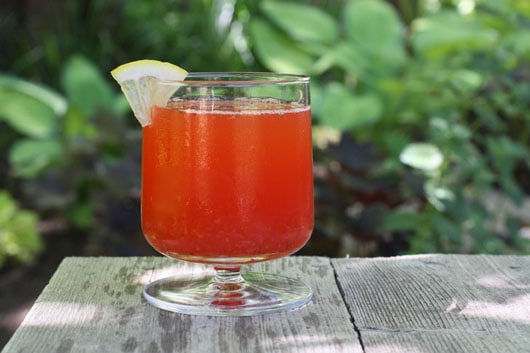 This refreshing drink is my family's latest favorite summertime sipper. Actually, the flavor is so incredible, I find it hard to sip. I end up gulping down my first half glass. Then I quickly fill it back up and start over, all proper-like.
Lately, the strawberries at the grocery store have been really good, and that's what I used to make my first couple batches of Strawberry Lemonade. And those batches were heavenly. But those store berries still don't compare to fresh picked ones. Not by a long shot. Using freshly picked berries in this lemonade is top-notch bliss. (And don't even think about making this lemonade without going through the process of using fresh lemons – you'll miss the whole ride.)
I'm not lucky enough to have my own strawberry patch, so we head to Afton Apple once or twice each June and July to lust over their vast fields of beautiful berries. This is an annual tradition with the girls that finds us all giddy in anticipation. It makes for wonderful back-to-nature memories and the ultimate in strawberry-eating indulgence.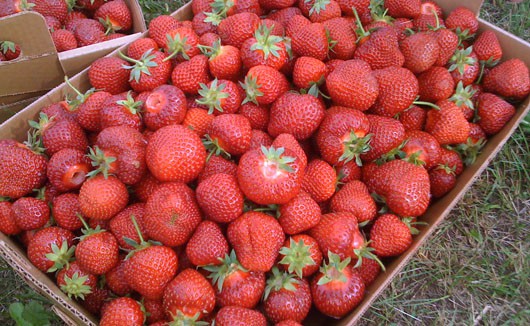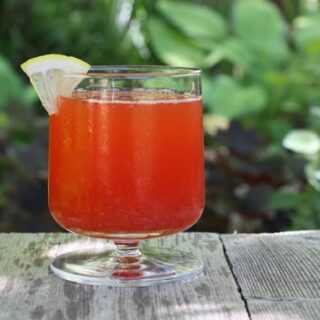 Strawberry Lemonade
Prep Time: 15 minutes
Total Time: 15 minutes
This refreshing drink is my family's latest favorite summertime sipper.
Ingredients
2 c. water
1 c. sugar
1 T. grated lemon peel
1 c. fresh lemon juice
1 pint fresh strawberries, hulled and halved
2 c. cold sparkling water or club soda (any bubbly soda will work, we like lemon-lime or strawberry soda)
ice
lemon wedges, mint sprigs, whole strawberries – optional garnish
Instructions
In a medium saucepan, bring the water and sugar to a boil. Reduce heat and simmer, stirring occasionally, until the sugar dissolves. Add the lemon peel and lemon juice, stir and remove from the heat. Let cool completely, then strain into a clean pitcher.
In a blender, puree the pint of strawberries and add to the pitcher with the lemon juice. Stir well to combine and refrigerate until well chilled.
Add the sparkling water and stir well. Pour over glasses filled with ice and serve, garnished with your choice of lemon wedges, mint sprigs, or whole strawberries.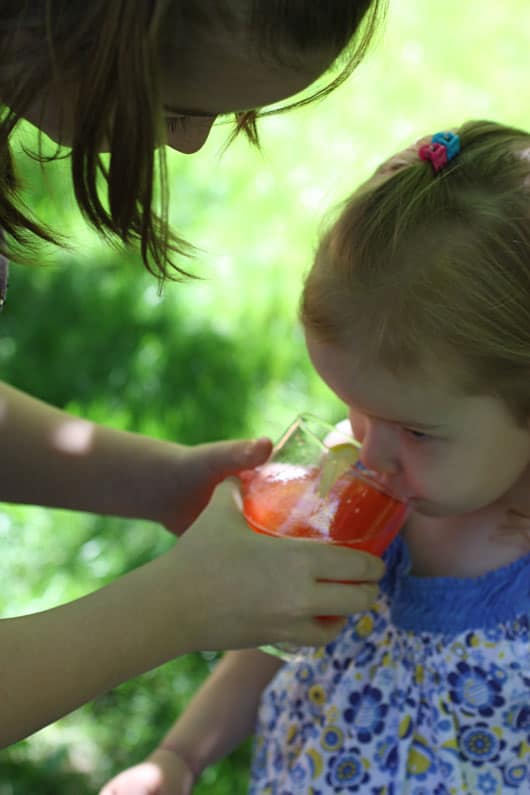 We participate in the Amazon Services LLC Associates Program, an affiliate advertising program designed to provide a means for us to earn fees by linking to Amazon.com and affiliated sites. See our
disclosure policy
for more info.