Strawberry Shortcake Scones
Strawberry Shortcake Scones are buttery and golden, and studded with juicy, fresh strawberries. A drizzle of sweet vanilla cream glaze is the perfect finish!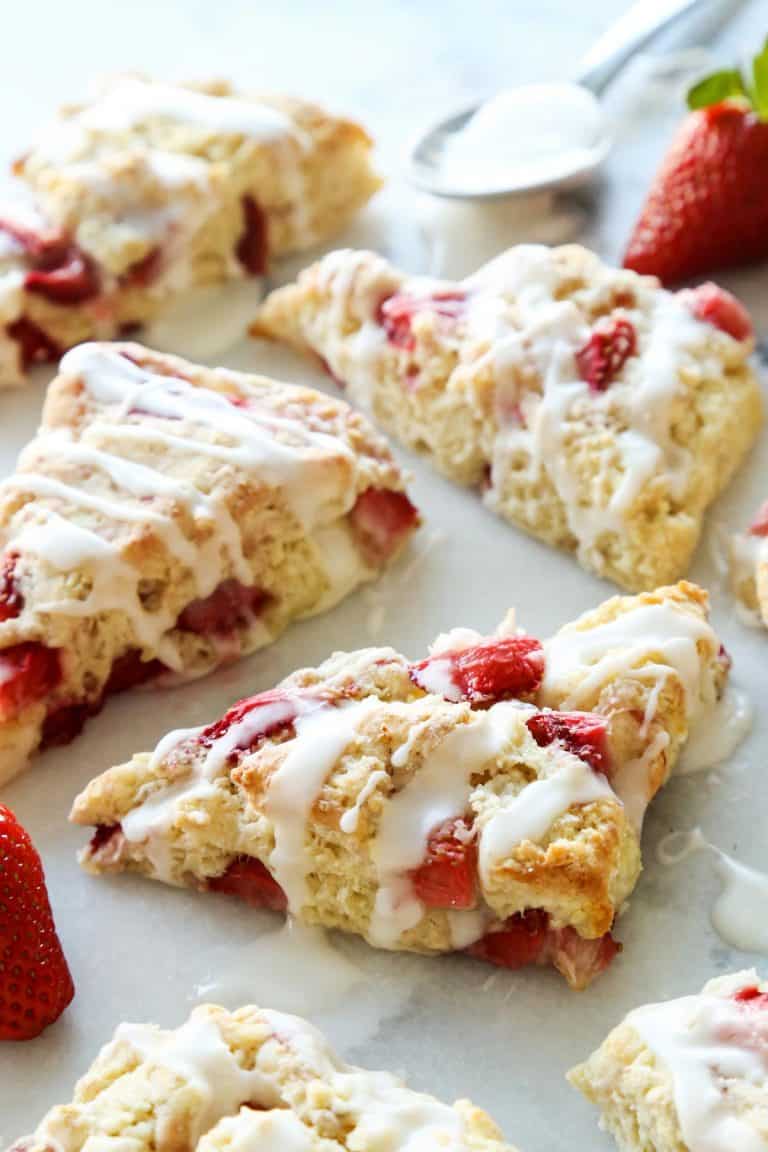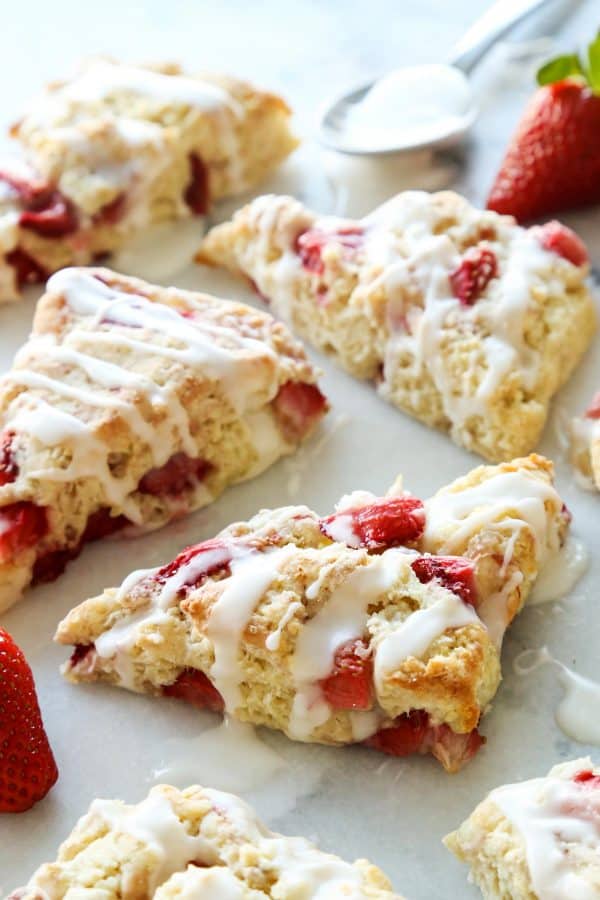 I've always shied away from adding fresh strawberries to scones. I've thought about going there, for sure. But there was always something nagging at my brain, telling me the delicate berries would get smushed and ruin the tender texture of the scones to a gooey mess.
Well, now I've gone and done it.
And now I can recommend that you do, too.
Today I'm sharing a recipe for Strawberry Shortcake Scones. Enjoy the berry studded deliciousness!!
*Here are a few more recipes I'm loving right now: This Sour Cream Coffee Cake with Cinnamon Ripple is AMAZING. And these Blueberry Muffins with Crumble Topping are a longtime family favorite, a recipe from my grandma. For a little different biscuit, you can't go wrong with these Lemon Cream Biscuits!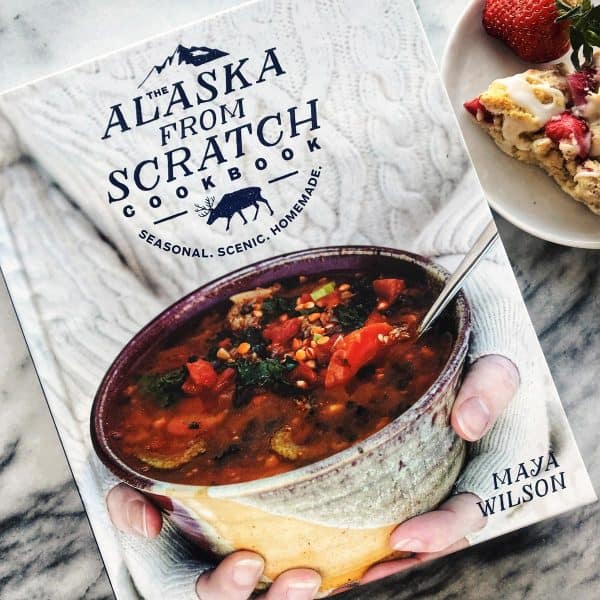 Strawberry Shortcake Scones Recipe
This strawberry scone recipe is from The Alaska From Scratch Cookbook by Maya Wilson, author of the blog Alaska From Scratch.
Maya lives on the Kenai Peninsula of Alaska. And to be completely forthright, the scenes that she shares from Alaska on social media were what initially beckoned me to follow her many years ago.
I've always been intrigued by the pristine grandeur of Alaska, almost as if it were a foreign land. So I have appreciated Maya's sharing of this majestic state, making it accessible and real to us all. It is her back yard, after all.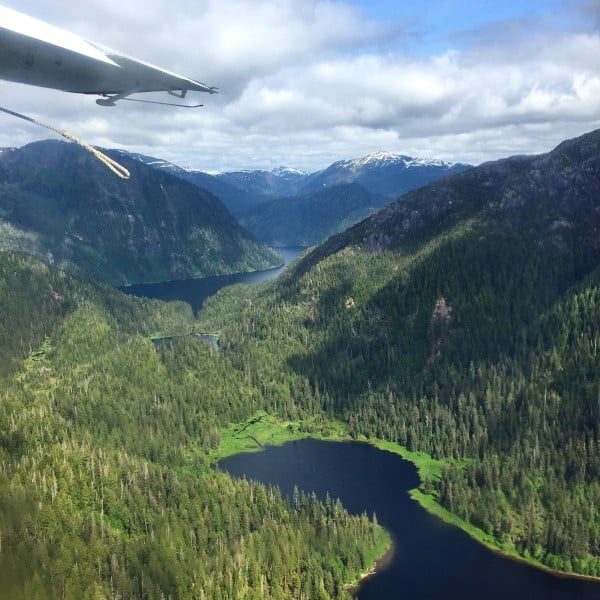 Blake and I had the opportunity to get acquainted with Alaska on a Princess cruise a few years ago. We still say it's one of most beautiful places we've ever seen.
Check out my posts on Alaska here, here, here, here, and here.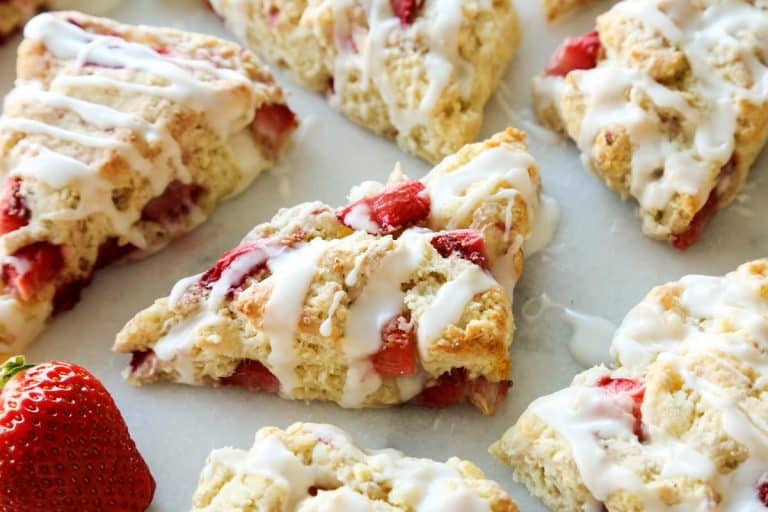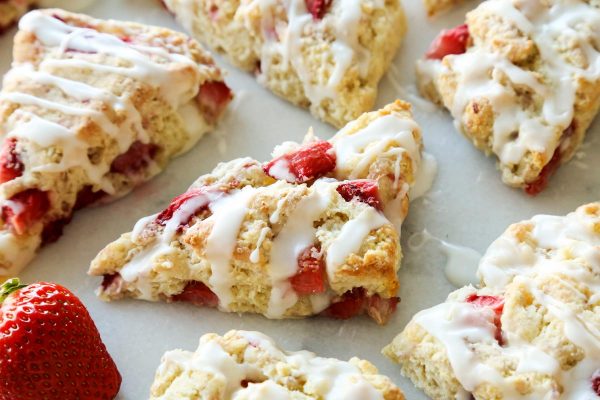 Of course, it didn't take me long to figure out that Maya is more than just beautiful Alaskan scenery. She is also incredibly gifted in the kitchen. Her new book The Alaska From Scratch Cookbook brings both of these subjects together in such a fabulous way.
In this book, you'll find stunning Alaskan scenery tucked between equally beautiful recipes that are completely approachable. It's very much a story book that leaves you inspired for your next meal, be it breakfast, lunch, or dessert.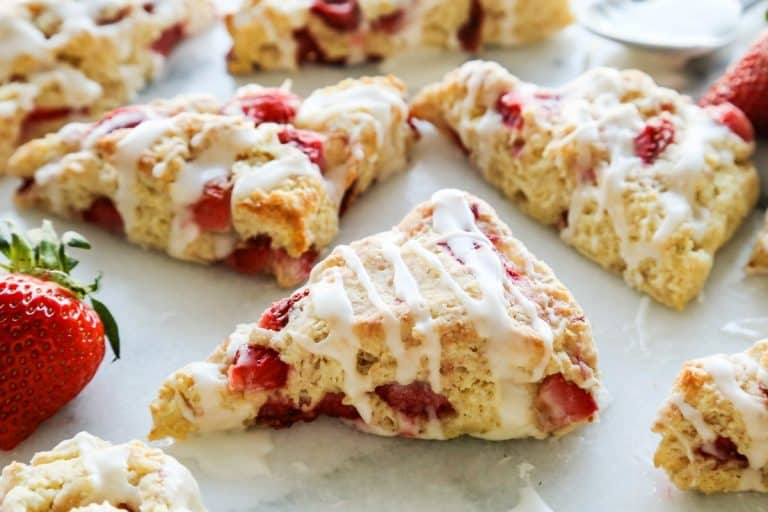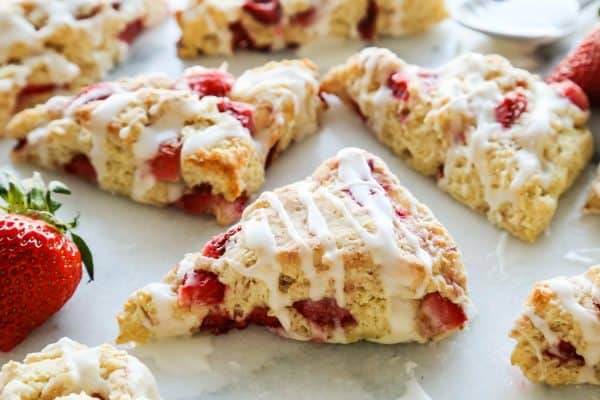 It took me awhile to decide which recipe to share with you from this new cookbook.
Maya dedicated one chapter in the book to showcasing Alaska's bountiful seafood, which is totally up my alley. The Scallop Tostadas are calling me, as is the simple King Crab Avocado Toast.
Ahhhh, man, if you've ever had the pleasure of enjoying fresh king crab in Alaska, you know exactly how it can haunt you. I've never had crab so fresh and sweet and indulgent in all my life!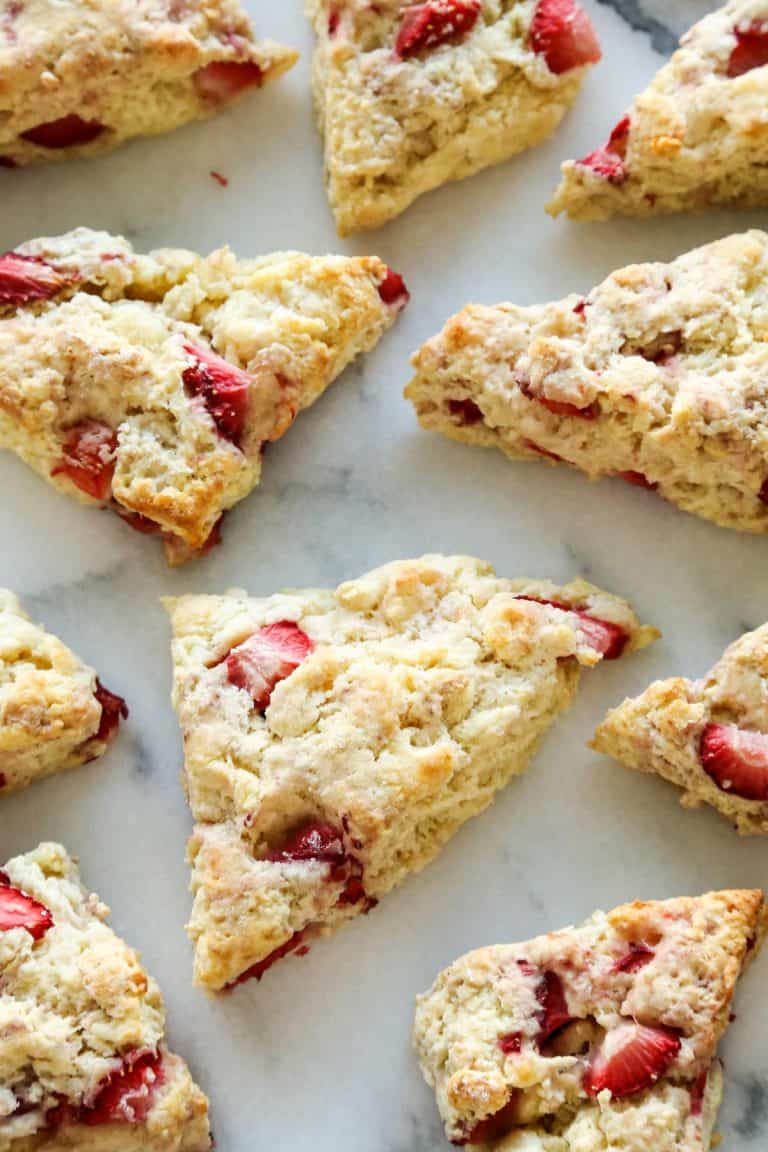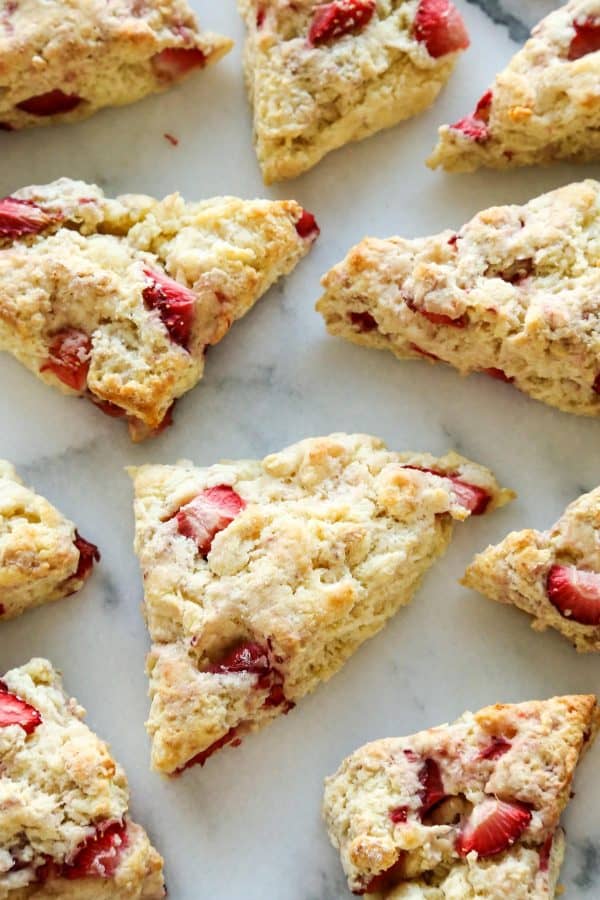 Fresh strawberry scones
But when it came down to it, Maya's scones with fresh strawberries won out. I wanted to be convinced that fresh strawberries could indeed make a wonderful scone. The king crab avocado toast would have to wait.
These fresh strawberry scones are not kneaded at all, only gently folded to save those tender bites of berry. The result is imperfect perfection.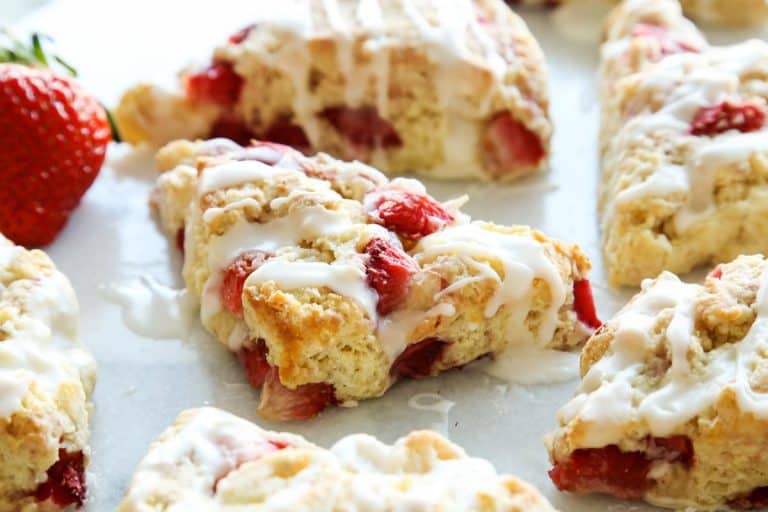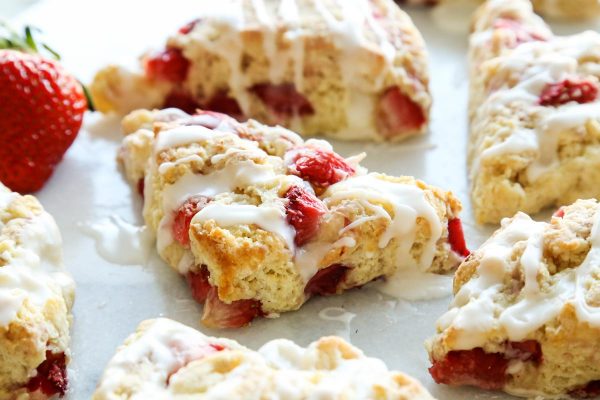 The scones themselves are just barely sweetened, so the simple vanilla cream glaze is a wonderful way to finish them.
I drizzled the glaze in big, droopy spoonfuls, mostly because I wanted those strawberry bites to fully announce their presence. But for those who prefer even more sweetness, the scone tops can be wholly dipped into the glaze. Either way, you're totally winning.
You might also like my Lemon Rhubarb Scones with Vanilla Bean Glaze!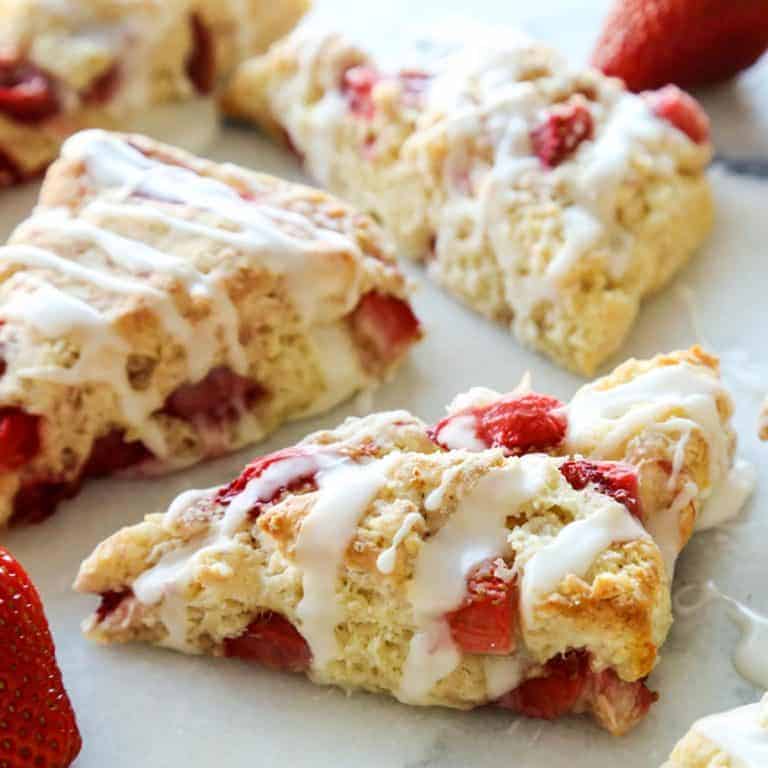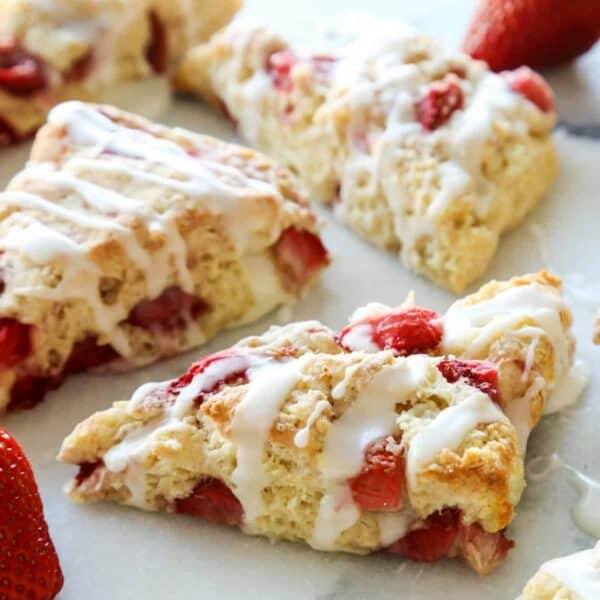 If you like this recipe, you might also like:
Whole Grain Banana Muffins from Recipe Girl, Strawberry Cream Cheese Pie from Give Recipe, Quick & Easy Cherry Cream Cheese Danishes from Country Cleaver, and No-Knead Cinnamon English Muffin Bread from Foodie with Family.
Pin these scones for later: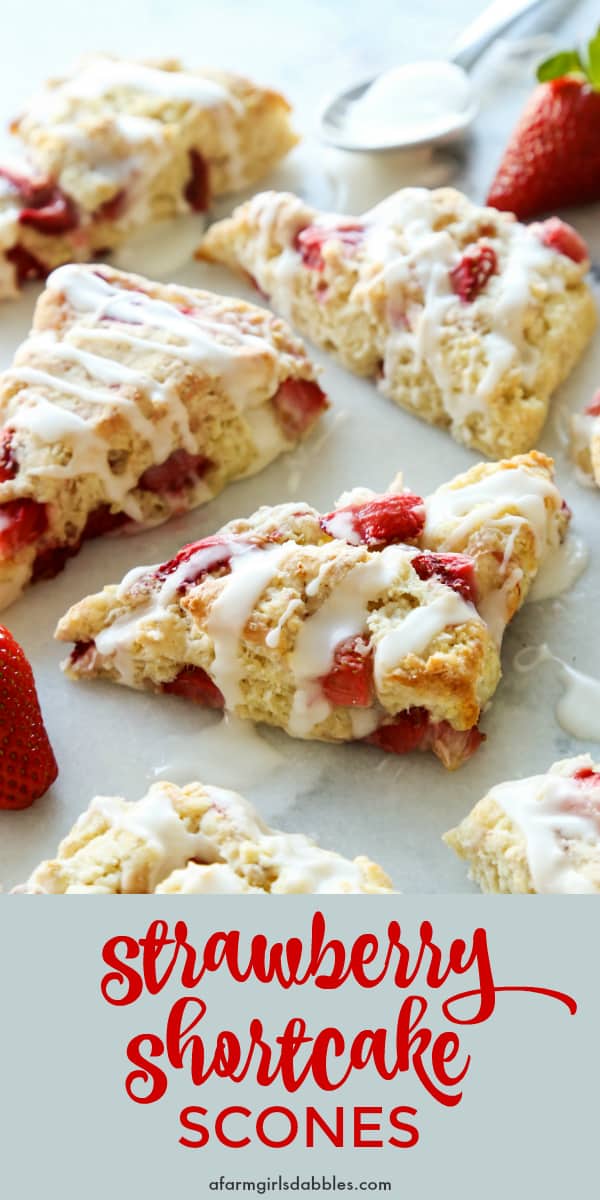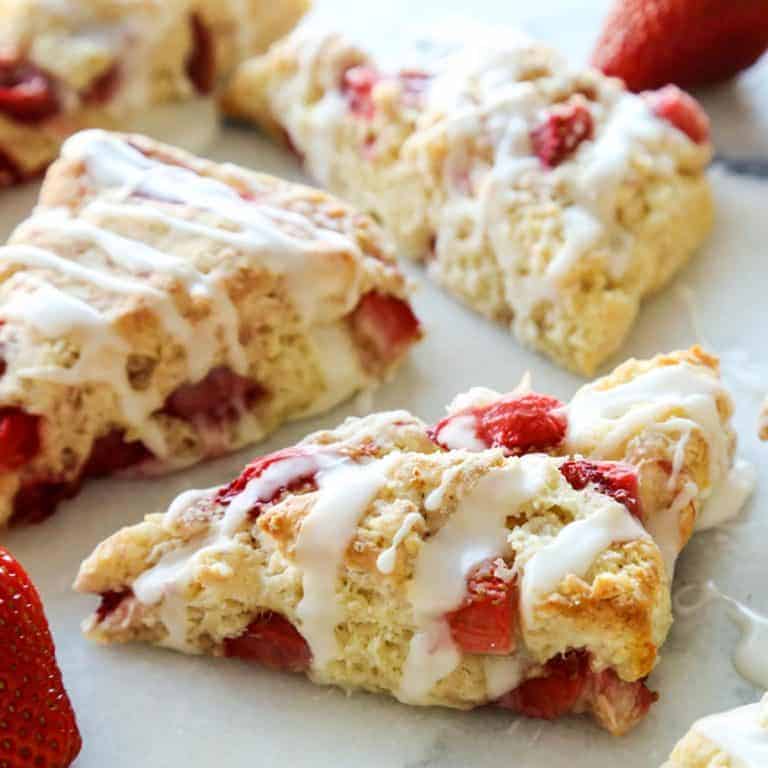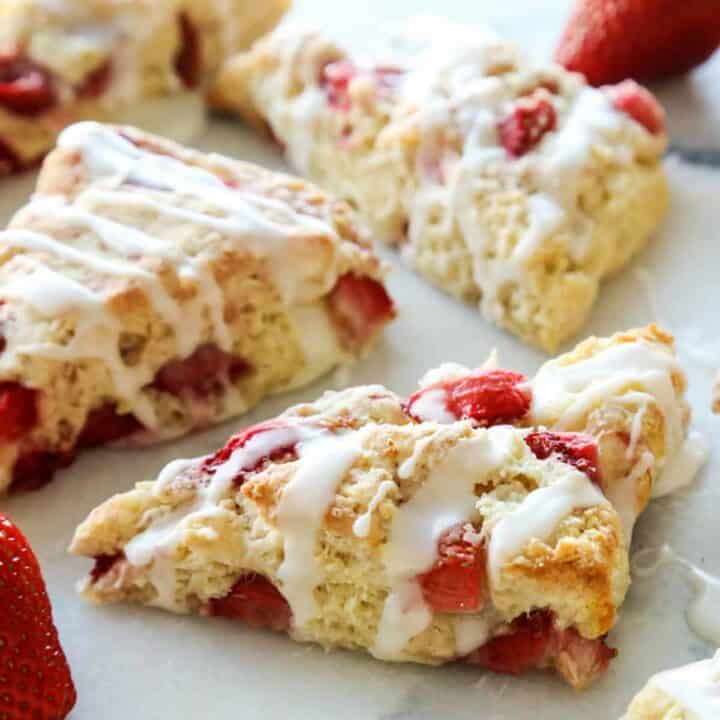 Strawberry Shortcake Scones
Yield: 12 scones
Prep Time: 30 minutes
Cook Time: 16 minutes
Total Time: 46 minutes
Buttery, golden scones are studded with juicy strawberries and drizzled with a vanilla cream glaze. Beautiful AND delicious!
Ingredients
for the strawberry scones:
12 average-sized strawberries, hulled
2 c. all-purpose flour
1 T. baking powder
3 T. sugar
1/2 tsp. kosher salt
5 T. chilled unsalted butter, cut into 1/4" cubes
3/4 c. half and half
for the glaze:
1.5 c. powdered sugar
2 to 3 T. half and half
1/2 tsp. pure vanilla extract
Instructions
Preheat oven to 425° F. Line a baking sheet with parchment paper and set aside.
For the strawberry scones: Slice each strawberry into 8 pieces by first quartering the berry and then slicing each piece in half. You should have about 1-1/3 cups of strawberry pieces. Set aside.
In a medium to large sized mixing bowl, combine flour, baking powder, sugar, and salt. Add the butter and cut it in with a rigid pastry cutter until the mixture resembles crumbs. Add the strawberries and fold them gently to coat with the flour mixture. Add the half and half, and then fold gently until the mixture just begins to come together. You should have soft, yet shaggy dough. If needed, add a bit more half and half to get the dough to come together. Do not knead or over mix the dough, as this will cause the scones to become dense and will smash the strawberries.
Turn the dough out onto a floured surface and pat into a 1" thick rectangle about 10" x 5" in size. With a sharp knife or sharp-edged stainless steel bench scraper, cut the rectangle into 6 squares. Then cut the squares on the diagonal to equal 12 triangles.
Place scones on prepared baking sheet and bake for 14 to 16 minutes, or until they are baked through and golden. Place a sheet of parchment paper on your work surface and set a cooling rack over it. Remove scones from the pan to the cooling rack to cool for 10 minutes.
For the glaze: In a medium sized bowl, whisk together powdered sugar, half and half, and vanilla extract until smooth and slightly runny. Either dip the top side of each scone wholly into the glaze or drizzle the glaze over the top of each scone with a spoon. Allow the glaze to drip down the sides of the scones onto the parchment paper below the cooling rack. The glaze will firm up as the scones cool.
Important to note: As with most scones, these are best enjoyed the same day they are baked. I highly recommend eating them while they're even still a bit warm from the oven.
Recommended Products
As an Amazon Associate and member of other affiliate programs, I earn from qualifying purchases.
Nutrition Information:
Yield: 12
Serving Size: 1
Amount Per Serving:
Calories: 222
Total Fat: 7g
Saturated Fat: 5g
Trans Fat: 0g
Unsaturated Fat: 3g
Cholesterol: 21mg
Sodium: 234mg
Carbohydrates: 36g
Fiber: 1g
Sugar: 19g
Protein: 3g
Nutrition information is automatically calculated by Nutritionix. I am not a nutritionist and cannot guarantee accuracy. If your health depends on nutrition information, please calculate again with your own favorite calculator.
I received a copy of The Alaska From Scratch Cookbook for my use and review. All opinions are 100% my own.