Orange and Dark Chocolate Scones with Orange Glaze
This post may contain affiliate links to products we use and love.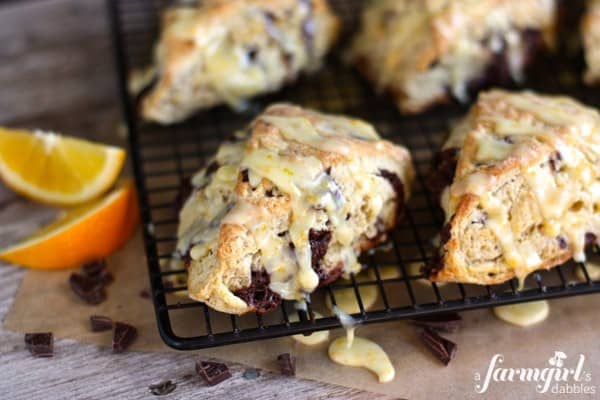 After eating one of these Orange and Dark Chocolate Scones with Orange Glaze, my husband said they are the best scones I've made so far. Now, coming from a guy who isn't crazy about fruit in his pastries, and who detests dark chocolate…that is a huge statement as to how good they are. I'm thinking he must have surely forgotten about the Chocolate Chip Scones with Peanut Butter Glaze…now that's HIS kind of scone!
These scones are a cinch to put together. With just a bit of orange zesting, a little chocolate chopping, and a drizzling of sweet citrus glaze, you've got yourself an extra special breakfast. The scones are moist yet flaky, and sweet but not overly so. The bright and juicy orange flavor provides just the perfect January pick-me-up. Give it a try. I'm confident you'll agree (with my husband).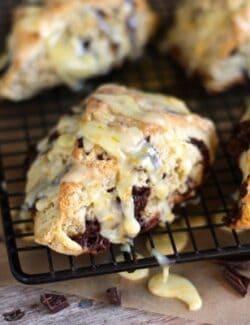 Orange and Dark Chocolate Scones with Orange Glaze
Yield: 8 scones
Cook Time:12 minutes
Calories per serving: 331
Ingredients:
for the orange and dark chocolate scones:
2 c. all-purpose flour
2 tsp. baking powder
1/4 tsp. baking soda
1/2 tsp. kosher salt
3 T. sugar
1/4 tsp. cinnamon
zest from 1 large orange
1/2 c. cold, unsalted butter, cut into small pieces
1/2 c. buttermilk (do not substitute)
1 large egg, lightly beaten
2 oz. dark chocolate, chopped into 1/4″ pieces (I used Lindt 70% cocoa)
for the orange glaze:
3/4 c. powdered sugar
1 T. freshly squeezed orange juice
zest from 1 large orange
Directions:
Preheat oven to 425°. Line a baking sheet with parchment paper and set aside.
In a medium bowl, stir together flour, baking powder, baking soda, salt, sugar, cinnamon, and orange zest. With a rigid pastry blender or two knives, cut in butter until mixture resembles coarse meal. Make a well in the center, and then add buttermilk and egg. Stir just until combined (do not overmix). Gently fold in chocolate.
Transfer dough to a lightly floured work surface and knead 5 or 6 times. Pat into an 8" circle and cut into 8 wedges. Transfer to baking sheet. Bake until scones are golden brown, 12 to 15 minutes. Remove from oven and let scones sit on baking sheet for a couple minutes before removing to a wire rack.
for the orange glaze:
While scones are still warm, prepare the glaze. In a small bowl, whisk together all glaze ingredients until smooth. Drizzle the orange glaze over the scones.
Serve warm or at room temperature. Best eaten on the day they are baked.
From a farmgirl's dabbles.
©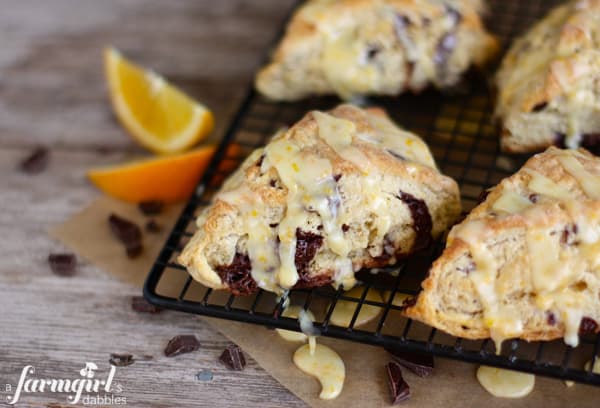 I'm linking up with:
We participate in the Amazon Services LLC Associates Program, an affiliate advertising program designed to provide a means for us to earn fees by linking to Amazon.com and affiliated sites. See our
disclosure policy
for more info.