Bagna Cauda with Sun Dried Tomatoes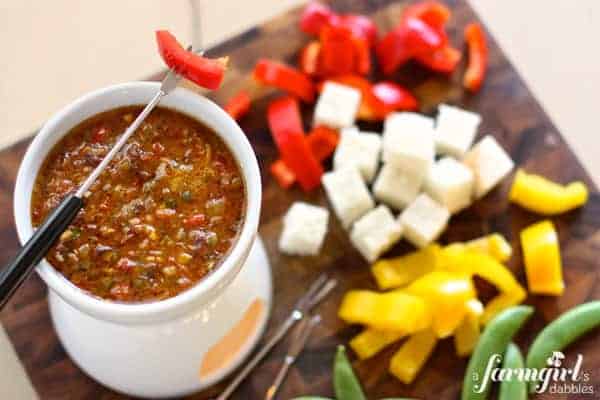 Sometimes I can't believe it myself. But lately, when perusing restaurant menus, I've been drawn to dishes that include anchovies. And I've been ordering them, and no longer asking the waiter to "hold the anchovies, please". What in the world has come over me?! I'm not supposed to like these. This is not the life I had planned!
This new-to-me craving all started when I visited Oregon for the first time last fall, as a guest of Harry and David. I blame Aggie, my beautiful Italian friend who sat next to me at lunch the day I took my first intentional bite of an anchovy. I ordered the salad not for the anchovies, but for its beautiful menu description, and told myself that I'd just scoot the anchovies to the side. But then, seeing Aggie eating those salty little fishies so nonchalantly, obviously enjoying them…well, I was convinced to take a tiny bite of one with my salad, too. But not before saying a little prayer that I wouldn't gag on it and embarrass myself at that table full of foodies. I'm sure she had no idea the turmoil going on inside my head as I slowly dissected that first little fillet, confused as I felt myself falling for something I had always told myself was off-limits.
But those anchovies ended up charming me, and the whole experience turned out swimmingly. The gorgeous southern Oregon setting, a long table of friends old and new, with a glass of bubbly and a salad I'll never forget…it's the stuff great food memories are made of.
Of course, a little bit of that experience had to make its way back home with me. That lunch in the Pacific Northwest led to new items in our pantry at home in the Midwest. Yes, you can now find little cans of anchovies for the first time in our kitchen!
Bagna Cauda (pronounced BAHN-yah KOW-dah) is from the Italian phrase meaning "hot bath". It is a warm sauce made from anchovies, olive oil, butter, and garlic, and served with raw veggies and bread for dipping. This Bagna Cauda with Sun Dried Tomatoes is especially lovely, as I find sun dried tomatoes completely irresistible (check out this Sun Dried Tomato Pasta!). Just as I now do anchovies.
How about you?
Do you like anchovies?
Please share with me your favorite way to eat them!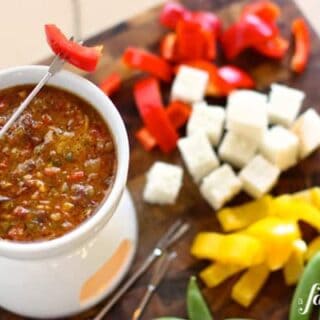 Bagna Cauda with Sun-Dried Tomatoes
Yield: almost 2 cups of sauce
Prep Time: 10 minutes
Cook Time: 15 minutes
Total Time: 25 minutes
This Bagna Cauda with Sun Dried Tomatoes is especially lovely.
Ingredients
1.5 T. olive oil, divided
1 T. unsalted butter
2/3 c. finely chopped red bell pepper
1/2 c. minced fresh onion
6 garlic cloves, minced
1 2-oz. can anchovy fillets, finely chopped (start with less if you're unsure about how much you like anchovies)
1/3 c. julienne cut sun-dried tomatoes (packed in oil), finely chopped
2 T. capers, finely chopped
1 c. low sodium chicken broth
2 T. Dijon mustard
1/4 tsp. kosher salt
1/4 c. finely chopped green onions
1 T. white wine vinegar
Instructions
Heat 1 tablespoon oil and the butter in a medium saucepan over medium heat. Add bell pepper, onion, and garlic, and sauté 5 minutes or until tender. Add anchovies and cook 1 minute, stirring frequently.
Add sun-dried tomatoes and capers, and cook for 1 minute. Stir in broth, mustard, and salt. Bring to a boil, then reduce heat and simmer 2 minutes. Stir in remaining 1/2 tablespoon oil, and remove from heat. Add green onions and vinegar.
Serve warm, with raw vegetables and bread for dipping. A fondue pot works great for this.
Nutrition Information:
Yield: 8
Serving Size: 1
Amount Per Serving:
Calories: 78
Total Fat: 5g
Saturated Fat: 1g
Trans Fat: 0g
Unsaturated Fat: 3g
Cholesterol: 10mg
Sodium: 498mg
Carbohydrates: 5g
Fiber: 1g
Sugar: 2g
Protein: 4g
Nutrition information is automatically calculated by Nutritionix. I am not a nutritionist and cannot guarantee accuracy. If your health depends on nutrition information, please calculate again with your own favorite calculator.