Roasted Cauliflower with Golden Raisins, Pine Nuts & Orange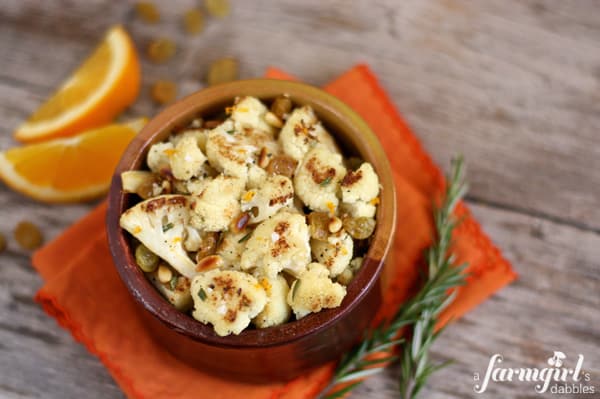 Today's post marks the very first appearance of cauliflower on a farmgirl's dabbles. Over the past year, I've fallen deeply in love with this veggie, and have been roasting and sautéeing it for my family, and receiving their overwhelming stamps of approval.
I grew up eating cauliflower in one of two ways. Either raw from a vegetable platter (with ranch dip, of course!) or boiled and dripping with cheese. And neither way thrilled me. I often skipped right over those offerings. And, sadly, I missed out on many, many years of enjoying cauliflower.
Thankfully, I ventured out of my cauliflower lull and roasted up a pan of Sylvie's gorgeous cauliflower with olives and herbs about a year ago. Ohhhhhh, man…it was some kind of revelation. And now my family can pretty much take care of two whole heads of that cauliflower recipe in one sitting!
While Sylvie's recipe is savory and salty, this Roasted Cauliflower with Golden Raisins, Pine Nuts, and Orange leans on some sweetness. This dreary January weather has had me adding oranges to lots of dishes lately, and it gives such a juicy bright effect. (Try these fabulous Orange and Dark Chocolate Scones with Orange Glaze!) So far, I haven't made a cauliflower dish over the past year that my family hasn't been crazy about. There's just something about roasting or sautéeing it. Try it. You'll see exactly what I mean!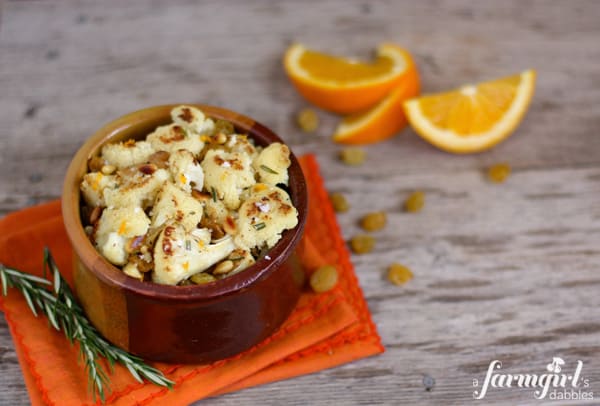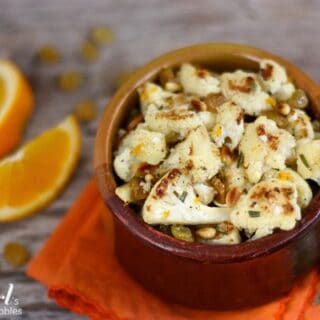 Roasted Cauliflower with Golden Raisins, Pine Nuts & Orange
Yield: 6 servings
Prep Time: 15 minutes
Cook Time: 25 minutes
Total Time: 40 minutes
This Roasted Cauliflower with Golden Raisins, Pine Nuts, and Orange leans on some sweetness.
Ingredients
1 medium sized head cauliflower
3 T. olive oil, divided
1/2 tsp. kosher salt
freshly ground black pepper, to taste
2 garlic cloves, minced
1/2 T. rough chopped fresh rosemary
2 T. freshly squeezed orange juice
1 tsp. orange zest
1/4 c. pine nuts, toasted
1/4 c. golden raisins
flaky sea salt, to taste
Instructions
Preheat oven to 400° F.
Cut cauliflower into florets, then cut florets in half or quarters, depending on size. It's good to have lots of cut surfaces on the cauliflower, for better browning. On a large baking pan with sides, drizzle 2 tablespoons olive oil over the cauliflower. Sprinkle with salt and pepper, and stir to coat evenly.
Roast in oven for 10 minutes. Combine remaining tablespoon of olive oil with rosemary and garlic, and drizzle mixture over cauliflower. Stir to coat evenly. Roast for another 15 minutes, or until cauliflower is showing beautiful brown markings and is just tender (don't let it roast too long, or it will get mushy).
Remove from oven, sprinkle with fresh orange juice and zest, pine nuts, and golden raisins. Toss gently to combine. Sprinkle lightly with flaky sea salt and serve straight from the pan...or transfer to a serving bowl and sprinkle with sea salt. Serve warm.
Notes
From a farmgirl's dabbles.
Nutrition Information:
Yield: 6
Serving Size: 1
Amount Per Serving:
Calories: 144
Total Fat: 11g
Saturated Fat: 1g
Trans Fat: 0g
Unsaturated Fat: 9g
Cholesterol: 0mg
Sodium: 306mg
Carbohydrates: 11g
Fiber: 3g
Sugar: 6g
Protein: 3g
Nutrition information is automatically calculated by Nutritionix. I am not a nutritionist and cannot guarantee accuracy. If your health depends on nutrition information, please calculate again with your own favorite calculator.