Grilled Potato Salad with Blue Cheese Vinaigrette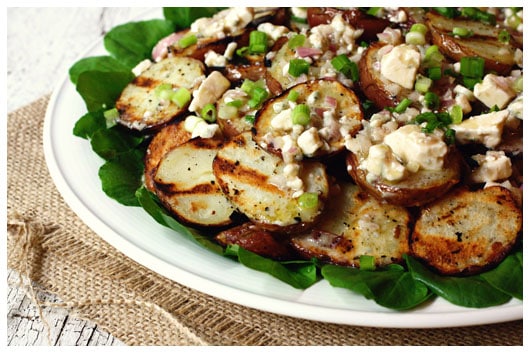 Looking for a potato salad sure to dazzle the pants off your guests?
This is it.
Grilled Potato Salad with Blue Cheese Vinaigrette.
Blake and I have been making this extroverted version of potato salad for many years. You could definitely say it's a staple recipe in our house. Not exactly one that our kids look forward to (blue cheese = "what's that smell?" and "yuck!"), but one that is reserved for the two of us and our blue cheese lovin' friends.
This potato salad is no traditional potato salad. No mayo, hard boiled eggs, or pickles involved. I know for a fact that I have relatives who would not even call this potato salad. It's unconventional. And it's over-the-top fabulous.
We always, always, always serve this platter of deliciousness alongside grilled beef, as the potatoes and blue cheese make for a natural pairing. Ribeyes, T-bones, or a tenderloin…any of these are swell choices. Blake seasons the beef very simply with a sprinkling of coarse salt and freshly ground black pepper to let the ultra flavorful potato salad shine.
And if you're looking to completely round out this sure-to-dazzle meal, open a beautiful bottle of red. A Malbec or Pinot Noir would do very nicely. Then raise your glass to great food and unconventionality.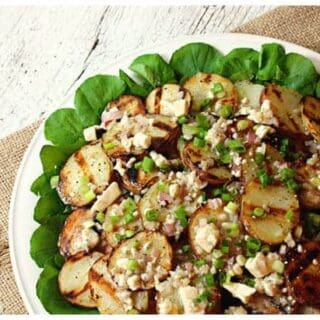 Grilled Potato Salad with Blue Cheese Vinaigrette
Yield: 4-6 servings
Prep Time: 10 minutes
Cook Time: 20 minutes
Total Time: 30 minutes
Grilled Potato Salad with Blue Cheese Vinaigrette is an extravagant potato salad recipe to go alongside your BBQ. Topped with a delicious homemade blue cheese vinaigrette, this side salad may just become the star of your meal!
Ingredients
16 small new red potatoes (do not peel)
olive oil, for brushing potato slices
kosher salt and freshly ground black pepper
6 oz. watercress, coarsely chopped
2 scallions, thinly sliced
FOR THE VINAIGRETTE:
1/4 c. red wine vinegar
2 tsp. honey
1 small shallot, finely chopped
2 tsp. Dijon mustard
1/2 c. olive oil
1/2 c. crumbled blue cheese
Instructions
In a large pot of salted water, boil the potatoes until just cooked through. Do not let them get too soft and overcooked. This should take about 15 to 20 minutes, depending on the size of the potatoes. Test for doneness by piercing a potato with a thin skewer or fork. If it meets some resistance, but can slide all the way through, they're done. Drain the potatoes immediately. Let cool. This step can be done a few hours in advance. Just set them on the counter. Do not refrigerate.
Now make the blue cheese vinaigrette. Whisk the vinegar, honey, shallot, mustard, olive oil, and blue cheese together. The vinaigrette can be made a few hours in advance. Cover and keep refrigerated.
Heat your grill to medium-high. Liberally oil the grill grates.
Cut the potatoes into 1/4″-thick slices. This next part gets a bit tedious. Here's how I prefer to do it. Lay the slices out on a large baking sheet or jelly roll pan. Brush both sides with oil and sprinkle generously with salt and pepper. It's really not that bad. Just keep reminding yourself of the end result you get to indulge in.
And now for Tedious: Chapter #2. Lay all those potato slices out on your grill grate. Grill until lightly charred on both sides, about 5 minutes total.
Arrange the watercress on a platter. Top with the potatoes. Drizzle the vinaigrette over the top, while your potatoes are still warm so they will absorb the vinaigrette better. Sprinkle with the scallions. Serve immediately.
Nutrition Information:
Yield: 6
Serving Size: 1
Amount Per Serving:
Calories: 593
Total Fat: 24g
Saturated Fat: 5g
Trans Fat: 0g
Unsaturated Fat: 18g
Cholesterol: 8mg
Sodium: 285mg
Carbohydrates: 82g
Fiber: 8g
Sugar: 8g
Protein: 13g
Nutrition information is automatically calculated by Nutritionix. I am not a nutritionist and cannot guarantee accuracy. If your health depends on nutrition information, please calculate again with your own favorite calculator.