Roasted Tomatoes with Basil & Thyme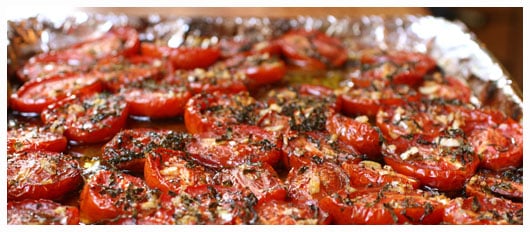 I planted a couple more tomato plants this year than I usually do, and boy, it's been challenging to keep up!  I head out to the garden with the girls and we return with gallon pails piled high.  Although it's fun to harvest (and to eat!) so much homegrown goodness,  I've made the same mental note the last couple of times we've returned from the garden with those loaded pails…
Dear Brenda:
Next spring, don't be so tempted by all the fun names on the tomato plant tags!
Really, though, we are having fun with it.  Neighbors have been known to answer their doors, only to find two smiling young girls with tomatoes to share.  And we've been eating tomatoes like crazy.  Seems like most meals lately have involved some sort of tomato inspired dish and we've been making our way through numerous gigantic bowls of fresh salsa.
A few days ago Hatti helped me roast up two large pans of plum tomatoes while Tessa napped.  This is one of those recipes that always leaves me awestruck.  The stupendous flavor emitted from such simple ingredients is incredible.  And these roasted tomatoes can be enjoyed in so many different ways.  My favorite way is straight off the roasting pan, while they are still warm and my house smells like our family suddenly turned Italian.  The aroma is deep and concentrated. Rich authentic tomato to the core.  It's quite heavenly.
I also like to stir the roasted tomatoes into cheese tortellini, which makes for a very simple, very tasty meal.  Grilled steak and roasted chicken beg to be sided with them.  Plus, they make a great pizza topping.
On top of all those choices, roasted tomatoes play the lead role in an easy appetizer.  Just cut a small baguette into 1/4″ slices, lightly brush both sides of each slice with a bit of olive oil, and pop them into a 375° oven.  Let them bake about 3 minutes per side and remove from the oven.  Top each baguette slice with a roasted tomato half.  You could sprinkle with a bit of fresh parmesan, or spread some goat cheese onto the baguette before adding the tomato.  Trust me, after one bite, it's very hard to stop eating these.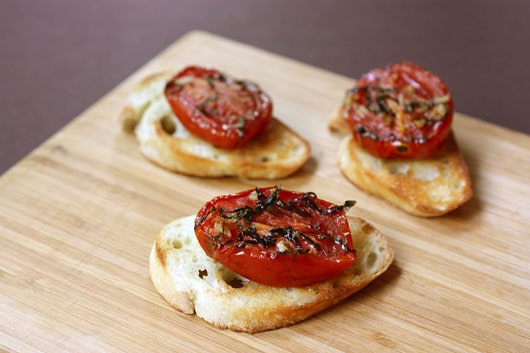 These tomatoes are also a breeze to freeze.  Just place them in plastic freezer containers, making sure they have a bit of oil covering their tops.  Then pull them out whenever your spaghetti or pizza sauces need a little boost.  I welcome anything that will bring a bit of summer into a long winter, and these concentrated bites of summer yum are welcome in my kitchen any time.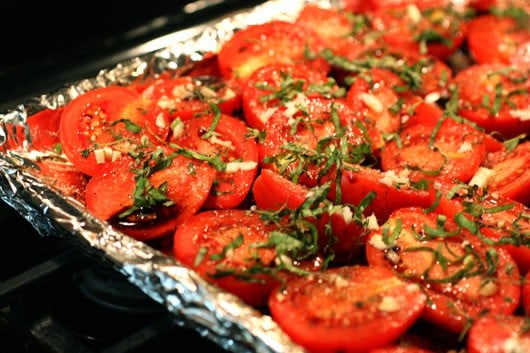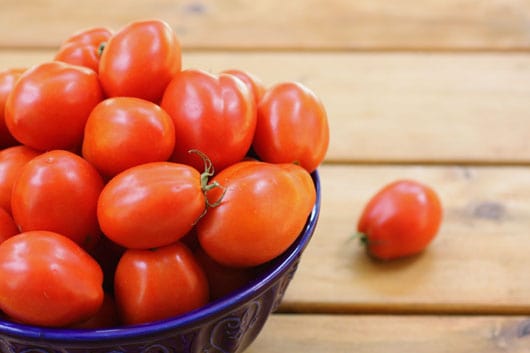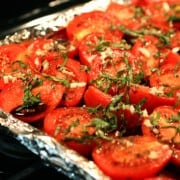 Roasted Tomatoes with Basil & Thyme
Ingredients:
24 plum tomatoes, halved lengthwise
1/2″ c. olive oil
3 T. balsamic vinegar
4 large garlic cloves, minced
4 tsp. sugar
3 tsp. kosher salt
1 tsp. freshly ground black pepper
20 large fresh basil leaves, julienned
1 T. fresh thyme leaves
Directions:
Preheat oven to 450°.  Prepare a large rimmed pan by covering it in foil (easy clean-up!) and spraying lightly with vegetable oil.
Arrange tomatoes on pan, cut sides up, in a single layer.  Drizzle with olive oil and balsamic vinegar.  Sprinkle with garlic, sugar, salt, pepper, basil, and thyme.
Roast for 35 to 45 minutes, until tomatoes start to caramelize and the flavors concentrate.  Your kitchen will smell tremendous!  Serve warm or at room temperature.
We participate in the Amazon Services LLC Associates Program, an affiliate advertising program designed to provide a means for us to earn fees by linking to Amazon.com and affiliated sites. See our disclosure policy for more info.