Roasted Tomatoes with Basil & Thyme
A few simple ingredients are all you need to turn garden-fresh tomatoes into these mouthwatering Roasted Tomatoes with Basil and Thyme. They're caramelized and jammy, so incredibly flavorful! Enjoy on their own or add them to any number of recipes!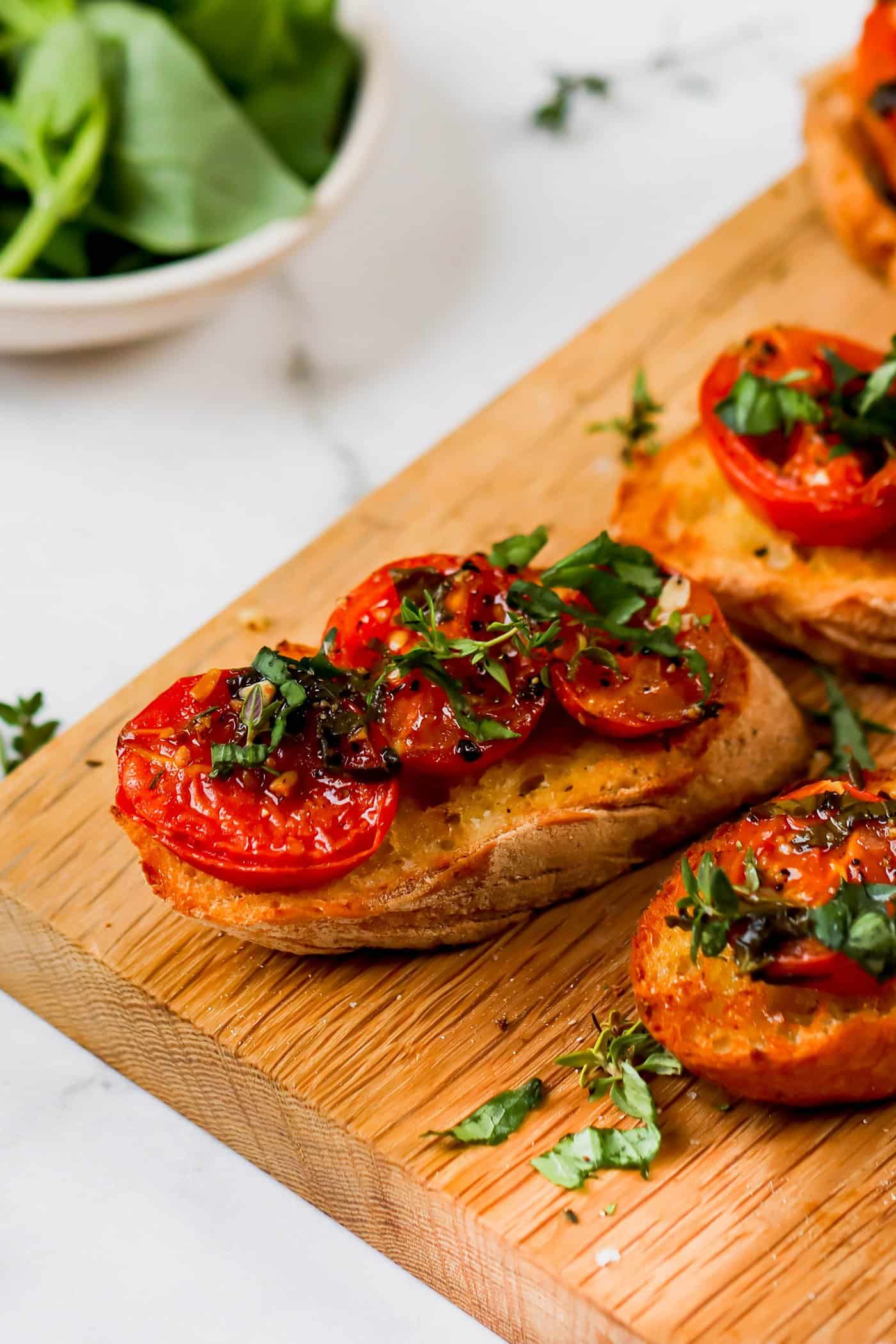 An Easy Tomato Side Dish
For our family, August always means enjoying some of our favorite summertime foods – the sweetest peaches, sweet corn, and tomatoes, to name a few. We look forward to mealtime in a whole different way, as we can't get enough of summer's glorious bounty!
This recipe for Roasted Tomatoes with Basil & Thyme is one that we make again and again while the tomatoes are plentiful. It's a recipe that always leaves me awestruck, with simple ingredients and technique that gives such an incredible amount of flavor. The tomatoes are roasted until they're softened and caramelized, and intensely flavorful. You will LOVE these sweet little gems!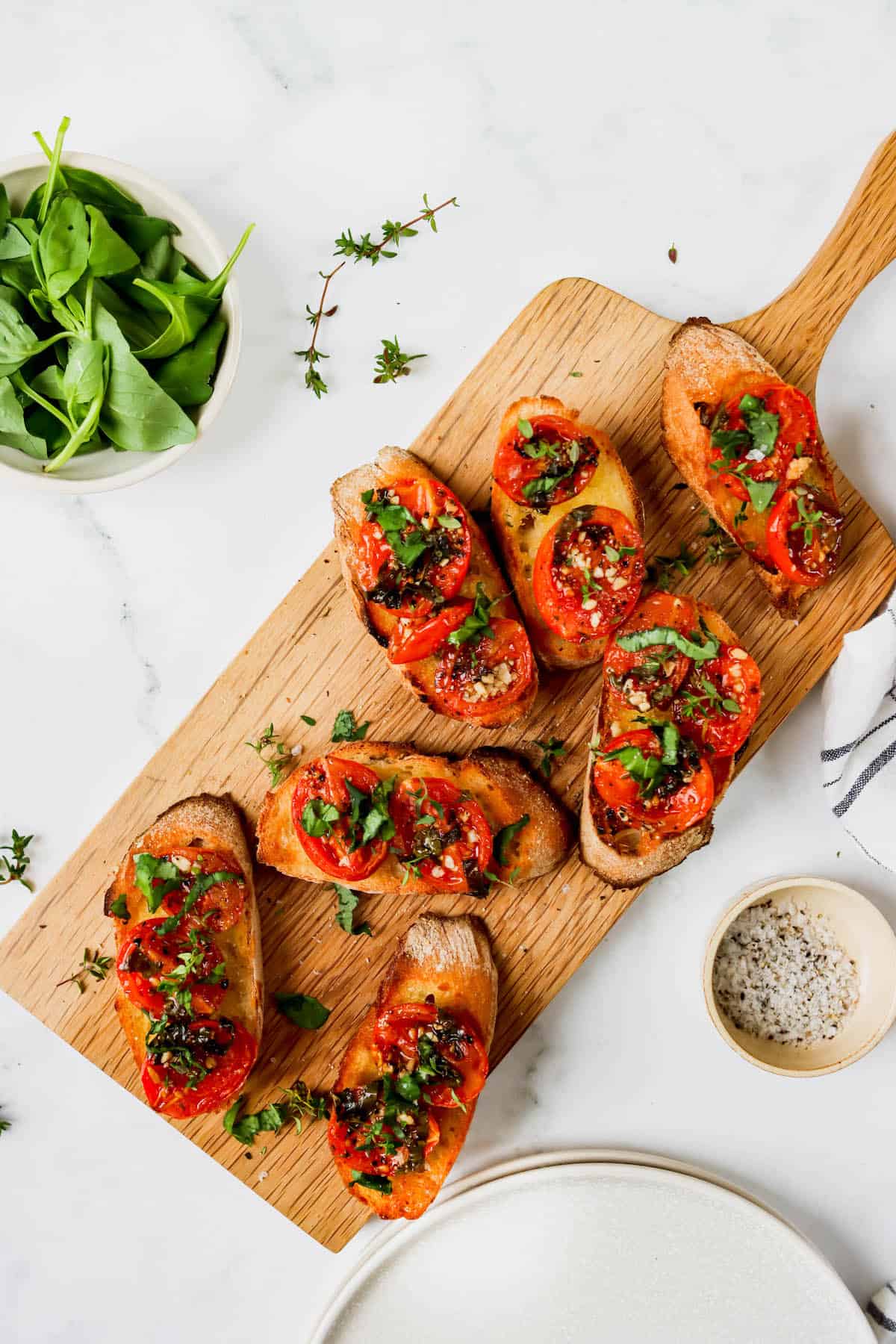 These roasted tomatoes can be enjoyed in so many different ways. But my favorite way is straight off the roasting pan, while they are still warm and our house smells a million kinds of wonderful. The scent reminds me of an authentic Italian restaurant or pizzeria, with a deep, concentrated aroma of rich tomatoes. It's heavenly!
If you ask the rest of our family, however, they'll tell you that these slow roasted tomatoes are most amazing atop toasted slices of baguette – as shown in the photo above. This makes a great appetizer or a beautiful accompaniment to a salad. Have you tried my Italian Chopped Salad? It's a huge favorite with my family and so many readers!
However you eat these, they make a quick and simple appetizer or side dish – and a great addition to other recipes, too. Scroll down a bit for a few more serving suggestions!
What You'll Need
All you need are fresh tomatoes, olive oil, balsamic vinegar, and some herbs and seasonings to make these quick oven-roasted tomatoes!
Plum tomatoes – You can easily make these with other varieties of tomatoes, on the small to medium size. You will just need to adjust the roasting time, as you'll want to roast larger tomatoes for a longer time, smaller tomatoes for less time.
Olive oil – Use a good quality olive oil for best results.
Balsamic vinegar – Vinegar always adds tang, and the balsamic variety also adds wonderful richness when slow-cooked.
Garlic cloves – Garlic and tomatoes always make an awesome pair.
Sugar – Draws out and adds to the delicious natural sweetness of the tomatoes.
Kosher salt & ground pepper – To taste. (I oftentimes add lots of extra pepper, for tomatoes with more of a kick!)
Fresh herbs – Basil and thyme are my favorite!
How to Make Roasted Tomatoes
Making these roasted tomatoes is beyond easy! You only need a few minutes of prep – the hardest part is the waiting!
Preheat oven. Preheat your oven to 450° and prepare a pan by covering it in foil and spraying lightly with vegetable oil. This will make clean-up a breeze!
Prepare tomatoes. Arrange the tomatoes in a single layer, then drizzle with olive oil and balsamic vinegar. Sprinkle with seasonings.
Roast. Roast for 35 to 45 minutes, or until the tomatoes are softened and caramelized. Depending on the size and amount of tomatoes you use, you may need to roast for less or more time.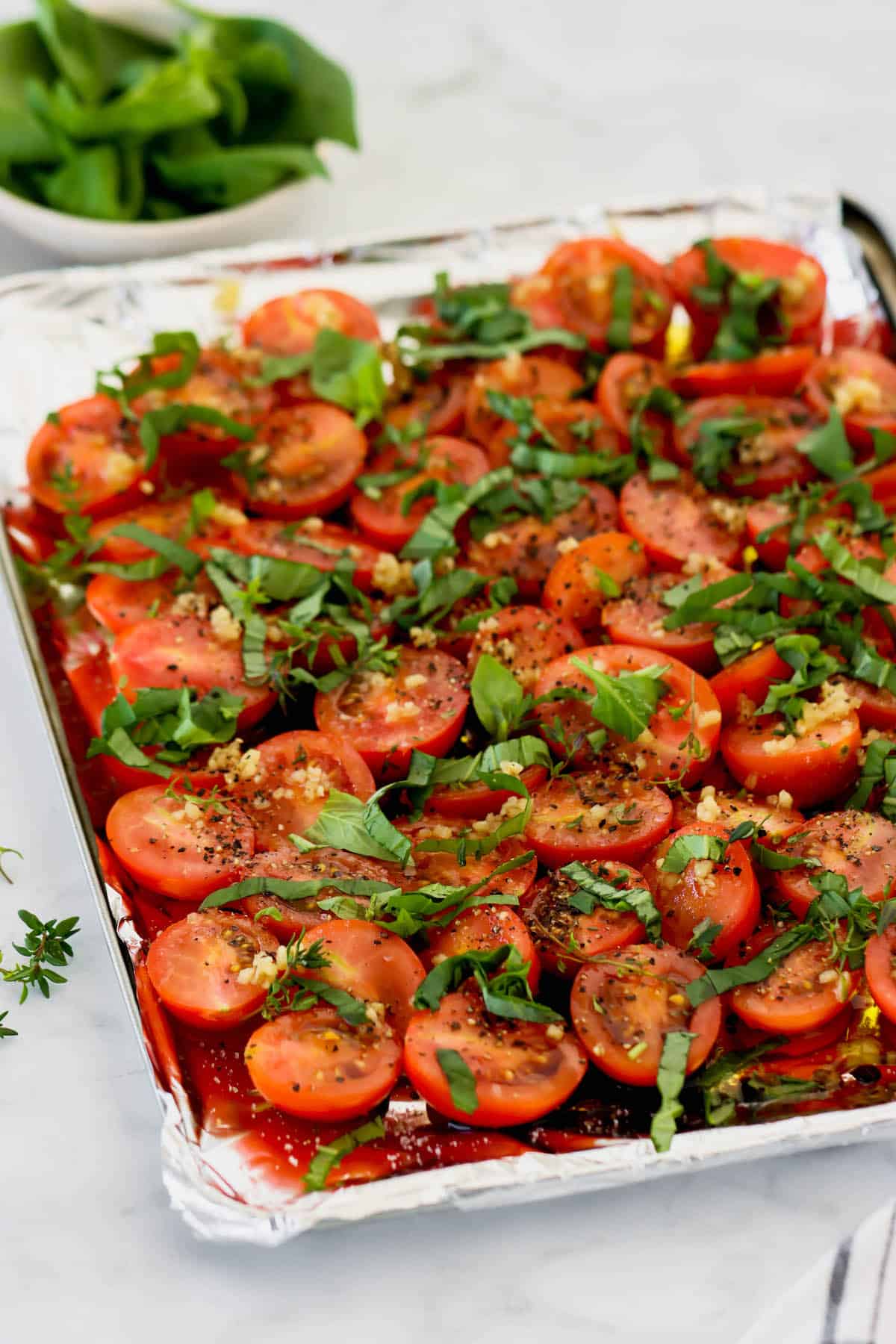 Tips for Success
Roasting these tomatoes is quick and easy! Here are a few things to keep in mind:
Line your pan with foil. I like to use foil, as I find that all the juices can break down parchment paper and leave it soggy. The foil makes for super easy clean-up!
Avoid large steak tomatoes. I recommend plum (also known as Roma) tomatoes or large cherry or grape tomatoes for this recipe. I would avoid using large steak tomatoes as they usually contain a lot more water content and won't give you that deep and concentrated roasted tomato flavor and texture.
Choose tomatoes of similar size. For even roasting, be sure to use tomatoes that are more or less the same size. Otherwise, some may be under-cooked or over-cooked.
Get creative with the herbs and spices. Not a fan of basil or thyme? Rosemary or oregano also work! You can also shake on some dried seasonings of your choice for added flavor as well.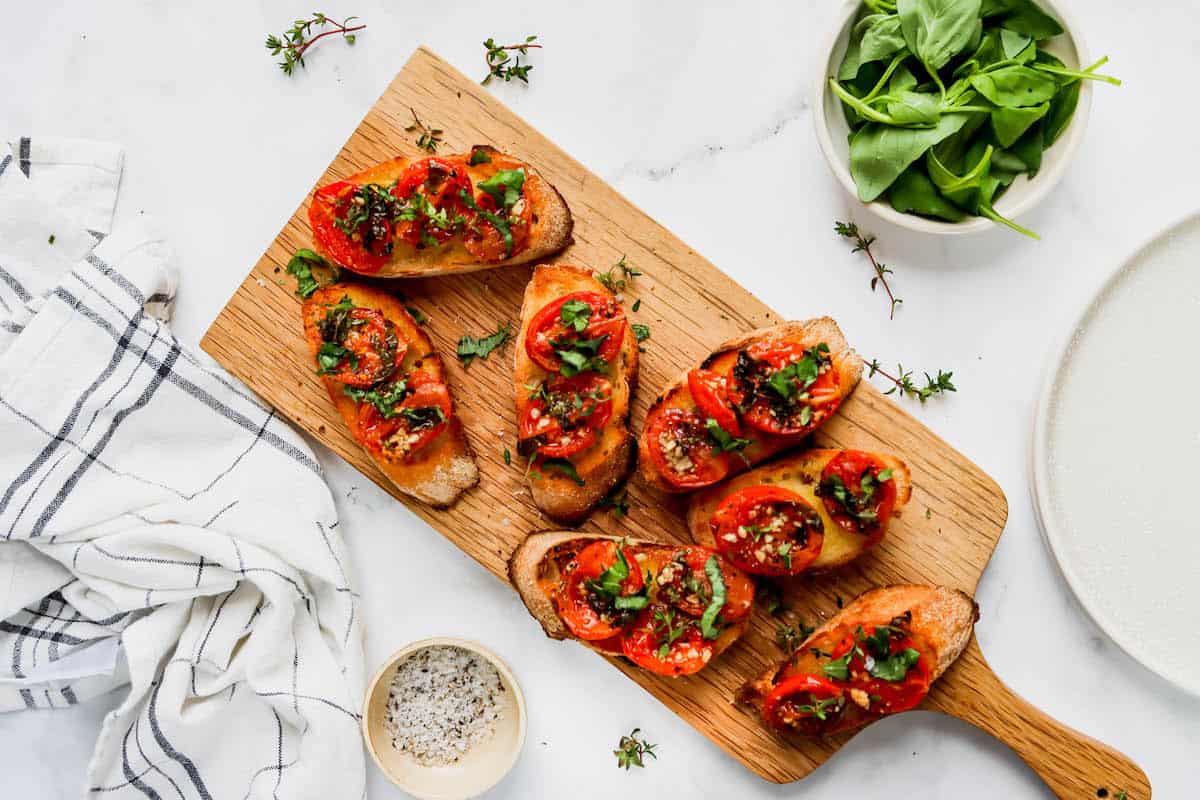 Serving Suggestions
There are so many ways to use these roasted tomatoes! Here are a few of my favorites:
Fresh from the oven. As I mentioned, my personal favorite way to eat these is just by grabbing them straight from the pan. Yum! For added flavor, you could sprinkle on some feta or eat them with goat cheese.
Cheese tortellini. I also like to stir the roasted tomatoes into cheese tortellini which makes for a very simple, very taste meal. Our family loves this!
On pizza. Level up your everyday cheese pizza by adding some of these roasted tomatoes. Here's my favorite Thin Crust Pizza recipe!
Salads and sandwiches. You can add these to any salad or sandwich for extra flavor and rich, tomato-y goodness.
On a cheese plate. Our family loves "charcuterie board night"! We gather up a big board full of cheeses, fruits, veggies, nuts, and crackers. And these roasted tomatoes are a fabulous addition that always disappear fast!
With eggs. These beautiful little gems are fabulous alongside some eggs and toast.
Add to tomato sauces. Just blitz up some of these tomatoes with a blender or food processor, and then add it to your favorite spaghetti or pizza sauce. You'll always want to eat your red sauces this way!
Stir into soup. These are AWESOME in my Lasagna Soup!! Simply rough-chop the tomatoes and add them to the soup. Delish!
On a baguette. This is one of our go-to's, one of my family's favorite! Just cut a small baguette into 1/4″ slices, lightly brush both sides of each slice with a bit of olive oil, and pop them into a 375° oven. Let them bake about 3 minutes per side and remove from the oven. Top each baguette slice with some roasted tomato. You could sprinkle with a bit of fresh parmesan, or spread some goat cheese onto the baguette before adding the tomato. Serve as an appetizer or a side. Trust me, after one bite, it's very hard to stop eating these!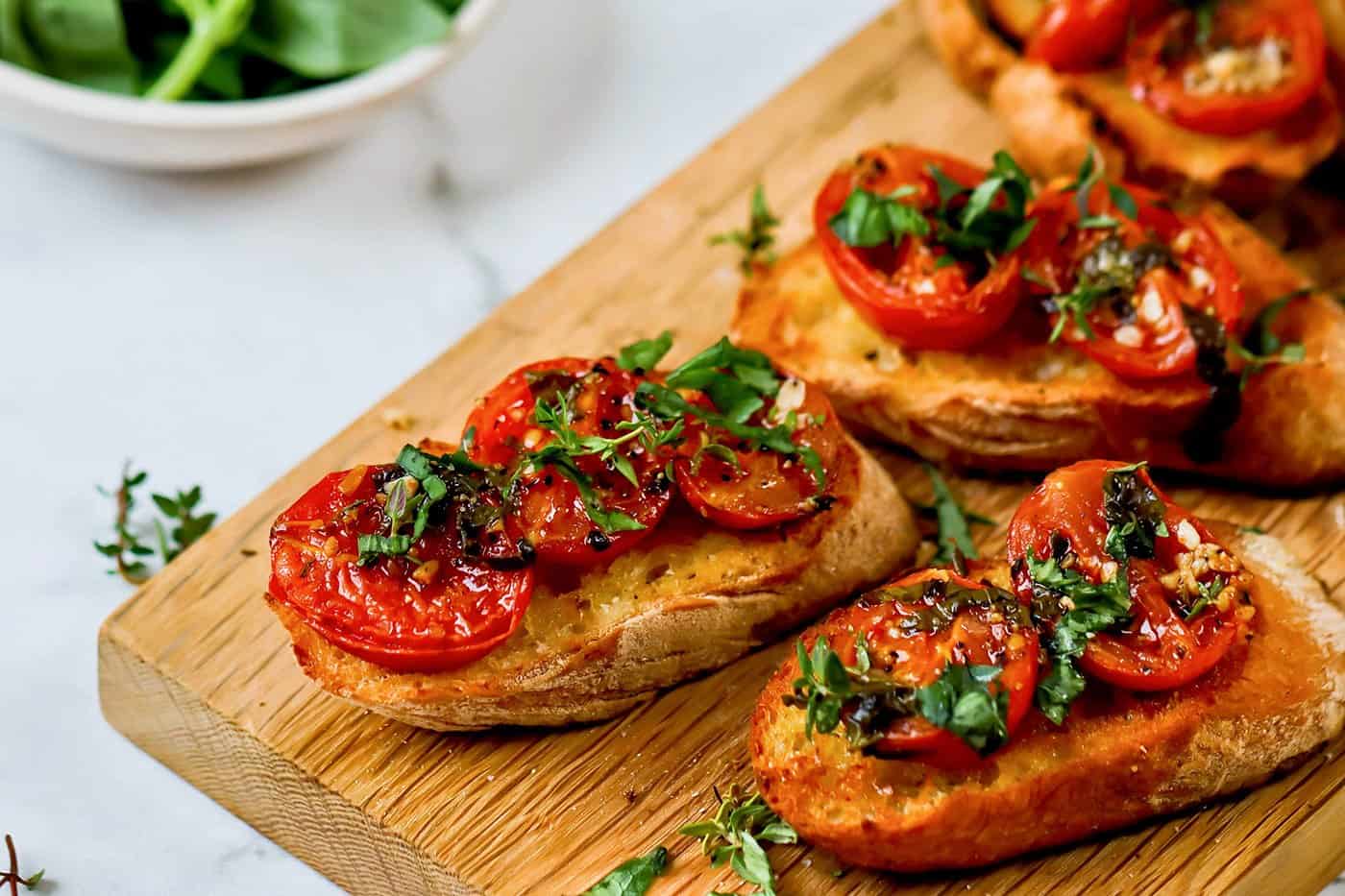 How To Store Leftovers
Any leftover tomatoes can be stored in the fridge for up to 5 days. Be sure to add any juices to the container, to keep them moist and preserve all that beautiful flavor.
Enjoy cold – great for sandwiches and salads! Or simply reheat in the microwave.
Can I Freeze Roasted Tomatoes?
These tomatoes are a breeze to freeze. Just place them in freezer-safe containers. Then pull them out whenever your meals need an extra boost. I like to freeze 1 and 2-cup quantities to add to spaghetti and pizza sauce, and Lasagna Soup.
I welcome anything that will add a bit of summer's fresh bounty during a long winter. These concentrated bites of summertime sweetness are welcome in my kitchen any time!
More Easy Vegetable Recipes:
Like this recipe? Save it to Pinterest!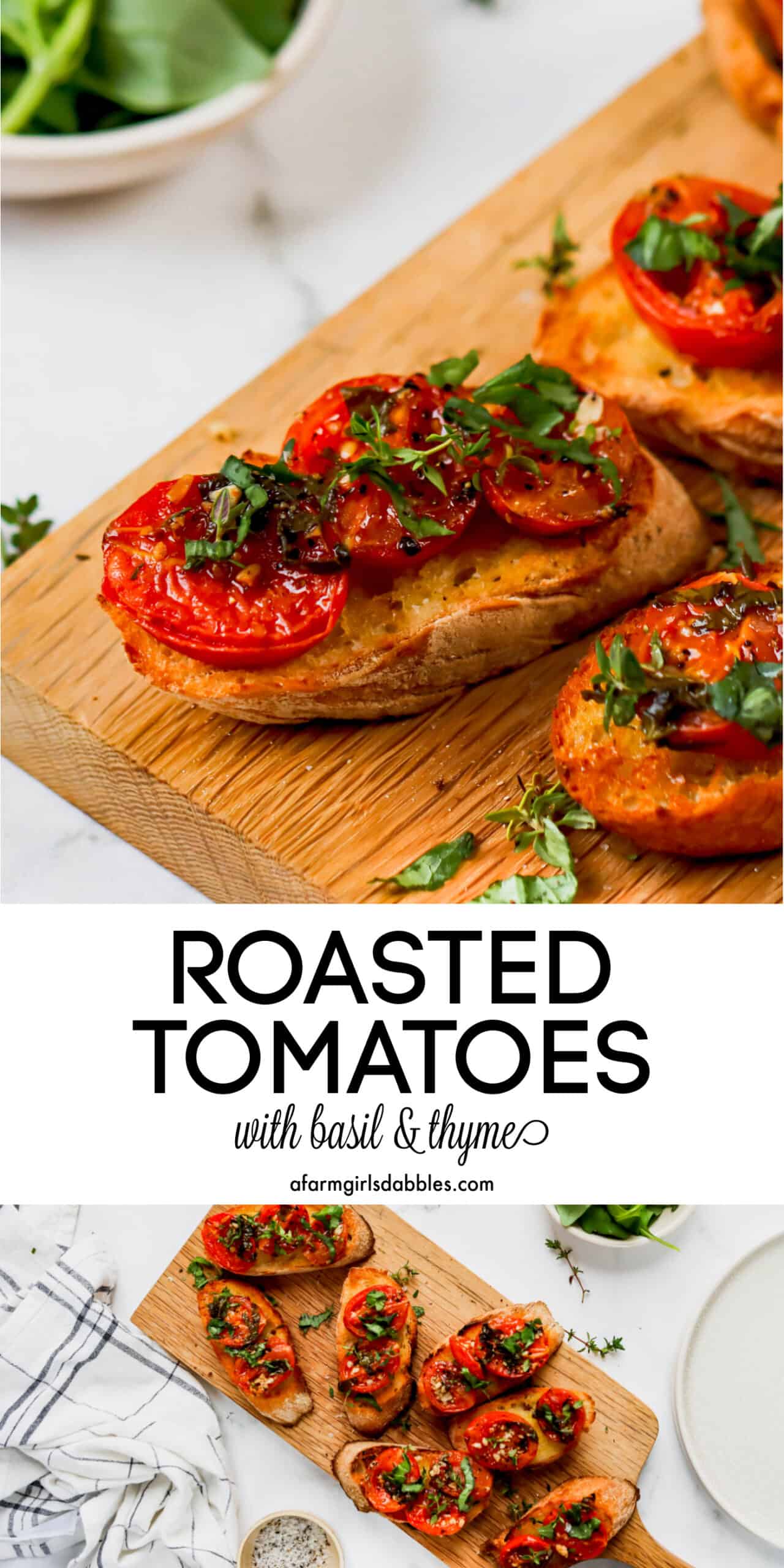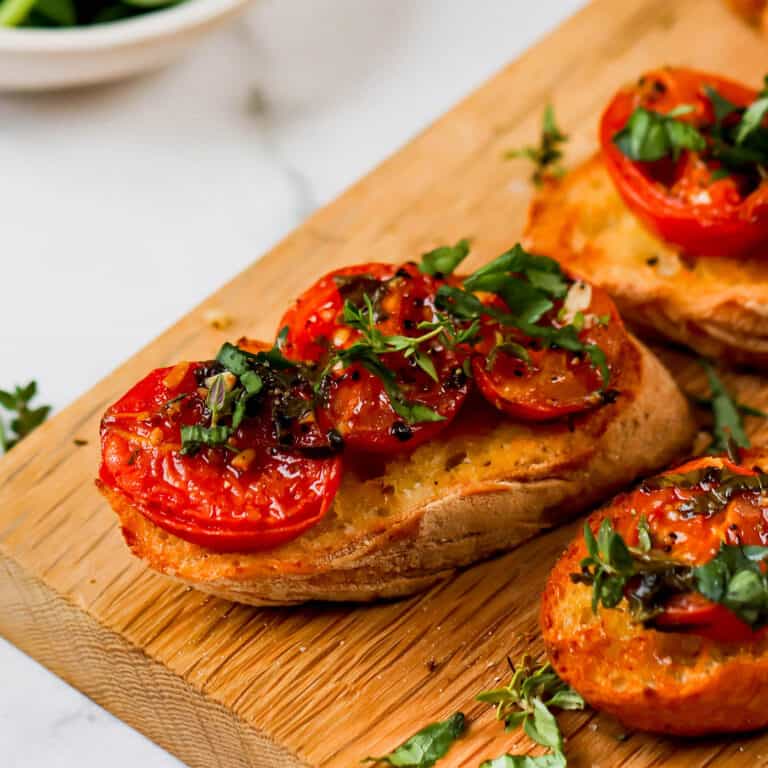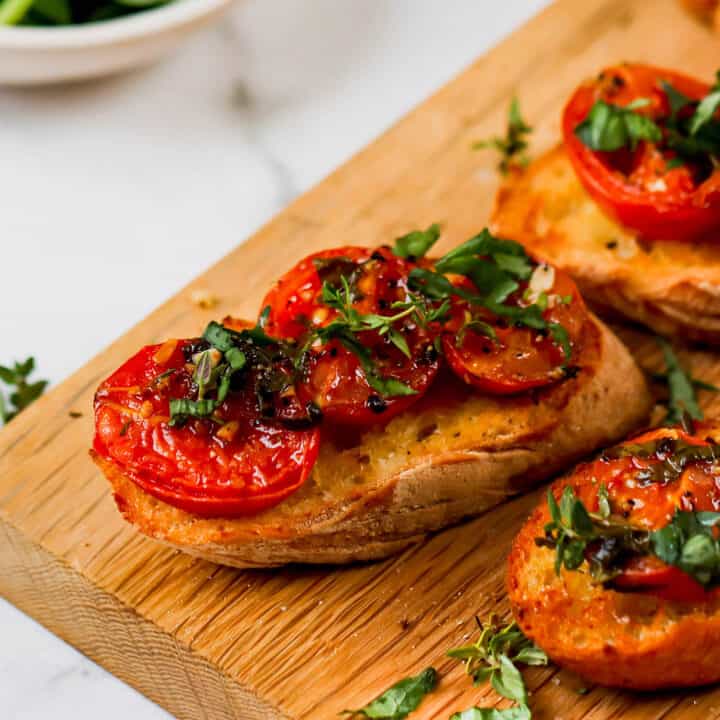 Roasted Tomatoes with Basil & Thyme
Yield: 12 servings
Prep Time: 15 minutes
Cook Time: 35 minutes
Total Time: 50 minutes
A few simple ingredients are all you need to turn your garden-fresh tomatoes into these mouthwatering Roasted Tomatoes with Basil and Thyme. Enjoy on their own or add them to any number of recipes!
Ingredients
24 plum (like Roma) tomatoes, halved lengthwise - or use a larger amount of smaller tomatoes that are cut in half
1/2 cup olive oil
3 tablespoons balsamic vinegar
4 large garlic cloves, minced
4 teaspoons sugar
3 teaspoons kosher salt
1 teaspoon freshly ground black pepper
20 large fresh basil leaves, julienned (plus more for garnish, if you like!)
1 tablespoon fresh thyme leaves (plus more for garnish)
Instructions
Preheat oven to 450° F. Prepare a large rimmed pan by covering it in foil (easy clean-up!) and spraying lightly with vegetable oil.
Arrange tomatoes on pan, cut sides up, in a single layer. Drizzle with olive oil and balsamic vinegar. Sprinkle with garlic, sugar, salt, pepper, basil, and thyme.
Roast for 35 to 45 minutes, until tomatoes soften and caramelize, and the flavors become concentrated. Depending on the size and amount of tomatoes you use, you may need to roast for less or more time.


Serve warm or at room temperature.
Nutrition Information:
Yield: 12
Serving Size: 1
Amount Per Serving:
Calories: 135
Total Fat: 10g
Saturated Fat: 1g
Trans Fat: 0g
Unsaturated Fat: 8g
Cholesterol: 0mg
Sodium: 328mg
Carbohydrates: 12g
Fiber: 3g
Sugar: 8g
Protein: 2g
Nutrition information is automatically calculated by Nutritionix. I am not a nutritionist and cannot guarantee accuracy. If your health depends on nutrition information, please calculate again with your own favorite calculator.
This post was originally published in 2010, and then updated in 2021.