Minestrone Soup
Loaded with vegetables, beans, and pasta, this classic Minestrone Soup recipe is quick and easy. It's a healthy, hearty weeknight dinner, perfect for taking the chill off a cold winter's day!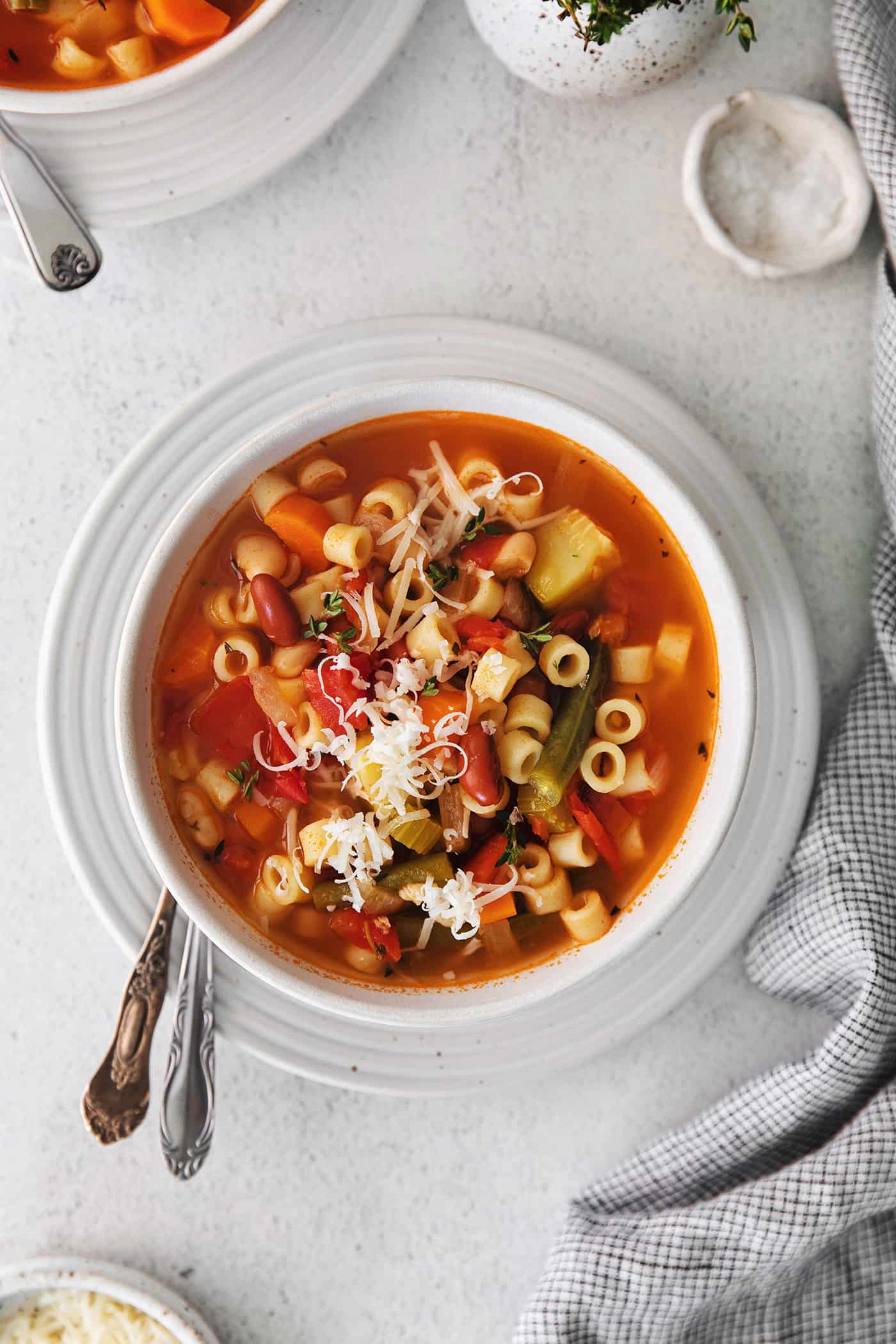 An Easy & Healthy Homemade Soup Recipe
Soups are my go-to dinner when I need something quick and easy during the winter months. There's nothing quite as comforting as a steaming pot of freshly made soup when it's cold and dreary outside.
This easy Minestrone Soup is one of my favorites because it's not only simple to make, but it's super healthy too. The soup features a flavorful tomato-y broth that's loaded with vegetables and cute little ditalini pasta. It's perfectly hearty, yet lighter than cream-based soups. With a sprinkle of fresh Parmesan over the top of my bowl, I'm in soup heaven!
My Lasagna Soup is another Italian soup recipe that our family is extra fond of. It's super flavorful and served with a fun, delicious "cheesy yum". Have you tried it yet? It's a reader favorite!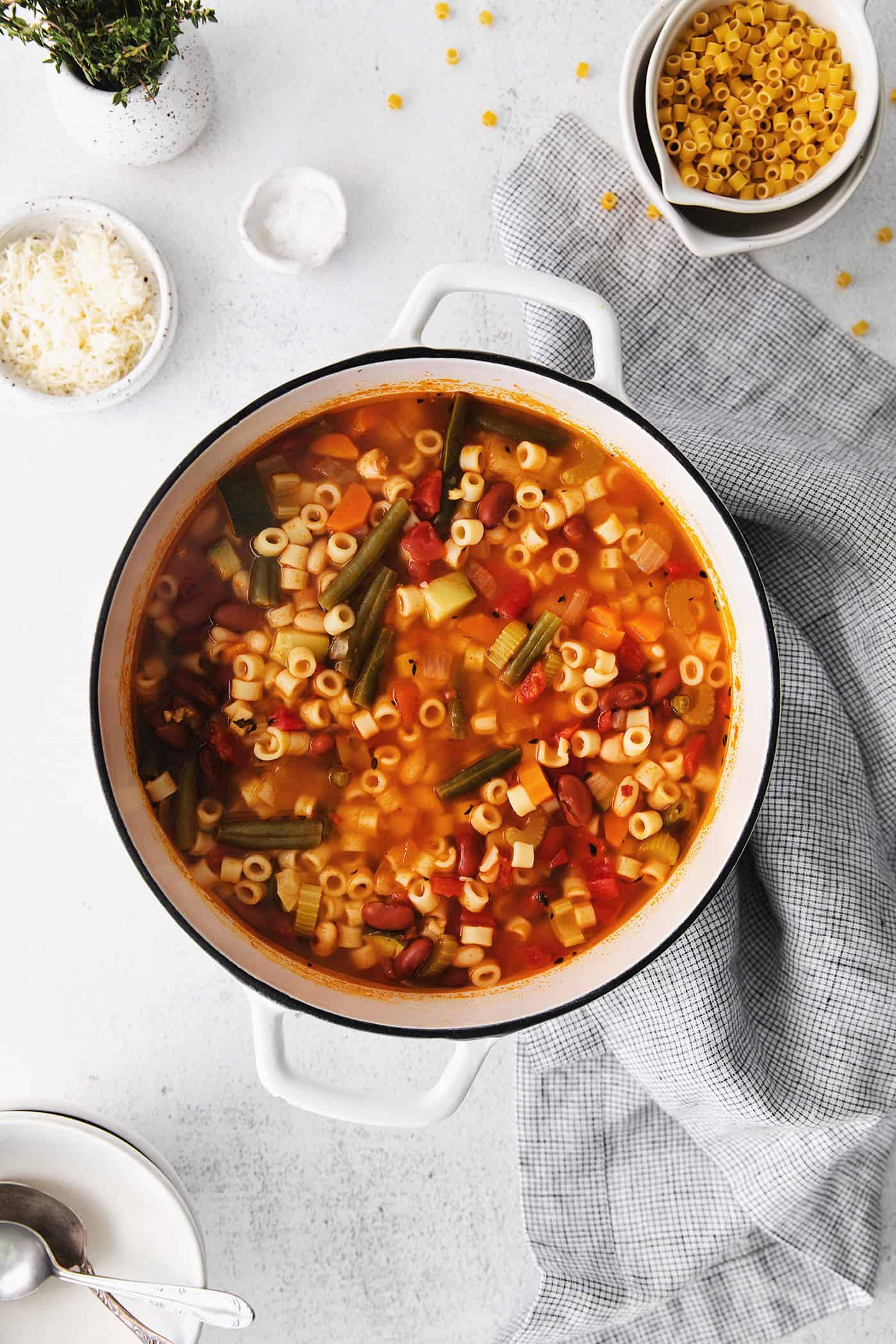 What is Minestrone Soup?
Minestrone soup is a classic Italian vegetarian soup, made with lots of vegetables, beans, and a tomato-y broth. Small pasta (and sometimes rice) is also added to make it a heartier soup. My first experience with minestrone soup was at Olive Garden many, many years ago…maybe you've had it there, too?
Minestrone is a forgiving soup, as it was originally meant to include whatever seasonal vegetables were on hand. So it's a great way to use up any of those dribs and drabs of vegetables that seem to accumulate in the fridge and pantry. The soup is hearty, warming, and a great vegetarian soup option for chilly days (or anytime!)!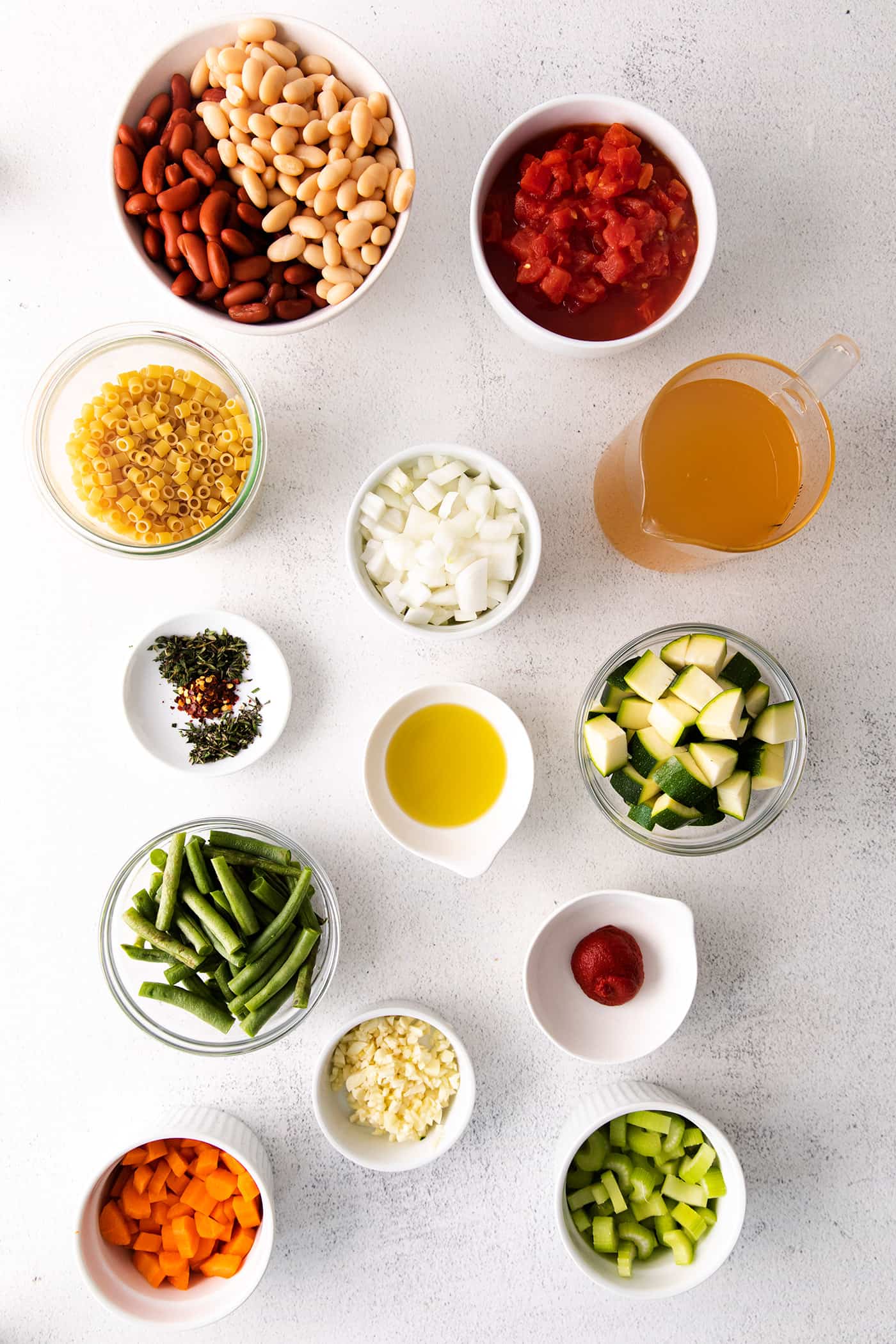 What You'll Need
Most minestrone soup ingredients can likely already be found in your kitchen, as it's made with veggies and many pantry staples.
Olive oil – Olive oil is used to sauté the vegetables and ensure that they soften but don't burn.
Onion, carrot & celery – Minestrone soup is made using a classic mirepoix– onion, carrot, and celery. This soup is no exception! If you want to add different flavors to the soup, try swapping out the onion for leek or shallot.
Garlic – Garlic adds delicious flavor and enticing aroma to the soup and enhances the earthiness in the vegetables.
Tomato paste – Tomato paste adds a deeper, richer tomato flavor to the broth.
Stock – I use low sodium vegetable broth in this recipe, but you can also use chicken broth.
Diced tomatoes – If you want to add a slightly smoky flavor to the soup, swap the plain diced tomatoes for fire roasted tomatoes.
Canned beans – I use both red kidney beans and great northern beans in this recipe, but feel free to use what you have on hand. Just make sure to rinse them well.
Ditalini pasta – Ditalini pasta is a fun small pasta shape that our family adores, but you could also use elbow pasta or your own favorite smaller pasta.
Zucchini – Zucchini adds delightful fresh bites to the soup.
Green beans – Green beans add a bit of a softened crunch and another layer of fresh flavor. I always aim for the beans to be al dente, so if your beans are very thin, consider adding them a few minutes after you add the pasta so they don't overcook.
Fresh herbs – Thyme and rosemary compliment the vegetables in this soup so well. I'm a huge fan of fresh herbs, but dried herbs will work in a pinch.
Red pepper flakes – Red pepper flakes add a touch of heat, but they are completely optional. Feel free to add as little or as much as you like. Of course, you could also omit the pepper flakes and offer some on the table for people to add as they like.
Parmesan rind – A Parmesan rind adds a delicious nutty flavor to the soup broth. But if you don't have one, no worries!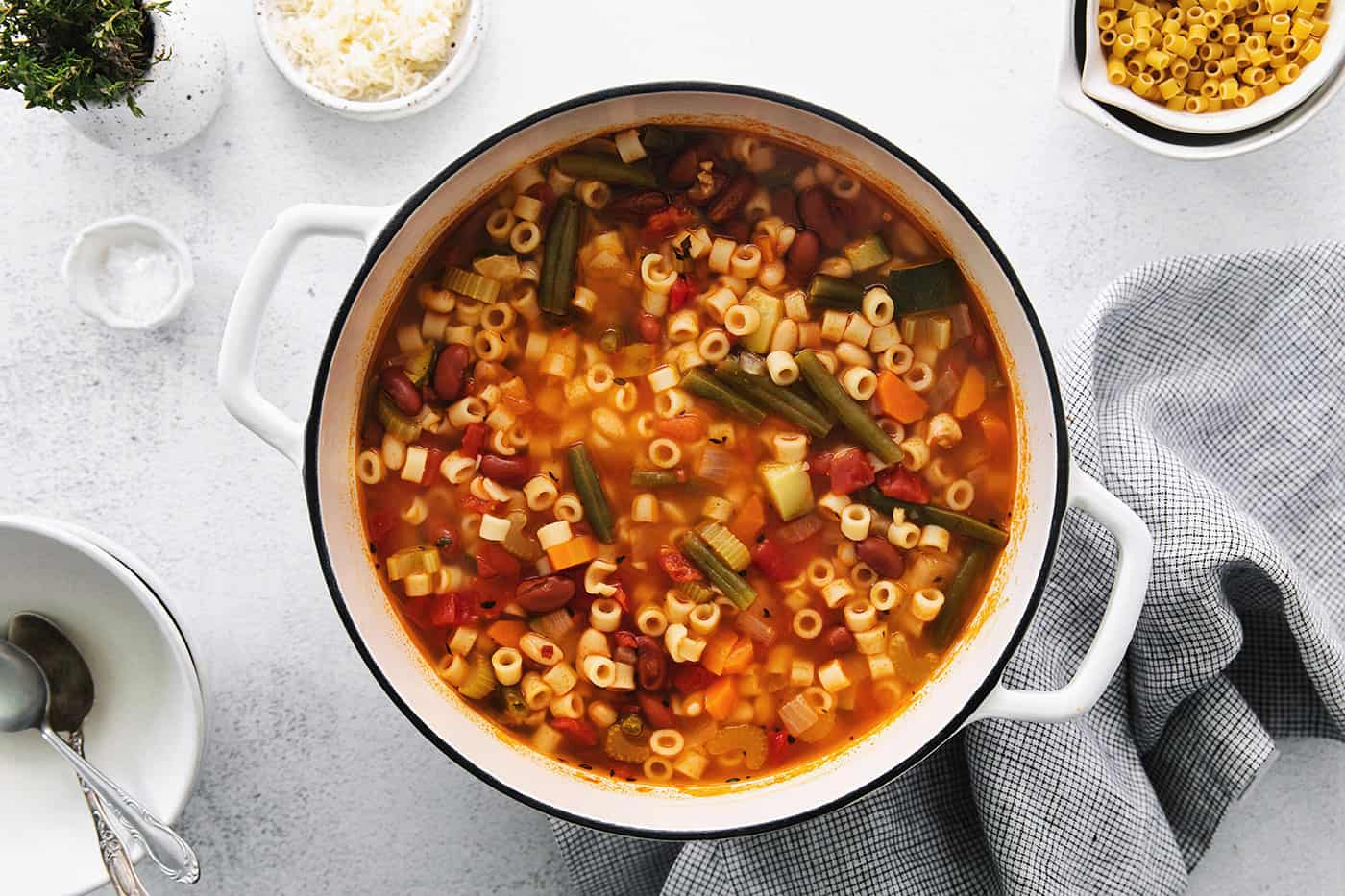 How to Make Minestrone Soup
Homemade minestrone soup is quick and easy to make, with just a few steps and cook time of well under an hour.
Sauté the vegetables. Sauté the onion, carrot, and celery until tender and just beginning to brown.
Add the remaining ingredients. Stir in the tomato paste and garlic, and cook for 1 minute. Then add a cup of stock and scrape any browned bits off the bottom of the pan. Stir in the remaining stock and all of the other ingredients.
Boil. Bring the soup to a gentle boil and cook until the pasta is al dente, stirring regularly.
Serve. Serve warm, topped with freshly shredded Parmesan. Add a sprinkle of fresh thyme or parsley, if desired.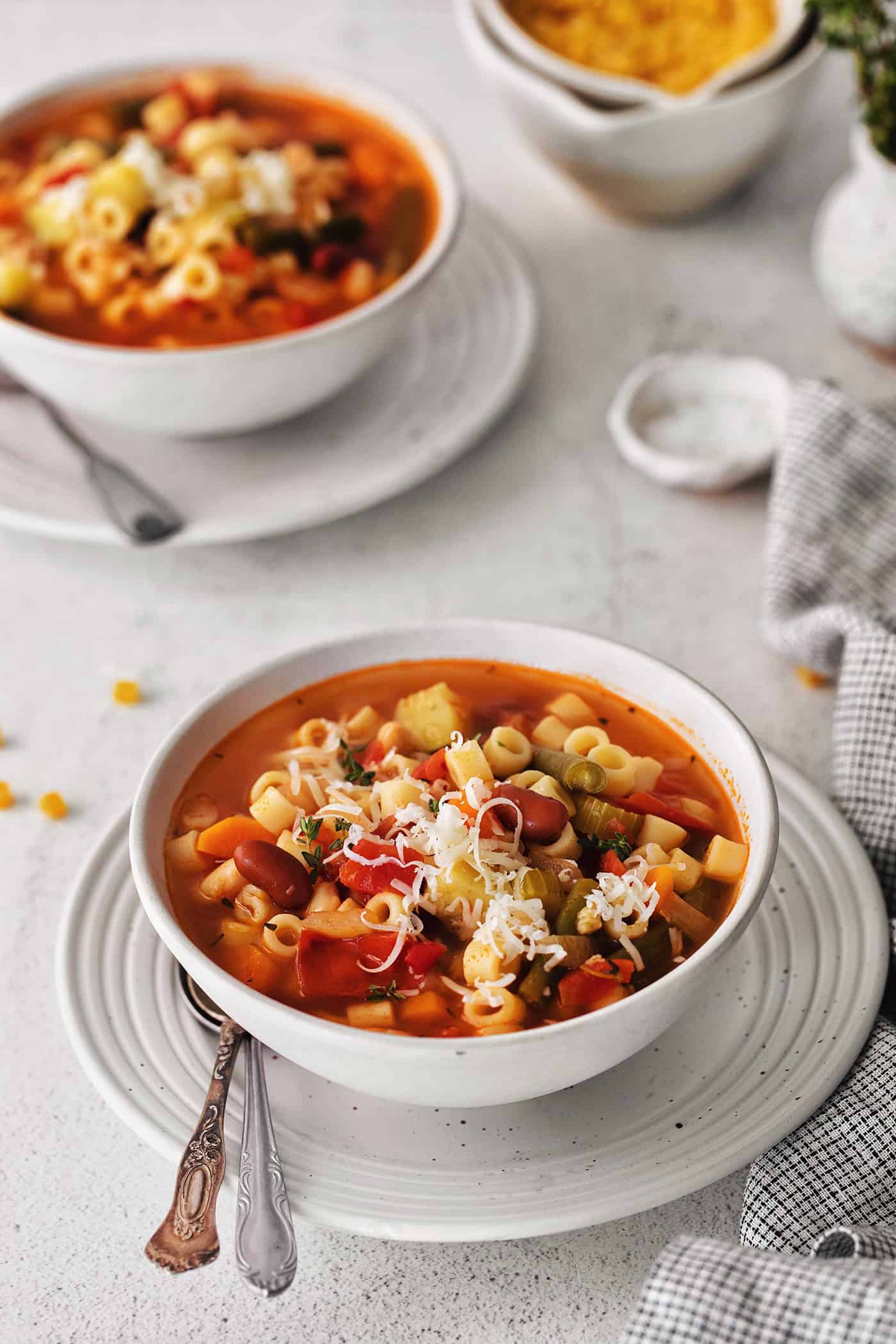 Recipe Variations
As minestrone soup was originally made as a way to use up leftover vegetables, the ingredients list is forgiving and adjustable. If you don't have an ingredient on hand, in most cases you can just omit it, and there are many more you can add as well. Here are some ideas:
Add extra beans instead of pasta
Use yellow squash or butternut squash instead of zucchini
Add some potatoes – Russet or Yukon potatoes and sweet potatoes are all good options
Add little pops of fresh sweetness with fresh or frozen peas
Use fresh, diced tomatoes instead of canned tomatoes
Substitute farro, barley, or rice for the pasta
Add cooked Italian sausage
Stir in kale or spinach just before serving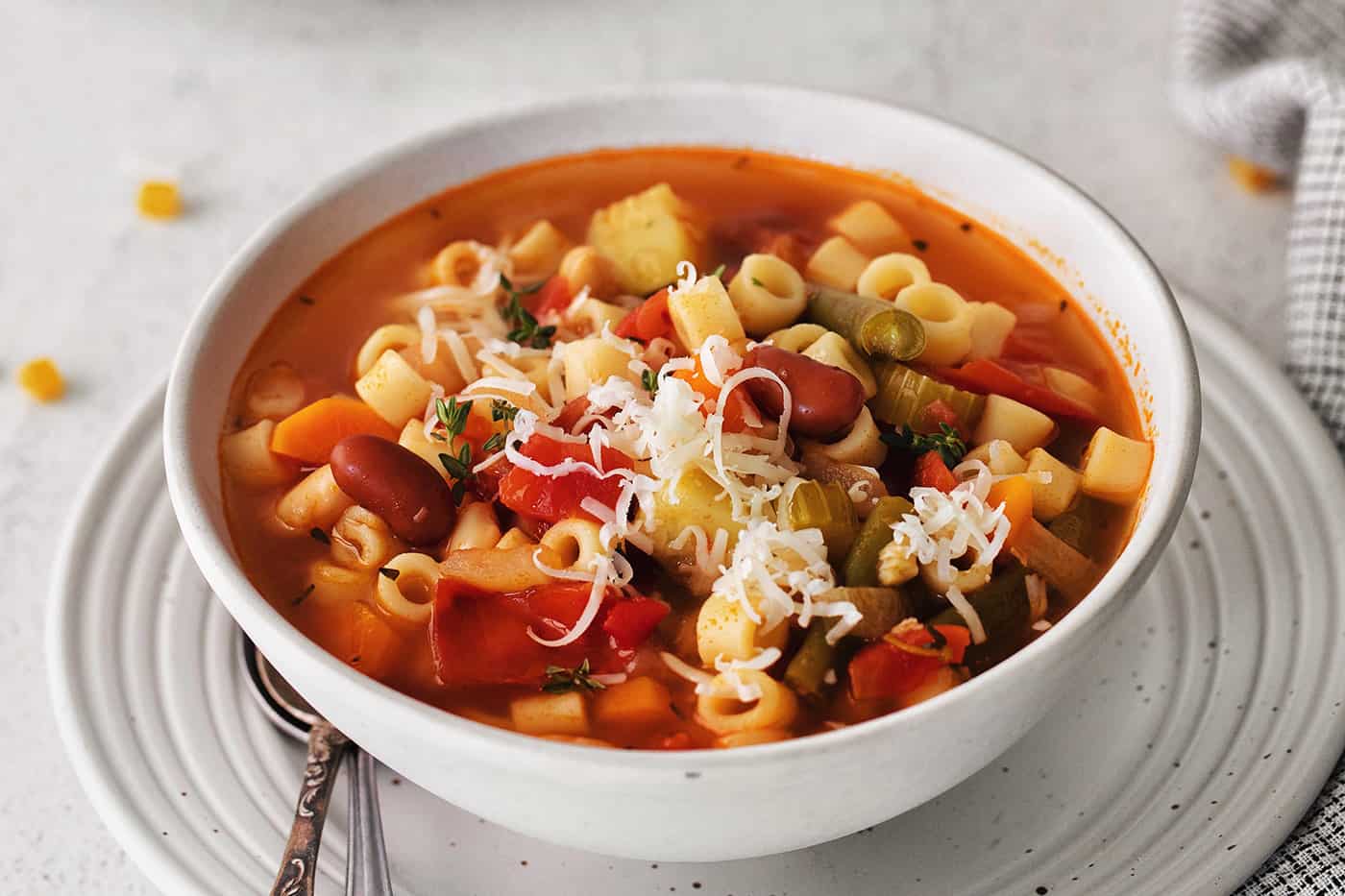 Tips for Success
There are no real secrets to making this easy minestrone soup, but here are a few things that might be helpful to keep in mind:
Add the beans later. I like my beans to be very soft and tender. If you prefer firmer beans, add them after the soup comes to a boil.
Cut vegetables to the same size. For even cooking, try to cut all vegetables to approximately the same size. Also note if using potatoes, sweet potatoes, and butternut squash – these will take longer to soften than the other vegetables, so you might want to cut them a bit smaller and also allow them to cook for a bit in the broth before adding the pasta.
Rinse and drain your beans. This helps to wash off any extra sodium and saltiness.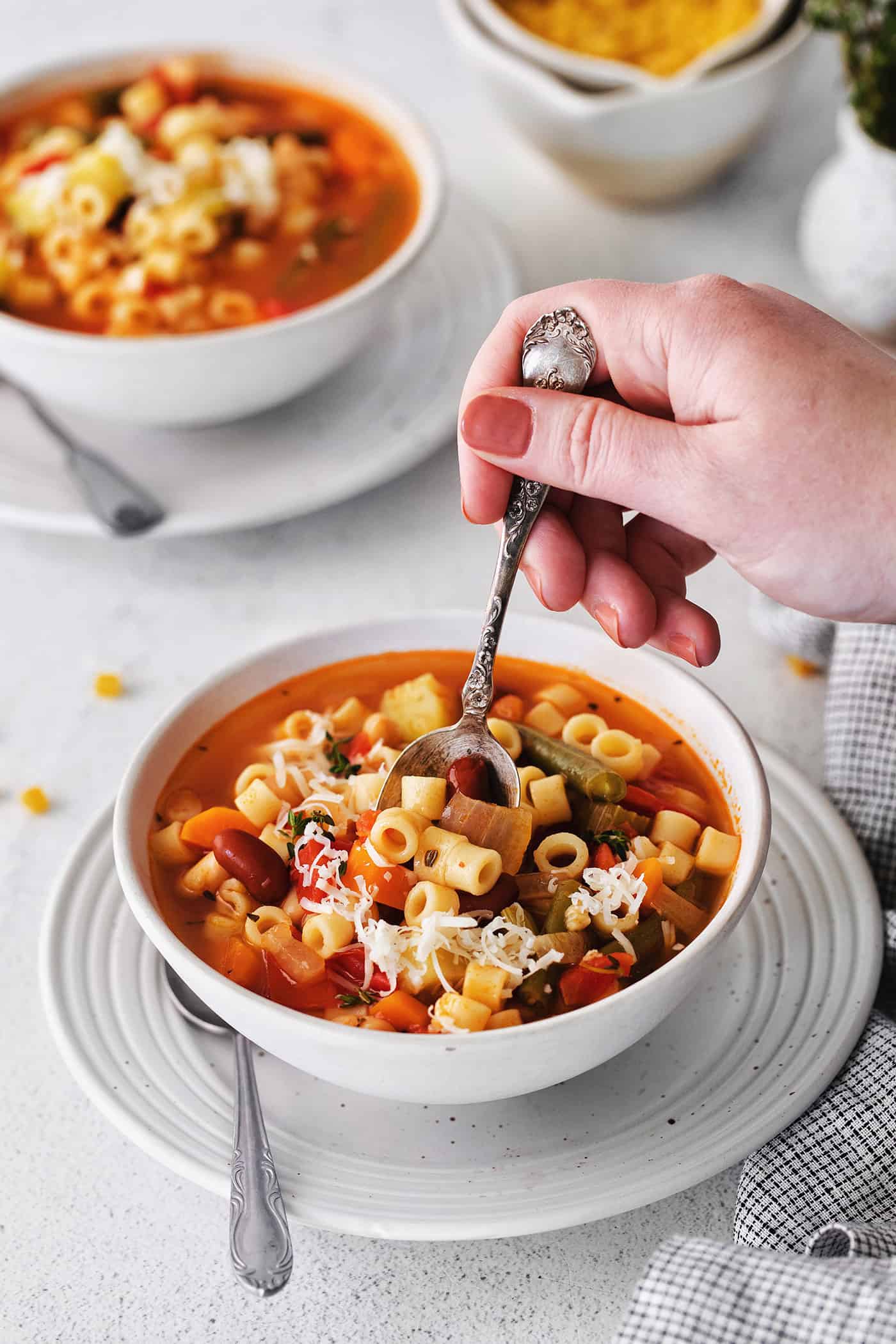 Serving Suggestions
I recommend serving this soup immediately, as the pasta will continue to absorb the broth the longer it sits. If you know you'll have leftover soup, consider cooking the pasta separately and adding it to individual bowls of soup. This will ensure firm pasta in every bowlful!
Vegetarian minestrone soup is typically served as a main course, though you can serve a smaller bowl as a starter as well. I like to top mine with some fresh Parmesan, plus a bit of fresh thyme and/or parsley. If desired, serve with a big green salad – this Italian Chopped Salad is wonderful – and some cheesy homemade garlic bread.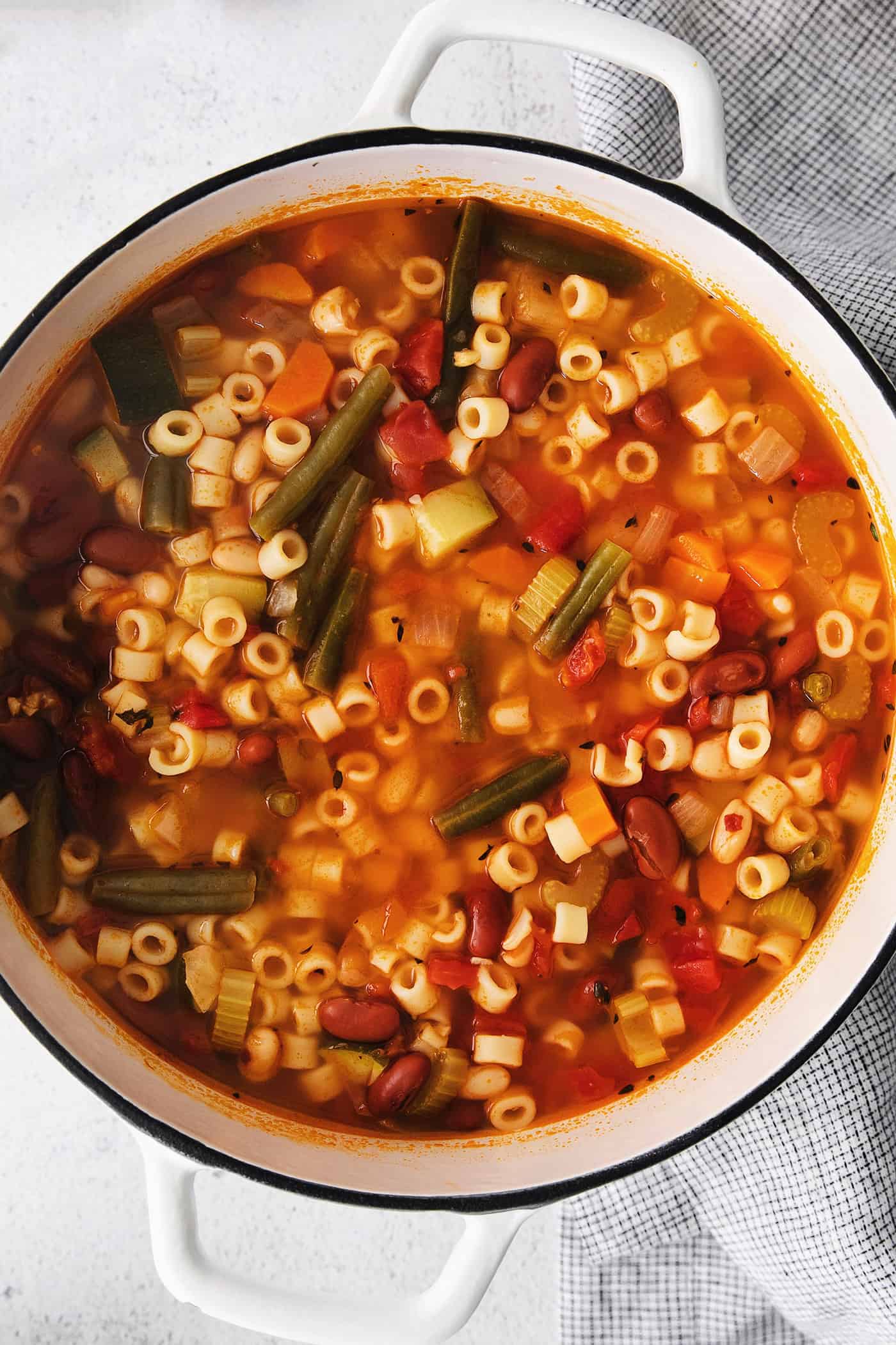 Can I Freeze This?
If you plan on freezing your minestrone soup, it is best to cook the pasta separately or leave it out. If you freeze the soup with the pasta included, the pasta will soak up the broth and become mushy. Instead, prepare the soup as directed and simply leave out the pasta. Allow the soup to cool completely and then transfer it to freezer-safe containers and store in the freezer. Thaw overnight in the fridge, then reheat on the stovetop and add some freshly cooked pasta.
How to Store & Reheat Leftovers
Any leftover minestrone soup can be stored in an airtight container in the fridge for up to 4 days. Reheat in the microwave or on the stovetop until warmed through.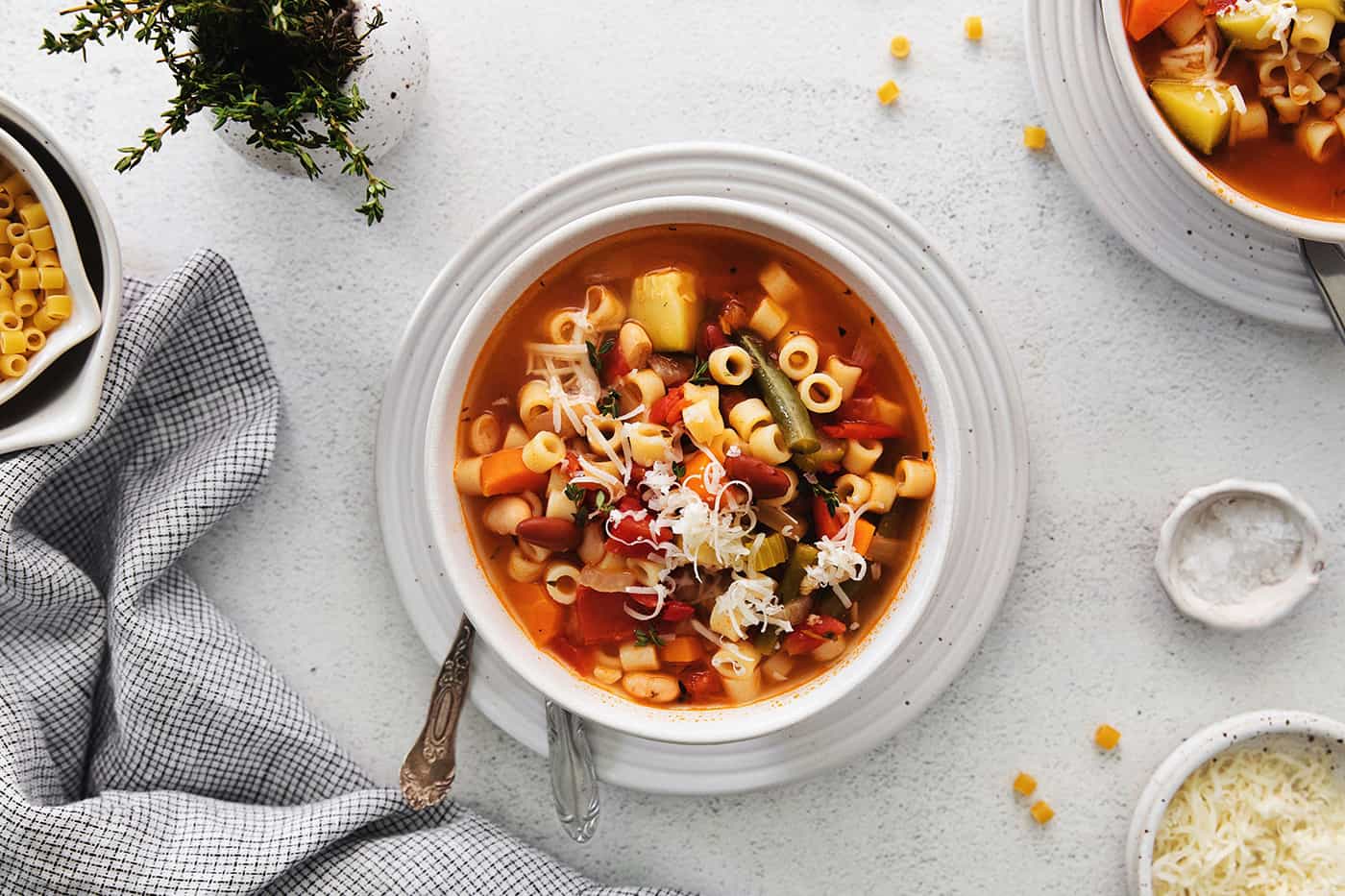 More Soup Recipes:
Like this recipe? Save it to Pinterest!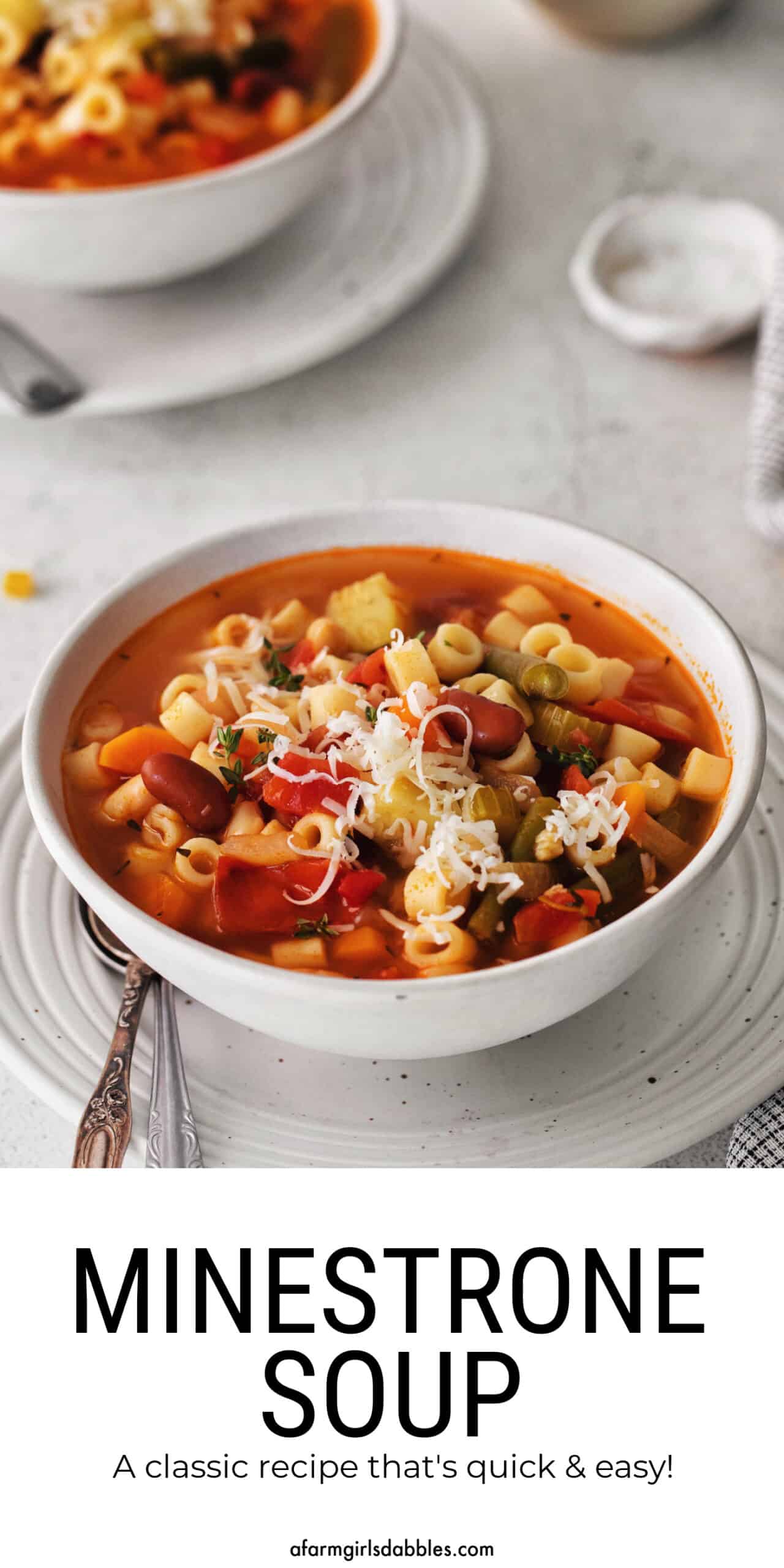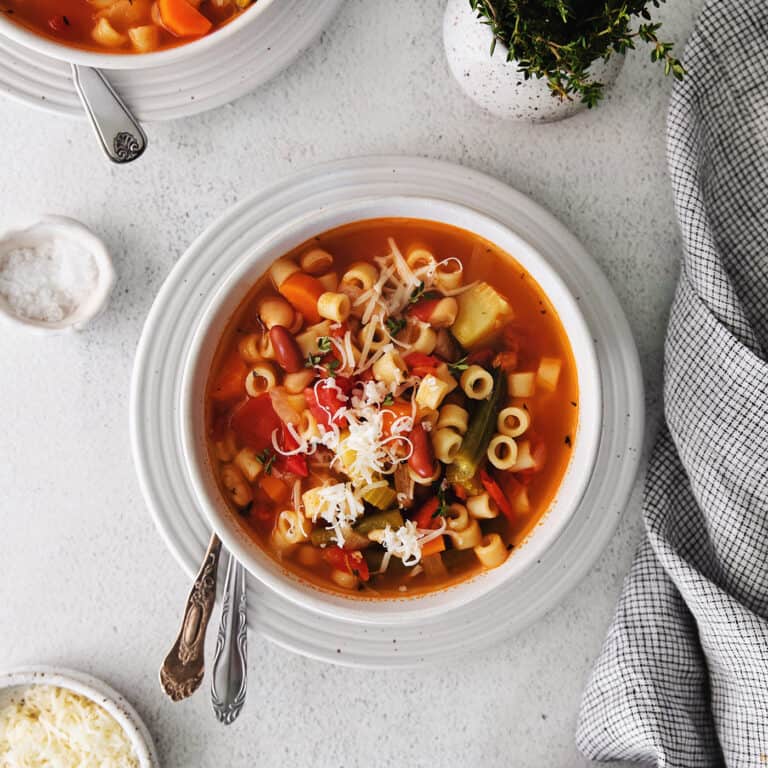 Minestrone Soup
Yield: 6 large servings
Prep Time: 20 minutes
Cook Time: 20 minutes
Total Time: 40 minutes
Loaded with vegetables, beans, and pasta this classic Minestrone Soup Recipe comes together in just 30 minutes! It's a healthy & hearty weeknight dinner, perfect for the cooler months!
Ingredients
2 tablespoons olive oil
1 cup diced yellow onion
1 cup peeled, diced carrot
1 cup diced celery
4 large cloves garlic, minced
1/4 cup tomato paste
6 cups low sodium vegetable stock (or chicken stock)
1 (15 ounce) can diced tomatoes (do not drain)
1 (15 ounce) can light red kidney beans, drained and rinsed
1 (15 once) can great northern beans, drained and rinsed
8 ounces ditalini pasta
1 cup diced zucchini
1 cup green beans, cut into ½" pieces
1 teaspoon minced fresh thyme
1/2 teaspoon minced fresh rosemary
1 teaspoons kosher salt
1/4 teaspoon ground black pepper
1/4 teaspoon red pepper flakes, optional (Use less or more - I personally add 1/2 teaspoon)
Parmesan rind, optional
Instructions
Heat a large dutch oven over medium heat, and then add the olive oil. Once the oil is hot, add the onion, carrot, and celery. Sprinkle with a small pinch of salt (about ¼ teaspoon). Cook, stirring occasionally, until the vegetables are tender and just beginning to brown, about 5 minutes or so.
Add the garlic and tomato paste. Stir to coat the vegetables with the tomato paste and cook for an additional minute.
Add 1 cup of stock to the pan and scrape any browned bits off the bottom of the pan with a wooden spoon. Add the remaining vegetable stock along with the remaining ingredients (diced tomatoes, beans, pasta, zucchini, green beans, thyme, rosemary, salt, pepper, red pepper flakes, and parmesan rind).
Stir to combine and then bring the soup to a gentle boil. Cook for 5 minutes, or until the pasta is just al dente. Stir regularly to ensure that the pasta isn't sticking to the bottom of the pot.
Season with additional salt and pepper to taste. Serve warm topped with a sprinkle of freshly grated parmesan and a bit of fresh thyme and/or parsley.

Store any leftover soup in an airtight container in the fridge for up to four days.
Notes
I recommend serving this soup immediately, as the pasta will continue to absorb the broth the longer it sits. If you know you'll have leftover soup, consider cooking the pasta separately and adding it to individual bowls of soup. This will ensure firm pasta in every bowlful!


Nutrition Information:
Yield: 6
Serving Size: 1
Amount Per Serving:
Calories: 289
Total Fat: 6g
Saturated Fat: 1g
Trans Fat: 0g
Unsaturated Fat: 4g
Cholesterol: 1mg
Sodium: 813mg
Carbohydrates: 48g
Fiber: 11g
Sugar: 10g
Protein: 13g
Nutrition information is automatically calculated by Nutritionix. I am not a nutritionist and cannot guarantee accuracy. If your health depends on nutrition information, please calculate again with your own favorite calculator.