Tabbouleh
This Tabbouleh salad is healthy and vibrant, and comes together very easily. It makes for a tasty light lunch or a flavorful side salad that's part of a larger meal.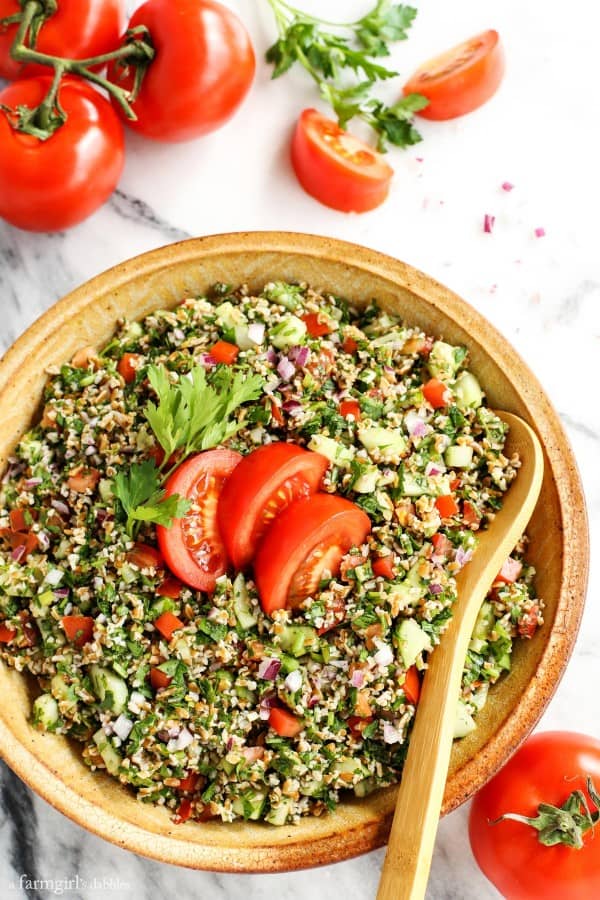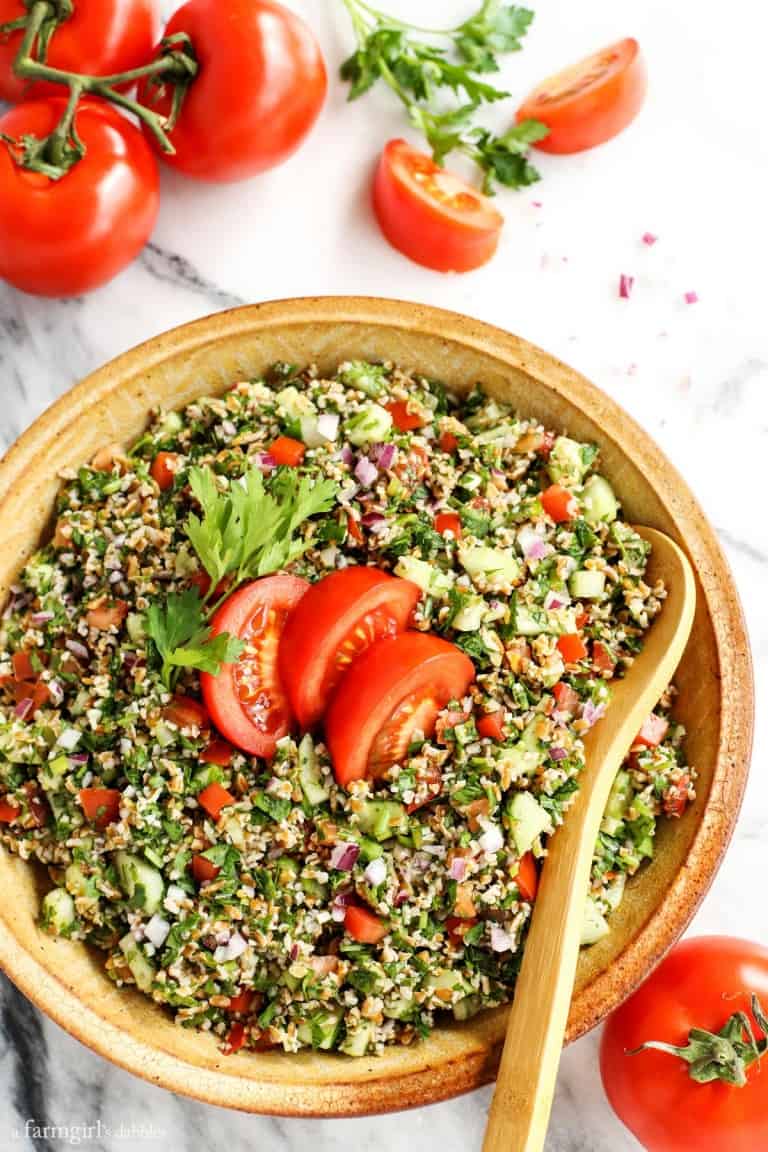 * This post is sponsored by Bushel Boy™ Tomatoes.
Our oldest daughter is some kind of crazy for lamb dishes, especially shawarma (or gyros), with lamb meat hot and freshly carved from the spit. Hatti fell in love with a number of authentic Middle Eastern dishes while we stayed with my sister's family in Cairo, Egypt a number of years ago. That trip left an impression on her, and I so enjoy watching her adventurous spirit at the table.
Whenever we visit a Middle Eastern restaurant, usually with prompting from our daughter, I can't resist ordering a side of tabbouleh. This dish takes me back to Egypt and walking the tightly packed streets of the Khan el-Khalili, a major souk (open-air market) in Cairo. Every time I eat this salad, I ask myself why I never create it at home. Well I'm happy to say that I finally got around to making that happen. This Tabbouleh salad is fresh and flavorful, a vibrant dish to add to most any meal.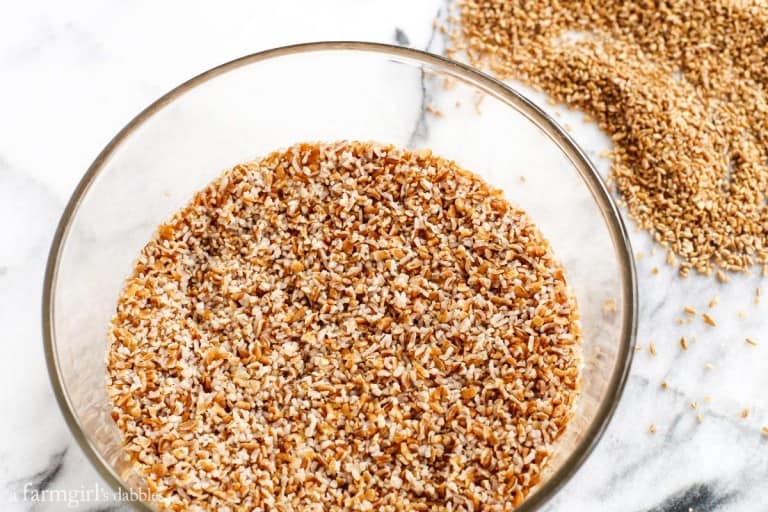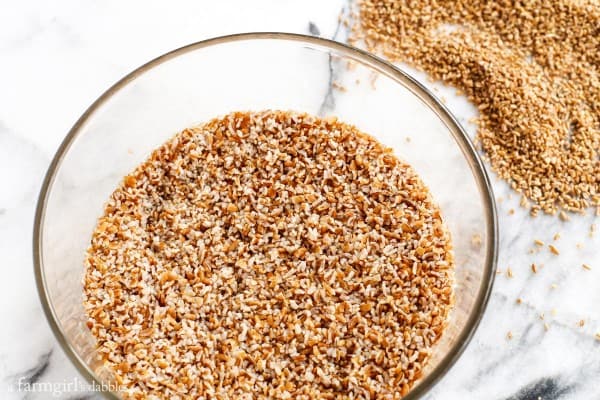 Tabbouleh is a classic Middle Eastern dish that has been adopted and adapted by menus all over the globe. There are different variations on this dish, but it mostly comes down to bulgur wheat and fresh parsley, tomatoes, and cucumbers.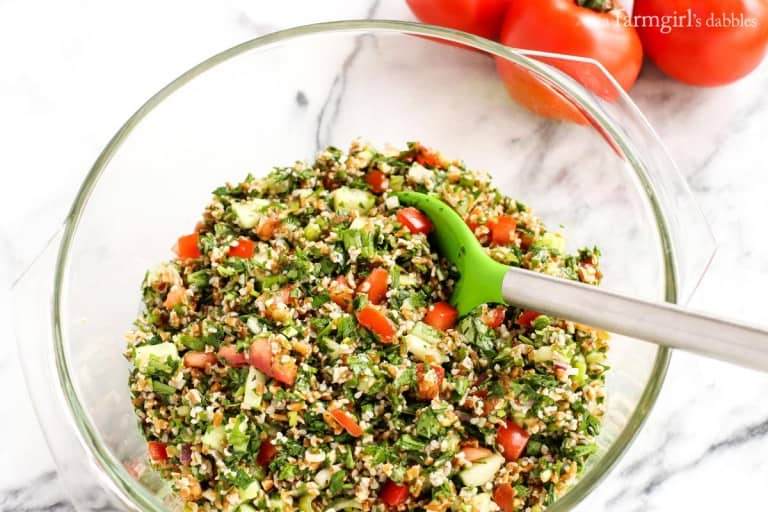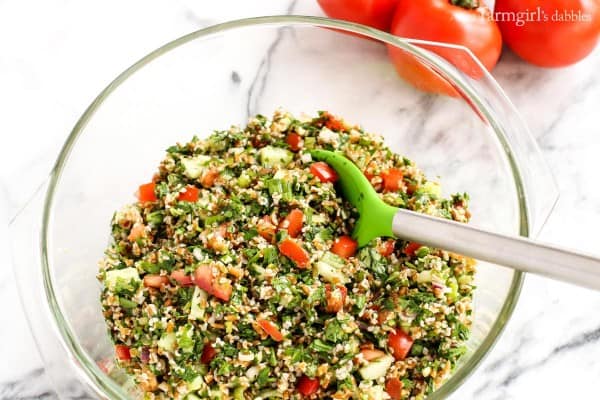 I'm partial to the tabbouleh salads that also include a noticeable amount of fresh mint and garlic, so that's what you'll find here. You'll notice that the salad is quite green, as it's famous for its domination of parsley.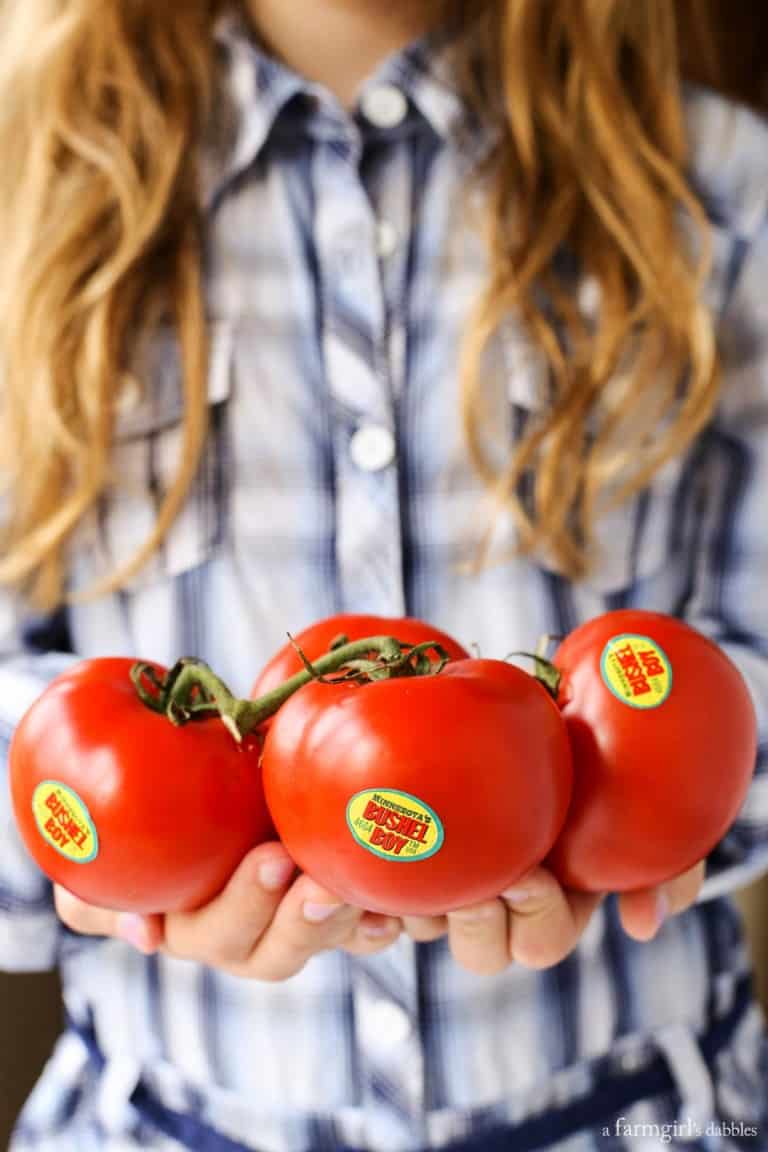 If we were in the middle of August right now, I'd be using sun-kissed, super sweet tomatoes from our own garden for this salad. But when I don't have that luxury…which is most of the year, actually…I turn to Bushel Boy vine-on tomatoes. These tomatoes are grown right here in Minnesota, and you'll often find them on our family table.
Bushel Boy Farms was founded in Owatonna, Minnesota, in 1990 with a simple desire to grow fresh, vine-ripened tomatoes year-round. Yes, even in the middle of January. I know how much I appreciate going to the store in the middle of winter, knowing I'll be able to find tomatoes that have been picked red, ripe, and juicy.
Bushel Boy tomatoes are grown year-round in Minnesota greenhouses, products of the pollination of happily buzzing bees. These tomatoes are vine-ripened to ensure full flavor and are then transported to the fresh produce section of grocery stores. Click here to find out where Bushel Boy tomatoes are available. Be sure to also check out Bushel Boy on Facebook.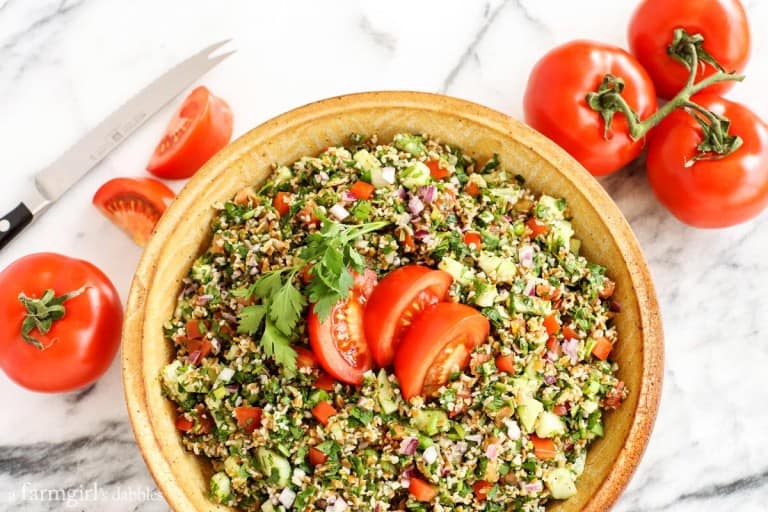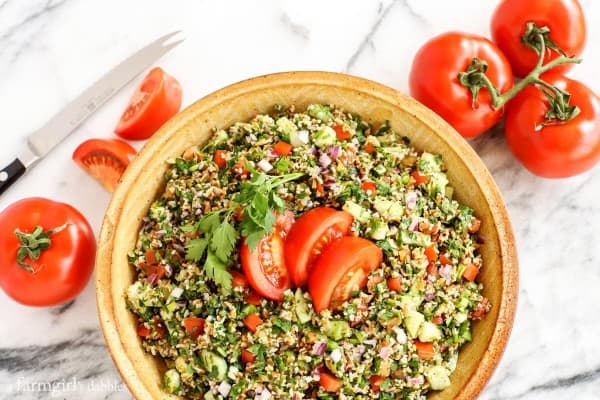 This tabbouleh recipe is healthy and vibrant, and comes together very easily. It makes for a tasty light lunch and is also welcomed at any backyard gathering as a fresh side salad. I especially like to serve tabbouleh alongside grilled meats, which makes this an excellent dish for your upcoming summer menus. Think grilled chicken, fish, and kebabs…these are some of my favorite ways to enjoy a side of tabbouleh.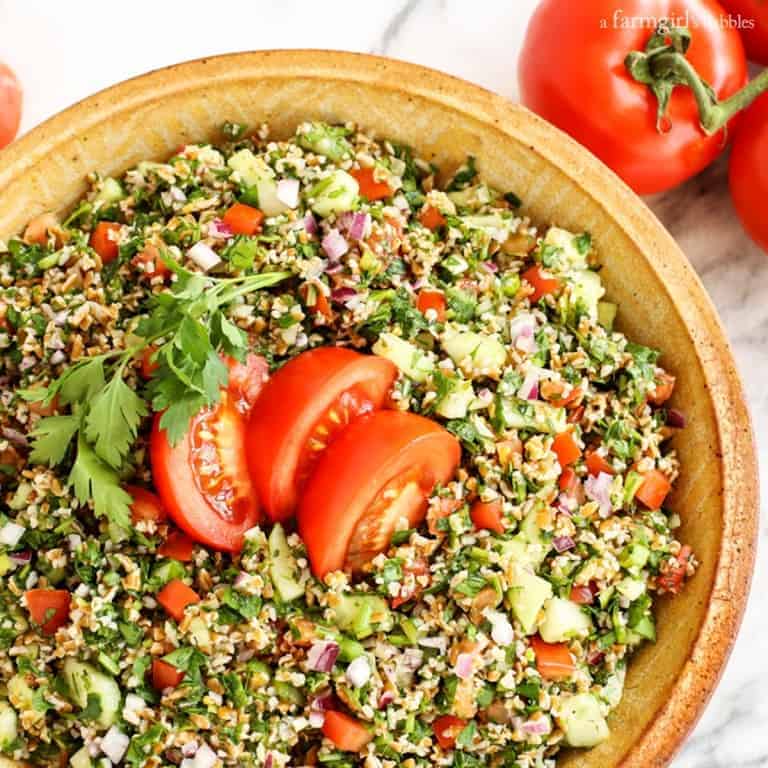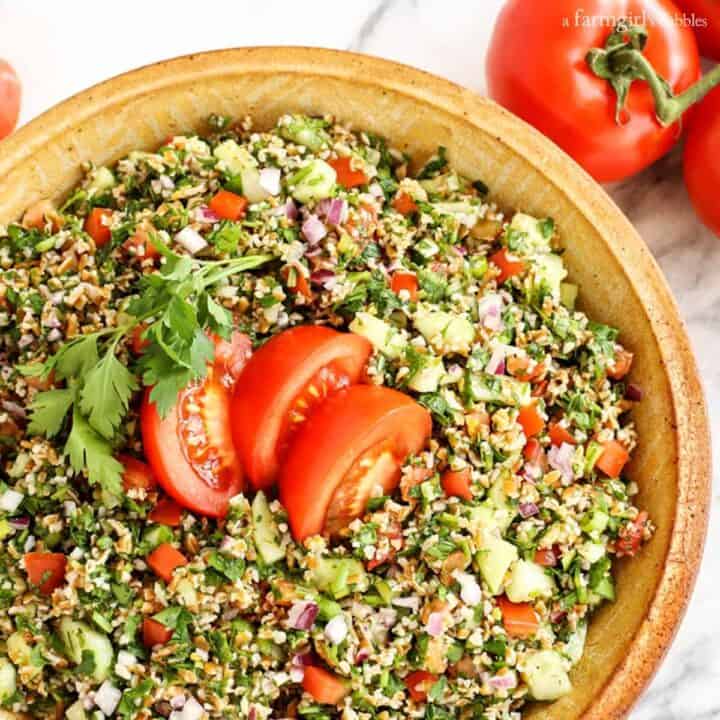 Tabbouleh
Yield: 8 servings
Prep Time: 30 minutes
Total Time: 30 minutes
This Tabbouleh salad is healthy and vibrant, and comes together very easily. It makes for a tasty light lunch or a flavorful side salad that's part of a larger meal.
Ingredients
1 c. bulgur
1.5 c. boiling water
3 T. extra-virgin olive oil
1/4 c. freshly squeezed lemon juice
zest of 1 lemon
2 large cloves garlic, minced
1 tsp. kosher salt
1/8 tsp. freshly ground black pepper, or more, to taste
2 c. finely chopped flat-leaf parsley (this will take 2 to 4 good sized bunches)
1/2 c. finely chopped fresh mint
4 green onions, white and green parts, minced
2 T. minced red onion
2 c. peeled and diced English or Persian cucumbers (these varieties are nearly seedless)
3 Bushel Boy vine-on tomatoes, divided
Instructions
Place bulgur in a small heat-proof bowl. Pour boiling water over the top and give bulgur a gentle stir. Let sit for 30 minutes. If any water remains after that time, drain the bulgur well using a fine mesh sieve. I also like to press on the bulgur with a few paper towels to extract as much of the water as possible. Then place bulgur in a large mixing bowl to cool to room temperature.
In a small bowl, whisk together olive oil, lemon juice, lemon zest, garlic, salt, and pepper. Pour over cooled bulgur and stir to coat evenly.
Add parsley, mint, green onion, red onion, and cucumber to bulgur. Then dice two of the vine-on tomatoes and add to the bulgur, leaving behind any tomato juices left on your cutting board. Fold gently to combine.
Place Tabbouleh in the refrigerator for 1 to 3 hours before serving. Transfer Tabbouleh to a serving bowl or platter. Slice the remaining vine-on tomato into wedges and arrange over the top of the salad. Serve immediately.
Notes
from a farmgirl's dabbles
Nutrition Information:
Yield: 8
Serving Size: 1
Amount Per Serving:
Calories: 82
Total Fat: 5g
Saturated Fat: 1g
Trans Fat: 0g
Unsaturated Fat: 4g
Cholesterol: 0mg
Sodium: 307mg
Carbohydrates: 8g
Fiber: 2g
Sugar: 1g
Protein: 2g
Nutrition information is automatically calculated by Nutritionix. I am not a nutritionist and cannot guarantee accuracy. If your health depends on nutrition information, please calculate again with your own favorite calculator.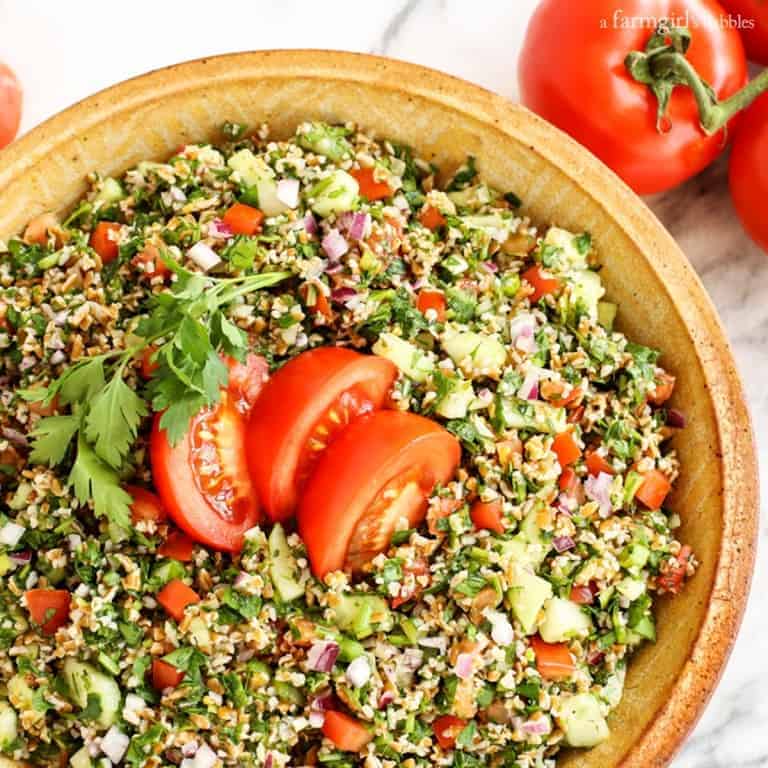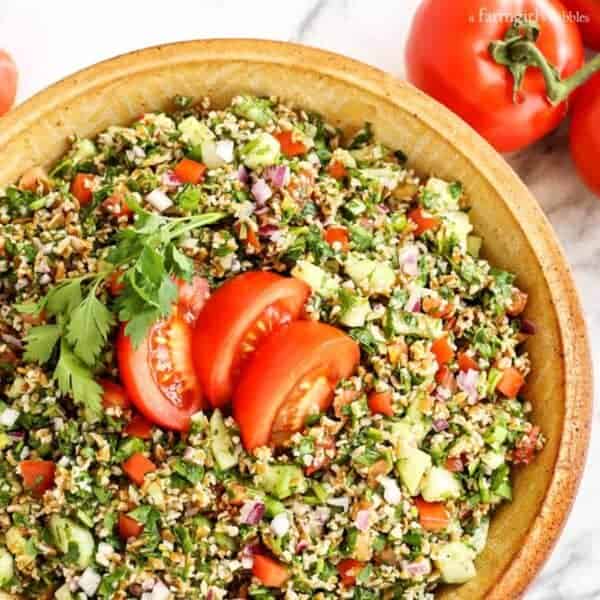 This post is sponsored by Bushel Boy Tomatoes, a local Minnesota fresh tomato company. All text and opinions are mine. Thank you for supporting the brands that help make this site possible!