Margarita Recipe for One AND for a Crowd
This Margaritas For a Crowd (Or for One) recipe is the only margarita recipe you need, whether you're yearning for a single weeknight cocktail or entertaining a backyard full of friends. Quick & easy, with just 4 ingredients!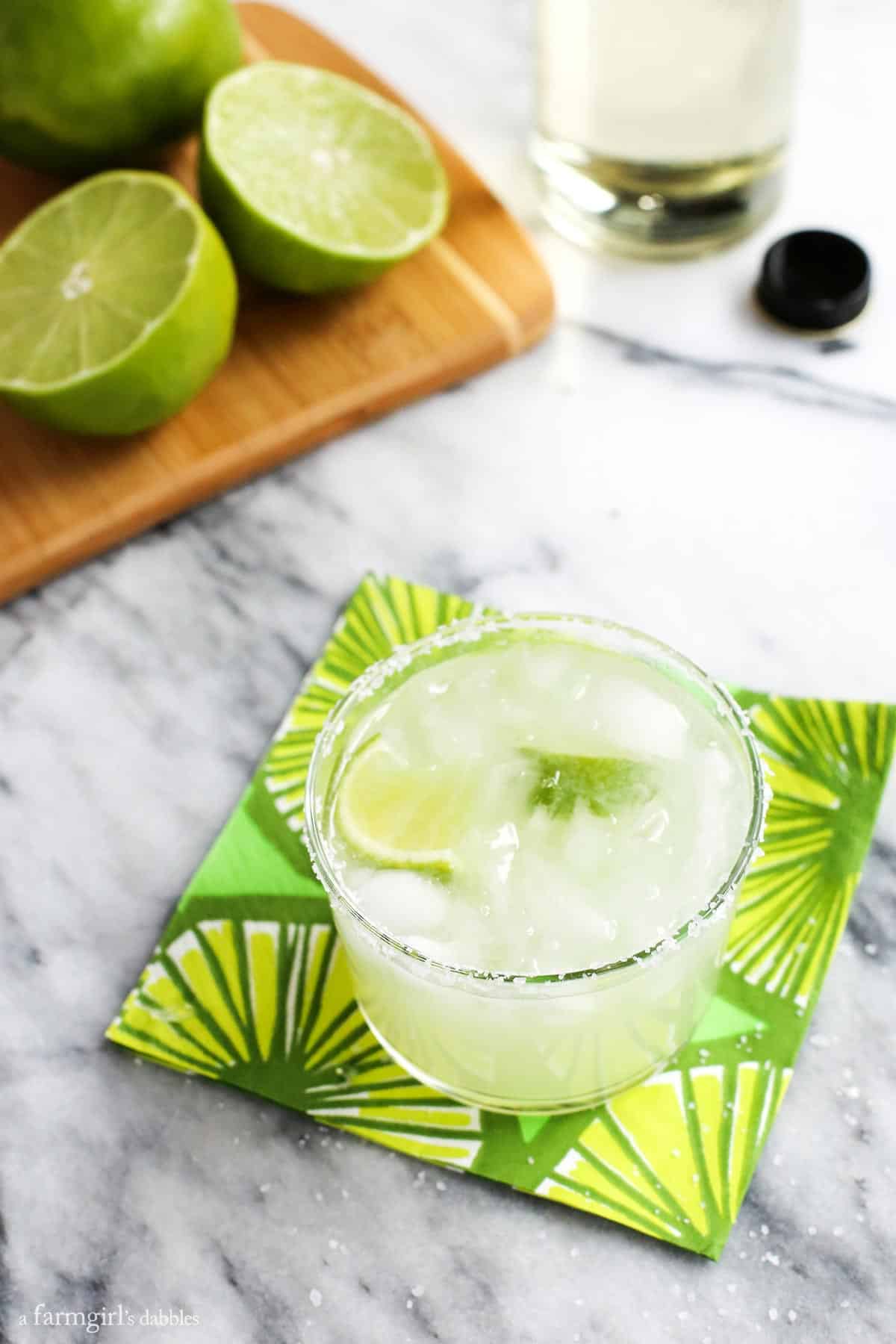 The Best Classic Margarita Recipe
I love a puckery, authentic margarita, and looooooong ago gave up on those fakey-tasting mixes and syrups. A single margarita is a cinch to mix up, so why waste my time on anything but the best margarita possible?! In just a few minutes, I can easily be sipping one of these thirst-quenching cocktails from a salt-rimmed glass!
This margarita recipe comes together with just a few ingredients. And I'm giving you two recipes in one, actually, with my Margaritas For a Crowd (Or for One):
First, a recipe for a single drink, perfect for that weeknight craving.
And second, a big-batch margaritas for a crowd recipe that comes in super handy when you're entertaining a group of friends…so you won't spend the whole evening measuring out portions for individual glasses. Super awesome concept, right?!
I love to serve these super casually, in half-pint canning jars for smaller margaritas – or in pint jars for larger margaritas with a whole lotta ice!
What You'll Need
This classic margarita recipe requires just 4 ingredients – tequila, orange liqueur, lime juice, and simple syrup. Quick, easy, and so good!
Tequila – I recommend using a silver or blanco 100% agave tequila for the cleanest, best flavor.
Cointreau – Cointreau is my preferred orange liqueur but triple sec works as well.
Lime juice – For margaritas and other cocktails, fresh lime juice is a must for me. The taste is SO MUCH BETTER.
Simple syrup – For a bit of sweetness. Use as little or as much as you like.
And if you like a salted rim, grab some coarse salt! (Totally optional!)
Recipe Variations
Of course, there are many, many margarita recipe variations out there – I just shared 10 awesome homemade margaritas – but here are a few of my favorites. Each of these recipes can easily be adapted into a big batch margarita!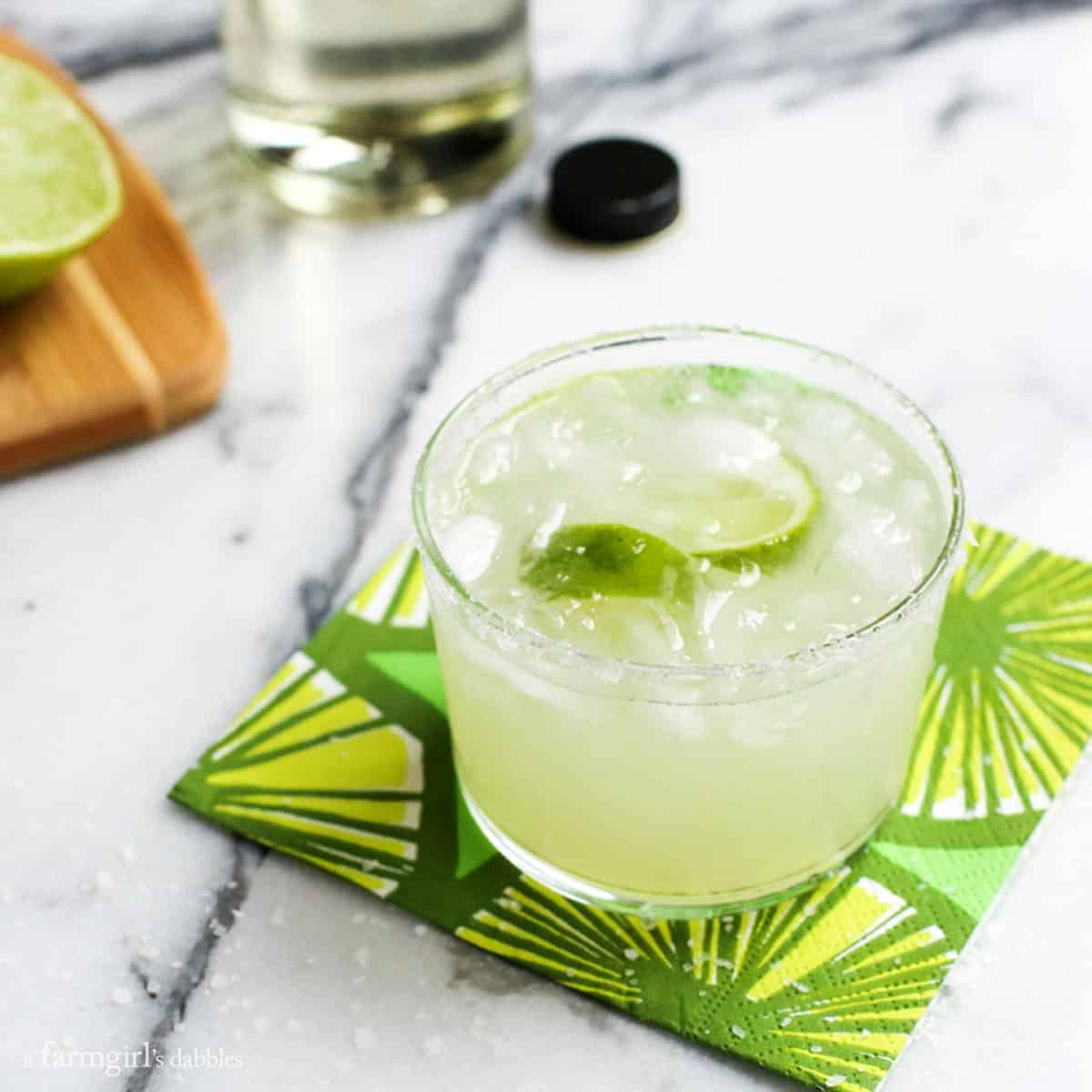 Easy Homemade Simple Syrup Recipe
Simple syrup is simple liquid sugar sweetener and it's so easy to make at home. All you need is equal parts water and sugar. I usually use 1 cup of each.
Stir the two together over high heat, bring to a boil, and stir until the sugar completely dissolves.
Allow to cool to room temperature and then store in a covered jar or container in the fridge for up to 4 weeks.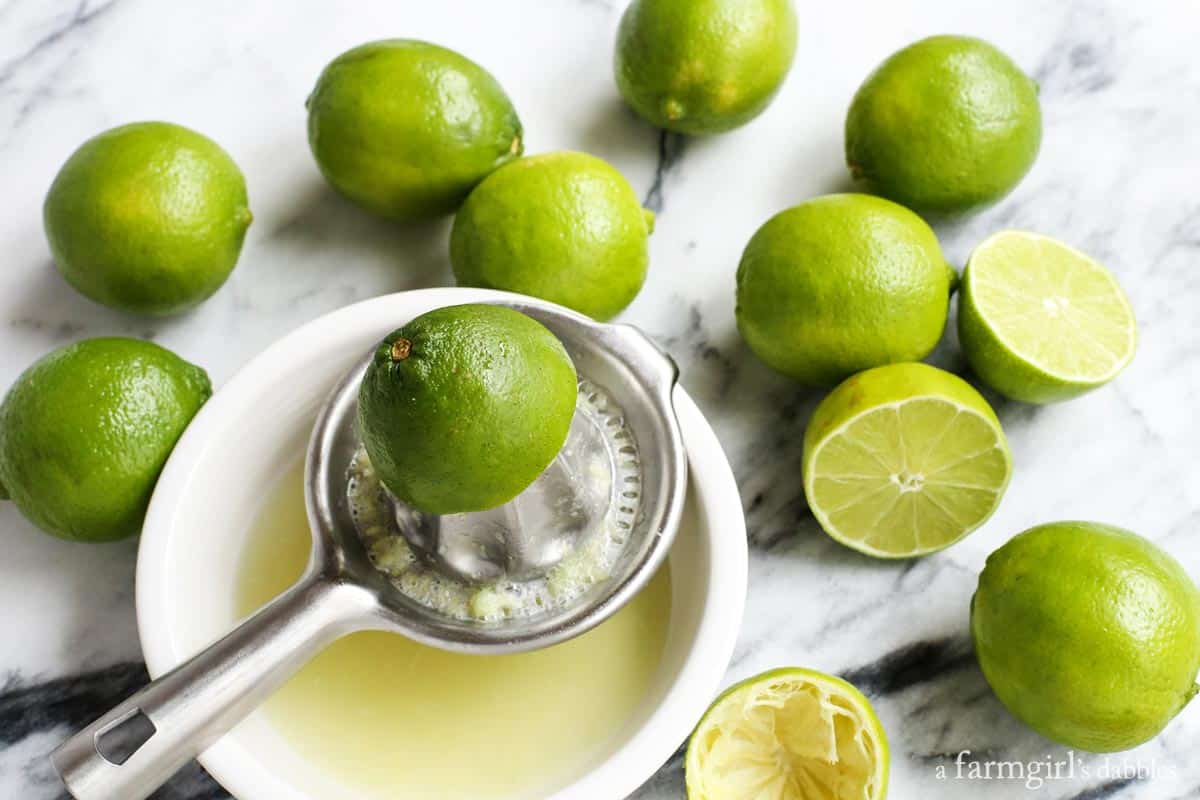 How to Make A Margarita (For One)
Craving a weekday marg with dinner? Here's how to make a single drink in just a few minutes.
Rim the glass. Use a lime wedge to moisten the rim of the glass. Dip into a small plate of coarse salt.
Combine the ingredients. Pour the tequila, Cointreau, and lime juice into the glass, then add simple syrup as desired. Stir and fill the glass with ice.
Enjoy. Squeeze a fresh lime wedge over the glass and enjoy!
How to Make Margaritas for a Crowd
These big batch margaritas are perfect for your next party or Mexican-themed dinner with friends. You can make 12 drinks all at once, in very little time!
Make the simple syrup. Prepare the simple syrup a day or so in advance and chill in the fridge. (I like to do this anyway and usually have it in the fridge, but especially when making margaritas for a crowd).
Combine the ingredients. Measure the tequila, Cointreau, and lime juice into a pitcher. Stir and place in the fridge.
Assemble individual drinks. Salt the rim of each glass (if desired), add 1/2 cup of the chilled margarita mix, and simple syrup as desired per guest. Stir, fill the glass with ice, and serve with a lime wedge or two.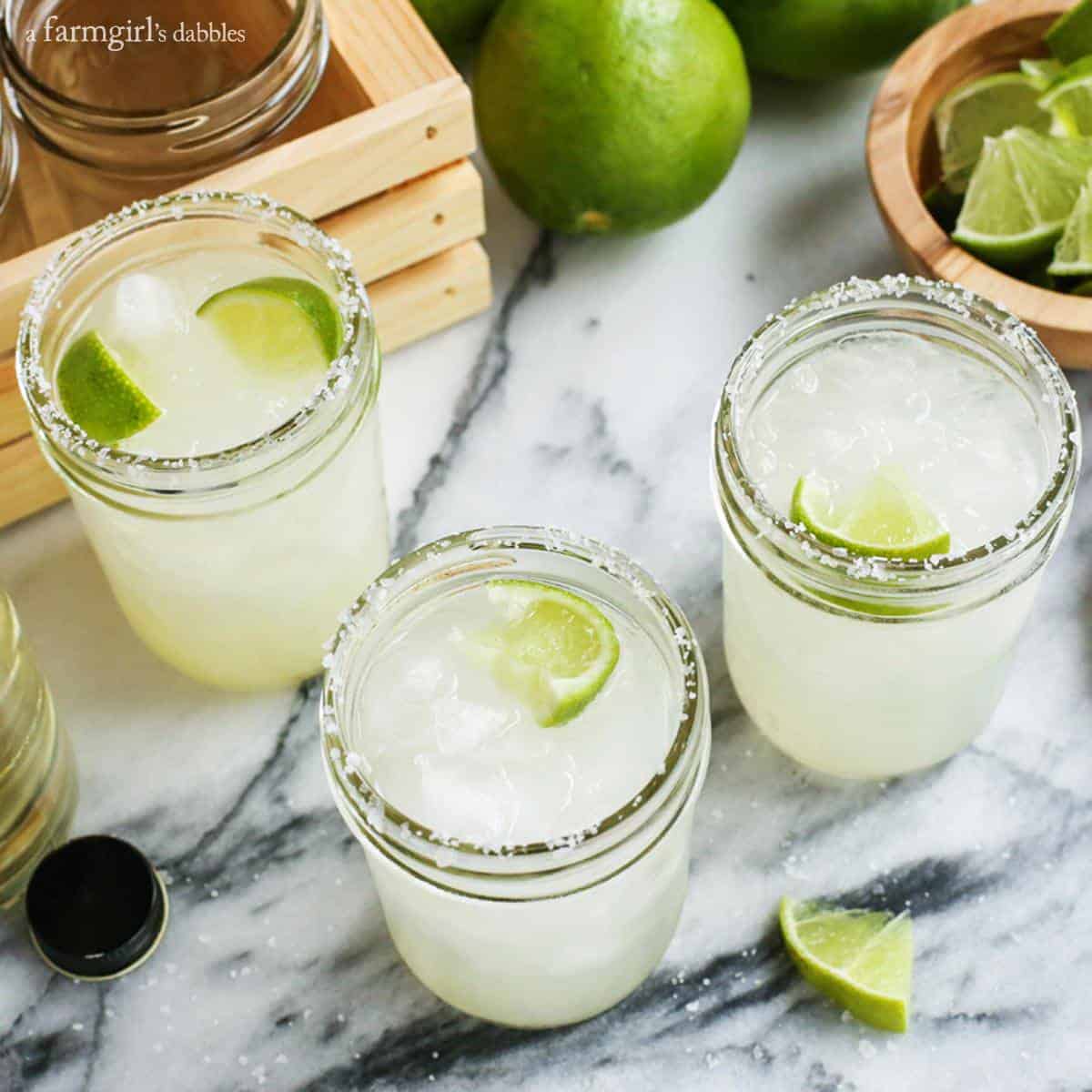 Can I Make This in Advance?
As I mentioned above, I like to prepare the simple syrup a day or so in advance so it's out of the way. As far as assembling the drink ingredients, I recommend doing that up to 4 hours before the guests arrive. This chills the ingredients so the drink stays cold longer, plus makes the "right before the party" prep easier. I love these make-ahead margaritas for entertaining!
Serving Suggestions
While I certainly don't need an excuse to drink a margarita and will argue that they can be enjoyed anytime, with anything, they are a must when enjoying any Mexican or Tex-Mex dishes. A few of my favorites are shredded pork carnitas, grilled shrimp ceviche, chipotle orange salmon, and cheesy beef and sweet potato taco casserole.
And if you don't want to prepare a whole meal to accompany your cocktail, you can never go wrong with chips & salsa or chips & guacamole!
More Tequila Cocktail Recipes: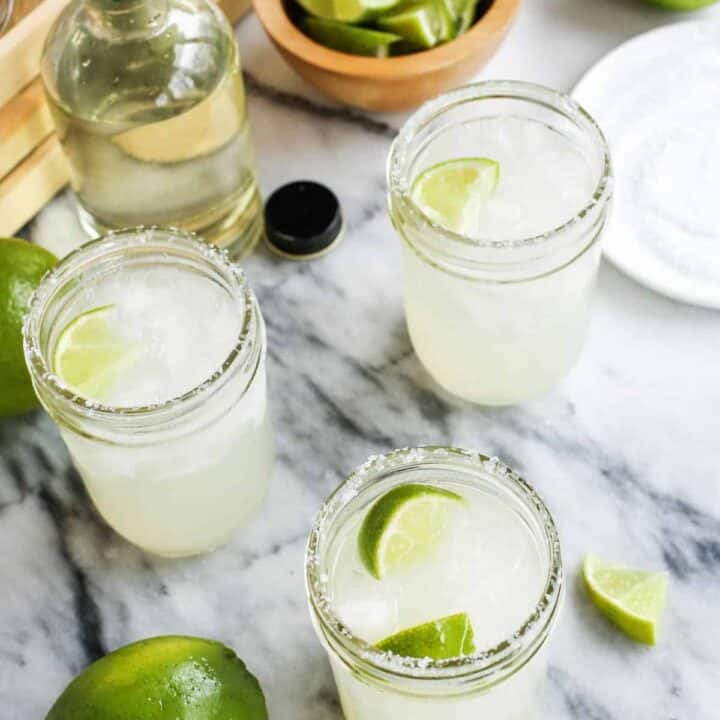 Margarita for One and For a Crowd
Yield: 12 cocktails
Prep Time: 5 minutes
Total Time: 5 minutes
Ingredients
FOR ONE:
2 ounces silver (or blanco) 100% agave tequila
1 ounce Cointreau (or other orange liqueur)
1 ounce freshly squeezed lime juice
Simple syrup, so taste (See Note)
1 to 2 fresh lime wedges
Coarse salt, for rimming the glass (optional)
Instructions
For one margarita:
If you like a salt-rimmed glass, moisten the rim of your glass with a lime wedge. Then turn the glass over and dip into a small plate of coarse salt.
Pour tequila, Cointreau, and lime juice into glass. Add simple syrup, according to your preference of sweetness. I usually add about 1 teaspoon per drink. Give the drink a quick stir and then fill glass with ice. Squeeze a wedge or two of fresh lime over the top and then add the wedges to the drink. Promptly enjoy!

For a crowd:
Prepare simple syrup up to a day in advance and let it chill in the refrigerator.
About 1 hour before guests are to arrive, measure tequila, Cointreau, and lime juice into a small pitcher. Give it a stir and then place in the refrigerator to chill.
As you are creating margaritas for individual guests, moisten the rim of each glass with a lime wedge and then dip rims in a small plate of coarse salt, for those who prefer a salt-crusted rim. Then pour 1/2 cup of your chilled premix into each glass, followed by simple syrup (a little or a lot, depending on each guest's preference), and give a little stir.
Fill with ice almost to the top of each glass, and then squeeze another small lime wedge over the top of each drink for those who like a little extra pucker. Hand off to your guests to enjoy.

For the simple syrup:
Simple syrup is so easy to make, and takes only about 5 minutes! In a medium saucepan over medium-high heat, stir together water and sugar. Bring to a boil, stirring, until sugar has completely dissolved.
Remove from heat and allow to cool to room temperature. Store in a covered jar or container in the refrigerator for 3 to 4 weeks. Use to sweeten any of your favorite beverages.
Nutrition Information:
Yield: 1
Serving Size: 1
Amount Per Serving:
Calories: 246
Total Fat: 0g
Saturated Fat: 0g
Trans Fat: 0g
Unsaturated Fat: 0g
Cholesterol: 0mg
Sodium: 4mg
Carbohydrates: 36g
Fiber: 4g
Sugar: 26g
Protein: 1g
Nutrition information is automatically calculated by Nutritionix. I am not a nutritionist and cannot guarantee accuracy. If your health depends on nutrition information, please calculate again with your own favorite calculator.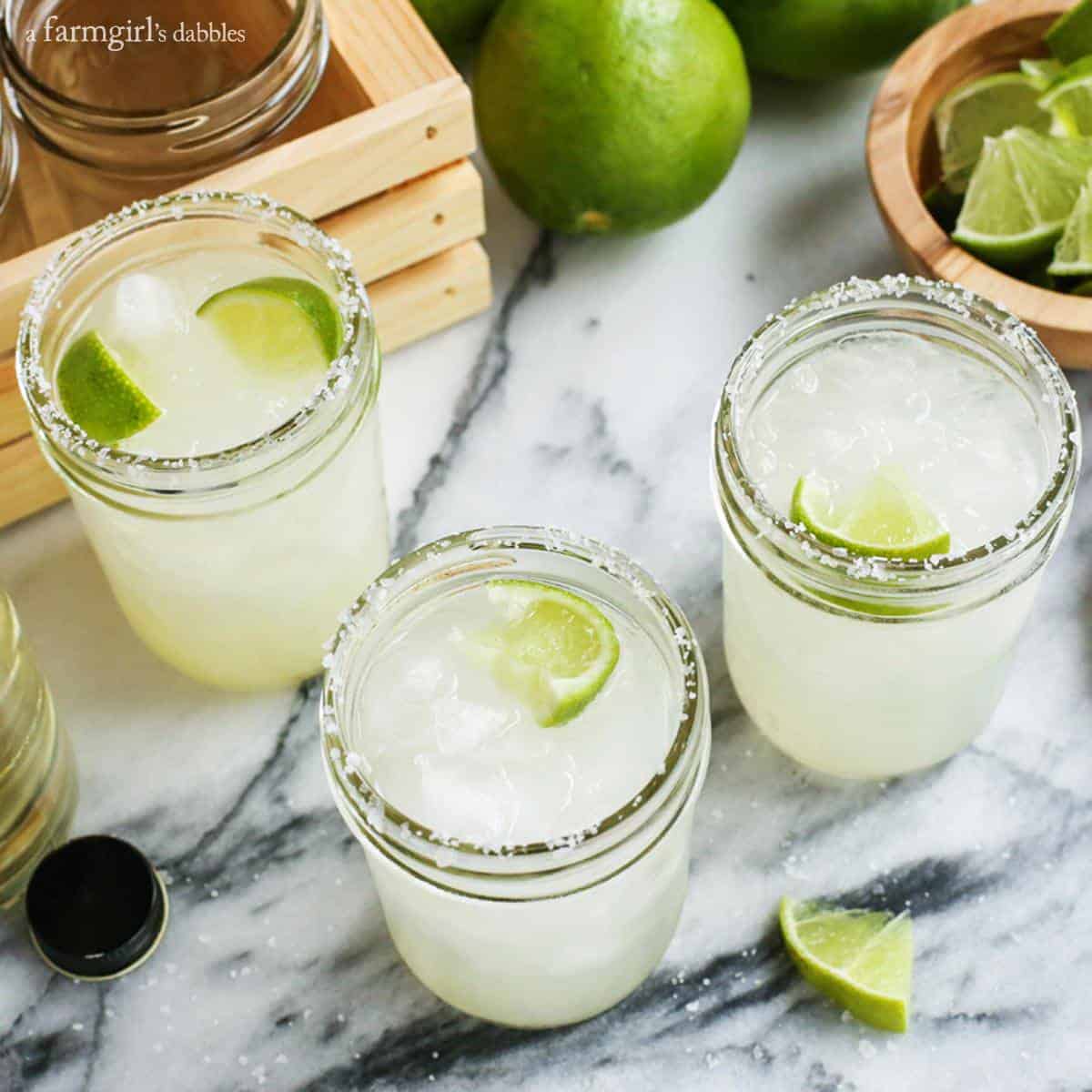 This post was originally published in 2016 and then updated in 2022. You can also find it over at The Pioneer Woman!