Pickled Rhubarb
With just a few ingredients, this easy Pickled Rhubarb comes together with less than 20 minutes of hands-on time. It's a super versatile condiment with a perfect balance of sweet and tangy. Add it to cheese plates, use it as a relish for grilled steaks and pork chops, or top a fresh salad – delightful!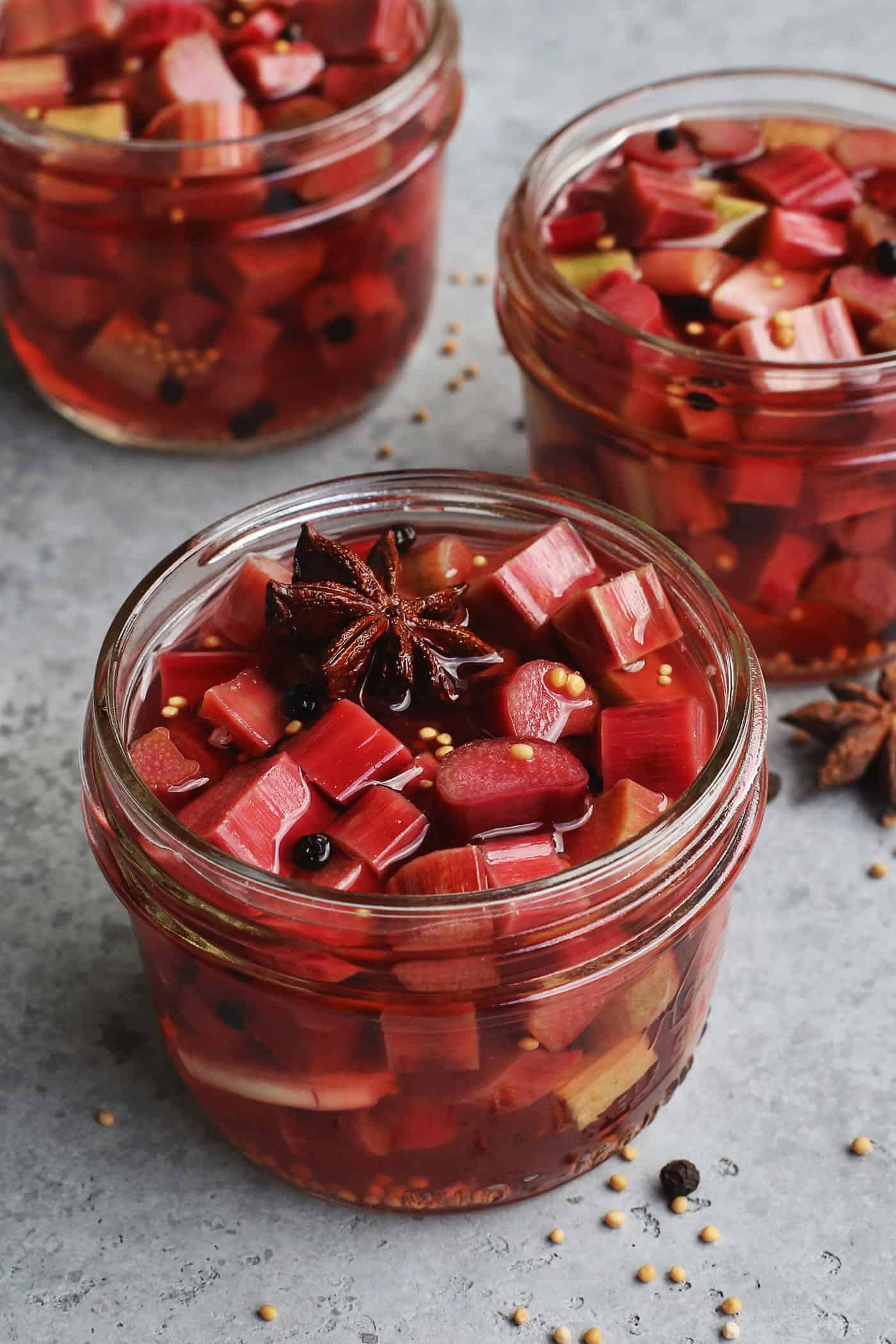 Easy Quick Pickled Rhubarb
There's no doubt that rhubarb is one of my favorite fresh foods. I grew up with it (although it took me awhile to fully appreciate it!) and it's now always in our garden. I like to make the traditional strawberry rhubarb cobbler and crisp, and of course my grandma's rhubarb custard pie. But I also love to experiment with recipes like this delicious rhubarb margarita or rhubarb mojito.
Pickled Rhubarb is another of my favorite, if not slightly unusual, rhubarb recipes. These are also called rhubarb pickles as they're sliced and pickled in vinegar and then enjoyed as a condiment, much as you would pickles.
This pickled rhubarb recipe has a fun little flavor twist, thanks to the addition of star anise pods. Along with yellow mustard seeds and black pepper, the flavor is sweet, tangy, and robust, in just the most delicious way!
Enjoy these little pickled bites on summertime cheese trays (so super fun!). Or top a fresh green salad or use as a relish with grilled steak or my easy grilled pork chops!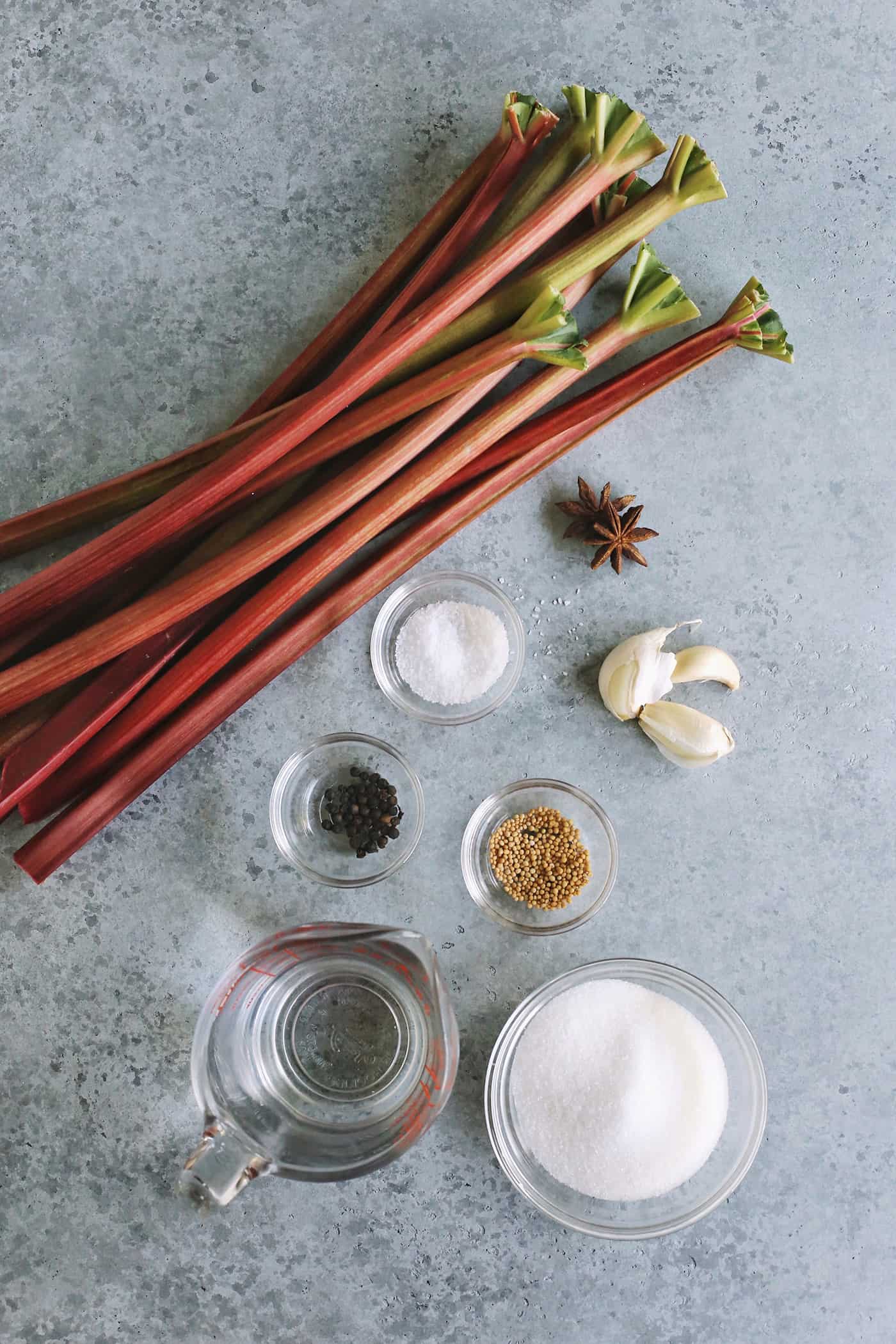 What You'll Need
This easy rhubarb recipe is made with just a few pantry ingredients, plus fresh rhubarb.
Rhubarb – Slice into pieces that are 1/4″ to 1/2″ thick.
Distilled vinegar – Creates the tangy flavor and pickles the rhubarb.
Sugar – Adds just enough sweetness to balance the vinegar.
Seasonings – The rhubarb is seasoned with garlic, salt, whole black peppercorns, yellow mustard seeds, and star anise pods.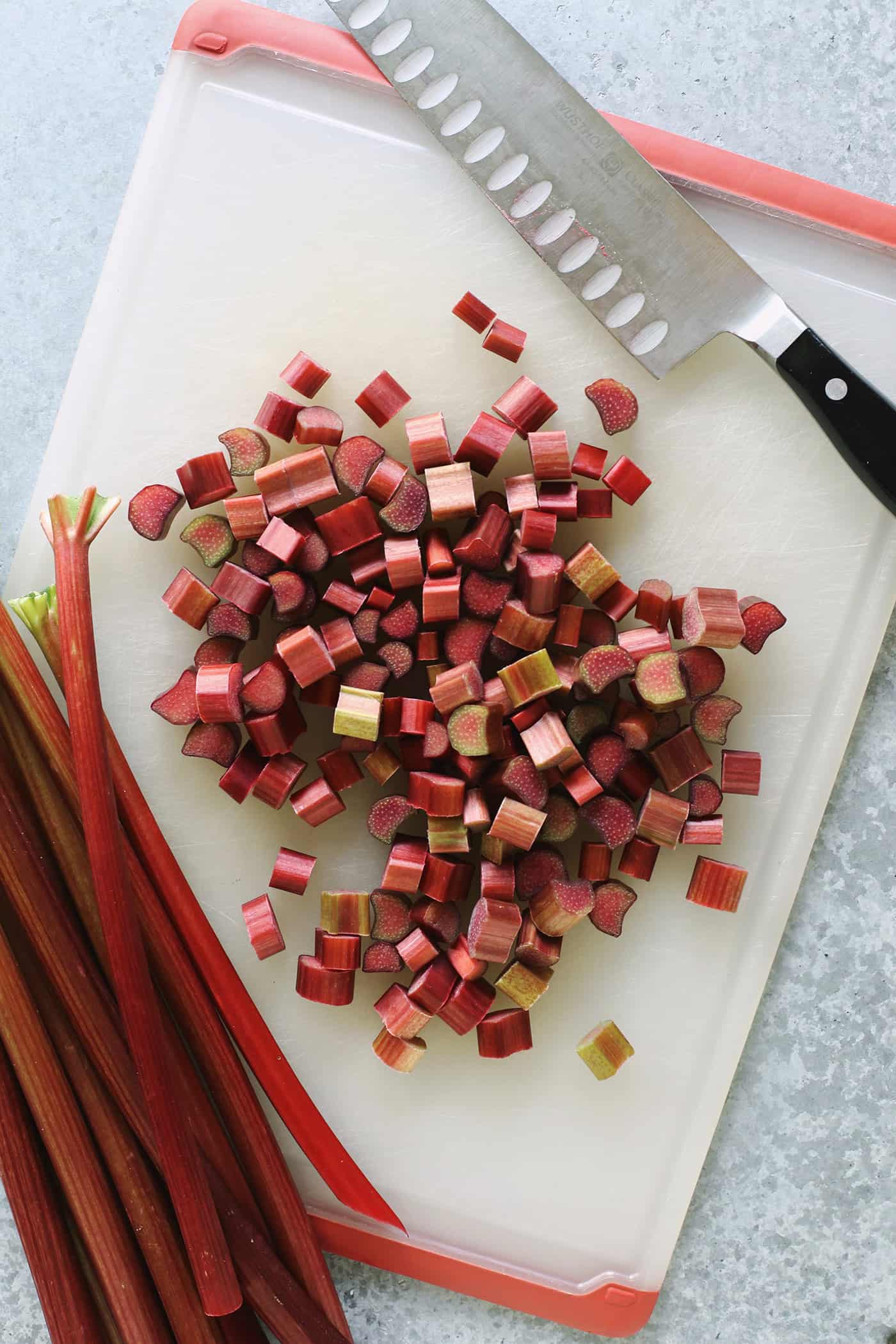 How to Clean and Cut Rhubarb
There's nothing quite like fresh-from-the-garden-rhubarb! If you don't have your own rhubarb, maybe a neighbor has extra? Or check your local farmers market. Also this has proven to be easier to find in grocery stores over the past years.
First thing, be sure to clean the rhubarb. To do this, simply remove the leaves (never eat the leaves, they contain oxalic acid which is bad for our kidneys) and trim off the root ends. Then rinse and dry the rhubarb.
For this recipe, I cut the rhubarb into pieces about 1/2″ thick. Sometimes I like to slice it super thin. It just depends on how tender the rhubarb is and how I'm planning to use the pickled rhubarb.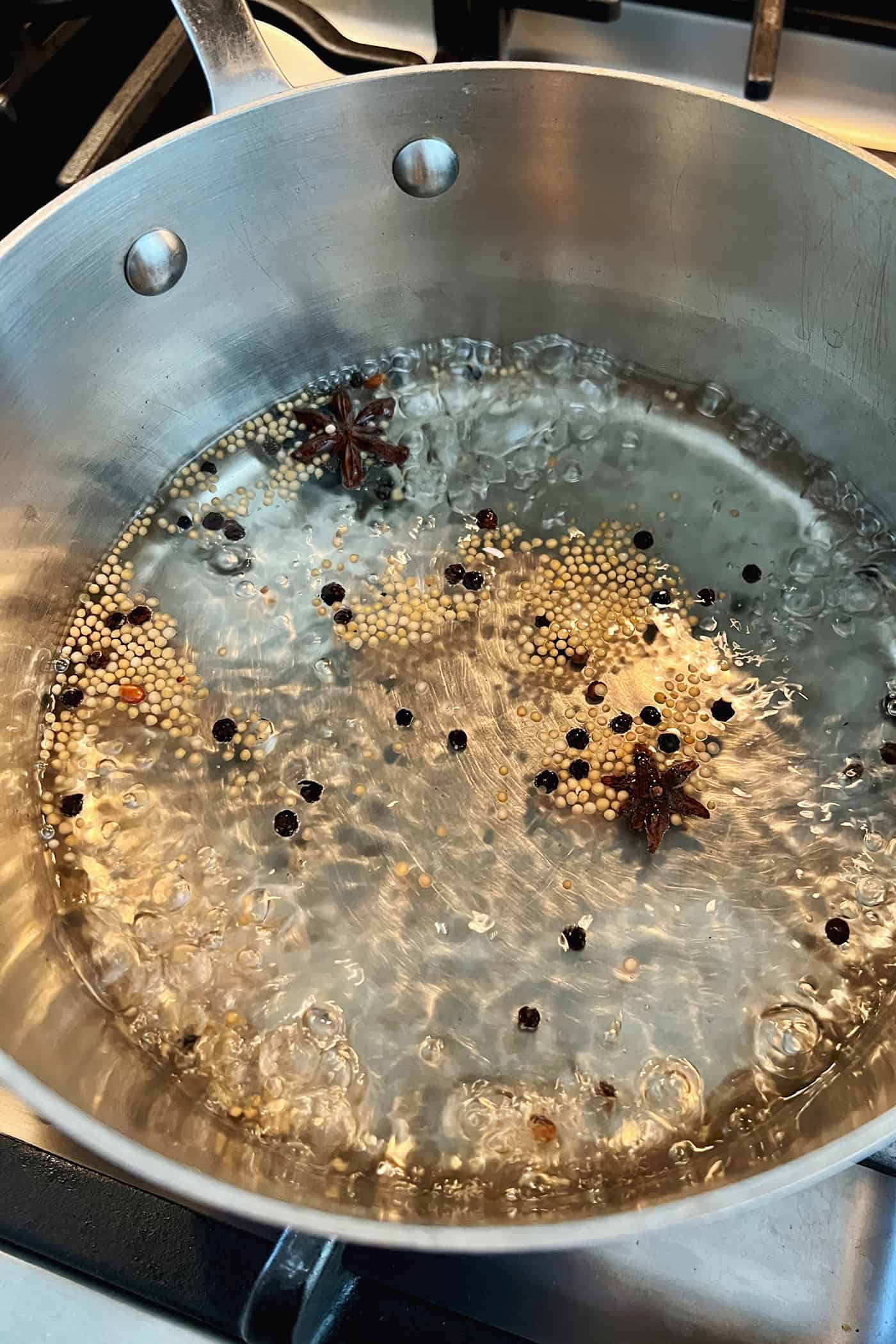 How to Make Pickled Rhubarb
This easy pickled rhubarb recipe comes together in just 3 steps.
Prep the rhubarb. Fill a jar with the sliced rhubarb and garlic.
Make the pickling liquid. Bring the remaining ingredients to a boil. Pour over the rhubarb, being sure to cover it completely.
Cool. Cool completely to room temperature then cover tightly and refrigerate for at least 24 hours.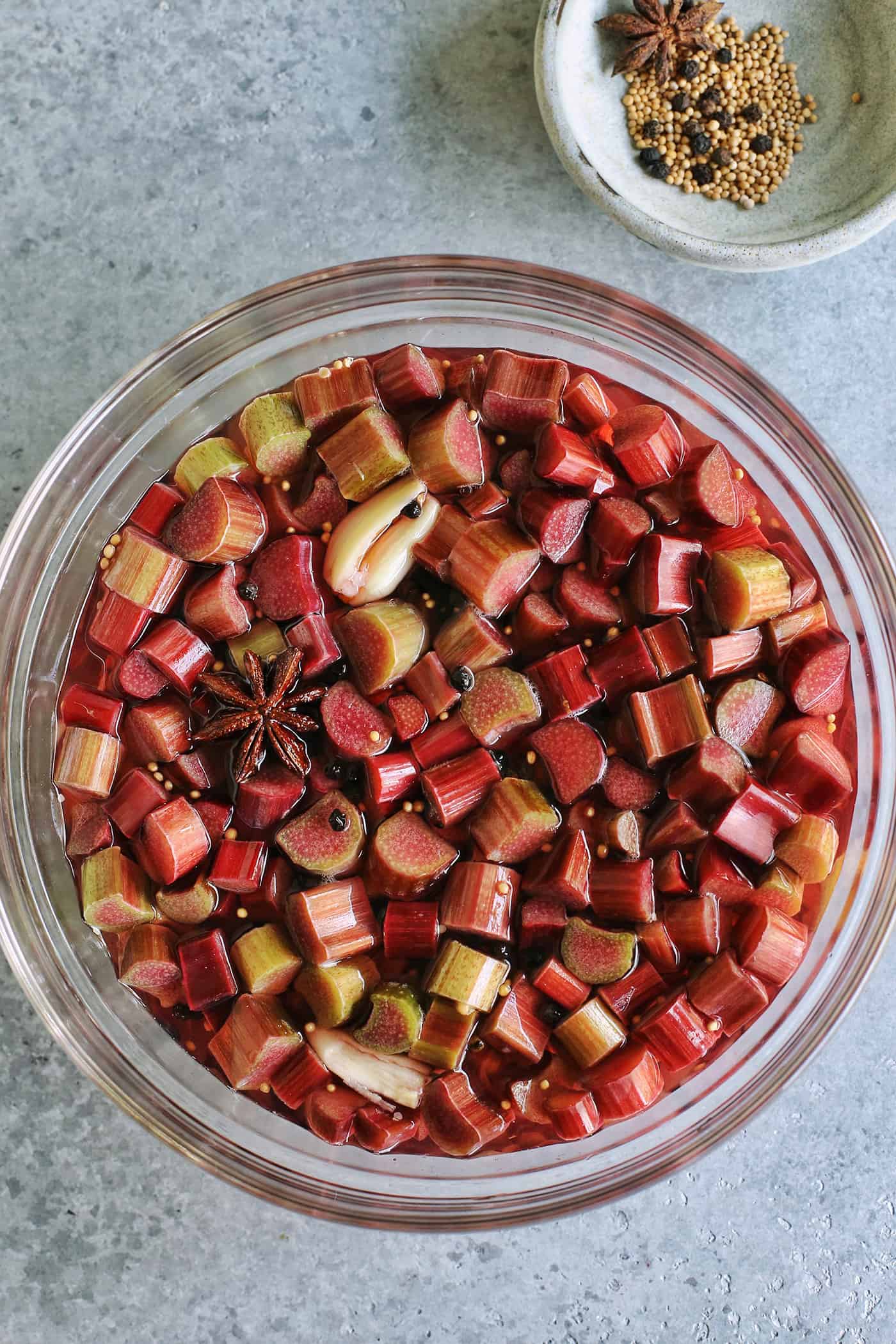 Tips & Variations
Here are a few important tips, plus ways to change up the recipe.
Use the best rhubarb. Look for rhubarb that is fresh and more tender. I also prefer to use rhubarb that is red in color. If the rhubarb is dry and woody, the flavor and texture of the finished pickles will definitely not be as good!
Be sure the liquid covers the rhubarb. Pour enough of the boiling liquid into the jar that the rhubarb is covered.
Use a glass jar. Wide-mouth glass jars are the easiest and most convenient, but any glass jar will do.
Change up the spices. Feel free to experiment with the spices added. Consider adding red pepper flakes, lemongrass, ginger, cloves, or cinnamon for a different flavor.
Use whatever vinegar you have on hand. I always use distilled white vinegar for this recipe, but apple cider vinegar and red wine vinegar will also work for quick pickled rhubarb.
Make in advance. Let the rhubarb chill in the fridge for a few days before diving in, if you can. The flavor definitely gets better with time!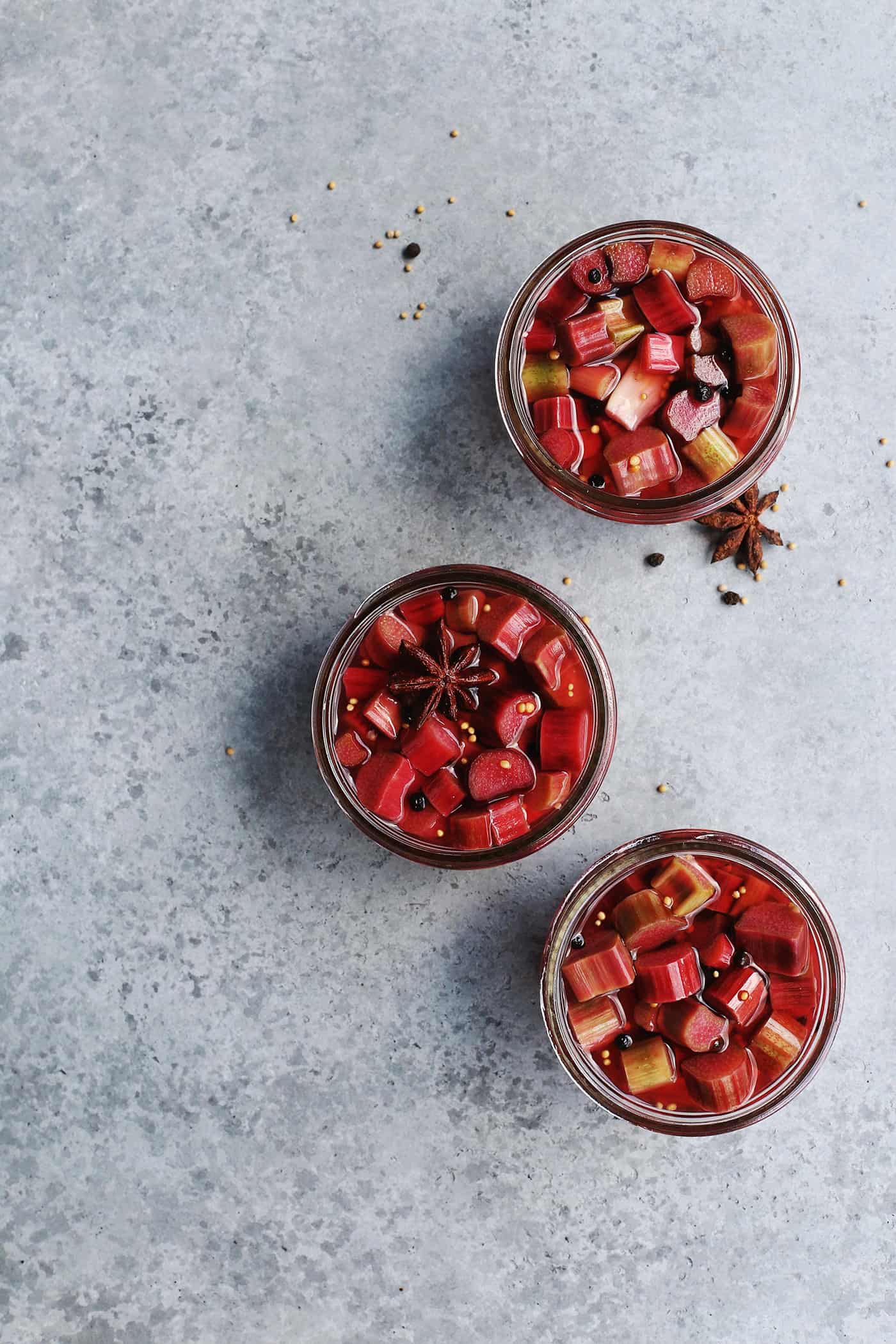 Serving Suggestions
So what can you serve these rhubarb pickles with? Pretty much anything! Here are a few ideas:
On salads – this goes nicely with pickled beets!
With yogurt and honey
On hotdogs, burgers, and brats
In relishes – wonderful on grilled steaks and pork chops
On a cheese plate – my favorite!
How Long Will This Last?
Quick pickled rhubarb will keep well in the fridge for up to a month. Note that the pickled flavor will increase with time and the texture will become softer as well.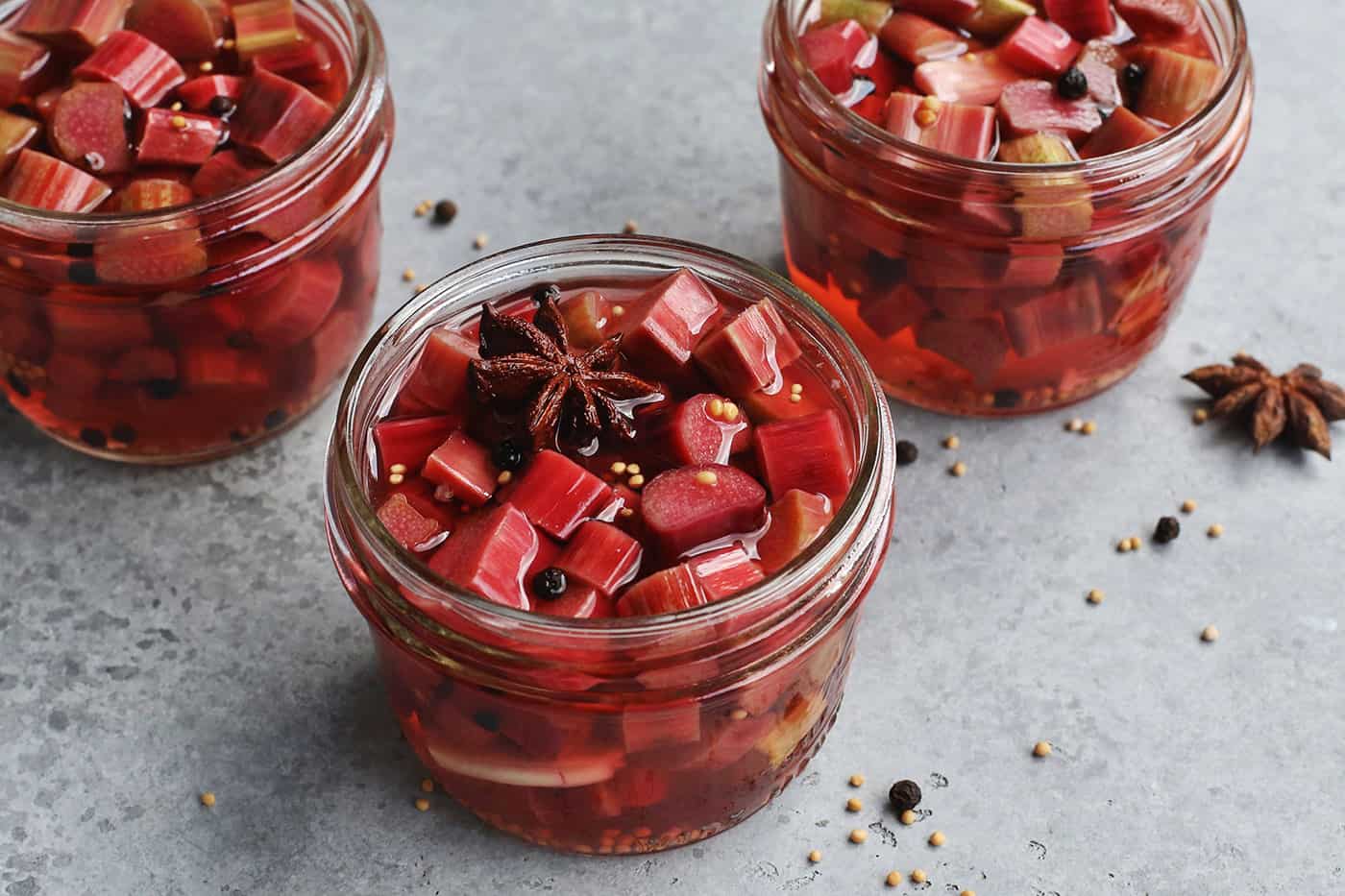 Does Pickled Rhubarb Need To Be Refrigerated?
Yes, this quick pickled rhubarb does need to be stored in the fridge. Since it's quick pickled and does not go through the full canning or pickling process, it cannot be stored at room temperature.
More Quick Pickled Vegetables:
Like this recipe? Save it to Pinterest!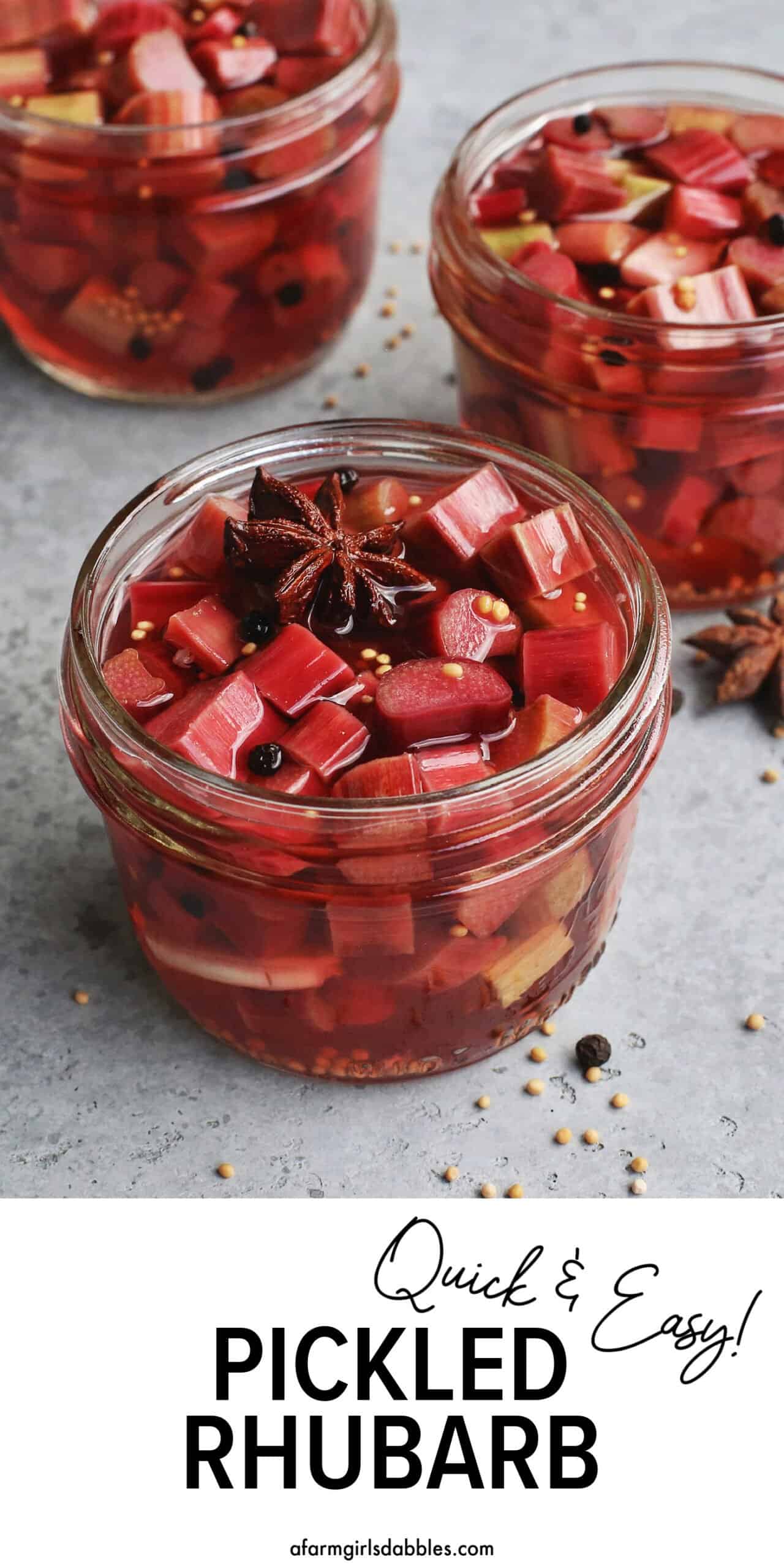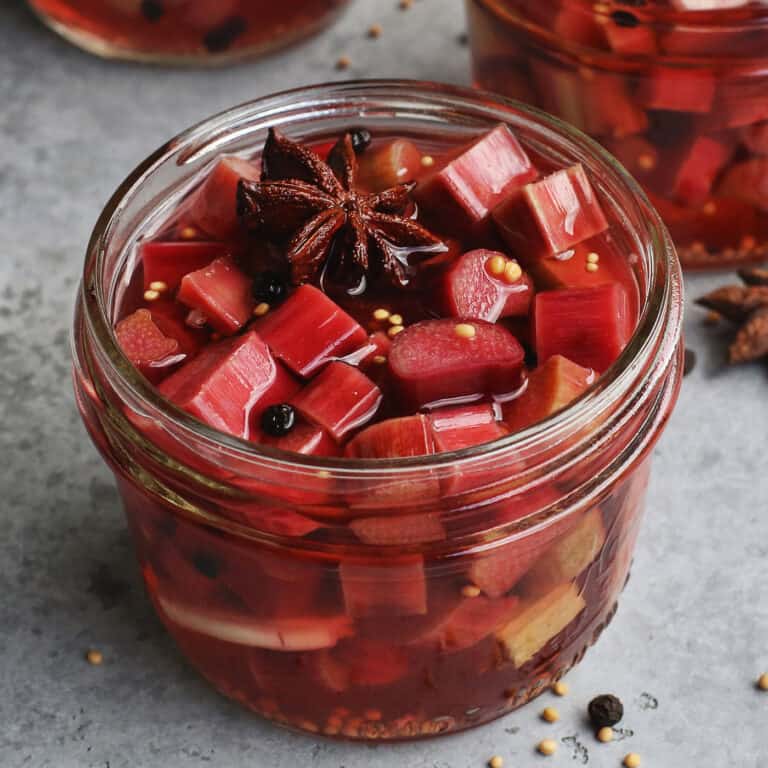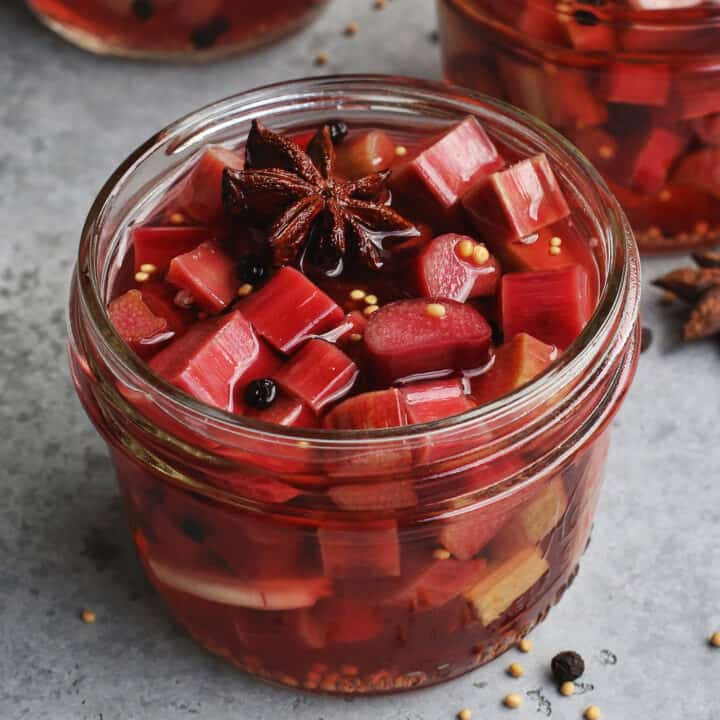 Quick Pickled Rhubarb
Yield: 1 quart
Prep Time: 10 minutes
Cook Time: 5 minutes
Total Time: 15 minutes
With just a few ingredients, this easy Pickled Rhubarb comes together with less than 20 minutes of hands-on time. It's a super versatile condiment with a perfect balance of sweet and tangy. Add it to cheese plates, use it as a relish for grilled steaks and pork chops, or top a fresh salad - delightful!
Ingredients
12 ounces tender red rhubarb, sliced into pieces 1/4" to 1/2" thick
3 medium cloves garlic, smashed
1¼ cups distilled white vinegar
⅓ cup sugar
1¼ teaspoons kosher salt
1 teaspoon whole black peppercorns
1 teaspoon yellow mustard seeds
2 star anise pods
Instructions
Fill a quart jar with rhubarb and garlic; set aside.
Add remaining ingredients to a saucepan and bring to a boil. Immediately, carefully pour boiling liquid over the rhubarb, enough to just cover the rhubarb. Let cool completely, then cover and refrigerate at least 24 hours, and up to 1 month. Pickled flavor and a softened texture will increase with time.
Notes
Adapted from Martha Stewart Living magazine, May 2021 edition.
Nutrition Information:
Yield: 12
Serving Size: 1
Amount Per Serving:
Calories: 114
Total Fat: 5g
Saturated Fat: 1g
Trans Fat: 0g
Unsaturated Fat: 3g
Cholesterol: 13mg
Sodium: 363mg
Carbohydrates: 12g
Fiber: 0g
Sugar: 6g
Protein: 5g
Nutrition information is automatically calculated by Nutritionix. I am not a nutritionist and cannot guarantee accuracy. If your health depends on nutrition information, please calculate again with your own favorite calculator.