Fresh Raspberry and Brownie Chunk Ice Cream
Fresh Raspberry and Brownie Chunk Ice Cream, with brownie chunks and bright, sweet raspberries in every bite!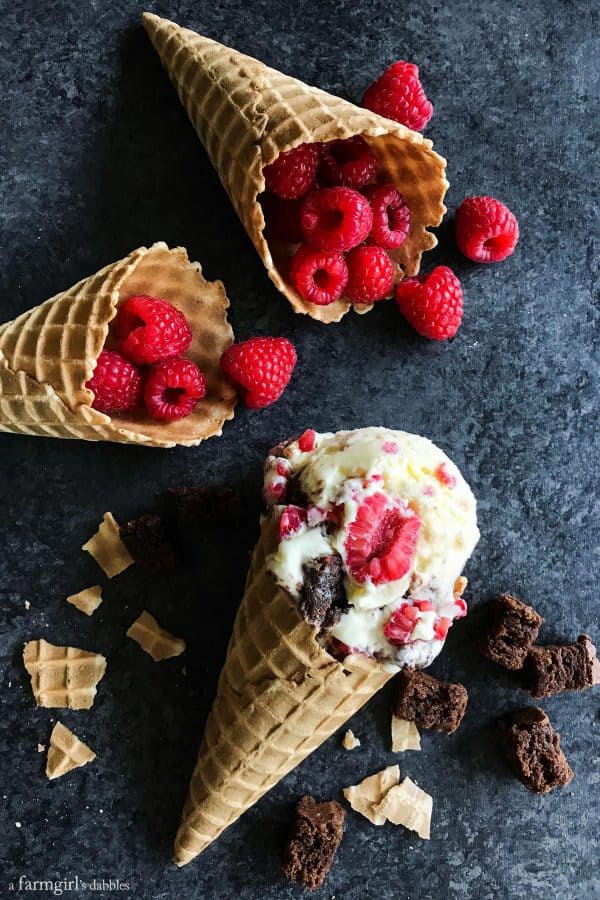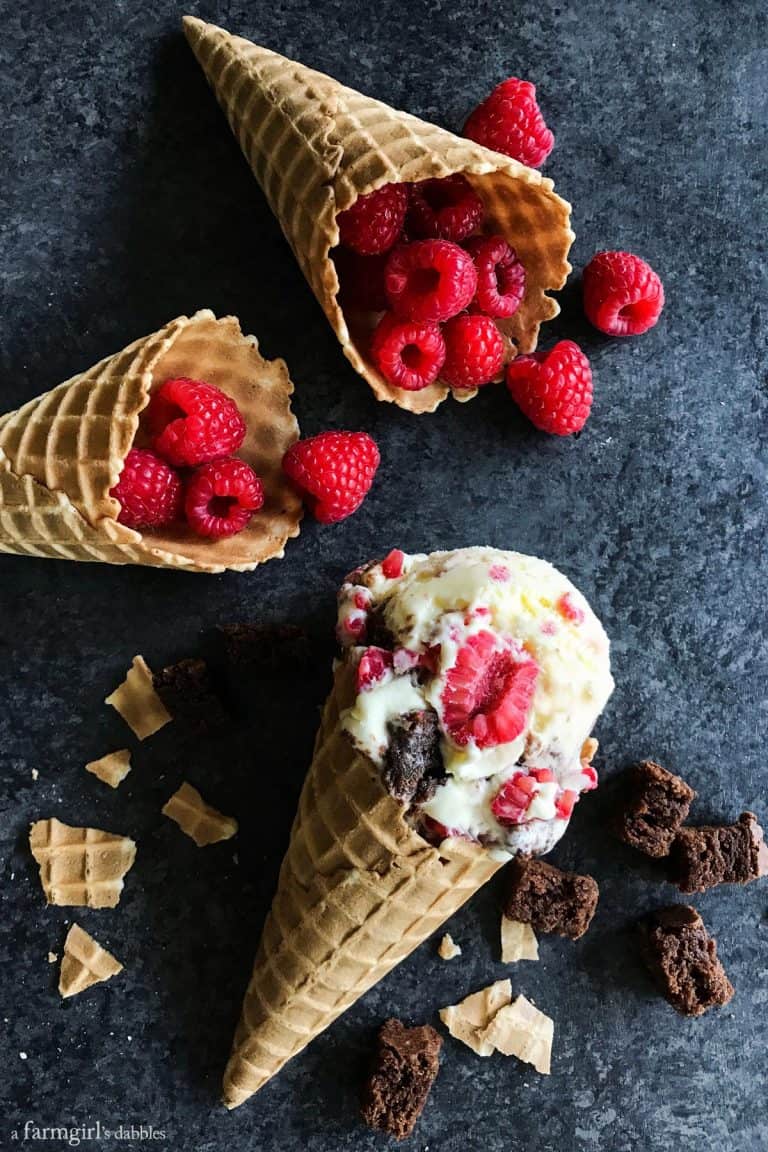 Yes. It's me again, with another homemade ice cream recipe for you this year. I have no idea what has happened to me lately, as this is not my usual inclination, to crave so much ice cream. If it sounds like I'm complaining, really I'm not. I've been enjoying every last lick and spoonful!
My latest creamy frozen creation involves one of my very favorite combinations: fresh raspberries and fudgy brownies. When there is a pan of brownies cooling on our kitchen counter, there's nothing better to me than a warm brownie topped with a scoop of vanilla ice cream and a tumbling of sweet raspberries. So why not put it all together, in one pretty package?
This Fresh Raspberry and Brownie Chunk Ice Cream could be my signature ice cream, no doubt.
* This is a sponsored post, created in partnership with Driscoll's and TheFeedFeed.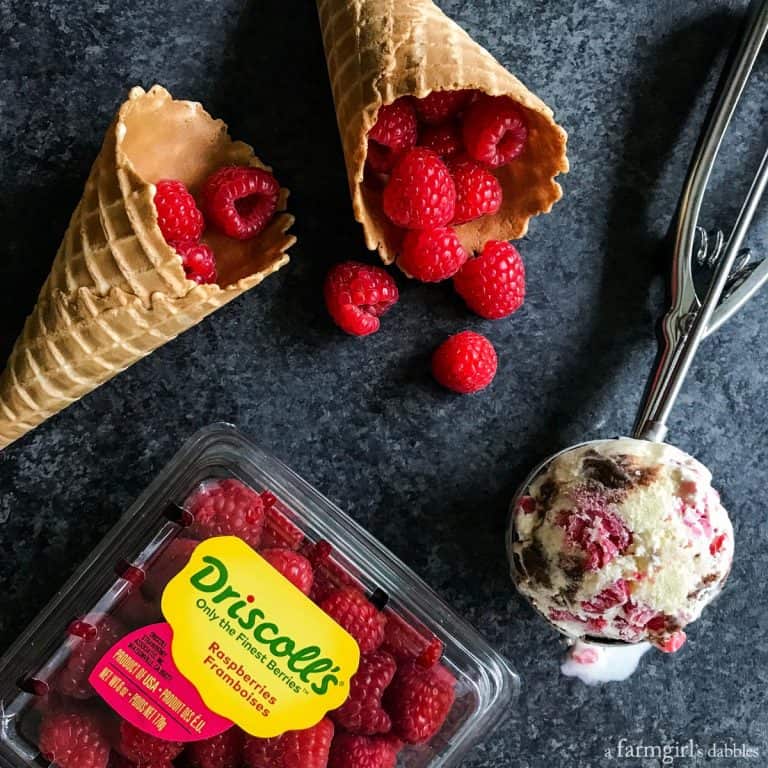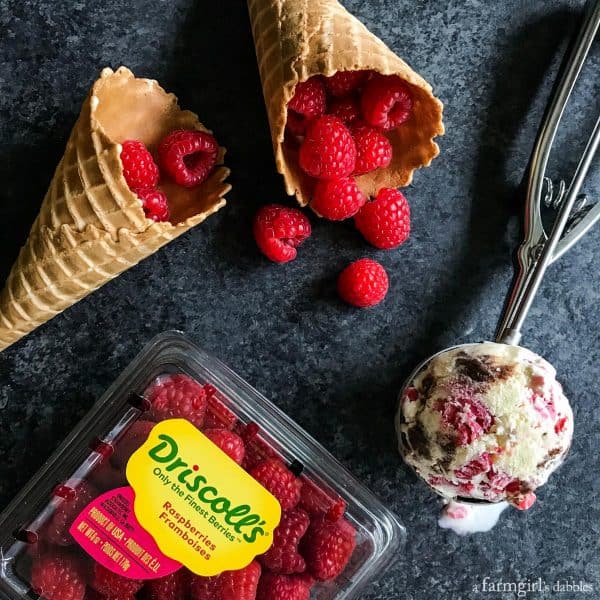 Driscoll's follows the sun, so we can enjoy raspberries year round. Which I'm completely grateful for. You'll find their fresh berries in our grocery cart every single week.
And raspberries are my absolute favorite berry.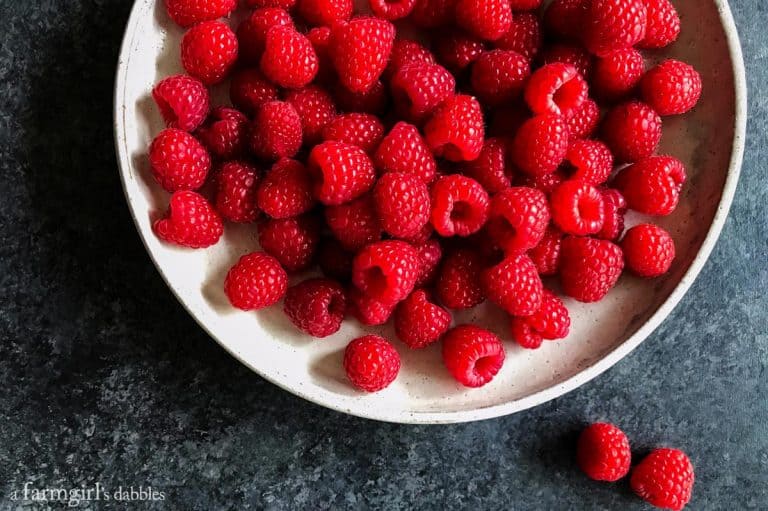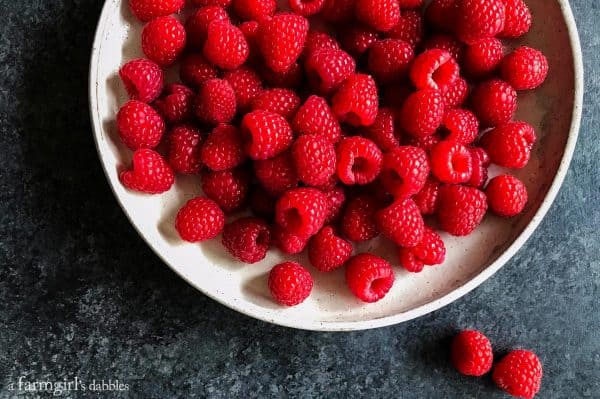 A bowl of bright, sweet raspberries can take an ordinary meal or snack from ho-hum to extra-special in very quick fashion.
I especially love to tuck a little container of raspberries into our daughters' school lunch boxes. Because the school routine can wear on them, and I know how much joy our girls get from these berries.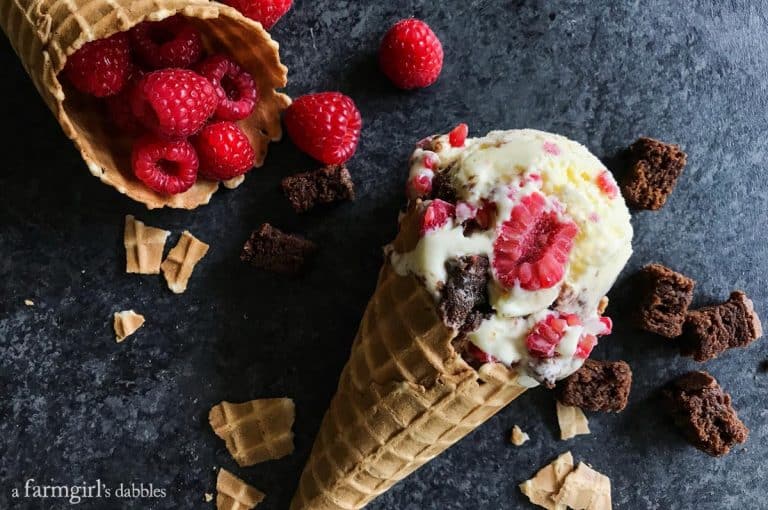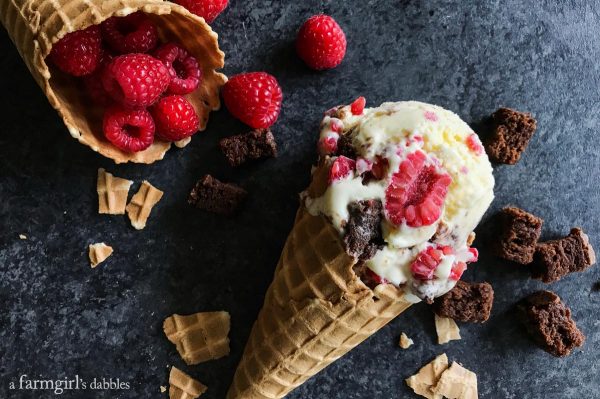 Driscoll's recently named the Minneapolis-St. Paul metro area as the raspberry consumption capital of the country.
According to data reported to The Nielsen Company, the Twin Cities market consumes 132% more fresh raspberries per household than the national average. (I love this stat!)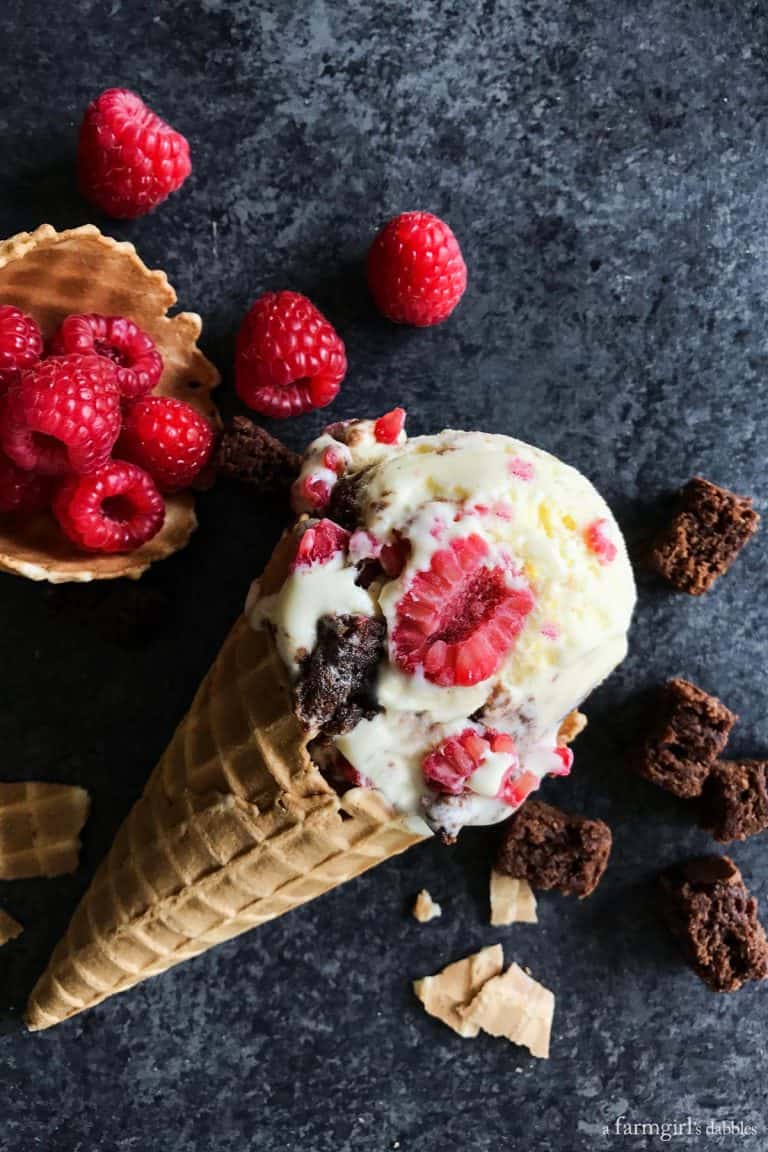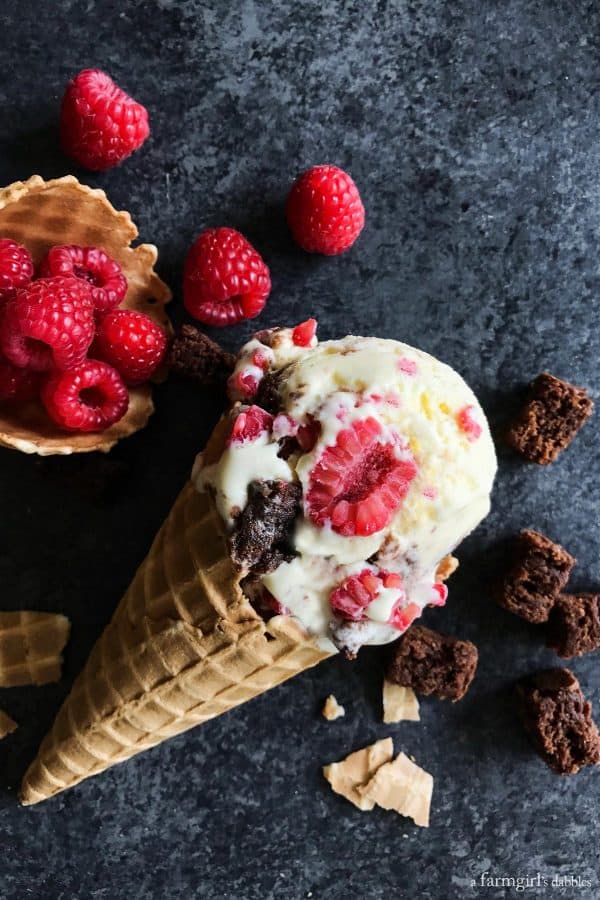 In this fresh raspberry and brownie chunk ice cream, I used our go-to brownies recipe, a favorite of mine since I was a kid. You can find that recipe here (I omitted the sprinkling of chocolate chips at the end, just for this ice cream).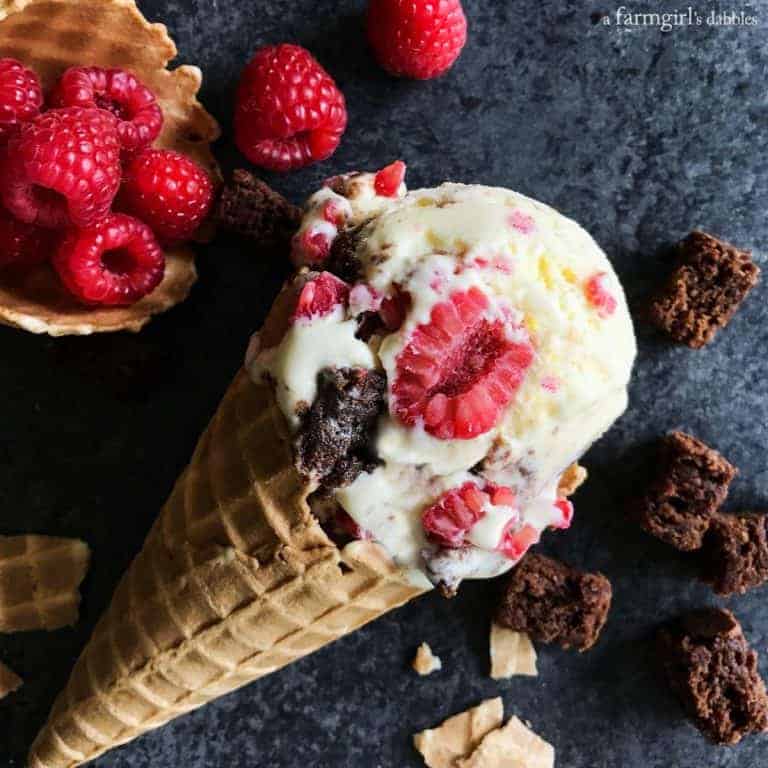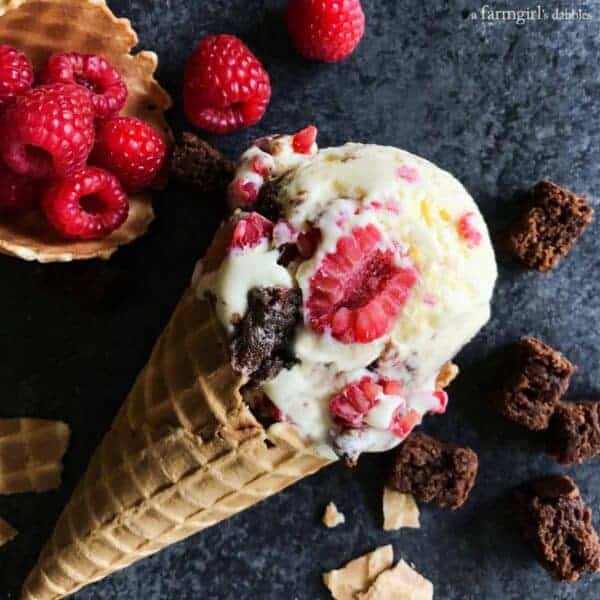 Be sure to not overbake the brownies; you want them nice and fudgy. It's also A-ok to use your favorite boxed mix for brownies…the ice cream will taste just as good, I promise!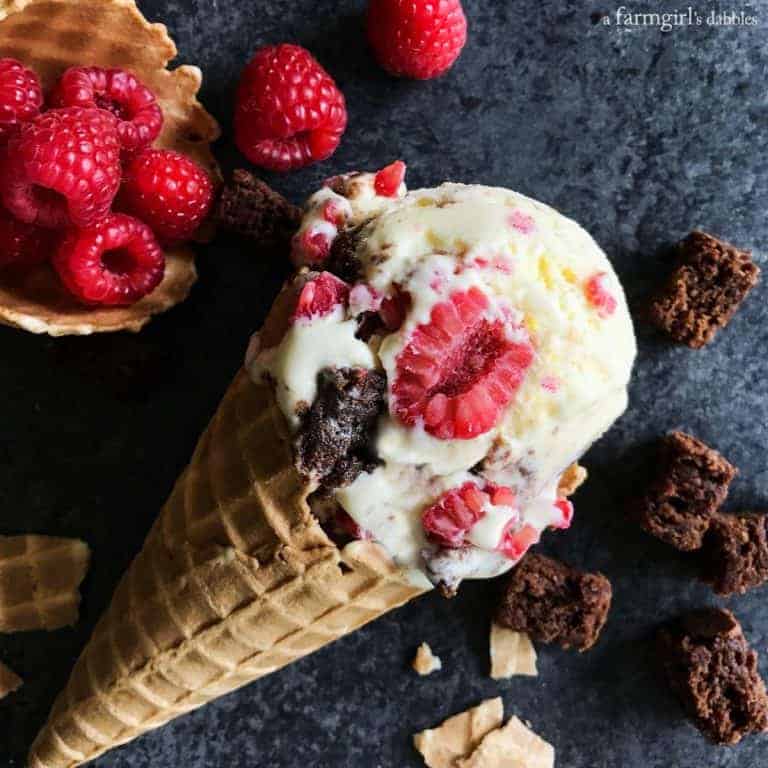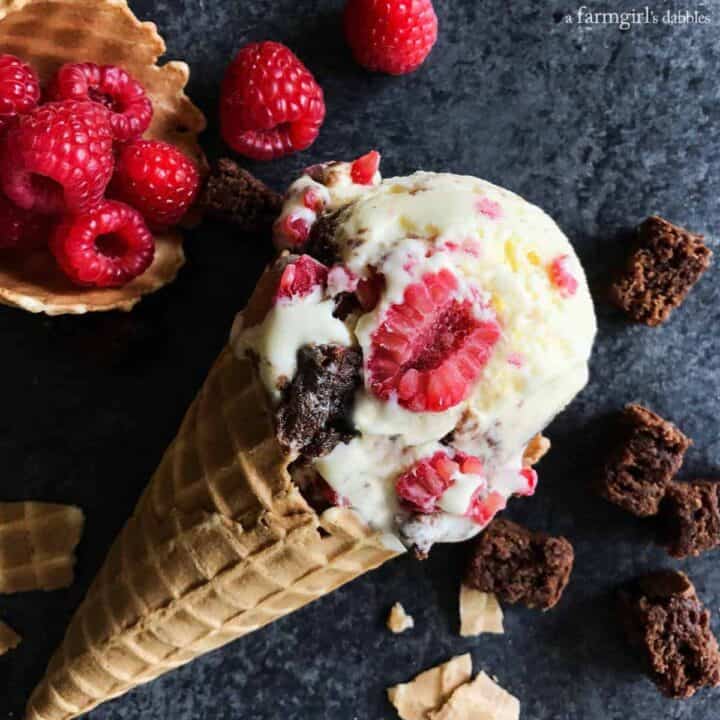 Fresh Raspberry and Brownie Chunk Ice Cream
Yield: about 1 quart
Prep Time: 30 minutes
Cook Time: 35 minutes
Additional Time: 2 hours
Total Time: 3 hours 5 minutes
Chocolate and raspberries = one of the best sweet combinations. This homemade ice cream has brownie chunks and bright, sweet raspberries in every bite!
Ingredients
1 c. whole milk
3/4 c. sugar
2 c. heavy cream, divided
pinch of salt
6 large egg yolks
2 tsp. pure vanilla extract
12 oz. fresh Driscoll's raspberries
1-1/2 c. fudgy brownie chunks, about 1/2" in size
Instructions
Prepare an ice bath by adding a good amount of ice cubes to a large bowl and then adding some cold water. Set aside.
Warm the milk, sugar, 1 cup of the cream, and salt in a medium saucepan. Stir until thoroughly warmed and sugar dissolves. Remove pan from heat.
Add remaining 1 cup of cream to a large bowl. Set a mesh strainer over the top of the bowl and set aside.
In a medium bowl, whisk the egg yolks. Slowly pour the warmed mixture into the egg yolks, whisking constantly. Then scrape the warmed egg yolks back into the saucepan and place over medium heat. Stir the mixture constantly with a heatproof spatula, scraping the bottom as you stir, until the mixture thickens and coats the spatula. It's now a custard. Pour the custard through the strainer and stir it into the cream. Add the vanilla and then set the bowl in the prepared ice bath. Stir the custard until it is no longer warm. Then place the custard in the refrigerator to chill thoroughly, at least a few hours or overnight.
Pour custard into your ice cream maker and freeze according to manufacturer's instructions, until you reach a stiff soft serve consistency.
Spread half of the ice cream into the bottom of a container. I like to use a 4" x 8" bread pan that is about 3" tall. Quickly sprinkle with half the raspberries and half the brownie chunks. And then add the remaining ice cream in smallish dollops, spreading as best you can. Sprinkle remaining raspberries and brownie chunks over the top. Cover pan and freeze until firm. A couple hours in the freezer will give you a softly frozen consistency, while an overnight freeze will give you a fully frozen ice cream.
Notes
from a farmgirl's dabbles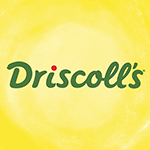 Visit Driscoll's on their web site. You can also find them on social media on Facebook, Twitter, Instagram, and Pinterest.
Visit TheFeedFeed on their web site, and find them on social media on Facebook, Twitter, Instagram, and Pinterest.
Disclaimer: This #BerryTogether post was sponsored by Driscoll's and TheFeedFeed. Our family enjoys Driscoll's berries each and every week of the year. Thank you for supporting us and the brands we so carefully choose to work with. All opinions expressed are our own.