Apple Oatmeal Pancakes with Caramel Buttermilk Syrup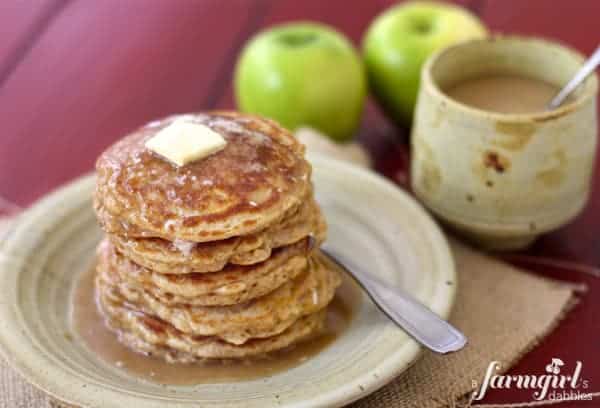 I love this time of year.
The days are cooler, and the sky is big and blue and sunshiny…perfect for brisk morning walks, end of season yard work and garden clean up, and plenty of baking with the windows open.
And I'm in a total apple kick right now.
While we were eating buttermilk pancakes recently, I couldn't help but wonder what they'd be like filled with apple. So I played around with the recipe and came up with these Apple Oatmeal Pancakes. They're hearty, yet not heavy, with sweet little apple bits throughout. Our girls think they're awesome!
And then, not really in the mood for maple syrup, I started thinking about something more caramel-like to top these cakes. I came across a syrup recipe calling for all the ingredients of a caramel sauce I already make, with the addition of buttermilk. Buttermilk? Really? My curiosity was definitely piqued.
This Caramel Buttermilk Syrup is creamy, sweet, and buttery…and begs you to slurp it straight-up with a spoon. It's a great alternative to maple syrup on your breakfast goodies. And a pretty awesome dessert topper, too, as I can also attest to how wonderful it is drizzled over a scoop of vanilla ice cream. ;) What a fun discovery!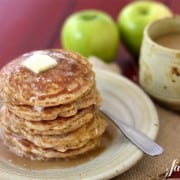 Apple Oatmeal Pancakes with Caramel Buttermilk Syrup
Yield: about 12 pancakes (4 in. diameter) and 2
Cook Time:6 minutes
Ingredients:
for the apple oatmeal pancakes:
1-1/2 c. all-purpose flour
1 c. quick cooking oats
1/4 c. sugar
2 tsp. baking powder
1/2 tsp. baking soda
1/2 tsp. kosher salt
2 tsp. cinnamon
1-1/4 c. buttermilk
2 large eggs, beaten
1/4 c. unsalted butter, melted, plus more for brushing the heated griddle
1 tsp. pure vanilla extract
1 c. small diced apple (I use Haralson or Granny Smith)
for the caramel buttermilk syrup:
1 c. unsalted butter
2 c. sugar
1 c. buttermilk
2 T. corn syrup
1/4 tsp. salt
2 tsp. baking soda
2 tsp. pure vanilla extract
Directions:
for the apple oatmeal pancakes:
In a medium bowl, whisk together the flour, oatmeal, sugar, baking powder, baking soda, salt, and cinnamon. Add the buttermilk, eggs, butter, and vanilla, and fold to combine. Fold in the apple. Do not over mix. The batter should appear a bit lumpy. Let sit for 10 minutes to soften the oatmeal.
Preheat an electric griddle to 300°, or place a cast-iron skillet over medium heat. Spread a 1/2 tablespoon of butter around the surface. Using a 1/4-cup measuring cup (I like my pancakes on the smaller side…easier to flip, easier to have "just one more"!), pour the batter in pools, leaving an inch or two of space between each pancake. When the pancakes have bubbles on the surface, about 3 to 4 minutes, flip them. Cook until they are lofty and golden, another minute or 2. Serve with warm caramel buttermilk syrup.
for the caramel buttermilk syrup:
In a large saucepan (make sure it's large, this will bubble up!) over medium-high heat, combine the butter, sugar, buttermilk, corn syrup, and salt. Bring to a boil. Boil for 3 minutes. Remove from heat and add baking soda, stirring to combine. The syrup will bubble up and look very foamy. Stir in the vanilla. The bubbles will settle and the syrup will thicken as it cools. Be sure to make the syrup before you start the pancakes, so it has time to thicken. If the syrup starts to separate, simply give it a brisk whisking.
Syrup can also be served with buttermilk pancakes, waffles, French toast…and ice cream!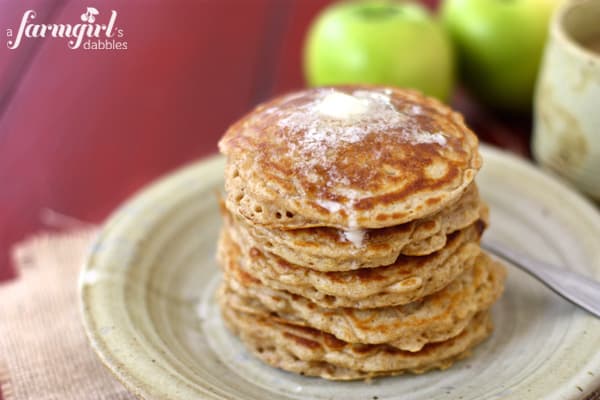 I'm linking up with TidyMom!
Come join #DairyBreakfastClub recipe party at TidyMom along with The California Milk Advisory Board and RealCaliforniaMilk.com!
We participate in the Amazon Services LLC Associates Program, an affiliate advertising program designed to provide a means for us to earn fees by linking to Amazon.com and affiliated sites. See our disclosure policy for more info.