Caramel Apple Dip
This Caramel Apple Dip beats the pants off of any storebought caramel dips. Guaranteed! It's also super easy to make with 3 ingredients.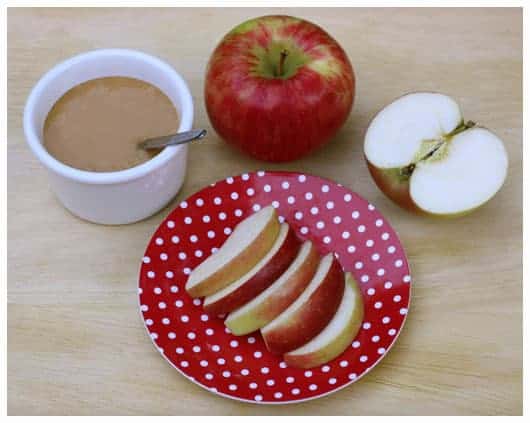 Homemade Caramel Dip Recipe
Growing up on the farm, apple picking day meant that our own amusement park ride was open for business. My sisters and I would clamber into the bucket of Dad's old loader tractor and he would give us a slow and bumpy ride from the barn to the first of many apple trees. Then he would hoist up the bucket, leveling it off every few feet of the ascension, until the loader's long red arms were maxed out at the top of the tree. While Dad and Mom took full advantage of their cheap child labor, we filled the tractor bucket with beautiful farm apples. No seat belts. No harnesses of any sort. I can only imagine trying to get away with that in my back yard these days.
Picking apples on the farm, 1985:

For as long as I can remember, I have faithfully eaten this Caramel Apple Dip every single fall of every single year. I don't know how to live without it. My body just kicks into automatic caramel making mode once that first apple is picked from the tree. I just can't help it. (And I'm not looking for a way to stop!)
Why I Love Making Homemade Caramel
When making Caramel Apple Dip now in my own kitchen, I always involve the rest of the family . Everyone here loves caramel. And they love to eat the Kraft caramels that are used in the recipe. So our deal is, whoever helps unwrap the caramels gets to eat one at the end. It's a win-win for everyone. With the caramels unwrapped, this dip takes next to no time to make. And it beats the pants off of that off-tasting caramel dip you find in the stores. Some of it is downright nasty stuff and shouldn't even be privileged enough for the word caramel to grace its label. I beg you to try this recipe here just once, I know you will agree that this Caramel Apple Dip is worth making each and every fall. You'll never look at that store dip with the undeserving label again.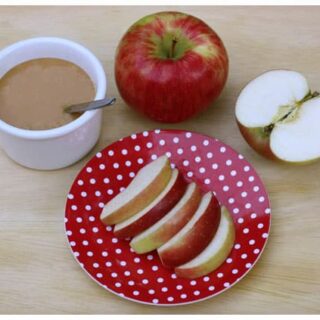 Caramel Apple Dip
Yield: 3 cups
Prep Time: 5 minutes
Cook Time: 5 minutes
Total Time: 10 minutes
This Caramel Apple Dip beats the pants off of any storebought caramel dips. Guaranteed! It's also super easy to make with 3 ingredients.
Ingredients
1 14-oz. bag Kraft caramels
1 14-oz. can sweetened condensed milk
3/4 stick unsalted butter
Instructions
Unwrap caramels and combine all ingredients in a medium saucepan over medium heat. Stir occasionally until completely melted. Or, just place in microwave-safe bowl and heat in intervals, stirring often to avoid scorching.

Serve warm with apple slices for dipping. Store in a covered container in the refrigerator for up to two weeks.
Nutrition Information:
Yield: 9
Serving Size: 1
Amount Per Serving:
Calories: 427
Total Fat: 16g
Saturated Fat: 9g
Trans Fat: 0g
Unsaturated Fat: 6g
Cholesterol: 44mg
Sodium: 185mg
Carbohydrates: 66g
Fiber: 0g
Sugar: 61g
Protein: 7g
Nutrition information is automatically calculated by Nutritionix. I am not a nutritionist and cannot guarantee accuracy. If your health depends on nutrition information, please calculate again with your own favorite calculator.