Macho Nachos (Macho Nachoz)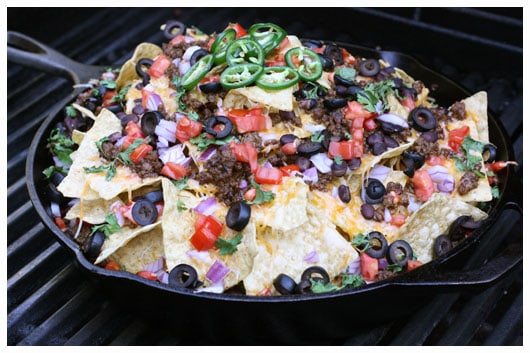 While I'm not a die-hard football fan, I do enjoy the football season. Having the games on lends a playful air to our home, plus I like watching my husband have fun teaching his young girls about this macho sport. He's such the good dad that he even encourages his daughters to cheer on the teams they want to follow, while the cap on his head boldly displays a single large blue star, a symbol for the team that holds his entire life's loyalty. His buddies get a kick out of the small purple jersey that runs around our house at game time. Actually, "get a kick out of" is quite the understatement. But it just makes for more of that great football banter.
And somehow, everything ends up being about the food, doesn't it? Football has a way of bringing our family and friends together to enjoy a meal that we wouldn't normally consider to be "a meal". Like these crazy fun Macho Nachoz. Yep, this was supper for our family last Sunday evening. Blanket on the floor, sitting criss-cross-applesauce, we formed a semi-circle facing the TV. And we devoured these nachos. Every. Single. Chip.
Macho Nachoz. Isn't that the greatest name?! I fell in love with this monstrous pile of savory yum many, many years ago at Zorbaz. If you've never been to one of the nine Zorbaz out there, they are Mexican and pizza joints (best pizza EVER!) located in northern Minnesota lakes country. Sporting a super casual atmosphere, Zorbaz is the perfect place to dock your boat and grab some nachos and a pizza in your flip-flops.
The people behind Zorbaz like to have fun. If you don't get that walking in the door, it will be blazingly obvious once you read the menu. And kudos to you if you can find the letter "s" anywhere on it. Throughout their entire menu, every single "s" has been traded in for a "z". This is how you will find Macho Nachoz written up:
Macho Nachoz
A Zorbaz Original. Crizp Tortilla Chipz Topped with Taco Meat or Zeazoned Chicken, Refritoz, Cheddar & Jack Cheeze, Topped with Jalapenoz, Red Onionz, Cilantro, Tomato, Black Olivez & Zour Cream. Lotza Homemade Zalza Included.
The entire menu iz written up that way. Yez, it'z true.
I've been serving up my own remake of these Macho Nachoz for years, always popping a large rectangular pan of them into the oven to melt those cheesy layers together. But this time around, I wanted to see what the grill and a large cast iron skillet would do for the dish. Not only did the cast iron skillet provide visual fun, but it also utilized its heat retention properties by keeping the nachos warm until that last chip was eaten. It was brilliant! Simply brilliant!
I do declare! We shall never make Macho Nachoz again without cast iron skillet in hand.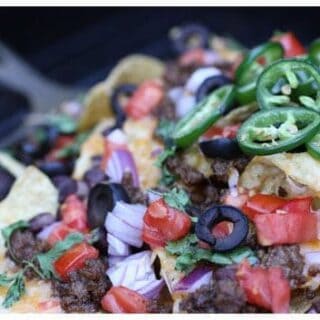 Macho Nachoz
Yield: 1 pan of nachos
Prep Time: 20 minutes
Cook Time: 12 minutes
Total Time: 32 minutes
I've been serving up my own remake of these Macho Nachoz for years, always popping a large rectangular pan of them into the oven to melt those cheesy layers together.
Ingredients
1 lb. ground beef
4 T. Penzeys Bold Taco Seasoning (or your own favorite taco seasoning, prepared according to package directions)
3/4 c. water
1 16-oz. bag of your favorite tortilla chips
3 to 4 c. shredded Marble Jack cheese
1 c. rinsed and drained black beans (or refried beans)
small can sliced black olives
1 c. chopped and drained fresh tomatoes
.5 c. diced red onion
.5 c. chopped fresh cilantro
1 whole jalapeno pepper, sliced cross-wise
Instructions
Prepare taco meat by first browning the ground beef in a medium skillet. Drain excess fat. Over medium heat, add the Penzeys taco seasoning and stir well to incorporate. Add 3/4 cup of water and simmer for 5-10 minutes, or until the water is mostly absorbed. This can be made ahead of time and refrigerated. Just warm it up a bit before layering with the chips.
Preheat grill to medium low. Place a large cast iron skillet on the grill grates and let heat for 5 minutes.
Remove skillet from the grill and place 1/3 of the chips in the pan and top with 1/3 of the cheese, plus 1/3 of all the remaining ingredients, except for the jalapeno. Repeat to make 3 layers. Top with the sliced jalapenos. Transfer skillet back to the grill and grill until the cheese has melted. Depending on your grill heat, this should take 10 to 15 minutes.
Remove skillet from heat and enjoy with sour cream and your favorite salsa.
Notes
Inspired by great eating experiences at Zorbaz!
Nutrition Information:
Yield: 16
Serving Size: 1
Amount Per Serving:
Calories: 609
Total Fat: 42g
Saturated Fat: 20g
Trans Fat: 1g
Unsaturated Fat: 17g
Cholesterol: 117mg
Sodium: 742mg
Carbohydrates: 27g
Fiber: 3g
Sugar: 1g
Protein: 32g
Nutrition information is automatically calculated by Nutritionix. I am not a nutritionist and cannot guarantee accuracy. If your health depends on nutrition information, please calculate again with your own favorite calculator.