Classic Guacamole
This Classic Homemade Guacamole is fresh and delicious, and super easy to make with just a few simple ingredients. It's the best guacamole recipe, the perfect party appetizer and a tasty topping for tacos, burrito bowls, salads, and more!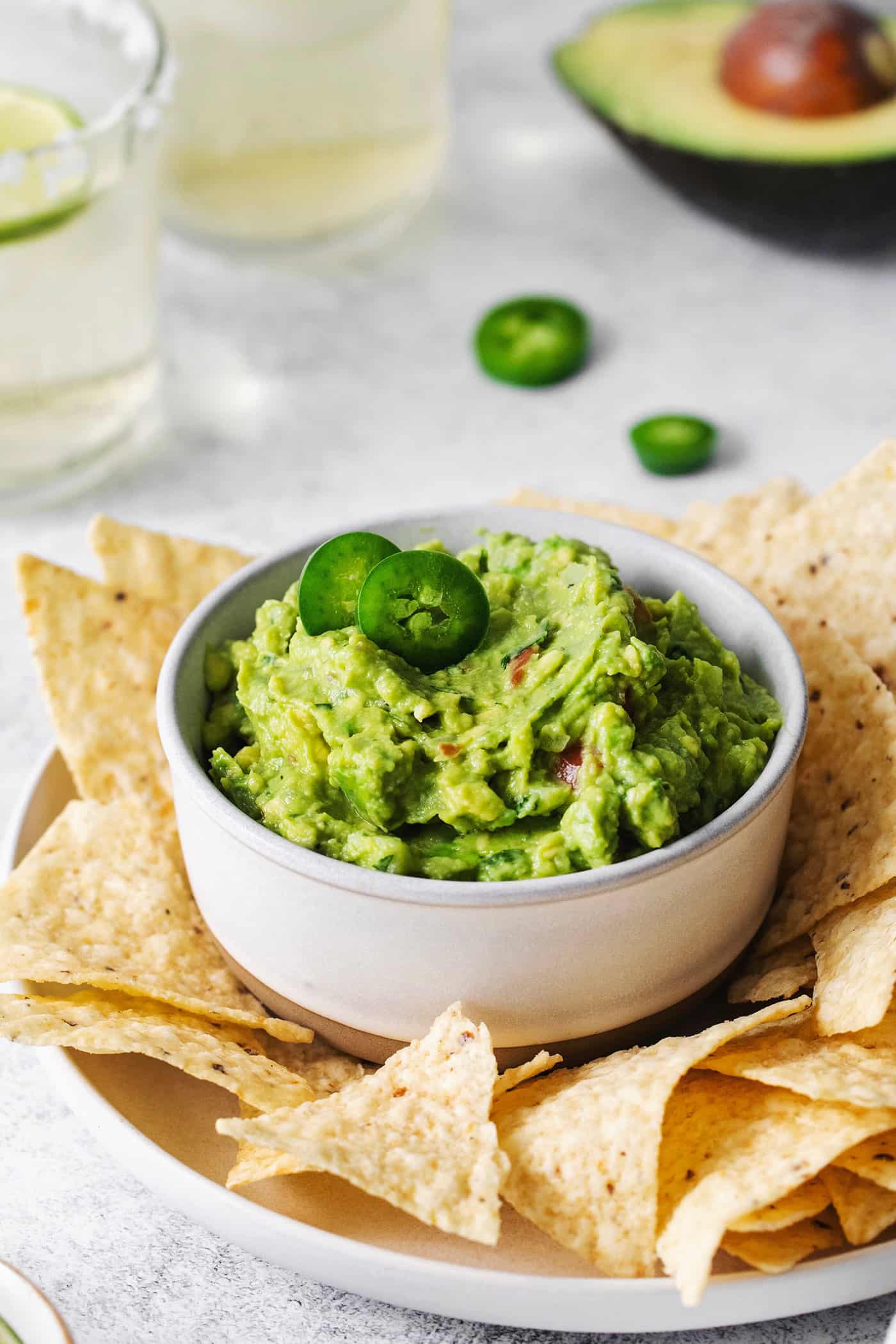 The Best Homemade Guacamole
This homemade Guacamole recipe is a classic, made super simply with fresh avocados, lime juice, tomatoes, onion, garlic, and cilantro – plus a bit of jalapeno heat (optional). It's the perfect addition to all your Mexican meals, and so easy to make!
I think we all know the best part about any Mexican restaurant meal is the dips – the restaurant-style salsa, the fresh pico de gallo, the queso blanco…and of course, the guacamole. Its fresh and creamy deliciousness is always welcome!
Enjoy this guac any time, as a snack or appetizer with chips, or as a topping on all your favorite Mexican and Tex-Mex recipes. From rice bowls to tacos to our favorite taco salad, this easy guacamole is a tried and true recipe that our family adores!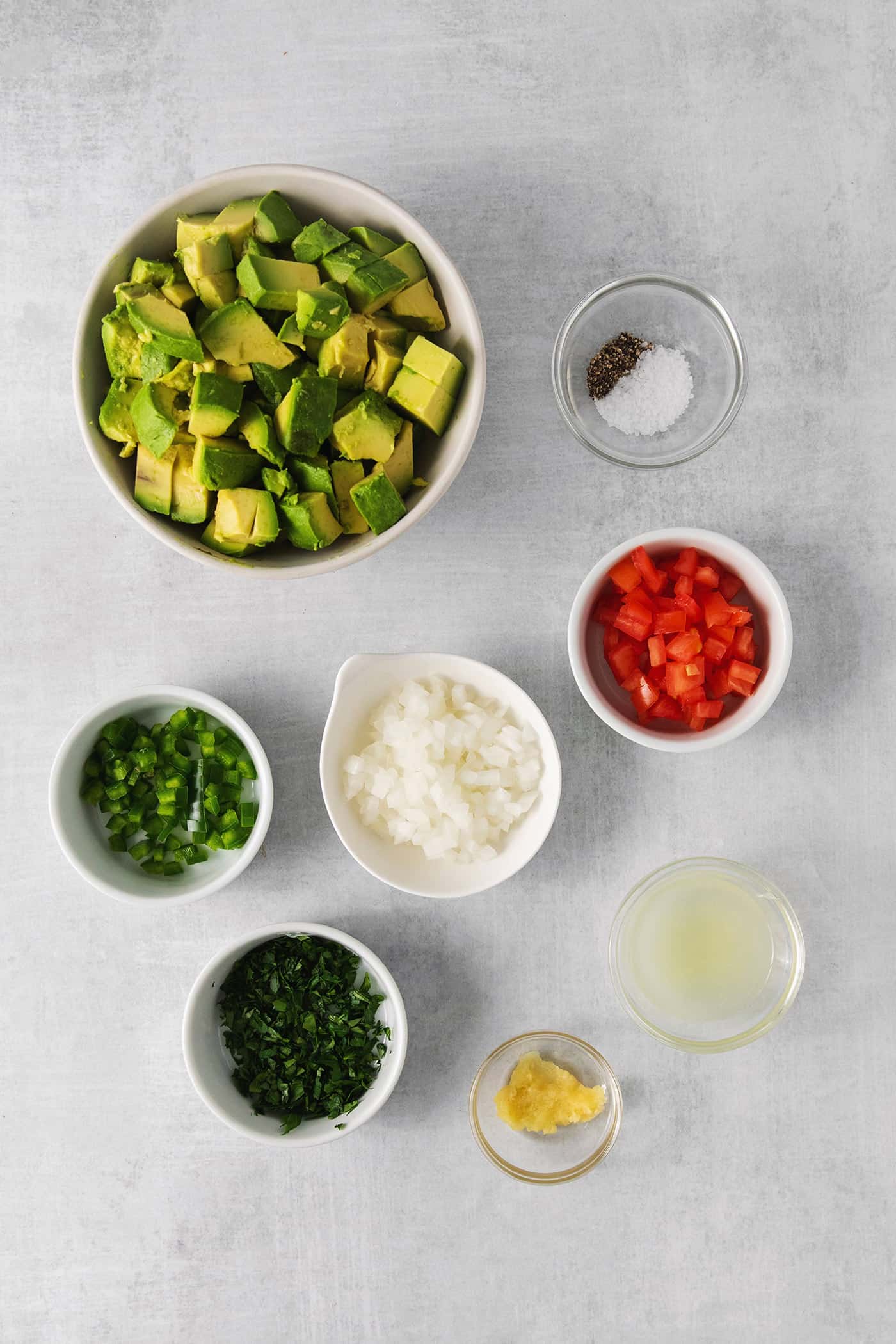 What's In Fresh Guacamole?
The best guacamole starts with the freshest ingredients. With this easy guacamole recipe, it's important that you let these fresh, high-quality ingredients shine!
See the recipe card below for exact measurements and full instructions.
Avocado – Avocado is the base of the guacamole. See below for tips on choosing the best avocados for guacamole.
Lime juice – Lime juice adds a touch of acidity and freshness to the guacamole, plus it helps to loosen up the mashed avocado.
Garlic – I like to include a little fresh garlic in my homemade guacamole – it adds just the right flavor! I recommend grating the garlic on a microplane so it incorporates super smoothly, but you could also mince it very small.
Tomato – I most often use roma tomatoes because they are less juicy (I very much dislike watery guac!). And when I have some ripe garden tomatoes, I will absolutely use those – I just discard any excess juice. Whatever variety you choose, just scrape out the liquidy area with seeds, so it doesn't water down the guacamole.
Onion – I like to use a sweet yellow onion or a red onion. If you're a fan of stronger white onions, go ahead and use that.
Cilantro – If you aren't a big fan of cilantro, just leave it out or substitute with a little parsley.
Jalapeno – While I always include some jalapeno, know that it is optional. Add as little or as much as you like – and remove the seeds for less heat, leave them in for more.
Salt & pepper – A little bit of salt makes all the flavors pop. And I'm a huge fan of black pepper, so I can't resist throwing some in!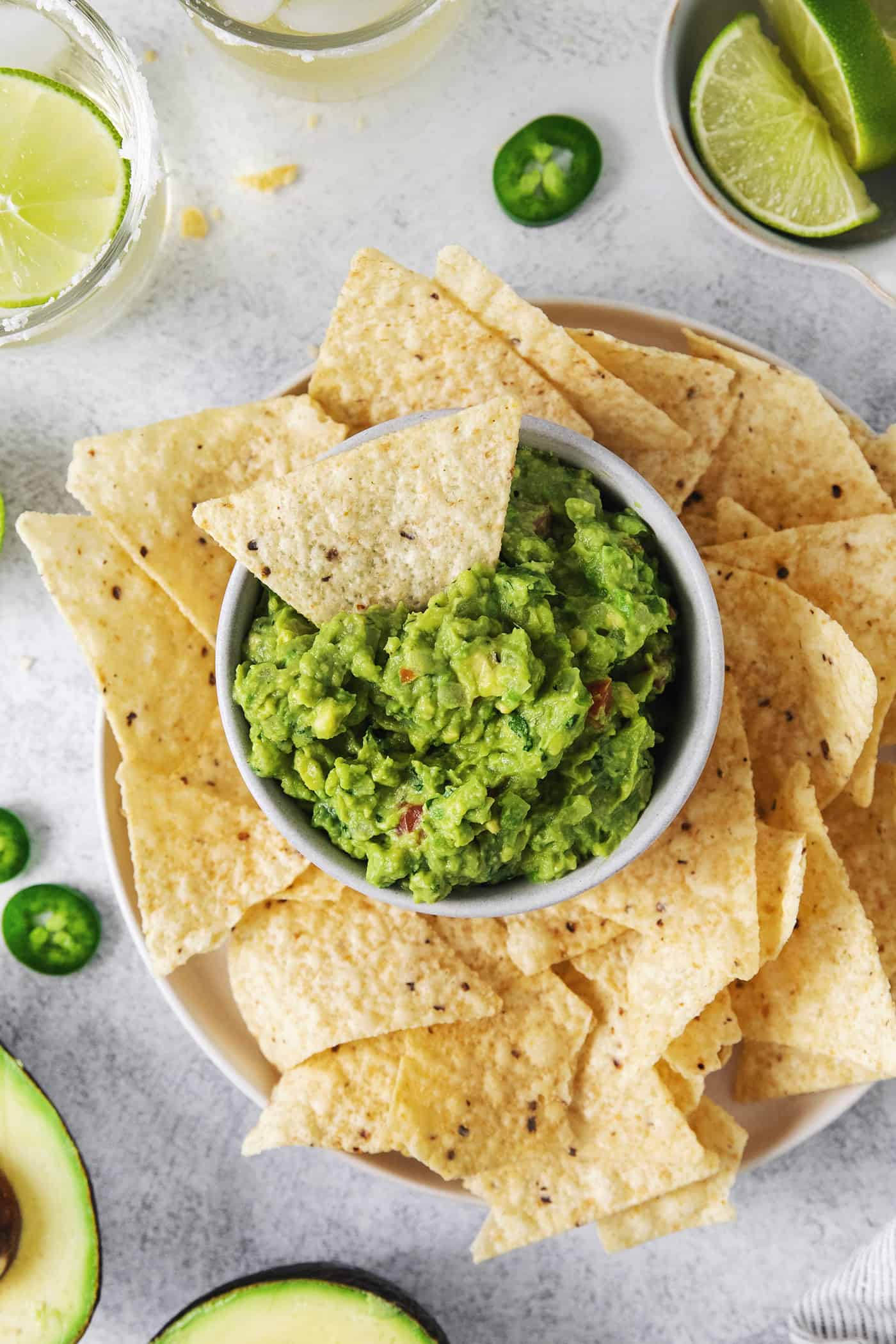 Tips for Choosing Avocados
When making homemade guacamole, be sure to pick ripe avocados. I recommend seeking out Hass avocados, which are widely available. This avocado is on the smaller side, with a higher fat content than other varieties – which gives them a smoother, creamier texture and richer flavor.
When selecting an avocado for guacamole here are a few things to keep in mind:
Texture. The avocados should be firm, with a slight give when you squeeze them gently. They should never be rock hard nor overly soft. If they don't give at all, they likely need a few more days to ripen. If they feel too soft, then they're likely too ripe, with mushy and often bruised flesh.
Color. Ripe Hass avocados have a dark blackish-green color.
No bruising. Make sure there are no open spots on the skin of the avocado and no obvious bruising or noticeable soft spots.
How to Ripen Avocados
If you want to speed up the avocado ripening process, place unripe avocados in a brown paper bag with an apple or banana, fold down the bag, and let it sit on the counter for 2-3 days.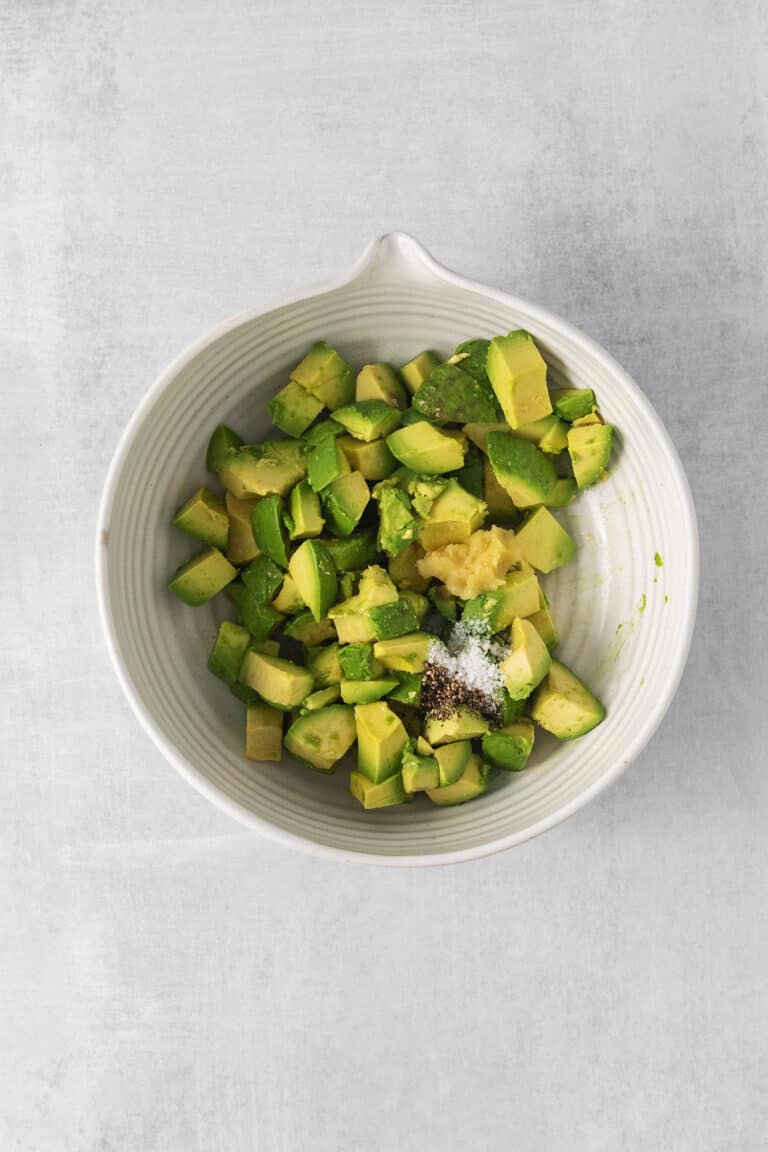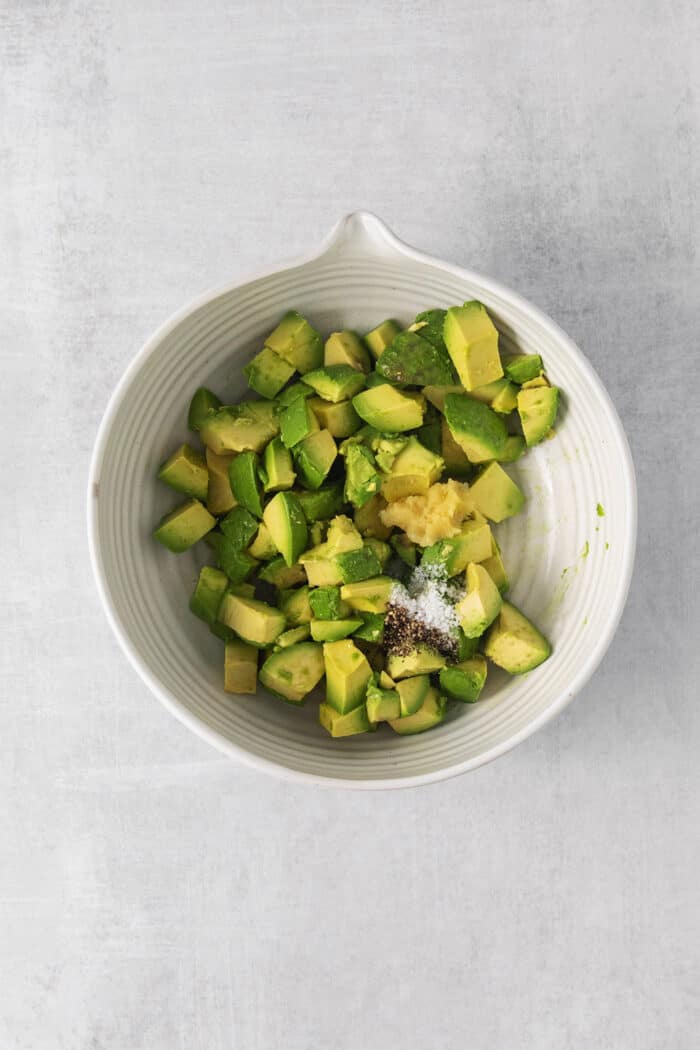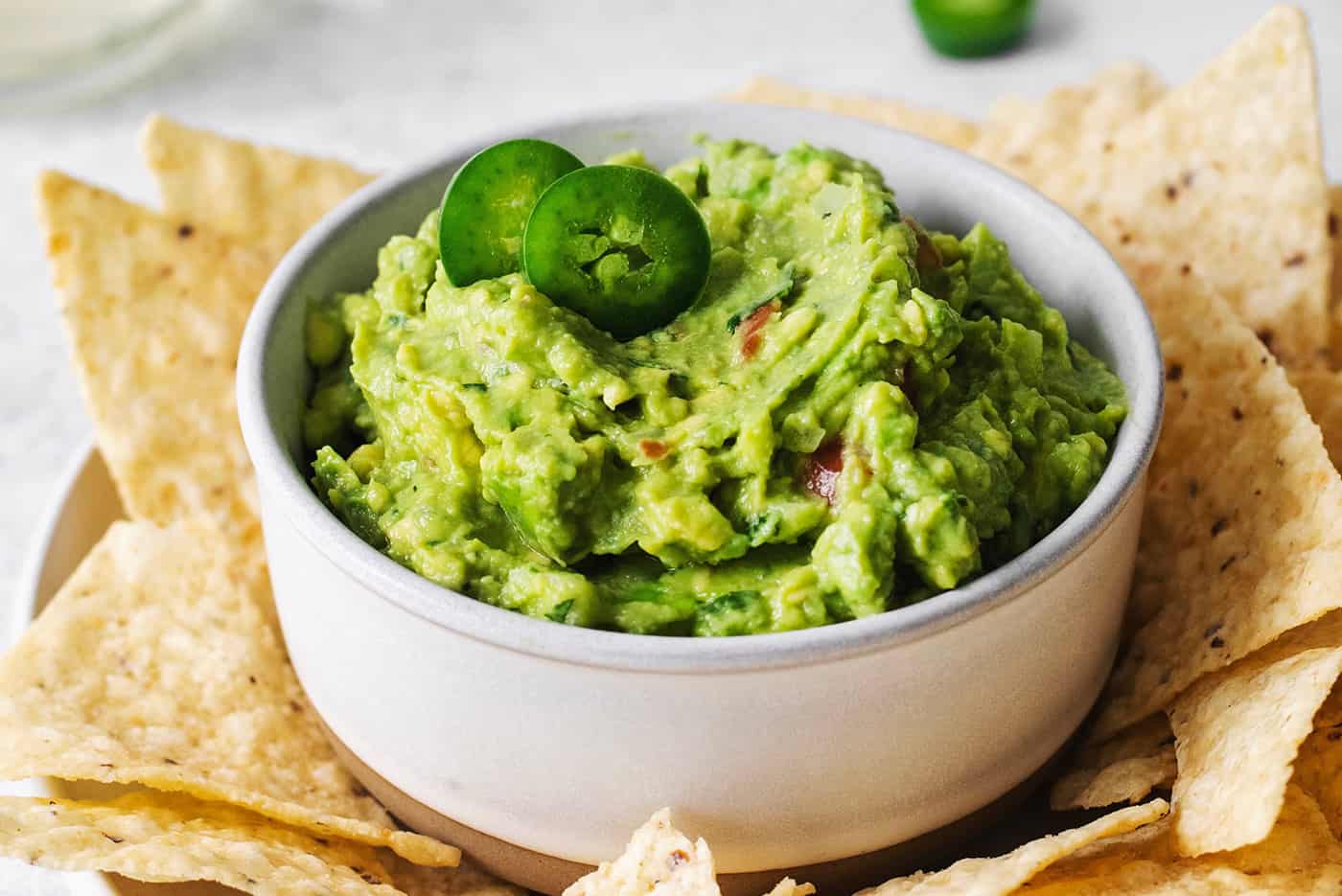 How to Make Homemade Guacamole
This classic guacamole recipe comes together in just a few easy steps and just 10 minutes of prep!
Mash the avocado. Combine the diced avocado, lime juice, garlic, salt, and pepper in a bowl. Use a fork to gently mash the avocado to your desired consistency, from chunky to smooth.
Add the remaining ingredients. Fold in the tomato, onion, cilantro, and jalapeno.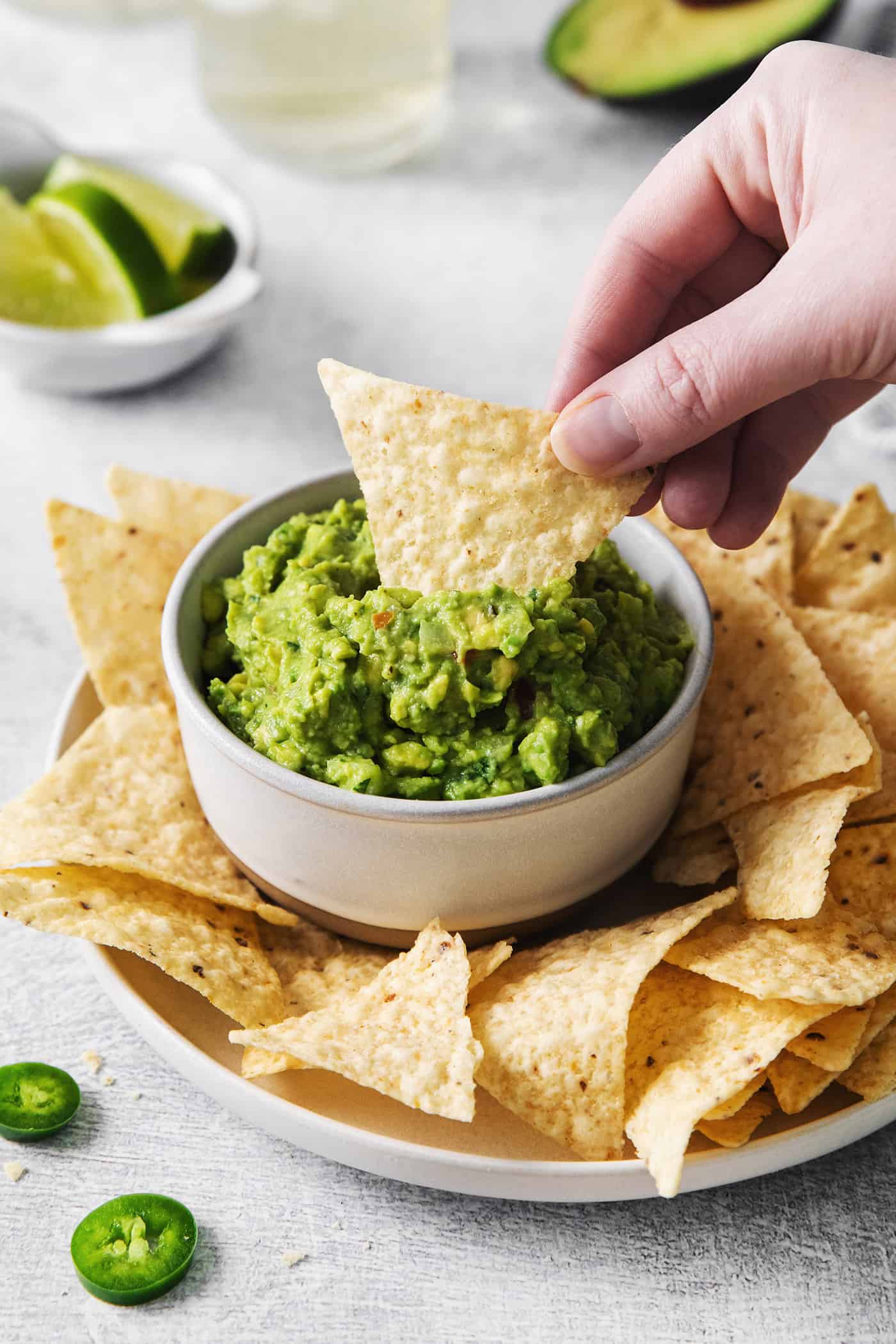 Tips & Variations
Here are a few tips and variations for this easy guacamole recipe.
Use chilled ingredients. If you prefer your guacamole to be cold when served, be sure to keep your avocado and lime in the fridge, so that the end result is already chilled. Note that avocados should only be refrigerated when they're ripe or they will ripen very slowly.
Don't mash the avocado completely. For a chunkier guacamole, don't mash the avocado completely – or reserve some of the diced pieces to fold in with the remaining ingredients.
Taste test before serving. Always give the guacamole a little taste test before serving and adjust the ingredients as desired.
Change up the garlic. If you prefer guacamole without garlic, simply leave it out. Another option for garlic lovers is to use roasted garlic, which has a smoother, more mellow flavor.
Spice it up. For spicy guacamole, be sure to leave the seeds in the jalapeno. You could also use serrano pepper instead and/or add in some red pepper flakes.
Add cheese. It's fun to sprinkle some crumbled Cotija cheese over the top before serving. You could even fold some into the guac itself. It adds a salty flavor, so you might want to omit additional salt.
Add pickled vegetables. Instead of the raw onion, add some chopped pickled red onions. Instead of the fresh jalapeno, add pickled jalapenos!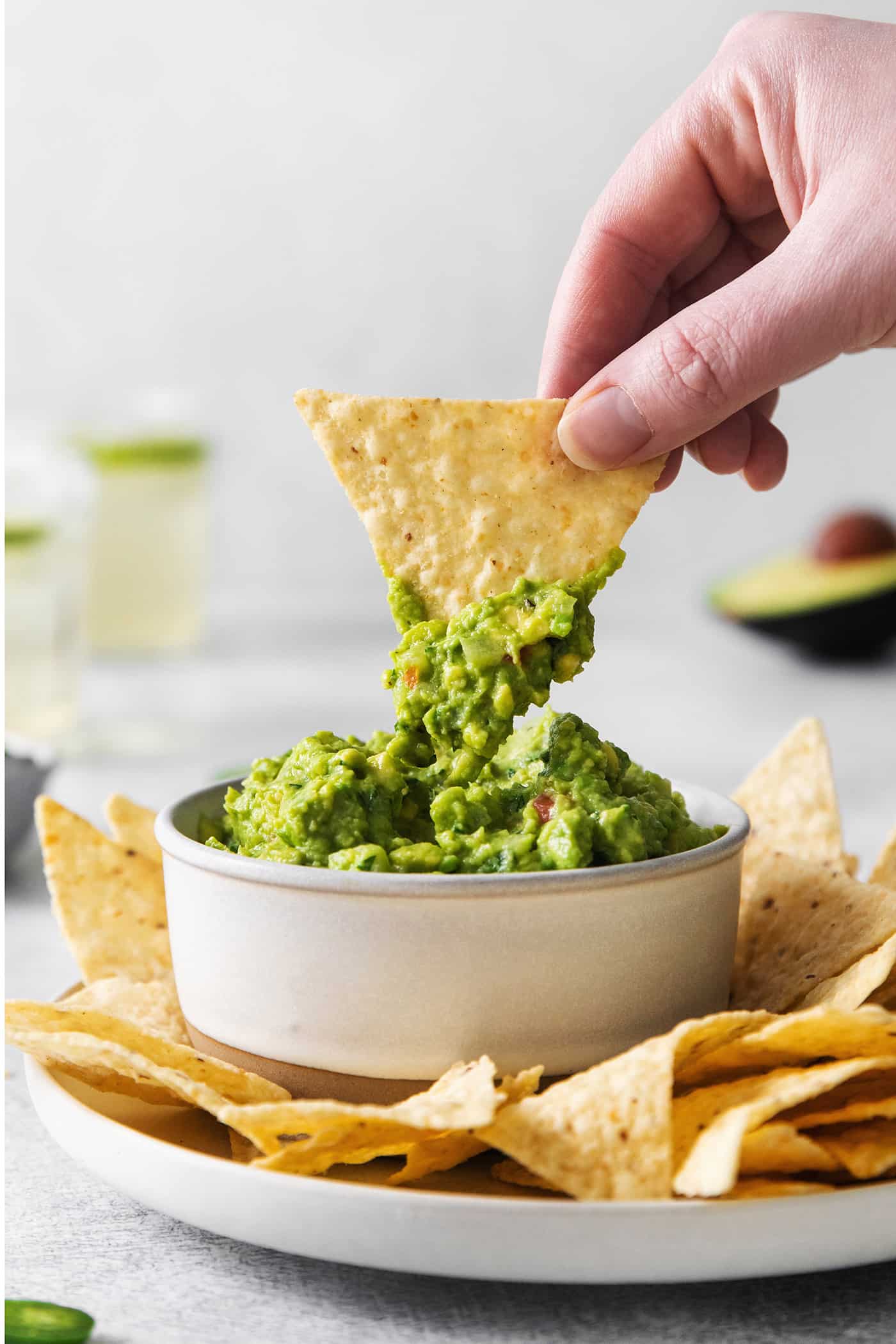 What to Serve with Guacamole
Homemade guacamole can be served as a dip or topping.
Guacamole as a dip:
Guacamole as a topping:
What to drink with guacamole:
Any which way you serve it, guacamole pairs up perfectly with a margarita!
A classic margarita is always a favorite. But maybe you'd prefer a bubbly prosecco margarita, a spicy pineapple jalapeno margarita, or a summery watermelon margarita?
For a tequila drink that's super light and refreshing, basically a "skinny margarita", be sure to check out my ranch water cocktail!
How to Store Leftovers
Wondering how to keep guacamole green? Here's a great hack:
Place leftover guacamole in a storage container and use a spoon to pat it down firmly until it has a solid, flat surface.
Add a 1/2″ layer of cold water over the top. (You could also substitute water with a thin visible layer of fresh lime or lemon juice.) Water or citrus juice will form a barrier to protect the guac from contact with air.
Place a tight-fitting lid on the storage container and store in the fridge for up to 3 days.
To enjoy the leftover guacamole, just pour off the water and then give it a good stir.
I've done this, and it works great!
Guacamole Variations
If you're a guacamole super fan, be sure to check out a couple of my favorite variations:
Holiday Guacamole – With a fun mix of savory guacamole and bites of sweet/tart pomegranate seeds, pears, and grapes, this version is extra pretty and festive!
Roasted Tomatillo Guacamole – With dry roasted tomatillos, garlic, poblano pepper, and onions, this is a fun, tangy guac with oven-caramelized goodness.
Tuna Guacamole Sandwich with Bacon – Use the classic guacamole recipe included in this post to make this awesome tuna sandwich!
More Easy Dips:
Like this Recipe? Save to Pinterest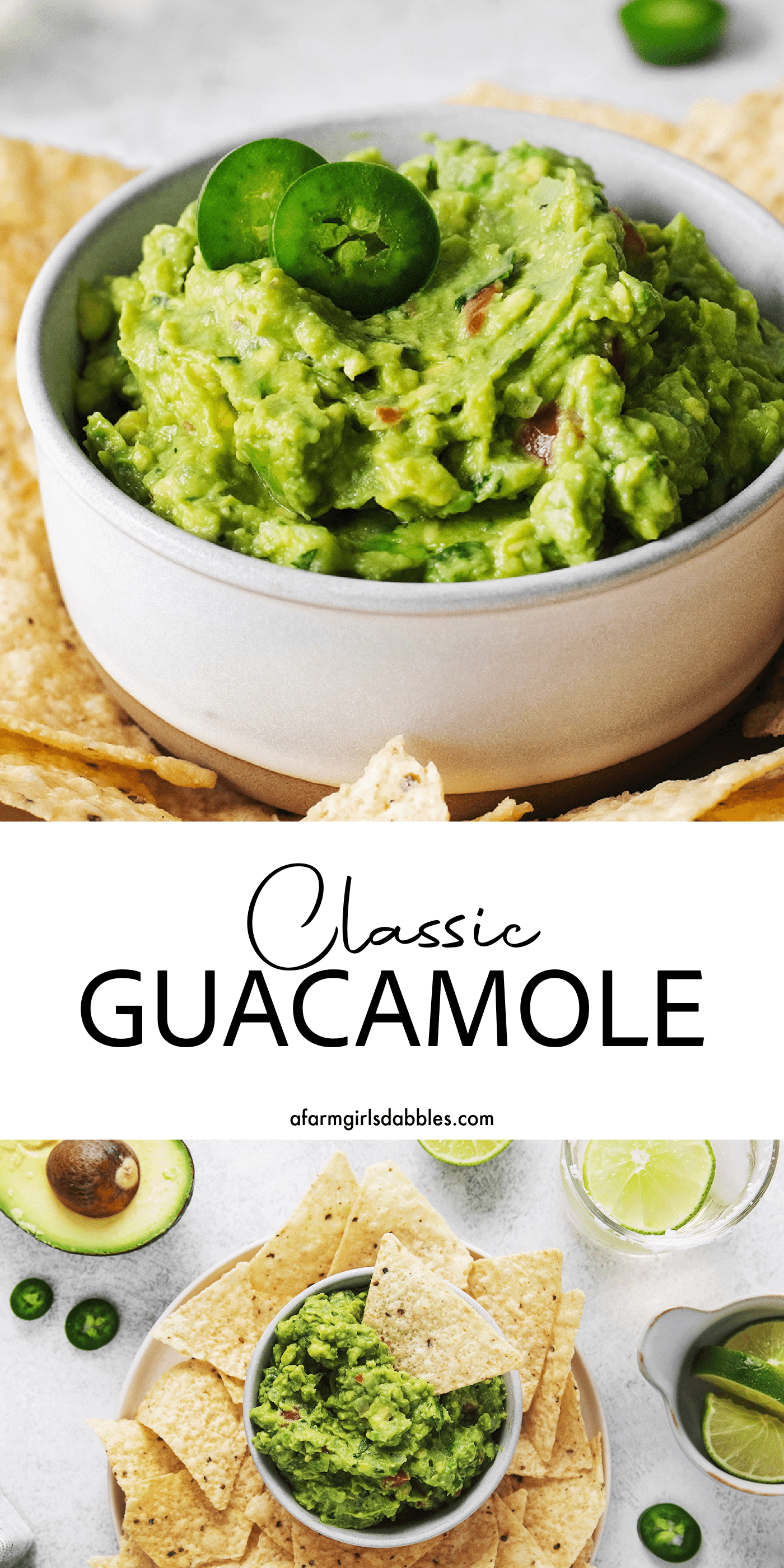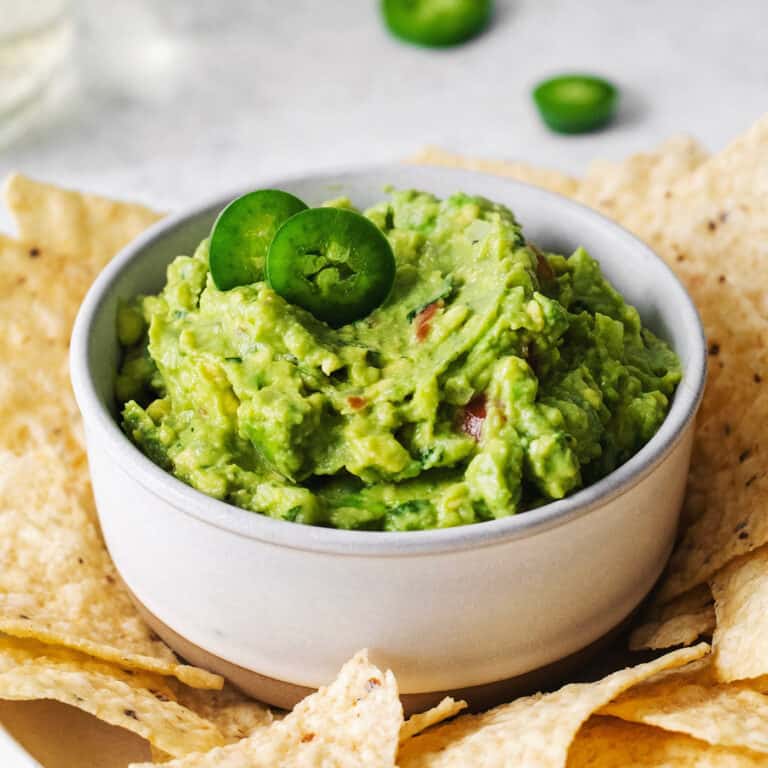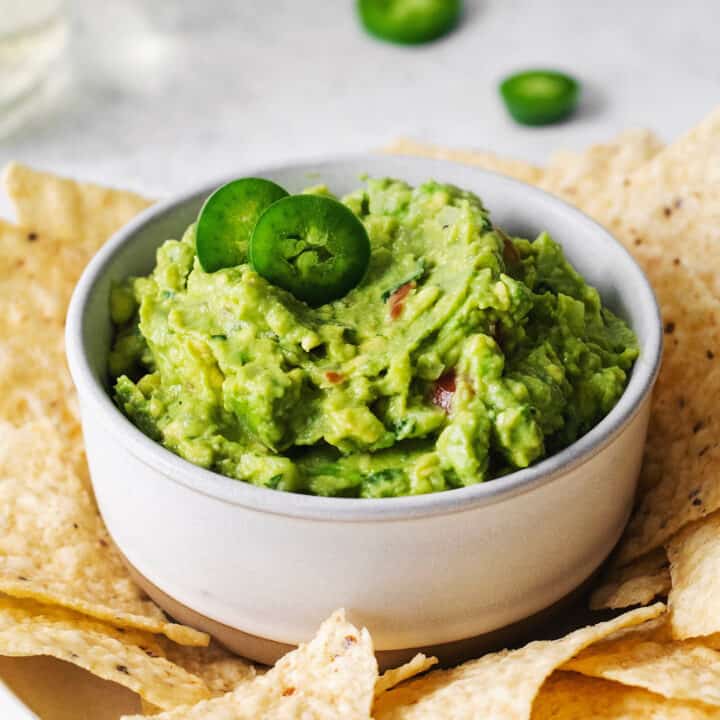 Classic Guacamole
Yield: about 2 cups
Prep Time: 10 minutes
Total Time: 10 minutes
This Classic Homemade Guacamole is fresh and delicious, and super easy to make with just a few simple ingredients. It's the best guacamole recipe, the perfect party appetizer and a tasty topping for tacos, burrito bowls, salads, and more!
Ingredients
2 cups diced ripe avocado (about 2 medium avocados)
2 tablespoons freshly squeezed lime juice
1 teaspoon freshly grated garlic
½ teaspoon kosher salt
¼ teaspoon freshly cracked black pepper
¼ cup finely diced tomato
3 tablespoons minced onion
2 tablespoons minced cilantro
1 tablespoon minced jalapeno (optional)
Instructions
In a medium bowl, mash the diced avocado, lime juice, garlic, salt, and pepper until it is your desired consistency.
Fold in the tomato, onion, cilantro, and jalapeno (if using). Taste and season with additional salt and pepper if needed.
Nutrition Information:
Yield: 8
Serving Size: 1
Amount Per Serving:
Calories: 75
Total Fat: 6g
Saturated Fat: 1g
Trans Fat: 0g
Unsaturated Fat: 5g
Cholesterol: 0mg
Sodium: 82mg
Carbohydrates: 5g
Fiber: 3g
Sugar: 1g
Protein: 1g
Nutrition information is automatically calculated by Nutritionix. I am not a nutritionist and cannot guarantee accuracy. If your health depends on nutrition information, please calculate again with your own favorite calculator.