Mom's Cheesy Beef Taco Dip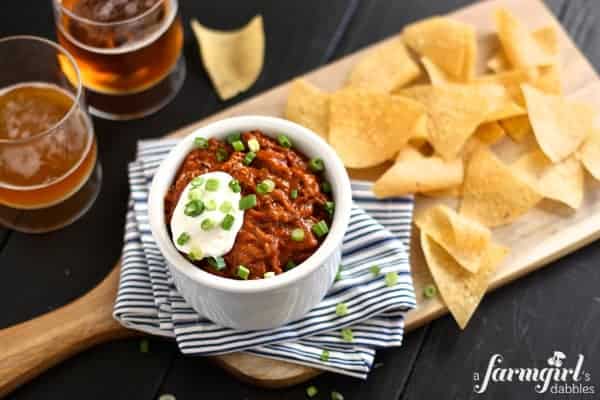 On Mom's original recipe for this Cheesy Beef Taco Dip, she wrote in, "Used for Brenda's graduation party and every bit of it was gone!"
And while big hair and big glasses will go in and out of style, dips as good as this never will!
This beef taco dip is best served warm, when it's at its thick and gooey cheesy best. Full of shredded cheddar, it's not a creamy kind of dip, like you'd get if you used cream cheese or Velveeta or Cheese Whiz. So it requires a sturdy chip.
This appetizer is big and hearty, and full of beefy taco flavor. Some might even be tempted to just call it supper…ahem.
Whether serving this for a graduation party, as part of your upcoming Super Bowl spread, or for supper tonight, you'll soon taste why this dip stands the test of time.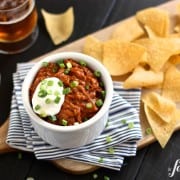 Cheesy Beef Taco Dip
Yield: about 3-1/2 cups of dip
Cook Time:10 minutes
Ingredients:
1 lb. lean ground beef2 or 3 cloves garlic, minced1 15-oz. can tomato sauce2 T. taco seasoning (more or less, depending on your preference)2 tsp. Frank's Redhot Sauce2 c. shredded cheddar cheese1 T. flour
Directions:
In a large skillet, cook beef and garlic until beef is browned. Drain fat. Stir in tomato sauce, taco seasoning, and hot sauce. Simmer, uncovered, for 5 minutes.
In a small bowl, toss cheese with flour. Add cheese to beef mixture, a little at a time, stirring just until melted. Transfer to a small crockpot or fondue pot to keep warm. Garnish, if desired, with sour cream, sliced green onions, chopped tomatoes, etc. Serve with sturdy tortilla chips.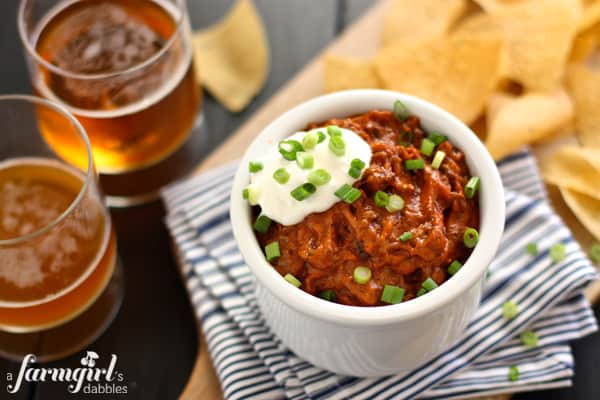 We participate in the Amazon Services LLC Associates Program, an affiliate advertising program designed to provide a means for us to earn fees by linking to Amazon.com and affiliated sites. See our disclosure policy for more info.