Pecan Pralines
These Pecan Pralines are rich and buttery, creamy, and chock-full of crunchy, toasted pecans. It's a classic southern candy recipe that's easy to make. Perfect for Christmas cookie trays and gift giving!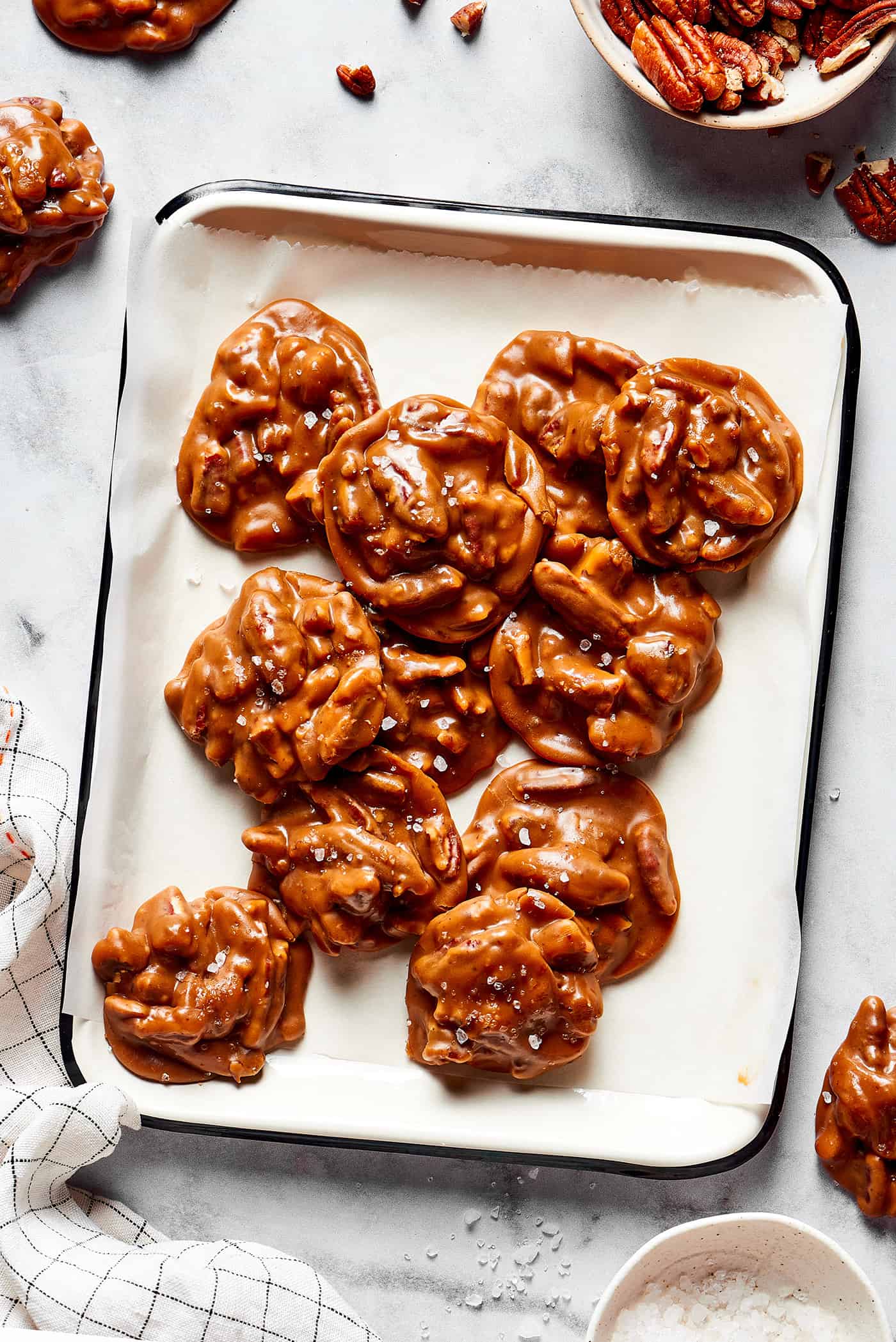 Homemade Pecan Pralines
Pecan Pralines are a sweet treat from the south. This easy recipe is rich and buttery, creamy, and chock-full of crunchy, toasted pecans. Perfect for the holidays!
I enjoyed my first classic pecan pralines while visiting Savannah a number of years ago. It was a memorable part of immersing myself in all that wonderful southern hospitality, charm, and deliciousness!
This recipe for homemade pecan pralines is a bit softer and creamier than the ones I found in Georgia. And I actually prefer them this way.
To give them even more of an edge, I toast the pecans for extra toasty flavor and crunchy texture. And I sprinkle a little bit of course or flaky sea salt over them as they're cooling on the pan. Absolutely delightful!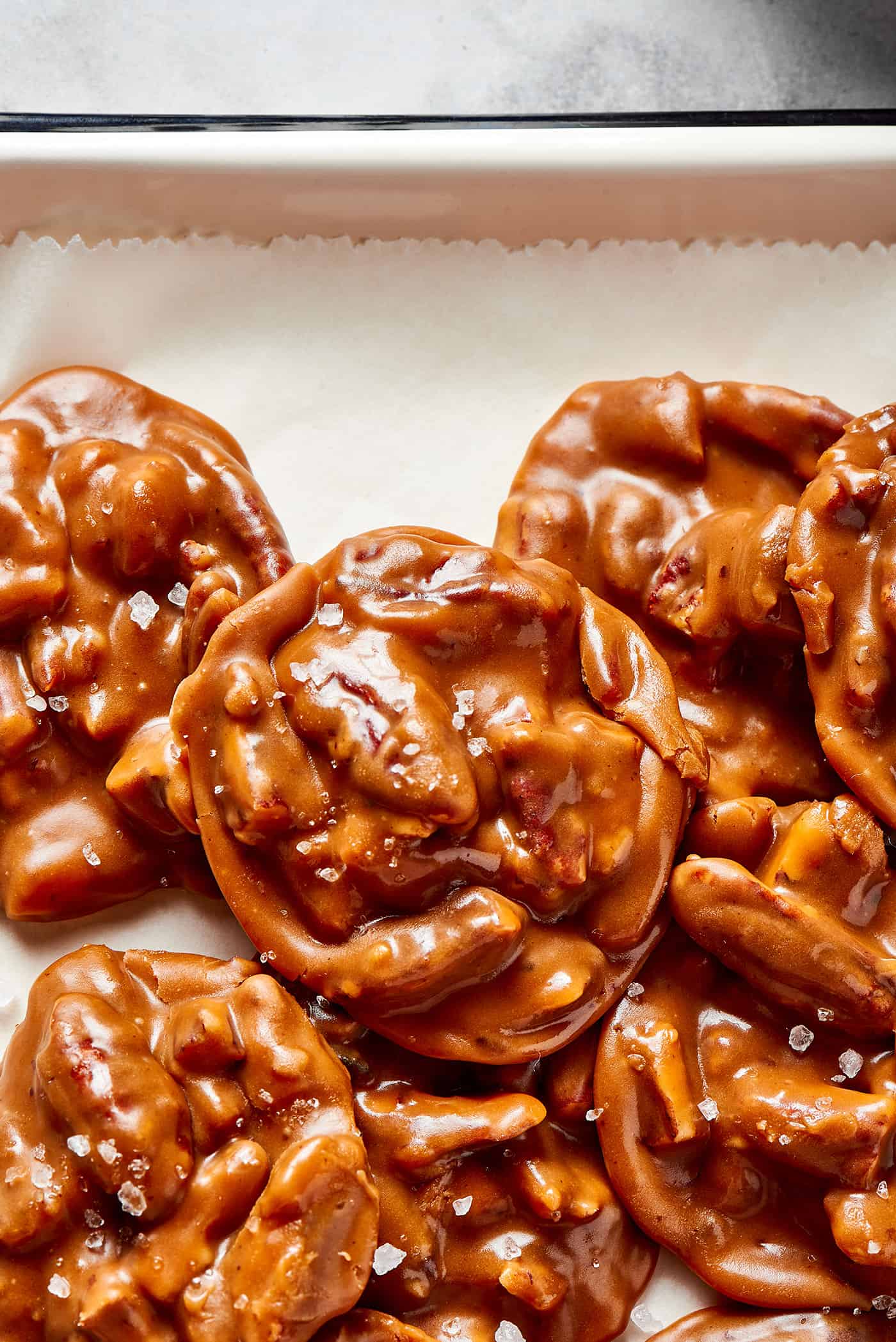 What Are Pralines?
Pralines are a candied sweet made with pecans (or other nuts) and caramelized sugar.
They are a melt-in-your-mouth candy that's very popular in the South, where you can find entire stores dedicated to pralines. While they're a year-round staple in places like New Orleans, they're often more of a holiday treat elsewhere.
So, lucky for us who live in the north, we can easily make southern pralines at home with just a few ingredients!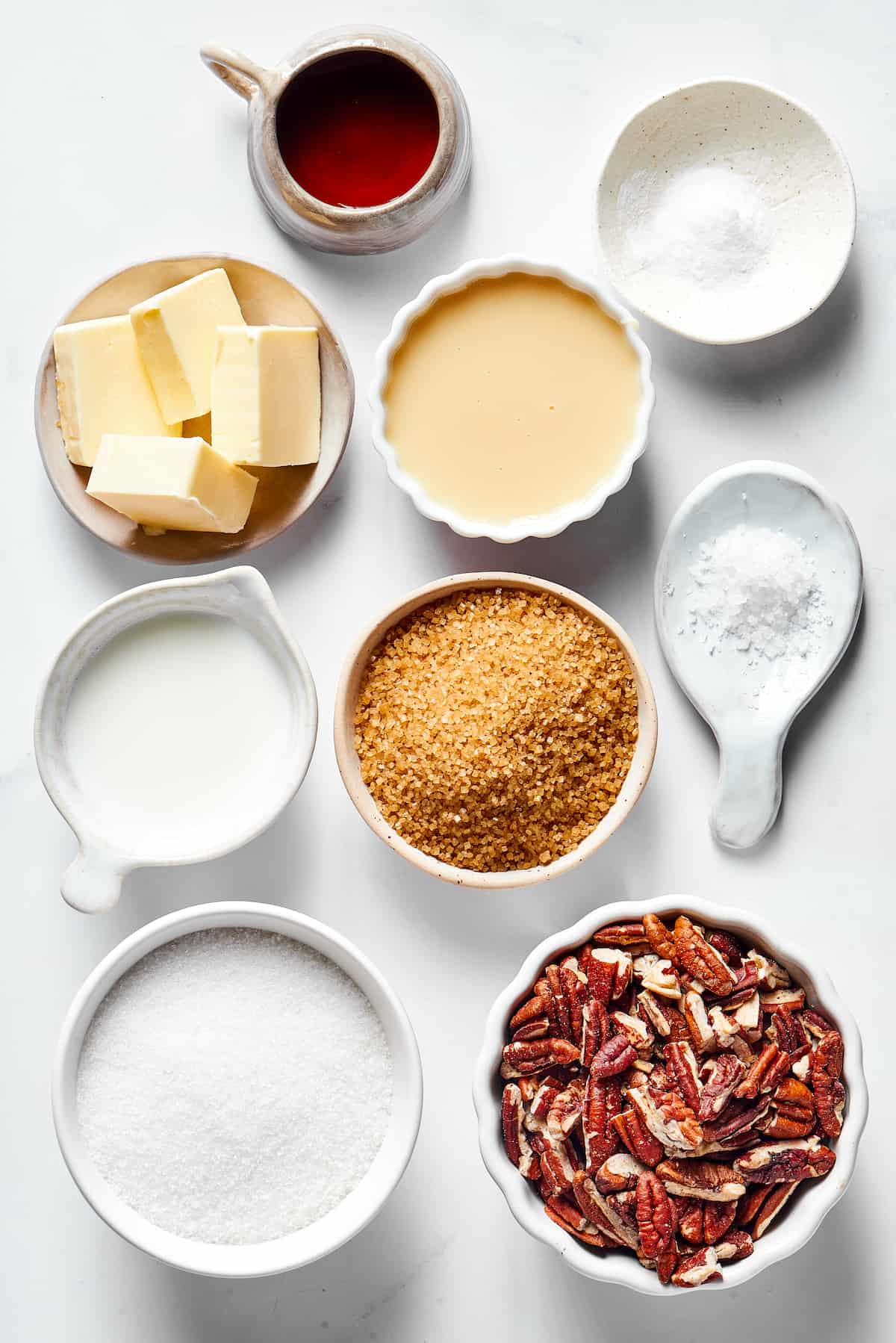 Recipe Ingredients
You can make homemade pralines with just a few common baking ingredients plus some fresh pecans. Scroll down to the recipe card for the measurements.
Pecans – I like to use pecan halves, whole or chopped ever so slightly. See notes below on how to toast them first.
Sugar – This recipe uses white sugar, plus raw sugar (often referred to as turbinado sugar) for a richer caramel-y flavor.
Sweetened condensed milk & whole milk – I use both to achieve the perfect creamy, melt-in-your-mouth texture.
Baking soda – Baking soda is key to achieving the ideal texture in the pralines and keeping them easy to bite into.
Butter – Begin with the unsalted butter at room temperature for best results.
Salt
Vanilla extract – Adds a lovely soft flavor to complement this sweet, nutty treat.
How to Roast Pecans
While you can buy roasted pecans at the store, roasting them at home is also super easy.
Just spread the pecan halves on a baking sheet, pop them in an oven preheated to 350° F, and toast them for 10 to 15 minutes. Be sure to stir them at least once.
Once they have a toasted appearance and nutty fragrance, remove them from the oven.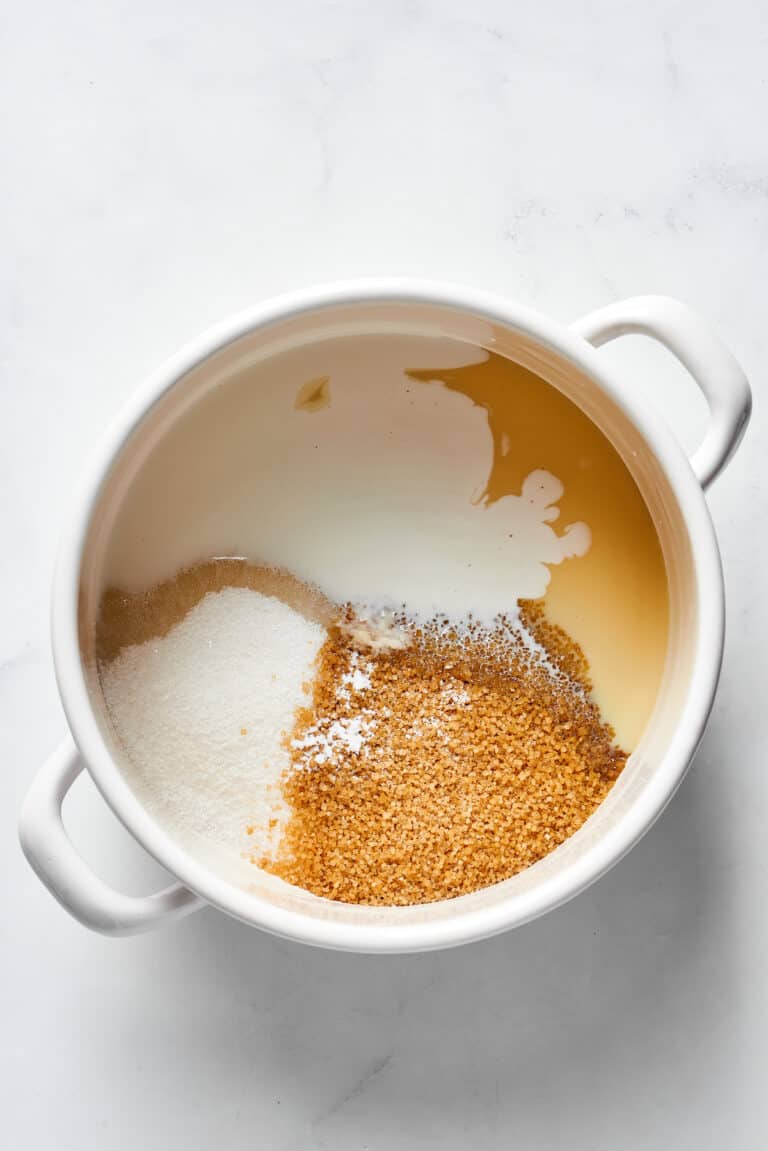 How to Make Pecan Pralines
I love getting out the candy thermometer – it means wonderful deliciousness is right around the corner!
Some of my favorite candy thermometer recipes include my grandma's chocolate caramels and my mom's buttercrunch toffee – YUM!
Make the sugar base. Add the sugars, milks, baking soda, and salt to a Dutch oven over medium heat. Whisk occasionally, until mixture reaches 235° F on the candy thermometer.
Add the butter. Immediately whisk in the butter. Stir until completely melted. The mixture will thicken and darken as it cooks.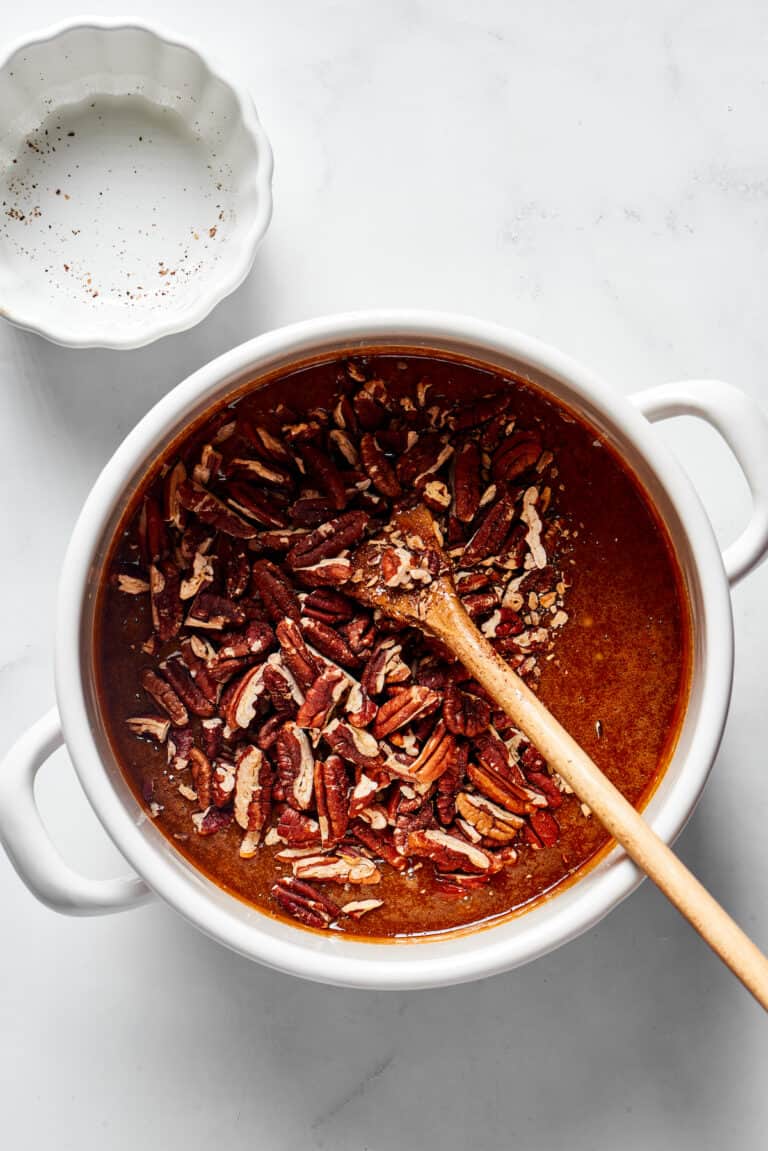 Add the pecans. Remove from heat. Add the pecans, vanilla, and salt. Stir for 5 minutes. The mixture will begin to turn into a thick, silky caramel as it cools.
Transfer to the baking sheet. Drop tablespoons of the mixture onto the prepared baking sheet.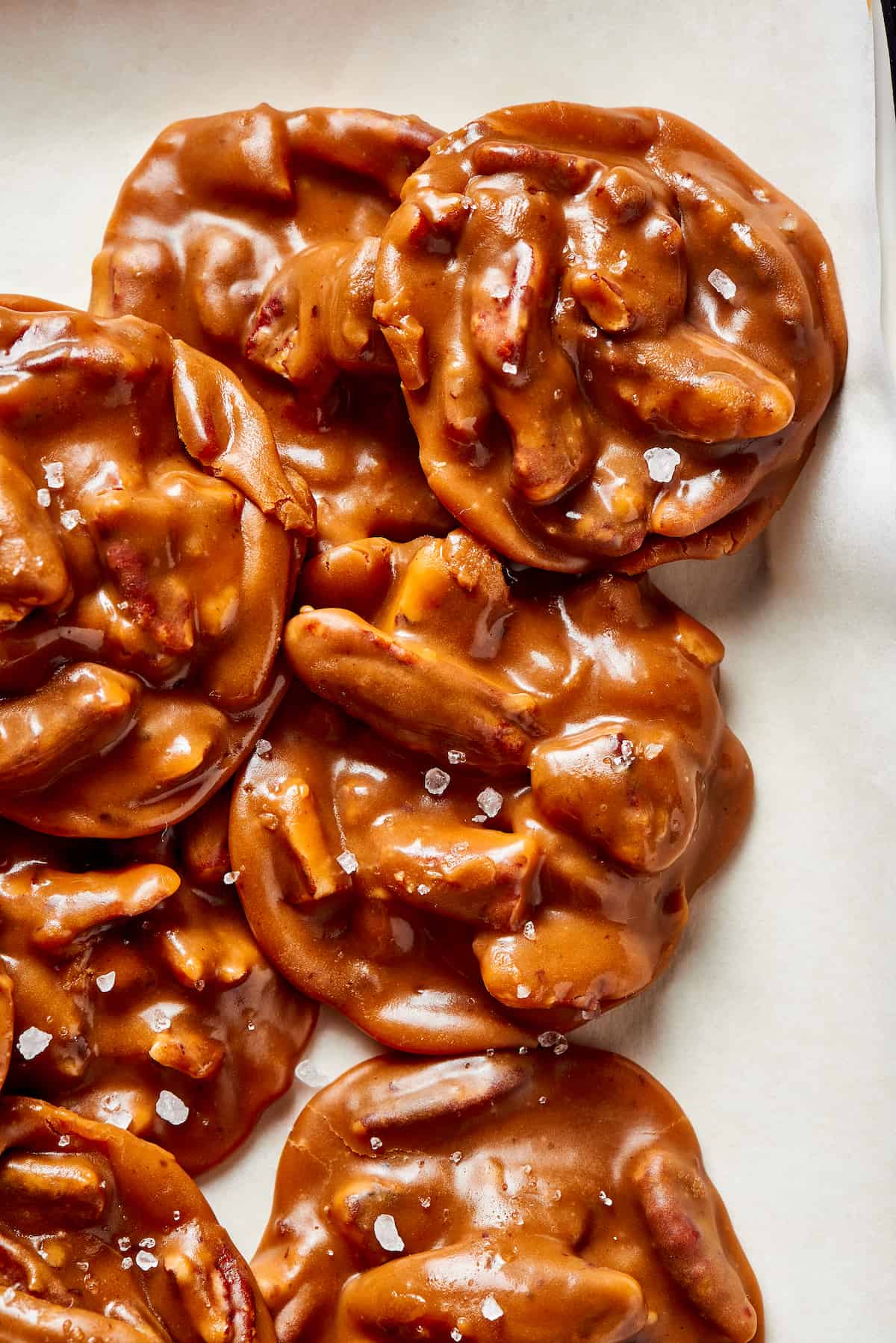 Sprinkle & Cool. Sprinkle with coarse or flaky sea salt while still warm, if desired. Then let sit at room temperature for at least 30 minutes to harden and cool before removing from the baking sheet.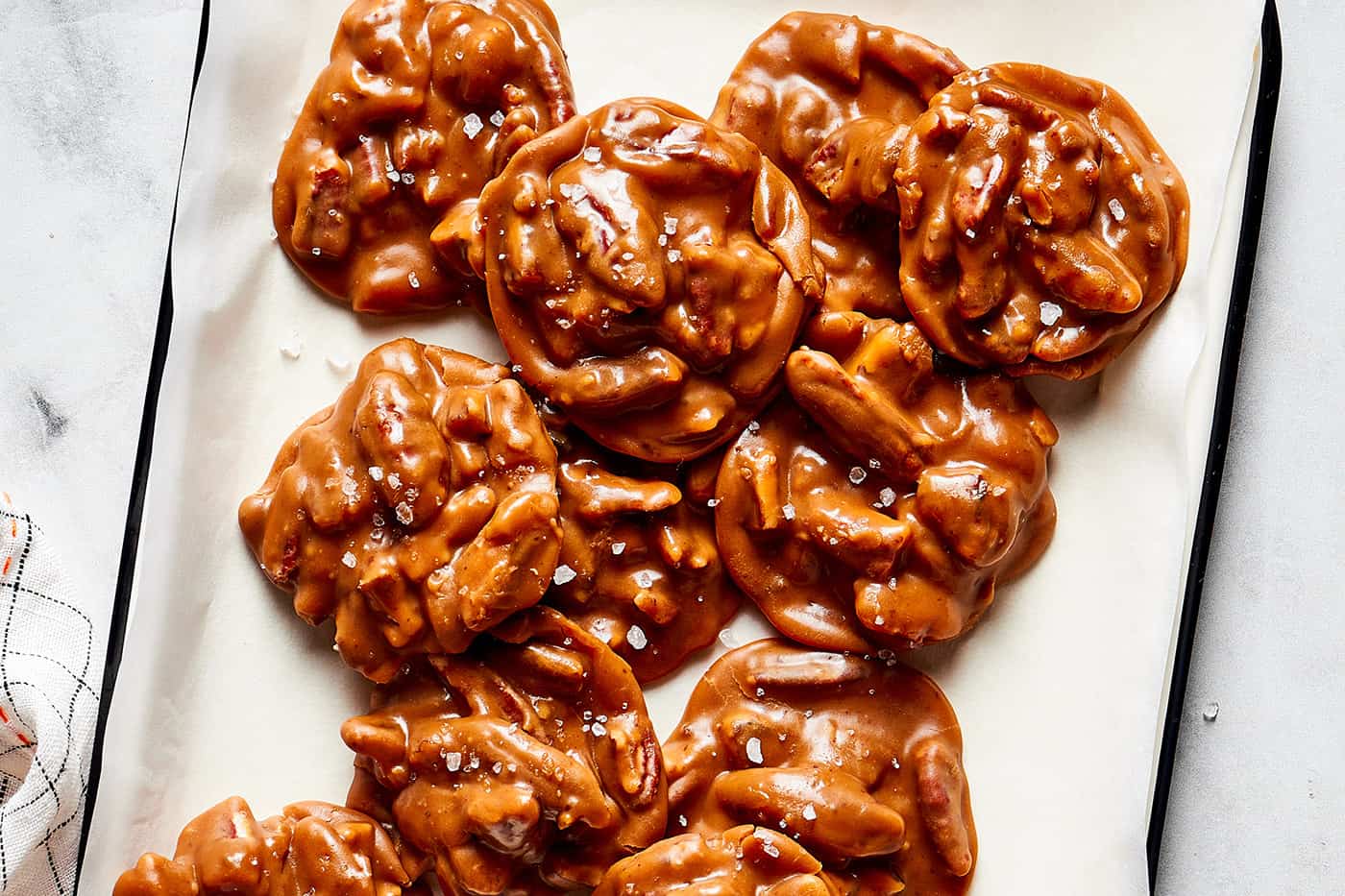 Tips for Success
Here are a few tips to help you make the perfect pecan pralines.
Use toasted pecans. I highly recommend using toasted pecans. The toasting adds desirable flavor and crunchy texture.
Use a candy thermometer. The end result of this recipe depends on the temperature reached while making it. If the candy base is heated too high, the end result will be drier and harder, with a more crumbly texture. The only way to accurately measure the temperature is with a candy thermometer.
Stir constantly. Once the pecans are added to the mixture, be sure to stir continuously. This helps the candy base thicken to a consistency that can easily be scooped out. Plus it prevents the mixture from burning and sticking to the bottom of the pan.
Work quickly. Once the mixture thickens enough to drop the tablespoons of pralines onto the baking sheet, you'll need to work quickly – as it will harden as it continues to cool in the pan.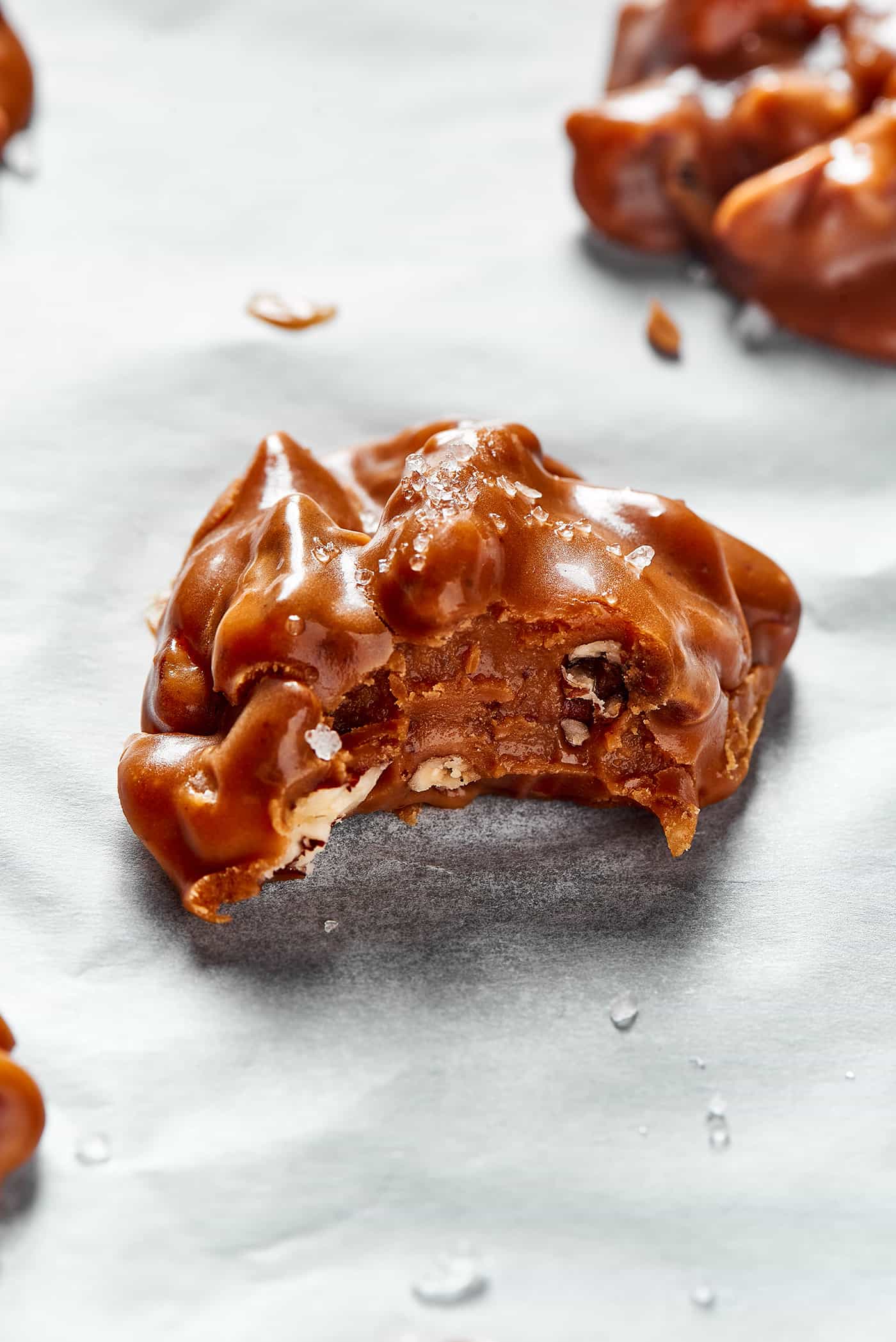 Serving Suggestions
Pecan pralines are perfect for dessert tables and Christmas cookie trays.
They also make great gifts during the holidays. Just package them up in a pretty little gift bag, add some ribbon, and viola! an edible gift anyone will love!
And if you find yourself with extras, try adding them to other desserts. Enjoy them over ice cream or stirred into ice cream, atop a cake or brownies. Leave them whole or coarsely chop them, whatever suits your fancy.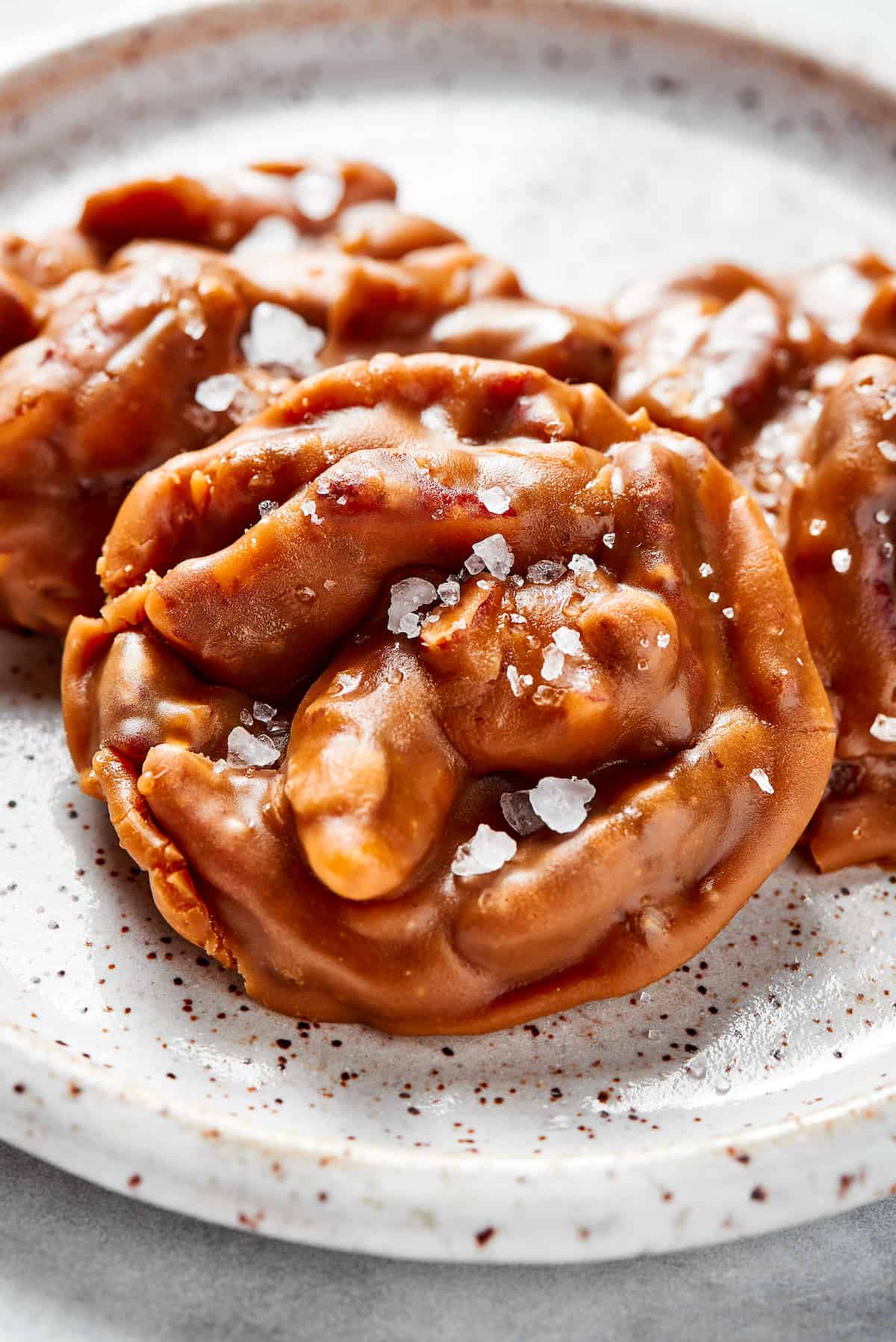 How Long Will Pecan Pralines Stay Good?
These pecan pralines will stay fresh for up to a week in an airtight container at room temperature.
You can also freeze them. They'll keep well for up to 3 months. Once they've set and cooled completely, transfer them to a freezer-safe container. Add parchment paper between layers to prevent them from sticking together. They will thaw quickly on the counter.
More Pecan Recipes:
Like this recipe? Save it to Pinterest!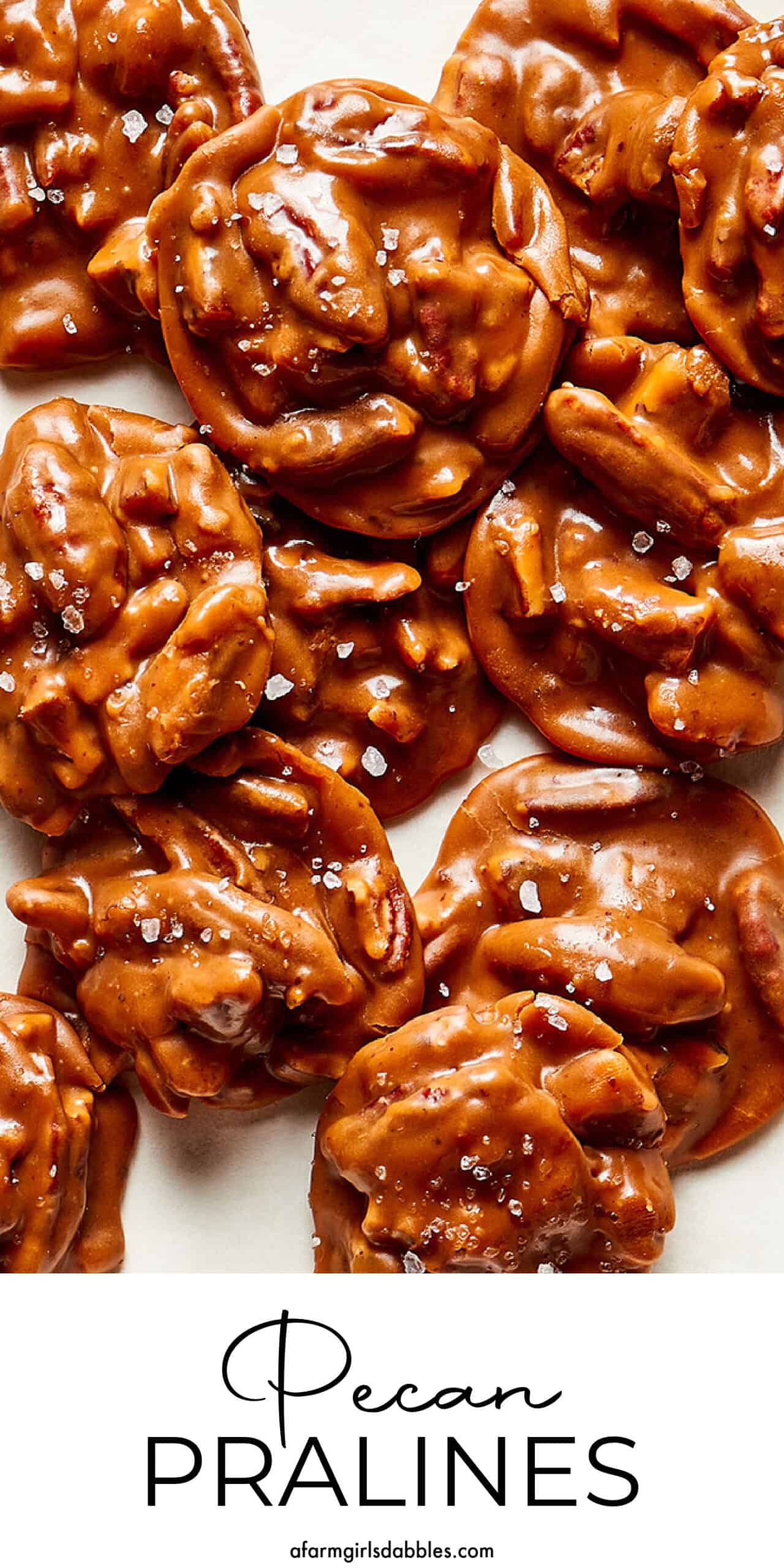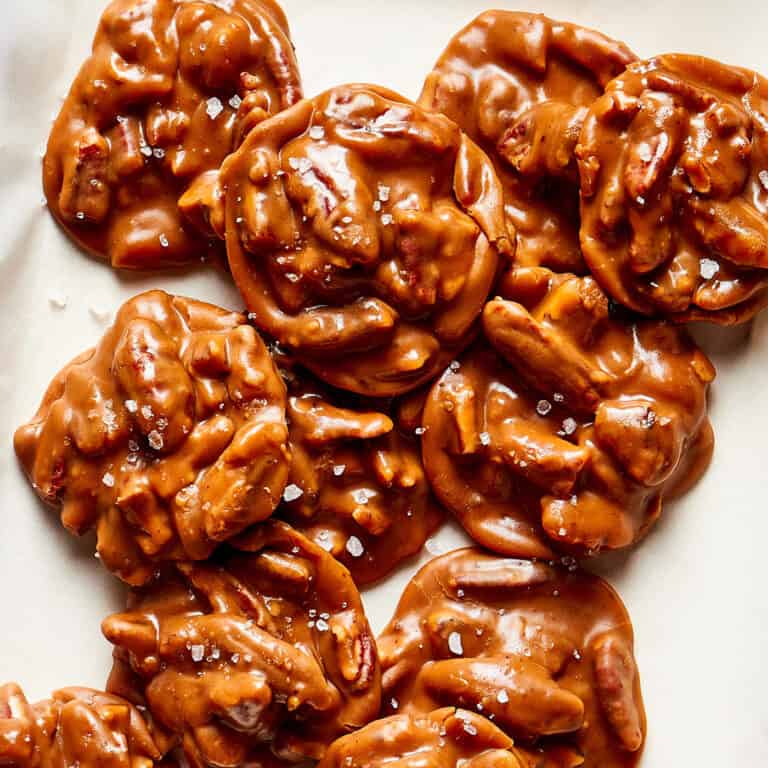 Pecan Pralines
Yield: 12 servings
Prep Time: 5 minutes
Cook Time: 15 minutes
Total Time: 20 minutes
These Pecan Pralines are rich and buttery, creamy, and chock-full of crunchy, toasted pecans. It's a classic southern candy recipe that's easy to make. Perfect for Christmas cookie trays and gift giving!
Ingredients
2 cups pecan halves, toasted
1 cup granulated sugar
½ cup raw sugar
½ cup sweetened condensed milk
⅓ cup whole milk
½ teaspoon baking soda
4 tablespoons unsalted butter, at room temperature
1 teaspoon kosher salt
1 teaspoon pure vanilla extract
coarse or flaky sea salt, optional
Instructions
Line two baking sheets with parchment paper and set aside.
In a Dutch oven, add the granulated sugar, raw sugar, sweetened condensed milk, whole milk, baking soda, and salt. Cook gently over medium heat, whisking occasionally, until mixture reaches 235° F on a candy thermometer. The mixture will begin to increase in volume as the temperature rises.
As soon as the mixture reaches 235° F, whisk in the butter and stir continuously for a next few minutes until butter is completely melted.
Remove the mixture from the heat. Add the pecans, vanilla extract, and a pinch of salt. Stir continuously for the next 5 minutes.
As the mixture cools, it will turn into a thick and silky caramel. Working quickly, drop a tablespoon of pecan mixture onto the prepared baking sheets.
Sprinkle the pralines with a bit of coarse or flaky sea salt while still warm, if desired
Let sit at room temperature about 30 minutes before removing from baking sheets.
Notes
Pecan Pralines will keep well, in an airtight container in a cool place, for up to 1 week. They also freeze well, for up to 3 months.
Nutrition Information:
Yield: 12
Serving Size: 1
Amount Per Serving:
Calories: 293
Total Fat: 18g
Saturated Fat: 4g
Trans Fat: 0g
Unsaturated Fat: 12g
Cholesterol: 15mg
Sodium: 179mg
Carbohydrates: 34g
Fiber: 2g
Sugar: 32g
Protein: 3g
Nutrition information is automatically calculated by Nutritionix. I am not a nutritionist and cannot guarantee accuracy. If your health depends on nutrition information, please calculate again with your own favorite calculator.