Turtle Pecan Cluster Cheesecake
This Turtle Pecan Cluster Cheesecake is a riff on a favorite Dairy Queen Blizzard ice cream treat. It's pure heaven!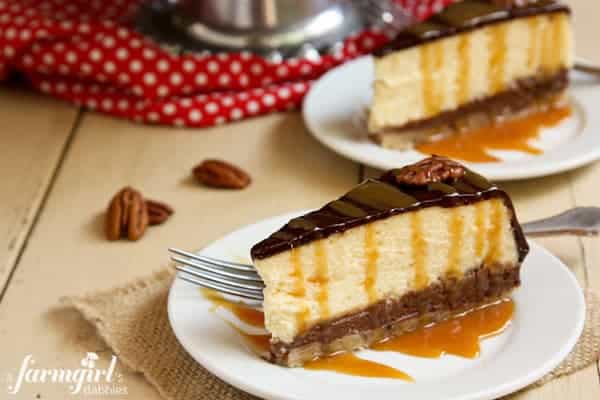 What's your favorite Dairy Queen Blizzard flavor? Mine is "Turtle Pecan Cluster", consisting of creamy vanilla soft serve blended with chocolate, caramel, and pecan pieces. It's a treat I crave quite often, thanks to Blake's parents introducing it to me many years ago. They are some kind of crazy for anything turtle flavored. So I thought I would turn their favorite combination of chocolate + caramel + pecan into a cheesecake treat for them, to celebrate their 60th wedding anniversary. This Turtle Pecan Cluster Cheesecake did not disappoint this very special couple.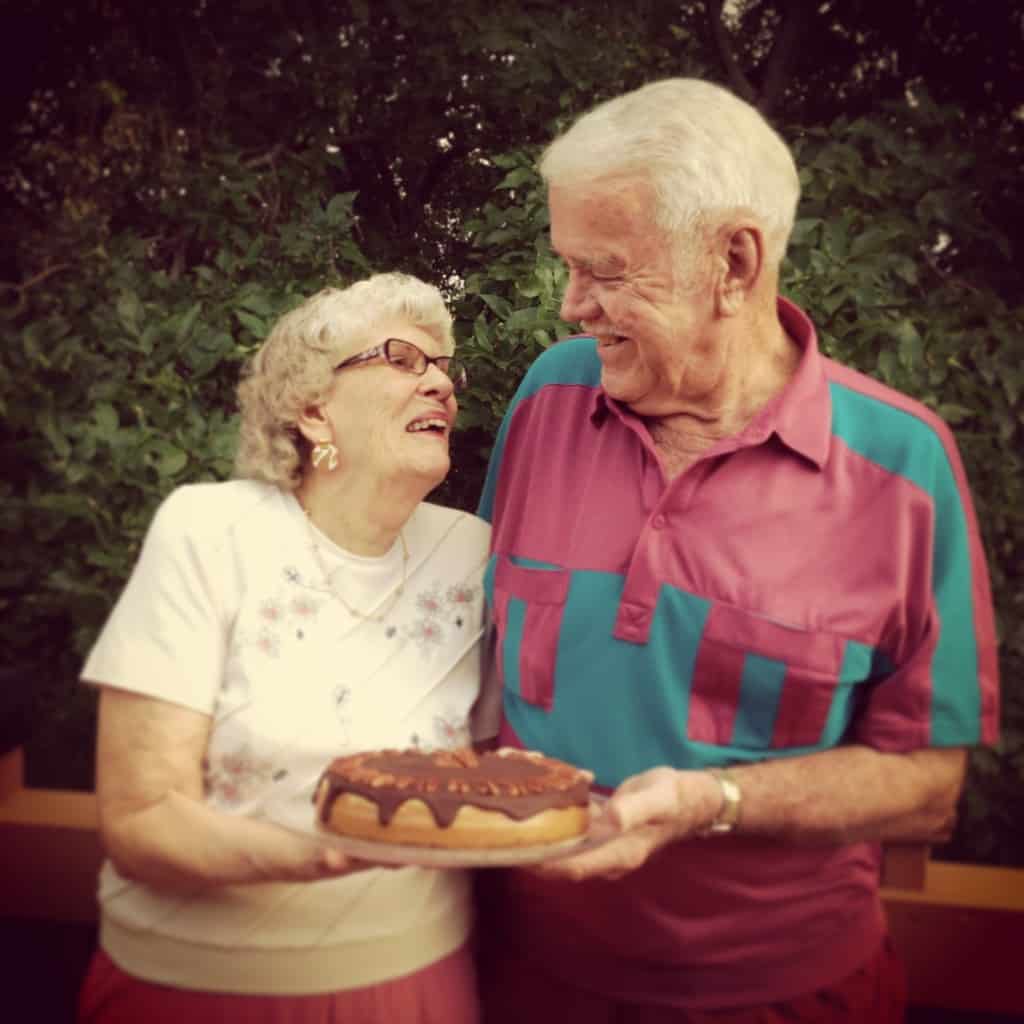 Archie and Loree, still so in love with each other, celebrated their anniversary in early June. 60 years, what an awesome blessing! We traveled back to Fargo to spend a weekend with them in honor of the occasion.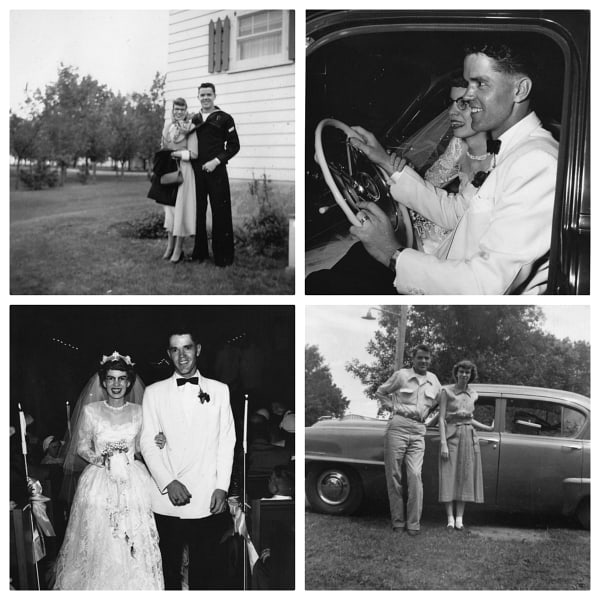 I thought this was the perfect time to pull out some old pictures I had scanned from their photo albums a few years ago…
Top Left: 1951, while Archie and Loree were dating, and Archie was home on leave from the Navy. Loree was giggling as she told me how she quickly threw a scarf on her head for this picture because they had stayed out late the night before and she didn't have time to do her hair.
Top Right and Bottom Left: Archie and Loree on their wedding day in June of 1953.
Bottom Right: Archie and Loree in 1953, getting ready to leave for Norfolk, VA where Archie was stationed in the Navy.
I could stare at these old black and whites forever.
But let's get back to the cheesecake!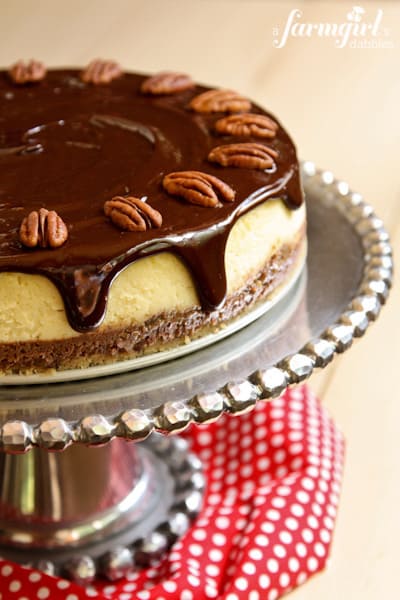 If you're looking for an extra special cheesecake to mark an extra special occasion, this Turtle Pecan Cluster Cheesecake needs to be on your list.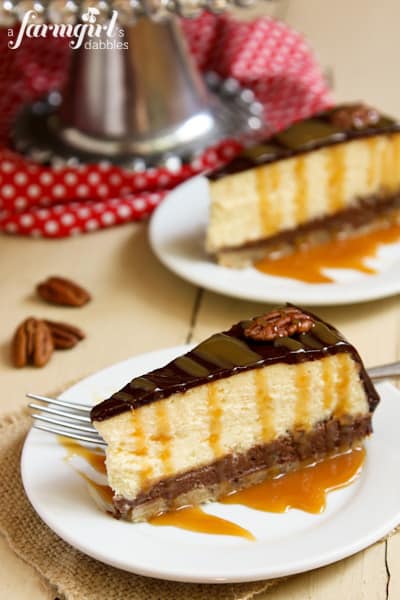 At the base is a scrumptious buttery crust of pecans and brown sugar. Then comes a thin layer of chocolatey cheesecake, some caramel and pecans, and then a thick layer of creamy vanilla cheesecake. It stands nice and tall, just the way I like my cheesecake, comprised of four luscious packages of cream cheese. The round is glazed with a gorgeous semi-sweet chocolate ganache, and a ring of big whole pecans around its perimeter completes the turtle sentiment. When serving, an extra drizzle of caramel is optional. But definitely recommended.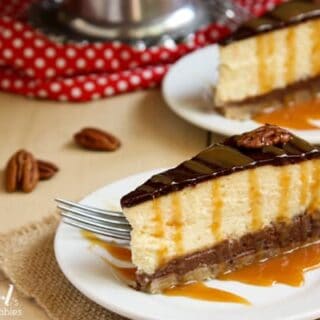 Turtle Pecan Cluster Cheesecake
Yield: 16 servings
Prep Time: 20 minutes
Cook Time: 1 hour 39 minutes
Total Time: 1 hour 59 minutes
This Turtle Pecan Cluster Cheesecake is a riff on a favorite Dairy Queen Blizzard ice cream treat. It's pure heaven!
Ingredients
for the crust:
1 c. all-purpose flour
1/3 c. packed brown sugar
1/4 tsp. kosher salt
1/4 c. finely chopped pecans
6 T. cold butter, cubed
for the filling:
32 oz. cream cheese, at room temperature
1 c. sugar
1/3 c. packed brown sugar
1/4 c. plus 1 tsp. all-purpose flour, divided
2 T. heavy cream
1 T. pure vanilla extract
4 large eggs, lightly beaten
1/2 c. semi-sweet chocolate chips, melted and cooled
1/4 c. caramel ice cream topping
1/3 c. chopped pecans
for the ganache:
1/2 c. semi-sweet chocolate chips
1/4 c. heavy cream
16 large whole pecans
to serve:
additional caramel ice cream topping, optional
Instructions
Prepare a 9'' springform pan by lightly spraying it with non-stick spray. Place it on a double thickness of heavy-duty foil that is about 18'' square and securely wrap foil up around the pan's sides. Set aside.
Preheat oven to 325° F.
for the crust:
In a small bowl, combine the flour, brown sugar, salt, and pecans. Cut in butter with a rigid pastry cutter or a fork until crumbly. Press evenly onto the bottom of prepared pan. Place pan on a baking sheet and bake for about 14 minutes, or until set. Cool on a wire rack.
for the filling:
In a large bowl, beat cream cheese and sugars until smooth. Beat in 1/4 cup flour, cream, and vanilla. Add eggs and beat on low speed just until blended. Remove 1 cup of batter to a small bowl and stir in the melted and cooled chocolate. Spread over cooled crust.
In another bowl, mix caramel topping with remaining flour, and then stir in pecans. Drop by tablespoonfuls over the chocolate batter. Top with remaining vanilla batter. Place springform pan in a large baking pan with tall sides and add 1'' of hot water to the larger pan.
Bake at 325° F for about 1 hour and 25 minutes, or just until center is set and top appears dull. Remove springform pan from water bath and remove the foil wrapping. Cool the cheesecake on a wire rack for 10 minutes. Run a thin knife around the perimeter of the cheesecake to loosen it from the sides of the pan. Cool 1 hour longer on the wire rack. Refrigerate for at least 6 hours, or overnight (preferred).
for the ganache:
Place chocolate chips in a small heatproof bowl. In a small saucepan over medium-high heat, bring cream just to a boil. Pour cream over chips and let sit for 30 seconds. Then whisk until smooth. Let ganache cool slightly, stirring occasionally.
Remove sides of springform pan. Spread ganache over cheesecake, letting it drip down the sides a bit. Place whole pecans evenly around the top perimeter of the cheesecake. Refrigerate until set. If desired, drizzle cheesecake slices with additional caramel topping before serving.
Nutrition Information:
Yield: 16
Serving Size: 1
Amount Per Serving:
Calories: 488
Total Fat: 34g
Saturated Fat: 18g
Trans Fat: 0g
Unsaturated Fat: 13g
Cholesterol: 122mg
Sodium: 298mg
Carbohydrates: 41g
Fiber: 1g
Sugar: 33g
Protein: 7g
Nutrition information is automatically calculated by Nutritionix. I am not a nutritionist and cannot guarantee accuracy. If your health depends on nutrition information, please calculate again with your own favorite calculator.