Cowboy Chicken
This Cowboy Chicken recipe is a skillet full of taco-seasoned goodness. Featuring seared chicken breasts covered in a blanket of cheese, plus black beans, corn, and Rotel – it's a hearty, delicious, family-pleasing meal!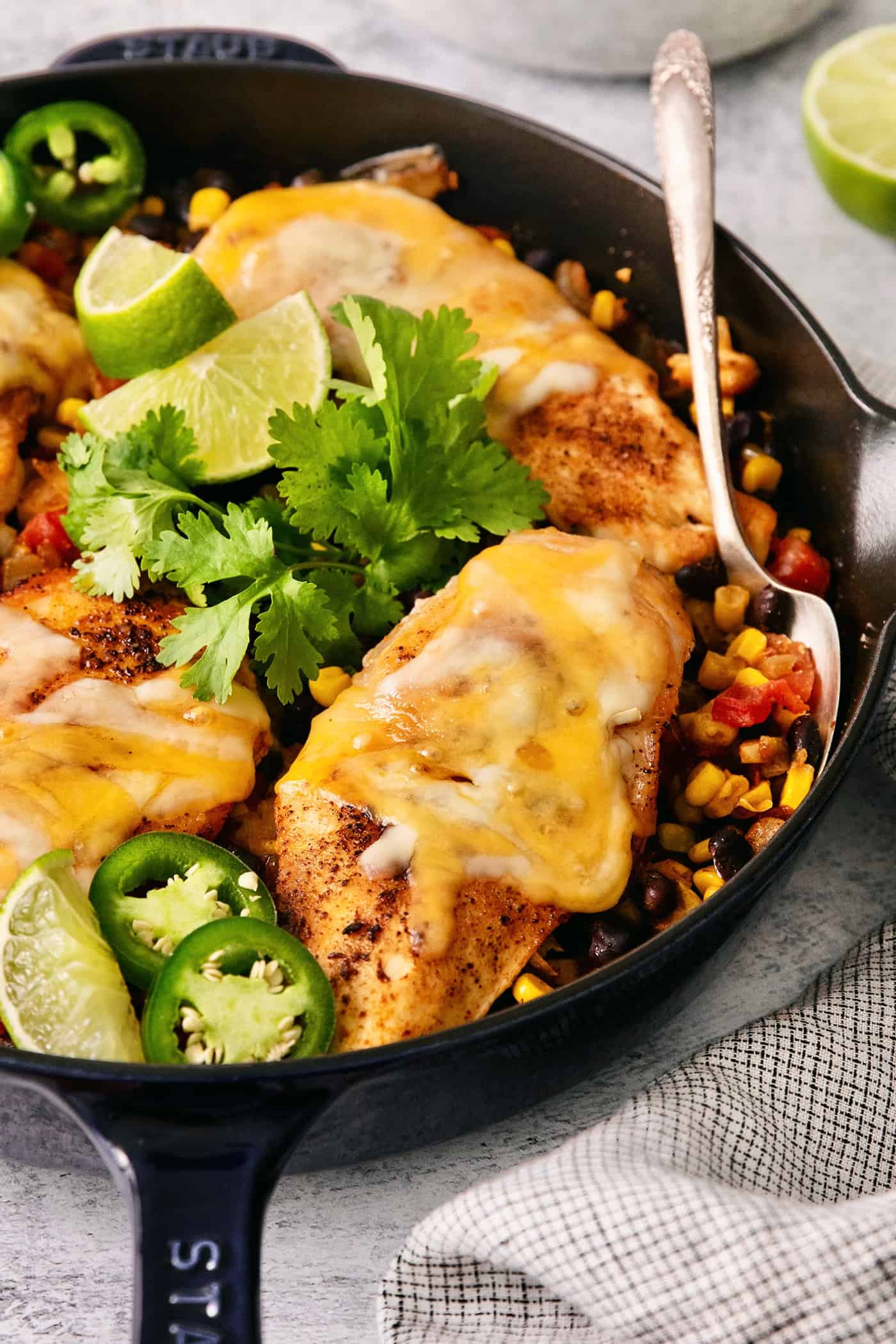 Easy Santa Fe Chicken Recipe
Cowboy Chicken (sometimes called Santa Fe Chicken) is a skillet full of Tex-Mex goodness. This taco-seasoned dish features seared chicken breasts covered in a blanket of cheese, plus black beans, corn, and Rotel. It's a hearty, delicious, family-pleasing meal!
This recipe is a true testament to how easy it is to put a fun, flavorful meal on the table. Simply season and sear the chicken, cook the beans and veggies, add some cheese, and pop it in the oven to finish cooking the chicken and melt the cheese.
We like to eat this dish with some fluffy cilantro lime rice, plus tortilla chips and guacamole – so good!!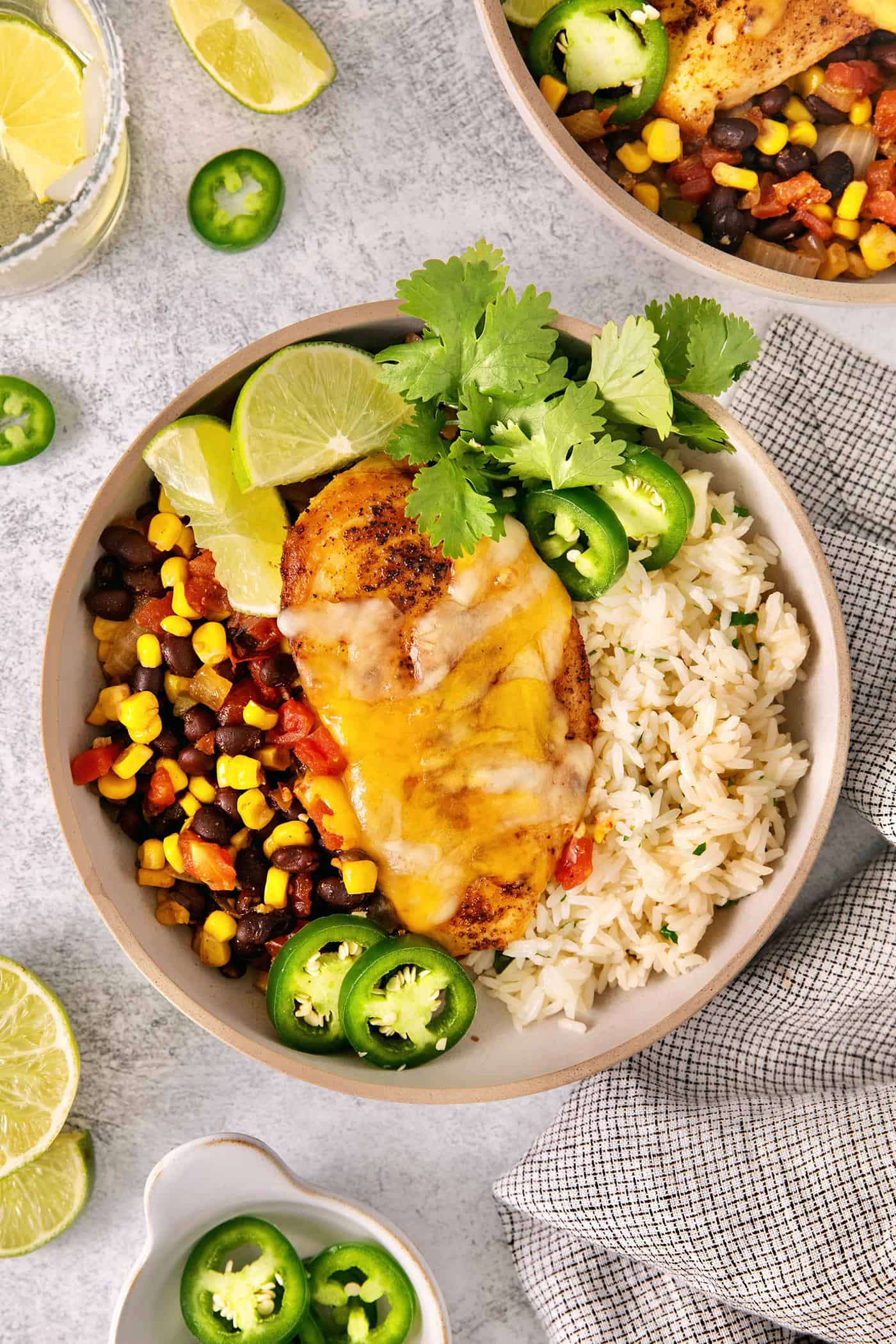 What Is Cowboy Chicken?
Not to be confused with the restaurant chain of the same name, cowboy chicken is an easy chicken breast recipe inspired by cowboy caviar.
It features chicken flavored with taco seasoning that's first seared, then baked in a skillet with classic cowboy salsa ingredients like corn, black beans, and Rotel diced tomatoes. The finishing touch is a gorgeous blanket of melty cheese over the chicken.
Thanks to the Tex-Mex flavors in this dish, you may also see it referred to as a Santa Fe chicken recipe. Whatever you call it – it's a quick and easy weeknight dinner!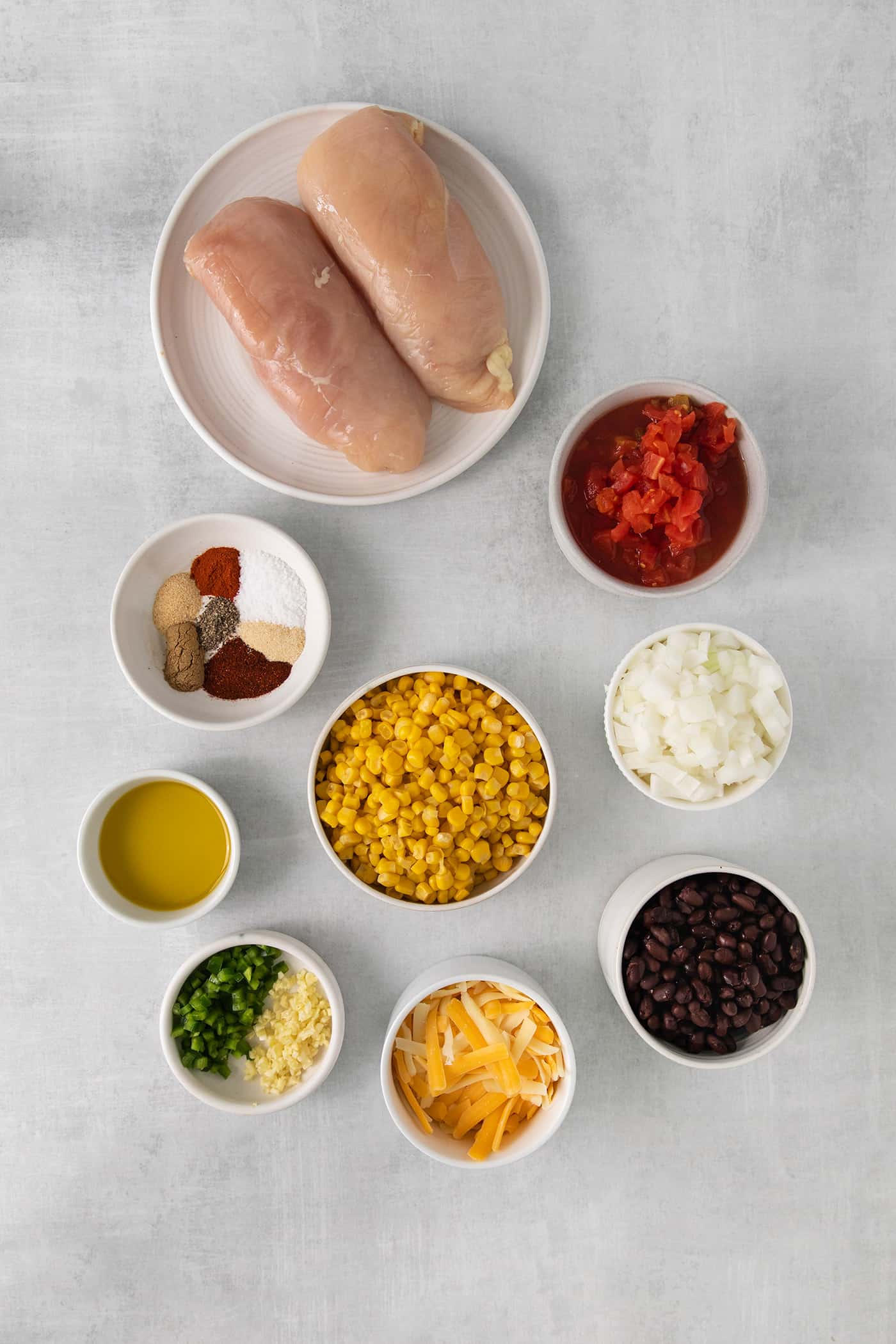 Recipe Ingredients
For this easy baked Santa Fe chicken recipe, you'll need chicken, a handful of seasonings, and your typical cowboy caviar ingredients.
See the recipe card below for exact measurements and full instructions.
Chicken – I like to use chicken breasts for this recipe, but boneless skinless chicken thighs would also work.
Seasonings – My cowboy chicken recipe seasoning is a combination of chili powder, cumin, paprika, garlic powder, onion powder, salt, and black pepper. Feel free to substitute 2 tablespoons of your favorite store bought taco seasoning instead.
Olive oil – Olive oil helps sear the chicken and vegetables. Any neutral cooking oil will work, though.
Onion & garlic – Onion and garlic add an earthy bite to this chicken recipe.
Jalapeno – Jalapeno adds a little spice. Feel free to skip it if you prefer.
Black beans – Black beans add protein heartiness and a creamy texture, and are delicious paired with the rest of the flavors.
Corn – Corn kernels add little pops of fresh, sweet flavor to the vegetable mixture. The recipe calls for a can of corn, but you can substitute with 2 cups of frozen corn. And when it's sweet corn season, definitely try fresh corn that's cut from the cob – it's delightful in this dish!
Rotel – Rotel is a canned blend of diced tomatoes, green chiles, and spices, so it works perfectly in this recipe. It's basically a ready-made salsa! Fire roasted diced tomatoes would also work, but I'd also throw in a little extra jalapeno.
Shredded cheese – I like to use a shredded Mexican cheese blend, but you could use any cheese that you like.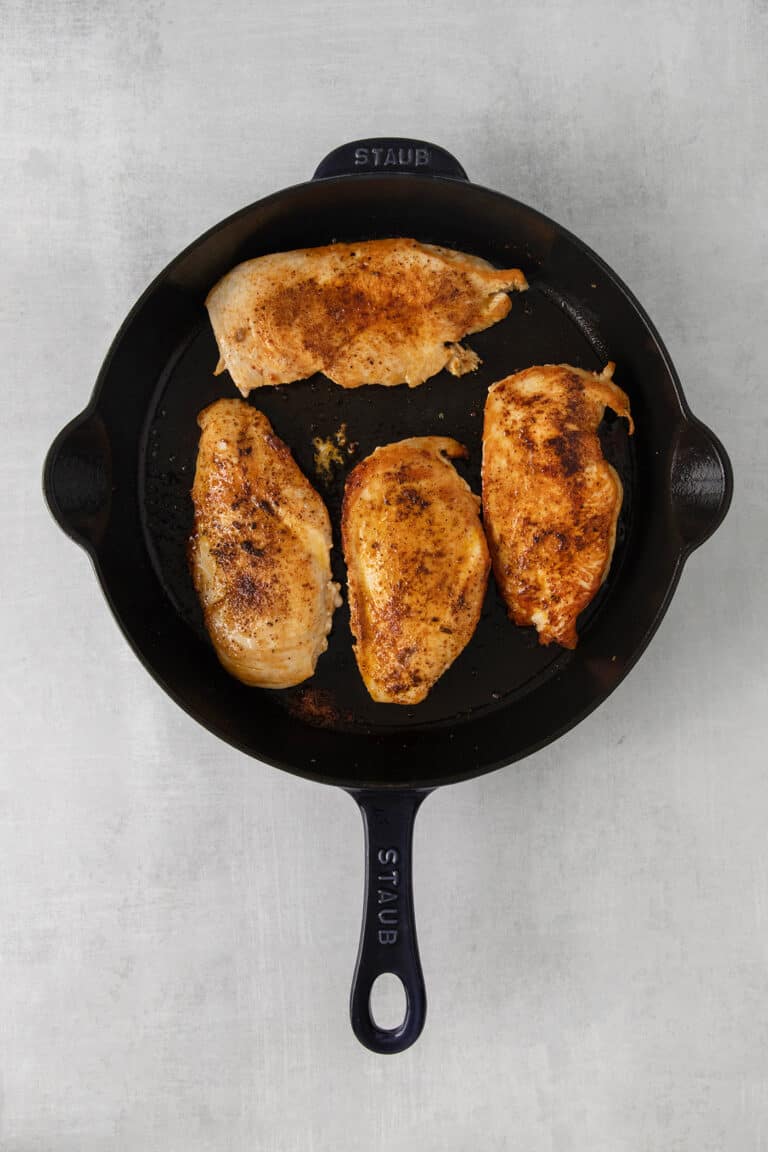 How to Make Cowboy Chicken
Here's how to make this easy chicken breast recipe.
Prepare the chicken. Butterfly two large chicken breasts, to create four pieces. Stir together the seasonings and sprinkle half of it over the chicken.
Sear the chicken. Sear the chicken for 2-3 minutes per side. (It does not need to cook all the way through.)
Cook the veggies. Heat the remaining olive oil in the pan. Cook the onion until tender, then add the garlic and jalapeno. Cook for a minute, then add the black beans, corn, and Rotel. Stir in the reserved spice mixture.
Bake. Add the chicken to the skillet and top with the cheese. Bake for 15 minutes, until the chicken is cooked and the cheese is bubbly.
Serve. Enjoy immediately with a sprinkle of chopped cilantro, plus fresh lime wedges to squeeze over the top!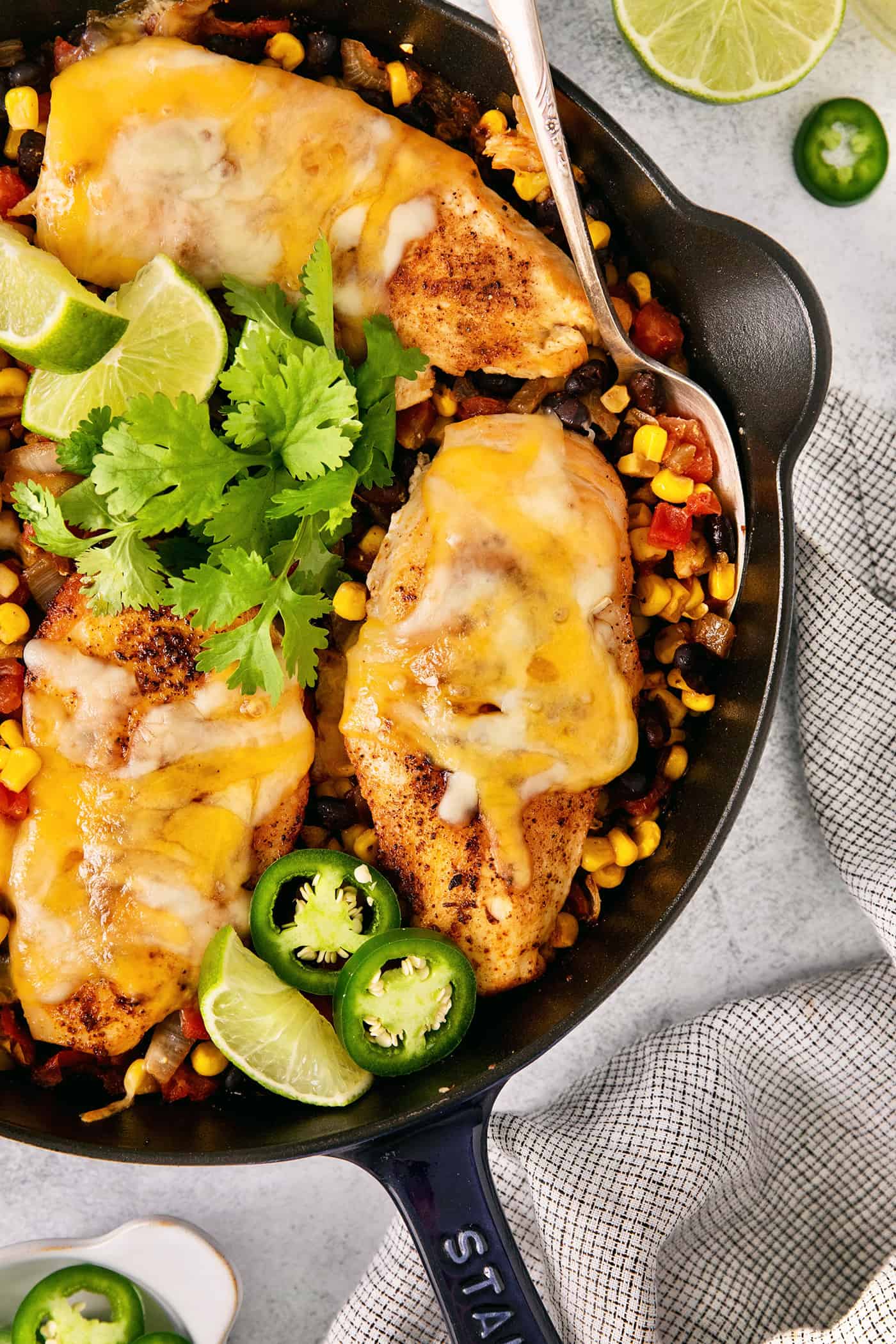 Recipe Tips, Variations, and FAQ's
If you're making this tasty cowboy chicken skillet for the first time, here are a few helpful tips.
Why do I need to butterfly the chicken breasts? When you butterfly chicken breasts, it gives you thinner pieces of meat that will cook quicker and more evenly. You could also buy chicken cutlets or use boneless skinless thighs.
Adjust the spice level. Love all things spicy? Add extra jalapeno or even a habanero into the mix. Prefer things as mild as can be? Ditch the jalapeno completely and be sure to use mild Rotel.
Add other veggies. My cowboy caviar recipe includes black eyed peas and green bell peppers, in addition to the black beans and corn. Feel free to add them to this recipe as well. I often throw in some bell pepper!
Use a different cheese. While I most often use a Mexican cheese blend, cheddar is another favorite. And when we're feeling spicy, we like to use pepper jack. Monterey jack works well for those who like a mild cheese.
Don't overcook the chicken. The chicken does not need to be fully cooked on the stovetop. The idea is to give it a good sear and cook it most of the way, then finish cooking it in the oven. Overcooked chicken can be tough and dry – and we definitely do not want that!
Add some bacon! This is a super fun variation. I like to chop a few slices of cooked bacon, then sprinkle it over the skillet during the last 5 minutes in the oven. My family loves this!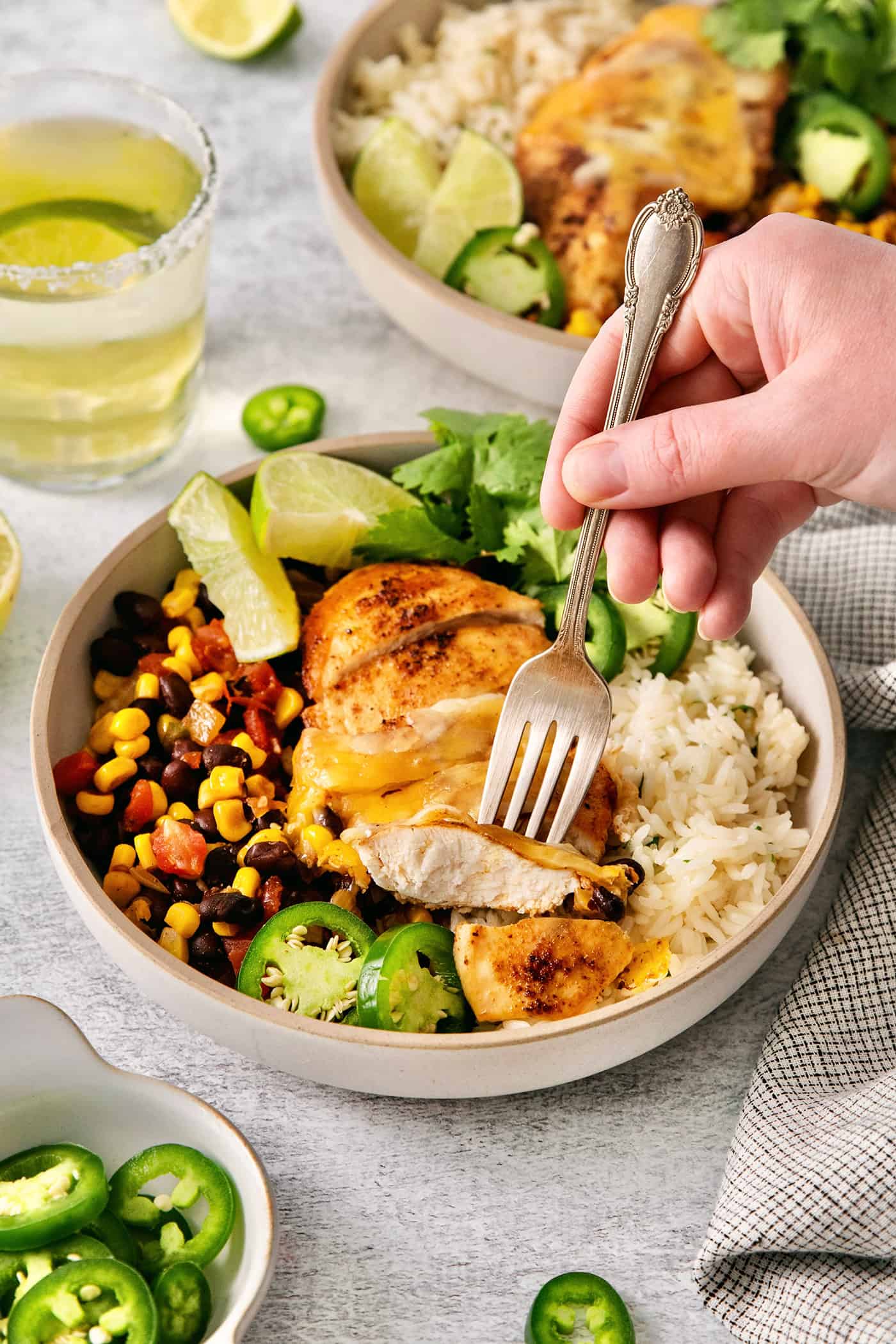 What to Serve with Cowboy Chicken
When I just want a lighter meal, I serve this cowboy chicken skillet straight from the oven and call it dinner.
And when our family is on the hungrier side, I serve it up with a side of cilantro lime rice, plus tortilla chips and guacamole. It's a super fun meal!
For those who prefer potatoes over rice, mashed potatoes or a baked potato are good options. Mashed cauliflower or cauliflower rice work if you're looking for a low carb option.
If you're looking for drink inspiration, a margarita or ranch water cocktail would be perfect!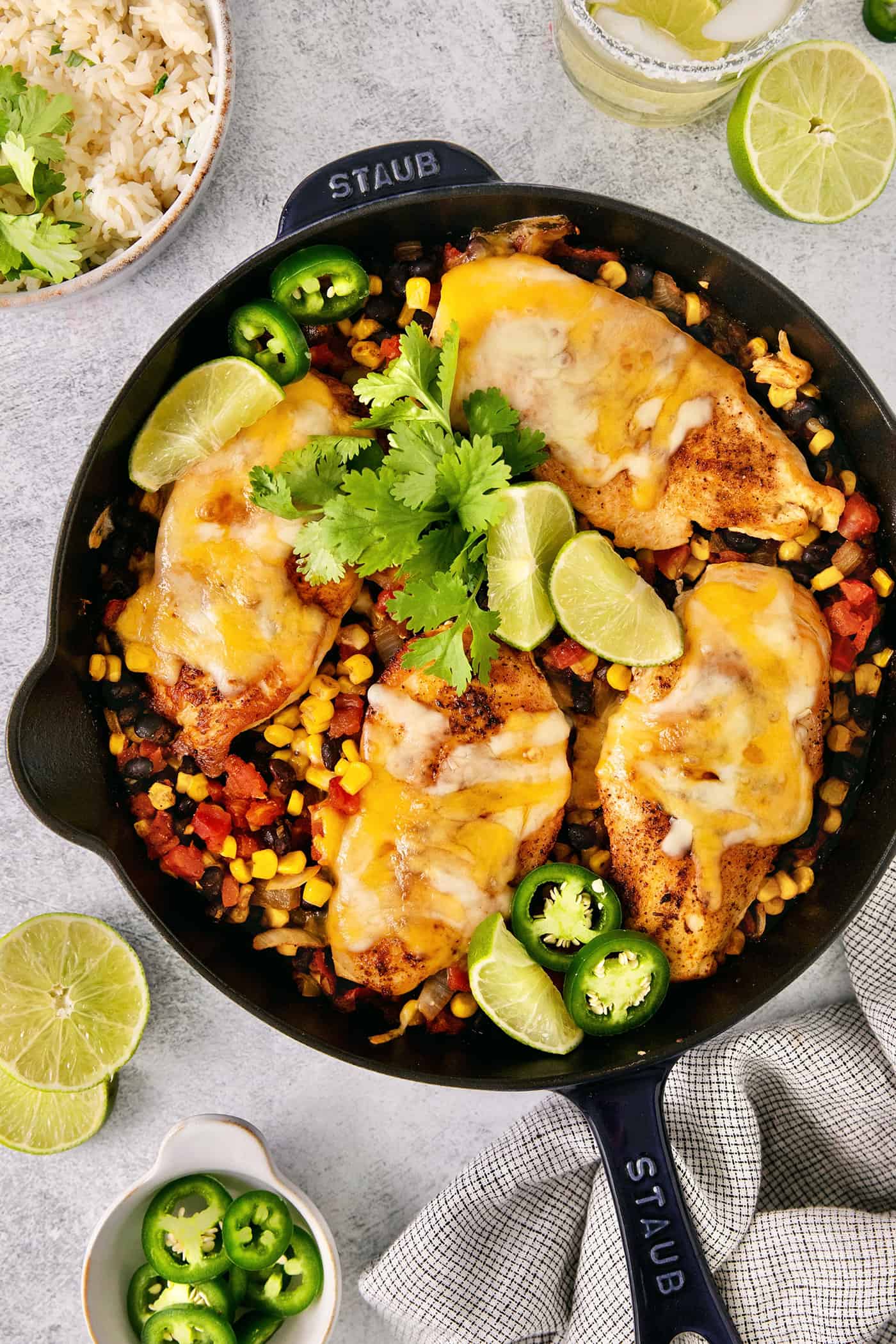 How to Store & Reheat Leftovers
Fridge. Store any leftover chicken in an airtight container in the fridge for up to 3 days.
Reheat. You can reheat leftovers in the oven, covered, or in the microwave. Just be careful to not let the chicken dry out.
Repurpose leftovers. Leftover cowboy caviar chicken tastes amazing and can be repurposed into other meals, like a rice bowl or stuffed sweet potato. You could also slice up the chicken and add it to a salad.
More Easy Chicken Recipes:
Like this Recipe? Save to Pinterest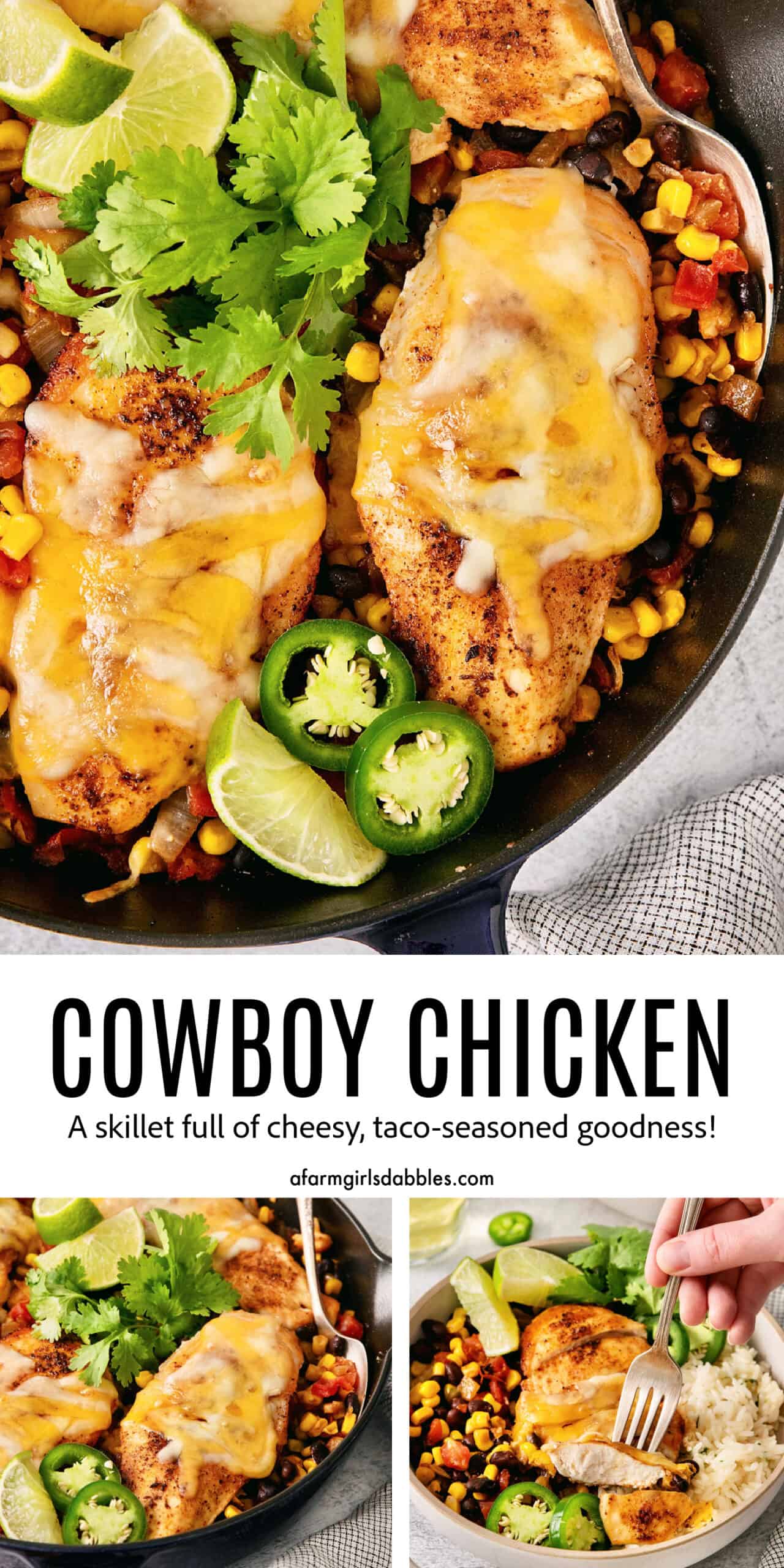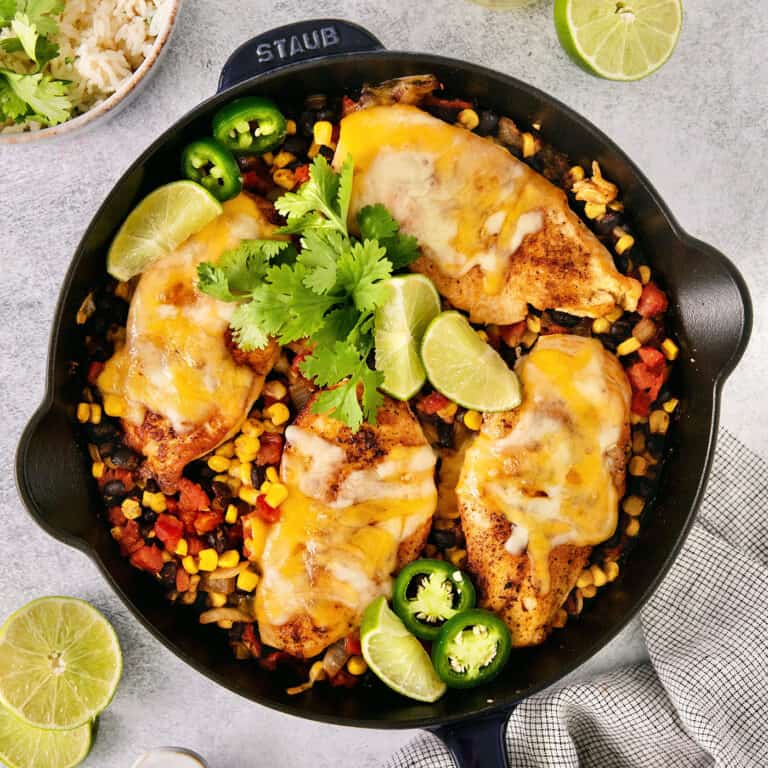 Cowboy Chicken
Yield: 4 servings
Prep Time: 10 minutes
Cook Time: 30 minutes
Total Time: 40 minutes
This Cowboy Chicken recipe is a skillet full of taco-seasoned goodness. Featuring seared chicken breasts covered in a blanket of cheese, plus black beans, corn, and Rotel - it's a hearty, delicious, family-pleasing meal!
Ingredients
2 large chicken breasts (about 1" thick and ¾ pound each)
1½ teaspoons Morton kosher salt
1 teaspoon chili powder
¾ teaspoon ground cumin
½ teaspoon smoked paprika
½ teaspoon garlic powder
½ teaspoon onion powder
½ teaspoon cracked black pepper
3 tablespoons olive oil, divided
1 small onion, diced
2 large cloves garlic, minced
1 small jalapeno, ribs and seeds removed, minced
1 can (15 ounces) black beans, drained and rinsed
1 can (15 ounces) corn, drained and rinsed
1 can (10 ounces) Rotel Original tomatoes with juices
1 cup Mexican blend shredded cheese
Lime wedges and fresh cilantro, for serving
Instructions
Preheat oven to 400° F.
Butterfly the chicken breasts to create four ½" thick pieces of chicken.
In a small bowl, stir together the salt, chili powder, cumin, paprika, garlic powder, onion powder, and black pepper. Sprinkle half of the seasoning mixture over the chicken and save the other half of the spice mix for later.
Heat a large oven-safe skillet over medium heat, then add 2 tablespoons of olive oil. When the oil is hot, add the chicken in a single layer. Sear for 2-3 minutes per side, or until nicely browned. The chicken will not be cooked all the way through – that's okay. Remove the chicken to a plate and set it aside.
Add the remaining tablespoon of olive oil to the skillet. Add the onion and cook until tender, about 3-4 minutes, stirring occasionally. Stir in the garlic and jalapeno, and cook for an additional minute.
Next add the black beans, corn, and Rotel. Sprinkle the reserved spice mixture over the top and stir to combine.
Nestle the chicken into the vegetables and then top each chicken breast with ¼ cup of cheese.
Bake for 15 minutes, or until the cheese is melted and bubbly, and the chicken is cooked through.
Serve immediately garnished with lime wedges and chopped cilantro. We often serve this with cilantro lime rice. Guacamole is also good!
Nutrition Information:
Yield: 4
Serving Size: 1
Amount Per Serving:
Calories: 454
Total Fat: 25g
Saturated Fat: 8g
Trans Fat: 0g
Unsaturated Fat: 14g
Cholesterol: 88mg
Sodium: 987mg
Carbohydrates: 29g
Fiber: 4g
Sugar: 14g
Protein: 31g
Nutrition information is automatically calculated by Nutritionix. I am not a nutritionist and cannot guarantee accuracy. If your health depends on nutrition information, please calculate again with your own favorite calculator.