Chicken Cheesesteak
This homemade Chicken Cheesesteak sandwich recipe features a soft, toasted hoagie roll piled high with juicy strips of chicken, plus sautéed onion, bell pepper, and mushrooms. Gooey melted provolone cheese tops off the deliciousness!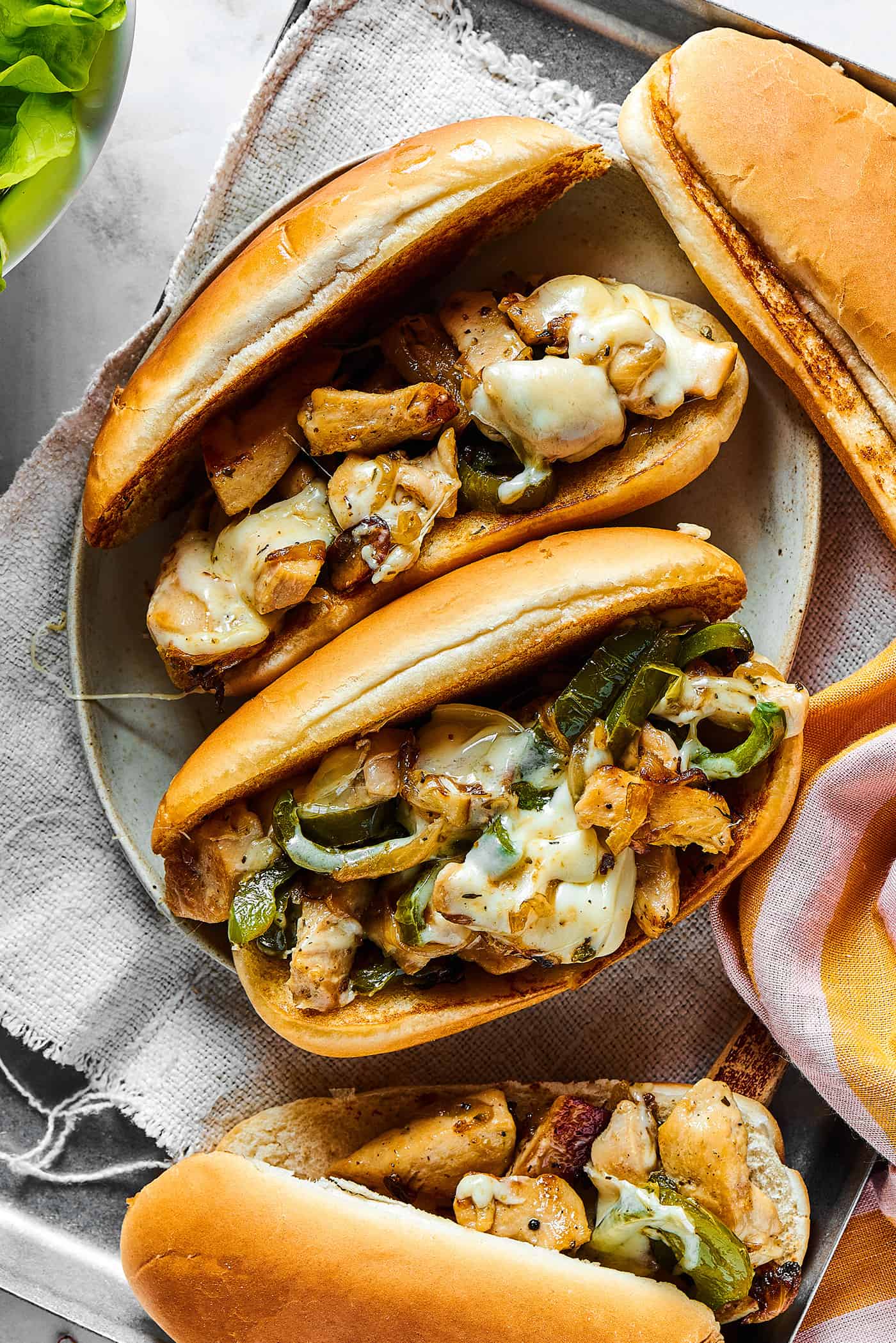 Quick & Easy Chicken Cheesesteak Sandwiches
The Chicken Cheesesteak sandwich is a classic. This easy recipe features juicy bites of chicken breast plus sautéed onions, bell peppers, and mushrooms. It's finished off with some gooey, melty provolone cheese and served on a buttery toasted bun!
My first and best memories of a chicken cheesesteak are from a little dive bar in a little town in North Dakota, way back in my 20's. The cook, who was also the bar tender, wielded his big metal spatula at the hot flat top grill like a samurai with a sword. This guy's chicken cheesesteak sandwiches were phenomenal.
Fast-forward a few decades, this homemade chicken cheesesteak is a delicious and simple recipe that's easy to make right in our own kitchen. It has a fairly short ingredients list and is easy to customize. You can even use a rotisserie chicken to save some time.
Often referred to as a chicken philly cheesesteak, this sandwich makes an irresistible easy dinner or weekend lunch. I like to top my cheesesteak with some kind of pickle – some tart dill pickles, pickled red onions, or my mom's refrigerator sweet pickles are my top choices. Deeeeeelicious!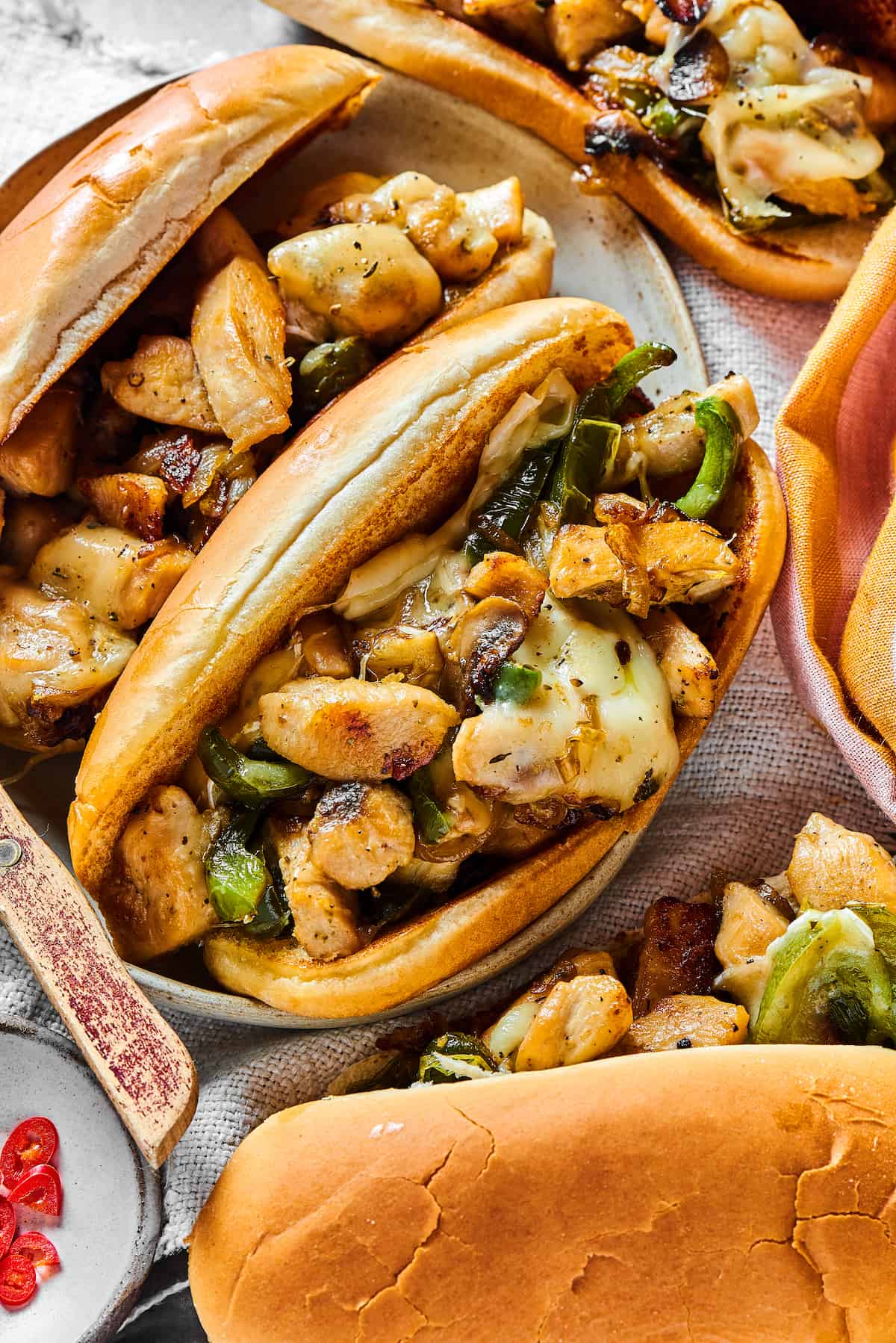 What is a Cheesesteak Sandwich?
The cheesesteak sandwich originates from Philadelphia, Pennsylvania and is often called a Philly cheesesteak.
A traditional cheesesteak sandwich is served on a long, soft hoagie roll with thin slices of beef steak cooked on a flat top grill. Sautéed onions are a common addition, and there's always cheese – usually provolone, American cheese, or Cheez Whiz.
Depending on where you are, you might also find ingredients like mushrooms and bell peppers added to the sandwich. We enjoy a Philly cheesesteak at the Minnesota State Fair every year that includes green bell peppers – so that's how we make ours, plus mushrooms.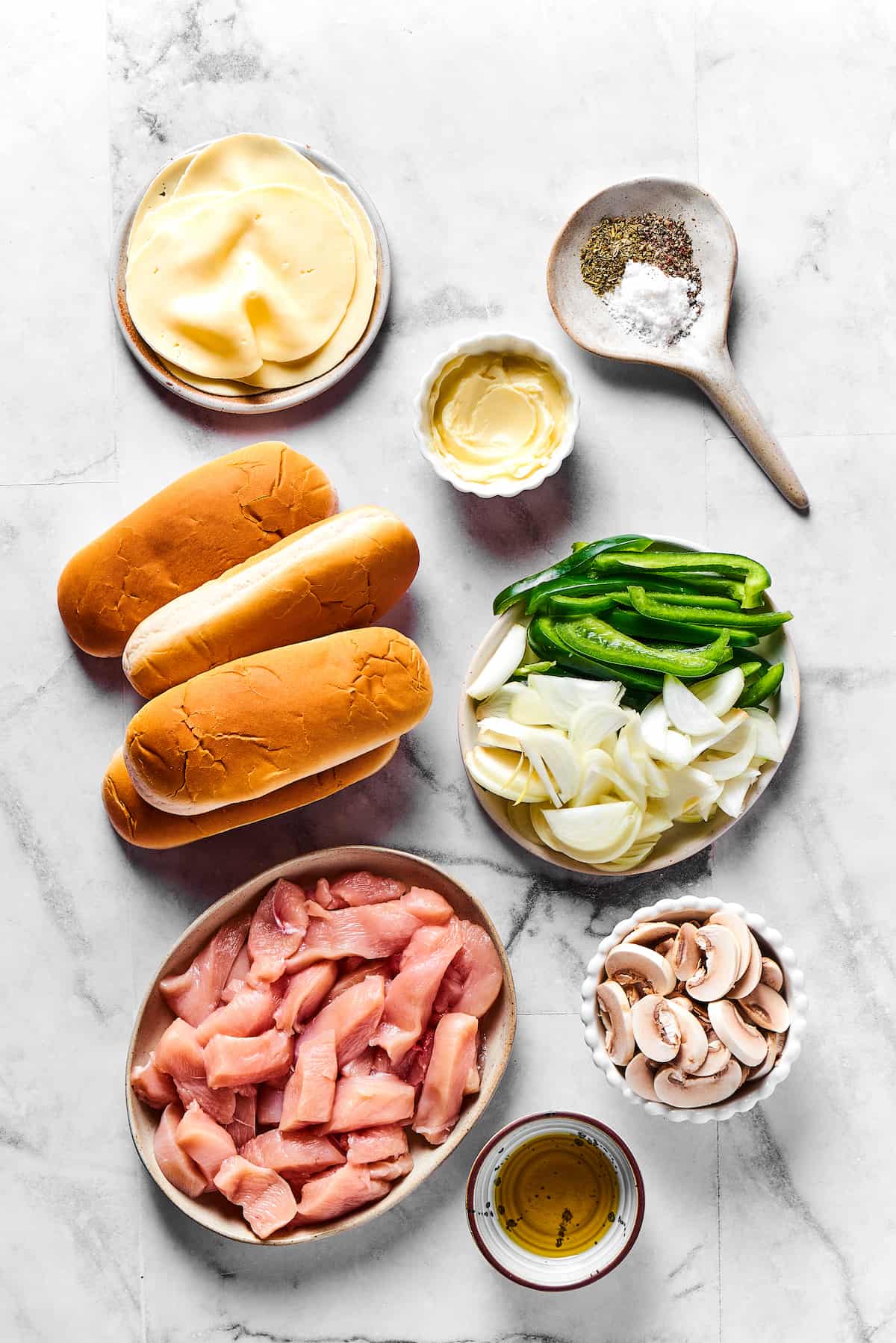 What You'll Need
Here's what you'll need to make these easy chicken cheesesteak sandwiches. Be sure to check the recipe card below for measurements.
Butter – This adds rich flavor and texture for toasting the hoagie rolls.
Hoagie rolls – These are the typical soft rolls you'll find with a cheesesteak sandwich, but you can use any other bun or roll you like.
Chicken – Use boneless, skinless chicken breasts and cut them into strips.
Olive oil – For cooking the chicken.
Salt & pepper
Yellow onion & green bell pepper – Sautéed onion is a traditional chicken cheesesteak topping, and many like to add sweet bell pepper. Cut everything into thin slices.
Mushrooms – I'm a huge fan of mushrooms – just leave them out if you're not. I use button mushrooms, but baby portobellos would also work.
Italian seasoning – Adds extra flavor to the mixture.
Provolone cheese – Adds the melty, cheesy goodness to this sandwich!
What's the best cheese for a cheesesteak sandwich?
Melty provolone cheese is my top choice for a chicken cheesesteak. I think it's the perfect complement to the other flavors. Just be sure to use the soft deli provolone – not an aged provolone, which has a stronger flavor and less meltability.
You might find a traditional Philly chicken cheesesteak made with cheeses other than provolone, so yellow or white American and Cheez Whiz are good choices as well.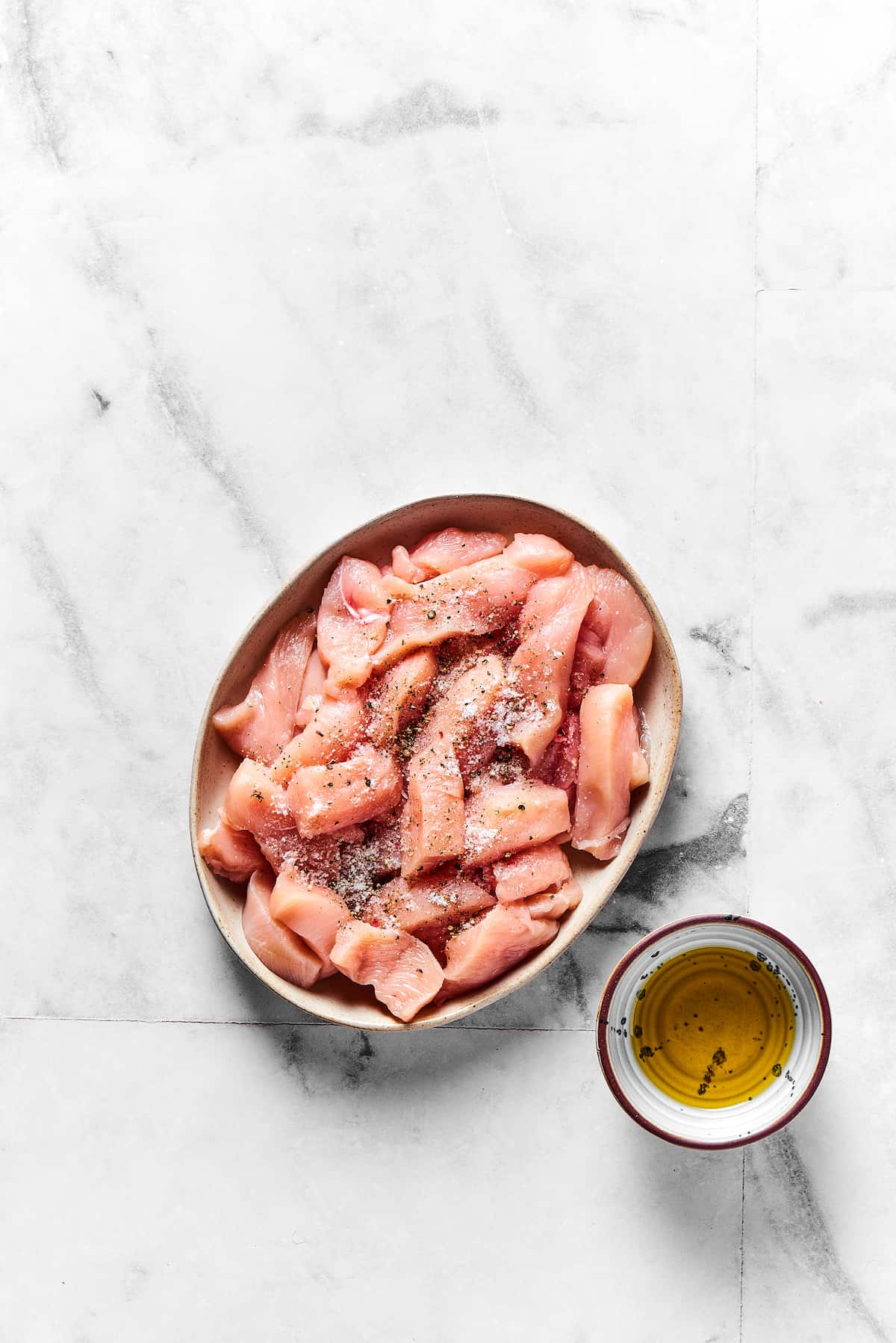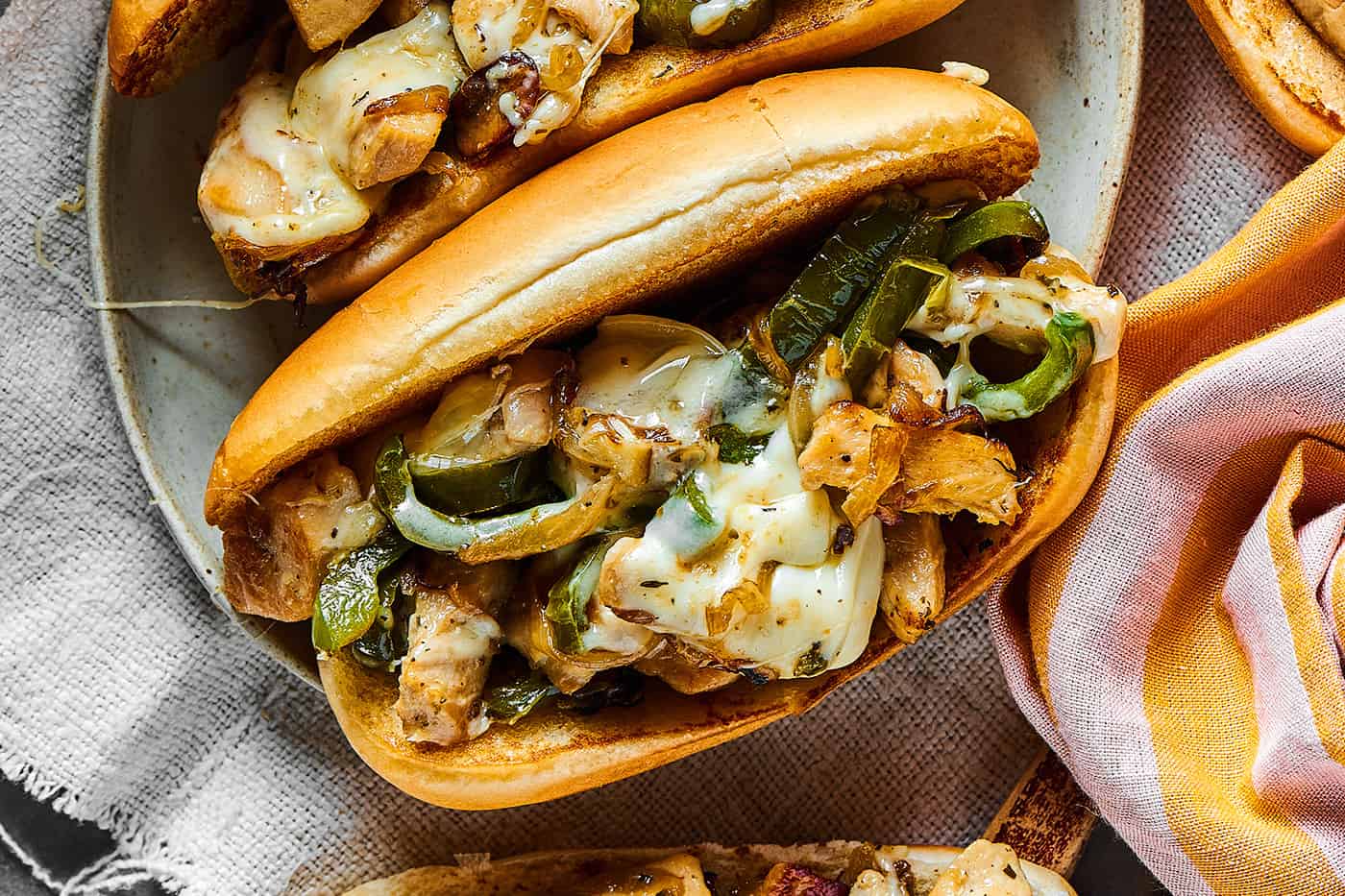 How to Make Chicken Cheesesteak
Here's how to make homemade chicken cheesesteak sandwiches in a few easy steps.
Toast the rolls. Cut the hoagie rolls in half, spread butter on the cut sides, and toast in a pan until golden brown.
Cook the chicken. Season the chicken strips with salt and pepper. Cook with olive oil for 8 to 10 minutes, or until cooked through.
Cook the veggies. Add a little more oil to the skillet, followed by the onion, bell peppers, mushrooms, and Italian seasoning. Add salt and pepper to taste. Cook for 6 to 8 minutes, or until softened.
Add the cheese. Stir the chicken into the cooked vegetables, then add the provolone cheese. Cover with a lid and allow the cheese to melt.
Assemble the sandwiches. Mix the cheese into the meat and veggies a bit, then divide the mixture amongst the toasted hoagie rolls.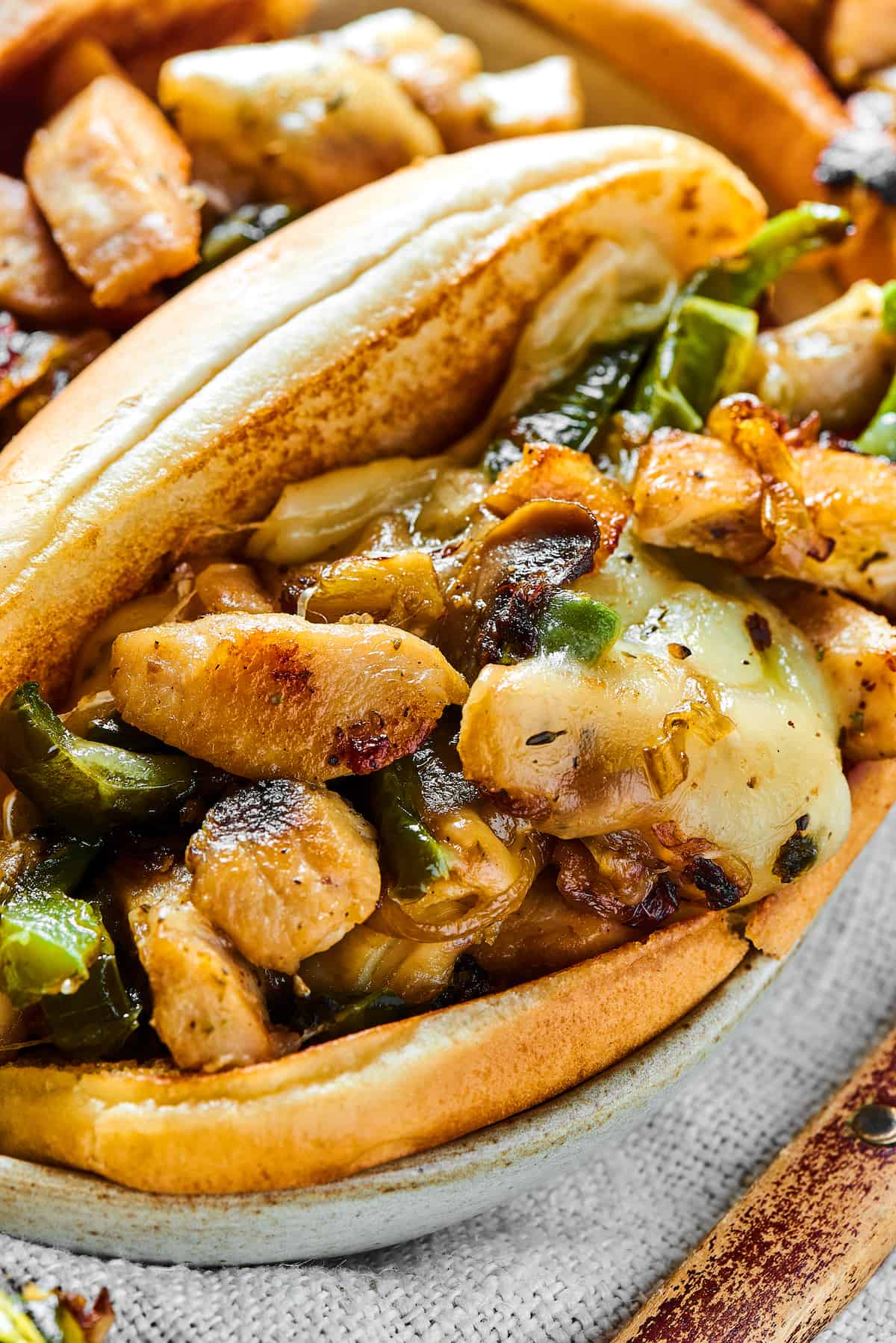 Tips & Variations
Here are a few tips for making the best chicken cheesesteak sandwiches, as well as ways to customize them.
Use prepared chicken. If you want to save time, you can use pre-sliced chicken breast or even rotisserie chicken.
Swap out the hoagie rolls. To make it a bit healthier, you can use whole wheat bread instead of white bread. Feel free to use any type of roll you'd like, although I do recommend that the roll be soft.
Use a sandwich maker. You can also use a panini press or a sandwich maker to compress and cook the sandwich, to give it a nice crispy texture.
Customize the ingredients to your taste. Don't like mushrooms? Leave them out. The same goes for the onions and peppers.
Make it spicy. Not exactly traditional, but that's fine by me! If you want a spicy sandwich, add in some jalapenos or dried red pepper flakes.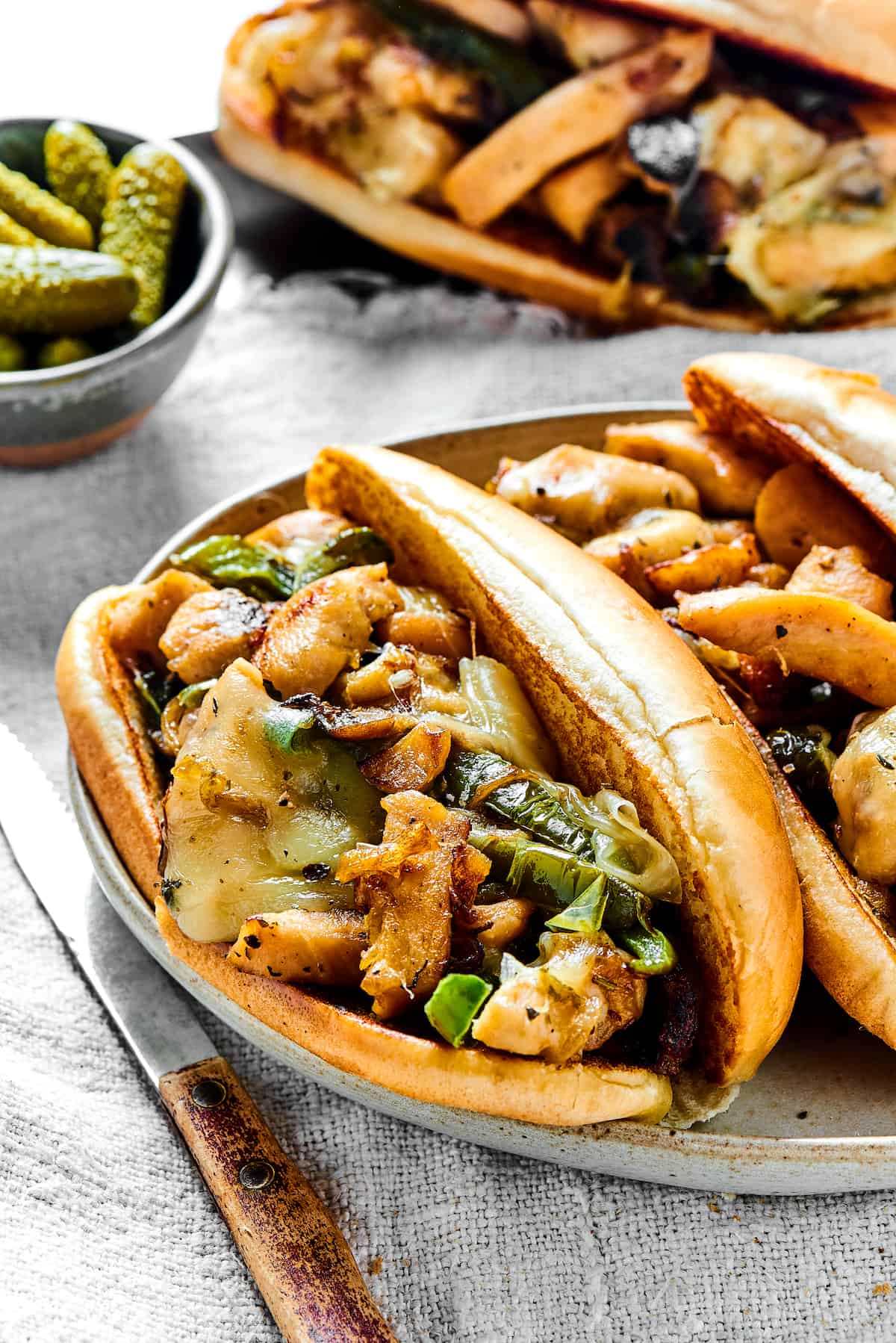 What to Serve with Chicken Philly Cheesesteaks
These chicken cheesesteaks are hearty and irresistible. In a restaurant, you might find them served with chips or fries, plus a pickle. Here are a few more suggestions!
To serve this meal without buns, here are some options:
Eat right out of the skillet! A side of Italian chopped salad would be perfect.
Over cooked pasta or rice.
Atop baked sweet potatoes. Here's how I make the best baked sweet potatoes (it's a baked potato post, but I talk about sweet potatoes if you scroll down).
As a filling in stuffed bell peppers. Use my lasagna stuffed peppers as a guide.
As far as toppings go, serve as-is with just the onions, peppers, onions, and mushrooms. Or add some additional items, such as:
Lettuce
Avocado
Tomato
Jalapenos or pickled jalapenos
Banana peppers
Ketchup
Mayonnaise
Spicy mayo
Mustard – whole grain, Dijon, or regular ol' hotdog mustard!
Garlic aioli
Dill pickles or sweet pickles
How to Store & Reheat Leftovers
Once the chicken cheesesteaks are assembled, serve them immediately.
If you have leftover chicken filling, refrigerate it for up to 3 days. Reheat it in the microwave or on the stovetop, and assemble the sandwich from there.
An already-assembled sandwich can be wrapped in foil and refrigerated for up to a couple days. Note that when you reheat it, the bread will likely be at least somewhat soggy. You can reheat in the oven at 300° F or remove the foil and reheat in the microwave.
More Easy Chicken Recipes:
Like this Recipe? Save it to Pinterest!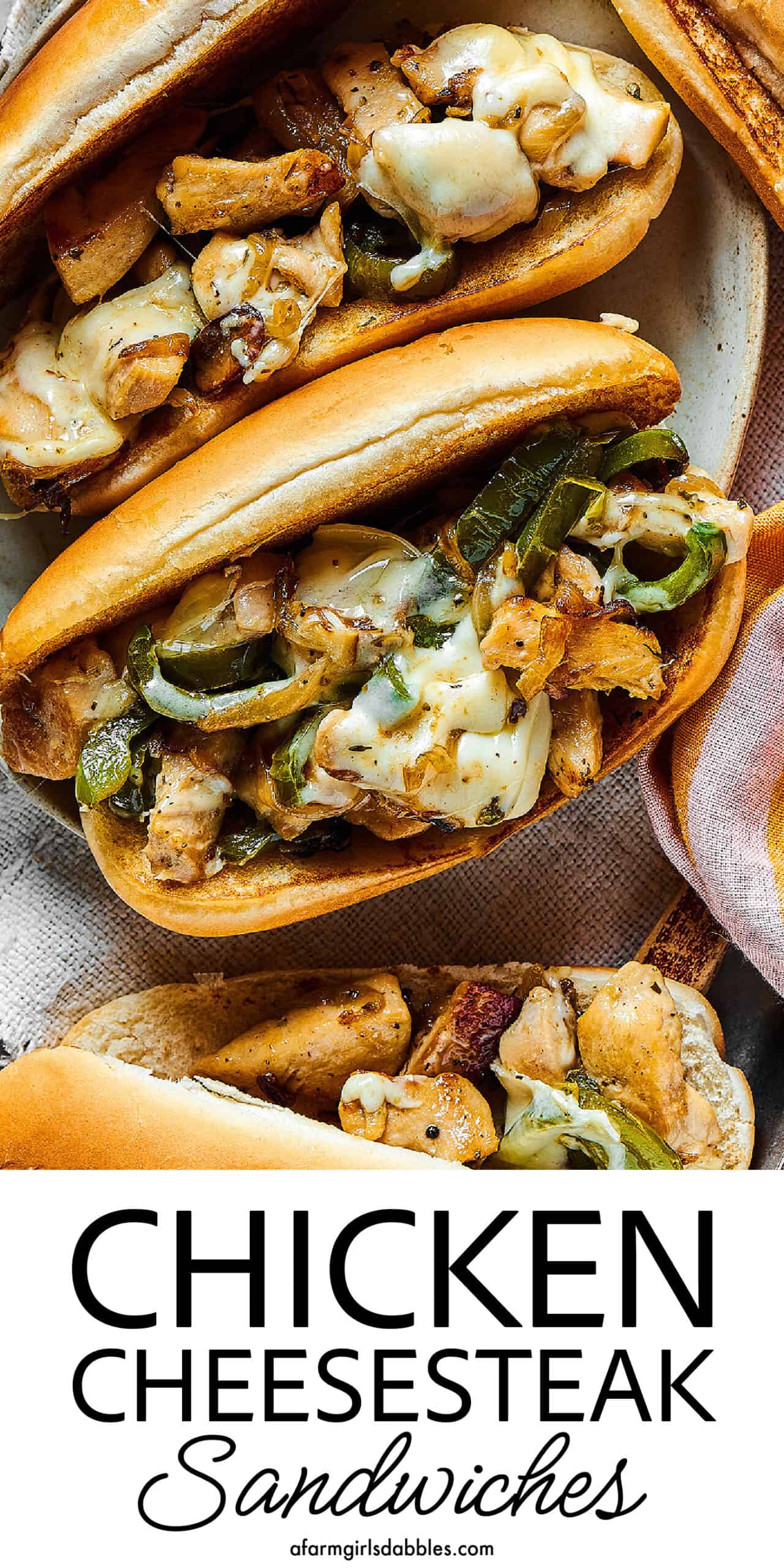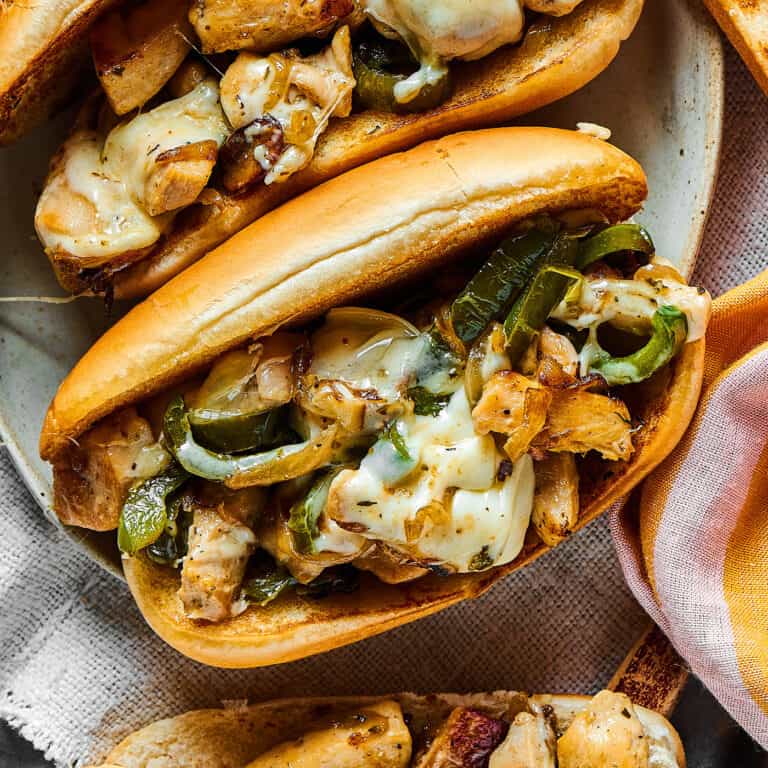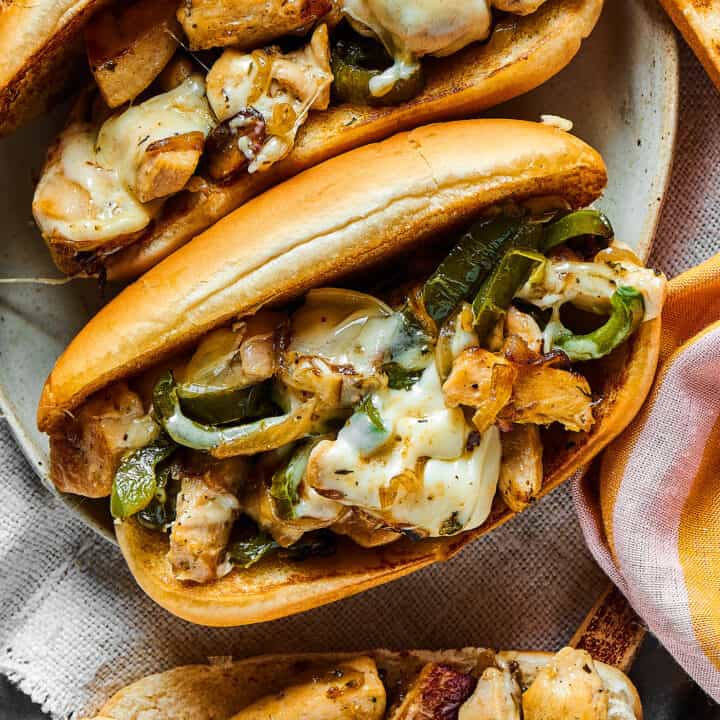 Chicken Cheesesteak
Yield: 4 sandwiches
Prep Time: 15 minutes
Cook Time: 25 minutes
Total Time: 40 minutes
This homemade Chicken Cheesesteak sandwich recipe features a soft, toasted hoagie roll piled high with juicy strips of chicken, plus sautéed onion, bell pepper, and mushrooms. Gooey melted provolone cheese tops off the deliciousness!
Ingredients
1 teaspoon unsalted butter
4 soft hoagie rolls
1 pound boneless, skinless chicken breast, cut into strips
2 tablespoons olive oil
1 teaspoon Morton kosher salt
½ teaspoon ground black pepper
1 large yellow onion, thinly sliced
1 large green bell pepper, thinly sliced
4 to 8 large button mushrooms, sliced
1 teaspoon Italian seasoning
6 slices deli provolone cheese
Instructions
Cut the hoagie rolls in half. Divide 1 tablespoon of butter amongst the 4 rolls, and spread over the cut sides of the rolls. Toast buttered sides of rolls on a hot pan until golden brown. Set aside.
Season the chicken strips all over with salt and pepper.
Heat one tablespoon of oil in a large skillet over medium heat. Cook the chicken for 8-10 minutes, or until cooked through. Transfer the chicken to a plate.
In the same skillet, add the remaining oil. Add thinly sliced onion, bell pepper, mushrooms and Italian seasoning, then add a little salt and pepper. Cook for about 6-8 minutes, or until the vegetables are nicely softened.
Reduce heat to low. Return cooked chicken to skillet and stir to combine with the vegetables.
Top chicken and veggies with the provolone cheese. Cover the skillet with a lid and allow the cheese to melt.
Gently mix the cheese into the chicken and vegetables just a bit, and divide the mixture evenly amongst the toasted hoagie rolls. Serve hot.
Nutrition Information:
Yield: 4
Serving Size: 1
Amount Per Serving:
Calories: 521
Total Fat: 27g
Saturated Fat: 11g
Trans Fat: 0g
Unsaturated Fat: 14g
Cholesterol: 137mg
Sodium: 993mg
Carbohydrates: 17g
Fiber: 2g
Sugar: 4g
Protein: 51g
Nutrition information is automatically calculated by Nutritionix. I am not a nutritionist and cannot guarantee accuracy. If your health depends on nutrition information, please calculate again with your own favorite calculator.