Pico de Gallo
This homemade Pico de Gallo recipe features fresh ripe tomatoes, onion, lime, and a bit of jalapeno – it's quick and easy, fresh and delicious. A copycat Chipotle Tomato Salsa that's perfect with nachos, tacos, and burrito bowls!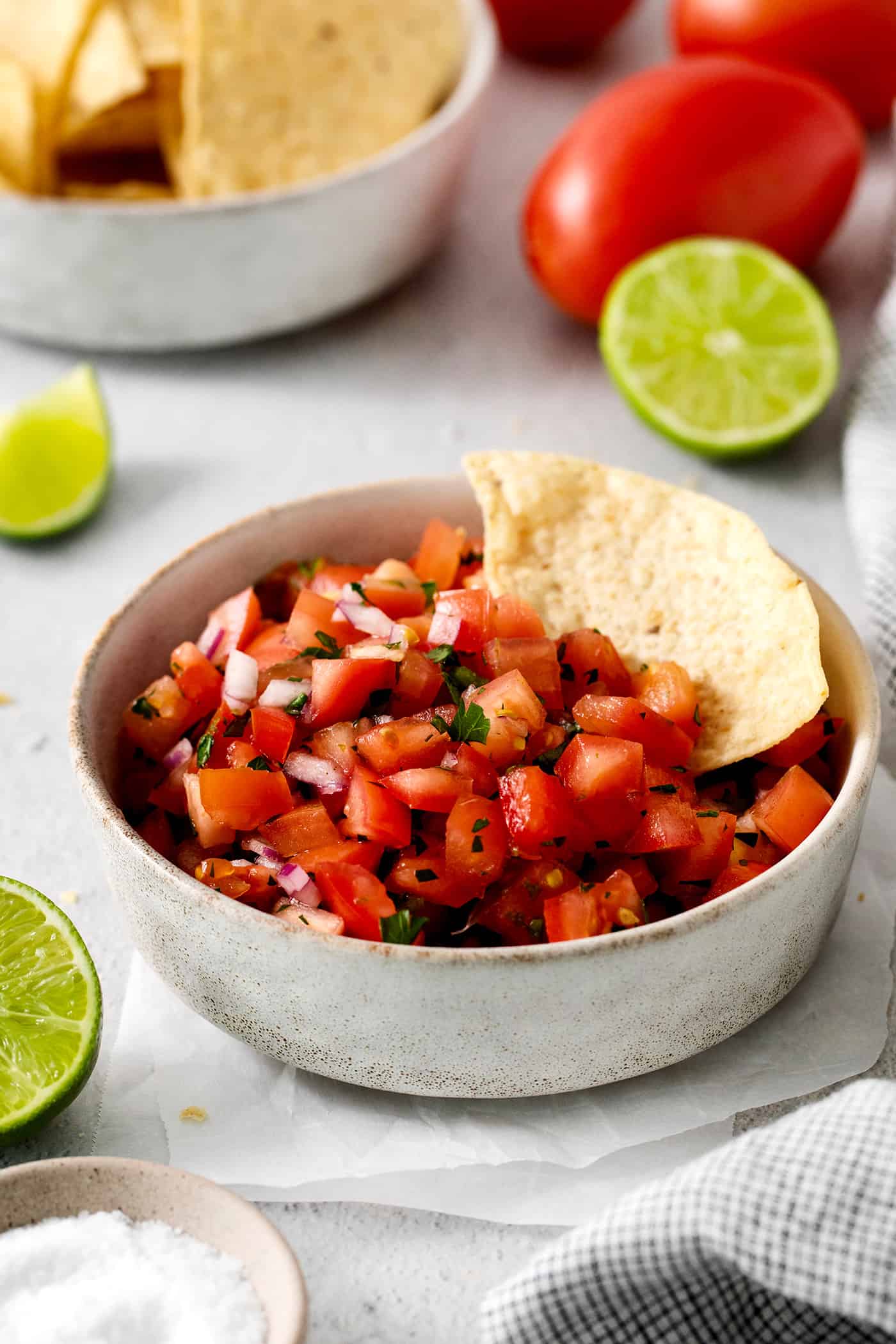 Easy Homemade Pico de Gallo Recipe
This Pico de Gallo recipe is all about quick and easy, fresh and delicious!
It's made with simple ingredients like roma tomatoes, onion, and fresh lime juice, plus some jalapeno for a bit of heat (add as little or as much as you like!).
It's one of our favorite fresh salsa recipes, my own take on the one our family enjoys at Chipotle – this is a great Chipotle tomato salsa copycat recipe!
We add this homemade pico de gallo to pretty much everything, from tacos to taco salad to taco stuffed sweet potatoes to rice bowls. But truthfully? Our favorite way to eat it? Straight from the bowl – with some crisp, salty tortilla chips. (And a margarita or two for the adults, of course!)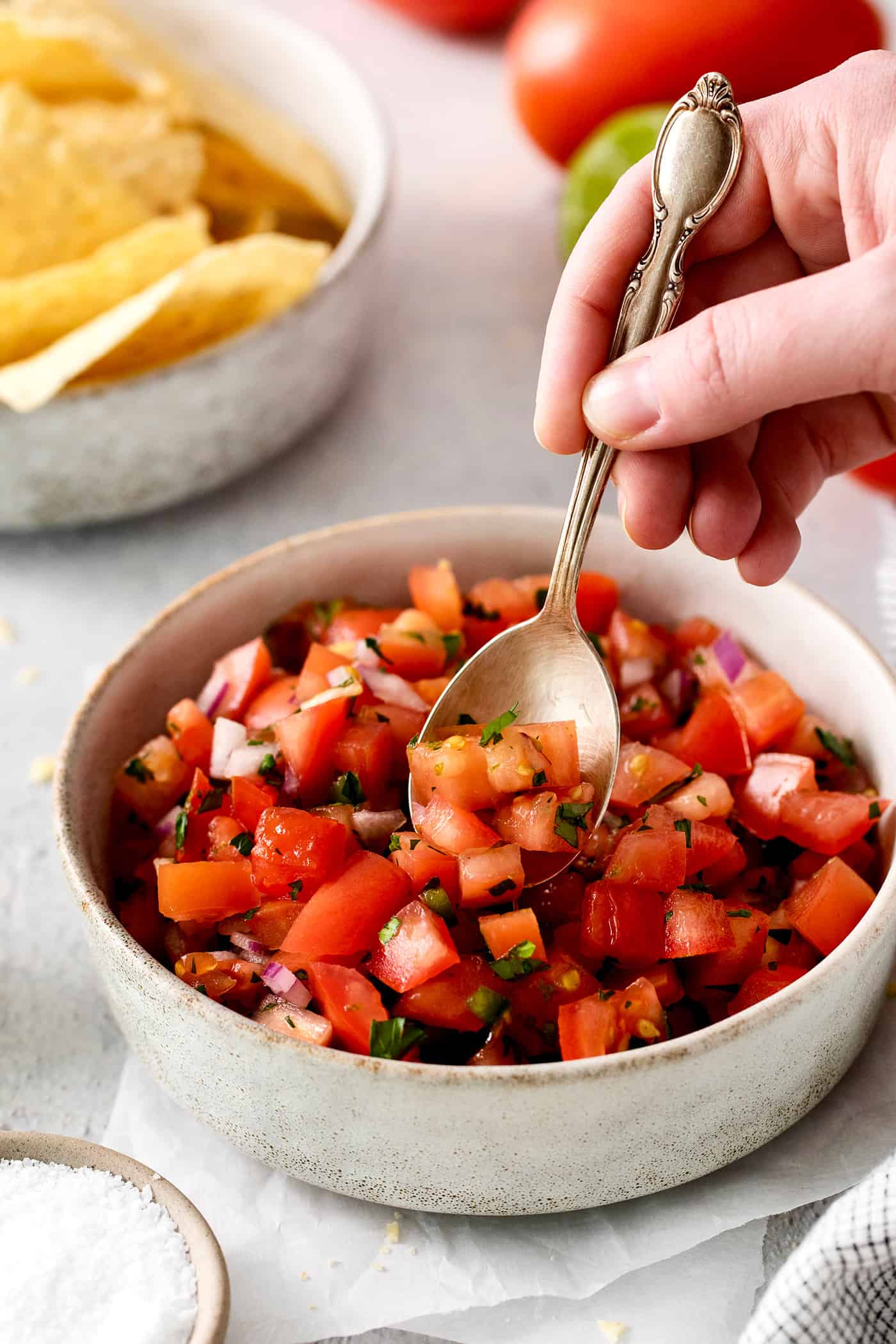 What Is Pico de Gallo?
Pico de gallo is a type of fresh, chunky salsa made with tomatoes, onions, cilantro, lime juice, and (sometimes) jalapeno or serrano peppers. It's popular in Mexican cuisine, either as a garnish on dishes or served as a dip with chips.
Pico de Gallo vs Salsa
Pico de gallo is a type of salsa. However, the main difference between pico and most salsas, like restaurant style salsa, is that the ingredients in pico are chopped but not blended, and there's not a ton of liquid. Pico is meant to be chunky, with a focus on a few simple, fresh ingredients.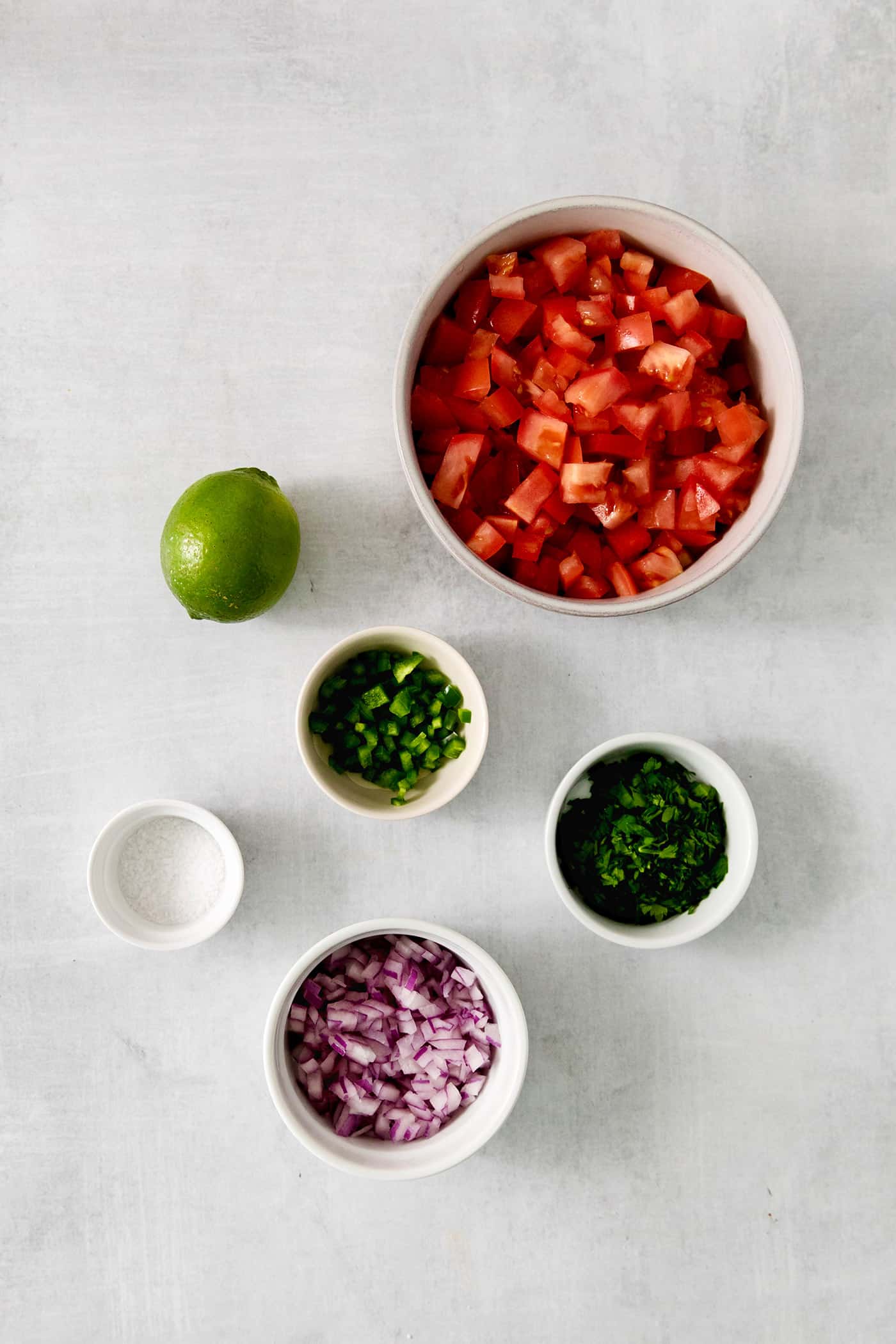 Recipe Ingredients
This recipe is made with just a handful of fresh ingredients, plus a bit of salt!
Be sure to check the recipe card below for exact measurements and full instructions.
Tomatoes – I like the flavor and texture of ripe roma tomatoes. Plus they are a meatier tomato with less water content, so the pico isn't overly liquidy. But you can use whatever kind of tomatoes you personally prefer.
Onion – Red onion adds an onion "bite" to the pico, although I take care to not add too much. If you really like to taste the onion, go ahead and add more.
Cilantro – Cilantro adds a fresh, herby flavor to the pico. I especially like cilantro, and will often throw in more than this recipe calls for. But I know that many people don't like cilantro – if that's you, simply add less or omit altogether.
Jalapeno – Jalapeno adds a bit of heat to the pico, although I still keep it to the milder side. Of course, this is easy to adjust – add as little or as much as you like.
Lime – Fresh lime adds acidity and fresh brightness to the pico. And I'm a HUGE fan of limes. For the most lime-forward flavor, I include both the juice and the zest of fresh lime.
Kosher salt – A little bit of salt helps enhance the flavor of the fresh pico.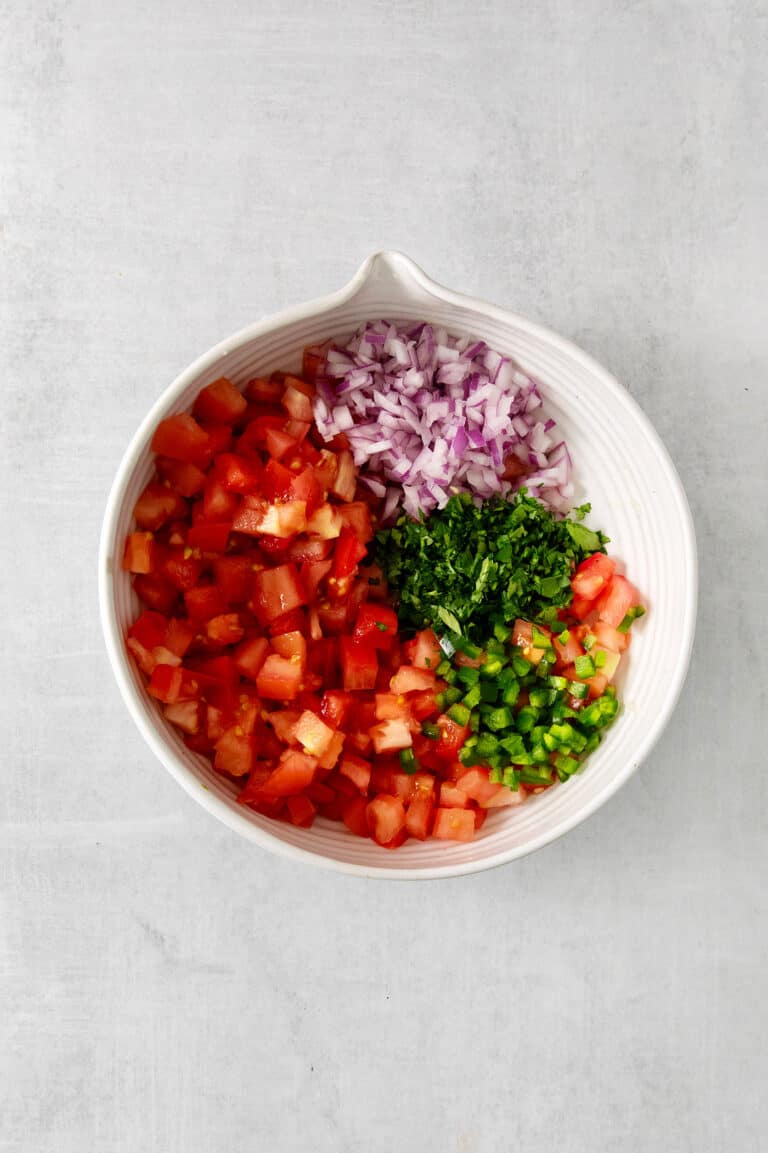 How to Make Pico de Gallo
Once you realize how incredibly easy this salsa is to make, you'll be making it all the time!
Combine the ingredients. Combine all ingredients in a bowl.
Chill. Refrigerate for an hour or two before serving, then dig in! (This is not an absolute necessity, to chill it first. But it does help the flavors meld. Many times, we just dig in right away! When making this for guests, I do allow time for it to chill first.)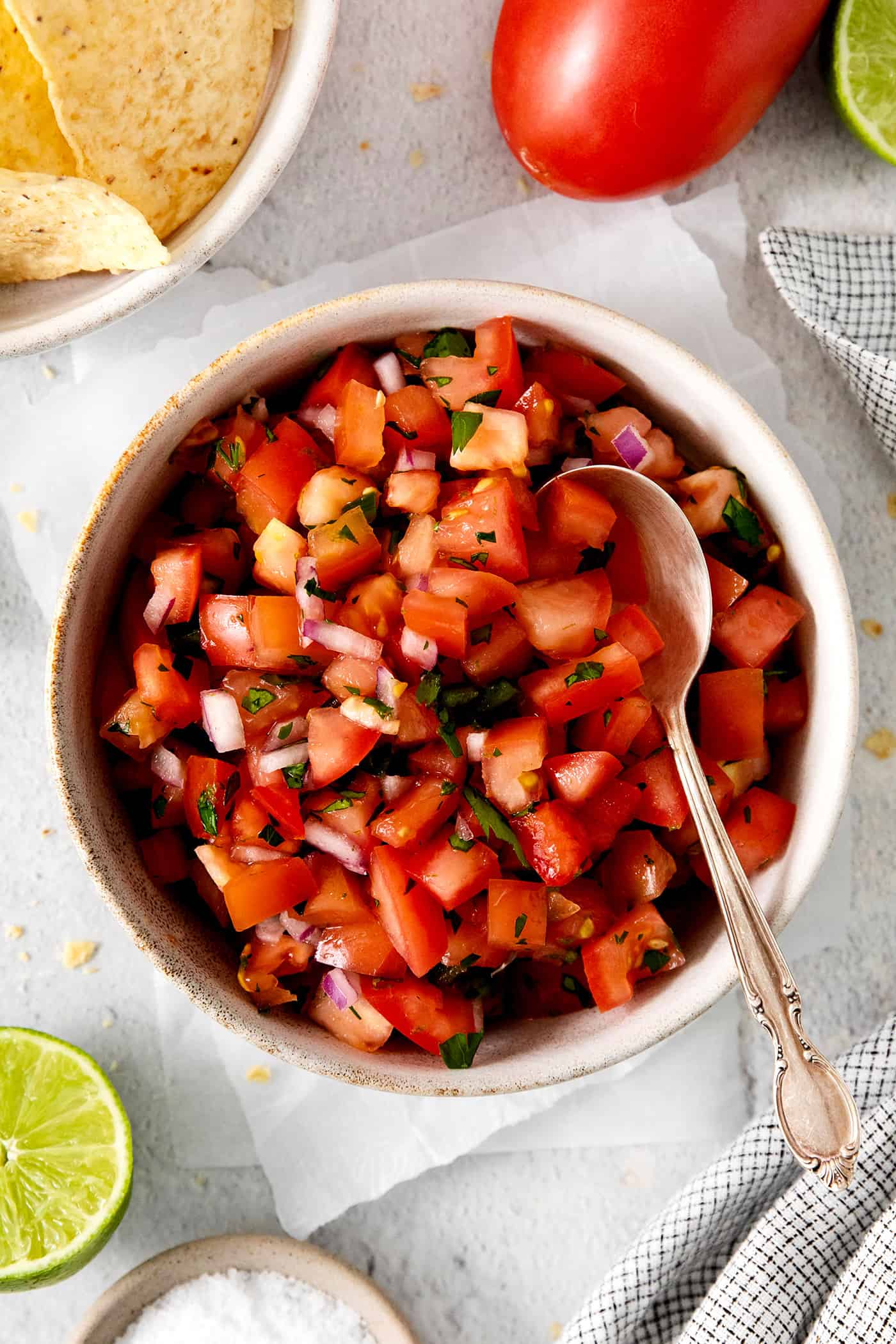 Recipe Tips & Variations
Here are a few tips and variations for making homemade pico de gallo.
Tomatoes. Pico de gallo is meant to be made with fresh, ripe tomatoes. But in a pinch, substitute 1 (15 ounce) can diced, drained tomatoes. I like to use roma tomatoes, but feel free to use your own favorite – especially if you have garden tomatoes!
Onions. I prefer to make this with red onion. But sweet Vidalia onion or another sweet yellow onion would also be good. I just try to stay away from onions that are overly sharp tasting, such as white onions.
Jalapeno/adjust the heat level. For a mild salsa, use less jalapeno or omit it completely – or substitute with green bell pepper. For a spicier salsa, add more jalapenos and include the seeds – or use serrano pepper.
Use pickled jalapenos. For a bit of a different flavor, try using pickled jalapenos instead of fresh. It's a fun flavor twist!
Cilantro. I really like cilantro. But if you're not a fan, use less or omit it. You could also substitute with a little chopped parsley, chives, or Mexican oregano.
Lime. A fan of limes, I aim to make that flavor shine through in my salsa. Feel free to use less!
Add garlic. Sometimes I throw in a minced fresh garlic clove!
How to dice. This is how I like to dice my salsa ingredients: Dice the tomatoes fairly small, all in similar sized pieces. Then dice the onion a bit smaller than the tomatoes (I don't like big chunks of raw onion!). And finally, dice (mince) the jalapeno even smaller than the tomatoes, so there are no big bites of heat.
Taste test and adjust. Always give your salsa a taste test before serving, then add more salt, lime, jalapeno, etc. as desired.
Prepare in advance. While you can dive in immediately, I highly recommend making this in advance so that all the flavors have time to meld. It only makes it taste better!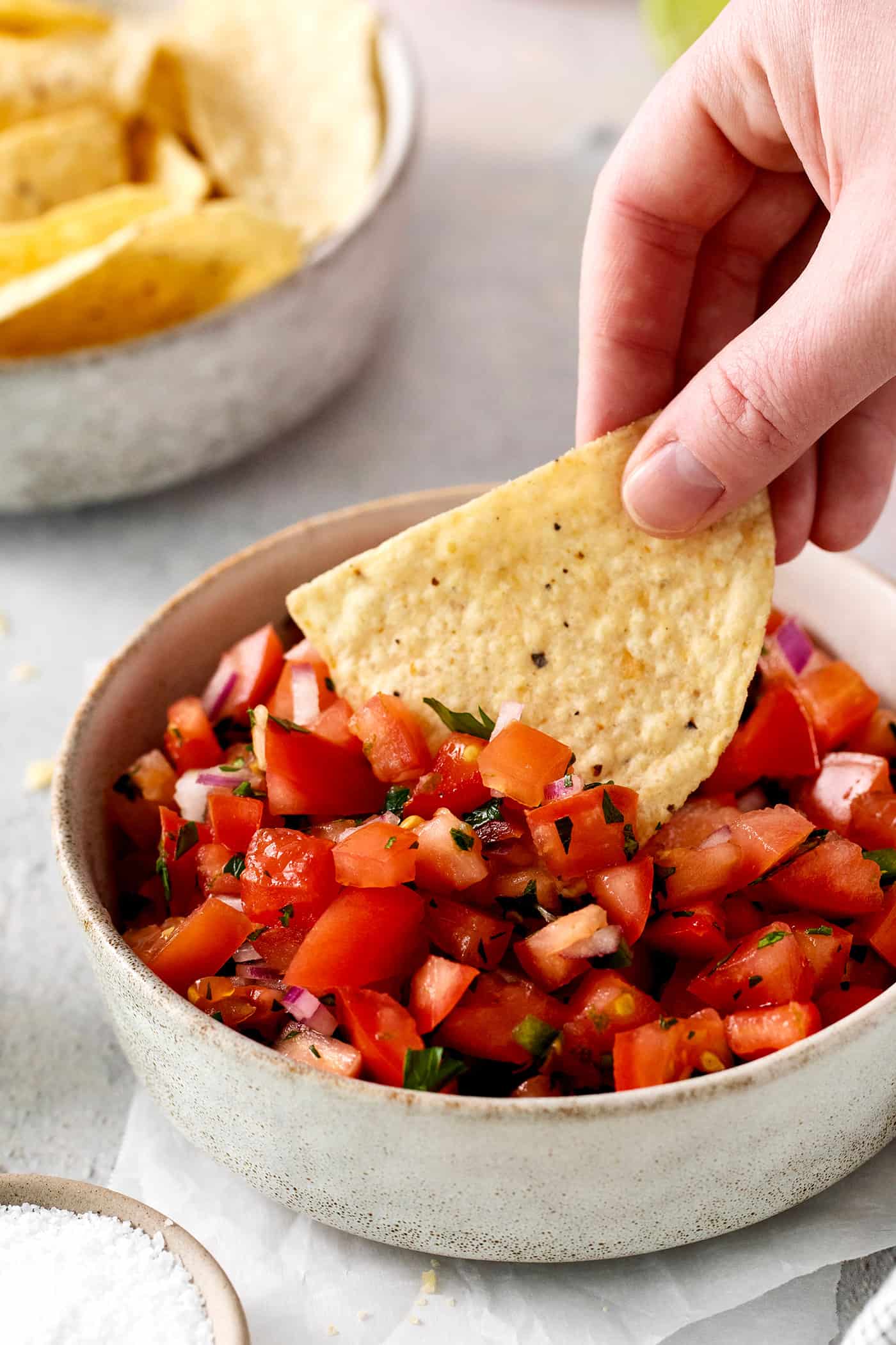 What to Serve With Pico de Gallo Salsa
There are so many ways to serve pico de gallo! You can use it as a topping or condiment on dishes – or just serve it with some tortilla chips and dive right in.
Here are a few dishes that are made even better when topped with some freshly made pico de gallo.
And a margarita is the perfect drink to serve when enjoying some homemade pico de gallo. I offer many to choose from, along with other cocktails you might like!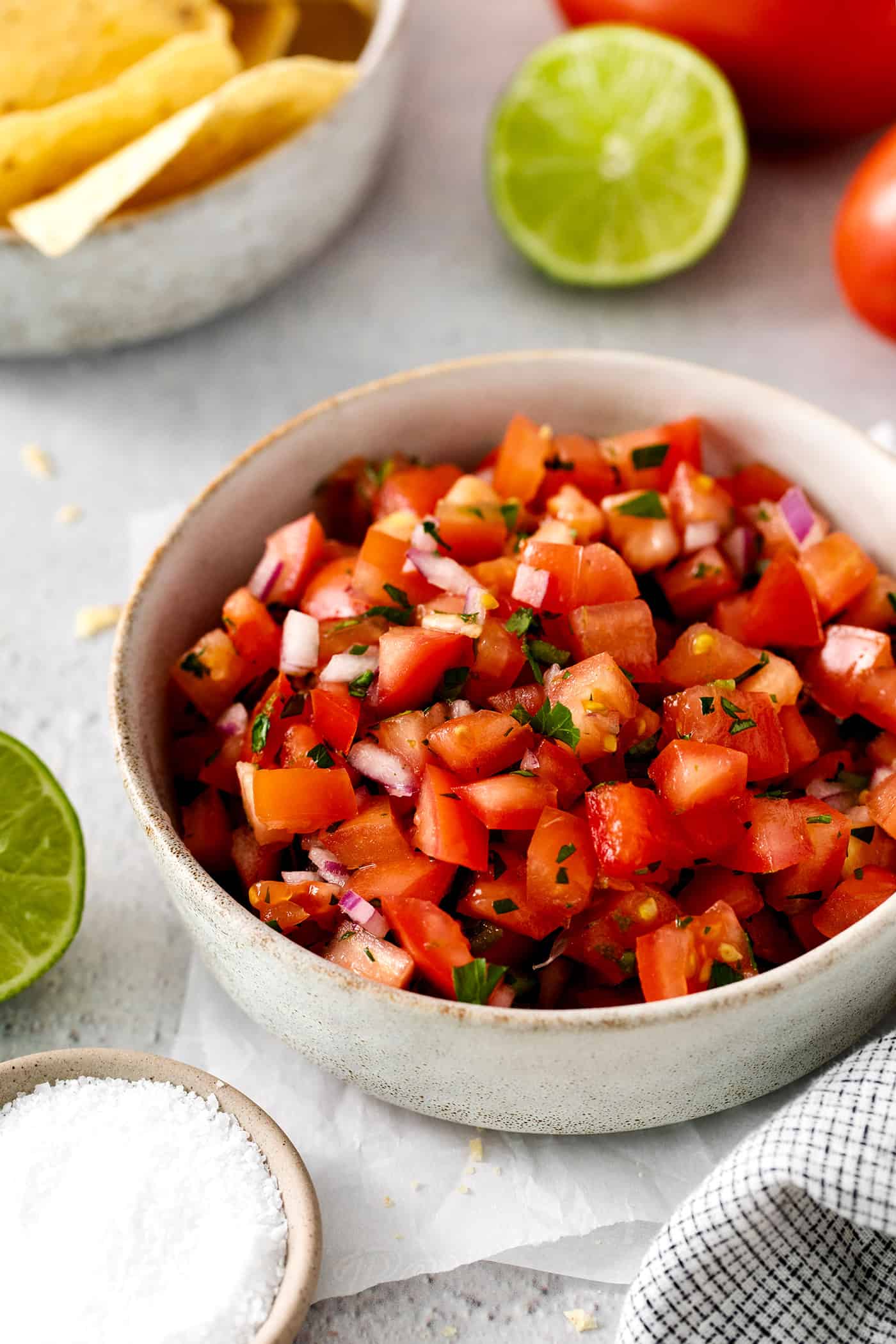 How Long Will This Last in The Fridge?
Store any leftover pico de gallo in the fridge, in an airtight container, for up to 4 days.
More Easy Salsa Recipes:
Like this Recipe? Save to Pinterest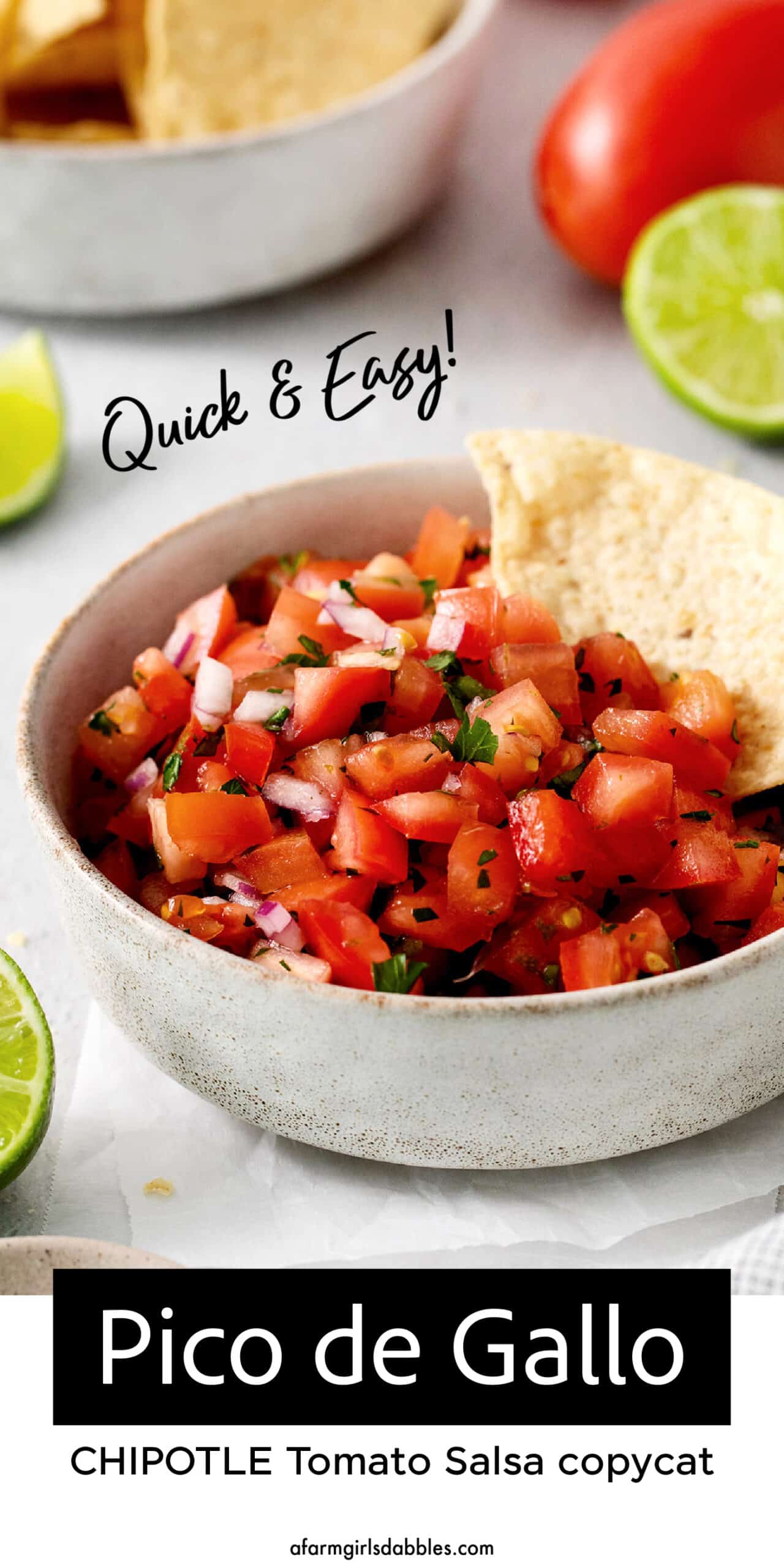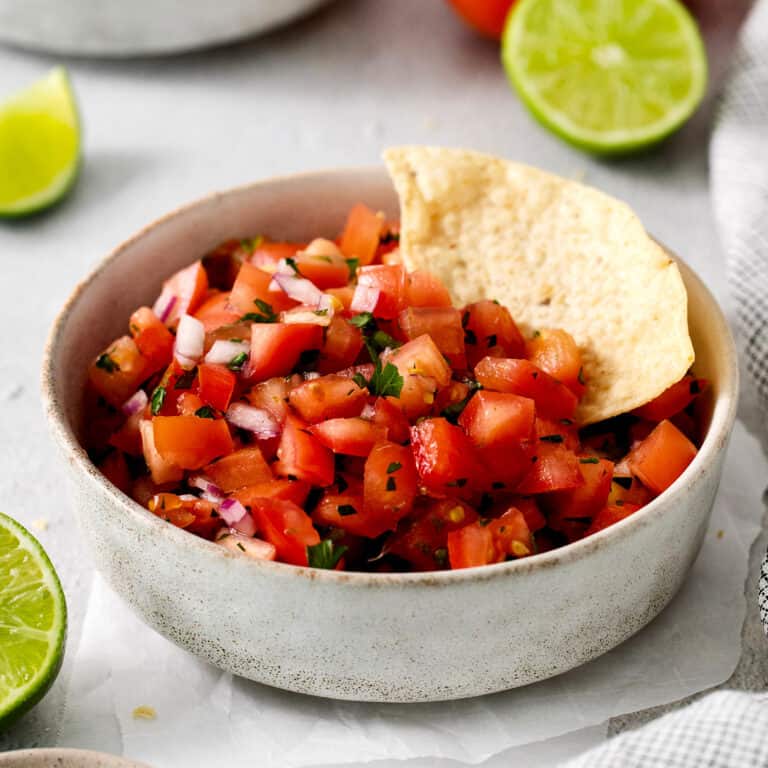 Pico de Gallo
Yield: 3½ cups
Prep Time: 10 minutes
Total Time: 10 minutes
This homemade Pico de Gallo recipe features fresh ripe tomatoes, onion, lime, and a bit of jalapeno - it's quick and easy, fresh and delicious. A copycat Chipotle Tomato Salsa that's perfect with nachos, tacos, and burrito bowls!
Ingredients
3 cups diced ripe roma tomatoes
½ cup smaller diced red onion
¼ cup chopped fresh cilantro
1-2 tablespoons minced jalapeno, or more, to taste - fresh or pickled jalapenos
3 tablespoons freshly squeezed lime juice - I like to taste that fresh lime, feel free to use less
2 teaspoons fresh lime zest
¾ teaspoon Morton kosher salt
Instructions
Combine all ingredients in a medium bowl. I like to make this an hour or two before serving, to let the flavors mingle. But we've also been known to dig in immediately!
Nutrition Information:
Yield: 6
Serving Size: 1
Amount Per Serving:
Calories: 35
Total Fat: 0g
Saturated Fat: 0g
Trans Fat: 0g
Unsaturated Fat: 0g
Cholesterol: 0mg
Sodium: 164mg
Carbohydrates: 8g
Fiber: 2g
Sugar: 4g
Protein: 1g
Nutrition information is automatically calculated by Nutritionix. I am not a nutritionist and cannot guarantee accuracy. If your health depends on nutrition information, please calculate again with your own favorite calculator.