Annie P's Black Bean Salsa with Olives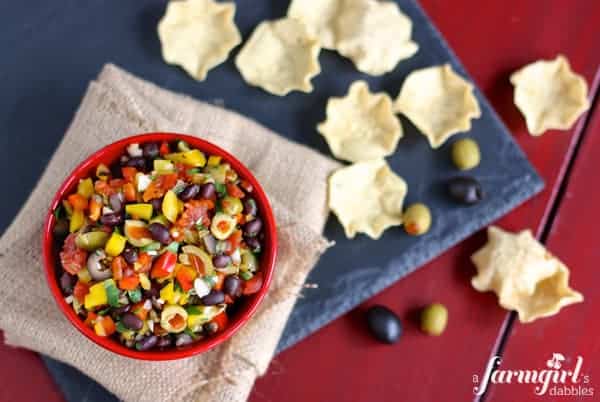 I love this Black Bean Salsa with Olives any time of year. But in the middle of January, when there are no sweet summer tomatoes to be had…well, that's usually when you'll see me mixing up a big bowl of this colorful salsa.
It's full of fresh sweet bell peppers, onion, and garlic, which provide that from-the-garden tasty goodness. A can of diced tomatoes bestows summer in preserved form. And black beans bring fiber, protein, and another layer of texture and flavor. But the really cool ingredients in this bowl? Chopped black olives and green olives. Those briny beauties give it a unique kind of saltiness, which completely makes this salsa. And the recipe calls for "handfuls" of olives – I love that!
My friend Ann shared this interesting salsa recipe with me many years ago, a favorite dish from her friend "Annie P". And the recipe has such a great story behind it…
When Ann's son Graham was very young, he set out on a mission to increase the number of monarch butterflies in this world. It was the ultimate summer job for a boy in his youth. Graham raised and released over 26 monarchs that summer, naming each one as he went through the alphabet…A is for Albert, B is for Bill, C is for Cathy, etc.
Raising small stripy caterpillars into big gorgeous black and orange butterflies was a huge part of their summer. So it was only fitting that Ann and Graham turned Annie P's Salsa into "Caterpillar Salsa", a name they still reference to this day. They got creative with color in their kitchen mixing bowl, using no red ingredients, and incorporating only yellow tomatoes that I shared with them from my own garden, yellow bell peppers, white onions, and the blackness of beans and olives. If you know what a monarch caterpillar looks like, with its yellow, black, and white stripes, you can imagine their Caterpillar Salsa in all its boyhood glory.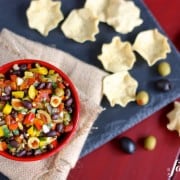 Annie P's Black Bean Salsa with Olives
Yield: about 3 pints of salsa
Ingredients:
1 15-oz. can black beans, drained and rinsed
1 14-oz. can diced tomatoes
2 large handfuls black olives, chopped
2 large handfuls green olives, chopped
2 bell peppers chopped (I like to use 1 red and 1 yellow, but green and orange are great, too!)
1 small yellow onion, chopped
minced jalapeno pepper, to taste
3 cloves garlic, minced
1/3 c. chopped cilantro
1/3 c. red wine vinegar
Directions:
Place all ingredients in large bowl and stir. Can be made 1 day prior to serving. Serve with tortilla chips. The chips shaped like scoops work especially well.
Adapted from the recipe box of my friend Ann Hauer. Originally from Ann's friend Anne Perkins.
©
Join Aggie's Kitchen andReal Mom Kitchen and share a family favorite Winter Comfort Food recipe for the Bush's Beans Recipe Exchange!
I'm linking up with:
We participate in the Amazon Services LLC Associates Program, an affiliate advertising program designed to provide a means for us to earn fees by linking to Amazon.com and affiliated sites. See our disclosure policy for more info.