Apple Muffins with Cinnamon Sugar Crumble Topping
This post may contain Amazon or other affiliate links. As an Amazon Associate I earn from qualifying purchases.
These Apple Muffins with Cinnamon Sugar Crumble are moist, studded with juicy apple bites, and topped with an irresistible cinnamon sugar crunch.
Looking for more classic apple desserts? Try this easy apple crisp recipe.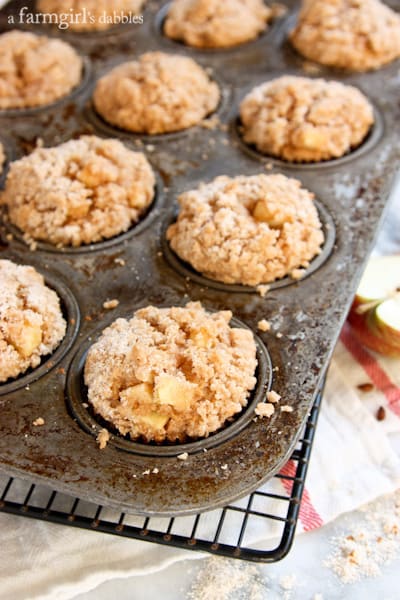 Moist and Fluffy Apple Muffins
Apple season means good eats…and drinks…around here. I just can't get enough of the fresh local apple crop. I have so many favorite apple recipes that I want to make each year – it's hard to fit them all in, plus experiment with new recipes.
But apple muffins have been on my list for the past couple years and I knew I was due to spend some time getting a recipe down on paper. Ask our girls how many pans of apple muffins they've seen come out of the oven the past few weeks (they surely won't complain about it), and you'll know how serious I was about getting this recipe just right.
I promise you, these Apple Muffins with Cinnamon Sugar Crumble Topping have it all. They are tender with a moist larger crumb, studded with juicy apple bits, and topped with an amazing cinnamon sugar crunch that's just a bit salty. Perfection, I tell you.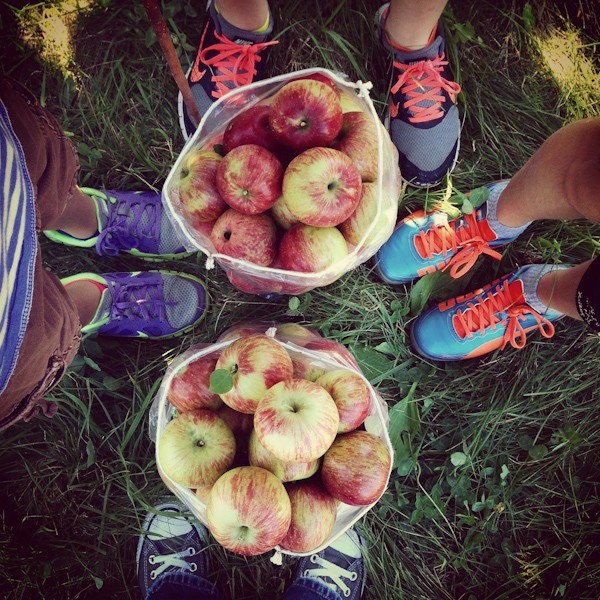 My Favorite Apples for Baking
I wait each year for my favorite apple, the Haralson, to be ready for harvest. Having heard predictions that the Midwest was to have one of the best apple harvests in many years, I was excited to see the apples for myself. And sure enough, the harvest forecast was right. The trees at our nearest orchard were loaded with beautiful fruit.
Haralsons are my #1 apple pick for many reasons:
I like their tart sweetness, juiciness, and crunch – they're a great medium-sized apple to eat straight from the tree.
If I had to pick one apple to cook and bake with, this would be it. It's a sturdy apple that holds up very well in recipes, and has great flavor even after being cooked or baked.
They were made in Minnesota. Yes, right here in the Midwest at the University of Minnesota.
I'm engulfed with nostalgia. My parents planted Haralson apple trees on the farm I grew up on in South Dakota. Each time I twist a Haralson from the tree, taste its tartness, even smell it…I'm right back there on the farm. A kid again, carefree.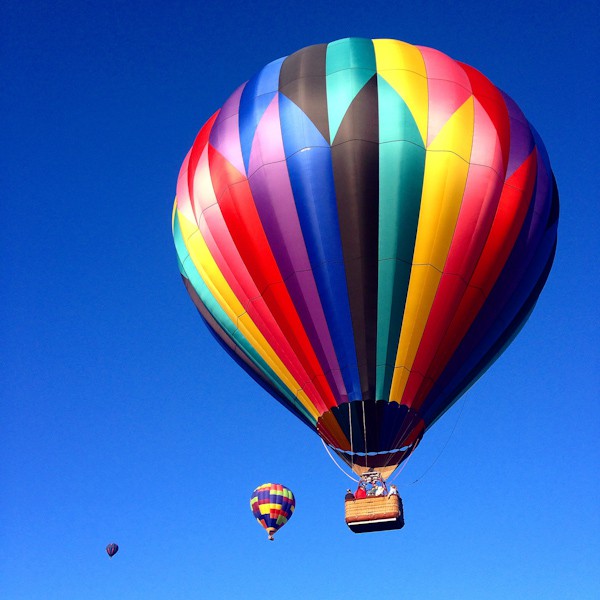 When we were done picking apples, we were treated to front row seats at a hot air balloon lift-off. Aamodt's also provides hot air balloon rides over the scenic St. Croix Valley, and we had perfect timing to watch three balloons be inflated and take off into the brilliantly blue and cloudless fall sky.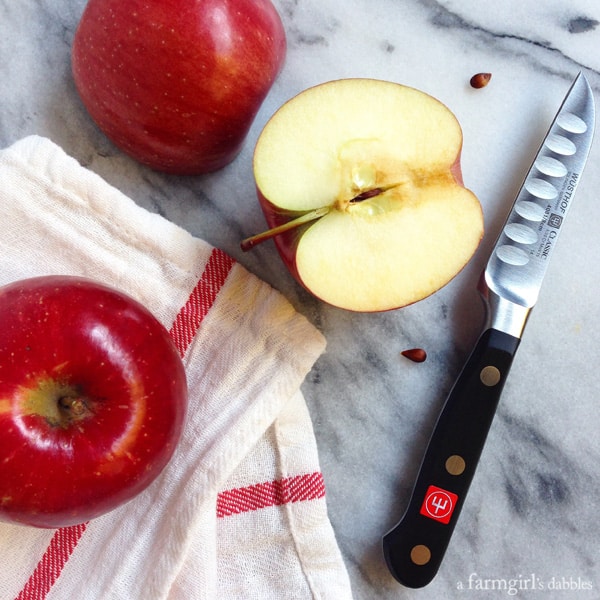 When a person peels and cuts up as many apples as I do each fall, a great knife is a must. I received this one from WÜSTHOF, just in time for a good workout with many pounds of apples. This CLASSIC 3″ Hollow Edge Paring Knife is my new go-to paring knife. I love its super sturdy and nearly straight blade. It's the perfect tool for slicing the apples and then cutting them into little bits for these muffins.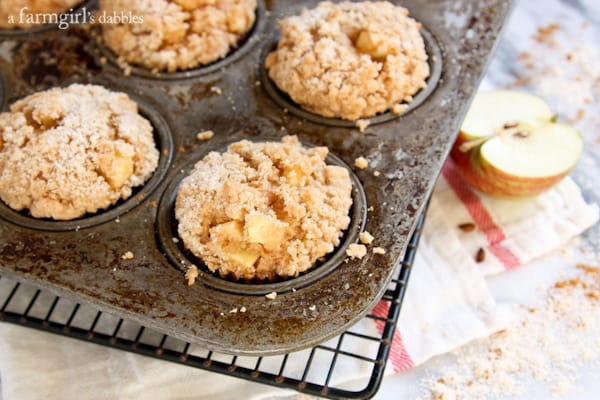 What Makes these Apple Muffins so Good?
Aren't these apple muffins pretty to look at?! This is part of what I was working on with this recipe. I wanted to be able to see the little apple chunks poking up out of the muffin and its crumble topping.
Crumble toppings are the best way to top muffins, don't you agree? Another favorite recipe of mine is my grandma's Blueberry Muffins with Crumb Topping.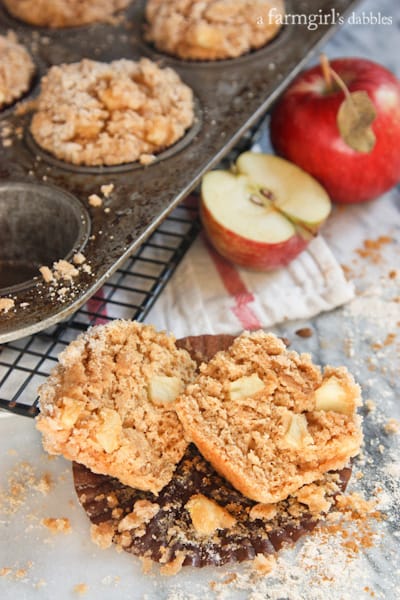 And then when you slice the muffins in half…another pretty picture of apple studded goodness is revealed. I experimented with grated apples and different sizes of apple bits, but ended up liking the muffins best with apple chunks just a bit larger than a quarter inch in size.
The muffins hold together really well, yet allow for pieces of apple that are recognizable in every bite. The recipe's flour consists of nearly half whole wheat, giving the muffins a deeper flavor and slightly heartier texture. Sweetened with brown sugar and spiced with a good amount of cinnamon, these muffins have quickly become a favorite around here.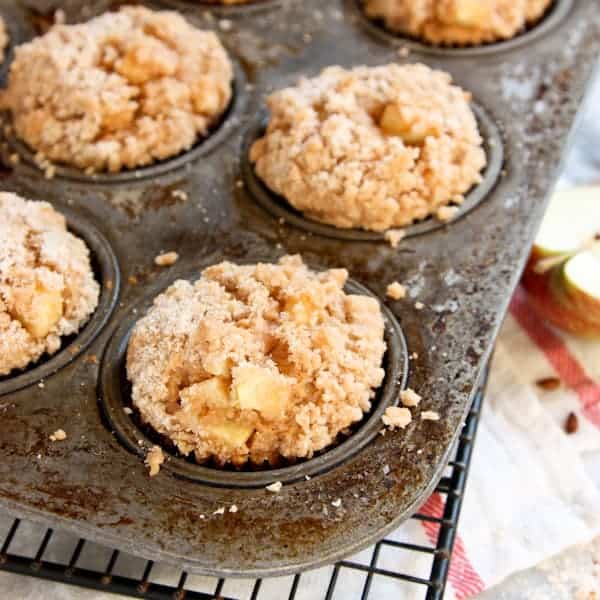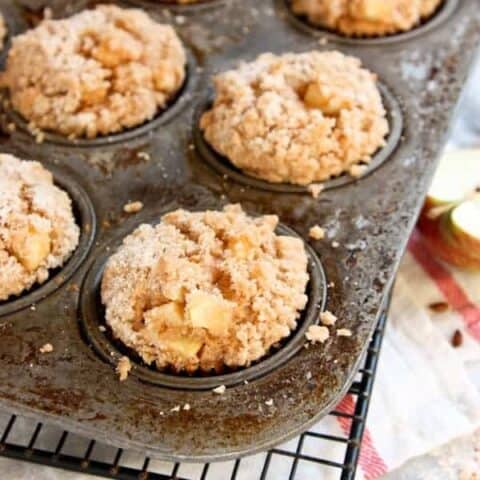 Apple Muffins with Cinnamon Sugar Crumble Topping
Yield: 12 muffins
Prep Time: 20 minutes
Cook Time: 18 minutes
Total Time: 38 minutes
These Apple Muffins with Cinnamon Sugar Crumble are moist, studded with juicy apple bites, and topped with an irresistible cinnamon sugar crunch.
Ingredients
FOR THE APPLE MUFFINS:
1/4 c. unsalted butter
2/3 c. buttermilk
1 large egg
2 tsp. pure vanilla extract
1.25 c. all-purpose flour
1 c. whole wheat flour
2/3 c. packed brown sugar
2 tsp. baking powder
1/4 tsp. kosher salt
2 tsp. cinnamon
1/4 tsp. nutmeg
pinch of ground cloves
1.5 c. peeled and finely chopped fresh apple – aim for apple pieces about 1/4″ or just a bit larger in size
FOR THE CINNAMON SUGAR CRUMBLE TOPPING:
1/3 c. sugar
1/4 c. all-purpose flour
1/2 tsp. cinnamon
1/4 tsp. kosher salt
2 T. unsalted butter, at room temperature (do not melt!)
Instructions
FOR THE APPLE MUFFINS:
Preheat oven to 400° F. Line a regular muffin pan with paper liners and set aside.
Using a microwave, gently melt the butter and then set it aside to cool a bit. In a small bowl, whisk together the buttermilk, egg, and vanilla. In a large bowl, whisk together the flours, brown sugar, baking powder, salt, cinnamon, nutmeg, and cloves. Stir the melted butter into the wet ingredients and then add all the wet ingredients to the dry ingredients. Fold until combined, taking care to not over mix. The mixture will be thick. Fold in the apple pieces. Divide mixture evenly between the 12 muffin cups.
FOR THE CINNAMON SUGAR CRUMBLE TOPPING:
In a small bowl, combine sugar, flour, cinnamon, and salt with a fork. Add the butter and cut it into the dry ingredients with the same fork until you have some pea-size pieces of crumble topping. Sprinkle mixture over muffins.
Place muffin pan in oven and bake until muffins are puffed and a bit browned, about 18 to 19 minutes, or just until a toothpick comes out clean. Do not over bake, or you will lose some of the muffins' moistness. I would rather just slightly under bake these muffins than slightly over bake them! Remove muffin pan from oven and let muffins rest for a minute or two before removing them to a wire rack to cool. Serve slightly warm or at room temperature. The muffins are best the day they are baked, as that is when the topping is the crunchiest.
Nutrition Information:
Yield: 12
Serving Size: 1
Amount Per Serving:
Calories: 292
Total Fat: 7g
Saturated Fat: 4g
Trans Fat: 0g
Unsaturated Fat: 2g
Cholesterol: 31mg
Sodium: 215mg
Carbohydrates: 56g
Fiber: 4g
Sugar: 33g
Protein: 4g
Nutrition information is automatically calculated by Nutritionix. I am not a nutritionist and cannot guarantee accuracy. If your health depends on nutrition information, please calculate again with your own favorite calculator.
We participate in the Amazon Services LLC Associates Program, an affiliate advertising program designed to provide a means for us to earn fees by linking to Amazon.com and affiliated sites. See our
disclosure policy
for more info.