Apple Almond Galette
This post may contain Amazon or other affiliate links. As an Amazon Associate I earn from qualifying purchases.
This warm and buttery Apple Almond Galette is drizzled with a sweet toffee almond topping. It's super fun to make and full of fall flavors!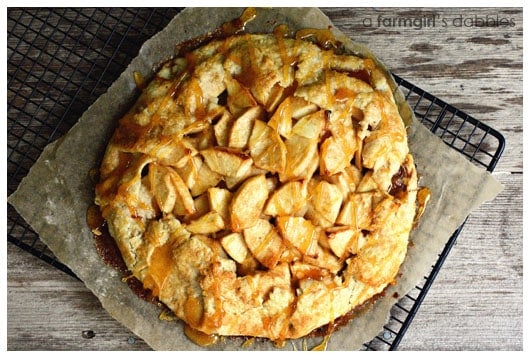 Apple Almond Galette
It's harvest time in the Midwest. My favorite time on the farm. Apples are being picked by the bushel basket, alongside the summer garden that has faded to near nothingness. Combines and grain trucks can be seen dotted across the landscape, creating an almost constant grain-smelling dustiness in the air as harvest creeps across every last dried and golden acre.
It's the most wonderful smell.
The most wonderful sight.
And each harvest I am reminded of just how blessed I have been.
I love my farmgirl roots.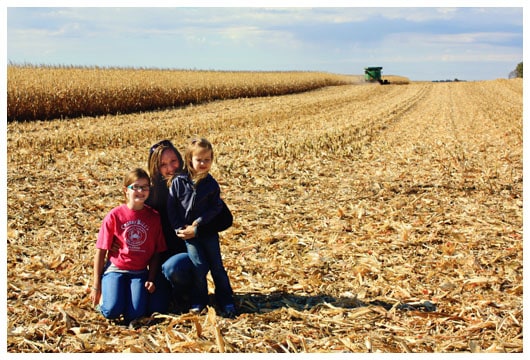 Our girls and I enjoyed a perfect fall day out in the corn field last week (until the hail shut it down!). For more photos from this year's South Dakota corn harvest, please read on after the recipe.
Now, what to do with those bushel baskets of apples? I never run out of delicious ways to bake them up. There's a hard-to-resist Apple Bundt with Brown-Butter Vanilla Bean Glaze. And a beloved Apple Bread, a recipe Mom shared with me years ago. There's also my very favorite Apple Crisp (it really is crispy!) and easy-peasy Sauteed Apples, a favorite warm and cinnamony treat of our girls.
And just this past weekend, Mom and I quickly whipped up a pan of Peanut Butter Apple Bars to celebrate the birthdays of my sister and her husband. The recipe comes from Maria of Two Peas & Their Pod, and it's heavenly yum!
This Apple Almond Galette with Toffee Almond Drizzle has its own little place in heaven, too. My mom made a recipe from Cooking Light a few years ago that incorporated almond flavoring in this rustic looking tart. I loved it! But when I finally got around to making it myself this fall, I was disappointed to find the recipe called for a refrigerated pie crust. My mom is an excellent pie maker and had simply used her own favorite pie dough recipe when she made it.
But, alas, I am no pie maker. Just ask my husband and girls, who have witnessed many frustrated episodes of me in the kitchen with yet another new pie dough recipe or method.
So I knew it was time to dig into a recent post from The Pioneer Woman's site. Ree had called in a friend to break down the art of making pie crust. And if you're as disgustingly impaired as I am, you do need to check out that post.
Because I can now make a pie crust!
In my kitchen there was singing.
There was dancing.
And there was a whole lot of appreciation for Ree and her friend, Pam.
Why I Love This Apple Dessert
The almond flavor in this apple galette comes from a layer of marzipan laid over the center of the crust, plus some almond extract mixed into the apples and that gorgeous golden toffee drizzled over the top. The added flavoring is subtle, yet adds so much. I hope you like it. Flaky, buttery, and delicious pie crust and all.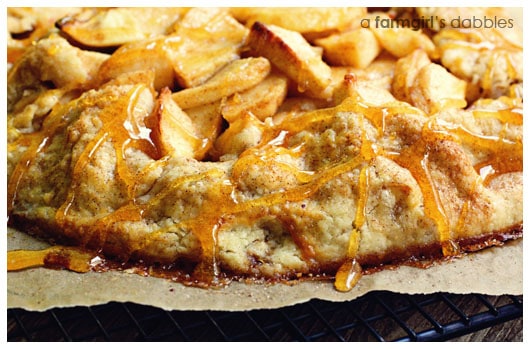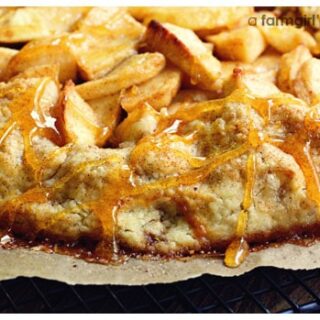 Apple Almond Galette
Yield: 8
Prep Time: 20 minutes
Cook Time: 35 minutes
Total Time: 55 minutes
This warm and buttery Apple Almond Galette is drizzled with a sweet toffee almond topping. It's super fun to make and full of fall flavors!
Ingredients
for the apple filling:
5 cups peeled, sliced (1/4" thick) apples - use a firm, tart variety such as Granny Smith, Haralson, or Honeycrisp
1/4 cup sugar
1/2 cup brown sugar
1 teaspoon cinnamon
pinch of freshly grated nutmeg
pinch of cloves
2 tablespoons all-purpose flour
3/4 tablespoon pure almond extract
2 teaspoon freshly squeezed lemon juice
1/4 teaspoon kosher salt
2 tablespoons unsalted butter
for the pastry & almond layer:
2.5 cups all-purpose flour, divided
1 teaspoon kosher salt
1 teaspoon sugar
1 cup cold butter, cut into 1/2" chunks
1/4 cup ice water
1/2 cup marzipan, softened
1 large egg, beaten
1 tablespoon water
1/2 teaspoon cinnamon with 1/2 tsp sugar, for sprinkling over pastry
for the toffee almond drizzle:
1/4 cup sugar
1/4 teaspoon pure almond extract
Instructions
Preheat oven to 425° F. Line a rimmed jelly roll pan with foil. You want a pan with rimmed edges, should your pastry leak at all. Trust me on this one!
For the apple filling: Combine the apple slices, sugar, brown sugar, cinnamon, nutmeg, cloves, flour, almond extract, lemon juice, and salt in a large bowl. Toss well to coat apples.
For the pastry & almond layer: In a mixing bowl or in the bowl of a food processor, mix just 2 cups of the flour with the salt and sugar. NOTE: This recipe makes enough dough (dough only, not apple filling!) for 2 galettes. I either make 2 galettes right away or wrap one half of the dough well in plastic wrap and then place in a baggie to go in the fridge or freezer for a future day of fresh galette baking.
Add cold butter chunks and cut into the flour mixture using a rigid pastry cutter or by pulsing the food processor. Once the mixture looks like large crumbs clinging together in clumps, add the remaining 1/2 cup of flour. Mix lightly or pulse the food processor a few times to combine. Do not over mix. The flour should coat the clumps.
Sprinkle the ice water over the dough. With your hands or a wooden spoon, mix until the dough holds together. Divide dough in half and form into two discs.
Using two 12'' square pieces of parchment paper, place a disc of dough between them. Start rolling the dough from the center of the disc outward, turning the dough and parchment as necessary. Continue rolling from center to outer edge until you have a circle shape that is 12'' in diameter.
Now lift dough and parchment, still intact, and place on your foil lined pan. Peel off the top piece of parchment, leaving the circle of dough on top of the remaining piece of parchment.
On a lightly floured surface, roll the marzipan to a 9'' circle. Place the marzipan on top of the pie dough.
Spoon prepared apple filling over the marzipan, leaving a 2'' apple-free border around the entire circle of dough. Dot the apple mixture with the 2 tablespoons of butter.
Gently fold the 2'' dough border up and over the apple mixture, pressing gently to seal. Your aim is for a rustic look, with nothing perfectly even. The dough border will only partially cover the apple mixture, leaving exposed apples in the center. If you have any trouble lifting the dough border from the parchment paper, simply slide a thin spatula dipped in flour between the dough and parchment to loosen.
Beat the egg with 1 tablespoon of water and brush some of the mixture on the dough for a beautiful golden baked pastry. Sprinkle dough with the cinnamon sugar mixture, to your liking. Bake for about 30 minutes, or until the crust is beautifully browned and the apples are bubbling a bit. Transfer galette from oven to a cooling rack.
For the toffee almond drizzle: After removing galette from the oven, place sugar in a small heavy saucepan over medium-high heat. Cook until the sugar dissolves, stirring as needed to dissolve the sugar evenly. This should take about 4 minutes or so. Cook for 1 minute, or until the sugar is golden in color. Remove from heat and carefully stir in almond extract. Then quickly drizzle mixture over the baked galette, as the drizzle hardens rather quickly.
Once drizzle hardens, slice galette into individual pieces and serve. This is best eaten on the day it's baked, while still warm, or at room temperature.
Notes
For the pastry, keep the butter chunks in the fridge until you're ready to use it.
Recommended Products
As an Amazon Associate and member of other affiliate programs, I earn from qualifying purchases.
Nutrition Information:
Yield: 8
Serving Size: 1
Amount Per Serving:
Calories: 679
Total Fat: 33g
Saturated Fat: 19g
Trans Fat: 1g
Unsaturated Fat: 11g
Cholesterol: 103mg
Sodium: 450mg
Carbohydrates: 91g
Fiber: 4g
Sugar: 50g
Protein: 7g
Nutrition information is automatically calculated by Nutritionix. I am not a nutritionist and cannot guarantee accuracy. If your health depends on nutrition information, please calculate again with your own favorite calculator.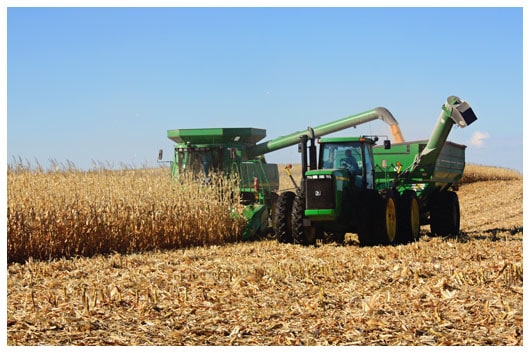 I took our girls back to South Dakota last week for corn harvest. Although Dad is officially retired, he likes the chance to jump in and pinch-hit when extra help is needed from my uncles and their sons, who continue to provide the manpower on the farm. Dad especially still likes to show his grandchildren how it all works during harvest. So he gets behind the wheel of the semi, as the kids clamber up the steep metal steps to sit beside him in the cab. Together they haul a few loads of corn into Rosholt's Farmers Co-Op Elevator. Can you just imagine how much those young kiddos adore their grandpa on a day like that?!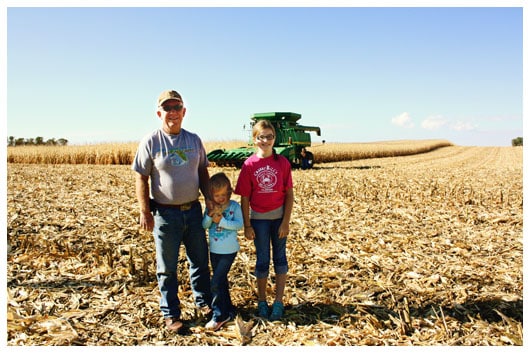 Our girls are just two of seven grandkids my dad proudly gives the annual harvest tour to.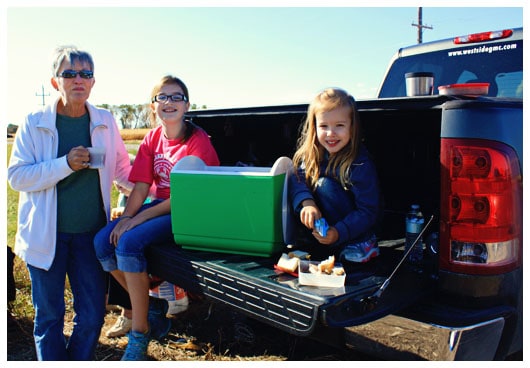 My mom, who still knows how to pack a great field lunch, enjoys being a part of the harvesting, too. And see that coffee cup she's holding? It's the same plain, and obviously sturdy, white cup she's been using for field lunches for as long as I can remember. Nondescript, but most definitely not unbeloved.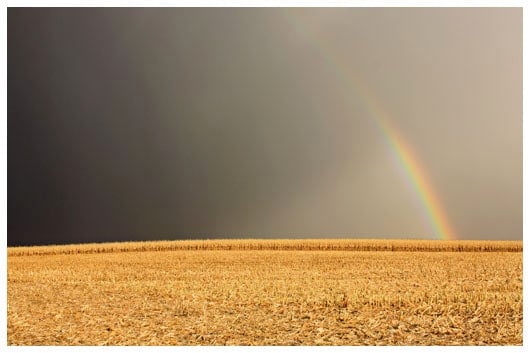 In the late afternoon an ominous sky rolled in from the northwest. You could hear its insides rumbling long and low as it crept menacingly nearer, chasing away our blue sky full of sunshine. The wind and rain turned to icy hail, quickly halting that day's work. Not exactly the way a farmer wants to stop his day. But we had to admit, the storm left behind a pretty awesome sight.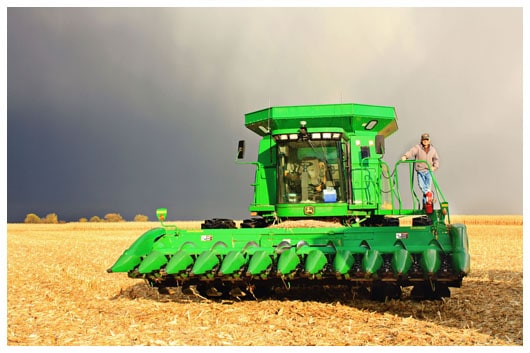 And I was able to capture a memorable shot. That's my uncle, calling it a day – with the sun returning to illuminate his face, while the cranky dark sky at his back continued on its grumbling path to the east.
We participate in the Amazon Services LLC Associates Program, an affiliate advertising program designed to provide a means for us to earn fees by linking to Amazon.com and affiliated sites. See our
disclosure policy
for more info.