Coconut Gumdrop Cookies
Coconut Gumdrop Cookies are buttery and chewy, with coconut and fruity gumdrop bites. I remember Mom making these fun cookies quite often when I was a kid!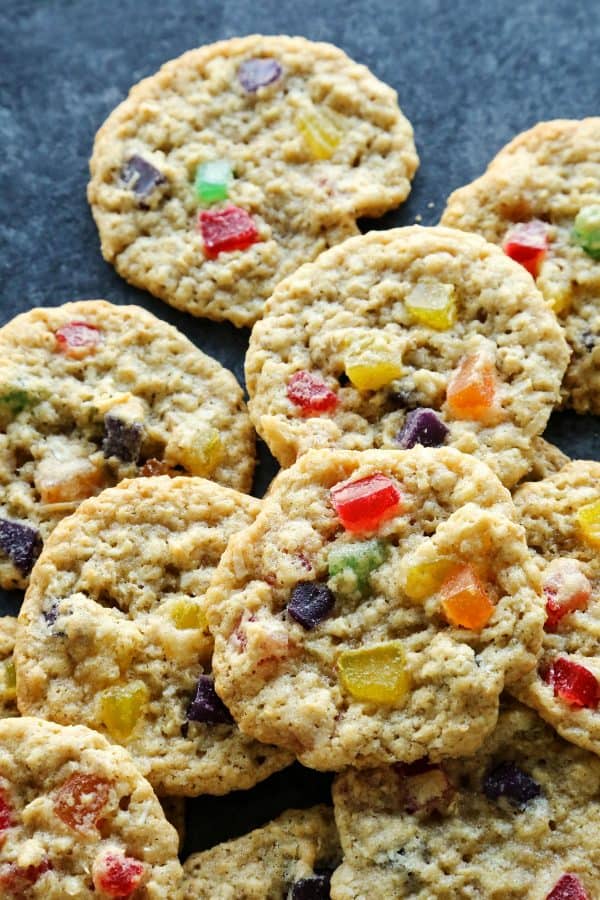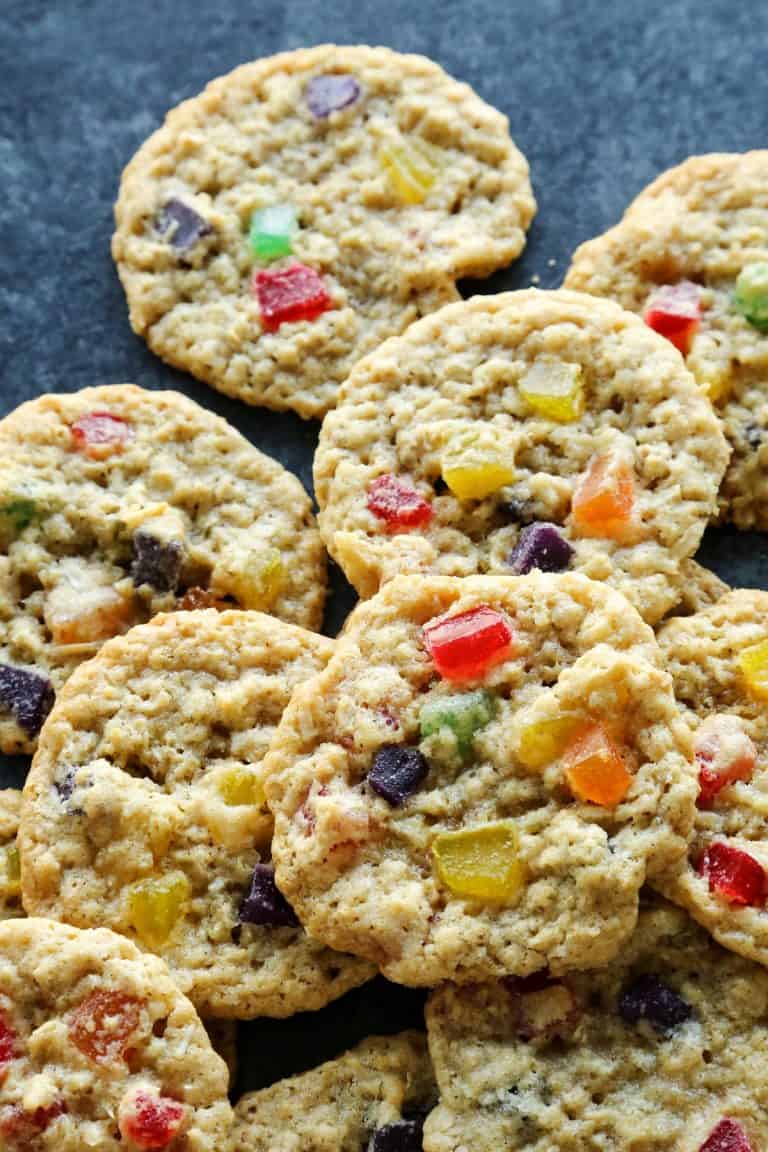 I can picture very well the image of Mom at the kitchen counter on the farm, paring knife in hand. Cutting gumdrops for one of her favorite cookies, the knife blade sticky with the colorful insides of this super chewy nostalgic treat.
This recipe for Coconut Gumdrop Cookies has stood the test of time in Mom's recipe box. My mom has always loved anything with coconut, so I'm sure that's a big factor.
As I was thinking about recipes from my family, anticipating spring, these cookies came to mind. They're cheery with color and oh so fun to eat. I hope you like this treat from my childhood, too!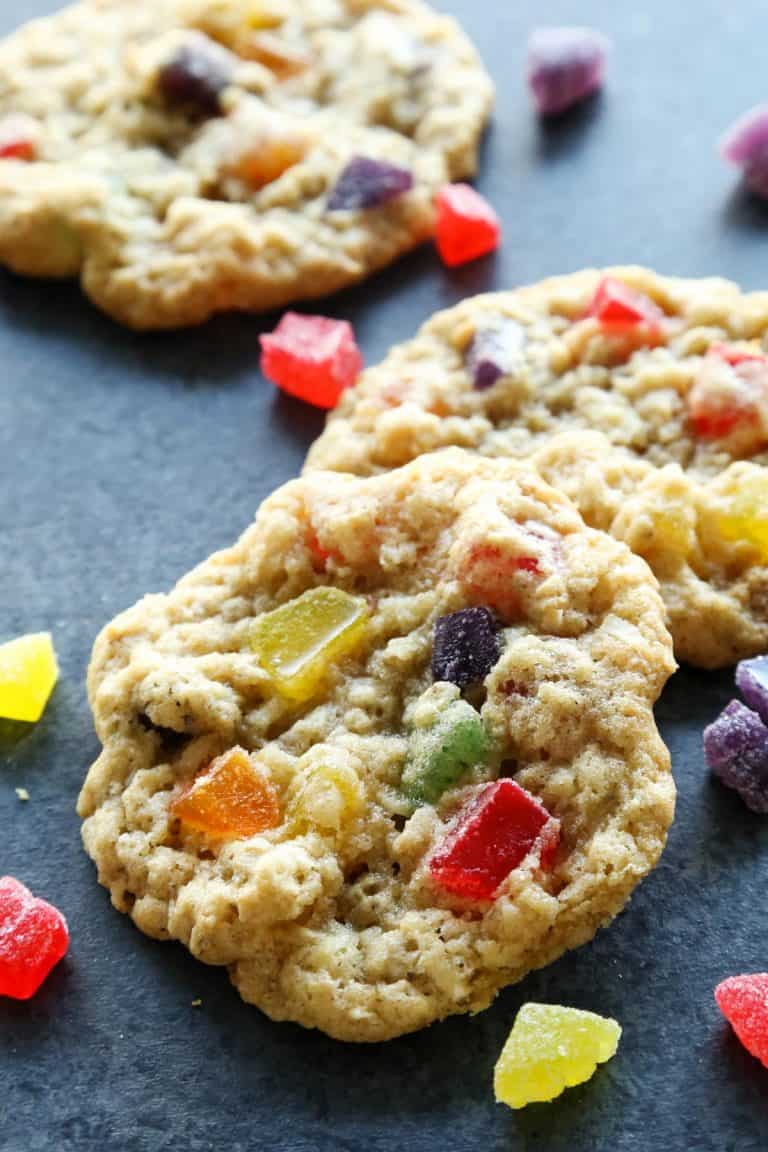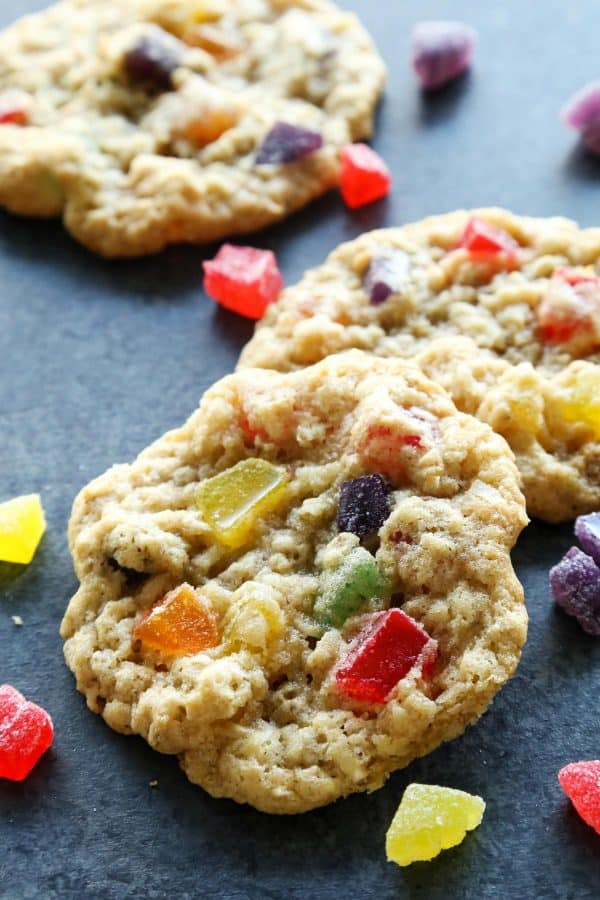 Now, my dad has always been a spice drop fan. Not that he'd turn down the fruity gumdrops, by any means. But if he had his choice, the drops would always be flavored with spice.
And me? I'm not so big on the spice flavors in the gummy candy.
So that was always the question in the house when my sisters and I were growing up, and remains the question to this day whenever we see a bowl of gumdrops on their counter:
"Are those spice drops or fruit, Dad?"
And if they're spiced, I slide right on past…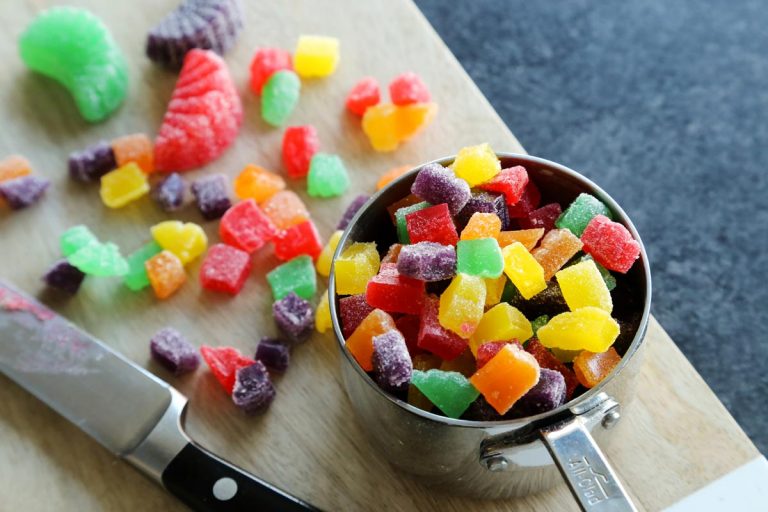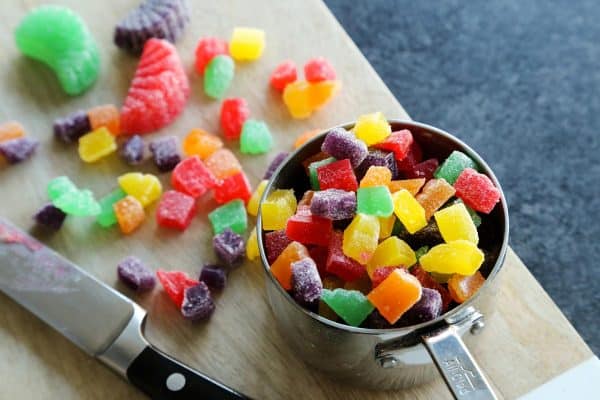 Gumdrop Cookies Recipe
For whatever the reason, when I went shopping in preparation for making these coconut gumdrop cookies, the only thing I could find was spice drops.
This sent me into a little bit of a panic. Because I had really been looking forward to enjoying these cookies again!
One of the store clerks directed me to the bulk section of the store where I found gummy fruit slices. I knew these had the same great fruity flavor and texture as the gumdrops. And I was also aware that I had several more errands to run before I could actually start baking cookies.
I tossed them into my cart, no hesitation.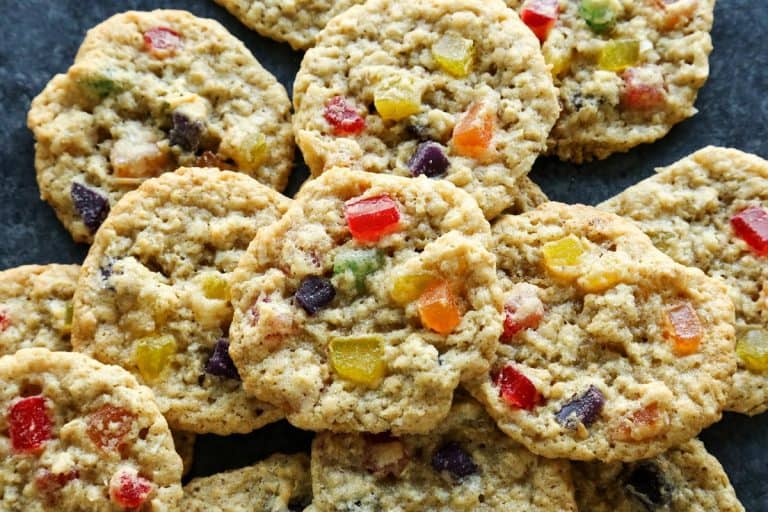 The best recipes are family recipes, am I right?!
This recipe was passed on to Mom from Dad's sister, my aunt Mary Fritz. She and her husband Neil and their four sons lived directly across the field from our farm.
Mary's youngest son Chris was my same age and one of my best friends. People always think it's crazy when I tell them I graduated with three of my cousins, every one of them included in my core group of friends.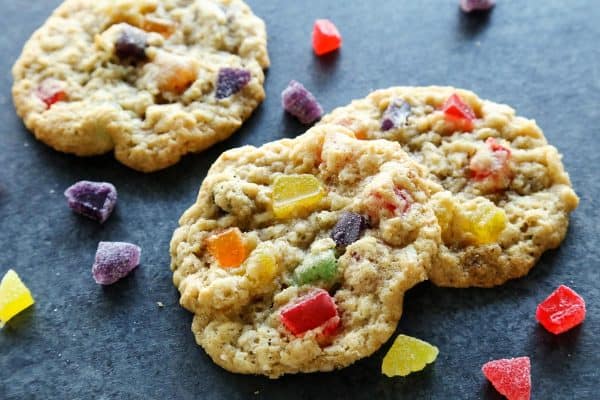 Coconut Gumdrop Cookies
These coconut gumdrop cookies are delightful.
Rich and buttery, wonderfully chewy, and studded with colorful bites of fruity gumdrops, you just can't help but smile when eating one.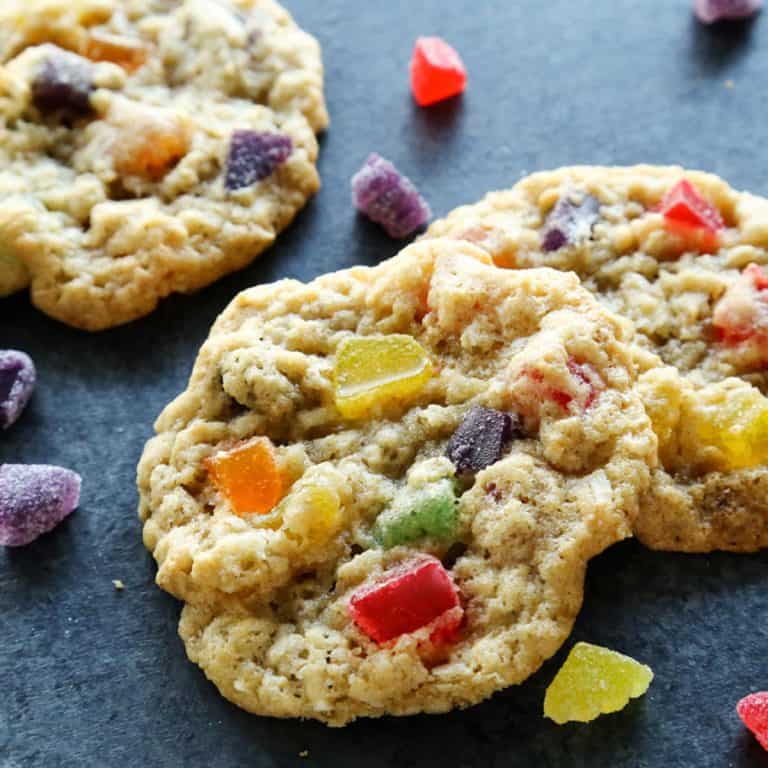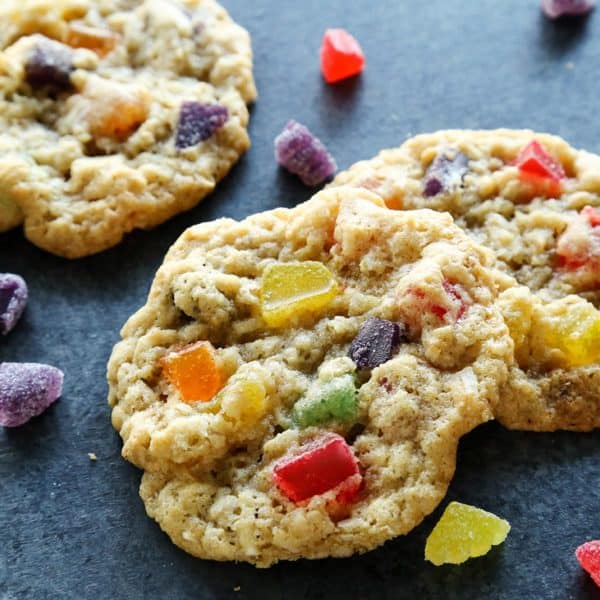 Here are a few more recipes you might like: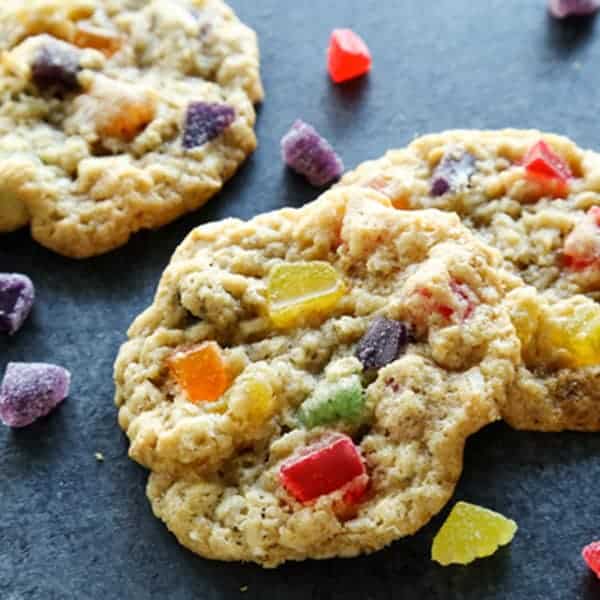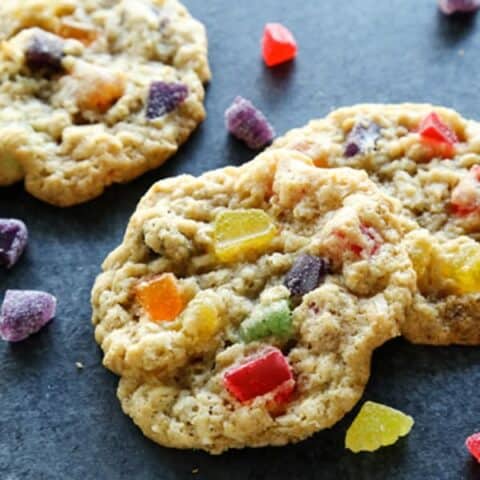 Coconut Gumdrop Cookies
Yield: 48 cookies
Prep Time: 30 minutes
Cook Time: 48 minutes
Total Time: 1 hour 18 minutes
Buttery cookies with coconut and fruity, chewy gumdrops. I remember Mom making these fun cookies quite often when I was a kid!
Ingredients
2 c. all-purpose flour, divided
1-1/2 c. chopped gumdrops, divided - aim for 1/4" to 3/8" pieces
1 c. unsalted butter, at room temperature
1 c. packed brown sugar
1 c. sugar
1 tsp. baking soda
1 tsp. baking powder
1/2 tsp. kosher salt
2 large eggs, slightly beaten
1-1/2 c. old fashioned oats
1 tsp. pure vanilla extract
Instructions
Preheat oven to 350° F. Very, very lightly spray two baking sheets with non-stick spray and set aside.
In a small bowl, toss 1/2 cup of the flour with 1 cup of the chopped gumdrops to evenly coat. Break apart any pieces that want to stick together to coat fully with flour. Set aside.
In the bowl of a stand mixer, cream butter on medium high speed for 2 minutes. Add brown sugar and sugar, and beat to combine.
In a medium bowl, sift together remaining 1-1/2 cups of flour, baking soda, baking powder, and salt. With mixer on low, alternate adding flour mixture and beaten eggs in two separate additions each. Beat just until incorporated each time. Add coconut, oats, and vanilla, and mix until incorporated. With a spatula, fold in the gumdrop pieces that have been coated with flour.
With a medium scoop (mine is 1-5/8″ in diameter), packed tightly with cookie dough, drop dough onto a prepared pan leaving 2" between each one. Or portion out about 2 tablespoons of dough and roll slightly to form a ball. Press in 2 to 4 more of the reserved gumdrop pieces into each dough ball, using more if desired. Bake for 11 to 12 minutes, or until edges are set and lightly golden brown. Do not over bake.
Remove from oven and let cookies rest on pan for 2 minutes before transferring them to a wire rack to cool completely. These cookies freeze very well.
Notes
Adapted just a bit from Mom's recipe box, originally from my aunt Mary Fritz.
Recommended Products
As an Amazon Associate and member of other affiliate programs, I earn from qualifying purchases.
Nutrition Information:
Yield: 48
Serving Size: 1
Amount Per Serving:
Calories: 129
Total Fat: 4g
Saturated Fat: 3g
Trans Fat: 0g
Unsaturated Fat: 2g
Cholesterol: 18mg
Sodium: 69mg
Carbohydrates: 22g
Fiber: 0g
Sugar: 12g
Protein: 1g
Nutrition information is automatically calculated by Nutritionix. I am not a nutritionist and cannot guarantee accuracy. If your health depends on nutrition information, please calculate again with your own favorite calculator.