Summer Quinoa and Veggies Salad with Honey-Shallot Vinaigrette
This post may contain Amazon or other affiliate links. As an Amazon Associate I earn from qualifying purchases.
Fresh dishes like this Summer Quinoa and Veggies Salad with Honey-Shallot Vinaigrette are what summer's all about!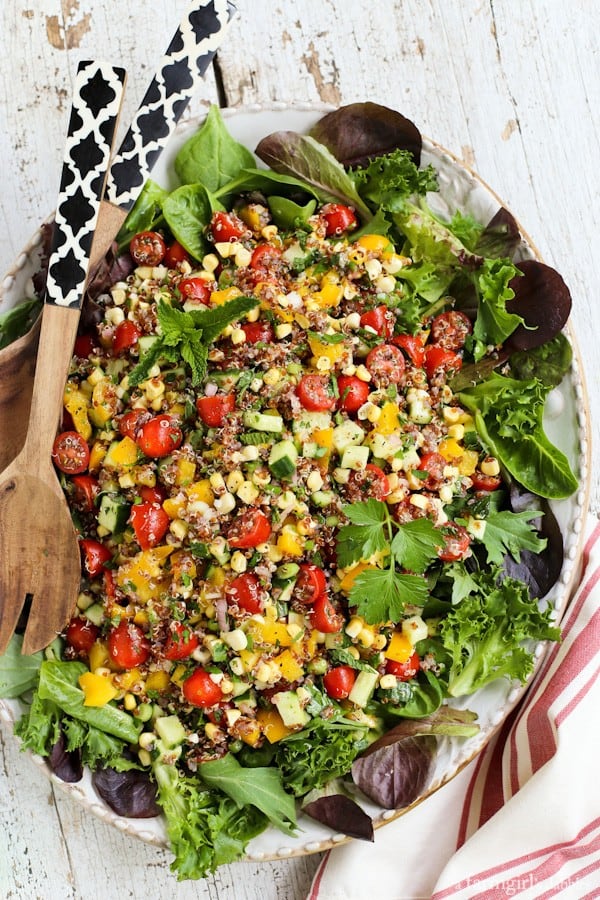 Salads are a year-round regular dish for me, but when summer hits, their appearance is amplified to an every day occasion. This time of year, our weekly grocery list always reflects a ton of flavors and colors to make salads a tasty celebration of the season's freshness. And this Summer Quinoa and Veggies Salad with Honey-Shallot Vinaigrette is all that and so much more. Isn't summer absolutely beautiful?!
[rss-cut]

This post is sponsored by Dole®, a brand I first connected with blog-wise two years ago out in beautiful Carmel, California. (I've been consuming Dole products foreeeeeeever!) I'm extremely honored to be an official Dole ambassador for 2015, and will be sharing lots of fresh wholesome goodness with you throughout the year.
Dole recently launched their "Get Up and Grow" campaign and tour. They'll be hitting the road this summer, hitting 45 cities across the U.S. and Canada, challenging North Americans to make healthy eating their #1 priority with increased fruit and vegetable consumption. In this 11,700-mile journey, tour caravans with rolling kitchens will deliver innovative new recipes, product samples, a do-it-yourself smoothie bar, plus free giveaways and family friendly activities to showcase the fun and flavors of fresh fruits and vegetables.
The new Get Up and Grow! Pledge is an interactive online exercise that allows visitors to create their personal Get Up and Grow! page where they can commit to living healthier in 2015. Those who return to their page to track their goals throughout the year will have the chance to receive free Fitbits, Dole fresh fruits, vegetables and salads, and other rewards.
Take the Get Up and Grow! Pledge today and view tour dates and info!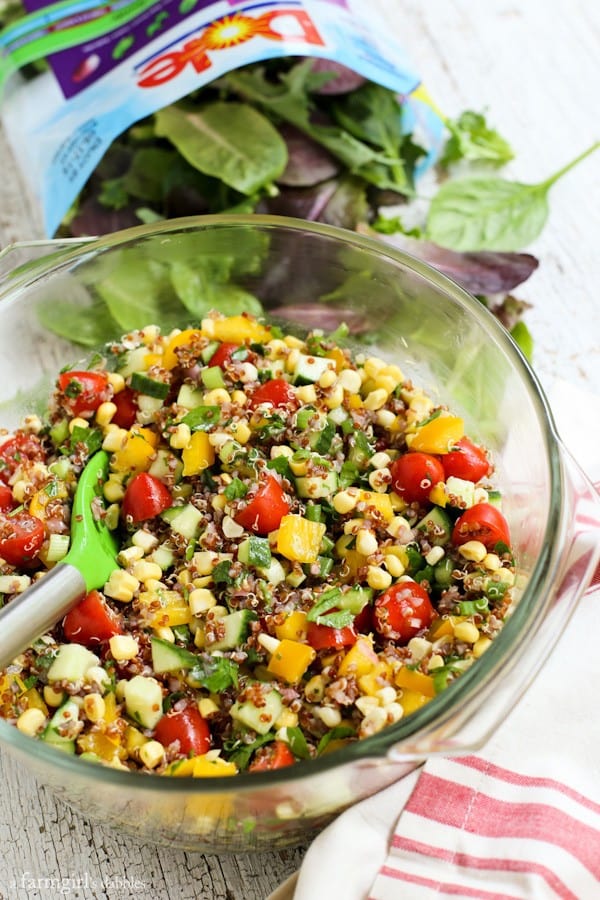 This quinoa and veggies salad is chock-full of my favorite summer vegetables. Sweet corn, bell peppers, tomatoes, and cucumbers are mixed with red quinoa and a tangy vinaigrette, and then settled prettily on a layer of Dole's Spring Mix and Baby Spinach Blend. Fresh dishes like this are what summer's all about!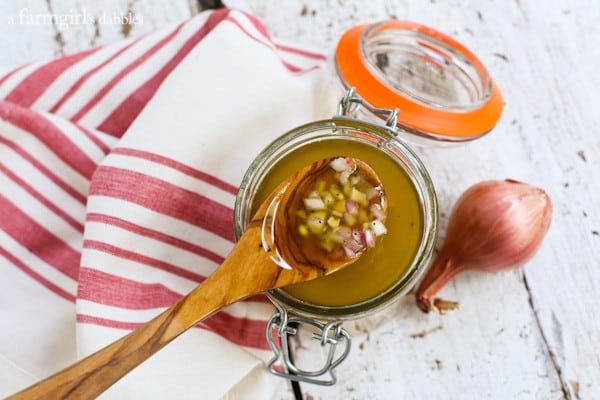 I have a few bottled vinaigrettes that I rely on in a pinch. But my salad love is always best expressed through a bright, homemade one. I've been on some kind of crazy vinaigrette kick lately, making double recipes so that I'm never without one chilling in the refrigerator. Homemade salad dressings really don't take much time at all to create, and taste so wonderful…definitely worth the effort for super tasty salads. This honey-shallot vinaigrette is bright with lemon. It's tangy and utterly awesome, the perfect mixture of flavors folded into this summer salad.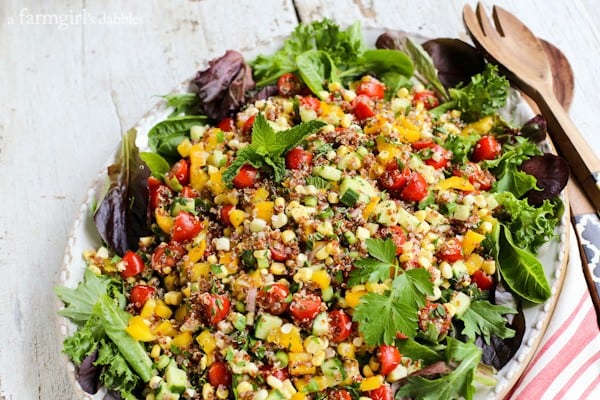 My husband can be hit or miss with salads. But this one, hearty with quinoa and incredibly flavorful, was a definite hit for his palate.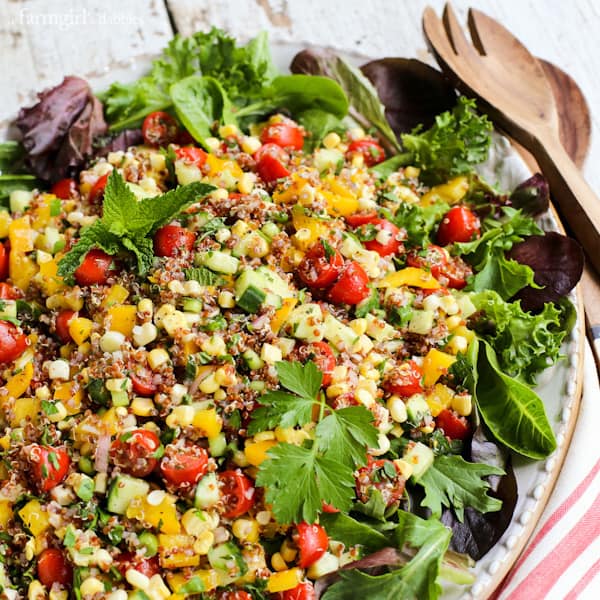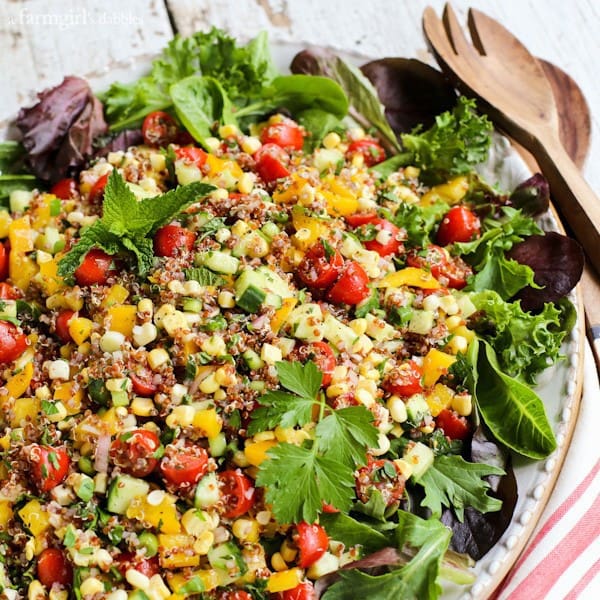 I like to make this summer quinoa and veggies salad for a weekend meal and then store the leftovers in the refrigerator for quick and easy make-ahead lunches during the week. I think this is destined to be our "Salad of Summer 2015". Grab some fresh veggies and join us!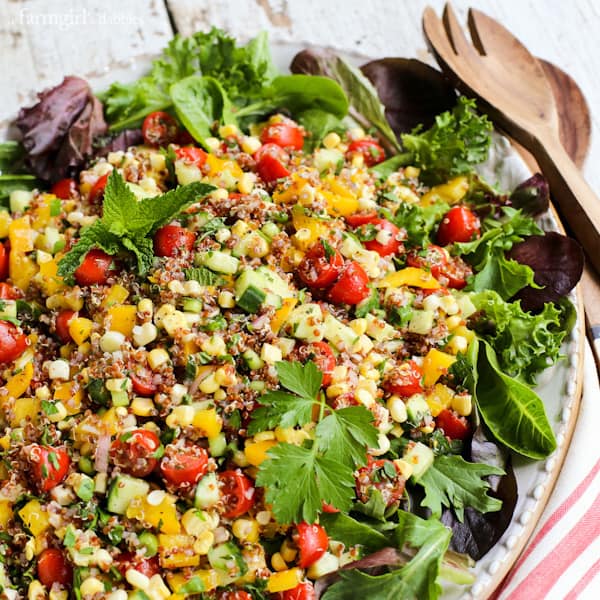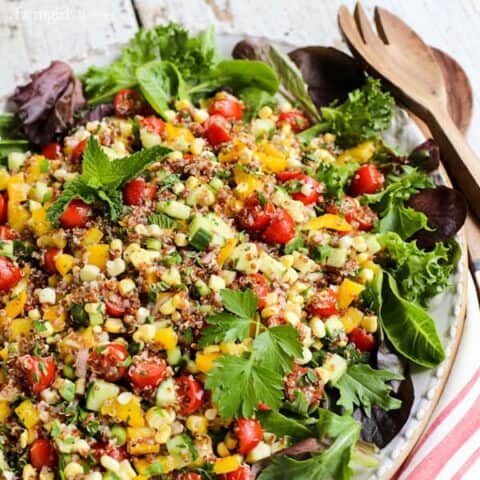 Summer Quinoa and Veggies Salad with Honey-Shallot Vinaigrette
Fresh dishes like this Summer Quinoa and Veggies Salad with Honey-Shallot Vinaigrette are what summer's all about!
Ingredients
for the honey-shallot vinaigrette:
½ c. freshly squeezed lemon juice
½ c. rice vinegar
2 T. honey
½ c. minced shallots
¼ tsp. kosher salt
freshly ground black pepper, to taste
2/3 c. olive oil
for the salad:
1 c. uncooked red quinoa
2 c. chopped English cucumber
2 c. halved grape tomatoes
1 medium yellow bell pepper, chopped
raw kernels cut from 2 large ears of sweet corn
3 green onions, chopped
¼ c. fresh chopped parsley
¼ c. fresh chopped mint
1 bag Dole® Spring Mix and Baby Spinach Blend (or your own favorite Dole greens)
Instructions
for the honey-shallot vinaigrette:
In a small bowl or medium sized canning jar, combine lemon juice, rice vinegar, honey, shallots, salt, and pepper. Let sit while preparing the rest of the salad.
When ready to incorporate into the salad, add the olive oil to the vinaigrette mixture. Cover and shake to combine.
for the salad:
Prepare quinoa according to package directions. Allow quinoa to cool completely.
In a large bowl, fold together cooked and cooled quinoa, cucumber, tomatoes, bell pepper, sweet corn, green onions. Drizzle about ¾ cup of the honey-shallot vinaigrette over the salad mixture and fold to combine. Then fold in the parsley and mint.
On a medium to large platter or plate, place a layer of the Spring Mix and Baby Spinach Blend. Spoon salad mixture over the greens, leaving a border of greens around the edge of the platter. Sprinkle with additional black pepper and freshly cut parsley and mint if desired.
Notes
from a farmgirl's dabbles
Nutrition Information:
Yield: 6
Serving Size: 1
Amount Per Serving:
Calories: 373
Total Fat: 25g
Saturated Fat: 4g
Trans Fat: 0g
Unsaturated Fat: 21g
Cholesterol: 0mg
Sodium: 127mg
Carbohydrates: 35g
Fiber: 4g
Sugar: 16g
Protein: 4g
Nutrition information is automatically calculated by Nutritionix. I am not a nutritionist and cannot guarantee accuracy. If your health depends on nutrition information, please calculate again with your own favorite calculator.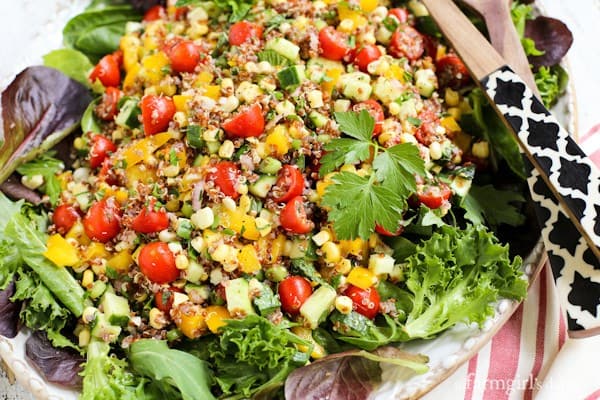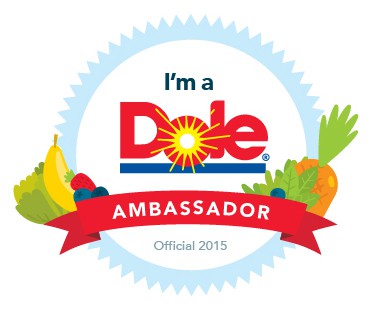 This post is sponsored by Dole. I am partnering with them this year to bring you delicious new recipes bursting with fresh fruits and veggies. All opinions are 100% my own, as always. Thank you for supporting the brands that help make this site possible!
We participate in the Amazon Services LLC Associates Program, an affiliate advertising program designed to provide a means for us to earn fees by linking to Amazon.com and affiliated sites. See our
disclosure policy
for more info.