Double Chocolate Marshmallow Crispy Bars
This post may contain affiliate links to products we use and love.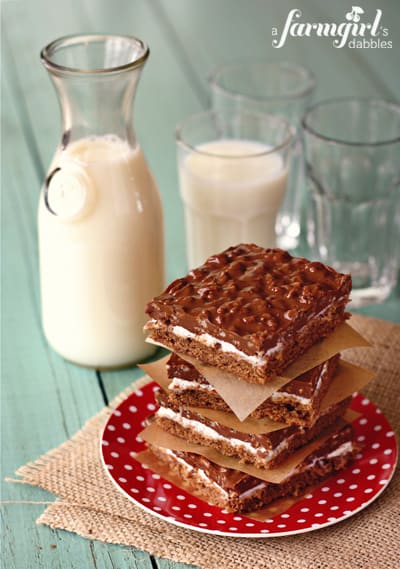 Ahhhhh…these here chewy and crispy chocolate bars take me right back to the farm. Double Chocolate Marshmallow Crispy Bars were one of my favorite childhood treats, and an especially wonderful find in the kitchen when the school day was done. Paired with a tall glass of cold milk, they were the perfect welcome home.

Today I'm excited to be featured by my friend Kim
on her blog At Home With Kim!

Kim has a new series called "Behind the Blog", where she is highlighting a different blog author each week. And my number's up! Won't you please join me over there today? C'mon, let's go!
…
And if you're visiting a farmgirl's dabbles for the first time,
clicking over from At Home With Kim…
…
Welcome!
I'm so glad you're here!
…

Double Chocolate Marshmallow Crispy Bars
Yield: 20 bars
Cook Time:18 minutes
Ingredients:
1/2 c. unsalted butter, at room temperature
3/4 c. sugar
2 large eggs
1 tsp. pure vanilla extract
3/4 c. all-purpose flour
2 T. cocoa
1/4 tsp. baking powder
1/4 tsp. kosher salt
2 c. mini marshmallows
1 c. semi-sweet chocolate chips
1 c. creamy peanut butter
1-1/2 c. Rice Krispies cereal
Directions:
Preheat oven to 350°. Spray a 9" x 13" pan with cooking spray and set aside.
In a medium bowl, cream the butter and sugar. Beat in eggs, one at a time. Add vanilla and stir to combine. Add flour, cocoa, baking powder, and salt. Spread batter into prepared pan and bake for 15 minutes. Do not over bake. Sprinkle marshmallows evenly over the top and bake 3 minutes longer. Cool completely on a rack.
Once pan is cool, melt the chocolate chips and peanut butter over low heat, stirring to combine. Pour in the Rice Krispies cereal and spread mixture evenly over the marshmallow layer.
Once set, cut into bars. They will cut easier if the top layer is allowed time to set up, especially if they are chilled in the refrigerator a bit.
This is a favorite childhood treat from Mom's recipe box, a recipe she got from Dinah K. after a church potluck.
©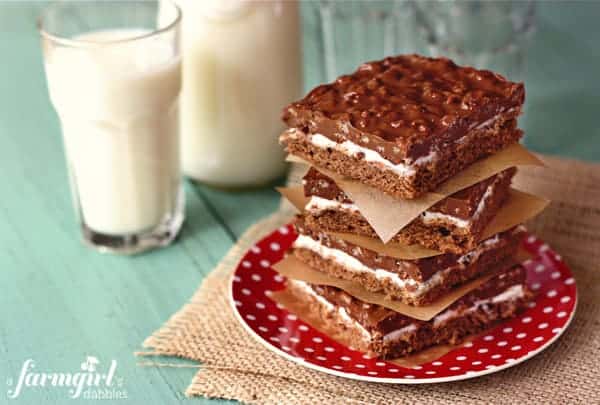 I'm linking up with the following:
We participate in the Amazon Services LLC Associates Program, an affiliate advertising program designed to provide a means for us to earn fees by linking to Amazon.com and affiliated sites. See our
disclosure policy
for more info.