Banana Split Bundt Cake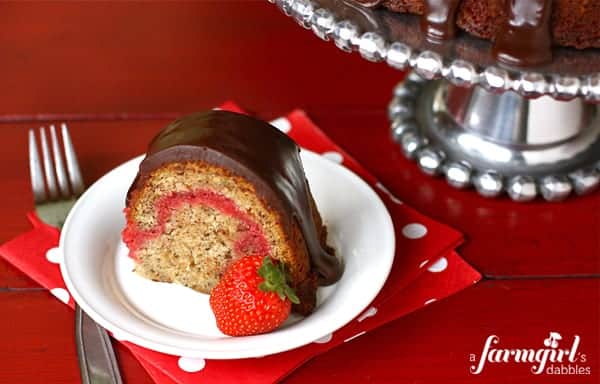 Is there something that you bake pretty regularly, that always brings you comfort and you never tire of eating? For me, that would be baked banana items. Breads, muffins, cakes…I love it all!
I'm also pretty smitten with Bundt cakes and found my recipe box void of any involving bananas. This led me on a search, in which I went straight to Dorie, quite certain she would have the answer for me. And my growing faith in her baking was strengthened even more. Dorie's "Classic Banana Bundt Cake" proved easy to make and just plain perfect.
Recently, though, I was looking for a little bit of fun with that cake…and a little bit of chocolate. So I went ahead and played around with that banana Bundt perfection, adding a thick and irresistible chocolate glaze dripping down the sides and a ribbon of strawberry through the center. I remember as a kid, waiting for the bundt cake to be sliced, so I could see the filling design rippling through it. And I found myself looking forward to that very same thing as an adult, too. So fun and pretty!
This Banana Split Bundt Cake is beautiful, inside and out. It would be a lovely addition to a special weekend brunch or to an afternoon gathering of friends for a casual cup of coffee. I like to serve this cake with some fresh strawberries to enhance that fun ribbon of red. I hope you have some fun with this deliciousness, too!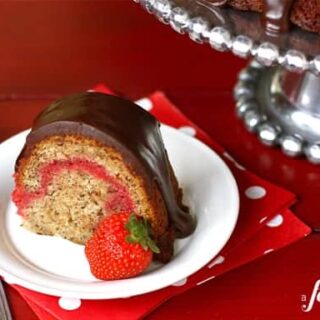 Banana Split Bundt Cake
Yield: 1 bundt cake
Prep Time: 20 minutes
Cook Time: 1 hour 5 minutes
Total Time: 1 hour 25 minutes
This Banana Split Bundt Cake is beautiful, inside and out.
Ingredients
for the banana bundt cake:
3 c. all-purpose flour
2 tsp. baking soda
1/2 tsp. kosher salt
1 tsp. cinnamon
1 c. unsalted butter, at room temperature
2 c. sugar
2 tsp. pure vanilla extract
2 large eggs, at room temperature
1.75 c. mashed bananas, from about 4 very ripe bananas
1 c. sour cream
for the strawberry filling:
1/2 c. strawberry jam
3 T. powdered strawberry gelatin
5 drops red food coloring
for the chocolate glaze:
1/2 c. heavy cream
2 T. light corn syrup
pinch of salt
1 c. semi-sweet chocolate chips (I really like Guittard brand.)
Instructions
for the banana bundt cake:
Preheat oven to 350° F. Generously butter a 12-cup Bundt pan. (Don't place the pan on a baking sheet. You want the oven's heat to circulate through the Bundt's inner tube.)
In a medium bowl, whisk together the flour, baking soda, salt, and cinnamon. Set aside.
Using a stand mixer or a hand mixer with a large bowl, beat the butter until creamy. Add the sugar and beat at medium speed until pale and fluffy. Beat in vanilla, then add the eggs one at a time, beating for about 1 minute after each egg goes in. Reduce the mixer speed to low and mix in the bananas. Finally, mix in half the dry ingredients (do not be alarmed if the mixture looks curdled!), all the sour cream, and then the rest of the flour mixture.
for the strawberry filling:
In a small bowl, stir together 1-1/2 cups of the banana bundt cake batter with the strawberry jam, strawberry gelatin, and red food coloring.
to assemble the cake:
Scrape 1/3 of the banana bundt cake batter into the prepared pan, leveling it out with a spatula. Then add all the strawberry filling, evening out the layer with the spatula. Add the remaining banana bundt cake batter to the pan. Rap the pan on the counter to remove any bubbles in the batter and smooth the top.
Bake for about 65 minutes, or until a thin knife inserted deep into the center of the cake comes out clean. Check the cake after about 30 minutes - if it is browning too quickly, cover it loosely with a foil tent. Transfer the cake to a rack to cool for about 10 minutes before unmolding onto the rack to cool completely.
Once the cake is cooled, prepare the chocolate glaze. Place all glaze ingredients in a small saucepan and simmer over medium heat, stirring constantly until the chocolate is melted and the mixture is smooth. Cool for about 20 minutes, stirring occasionally until the glaze is thickened, but still pourable. Stir until completely smooth and then drizzle over the cake.
I prefer to wait a couple hours, until the glaze has set, to serve the cake. This cake keeps extremely well for a few days, covered on the counter.
Nutrition Information:
Yield: 16
Serving Size: 1
Amount Per Serving:
Calories: 485
Total Fat: 21g
Saturated Fat: 12g
Trans Fat: 0g
Unsaturated Fat: 7g
Cholesterol: 70mg
Sodium: 263mg
Carbohydrates: 73g
Fiber: 3g
Sugar: 46g
Protein: 5g
Nutrition information is automatically calculated by Nutritionix. I am not a nutritionist and cannot guarantee accuracy. If your health depends on nutrition information, please calculate again with your own favorite calculator.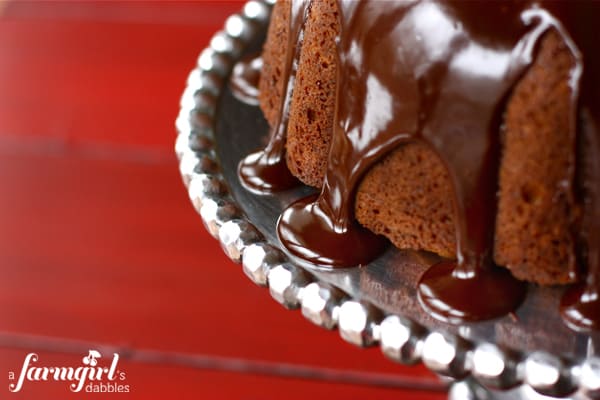 Another great chocolate recipe? Try my S'mores Pie!