Homemade Marshmallow Chicks
They delicious Homemade Marshmallow Chicks are covered in white chocolate and sprinkled with sugar. They are the perfect festive candy for Easter!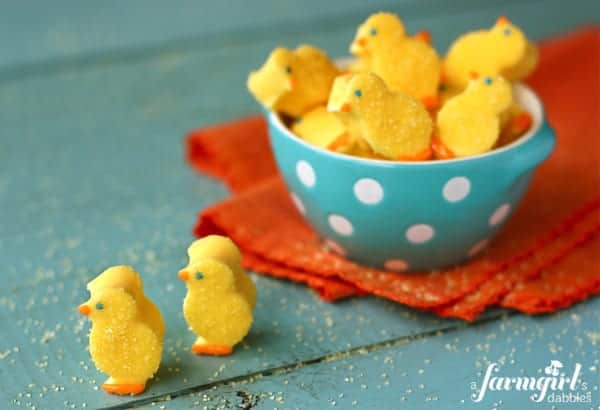 Homemade Marshmallow Chicks Are Perfect For Easter
Peep, Peep!
You know how much I love making (and eating!) homemade marshmallows. So would you be surprised to learn that I don't like those famous marshmallow Peeps? I don't think I've ever eaten a whole one, not even as a kid. I tried really hard to like them when I was young, I really did. But I always ended up trading them off for somebody else's Easter basket confections. Probably for some chocolate marshmallow bunnies. Much more my style.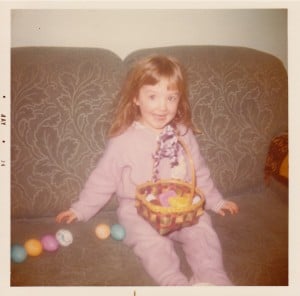 Can you see the yellow Peeps in my basket?!
So, in an attempt to make up for lost time…I've come up with a way that guarantees my own indulging in some yellow chicks this spring. Homemade Marshmallow Chicks. Aren't they adorable?! I dipped them in white chocolate, tinted a springy yellow. Then, per Tessa's request for some feathers, I sprinkled them with a bit of yellow sugar. Adding some little blue eyes and glossy orange feet, we birthed a whole flock of sweet little chicks.
Now these are my kind of Peeps!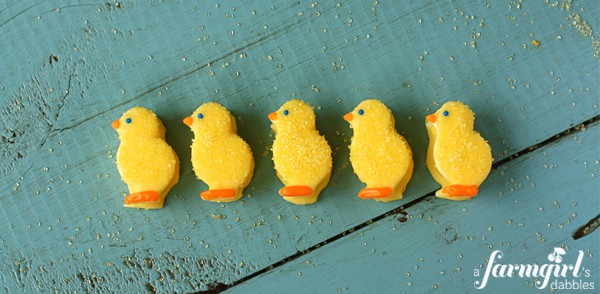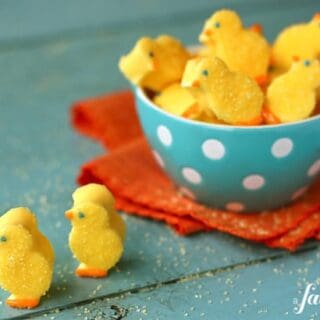 Homemade Marshmallow Chicks
Yield: 20 marshmallow chicks
Prep Time: 30 minutes
Cook Time: 15 minutes
Total Time: 45 minutes
They delicious Homemade Marshmallow Chicks are covered in white chocolate and sprinkled with sugar. They are the perfect festive candy for Easter!
Ingredients
FOR THE MARSHMALLOWS:
powdered sugar, for coating pan
2/3 c. water, divided
3 (1/4 oz.) envelopes unflavored gelatin (found by the Jell-O at the grocery store)
1 c. granulated sugar
1 c. light corn syrup
pinch of kosher salt
1 tsp. vanilla
FOR THE WHITE CHOCOLATE COATING AND DECORATION:
6 oz. good quality white chocolate (You could also use candy melts, which is a little sturdier, but not as tasty.)
yellow candy coloring (not icing coloring)
yellow tinted sugar
small round blue nonpareils
FOR THE GLAZE ICING FOR THE CHICK'S FEET AND BEAK:
1/2 c. powdered sugar
1/2 T. milk
1/2 T. light corn syrup
orange icing coloring
Instructions
for the marshmallows:
Lightly spray the inside of an 9'' x 13'' pan with cooking spray. Generously coat with powdered sugar and set aside.
Pour 1/3 cup of the water into the bowl of a stand mixer. Sprinkle the gelatin over the water and stir briefly to incorporate. Let stand for about 10 minutes, or until the gelatin has softened.
In a saucepan, off the heat, combine the remaining 1/3 cup of water and the granulated sugar, corn syrup, and salt. Place the pan over medium-high heat. Clip a candy thermometer on the inside of the pan, making sure it doesn't touch the bottom. Cook the mixture without stirring until it reaches 240° F. Brush down the sides of the pan with a pastry brush, dipped in water, to gently wipe away any sugar crystals.
With your mixer on low speed, very carefully add the hot syrup to the softened gelatin. Add the vanilla and increase the speed to medium-high. The mixture will start out clear, but quickly turns very white. Beat for about 8 minutes, or until the marshmallow gets very thick and sticky, and starts to pull away from the sides of the bowl, in string-like pieces. This will really give your mixer a workout.
Spread the mixture into the prepared pan using a lightly oiled spatula. With wet hands, press the batter evenly into the corners of the pan. Just keep rewetting your hands to help with the stickiness. Set aside for at least 1 hour, or until the mixture is firm and cool.
Run a wet knife around the edge of the cooled pan to loosen the marshmallow. Remove the marshmallow from the pan, onto a sheet of parchment paper.
Dip your small chick-shaped cookie cutter (mine measures 1" wide by 1-1/2" tall) into a shallow bowl of water and then cut the slab of marshmallow into chick shapes. This is a sticky job, but just have patience. It's worth it! It helps to dip the chick cutter into the water in between cuts. Repeat this process until the whole slab of marshmallow is cut.
for the white chocolate coating and decoration:
Using the microwave, carefully melt the white chocolate in a glass, taking special care to not let the white chocolate get too hot. It's best to partially melt the white chocolate and then just stir it until completely melted, then color with candy coloring to your liking.
Drop a marshmallow chick into the colored white chocolate and dunk with a fork to completely coat. Pick the marshmallow up with the fork, allowing excess white chocolate to drip off while lightly tapping the fork to coax more of the excess off. Then slide the fork out of the glass, scraping the underside of the tongs along the rim of the glass. This will scrape off any remaining excess white chocolate, so you don't have a pool of it form around your chick as it cools.
Set the white chocolate coated chick on parchment paper. Then, while the coating is still wet, place a blue nonpareil for the eye and sprinkle a bit of yellow sugar on the body, staying away from the chick's feet. Let the chicks cool and completely set up on your kitchen counter. It may help to let them sit in the refrigerator for awhile.
for the glaze icing for the chick's feet and beak:
Sift the powdered sugar into a small bowl and add the milk and corn syrup. Stir until well incorporated. Then color with orange icing coloring to your liking. If the icing is too stiff, add just a little more milk. If it's too thin, add a bit of powdered sugar. Pour colored glaze icing into a pastry bag fitted with a small round tip. Pipe on a little orange beak and a line across the chick's feet. This glaze is easy to manipulate and "stretch", using a toothpick, if needed. Let dry completely.
Store in a single layer in an airtight container. The white chocolate will have a softer set than if using candy melts.
Nutrition Information:
Yield: 20
Serving Size: 1
Amount Per Serving:
Calories: 322
Total Fat: 11g
Saturated Fat: 6g
Trans Fat: 0g
Unsaturated Fat: 4g
Cholesterol: 7mg
Sodium: 55mg
Carbohydrates: 57g
Fiber: 0g
Sugar: 56g
Protein: 2g
Nutrition information is automatically calculated by Nutritionix. I am not a nutritionist and cannot guarantee accuracy. If your health depends on nutrition information, please calculate again with your own favorite calculator.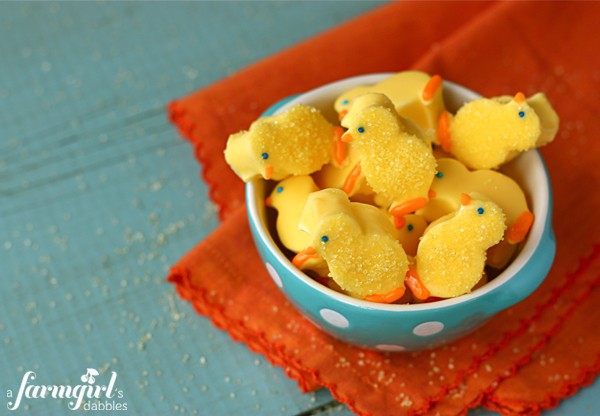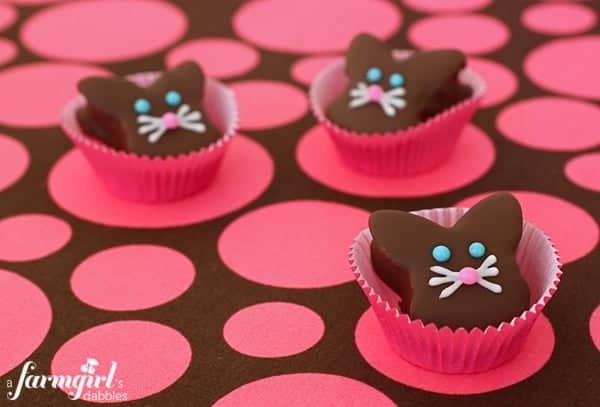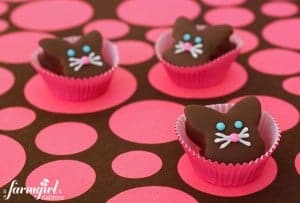 If you liked these chicks, be sure to also check out my Chocolate Marshmallow Bunnies!