Layered German Chocolate Cupcakes with Chocolate Ganache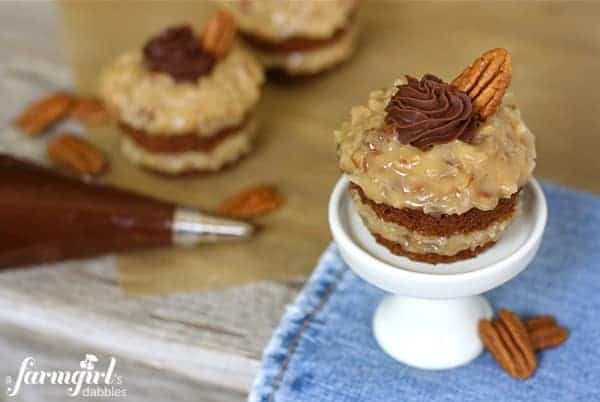 Layered German Chocolate Cupcakes with Chocolate Ganache are like a miniature form of the traditional cake. Just look at those layers of sticky coconut pecan frosting!
I just can't help it. Come March, I'm itching for a tall piece of German chocolate cake. I have Mom to thank for this annual craving, as she's the one who's been indulging my dad with this layered cake goodness on his birthday for as long as I can remember.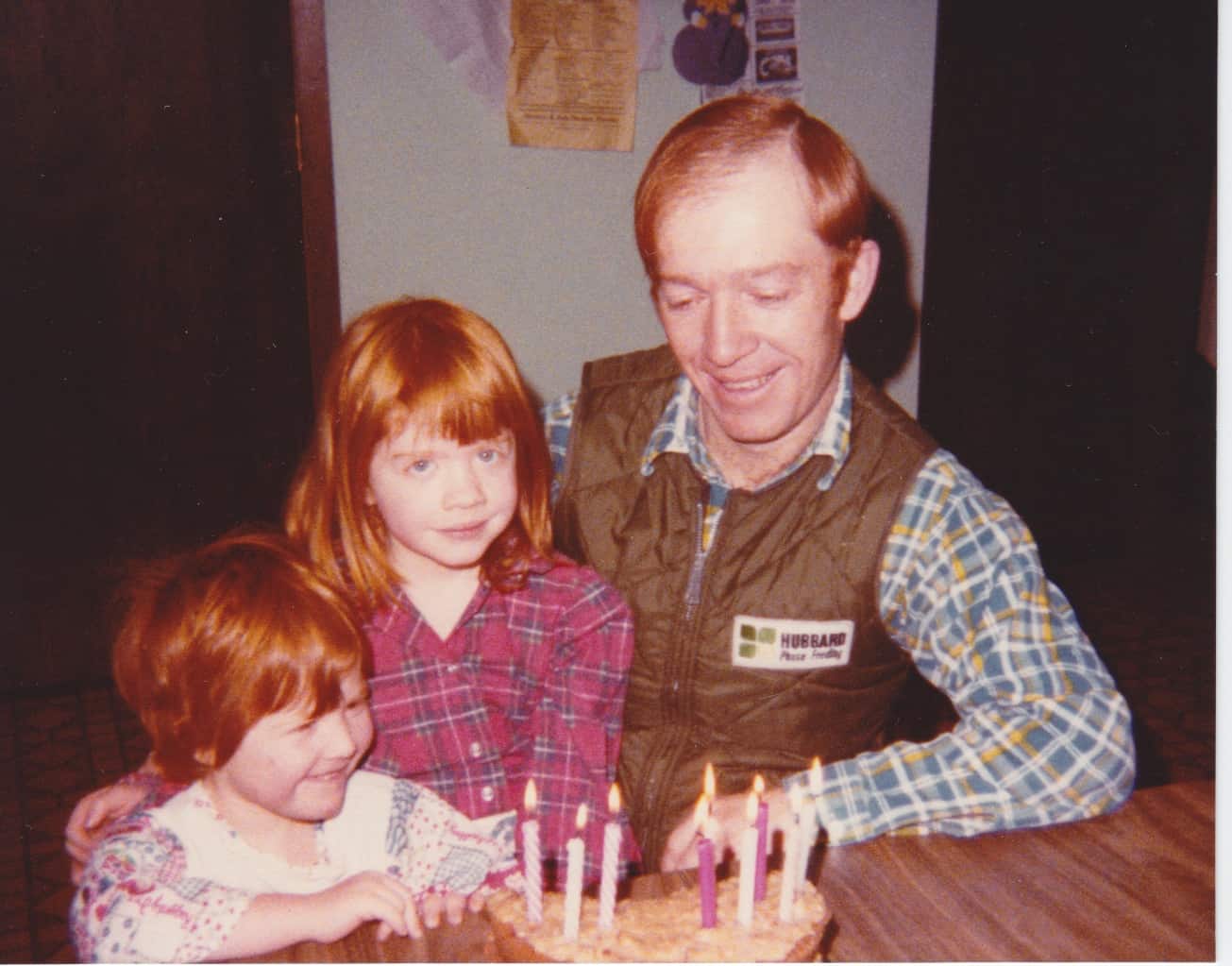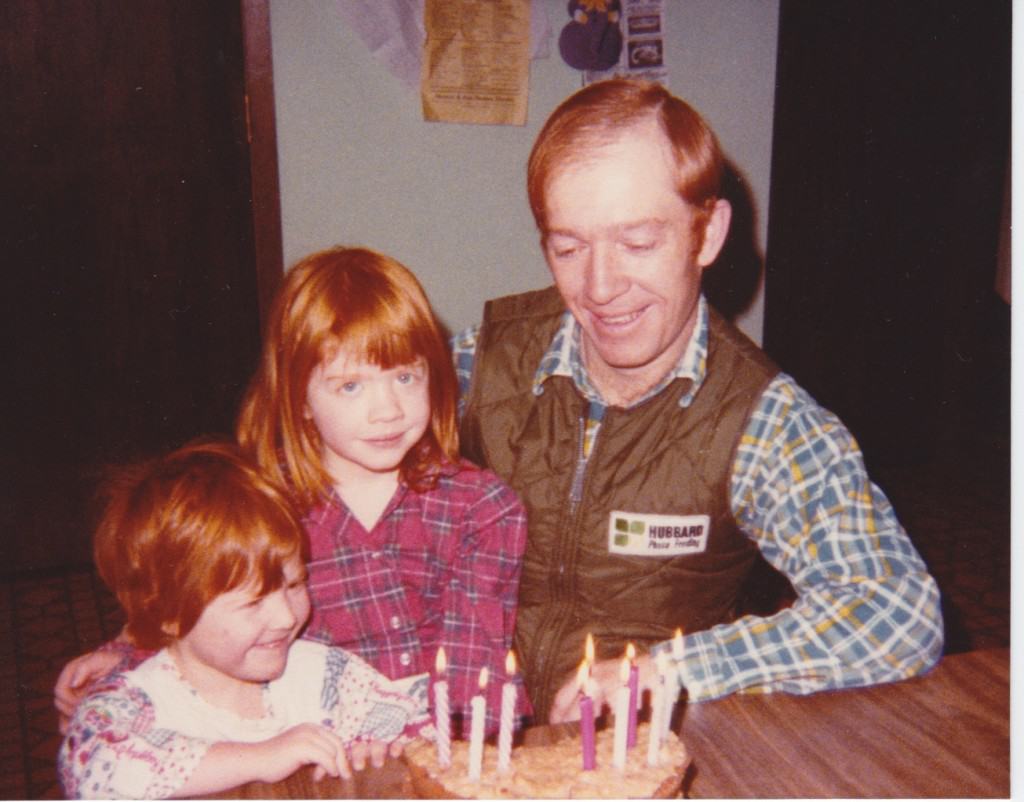 The number of pictures I found of Dad over the years with various German chocolate cakes poked with candles is slightly amusing…
Last year I made his namesake cake for the first time in my own kitchen, and gave it some modern flair. This year I gave the cake another little spin, introducing the fun of a layered cake to cupcakes. I made Layered German Chocolate Cupcakes with Chocolate Ganache!
Yes, I split the cupcakes in half horizontally, slathered some of that sticky lick-every-last-finger-clean coconut pecan frosting through the middle and over the top…and then finished it off with a small swirl of thick chocolate ganache and a big ol' pecan. It's just the stuff my dad's birthdays are made of!
Happy birthday, Dad!
I love you!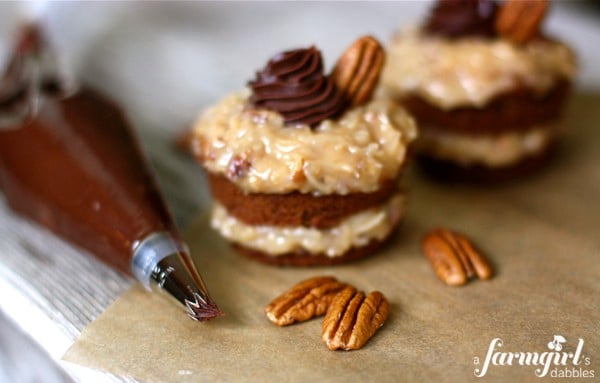 If you like these German chocolate cupcakes, you might like: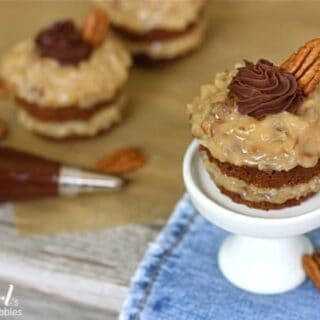 Layered German Chocolate Cupcakes with Chocolate Ganache
Yield: 36 cupcakes
Prep Time: 40 minutes
Cook Time: 17 minutes
Total Time: 57 minutes
Layered German Chocolate Cupcakes with Chocolate Ganache are like a miniature form of the traditional cake. Just look at those layers of sticky coconut pecan frosting!
Ingredients
FOR THE CHOCOLATE GANACHE:
12 oz. semi-sweet chocolate, chopped into small pieces
1 c. heavy cream
1 T. vanilla
FOR THE CUPCAKES:
4 oz. Baker's German's Sweet Chocolate
1/2 c. water
4 eggs, separated
2 c. flour
1 tsp. baking soda
1/4 tsp. salt
1 c. butter, softened
2 c. sugar
1 tsp. vanilla
1 c. buttermilk
FOR THE COCONUT-PECAN FROSTING:
4 egg yolks
1 can (12 oz.) evaporated milk
1.5 tsp. vanilla
1.5 c. sugar
3/4 c. butter or margarine
1 7-oz. pkg. flake coconut (about 2-2/3 cups)
1.5 c. chopped pecans
Instructions
for the chocolate ganache:
Prepare the chocolate ganache first, so it has time to set and thicken. Place the chocolate in a medium bowl. In a small pan over medium-high heat, bring the cream to a boil. Remove cream from heat and pour cream over the chocolate pieces. Stir until the chocolate is completely melted and the mixture is smooth and glossy.
Let cool to room temperature. It will be very thick. If it is not thick and set when you're ready to pipe it onto the cupcakes, set the bowl in the refrigerator for a bit, checking every 10 minutes or so.
for the cupcakes:
Preheat oven to 350° F. Spray regular size cupcake tins generously with non-stick spray. Set aside.
Microwave chocolate and water in large microwaveable bowl for 1-1/2 to 2 minutes, or until chocolate is almost melted, stirring after 1 minute. Stir until chocolate is completely melted.
Beat egg whites in small bowl with mixer on high speed until stiff peaks form. Set aside. In a separate bowl, mix flour, baking soda, and salt. Set aside. In a large bowl, beat butter and sugar with mixer until light and fluffy. Add egg yolks, 1 at a time, beating well after each. Blend in melted chocolate and vanilla. Add flour mixture alternately with buttermilk, beating until well blended after each addition. Add egg whites and stir gently until well blended.
VERY IMPORTANT: Fill individual cupcake cavities only slightly more than half full. The batter puffs up during baking and then settles back down. If the cavities are too full, the batter leaks out over the rim of the cupcake cavity. It's a big mess!! When all cavities are half-full with batter, rap the pan gently a few times on the counter to settle any air pockets.
Bake about 17 minutes, or until toothpick inserted in centers comes out clean. VERY IMPORTANT: Let cupcakes cool in the pan for 15 minutes before removing to wire rack to cool completely. The cake is very tender…handle with care.
for the coconut-pecan frosting:
Beat egg yolks, evaporated milk, and vanilla in large saucepan with wire whisk until well blended. Add sugar and butter and cook on medium heat 12 minutes, or until thickened and golden brown, stirring constantly. Remove from heat. Add coconut and pecans. Mix well.
Set frosting in the refrigerator, stirring periodically. Chill until the frosting has a bit of stiffness to it before assembling the cupcakes.
to assemble the cupcakes:
With a thin serrated knife, carefully slice the cupcakes in half horizontally. Spoon a bit of frosting onto the bottom layer and spread it out to the edge of the cake. Place its top on and then spread more frosting onto the top. Place the chocolate ganache in a piping bag fit with a medium star tip and swirl a bit onto the top of the frosting. Finish by pressing a whole pecan into the ganache.
The cake itself is rather delicate, and the coconut-pecan frosting rather gooey. I found it best to refrigerate the cupcakes once assembled, to help stabilize them. Then take them out of the refrigerator 20 minutes prior to serving.
Notes
Cake and coconut-pecan frosting adapted slightly from the recipe on the Baker's German's Sweet Chocolate wrapping, the only German Chocolate Cake recipe my mom has ever made!
Nutrition Information:
Yield: 36
Serving Size: 1
Amount Per Serving:
Calories: 355
Total Fat: 22g
Saturated Fat: 12g
Trans Fat: 0g
Unsaturated Fat: 8g
Cholesterol: 74mg
Sodium: 176mg
Carbohydrates: 39g
Fiber: 2g
Sugar: 30g
Protein: 4g
Nutrition information is automatically calculated by Nutritionix. I am not a nutritionist and cannot guarantee accuracy. If your health depends on nutrition information, please calculate again with your own favorite calculator.